On 200mm




Hi Guys,
I have a very shallow rack at home. I had to squeeze it in between a few other items and it is just 200 mm deep. It works well for my patch panel and I have a rack mounted router in there too. I'd love to squeeze in a NAS, my limit is the 200 mm depth. Any suggestions?
There is no 200mm deep Synology or Qnap NAS, but you can build your own True/FreeNAS (or even Synology community-based Xpenology) system using CyberServe Atom/ Xeon based rack PCs. Or you can use DS116 and keep it on a rack shelf sideways.
Here is the list of Qnap and Synology short depth NAS: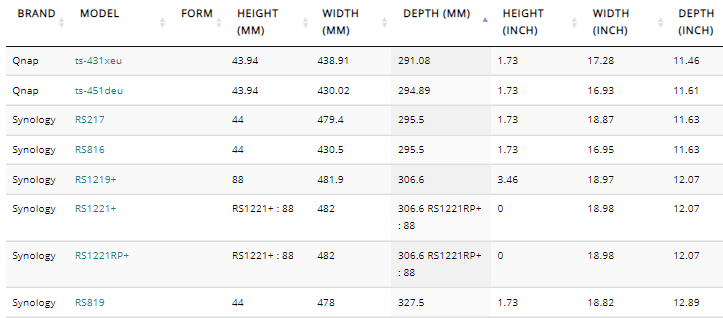 https://nascompares.com/answer/short-depth-rackmount-nas-list/

Here are few of the CyberServe  models:
CyberServe Atom-100i  –  Depth    170.2 mm
Width    170.2 mm
otherboard    A2SDi-2C-HLN4F- 2-Core C3338 Atom, 4x 1GbE Intel LAN,+Remote Management (32Gb RAM Max & No M.2 socket)
Memory    4GB 2400MHz DDR4 Non-ECC CL16 DIMM (Kingston)
https://www.broadberry.co.uk/intel-atom-rackmount-servers/cyberserve-atom-100i
I hope this helps.