I'm a first time NAS user and wanting to get my first NAS for plex. so far reviews point to a WD PR series and I'm thinking a 4 bay in case my storage requirements grow. here in lies my question.

if I were to purchase this can I run 2 initial drives in raid configuration at first then add further drives later if I need to expand them run raid 5? Also, what is the maximum drive space I can put in one slot? 10tb 12tb?
WD offers 2 (PR2100) and 4 bay (PR4100) NAS with a Plex hardware transcoding functionality free of charge.
You can and many people do start with only 1, 2 or 3 drives and add extra drives later. If you start with 2 drives- select RAID1. Later, migrate to a RAID5 when adding another drive or two. The maximum capacity for home users is 12TB drives but will change to 14TB soon.
When adding two additional drives to the 4 bay My Cloud, the current 2 drive RAID 1 mirror can be migrated to a 4 drive RAID 5 or RAID 10 without data loss.
Access the Storage menu on the dashboard and click on Change RAID Mode button
A warning notice will appear, click OK to continue
Click the RAID 5 option
Check the box for Migrate to RAID 5
Click Next
A warning notice will appear, click OK
The added drives will go through a self-test
When the self-test is completed, click Next
Next Next Next
Click Finish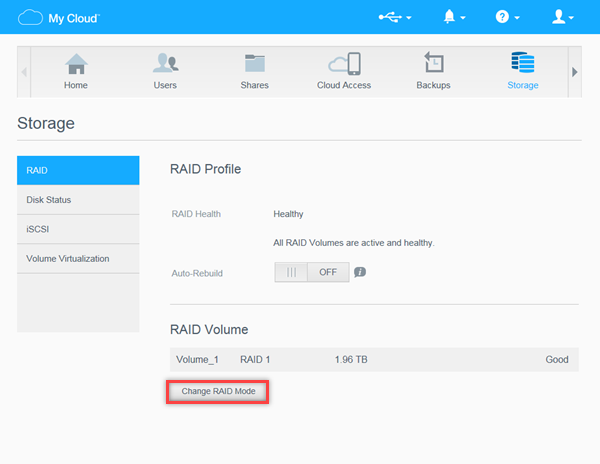 https://support.wdc.com/knowledgebase/answer.aspx?ID=17305&lang=en
Find regulary updated NAS offers here
Of course I would prefer you choose
AMAZON UK
AMAZON USA
to buy your perfect solution, however, if you would rather buy locally, please use the links used above to take you to your local Amazon store and help support this free advice service with ad revenue. More ways of supporting the blog are described
HERE