What is the best RAID configuration for speed? All of the data is replaceable from CD/DVD and I'm looking for speed of delivery through a Plex Media Server.
The fastest RAID will always be RAID0 which means that all drives in the array will be combined as one. So the writing operations will be really fast because data writing task will be distributed across all drives in the RAID. One portion will be written on the first drive and simultaneously other portions of the data will be written on the second drive.
RAID1 (RAID10 with 4 or more drives) will mean that all drives in the array will be a copy of the first drive. Server will need to copy all data on every disk in the array. This RAID will deliver the best read speed (more disks mean more speed).
RAID5/6 will combine the benefits of both. The data will be written across many disks and eventually, it will become faster than just a dual drive array.
RAID50 and RAID60 is a combination of RAID1 (mirror) and one or two bay redundancy (RAID5/6).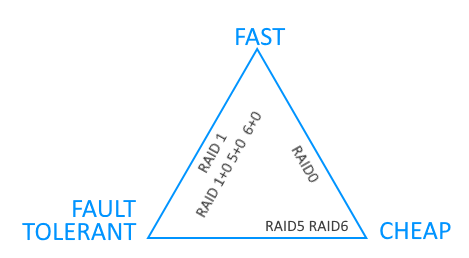 Here are speed tests acros different RAID type as an indication of what to expect:
Find regulary updated NAS offers here
Of course I would prefer you choose
AMAZON UK
AMAZON USA
to buy your perfect solution, however, if you would rather buy locally, please use the links used above to take you to your local Amazon store and help support this free advice service with ad revenue. More ways of supporting the blog are described
HERE