The Best DLNA Streaming Devices for your Multimedia in 2018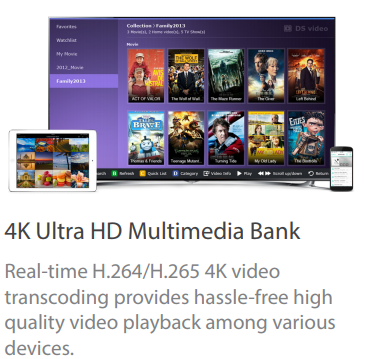 Buying a NAS to consolidate your multimedia collection is becoming increasingly popular and with each passing month, we are seeing more and more devices being released that make watching everything from box sets to blockbuster movies increasingly easy in your home, on the commute or anywhere in the world. Today I want to discuss the best devices to add to your home multimedia setup that gives you the ability to not only watch your content but also to improve your entire media setup. You can forget about shelf after shelf of DVDs and Blurays, or 3 or 4 devices to watch between. Today with the help of a NAS (even a super budget NAS server such as the Synology DS218J or QNAP TS-231p) and one of one of the devices below, you will be able to create a seamless, straightforward and easy home setup throughout your home. I have created the perfect setups to cover each budget and multimedia setup.
What else will you need for the Perfect Multimedia Home setup?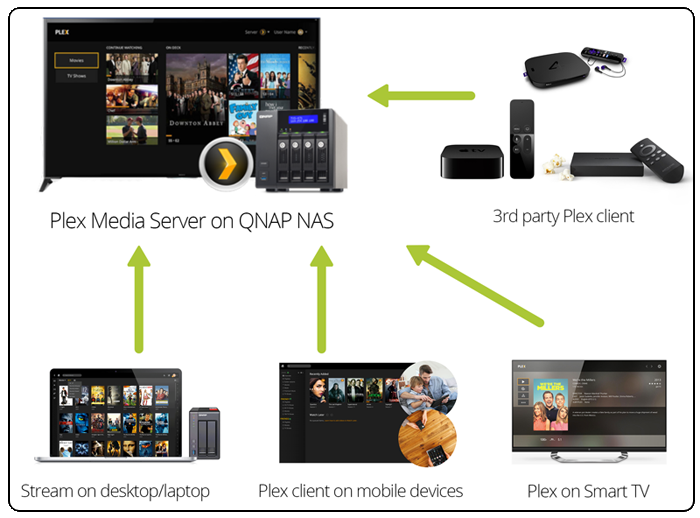 Before we start, it is worth mentioning that you will need a few common household items to ensure that everything can be connected up. Almost everything you will need is included with the network media playback device or the NAS, but before you start, ensure you have the following:
A Household Router or Switch

An available plug point next to the TV/Multimedia Playback device

A PC/Laptop/Smartphone to set the device up (very straightforward)
What are the best Multimedia Streaming and Digital Playback devices?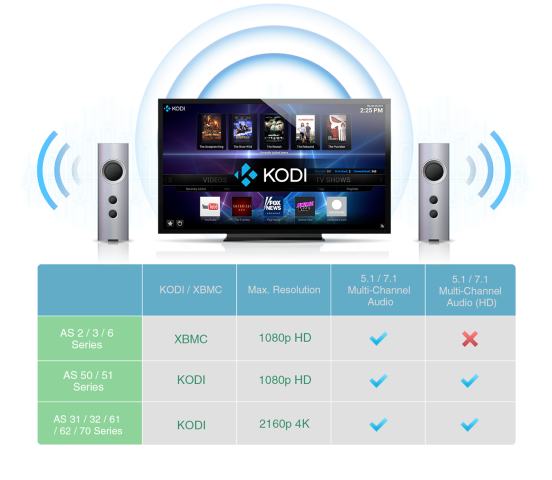 With digital content being so readily accessible, you will want to make sure that you have the best possible device to watch your media on. The right kind of streaming device will depend heavily on the setup you have in mind and the output device (TV, Sound system, PC, Laptop, all, etc). Below I have broken it does into the best options with the lowest priced items first.
Chromecast – Best Option for Network ONLY Access and Basic Plex Streaming from their NAS in 2018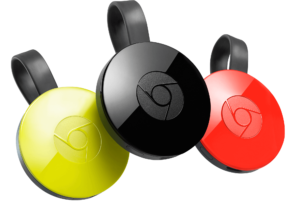 Google Chromecast is an HDMI connected device that connects to your network via WiFi, Not only can be stream media from your phone or smart DLNA enabled device, but it can also be used to access and stream media from your NAS. The most popular means that this is done by is the popular Plex Media Server application, If you are looking for a straightforward and familiar device user interface to set up your multimedia network setup, then the google chrome device may well be the best device for you. However, as soon as you have it synchronized with your NAS Server, you will find it rather limited as the Chromecase device does not feature a remote control and you will need your mobile phone to fully navigate options throughout. Likewise, you will need an operation device such as a smartphone to act as a bridge between the NAS and the output device you want to stream top. VERY cost effective as a network media device, but will feel limiting very quickly indeed
Google Chromecast

Ease of Setup – 7/10

Price – 9/10

NAS Use – 5/10 

Full standard 

1080p

 resolution

1.37 oz (39.1 g) in weight and just 51.81 x 13.49 x 51.81 mm

Available in Lemon, Coral and Black

Supports all wireless networks –  Wi-Fi 802.11ac (2.4GHz/5GHz)
Supports the standard 5V, 1A power supply
HDMI to plug directly into the TV and Micro-USB power

Supporting Apps such as iPlayer, Spotify, Netflix, MegaCast, Plex, Kodi, YouTube, Twitch, BT Sport, NowTV, Hulu and more

VERY low power consumption

Score Based on Usability as a NAS Multimedia Streaming tool

Buy From EU

Buy From UK

Buy from US
Globmall X1 – Best Option for Kodi and Streaming from your NAS and Add on Services in 2018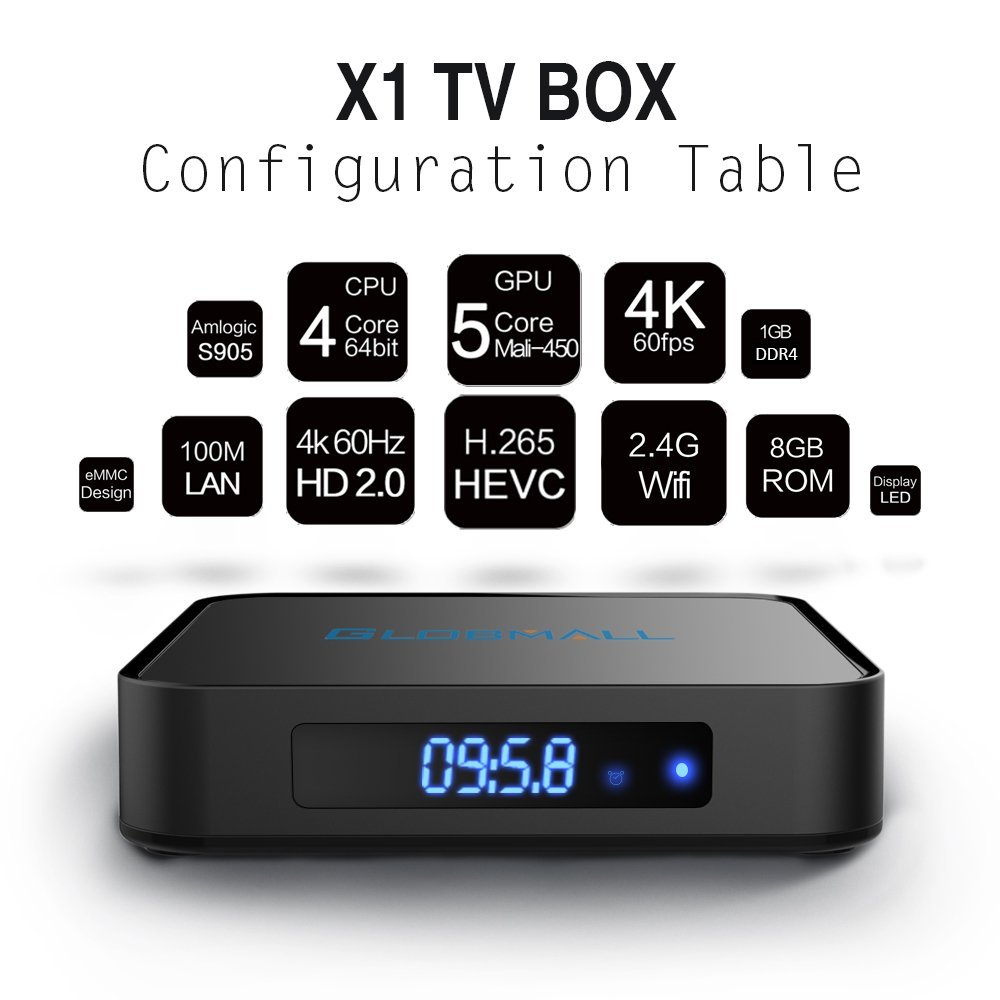 Another very popular and very cost effective option for watching/listening to your multimedia collection is a cheap Android box. The industry that has popped up over recent years around android TV Boxes has really grown and been largely unregulated until the last year or so. It should be highlighted that there are tens of thousands of different devices out there and most arrive with short warranties, very fragile software setups that are prone to constant bugs and are made with economy in mind. The result is that in most cases they turn out to be very "you buy cheap, you get cheap". Further to this, there has been the growing clampdown of kodi streaming boxes that arrive with add-on channels included that play it rather fast and loose with copyright laws. Pushing through the hundreds of pages fo these media boxes, the best and highest recommended Android TV Box I have found is the unit below, the Globmall X1 (yes, it's a weird name, let's move past that).
Globmall X1 4K Android 6.0 TV Box

Ease of Setup – 87/10

Price – 8/10

NAS Use – 7/10

Arrives with a Quad-Core Processor S905X. Supporting 4K X1 Android Tv Box has Newest Amlogic Quad core ARM Cortex-A53 & 64 bits CPU & Advanced WIFI Chip makes your tv box running faster than other box on market!

Android 6.0 is more simplified and user-friendly for your every operation;With Wifi Chip RTL8723, Bluetooth 4.0, Google Android 6.0 Marshmallow OS, Globmall X1 Android Tv Box utilizes the latest version memory that users can enjoy faster read & write speed and make the Android Tv Box run more stable and smoothly.

Come with a wireless qwerty Keyboard to make typing more convenient; an IR remote for regular navigate; an HDMI cable, a power adapter; a user manual, everything you need to use the device straight away.

Fast Setup, install in less than 1 minute, all you need is to connect via HDMI to your TV, then the Ethernet or Wi-Fi, and turn on your device. Supporting Wi-Fi 2.4 GHz and Ethernet. Support Bluetooth 4.0, Airplay, Miracast Support files from USB drive, SD cards. Support mouse and keyboard via USB

This item is backed by a 1-year Globmall warranty. Anytime you have a question during usage, please contact us, our technical team provide you professional problem-address solutions.

Score Based on Usability as a NAS Multimedia Streaming tool

Buy From EU

Buy From UK

Buy from US
Raspberry Pi – Best Fully Customizable Network Multimedia Setup from your NAS this 2018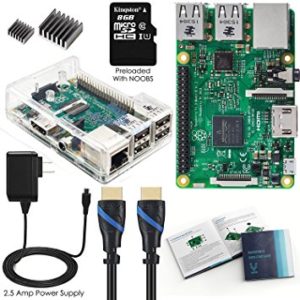 For those that want a COMPLETELY bespoke multimedia setup that finds and organizes the contents of their NAS, but are still on a tight budget, would be highly recommended to consider a Modified Raspberry Pi setup. Originally designed as a means to promote innovation and technical development, the whole industry of Raspberry Pi and customization is truly breathtaking, giving you the ability to design a computer from the ground up, which still remaining just a fraction larger than your mobile phone. Along with the huge advances in hardware abilities (SSDs, HDMI, WiFi, Remote control and access, it means that you can be truly unique when it comes to matters of physical appearance and behaviour. Of course, this option requires easily the most technical knowledge of the network streaming options to link with your NAS and is advisable only to those whole have every built their own PC or know their RAM from their Cache!
Vilros Raspberry Pi

Media Center Kit

Ease of Setup – 4/10

Price – 7/10

NAS Use – 6/10 

Very straight forward setup and includes easy to follow User Guide

All internal components included. This Kit Includes a Plug and Play Kingston Class 10 Micro SD Card (8GB) Preloaded With NOOBS Software.

Additional accessories. The Raspberry Pi 3 Model B-the latest and fastest raspberry pi motherboard–2.5 Amp USB Power Supply with Micro USB Cable and Noise Filter – designed for the Raspberry Pi 3 (UL Listed)Clear Case with ease of access to all Ports –1080p HDMI Cable –Micro SD Card Adapter –Heatsinks to help cool the Raspberry Pi

Includes an 8GB SD Card in this kit that allows the Raspberry Pi to operate with OSMC (XBMC)–RASPIAN, OPENELEC and KODI

All Parts of the kit are covered by the Manufacturer against defects for 1 Year

HDMI cable sold seperately

Score Based on Usability as a NAS Multimedia Streaming tool

Buy From EU

Buy From UK

Buy from US
Amazon Fire TV Stick – Best Multimedia Streaming via network, internet, with your NAS and a Remote this 2018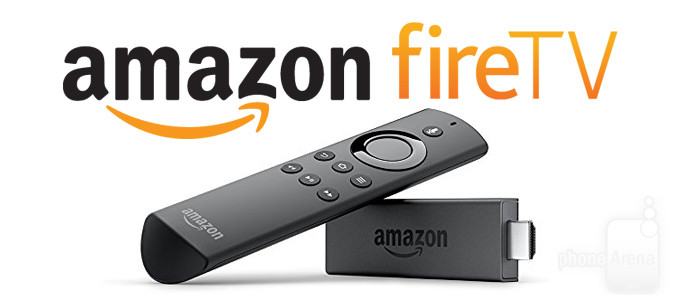 Amazon Fire Stick versus Chromecast – a regular debate! The Amazon Fire TV Stick just missed being the lowest priced NAS media streaming device (with first place going to the Chromecast at £20) but there are a number of ways in which many multimedia NAS watchers will prefer the Fire Stick. For a start, unlike Googles device, it arrives with a remote control – meaning you do not need to control the device with a third device (such as a smartphone or laptop) – this is a welcome addition for many people and most likely a real dealbreaker for most multimedia network streaming users. Likewise the device also lets you install countless apps, but thanks to the device having superior hardware to the chromecast, it means that not only can you install more apps, but the ways in which you can communicate and integrate them into your hardware setup are much, much more! Just install apps like Kodi, Twonky or Plex and you can readily access the contents of your NAS device in moments. Lastly, like the chromecast you can set up your existing third-party multimedia streaming services such as Amazon Instant, Netflix, BBC iPlayer and more – but with far more control and integration with other applications than you can with the Google device.
Amazon Fire

TV Stick

 

Ease of Setup – 8/10

Price – 8/10

NAS Use – 6/10 

Arrives with a remote control for file navigation via your HDMI device that also supports Alexa Voice commands

Access the multimedia on your NAS, browse and watch as needed

Over 7,000 apps, games and Alexa skills, including Amazon Video, BBC iPlayer, ITV Hub, Netflix, YouTube and more.

Launch apps and control content with the included Alexa Voice Remote. Simply say "Launch Netflix" or "Skip ahead 5 minutes" and Alexa responds. Plus, play music, search for local restaurants and more. Just ask.

8 GB of storage and 1 GB of memory for apps and games, a quad-core processor, plus 802.11ac Wi-Fi for fast streaming and smooth performance.

Pick up where you left off. Bring hit shows and movies with you when you travel. Plug your Fire TV Stick into a TV's HDMI port, connect to Wi-Fi and continue watching.

Play current favourites or quickly discover what to watch next directly from the Home screen.

Score Based on Usability as a NAS Multimedia Streaming tool

Buy From EU

Buy From UK

Buy from US
Apple TV -Best Media Streaming from your NAS  for Mac users in 2018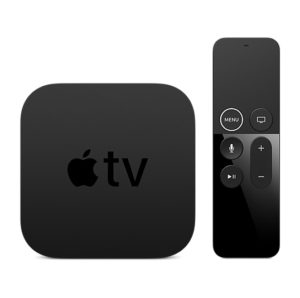 For those that are in love with their iPhone and iPad and want to keep everything on a consistent and user-friendly platform, then there is little alternative to Apple TV. VERY similar to the likes of Fire Stick and Chromecast, Apple TV will access your NAS multimedia easily and present it too you in the clean, distraction-free user interface that is identical in frame to that of iTunes. It is worth mentioning that most users will happily admit that applications for streaming NAS media content such as Plex, Kodi and Twonky will have a much more visually appealing interface thanks to the scraping of meta-data that happens in the background, however most content purchased on iTunes will be largely inaccessible on non-apple streaming devices due to copywrite and DRM Protection – which means that you will have to set up an iTunes media server on your NAS, or stick with your Apple TV device and go from there. That rather niggling playback issue aside (which can be worked around with the use of middle managing apps to share to-and-from, it is still very much a solid choice for those looking for a means to stream the digital multimedia content on their NAS and wants the familiar UI of Mac from the get-go! Lastly, like the Amazon Fire TV Stick, Apple TV arrives with a handy remote control and can play videos all the way upto 4K in resolution
Apple

TV

Ease of Setup – 7/10

Price – 6/10

NAS Use – 6/10 

HDMI 2.0a for 4K connectivity

Wireless 802.11ac Wi‑Fi with MIMO; simultaneous dual band (2.4GHz and 5GHz) enabled

Gigabit Ethernet for LAN/RJ45 connection (advised for larger miultimedia files without transcoding)

Bluetooth 5.0 wireless technology

IR receiver with Touch Panel and Voice Activated Remote control

H.264/HEVC SDR video up to 2160p, 60 fps, Main/Main 10 profile Playback

A10X Fusion chip with 64-bit architecture

Requires HDMI cable (sold separately)

Arrives with 32GB and 64GB internal storage

Score Based on Usability as a NAS Multimedia Streaming tool

Buy From EU

Buy From UK

Buy from US
Nvidia Shield TV – Fastest Multimedia Streaming from your NAS Natively and Plex plus Gaming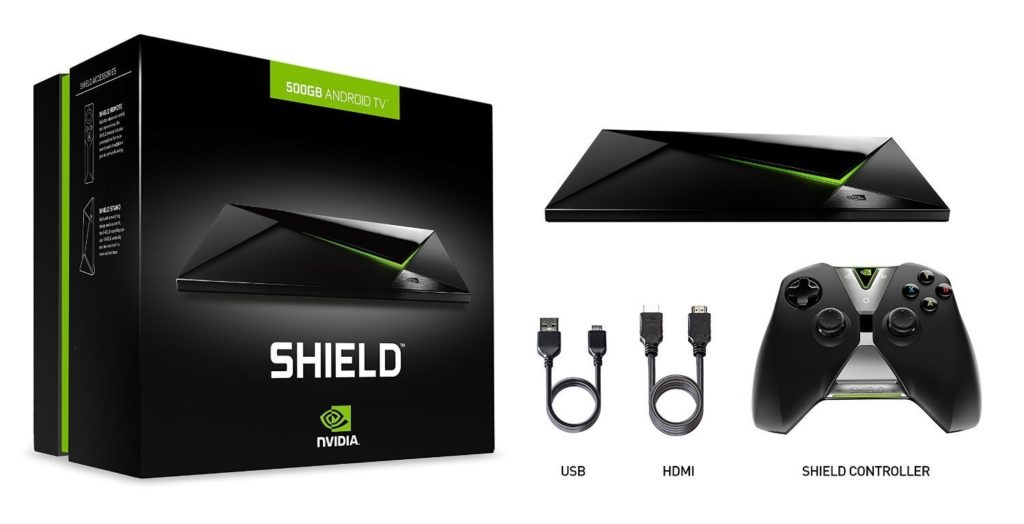 The Streamer for Gamers NVIDIA Shield TV Pro is the streamer for gamers. The fastest, smoothest 4K HDR video offers limitless entertainment with all the essential apps, including Amazon Video, Netflix, YouTube, Spotify and more. A streaming beast, SHIELD is 3X faster than the closest competitor. Game on GeForce Now to stream hit PC games from the cloud, instantly. Or cast your games from a GTX PC to the comfort of your living room. Control every experience with your voice-even your home. Dim the lights, order an Uber, or change the temperature, just ask. SHIELD is everything you want in one game-changing device. NVIDIA Shield TV powers the smoothest, fastest, highest-quality video and game streaming, with hands-free voice assistants to power your smart home.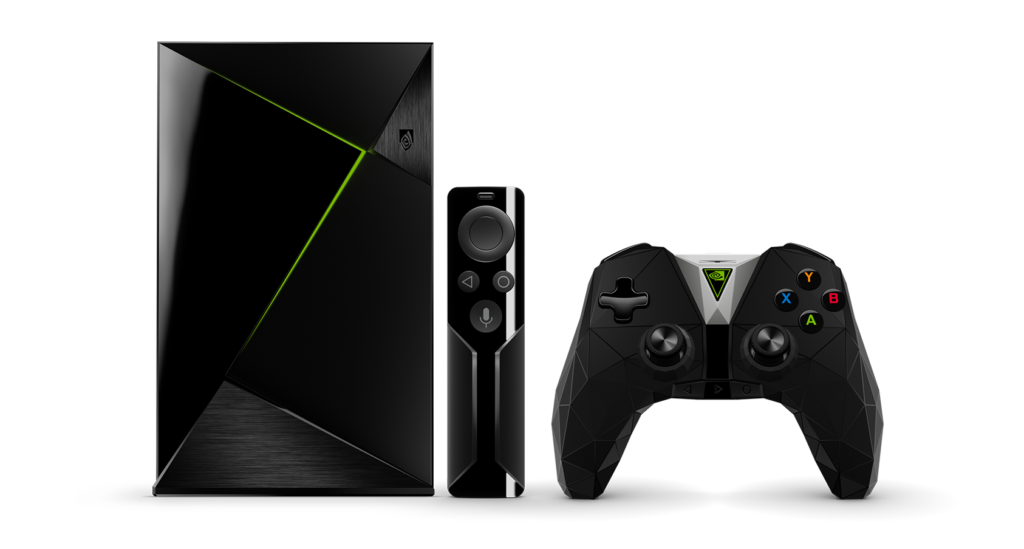 A Killer View Movies, TV shows and games look unbelievably good with best-in-class 4K HDR or high-definition 1080p, with thousands of apps including Netflix, Amazon Video, YouTube, Spotify, Plex, Kodi, (and in your key local content apps)with more joining the line-up all the time. Game Your Way. Get the most comprehensive search results of any streaming device with results from over 100 apps, including Netflix, Amazon Video, YouTube, (and in your key local content apps)and more on SHIELD. The Complete Package SHIELD TV delivers the complete entertainment experience, shipping with the SHIELD remote and the newly redesigned SHIELD Controller. As good as that all sounds, it is always worth highlighting that using the Nvidia shield is the 3rd most expensive choice for creating your NAS multimedia streaming setup and if you do not intend to take advantage of the high spec gaming applications, then you will be spending alot of money needlessly.
NVIDIA Shield

TV Pro

Ease of Setup – 8/10

Price – 6/10

NAS Use – 7/10 

Killer View – Movies, TV shows and games look unbelievably good with best-in-class 4K HDR or high-definition 1080p

Arrives with 500GB of internal storage, so you do not need to solely rely on your NAS server

Enjoy the smoothest streaming of hundreds of PC quality games with the next generation of GeForce

Get the most comprehensive search results of any streaming device with results from over 100 apps

SHIELD is 3X Faster than the nearest competitor so it delivers the snappiest, easy to use streaming experience

SHIELD delivers a complete entertainment experience, shipping with a remote as well as the SHIELD Game Controller

Google Cast Ready: Cast your favourite apps including BBC iPlayer, Netflix and YouTube straight to your Shield TV

Score Based on Usability as a NAS Multimedia Streaming tool

Buy From EU

Buy From UK

Buy from US
Roku – Most User-Friendly and straight forward setting up of Multimedia Streaming in 2018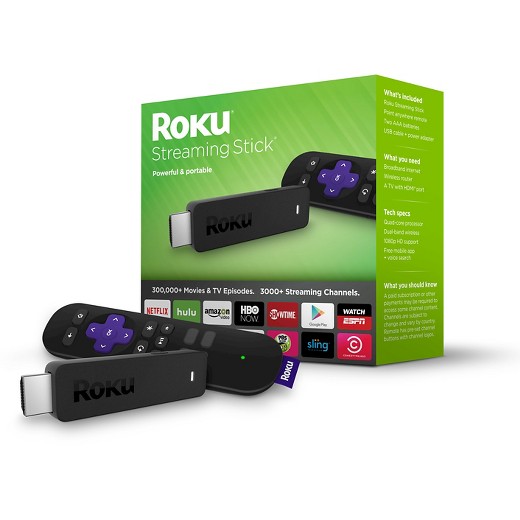 Once you set up your NAS server and arrange both a Plex Media Server and a DLNA media server (remember, you are not limited to just one) it is often the most user-friendly option to choose a media both like the Roku series because they feature easily the fastest and most user-friendly setup. Even when you compare them to the cheap and cheerful android media boxes, the Roku (small and big models) just seem to be able to manage the decisions int he background to a degree that the other media streaming devices couldn't.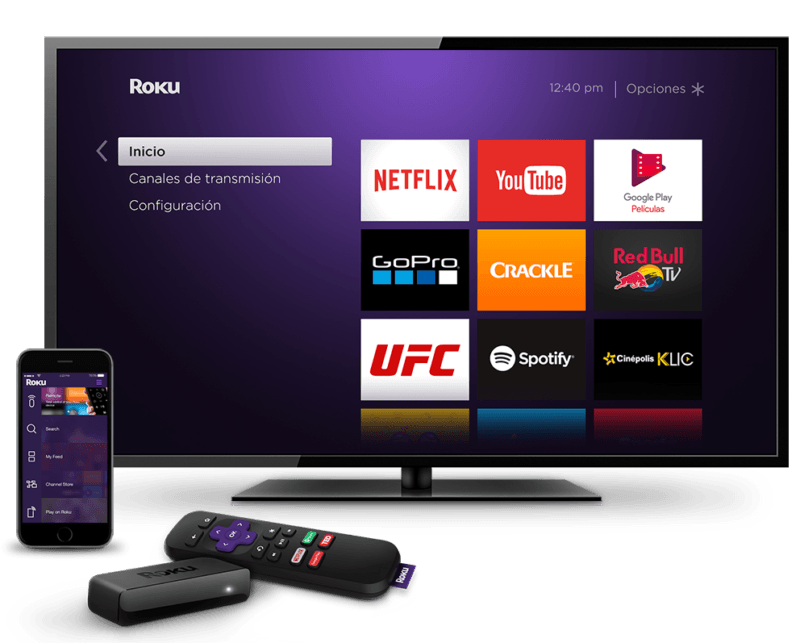 Even basic ones like playlist generation and laying out the available multimedia without sorting too much. The next-generation Roku Ultra is Roku's most powerful player, with a quad-core processor and best wireless performance. Brilliant picture quality creates an immersive experience. Whether your TV is HD, 4K or HDR, Roku Ultra will optimise your content for the best picture resolution possible. Plus, it is fully loaded with features you'll love. A new voice remote with buttons for TV power and volume control makes it easy to control both your TV and Roku player. Enjoy 500,000+ movies and TV episodes across thousands of free or paid channels. Use your voice to search across top channels by actor, show and more. Includes headphones for private listening and a lost-remote finder.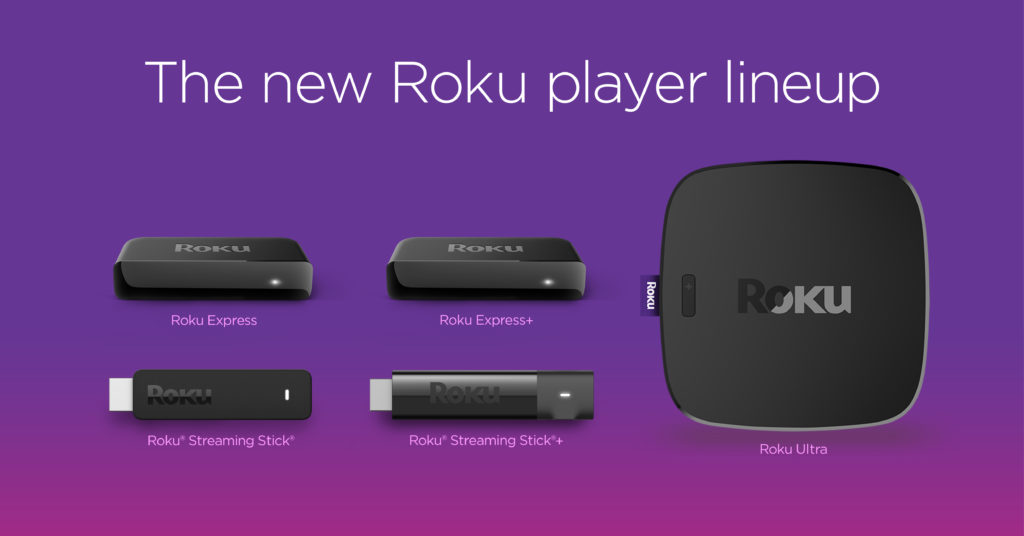 Roku Ultra

Ease of Setup – 7/10

Price – 8/10

NAS Use – 8/10

Perfect for HD and 4K Ultra HD TVs, features fast quad-core processor and 802.11ac dual-band wireless.

4K Ultra HD with four times the resolution of 1080p HD, delivers crisp detail and brilliant, life-like images.

Easy access to 450,000+ movies and TV episodes across 4,500+ paid or free channels, including Netflix, Video, Hulu, and PBS KIDS.

Unbiased search across top channels. Find where it's free or cheapest to watch.

Free Roku mobile app on your iOS or Android phone for handy voice search, sharing photos, private listening with headphones, and more.

Score Based on Usability as a NAS Multimedia Streaming tool

Buy From EU

Buy From UK

Buy from US
PS4 and XBox One for Streaming Multimedia from your NAS and Creating the Perfect Entertainment Centre in 2018
2017 has been a huge year for console gamers, with hardware taking a huge leap forward, particularly in the Xbox family. Last year we saw the launch of the PS4 Proand Xbox One S, two new hardware iterations that improved upon the 2013 originals with a range of cool new features. The PS4 Pro is a solid upgrade over the PS4, capable of upscaling specific games to 4K using a sophisticated checkerboarding technique. It can also enhance performance using the newly implemented Boost Mode with increased frame rates across multiple titles.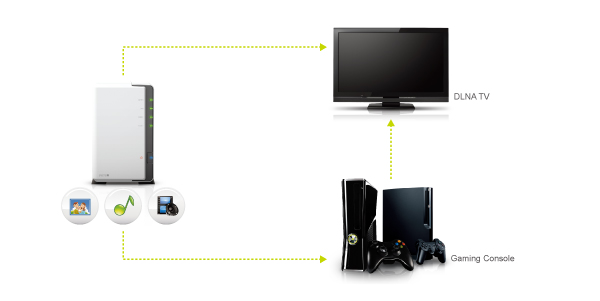 Whereas, Xbox One S, on the other hand, is a smaller, more refined machine complete with a 4K Blu-ray player and HDR support. These are impressive machines, yet both may pale in comparison to Xbox One X. The arrival of the Xbox One S changes the game somewhat. It's essentially the machine the Xbox One should have been at launch. It's smaller, more attractive and comes with some serious benefits, such as 4K video playback, support for HDR TVs. There are plenty of reasons to pick up either console depending on your personal preferences. PS4 tends to offer superior performance over Xbox One when it comes to third-party games. However in terms of either being used as a multimedia streaming device from your Synology NAS or QNAP NAS server, you will find both perform almost identically. Though the latest XBOX release seems to multitask a great deal better when pausing mid game to stream media from your NAS – something that even the PS4 Pro needs to suspend the current game in order to do.
PS4 Console

& Xbox One

 

Ease of Setup -9/10

Price – 5/10

NAS Use – 7/10 

| Feature | PlayStation 4 | Xbox One |
| --- | --- | --- |
| Price | $399.99 | $349.99 |
| Optical Drive | Blu-ray/DVD | Blu-ray/DVD |
| Game DVR | Yes, PS+ subscription not required | Yes, with subscription to Xbox Live Gold |
| RAM | 8GB GDDR5 | 8GB DDR3 |
| CPU | Single-chip x86 AMD "Jaguar" processor, 8 cores | 8 Core Microsoft custom CPU |
| GPU | AMD Radeon Graphics Core Next engine w/ 1152 shaders | 853 MHz AMD Radeon GPU w/ 768 shaders |
| Peak GPU Shader Throughput | 1.84 TeraFLOPS/s | 1.31 TeraFLOPS/s (estimate) |
| Storage | 500 GB 5400 RPM SATA II hard drive | 500 GB Hard Drive |
| External Storage | No | Yes, USB |
| Removable Hard Drive | Yes, must be at least 160 GB, thinner than 9.5mm | No |

Score Based on Usability as a NAS Multimedia Streaming tool

Buy From EU

Buy From UK

Buy from US
What is the best NAS Server to buy to build my Perfect Multimedia Collection f
or under £400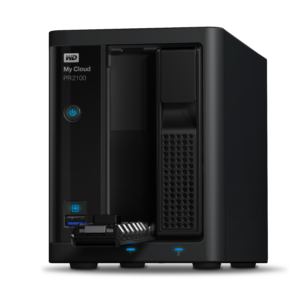 In third place, the WD My Cloud Pro PR2100 NAS. Featuring an impressive Pentium Quad Core chip and 4GB of DDR3 memory, the device could easily be lost in the noise of all other NAS server devices from the likes of QNAP and Synology. However, it features one tiny component that sets it aside from almost all other currently available NAS – a Plex-enabled Transcoding Engine. Most NAS with an Intel CPU including a transcoding engine, however, plex is currently unable to use this feature on a NAS and the result is that when you need to transcode a media file, it will use a huge amount of CPU power (70% and above). The result is that more complex files (.MKV etc) or those with high resolution may have regular buffering or stuttering playback. However, the WD Pr2100 NAS Is the exception because those boffins were able to allow the Plex media Server Application to use the transcoding engine on the NAS and therefore it can playback significantly better than the likes of Synology or QNAP with the same hardware. As plex NAS servers go, it is a truly fantastic NAS, it is just a shame that it is a little lacklustre in other respects when it comes to using other more common NAS applications outside of multimedia.
£370+ ex.VAT

WD
My Cloud Pro PR2100
WDBBCL0000NBK-EESN
NAS ServerIntel Pentium N3710 1.6 GHz (Burst speed up to 2.56 GHz)4GB RAM2yr Warranty
What is the best NAS Server to buy to build my Perfect Multimedia Collection f
or around £1000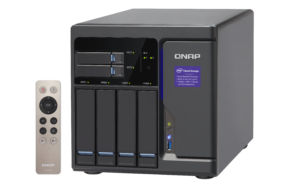 In second place, the QNAP TVS-682 NAS. Released earlier in 2017, it is very hard to argue with this level of hardware at this price. Featuring an enormous array of hardware and software options you just cannot find in other units, the QNAP TVS-682 is a NAS for those that want a solution that will last EFFECTIVELY 3-5 years at least. It is that future-proofing that really makes this the best NAS at £1000, not just in Plex, but in many, many ways. Unlike the WD PR2100, this QNAP NAS will not only perform very well in PLex and in 4K, but can be used for almost any NAS based task that you will ever need. In fact, most people tend to choose the QNAP TVS-682 because they needed for much bigger projects and THEN found out it could run as an excellent Plex Media Server afterwards. There are 4-Bay out there that are lower in price, but few of them will arrive with the software and hardware functionality of this device. A final Plex highlight worth highlighting is that unlike a large number of NAS devices, the QNAP TVS-682 lets you display and view your plex media server library via HDMI with an included remote control too (or mobile app remote if you prefer). So you have the flexibility of Plex, as well as the localisation and ease of access to an HDMI enabled media player.
£1000+ ex.VAT

QNAP
TVS-682-i3-8G
6-Bay (4x 3.5″, 2x 2.5″)Dual-core Intel® Core™ i3-6100 3.7 GHz8GB RAM2yr Warranty
What is the best NAS Server to buy to build my Perfect Multimedia Collection f
or under £2000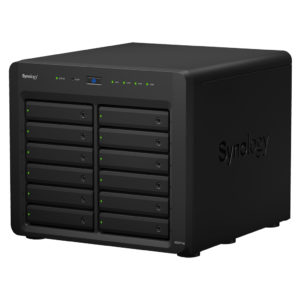 Finally, in first place, the best Plex Media Server NAS we at NASCompares and SPAN.COM have ever seen, is the enormously sized (and powerful) Synology DS3617xs 12-Bay NAS. Yes, the price tag is around 5x that of the WD PR2100 NAS in third place, but what you get in terms of both hardware and future-proofing is truly staggering. The device arrives with a Xeon CPU that can play ANYTHING! Seriously, this unit will play and transcode anything you want natively all the way up to 4K Multimedia and no doubt higher. To back this up, the unit also arrives with 16GB of DDR4 ECC memory, so you will see some truly stunning performance too. LIke the QNAP TV-682 mentioned above, this device is not just for plex, but for everything, you would ever want to so with a NAS. To date, there is absolutely nothing that you can do with a NAS that the DS3617xs cannot do (with the exception of HDMI). Likewise, we return to the lifespan of this device and you are looking at 5 years MINIMUM of hardware coverage here – closer to 7 years or more in realistic hardware terms. The unit arrives with 5 years of warranty, the official synology replacement service for an advanced replacement for your unit in the event of any problems and it arrives with 12 hard-drive bays that can be expanded to a total of 36x – so you will never run out of storage today, tomorrow or years later. If your budget is tight, you can run this device on a single Hard drive and just add disks as you need. Ultimately this is the very best Plex NAS I have ever seen and although the price-tag is intimidating, there is no denying that you are buying a long, long-term solution for your multimedia needs.
£1900+ ex.VAT

Synology
DiskStation NAS
DS3617xs 12-bayIntel Xeon D-1527 Quad Core 2.2 GHz(2.7 GHz turbo)16GB DDR4 ECC Memory5yr Warranty
For more information of Plex and Plex Media Servers, take a moment to listen to Robbie at SPANTV explain it a little more (the video is a little old, but covers the points well).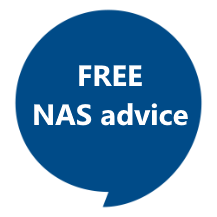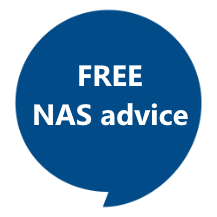 Need Help?
Where possible (and where appropriate) please provide as much information about your requirements, as then I can arrange the best answer and solution to your needs. Do not worry about your e-mail address being required, it will NOT be used in a mailing list and will NOT be used in any way other than to respond to your enquiry.