The Seagate Firecuda 540 vs MSI Spatium M570 Gen5 SSD – Which Should You Buy?
It's been a gradual journey, but Gen 5 m.2 NVMe SSDs are now more accessible, witnessing price reductions, and being introduced by prominent SSD brands. The measured emergence of Gen 5 in the SSD realm can partly be linked to the disruptions caused by the 2020 pandemic affecting Gen 5 production. The assimilation into motherboards and the shift of SSDs from Gen 4 to Gen 5 has also been unhurried. Gen 5 boasts superior performance attributes, bolstered by advanced controllers from top manufacturers. However, its uptake at the motherboard and system stages has been somewhat delayed. While Gen 5 SSDs are currently available for purchase, how consistently you can tap into their optimal performance remains a topic of debate. Still, for those considering a drive for the next half-decade, looking ahead and ensuring future compatibility is prudent. With Gen 5 becoming both more economical and sophisticated, it's set to overshadow and eventually supersede Gen 4. Therefore, for anyone contemplating a top-tier SSD for upcoming years, selecting a Gen 5 SSD is a forward-thinking move. Today, we'll be contrasting two initial Gen 5 SSD offerings: the MSI Spatium M570 and Seagate Firecuda 540. At an initial look, these SSDs might appear comparable due to the early stage of Gen 5, but they each have distinct visions for what a Gen 5 SSD should offer. Let's delve into their detailed comparison.
| | |
| --- | --- |
| | |
| Seagate Firecuda 540 NVMe SSD | MSI Spatium M570 NVMe SSD |
| Check Amazon | Check Amazon |
Comparing MSI Spatium M570 and Seagate Firecuda 540 Hardware Specifications
The solid-state drive (SSD) market is continually evolving, and with the introduction of PCIe Gen 5 SSDs, consumers have more options than ever. Today, we're focusing on two prominent contenders in the Gen5 arena: Seagate's Firecuda 540 and MSI's Spatium M570. Let's dive deep into their specifications to understand how they fare against each other.. For regular consumers, Gen 5 has been accessible for nearly 2 years, though it's more accurate to say about 18 months if we factor in the actual purchase timeframe online. On the other hand, in the data center and corporate spheres, Gen 5 has been operational for almost 3 years. This duration has paved the way for continuous research, refinement, and breakthroughs. As is typical in the SSD industry, Phison was among the pioneers to introduce a Gen 5 controller, showcasing their E26 controller. They subsequently released several other versions tailored for business needs and efficiency, such as the DRAMless E31. Soon after, entities like Integrate and Silicon Motion entered the competition. This evolution prompted many SSD manufacturers to finalize their strategies for Gen 5 SSDs early on (without even considering proprietary brands like Samsung and WD). At the same time, there were advances in storage capability and flash tech, which allowed for heightened layer counts and the prospect of more compact storage without compromising the superior Gen 5 performance benchmarks, as well as the anticipated resilience and longevity. Considering that these two Gen 5 SSDs represent some of the initial releases in the market, their performance attributes are closely matched. Still, minor variances in I/O values and longevity might render some contrasts more pronounced than others in a direct comparison. Let's see how the MSI Spatium M570 and Seagate Firecuda 540 measure up technically:
Overall Specifications
| Feature | Seagate Firecuda 540 | MSI Spatium M570 |
| --- | --- | --- |
| Manufacturer | Seagate | MSI |
| Name/Series | Firecuda 540 | Spatium M570 |
| Capacities | 1-2-4TB | 1-2TB |
| PCIe Gen | PCIe Gen 5×4 | PCIe Gen 5×4 |
| Controller | Phison E26 | Phison E26 |
| NVMe Rev. | NVMe 2.0 | NVMe 2.0 |
| NAND Type | 3D TLC Micron B58R | 3D TLC Micron B58R |
| NAND Layer | 232L | 232L |
| Inclusive Heatsink? | No (inc Heatshield) | Yes (Vented) |
| Price Per TB (2TB) | $148/TB | $177 |
| DWPD | 0.55DWPD | 0.38DWPD |
| MTBF | 2 Million Hours | 1.6 Million Hours |
| Warranty | 5yrs + 3yrs Data Rec | 5yrs |
Detailed 1TB Model Specifications
| Feature | Seagate Firecuda 540 | MSI Spatium M570 |
| --- | --- | --- |
| 1TB Model ID | ZP1000GM3A004 | TBC |
| Price | $189 | $179 |
| Seq Read Speed | 9.5GB/s | 9.5GB/s |
| Seq Write Speed | 8.5GB/s | 8.5GB/s |
| 4K Random Read IOPS | 1.3 Million | 1.3 Million |
| 4K Random Write IOPS | 1.5 Million | 1.5 Million |
| TBW | 1000TBW | 700TBW |
Detailed 2TB Model Specifications
| Feature | Seagate Firecuda 540 | MSI Spatium M570 |
| --- | --- | --- |
| 2TB Model ID | ZP2000GM3A004 | S78-440Q560-P83 |
| Price | $299 | $349.99 |
| Seq Read Speed | 10GB/s | 10GB/s |
| Seq Write Speed | 10GB/s | 10GB/s |
| 4K Random Read IOPS | 1.5 Million | 1.4 Million |
| 4K Random Write IOPS | 1.5 Million | 1.5 Million |
| TBW | 2000TBW | 1400TBW |
---
On paper, both SSDs showcase impressive stats that are in line with what consumers would expect from a Gen5 SSD. The Seagate Firecuda 540 offers a slightly wider range of capacities, including a 4TB option, and boasts a more extensive warranty period when considering data recovery. However, the MSI Spatium M570 seems to offer better value in the 1TB category, coming in slightly cheaper. It also includes an integrated vented heatsink, which can be advantageous depending on the user's setup. The real decision comes down to specific requirements, brand loyalty, and budget. Given the closely matched specs, potential buyers should also consider other factors like software support, customer reviews, and compatibility with their systems. Both drives represent the cutting edge of SSD technology and promise a significant performance boost over their Gen4 predecessors. If you're not well-versed in SSD terminology, such as DWPD, IOPS, and TBW, the video below is a useful resource. It provides a detailed breakdown of common solid-state drive terminologies, helping you discern the subtle contrasts between these two models.
In the fast-paced arena of solid-state drives, the battle between the Seagate Firecuda 540 and the MSI Spatium M570 represents a compelling matchup for any tech enthusiast. Both drives, being of the Gen5 pedigree, promise blistering speeds and improved overall performance compared to their Gen4 counterparts.
The Seagate Firecuda 540, with its broader capacity range, provides potential buyers the flexibility to choose based on their storage needs, even catering to those seeking a massive 4TB option. This flexibility is further accentuated by its extensive warranty, especially with the added bonus of data recovery – a feature often overlooked but immensely valuable in safeguarding one's data. On the other side, the MSI Spatium M570 appears to lean towards offering greater value, particularly in the 1TB model where its price undercuts the Firecuda slightly. Beyond just the numbers, the Spatium M570 showcases a thoughtful design by integrating a vented heatsink. This inclusion could be crucial for potential buyers who prioritize thermal management, especially given the performance levels these drives operate at. Yet, as with all technological purchases, the decision isn't purely black and white. While specifications provide a solid foundation for comparison, real-world performance, software support, and user experiences play a significant role. It's essential to consider compatibility with specific system setups, ease of installation, and the longevity of performance. Moreover, brand loyalty, arising from past experiences with customer service and product reliability, might tip the scales for some.
In the grand scheme, it's exhilarating to see how far SSD technology has come. Both the Firecuda 540 and Spatium M570 stand as testaments to the leaps and bounds the industry has made, and their offerings bode well for the future. As Gen5 SSDs continue to become more mainstream and further innovations arise, consumers stand to benefit the most. Whether you're a hardcore gamer seeking reduced load times, a content creator desiring faster render speeds, or just someone who craves a zippy computing experience, both these SSDs present a promising step forward. Making an informed choice now will not only cater to present needs but also ensure that your tech setup is future-proofed for the innovations around the corner.
| | |
| --- | --- |
| | |
| Seagate Firecuda 540 NVMe SSD | MSI Spatium M570 NVMe SSD |
| Check Amazon | Check Amazon |
📧 LET ME KNOW ABOUT NEW POSTS 🔔
Join 1,750 other subscribers
Get an alert every time something gets added to this specific article!
This description contains links to Amazon. These links will take you to some of the products mentioned in today's content. As an Amazon Associate, I earn from qualifying purchases. Visit the NASCompares Deal Finder to find the best place to buy this device in your region, based on Service, Support and Reputation - Just Search for your NAS Drive in the Box Below
Need Advice on Data Storage from an Expert?
Finally, for free advice about your setup, j
ust leave a message in the comments below here at NASCompares.com and we will get back to you.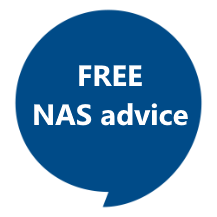 Need Help?
Where possible (and where appropriate) please provide as much information about your requirements, as then I can arrange the best answer and solution to your needs. Do not worry about your e-mail address being required, it will NOT be used in a mailing list and will NOT be used in any way other than to respond to your enquiry.
TRY CHAT
Terms and Conditions
If you like this service, please consider supporting us.
We use affiliate links on the blog allowing NAScompares information and advice service to be free of charge to you.
Anything you purchase on the day you click on our links will generate a small commission which is
used to run the website. Here is a link for
Amazon
and
B&H
.
You can also get me a ☕
Ko-fi
or old school
Paypal
. Thanks!
To find out more about how to support this advice service check
HERE
If you need to fix or configure a NAS, check
Fiver
Have you thought about helping others with your knowledge?
Find Instructions Here

ASK NASCompares forum
, by clicking the button below. This is a community hub that serves as a place that I can answer your question, chew the fat, share new release information and even get corrections posted. I will always get around to answering ALL queries, but as a one-man operation, I cannot promise speed! So by sharing your query in the
ASK NASCompares
section below, you can get a better range of solutions and suggestions, alongside my own.