Seagate Firecuda 540 vs. Crucial T700 : A Gen5 SSD Showdown
After a wait, Gen 5 m.2 NVMe SSDs are increasingly accessible and affordable, with key players in the SSD market now introducing them. The delayed introduction of Gen 5 in the realm of solid-state drives is partly due to the repercussions of the 2020 pandemic on its production. The shift and assimilation of these drives into motherboards, especially from Gen 4 to Gen 5, has been gradual. With Gen 5, there's an anticipation of superior performance, backed by upgraded controllers from top-tier manufacturers. Yet, there has been a slight delay in its full adoption at both motherboard and system levels. While it's possible to acquire a Gen 5 SSD now, the extent of its optimal performance utilization remains a topic of debate. However, for those considering a purchase meant to last the next half-decade, it's prudent to think ahead and select a future-compatible drive. As Gen 5's affordability and prowess grow, it's set to outshine and phase out Gen 4. So, for anyone seeking a top-tier SSD for upcoming years, a Gen 5 SSD is a wise long-term investment. In this piece, we'll be exploring two prominent Gen 5 SSD contenders: the Seagate Firecuda 540 and the Crucial T700. At a cursory look, their similarities due to the early stage of Gen 5 might be evident, but they offer distinct advantages. Let's delve into a detailed comparison of these two models.
| | |
| --- | --- |
| | |
| Seagate Firecuda 540 NVMe SSD | Crucial T700 NVMe SSD |
| Check Amazon | Check Amazon |
Comparing Seagate Firecuda 540 and Crucial T700 Hardware Specifications
As the world of Solid State Drives (SSDs) continually evolves, top-tier manufacturers are in a race to produce drives that offer the best balance of speed, durability, and affordability. The Seagate Firecuda 540 and the Crucial T700 are no exceptions to this trend. Both SSDs belong to the latest PCIe Gen 5×4 category and seem poised to elevate your computing experience. But which one should be your next purchase? Let's dive deep into their specifications to help you decide. From the perspective of the average consumer, Gen 5 has been in the market for roughly 2 years, but more precisely about 18 months when considering its actual online purchase availability. Meanwhile, in the spheres of data centers and enterprise operations, Gen 5 made its debut almost 3 years ago. This extended timeline has paved the way for continuous research, refinement, and breakthroughs. As is often the case in the SSD industry, Phison was quick off the mark, revealing a Gen 5 controller in the form of the E26. This was succeeded by a couple of models aimed at enterprise needs and efficiency, including the DRAMless E31. Other industry players like Integrate and Silicon Motion weren't far behind. This evolutionary trajectory saw many SSD manufacturers determining their Gen 5 strategies quite early, not to mention the in-house productions from giants like Samsung and WD. Alongside these developments, advancements in storage efficacy and flash technology emerged, facilitating higher layer counts and offering denser storage capacities without compromising Gen 5's lofty performance, durability, and endurance benchmarks. Given that the Seagate Firecuda 540 and Crucial T700 are part of the initial batch of Gen 5 SSDs in the market, their performance metrics are understandably similar. Yet, when analyzing I/O measurements and robustness, certain nuances might give one an edge over the other in a direct comparison. Here's a closer look at how the two SSDs compare in terms of hardware:
General Specifications
| Specification | Seagate Firecuda 540 | Crucial T700 |
| --- | --- | --- |
| Manufacturer | Seagate | Crucial |
| Name/Series | Seagate Firecuda 540 | Crucial T700 |
| Capacities | 1-2-4TB | 1-2-4TB |
| PCIe Gen | PCIe Gen 5×4 | PCIe Gen 5×4 |
| Controller | Phison E26 | Phison E26 |
| NVMe Rev. | NVMe 2.0 | NVMe 2.0 |
| NAND Type | 3D TLC Micron B58R | 3D TLC Micron B58R |
| NAND Layer | 232L | 232L |
| Inclusive Heatsink? | No (inc Heatshield) | Optional |
| Price Per TB | $148/TB (2TB) | $157 per TB (4TB) |
| DWPD | 0.55DWPD | 0.329DWPD |
| MTBF | 2 Million Hours | 1.6 Million Hours |
| Warranty | 5yrs + 3yrs Data Rec | 5yrs |
1TB Model Comparison
| Specification | Seagate Firecuda 540 | Crucial T700 |
| --- | --- | --- |
| Model ID | ZP1000GM3A004 | CT1000T700SSD5 |
| Price | $189 | $179.99 |
| Seq Read Speed | 9.5GB/s | 11.7GB/s |
| Seq Write Speed | 8.5GB/s | 9.5GB/s |
| 4K Random Read IOPS | 1.3 Million | 1.35 Million |
| 4K Random Write IOPS | 1.5 Million | 1.4 Million |
| TBW | 1000TBW | 600TBW |
2TB Model Comparison
| Specification | Seagate Firecuda 540 | Crucial T700 |
| --- | --- | --- |
| Model ID | ZP2000GM3A004 | CT2000T700SSD5 |
| Price | $299 | $339.99 |
| Seq Read Speed | 10GB/s | 12.4GB/s |
| Seq Write Speed | 10GB/s | 11.8GB/s |
| 4K Random Read IOPS | 1.5 Million | 1.5 Million |
| 4K Random Write IOPS | 1.5 Million | 1.5 Million |
| TBW | 2000TBW | 1200TBW |
4TB Model Comparison
| Specification | Seagate Firecuda 540 | Crucial T700 |
| --- | --- | --- |
| Model # | N/A | CT4000T700SSD5 |
| Price | N/A | $599.99 |
| Seq Read Speed | N/A | 12.4GB/s |
| Seq Write Speed | N/A | 11.8GB/s |
| 4K Random Read IOPS | N/A | 1.5 Million |
| 4K Random Write IOPS | N/A | 1.5 Million |
| TBW | N/A | 2400TBW |
If terms like DWPD, IOPS, and TBW sound foreign to you, the video below will be invaluable. It provides a clear breakdown of common SSD terminologies, helping you better understand the subtle contrasts between the Seagate Firecuda 540 and the Crucial T700.
Choosing between the Seagate Firecuda 540 and the Crucial T700 is no easy task. Both SSDs manifest themselves as the embodiment of cutting-edge technology, exhibiting attributes that cater to diverse preferences and purposes. Let's break it down further to give you a clearer picture:
1. Performance: The Crucial T700 takes the lead here. Boasting faster sequential read and write speeds across the 1TB and 2TB models, users might witness marginally quicker load times, faster data transfers, and an overall enhanced performance. Especially for those involved in data-heavy tasks like video editing or large-scale simulations, those extra speeds could translate to noticeable improvements.
2. Cost-Effectiveness: For the budget-conscious consumer, the Firecuda 540 shines brighter. The attractive price per TB, particularly for the 2TB model, offers great value, allowing users to get a high-performing SSD without breaking the bank. Over time, this price difference can become significant, especially for those looking to upgrade multiple systems.
3. Durability & Reliability: Delving deeper into longevity, the Firecuda 540 edges out its competitor. A higher TBW suggests it can handle more data writes over its lifespan. Furthermore, the longer MTBF and the unique addition of a 3-year data recovery warranty underline Seagate's confidence in its product's durability. For users whose primary concern is a lasting investment, this might tilt the scales in Seagate's favor.
4. Cooling Solutions: Thermal management is vital in ensuring consistent performance and prolonging the SSD's life. While the Firecuda 540 incorporates a heat shield, the Crucial T700 offers an optional heatsink. For enthusiasts or professionals who might push their SSDs to the limit, having a dedicated cooling solution, as in the T700, could be beneficial.
5. Future Expansion: Both SSDs provide a range of capacities up to 4TB. However, it's worth noting that, as of the data provided, Seagate hasn't released the specifications for a 4TB model. This could be a limitation for users seeking maximum storage from the Firecuda series.
In sum, the Seagate Firecuda 540 and Crucial T700 represent the pinnacle of current SSD technology, each with its strengths. The Firecuda seems tailored for those who value durability and cost-effectiveness, while the T700 might appeal more to performance enthusiasts and those keen on optimal cooling solutions. Your final choice should align with what you prioritize most in an SSD, whether that's speed, longevity, cooling efficiency, or cost.
| | |
| --- | --- |
| | |
| Seagate Firecuda 540 NVMe SSD | Crucial T700 NVMe SSD |
| Check Amazon | Check Amazon |
---
📧 LET ME KNOW ABOUT NEW POSTS 🔔
Join 1,750 other subscribers
Get an alert every time something gets added to this specific article!
This description contains links to Amazon. These links will take you to some of the products mentioned in today's content. As an Amazon Associate, I earn from qualifying purchases. Visit the NASCompares Deal Finder to find the best place to buy this device in your region, based on Service, Support and Reputation - Just Search for your NAS Drive in the Box Below
Need Advice on Data Storage from an Expert?
Finally, for free advice about your setup, j
ust leave a message in the comments below here at NASCompares.com and we will get back to you.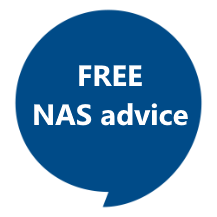 Need Help?
Where possible (and where appropriate) please provide as much information about your requirements, as then I can arrange the best answer and solution to your needs. Do not worry about your e-mail address being required, it will NOT be used in a mailing list and will NOT be used in any way other than to respond to your enquiry.
TRY CHAT
Terms and Conditions
If you like this service, please consider supporting us.
We use affiliate links on the blog allowing NAScompares information and advice service to be free of charge to you.
Anything you purchase on the day you click on our links will generate a small commission which is
used to run the website. Here is a link for
Amazon
and
B&H
.
You can also get me a ☕
Ko-fi
or old school
Paypal
. Thanks!
To find out more about how to support this advice service check
HERE
If you need to fix or configure a NAS, check
Fiver
Have you thought about helping others with your knowledge?
Find Instructions Here

ASK NASCompares forum
, by clicking the button below. This is a community hub that serves as a place that I can answer your question, chew the fat, share new release information and even get corrections posted. I will always get around to answering ALL queries, but as a one-man operation, I cannot promise speed! So by sharing your query in the
ASK NASCompares
section below, you can get a better range of solutions and suggestions, alongside my own.