Taipei, Taiwan, September 5, 2023 – In a groundbreaking move, QNAP® Systems, Inc., a trailblazer in computing, networking, and storage solutions, has unveiled the QXG-25G2SF-E810, a dual-port 25GbE SFP28 network expansion card that is set to revolutionize the world of data transmission. This cutting-edge expansion card is equipped with the Intel® Ethernet Controller E810-XXVAM2, supporting the PCIe 4.0 interface (also compatible with PCIe 3.0). The QXG-25G2SF-E810 can be seamlessly integrated into QNAP NAS systems and Windows®/Linux® workstations and servers equipped with PCIe slots, promising to bring a host of benefits to various industries.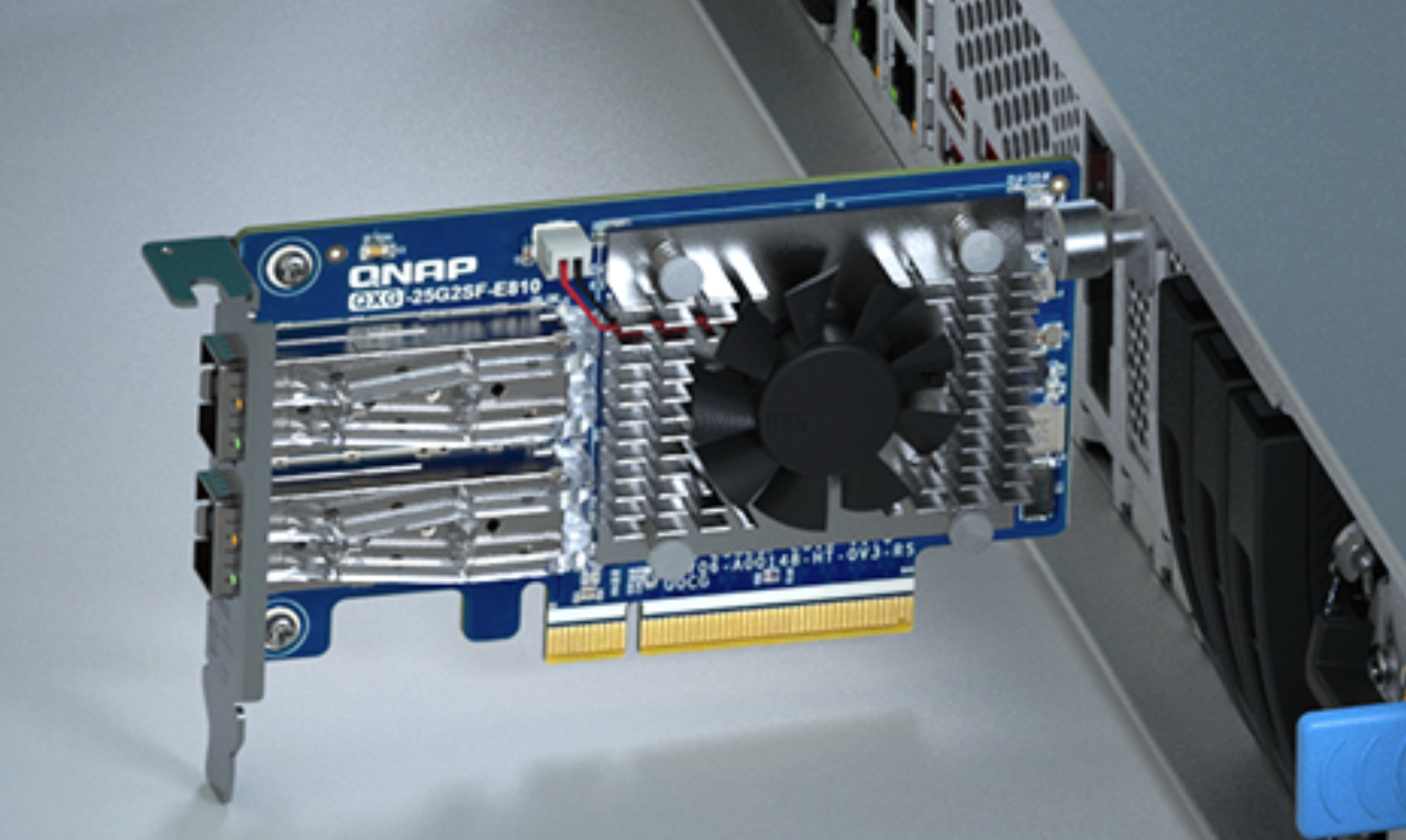 High-Bandwidth and Low-Latency Marvel
Enterprises in the pursuit of high-speed networks with intensive data transmission and virtualization needs will find their wishes granted with the QXG-25G2SF-E810. This expansion card facilitates a rapid upgrade to 25GbE networks, offering a high-bandwidth and low-latency experience that caters to the demands of data centers, virtualization applications, audio and video transmission, online editing, file backup, and storage, among other applications.
According to Zhuang Yicheng, QNAP's product manager, "As the demand for intensive data transmission and virtualization applications continues to grow, enterprises now define high-speed networks as 25GbE. The new QXG-25G2SF-E810 expansion card enables enterprises to effortlessly ascend to the 25GbE realm, meeting the thirst for high-speed transmission. Furthermore, 25GbE offers an easy pathway to even higher-end 100GbE networks through four-wire technology, positioning enterprises for a robust 100GbE network foundation."
Lightning-Fast Data Transmission and Network Efficiency
The QXG-25G2SF-E810 is no slouch when it comes to speed, delivering transmission rates of up to 25Gbps. Additionally, it can aggregate network bandwidth through SMB Multichannel, providing an impressive data transmission performance of up to 50Gbps. This capability accelerates large-scale sharing and intensive data transmission, making it a perfect fit for I/O-intensive and latency-sensitive virtualization applications and data centers.
Network Offload support enhances network efficiency, ensuring smoother operations for enterprises. Moreover, this expansion card can be effortlessly installed on the QNAP TS-h2287XU-RP NAS, expanding the network's capabilities with ease. By pairing it with a 25GbE network switch, businesses can create a high-speed network and storage environment that is both cost-effective and scalable.
Compatibility with Windows and Linux Workstations
The QXG-25G2SF-E810 is designed to be versatile, extending its support to Windows and Linux workstations and servers. It's fully compatible with Windows 11, Windows Server® 2022, and Ubuntu® 20.04 LTS. To harness its full potential, users can simply download the dedicated driver from the Intel official website.
In summary, QNAP's new QXG-25G2SF-E810 dual-port 25GbE SFP28 network expansion card is set to elevate the performance and capabilities of NAS systems, workstations, and servers across various industries. With its high-speed transmission, network efficiency improvements, and seamless integration into existing infrastructure, businesses are poised to experience a significant boost in productivity and data handling capabilities.
For more information about this groundbreaking release, visit the official QNAP website.
If you like this service, please consider supporting us.
We use affiliate links on the blog allowing NAScompares information and advice service to be free of charge to you.
Anything you purchase on the day you click on our links will generate a small commission which is
used to run the website. Here is a link for
Amazon
and
B&H
.
You can also get me a ☕
Ko-fi
or old school
Paypal
. Thanks!
To find out more about how to support this advice service check
HERE
If you need to fix or configure a NAS, check
Fiver
Have you thought about helping others with your knowledge?
Find Instructions Here
☕ WE LOVE COFFEE ☕

Or support us by using our affiliate links on Amazon UK and Amazon US