Berlin, Germany – September 2, 2023 – The stage was set for innovation at IFA 2023 as Ugreen, a renowned name in tech peripherals, made its grand entrance into the NAS system market. With the introduction of the DXP2800 and DXP4800, Ugreen demonstrates its commitment to delivering cutting-edge storage solutions that cater to both enthusiasts and professionals.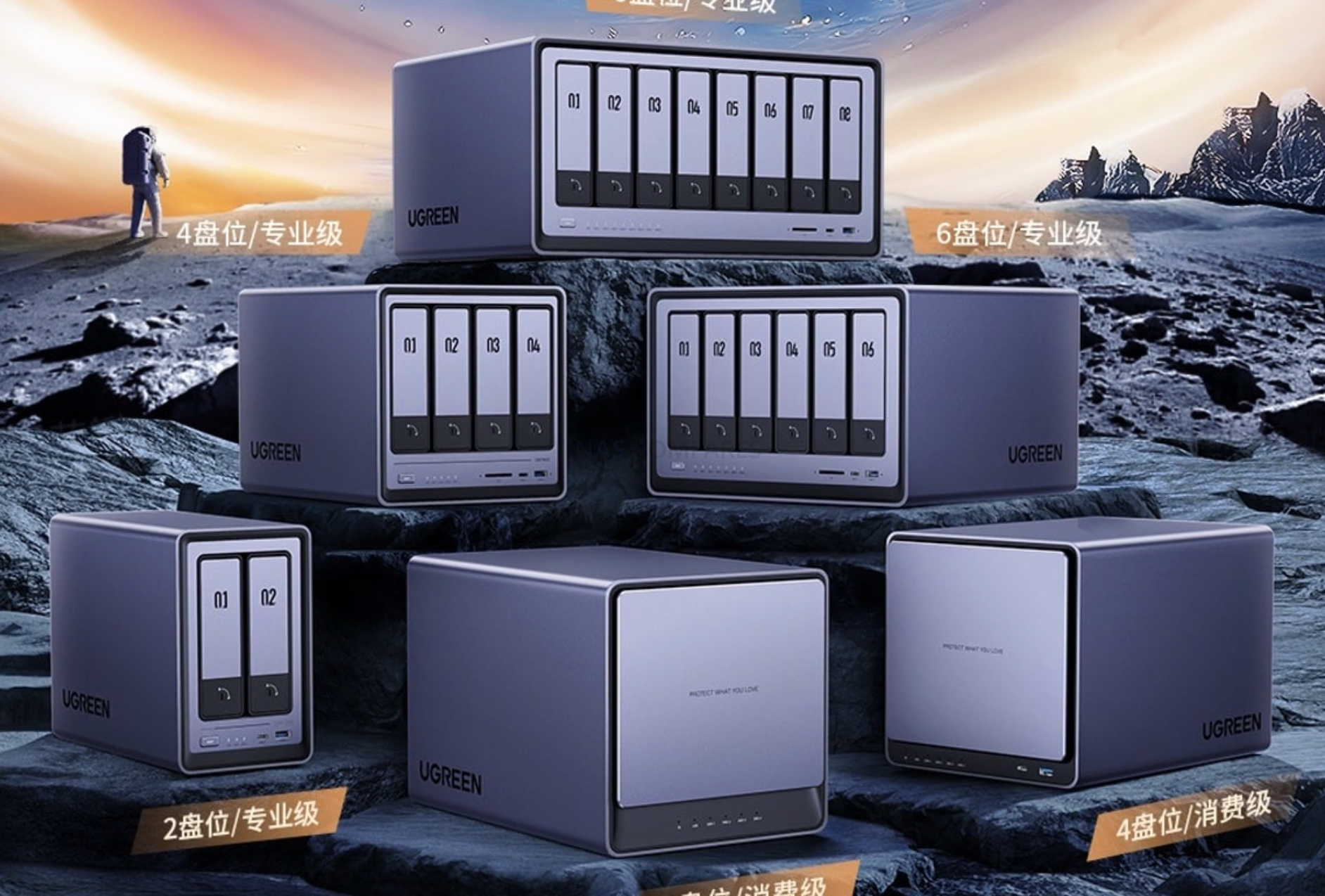 Source:stadt-bremerhaven.de
Dual Models for Diverse Needs
The Ugreen DXP2800 and DXP4800 NAS systems are designed to meet a variety of storage demands. The DXP2800 accommodates up to two drives, while the DXP4800 steps up the game with support for up to four drives. Whether you're an individual user or running a small business, these NAS systems offer versatile storage solutions to fit your requirements.
Powerful Intel N100 Processor with HDMI and 8GB RAM
Under the hood, both the DXP2800 and DXP4800 pack a punch with an Intel N100 processor. This energy-efficient CPU boasts clock speeds of up to 3.4 GHz, with four cores and four threads, all while maintaining a frugal 6-watt TDP. What's more, Ugreen has equipped these systems with 8 gigabytes of RAM to ensure smooth multitasking and efficient data handling.
One standout feature is the inclusion of an HDMI port, allowing users to easily display photos and videos directly from their NAS. Supporting UHD at 60 Hz, this feature enhances the multimedia capabilities of these NAS systems.
High-Speed Connectivity
Both models come equipped with LAN ports, with the DXP2800 featuring one and the DXP4800 offering two. Ugreen lists the LAN ports with a remarkable 2.5 Gbit/s in their specifications.
To further bolster performance, both systems feature two M.2 slots for NVMe SSDs, ensuring rapid data access. The versatile array of USB ports includes one USB-C and four USB-A ports, with the front USB-A port supporting USB 3.0 at 10 Gbit/s. A rear USB-A port offers USB 3.0 at 5 Gbit/s, while the remaining two USB-A ports on the back are designated for USB 2.0 with speeds of 480 Mbit/s. Additionally, the DXP4800 boasts an SD card reader, expanding its data transfer capabilities.
Robust Build Quality
Ugreen has crafted these NAS systems with a combination of metal and plastic components, ensuring durability and a sleek aesthetic. The drive frames at the front are constructed from robust plastic, maintaining a balance between form and function. At first glance, both the DXP2800 and DXP4800 impress with their solid build quality.
Awaiting Operating System Details
While Ugreen has showcased the hardware prowess of the DXP2800 and DXP4800, what remains to be seen are the details surrounding the operating system and its functionalities. ComputerBase is actively engaged with Ugreen to unearth further insights into these NAS models.
Coming Soon to Europe
The wait won't be long for European consumers eager to get their hands on these NAS systems. Ugreen plans to launch the DXP2800 and DXP4800 in China before making them available in Europe in early 2024. As for pricing, Ugreen has yet to disclose official figures for the German market, leaving enthusiasts and professionals alike in eager anticipation. Stay tuned for more updates on these exciting developments from Ugreen as they continue to expand their tech portfolio.
More about the CPU:
Intel® Processor N100: A Power-Efficient Marvel
Intel is making waves in the processor market once again with its latest innovation, the Intel® Processor N100, part of the Intel N-series processor lineup. Designed under the codename Alder Lake-N, this CPU is a remarkable addition to the world of mobile computing.
Impressive Core Specifications
The Intel N100 boasts a quad-core architecture, providing users with four high-performance cores for seamless multitasking and computing. With four threads, this processor ensures efficient parallel processing, making it ideal for a range of tasks.
Turbocharged Performance
Clocking in at an impressive maximum turbo clock frequency of 3.40GHz, the N100 ensures swift and responsive computing experiences. Whether you're running applications, streaming multimedia content, or engaging in demanding workloads, this processor delivers the performance you need.
Smart Cache for Efficient Data Handling
With 6MB of Intel® Smart Cache, the N100 optimizes data access, reducing latency, and enhancing overall system responsiveness. This smart cache allocation ensures that frequently accessed data is readily available for quick retrieval.
Energy-Efficient Design
One of the standout features of the Intel N100 is its power efficiency. With a thermal design power (TDP) of just 6W, this processor strikes a remarkable balance between performance and power consumption. It's a compelling choice for mobile devices where battery life is a top priority.
Memory and Graphics Capabilities
The N100 supports a maximum memory size of 16GB, depending on the memory type used. It's compatible with DDR4 3200 MT/s, DDR5 4800 MT/s, and LPDDR5 4800 MT/s, ensuring flexible memory options to suit various computing needs.
When it comes to graphics, the N100 is equipped with Intel® UHD Graphics, featuring 24 execution units and supporting 4K video at 60Hz. With video output options including eDP 1.4b, DP 1.4, HDMI 2.1, and MIPI-DSI 1.3, it provides versatility for connecting to a range of display devices.
Expansion and Connectivity
The processor's PCIe revision is Gen 3, with a maximum of nine PCI Express lanes. This offers ample connectivity options for peripherals and expansion cards.
Innovative Technical Features
Intel has incorporated several innovative features into the N100, including the Intel® Gaussian and Neural Accelerator 3.0, Intel® Image Processing Unit 6.0, and Intel® Smart Sound Technology. These features enhance AI processing, image processing, and audio capabilities, contributing to a more immersive computing experience.
Security and Reliability
Intel's commitment to security and reliability is evident in the N100's feature set. It includes Intel® AES New Instructions, Intel® OS Guard, Intel® Boot Guard, and Intel® Virtualization Technology (VT-x), among others. These features help safeguard data and ensure system integrity.
In summary, the Intel® Processor N100 is a noteworthy addition to Intel's lineup, offering power-efficient performance, robust graphics capabilities, and innovative features. Whether you're using it in a mobile device or a compact computing solution, the N100 is poised to deliver a responsive and efficient computing experience.
UPE | Intel® 
2023/09/05 10:33:19

Intel® Prozessor N100 (6 MB Cache- bis zu 3-40 GHz)

Main data
Product range

Intel® N-series processor

Codename

Products previously called Alder Lake-N

Vertical segment

mobile

Processor number

N100

lithograph

Intel 7

Recommended customer price

$128.00

CPU specifications
Number of cores

4

Number of threads

4

Max. Turbo clock frequency

3.40GHz

Cache

6MB Intel® Smart Cache

Power loss (TDP)

6W

Additional Information
status

Launched

Introduction date

Q1'23

Embedded models available

No

Memory specifications
Max. memory size (depending on memory type)

16 GB

Storage types

DDR4 3200 MT/s DDR5 4800 MT/s LPDDR5 4800 MT/s

Maximum storage speed

4800MHz

Max. number of memory channels

1

ECC memory support ‡

No

Processor graphics
Processor graphics ‡

Intel® UHD Graphics

Max. dynamic graphics frequency

750MHz

Video output
eDP 1.4b |

 

DP 1.4 |

 

HDMI 2.1 |

 

MIPI-DSI 1.3
Execution units

24

4K support
Yes |

 

at 60Hz
Max. Resolution (HDMI)‡

4096×2160@60Hz

Max Resolution (DP)‡

4096×2160@60Hz

Support for DirectX*

12.1

OpenGL* support

4.6

OpenCL* Support

3.0

Intel® Quick Sync Video

Yes

Number of screens supported ‡

3

Device identifier

0x46D1

Expansion options
Chipset / PCH PCIe revision

Gen 3

Maximum number of PCI Express lanes

9

I/O specifications
USB version

2.0/3.2

General purpose IO

Yes

Package specifications
Suitable bases

FCBGA1264

Max. CPU population

1

T JUNCTION

105°C

Case size

35mm x 24mm

Innovative technical features
Intel® Gaussian and Neural Accelerator

3.0

Intel® Image Processing Unit

6.0

Intel® Smart Sound Technology

Yes

Intel® Wake on Voice

Yes

Intel® High Definition Audio

Yes

MIPI SoundWire*

1.2

Intel® Speed ​​Shift Technology

Yes

Intel® Hyper-Threading Technology ‡

No

Command set

64-bit

Instruction set extensions
Intel® SSE4.1 |

 

Intel® SSE4.2 |

 

Intel® AVX2
Advanced Intel SpeedStep® Technology

Yes

Thermal monitoring technologies

Yes

Security and reliability
Intel® AES New Instructions

Yes

Intel® OS Guard

Yes

Intel® Boot Guard

Yes

Intel® Virtualization Technology (VT-x) ‡

Yes

Intel® Directed I/O Virtualization Technology (VT-d) ‡

Yes

Intel® VT-x with Extended Page Tables (EPT) ‡

Yes
If you like this service, please consider supporting us.
We use affiliate links on the blog allowing NAScompares information and advice service to be free of charge to you.
Anything you purchase on the day you click on our links will generate a small commission which is
used to run the website. Here is a link for
Amazon
and
B&H
.
You can also get me a ☕
Ko-fi
or old school
Paypal
. Thanks!
To find out more about how to support this advice service check
HERE
If you need to fix or configure a NAS, check
Fiver
Have you thought about helping others with your knowledge?
Find Instructions Here
☕ WE LOVE COFFEE ☕

Or support us by using our affiliate links on Amazon UK and Amazon US