Synology Launching a New Simplified Backup Solution? BSM?
Remember when Synology launched a new direct attached SSD drive, the BeeDrive, back in summer 2023? Well, as many of us suspect, it looks like this was the first step in a larger roll out of a new storage solution in the brand's portfolio of both hardware and software. Named BSM (which at this time is suspected to stand for BeeDrive Station Manager, Bee Station Manager or Backup Station Manager), this new software was originally spotted by keen-eyed friend of the channel Luka, of BlackVoid (his big breakdown of his findings, as well as tear down of the OS .pat file can be found HERE on his site – where the bulk of today's article is sourced from) seemingly is more than just an firmware update for the existing BeeDrive series however. Pre-bundled with a large number of 1st party Synology tools/apps and service extras, it increasingly appears that we are talking about a full system OS built to run on a new range of Synology hardware devices, arriving with inclusive storage (more on that later) and is either serving as a much more streamlined alternative to the traditionally more open-managed DSM natures of the rest of the Synology NAS portfolio, as an extension of the more locally accessible storage architecture of the existing BeeDrive series – or perhaps a merging of both? Which would definitely serve to fill the increasingly frustrating void left in the storage market left by Drobo between DAS and NAS? Things are still very, very much 'unconfirmed' right now, but luckily thanks to Luka's teardown, we have plenty of information we can use to make well-informed guesses!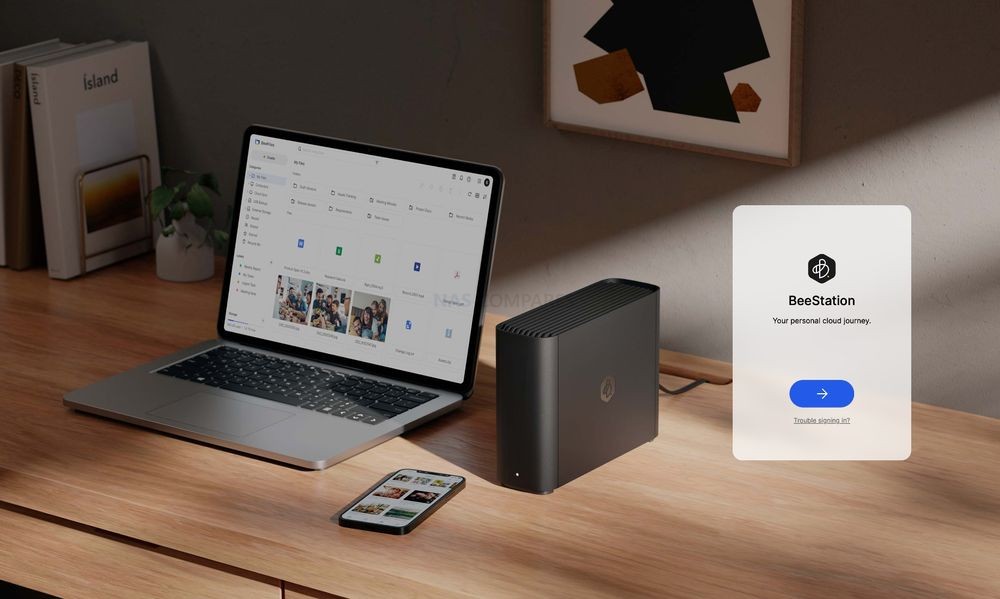 Let's go through them:
Where Was Information on the Synology BSM Software Found?
Synology runs a well-maintained and no-fuss download portal on its website (here) that although lacks a lot of the polish and presentation of their usual download pages, it allows users to access the full range of downloads for software updates, utilities and packages for significantly further back in the brand's history (i.e legacy downloads). This is generally also the first place where you see new software updates appear when they undergo 'stage roll outs' too. Luka spotted that a new subfolder appeared the 'OS' table that normally just shows DSM (Diskstation Manager) and SRM (Synology Router Manager) alongside a few other specialist system software options, which was labeled 'BSM' and opened up to a single downloaded .pat OS download file for 'BSM_BST150-4T_65078.pat' – which pretty clearly indicates that a device called the 'BST150-4T':

Arriving at 500MB+, this is not a small OS file! Arriving at 30-40% larger than more DSM files. Now, this does not appear to be a software file that can be applied at all to the existing Synology 1 TB (BDS70-1T) & 2 TB (BDS70-2T) Bee Drives, which rely largely on the OS and the BeeDrive client app on a connected OS host. Also, there is no 4T/4TB version of that product family either. All of this pretty much confirms we are talking about a much more full-featured storage solution by comparison. But what else can be extrapolated here?
What is the BST150-4T and What does the Synology BSM System Software File Contain?
Again, huge credit to Luka @ Blackvoid here for doing the detective work here. Using extraction, he was able to open up the BSM_BST150-4T_65078.pat software file and uncover a whole bunch of things! First discovering that it is built on the DSM 7.2 architecture, but is a splinter off from this (much the same as SRM is a splinter of DSM). Additionally, the .pat file opened up quickly the reason for that additional size – namely that it arrives with a bunch of apps and tools pre-loaded: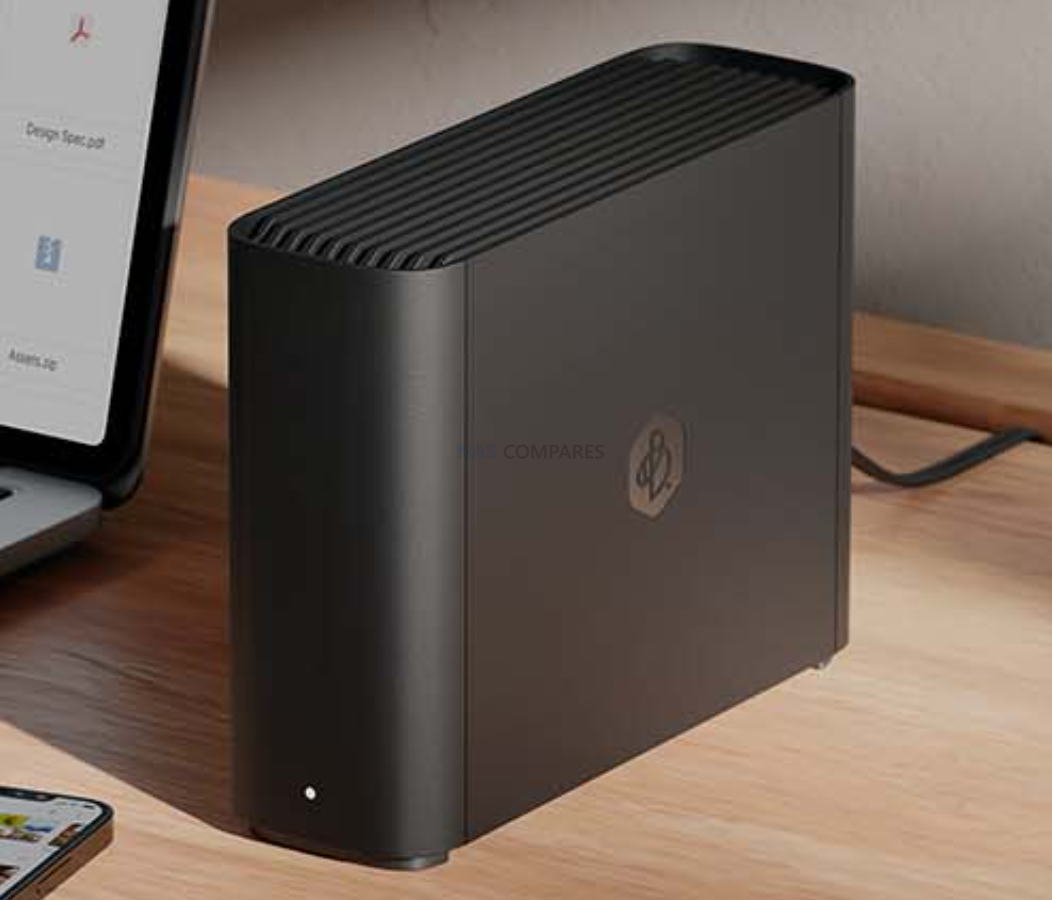 FileStation
SynoFinder
SMBService
QuickConnect
UniversalViewer
CloudSync
USBCopy
HyperBackup
SynologyPhotos
SynologyDrive
MangoDrive
bee-AdminCenter
bee-Fonts
CodecPack
Python2
exFAT-Free
Node.js_v18
SynologyApplicationService
PHP7.4
Now, having this OS arrive with pre-loaded applications is something that Synology has dabbled with in the past. When you boot Synology DSM for the first time, some applications and services are either deemed essential to operation for any user (File Station, SAN Manager, etc) or are background packages that are needed to DSM to operate at all times. In the case of the packages included with BSM on the BST150-4T firmware, there are ALOT of software packages that would usually be optional (the multimedia suite and backup/sync tools especially!). This massively indicates that we are talking about a system that not only arrives with storage pre-populated (hence the 4T naming convention for 4TB storage), but also arrives genuinely turn-key and ready to go 'out the box'.
Additionally, the inside application/services of Quick Connect , Synology Drive and Cloud sync very clearly indicate that this will be a network and remote-accessible storage solution (something that the Synology BeeDrive somewhat half achieved, with its dependence on the network adapter of the connected host OS system). But Luka's digging did not stop there! Thanks to extrapolating the individual application .spk files, he identified that they are 'ARMv8' installers, which means the BST150 series will be running on ARM architecture. Indeed, the Synology MangoDrive installer/launcher had the RTD1619b designation, a processor that has been rolling out in the Synology 2023/2024 generation of Value/J series devices (DS223, DS223j, DS423) this year.
Finally, there was other system indications and capabilities in the .pat file revealed by Luka in his research that confirmed the following (some of which are expected for an ARM architecture device, and others just good to have confirmed at this early stage):
The BeeStation BST150 series will support encryption on shared folder creation
The BeeStation BST150 series will unfortunately NOT support volume encryption (not a surprise, on an ARM processor)
The BeeStation BST150 series seemingly arrives as a single media drive system, with a parameter in the software identified by Luka to state: 'support_raid_disk_replacement="no"' – i.e. no RAID option for recovery
Now, another development that Luka picked up on was the registering of a new trademark by Synology 2 months ago, the 'BeeStation' name: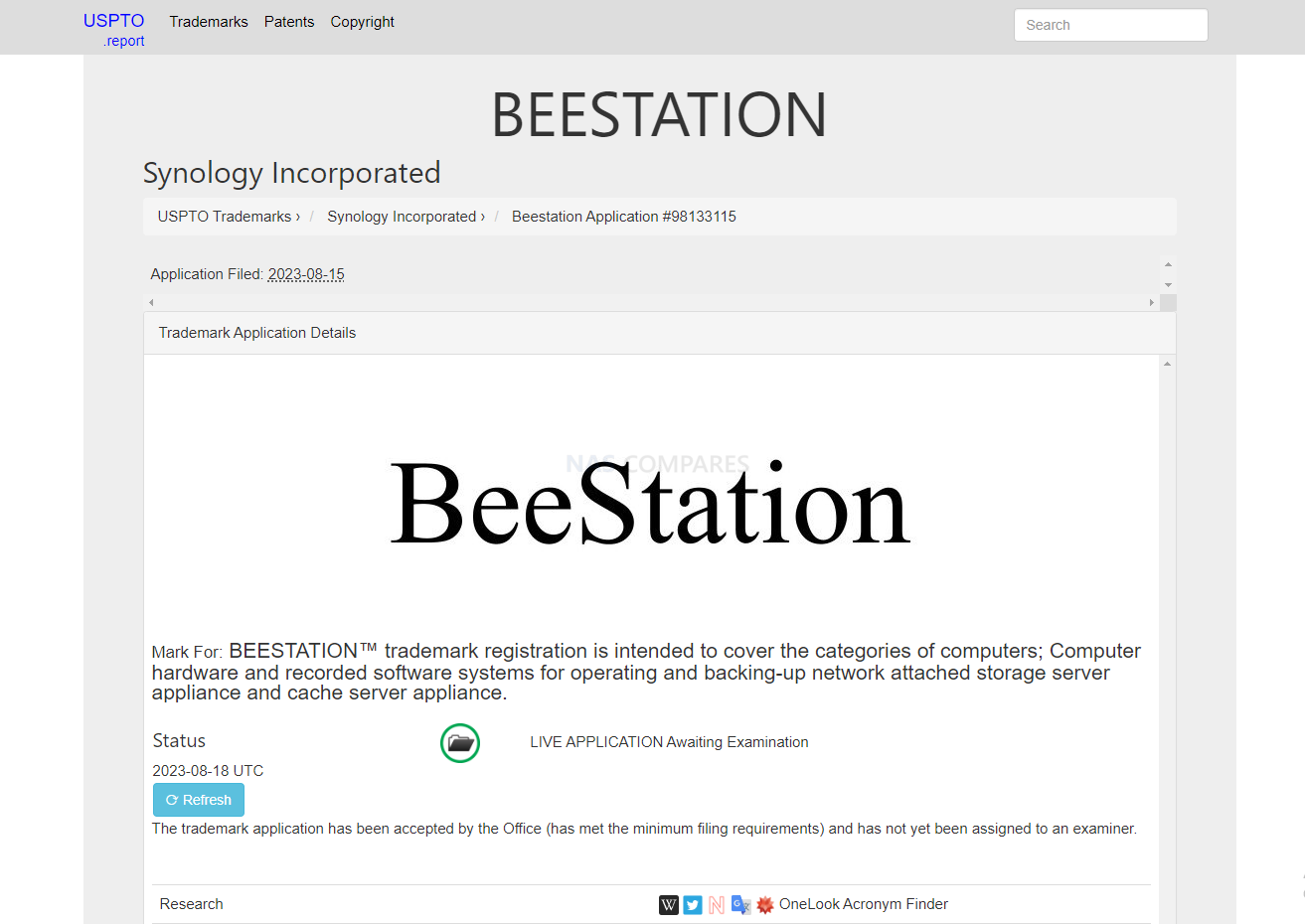 All of this adds up to the clear indication of Synology rolling out this new, more convenient software solution to existing alongside DSM.
Why Would Synology Release BSM and the BST150 NAS Series?
As mentioned earlier, Synology rolled out the BeeDrive and accompanying BeeDrive and BeeDrop software/services publically back in July/August for their 1TB and 2TB BeeDrive solutions, so clearly this is going to be a more evolved solution in their area. So, given the ARM 64bit architecture, inclusive base-line applications for file access and tailored management in BSM as standard, bundled and pre-installed storage capacity indicated in the model classification AND the fact it is seemingly going to be built into an evolving range of solutions under the BeeDrive and BeeStation moniker, it looks like Synology is going to be expanded to fill the rather messy and undisciplined tier of the market that is slowly being exited by the likes of WD and Drobo with their WD My Cloud and BeyondRAID solutions respectively. Clearly, this system will feature network/remote connectivity and be built on a web/app GUI that likely streamlines the options available in DSM (i.e less flexibility but increased simplicity and user ease of use), but will it feature/adapt any of the more direct attached features of the existing BeeDrive? It would be tough to imagine, as network IP protocol and Direct Attached protocol are very different and though many attempt the get around this (i.e QNAP and their Thunderbolt NAS series) it is a far cry from the simplicity of plug-n-play DAS!
Delving deeper into the SPK files associated with the BeeStation PAT, more details emerge. When examining the Bee Admin SPK, insights about the forthcoming platform become apparent. Immediately, there's evidence indicating the utilization of both local and remote account systems. The remote accounts supported include Synology Account, Google, and Apple ID. To log in, the BeeStation will employ local ports 6600/6601 for HTTP/HTTPS. To access it beyond the local network, a specially designed public portal for the BeeStations is required – this revelation introduces us to the BeeStation itself.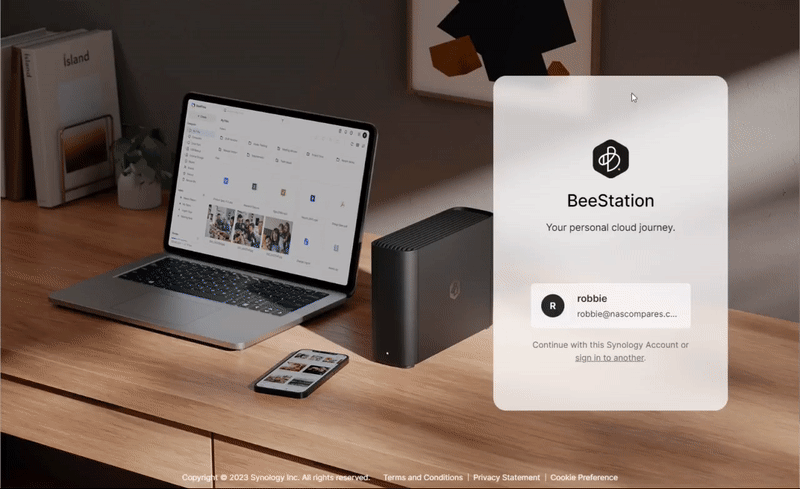 The data within the PAT file suggests that this appears to be a standalone single-bay device, not directly connected to a computer. However, by accessing the portal, additional details about the back of the unit are revealed. From the provided images, it's evident that this is a NAS device equipped with USB ports on its rear. Coupled with the presence of a HyperBackup package, it's evident that this device can be backed up to an external unit. Additionally, it is compatible with Synology's C2 for backup storage. Revisiting the Bee Admin Center, we gleaned that the BeeStation offers an option, as previously mentioned, for both local and C2 data backups. Moreover, it seems the device might also accommodate multi-user configurations. There's an entire segment suggesting that email invitations can be utilized to add new members and share data with them. Ownership transfer is also a feature. While it remains ambiguous whether these users will require official Synology Accounts or can utilize third-party accounts. Within the backup_restore segment, there's an abundance of strings detailing various backup and restore procedures. While it's redundant to enumerate them all, especially as the primary functions have been highlighted, several strings hint at support for end-to-end encryption of backups. Given the integration of Hyper Backup, this expectation is hardly surprising. Given that Hyper Backup endorses client-side encryption, it's highly probable that this is the case.
What Comes After the BST150 and BSM? The Synology DP Series
Interestingly, in the background of NASCompares, there have been numerous mentions and flags (in the background of certain software and compatibility listings) of a larger range of Synology pre-populated solutions and media drives entering the marketing in 2023/2024. We first noticed a number of these, all starting with the model ID 'DP' and each carrying a capacity ranging from 4TB up to a whopping 126TB, popping up increasingly. This is not exactly new, as Synology tend to have a lot of products in development and many will have their names changed as they have their hardware modified or are release in different years (which will change some/all of the naming convention). Now, it could well be that the DP series of devices was the former naming convention of what will now be classes as the BeeStation / BST series (for the sake of simplicity). However, judging by other elements of these names, there was many clear indications that several of these solutions would be SATA SSD and even SPECIFICALLY M.2 NVMe Based – with a new model ID for the NVMes indicating that the brand is going to roll out a faster/improved range of branded SSDs – a huge gap in their portfolio, given the rather lacklustre NVMe SSDs in their SNV3400/SNV3410 series in terms of performance and capacity AND their growing SA/FS series! All this adds up (especially when you factor in the BSM/BST and DP models IDs we have seen) to Synology rolling out a significant number of simplified pre-populated storage solution in the very near future.
When will BSM / BeeStation and the BST150 Solution Be Released?
We have ZERO concrete information on pricing or launch date for both BSM and solutions such as the BST150 that will run with it. However, Synology is well aware of the accessibility and public knowledge of it's download portal where Luka @ Blackvoid was able to find the software .pat file a few days ago and not only is the download link still live, but also the subfolder it lives has not been amended to 'hidden'. So, we can likely assume that the BST150 and BSM will be rolling out very, very soon (likely entering early review as we speak or with preparation for review guides too). Add to that the fact that Synology annually hosts online/physical launch events each year, wherein the brand discusses what's new/improved/upcoming) on their platform for the next year, all add up to this solution, alongside a larger product range AND (lest we forget) reveal of their AI-supported services (where native ChatGPT level integration was demonstrated in several areas of DSM HERE), being revealed at the Synology 2024 launch event soon. Stay tuned for later this next month for month on this no doubt!
You can find out more about Blackvoid via the links on the page above, as well as his thoughts and position on Synology from when he has joined us on the NASCompares channel. Below is a previous discussion on the launch of DSM 7.2:
📧 SUBSCRIBE TO OUR NEWSLETTER 🔔
🔒

Join Inner Circle
Get an alert every time something gets added to this specific article!
This description contains links to Amazon. These links will take you to some of the products mentioned in today's content. As an Amazon Associate, I earn from qualifying purchases. Visit the NASCompares Deal Finder to find the best place to buy this device in your region, based on Service, Support and Reputation - Just Search for your NAS Drive in the Box Below
Need Advice on Data Storage from an Expert?
Finally, for free advice about your setup, j
ust leave a message in the comments below here at NASCompares.com and we will get back to you.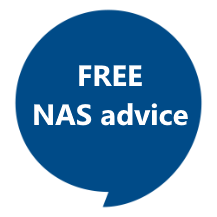 Need Help?
Where possible (and where appropriate) please provide as much information about your requirements, as then I can arrange the best answer and solution to your needs. Do not worry about your e-mail address being required, it will NOT be used in a mailing list and will NOT be used in any way other than to respond to your enquiry.
TRY CHAT
Terms and Conditions
If you like this service, please consider supporting us.
We use affiliate links on the blog allowing NAScompares information and advice service to be free of charge to you.
Anything you purchase on the day you click on our links will generate a small commission which is
used to run the website. Here is a link for
Amazon
and
B&H
.
You can also get me a ☕
Ko-fi
or old school
Paypal
. Thanks!
To find out more about how to support this advice service check
HERE
If you need to fix or configure a NAS, check
Fiver
Have you thought about helping others with your knowledge?
Find Instructions Here

ASK NASCompares forum
, by clicking the button below. This is a community hub that serves as a place that I can answer your question, chew the fat, share new release information and even get corrections posted. I will always get around to answering ALL queries, but as a one-man operation, I cannot promise speed! So by sharing your query in the
ASK NASCompares
section below, you can get a better range of solutions and suggestions, alongside my own.
If you like this service, please consider supporting us.
We use affiliate links on the blog allowing NAScompares information and advice service to be free of charge to you.
Anything you purchase on the day you click on our links will generate a small commission which is
used to run the website. Here is a link for
Amazon
and
B&H
.
You can also get me a ☕
Ko-fi
or old school
Paypal
. Thanks!
To find out more about how to support this advice service check
HERE
If you need to fix or configure a NAS, check
Fiver
Have you thought about helping others with your knowledge?
Find Instructions Here
☕ WE LOVE COFFEE ☕

Or support us by using our affiliate links on Amazon UK and Amazon US