Synology DS423 was released in Taiwan today on 15th March 2023. The new Synology DS423 is a powerful and versatile network-attached storage solution that is perfect for both home and business use. The predecessor DS418 featured RTD1296 processor. With its new Realtek RTD1619B processor, this device is able to deliver lightning-fast performance and support for a wide range of features.
One of the key features of the DS423 is its powerful processor, which features 4-cores running at 1.7 GHz, along with a Mali-G51 Bifrost GPU and an NPU with 1.6TOPS AI. This combination of hardware allows the device to handle even the most demanding workloads with ease. Additionally, the DS423 also features a hardware encryption engine for added security.
The memory size has not changed and is still 2GB DDR4. This will mean limitations on the number of apps you can run simultaneously.
In terms of storage, the DS423 offers 4 disk slots, which can accommodate both 3.5″ SATA HDDs and 2.5″ SATA SSDs. The device does not support disk hot-swap, not allowing users to add or remove disks without shutting down the device.
In addition to its powerful hardware, the DS423 also offers a wide range of connectivity options, including two RJ-45 1GbE LAN ports and two USB 3.2 Gen 1 ports, which can be used for data transfer, backup, and more. The device also supports USB / SD Copy, allowing users to quickly and easily transfer files to and from USB drives and SD cards.
The DS423 also supports a wide range of file systems, including Btrfs, EXT4, EXT3, FAT, NTFS, HFS+, and exFAT, both for internal and external disk. This allows users to easily store, organize, and share files, regardless of the file type or operating system.
The device also comes with a variety of certifications, including FCC, CE, BSMI, VCCI, RCM, UKCA, EAC, CCC, and KC, as well as a 2-year hardware warranty, which can be extended up to 4 years with the purchase of Extended Warranty Plus. It also complies with RoHS standards.
The package contents include the host, accessory bag, transformer, power cord, RJ-45 network cables, and a quick installation guide. And it includes optional accessories as well like 3.5″ SATA HDD, 2.5″ SATA SSD, VisualStation, Surveillance Device Authorization Key, RAM module, and more.
Measuring at 184 mm x 168 mm x 230 mm and weighing 2.21 kg, the DS423 is sleek and compact, making it easy to integrate into any home or office setting. The device comes equipped with a 90W power supply unit and 80 mm x 80 mm x 2 pcs system fan. Users can choose between full-speed, cool, and quiet mode fan speed settings, depending on their requirements. Additionally, it has adjustable brightness front LED indicators, automatic power recovery, and is exceptionally quiet, with a noise value of only 22.9 dB(A).
In conclusion, the new Synology DS423 offers a powerful, versatile, and easy-to-use network-attached storage solution that is perfect for both home and business use. With its powerful processor, basic amount of memory, and wide range of connectivity options, it can handle even the most demanding workloads with ease, making it a great option for anyone looking for a reliable and high-performing NAS device.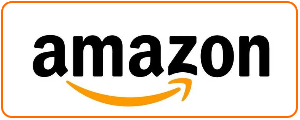 Synology DS423 specs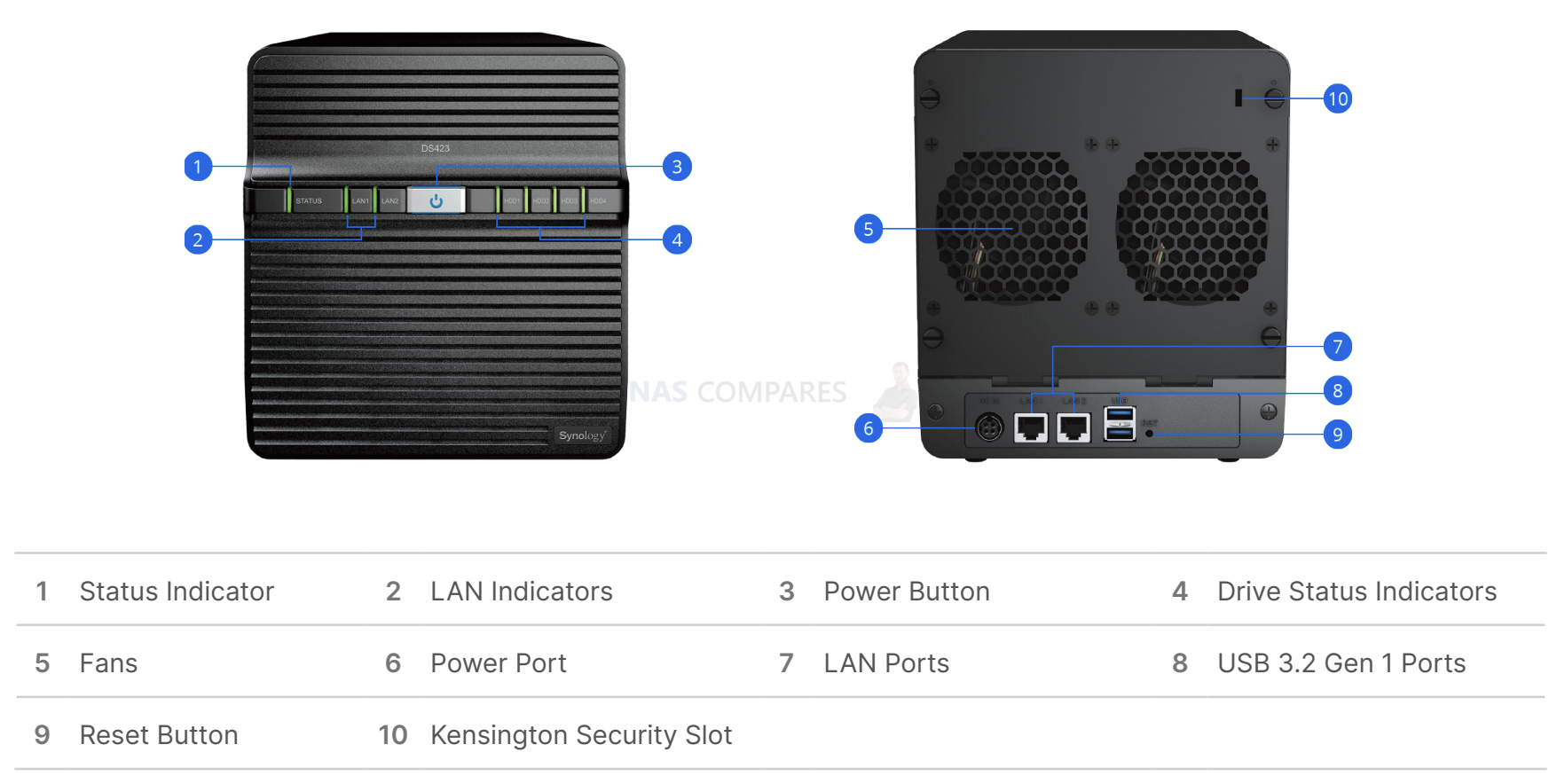 CPU

CPU Model
Realtek RTD1619B
CPU Frequency
4-core 1.7 GHz
CPU Architecture
64-bit
GPU

Hardware Encryption Engine
yes

Memory

System Memory
2 GB DDR4 non-ECC
Notes
Synology reserves the right to replace memory modules with the same or higher frequency based on supplier's product life cycle status. Rest assured that the compatibility and stability have been strictly verified with the same benchmark to ensure identical performance.

Storage

Drive Bays
4
Compatible Drive Type*

3.5″ SATA HDD
2.5″ SATA SSD

Hot Swappable Drive*
Notes
"Compatible drive type" indicates drives that have been tested to be compatible with Synology products. This term does not indicate the maximum connection speed of each drive bay.

External Ports

RJ-45 1GbE LAN Port*
2 (with Link Aggregation / Failover support)
USB 3.2 Gen 1 Port*
2
Notes

This device's 1GbE LAN ports have a maximum transmission unit (MTU) size of 1,500 bytes.
The USB 3.0 standard was renamed to USB 3.2 Gen 1 by the USB Implementers Forum (USB-IF) in 2019.

File System

Internal Drives
External Drives

Btrfs
EXT4
EXT3
FAT
NTFS
HFS+
exFAT

Appearance

Size (Height x Width x Depth)
184 mm x 168 mm x 230 mm
Weight
2.21 kg

Others

System Fan
80 mm x 80 mm x 2 pcs
Fan Speed Mode

Full-Speed Mode
Cool Mode
Quiet Mode

Brightness Adjustable Front LED Indicators
Power Recovery
Noise Level*
22.9 dB(A)
Scheduled Power On / Off
Wake on LAN / WAN
Power Supply Unit / Adapter
90 W
AC Input Power Voltage
100V to 240V AC
Power Frequency
50/60 Hz, Single Phase
Power Consumption
32.41 W (Access)
4.97 W (HDD Hibernation)
British Thermal Unit
110.52 BTU/hr (Access)
16.95 BTU/hr (HDD Hibernation)
Notes

Temperature

Operating Temperature
0°C to 40°C (32°F to 104°F)
Storage Temperature
-20°C to 60°C (-5°F to 140°F)
Relative Humidity
5% to 95% RH

Certification

FCC
CE
BSMI
VCCI
RCM
UKCA
EAC
CCC
KC

Warranty

2-year hardware warranty, extendable to 4 years with Extended Warranty Plus
Notes

Availability varies by region. Before purchasing, please visit the official web pages of EW201/202 and Extended Warranty Plus for a list of eligible regions.
The warranty period starts from the purchase date as stated on your purchase receipt.

Environment

RoHS Compliant

Packaging Content

Main Unit X 1
Accessory Pack X 1
AC Power Adapter X 1
AC Power Cord X 1
RJ-45 LAN Cable X 2
Quick Installation Guide X 1

Optional Accessories

3.5″ SATA HDD: HAT5300
2.5″ SATA SSD: SAT5210
VisualStation: VS360HD
Surveillance Device License Pack
Tell me more about this DS423 CPU
The RTD1619B is a SoC (system on a chip) developed by Realtek, a Taiwan-based company that specializes in the design of semiconductor solutions for a wide range of applications, including IoT, multimedia, communications, and more.
The RTD1619B is built on a 64-bit architecture, meaning it can handle 64-bit instructions and data and can address a larger amount of memory than a 32-bit CPU. It has 4 cores, meaning it can process 4 concurrent threads, and it operates at a clock speed of 1.7 GHz.
The RTD1619B is also equipped with a Mali-G51 GPU. Mali-G51 is a part of the Mali family of GPUs developed by ARM. It is a Bifrost GPU, which is the middle tier of ARM's Mali GPU offerings and has a performance of 1.5 Gpix/s. It also included with NPU (Neural Processing Unit) which is able to perform 1.6TOPS of AI operations.
It's likely that this SoC is targeted at embedded and IoT applications that require some level of real-time processing and AI capabilities, such as smart home devices, cameras, and other similar products.
RTD1296 vs RTD1619B
The previous model DS418  featured RTD1296 processor. The RTD1296 and RTD1619B are both SoCs developed by Realtek, both with 64-bit architecture, and both with 4 cores. However, there are a few key differences between the two:
Clock speed: The RTD1619B has a higher clock speed of 1.7 GHz compared to the RTD1296's 1.4 GHz. This means that the RTD1619B will generally perform faster than the RTD1296 for tasks that rely heavily on the CPU's processing power.
GPU: The RTD1619B comes with a Mali-G51 GPU, while the RTD1296 comes with a Mali-T820 MP3 GPU. Both are developed by ARM, Mali-G51 is Bifrost architecture and have a performance of 1.5 Gpix/s, meanwhile, Mali-T820 is Midgard architecture and have a performance of 1.2 Gpix/s. In general, the Mali-G51 GPU has higher performance than the Mali-T820 MP3, thus the RTD1619B is better equipped to handle tasks that require graphics processing, such as video decoding and gaming.
NPU: The RTD1619B comes with a NPU (Neural Processing Unit) that is able to perform 1.6TOPS of AI operations. This gives the RTD1619B an edge over the RTD1296 in tasks that require AI-related processing, such as image recognition and machine learning.
Power consumption: The RTD1619B may have higher power consumption than RTD1296 because of it's faster clock speed and additional functionality.
It's worth noting that these are general comparisons, and the performance of each SoC can also depend on other factors such as the memory, storage, and specific implementation of the software.
Can I upgrade RAM on DS423?
No, memory is soldered on the board. Here how it looks inside the box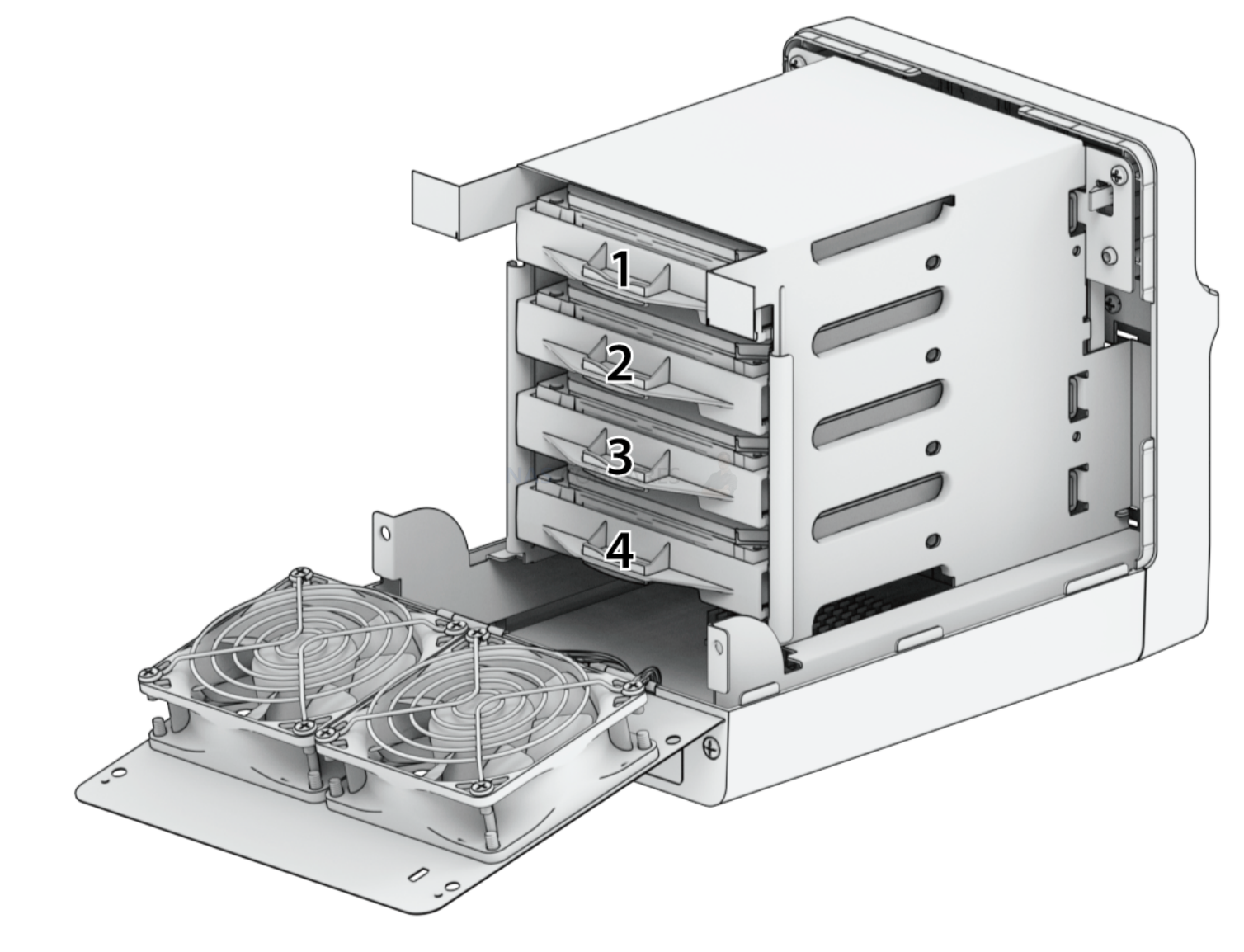 DS418 vs DS420j vs DS423. What has changed?
DS423 compatible DSM7 apps
Backup apps

Multimedia apps 
What apps will NOT work on DS423?
You will need plus series NAS such as DS423+ or DS923+ to be able to have these additional apps.
Active Backup for Business
Active Backup for Business is designed to provide a comprehensive while centralized data protection solution, helping you back up business PCs, VMs, physical servers, and file servers all alike.
Active Backup for Business Agent (DSM)
Active Backup for Business Agent (DSM) allows you to back up your entire Synology NAS, including its system configurations, packages, and data to a remote Synology NAS. Before you start to protect your Synology NAS data, install Active Backup for Business on the remote Synology NAS as your backup destination.
Active Backup for Google Workspace
Active Backup for Google Workspace provides a centralized interface coming with auto-discovery for easy backup and management of My Drive and shared drives, the continuous backup mode for minimizing the risk of data loss, Active Backup for Google Workspace Portal for efficient restoration, and so much more.
Active Backup for Microsoft 365
Active Backup for Microsoft 365 provides a centralized interface coming with the auto-discovery service for efficient data backup and management, the continuous backup mode for minimizing the risk of data loss, Active Backup for Microsoft 365 Portal for easy restoration, and so much more.
Antivirus by McAfee
Powered by one of the most comprehensive engines in the industry, Antivirus by McAfee safeguards the valuable data and system partitions on your Synology NAS. Virus scans can be performed manually or according to a schedule, and the automatic update feature ensures you are protected with the most up-to-date virus definitions.
Bitdefender for MailPlus
Safeguard your Synology MailPlus with Bitdefender. By getting licenses from Bitdefender for MailPlus, you can rely on its powerful security engines to defend your mail system against spam and virus attacks, ensuring a secure and reliable email experience.
C2 Identity Edge Server
C2 Identity Edge Server retrieves directory information from C2 Identity. By setting it up, C2 Identity users' access to on-prem resources can be rapidly authenticated by your Synology NAS.
Central Management System
Synology CMS (Central Management System) allows you to efficiently and conveniently manage multiple Synology NAS servers. It provides a single interface to monitor the status of multiple servers, create policies for batch editing the settings of server groups, and keep each server in your fleet up-to-date and running smoothly. Administrator permissions for groups or individual servers can be delegated to specific users or groups, allowing each administrator to control and manage certain configurations, further increasing administrative efficiency and flexibility.
Docker
Docker is a lightweight virtualization application that gives you the ability to run thousands of containers created by developers from all over the world on DSM. The hugely popular built-in image repository, Docker Hub, allows you to find shared applications from other talented developers.
Document Viewer
Document Viewer displays documents of various types, from Microsoft Office to OpenOffice, with ease and rapidity. You can even share documents simply with an encryptable link.
Migration Assistant
Migration Assistant seamlessly migrates data and system settings from your old Synology NAS to a new one, while ensuring maximized service availability. (Please ensure Migration Assistant is installed on the destination device for migration.)
PACS
PACS (Picture Archiving and Communication System) is a clinical data management system that consists of multiple open source medical imaging technologies, archive application with its user interface (dcm4che), DICOM viewer (weasis), Identity and Access Management function (Keycloak), and required environment (Wildfly). PACS can be used to store, access, transfer and manage medical images and digital reports in DICOM (Digital Imaging and Communications in Medicine) format.
Presto File Server
Presto File Server is a package designed to deliver high-speed file transfer, regardless of latency and distance between a Synology NAS server and a computer or between any two Synology NAS servers when transferring over WAN. With Presto File Server, you can monitor user connections in real-time, better control the data arrival time with bandwidth settings, and schedule your tasks with Synology Presto Automator. Presto File Server License is required for package use, and a one-time 30-day free trial can be activated on every Synology NAS model.
Synology Drive Server
Synology Drive Server is a comprehensive solution for file storage, management, sharing, and synchronization. It is equipped with Synology Drive Admin Console for centralized management and monitoring, Synology Drive for file access via web portal, and Synology Drive ShareSync for synchronization across Synology NAS devices.
Synology High Availability
Synology High Availability leverages the ability of two Synology NAS to maximize service uptime. With the cluster design, the active server is responsible for running all services and sync data to the passive server, which stands by and takes over the services when the active server becomes unavailable.
Synology MailPlus
Synology MailPlus is a powerful webmail service with rich features. You can send and receive emails to and from any mail server and centrally manage all the incoming and outgoing emails. You can compose a beautifully formatted email with built-in stickers and text tools. MailPlus also provides the label and smart search functions to help you easily find and manage emails.
Synology MailPlus Server
Synology MailPlus Server provides a cost-effective mail solution for enterprises requiring high-level security and stable performance. The high-availability architecture provides single server fault tolerance to maximize service uptime.
Virtual Machine Manager
Virtual Machine Manager integrates various virtualization solutions in a centralized and refined interface, allowing you to easily create, run, and manage multiple virtual machines on your Synology NAS. With Virtual Machine Manager, you can allocate hardware resources more flexibly, build a virtualization environment for the purpose of the enterprise-level deployment and maintenance, migrate your virtual machines among hosts without disruption and provide a full range fault tolerance protection.
DS423 PLEX compatibility and performance
As of today, there is no Plex installation created for this CPU. When we can we will test a package made for RTD1296 ARMv8 which is a package for 64-bit CPUs. 
We can expect this NAS to be able to handle 1080p video transcoding in Plex. Maybe even a tiny bit of 4k (very simple files).

DS423 performance
SMB 1GbE – Sequential Throughput with HDD (64KB)

| Model | RS422+ | DS923+ | DS423+ | DS423 | DS420j |
| --- | --- | --- | --- | --- | --- |
| Read | 225.77 | 225.85 | 226.58 | 223.90 | 112.93 |
| Write | 225.87 | 225.83 | 224.00 | 213.54 | 112.62 |
SMB 1GbE – Windows File Transfer with HDD

| Model | RS822(RP)+ | RS422+ | DS923+ | DS423+ | DS423 | DS420j |
| --- | --- | --- | --- | --- | --- | --- |
| Windows Download | 87.07 | 89.22 | 89.74 | 87.39 | 78.23 | 81.96 |
| Windows Upload | 76.36 | 79.24 | 80.23 | 76.00 | 65.97 | 68.64 |
1GbE Web Server – Nginx PHP Response Performance with HDD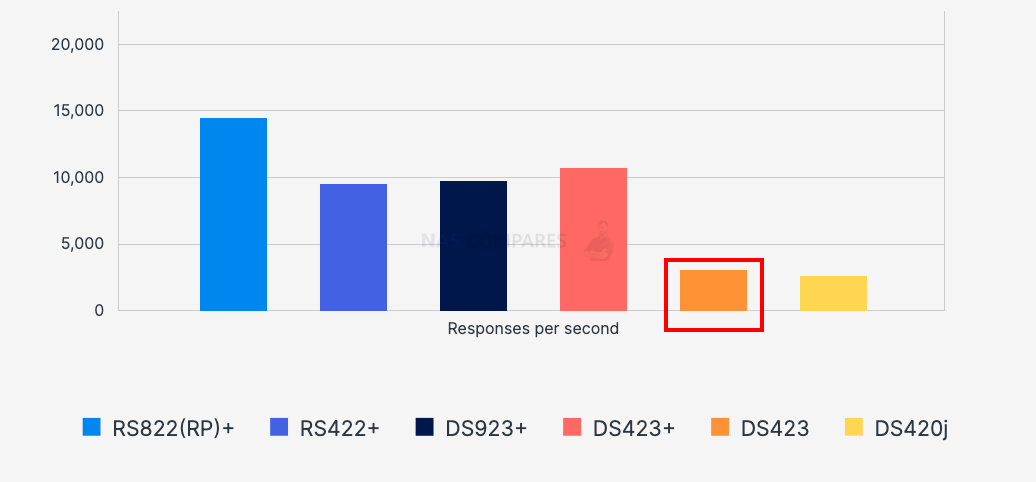 | Model | RS822(RP)+ | RS422+ | DS923+ | DS423+ | DS423 | DS420j |
| --- | --- | --- | --- | --- | --- | --- |
| Responses per second | 14,469.82 | 9,511.32 | 9,710.53 | 10,706.80 | 3,062.56 | 2,586.49 |
DS423 HDD compatibility
Synology drives (Toshiba) have been tested up to 18TB capacity.

Compatible WD drives
WD drives have been tested only up to 14TB capacity. Only Red plus and Purple drives have been tested so far.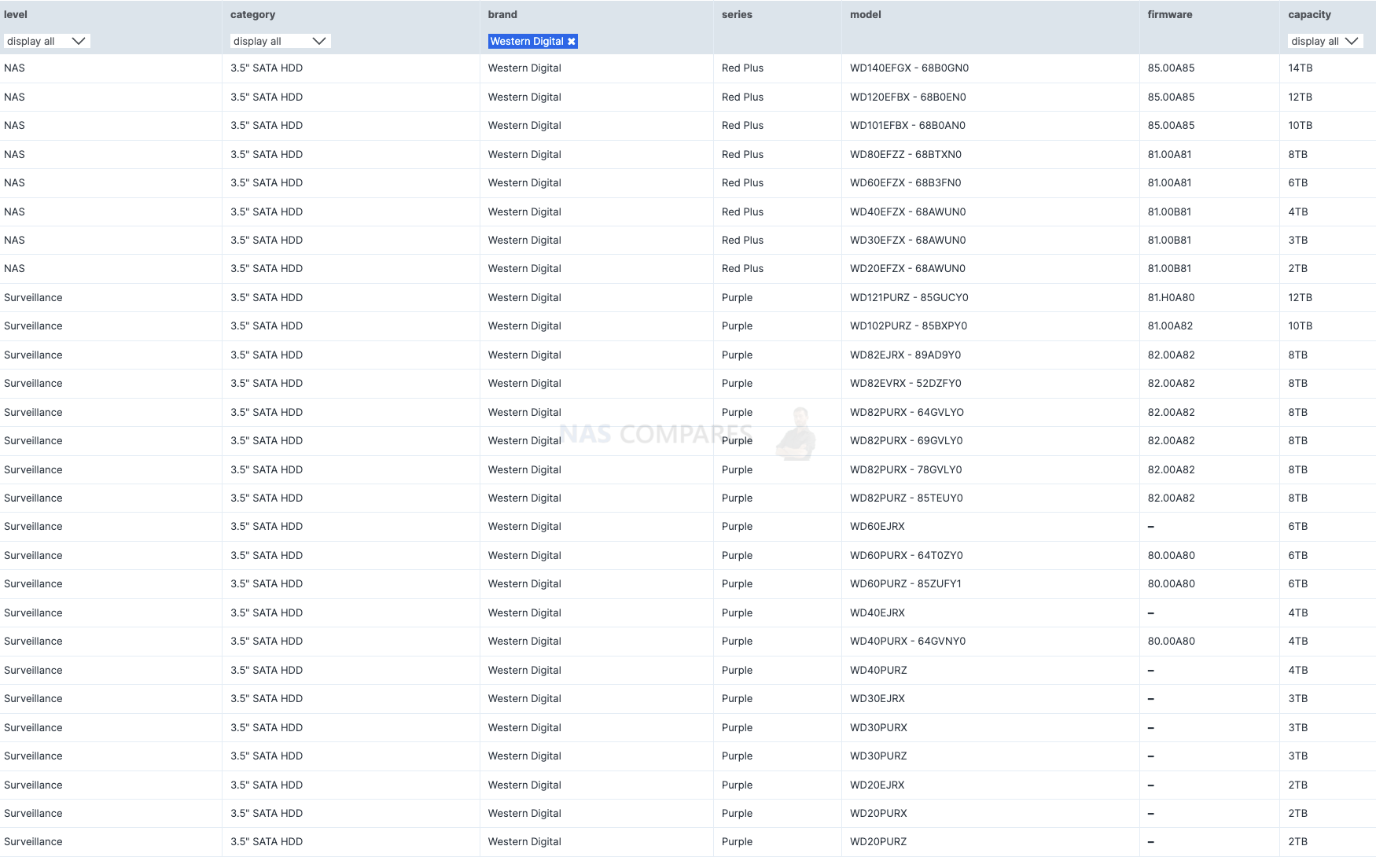 Compatible Seagate drives
Seagate drives have been tested up to a capacity of 12TB. This included Skyhawk and Ironwolf drives.

Can I use drives (HDD/ SSD) that are not on their list.
Yes, Synology have promised that Plus and Value series NAS such as this will have no software lock on drives that they have not tested and added to the list. There might be a warning message that drives are not from the list though. Their support level might change based on this.
Conclusion
Overall quite disappointing. The only real big change is an upgrade for the CPU. Keeping the old 2GB RAM will make a lot of people run into memory issues. People will need to fill those HDD bays with SSD to cope with a situation when RAM overflow use HDD/SSD volume to store temp data. Also the how swap option from the front panel is removed. Now you need to break the NAS open just like DS420j to change a drive.
Thanks to the faster CPU, you will be able to transcode more of the 1080p content. And maybe even a tiny bit of 4k in Plex. Using Synology Video apps, you will be able to handle 4K just like with an older model.
Synology h265 encoding removal few months earlier will still affect remote access for videos in this format. Including CCTV remote access and videos via Photos app.
Check Amazon and other retailers to see if the Synology DS423 NAS is available now using the links to them below (it supports us, costs you nothing extra and me and Eddie who run NASCompares will get a commission that goes directly back into the YouTube channel and blog):
If you like this service, please consider supporting us.
We use affiliate links on the blog allowing NAScompares information and advice service to be free of charge to you.
Anything you purchase on the day you click on our links will generate a small commission which is
used to run the website. Here is a link for
Amazon
and
B&H
.
You can also get me a ☕
Ko-fi
or old school
Paypal
. Thanks!
To find out more about how to support this advice service check
HERE
If you need to fix or configure a NAS, check
Fiver
Have you thought about helping others with your knowledge?
Find Instructions Here
☕ WE LOVE COFFEE ☕

Or support us by using our affiliate links on Amazon UK and Amazon US