Synology DS923+ 4-bay 10GbE NAS is now officially released today.
Dependable Performance Up to 625/559 MB/s sequential read/write throughput makes file operations quick and efficient
Optional 10GbE connectivity to tackle more specialized, bandwidth-heavy applications
Easy Capacity Expansion Add 5 extra drive bays with one DX517 expansion unit for a maximum of 9 storage drives
Up to 32 GB DDR4 ECC memory offers protection against potential crashes and inadvertent changes in data through automatic correction of data errors
Two built-in M.2 NVMe SSD slots7 and an optional 10GbE RJ-45 Network Upgrade Module2
Synology DS923+ Hardware Overview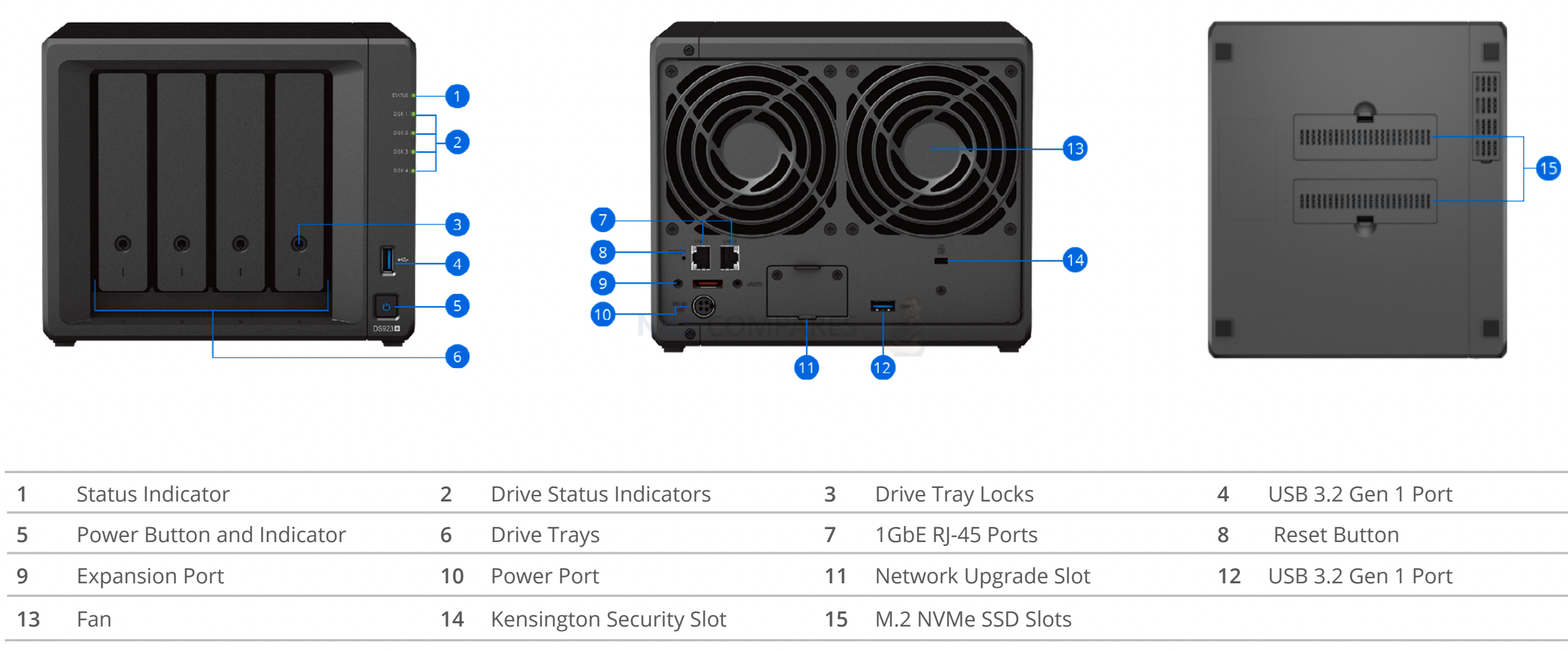 Synology DS923+ Technical Specifications
CPU

CPU Model
AMD Ryzen R1600
CPU Quantity
1
CPU Architecture
64-bit
CPU Frequency
2-core 2.6 (base) / 3.1 (turbo) GHz
Hardware Encryption Engine (AES-NI)

Memory

System Memory
4 GB DDR4 ECC
Memory Module Pre-installed
4 GB (4 GB x 1)
Total Memory Slots
2
Maximum Memory Capacity
32 GB (16 GB x 2)
Notes

Synology reserves the right to replace memory modules with the same or higher frequency based on supplier's product life cycle status. Rest assured that the compatibility and stability have been strictly verified with the same benchmark to ensure identical performance.
Please select Synology memory modules for optimum compatibility and reliability. Synology will not provide complete product warranty or technical support if non-Synology memory modules are used for memory expansion.

Storage

Drive Bays
4
Maximum Drive Bays with Expansion Unit
9 (DX517 x 1)
M.2 Drive Slots
2 (NVMe)
Compatible Drive Type* (See all supported drives)

3.5″ SATA HDD
2.5″ SATA SSD
M.2 2280 NVMe SSD

Hot Swappable Drive*
Notes

The hot swappable drive feature is not supported by M.2 SSD slots.
"Compatible drive type" indicates drives that have been tested to be compatible with Synology products. This term does not indicate the maximum connection speed of each drive bay.

External Ports

RJ-45 1GbE LAN Port*
2 (with Link Aggregation / Failover support)
USB 3.2 Gen 1 Port*
2
eSATA Port
1
Notes

This device's 1GbE LAN ports have a maximum transmission unit (MTU) size of 1,500 bytes.
The USB 3.0 standard was renamed to USB 3.2 Gen 1 by the USB Implementers Forum (USB-IF) in 2019.

PCIe

PCIe Expansion
1 x Gen3 x2 network upgrade slot

File System

Internal Drives
External Drives

Btrfs
EXT4
EXT3
FAT
NTFS
HFS+
exFAT

Notes
exFAT Access can be installed for free from Package Center in DSM 7.0. In DSM 6.2 or earlier versions, exFAT Access needs to be purchased in Package Center.

Appearance

Size (Height x Width x Depth)
166 mm x 199 mm x 223 mm
Weight
2.24 kg

Others

System Fan
92 mm x 92 mm x 2 pcs
Fan Speed Mode

Full-Speed Mode
Cool Mode
Quiet Mode

Brightness Adjustable Front LED Indicators
Power Recovery
Noise Level*
22.9 dB(A)
Scheduled Power On / Off
Wake on LAN / WAN
Power Supply Unit / Adapter
100 W
AC Input Power Voltage
100V to 240V AC
Power Frequency
50/60 Hz, Single Phase
Power Consumption
35.51 W (Access)
11.52 W (HDD Hibernation)
British Thermal Unit
121.09 BTU/hr (Access)
39.28 BTU/hr (HDD Hibernation)
Notes

For more information on how power consumption is measured, refer to this article.
Noise testing was conducted with the Synology system fully installed with Synology SATA HDDs and in an idle stae. Two G.R.A.S. Type 40AE microphones are placed at a 1 m distance from the front and rear of the device. Background noise: 16.49-17.51 dB(A); Temperature: 24.25-25.75˚C; Humidity: 58.2-61.8%

Temperature

Operating Temperature
0°C to 40°C (32°F to 104°F)
Storage Temperature
-20°C to 60°C (-5°F to 140°F)
Relative Humidity
5% to 95% RH

Certification

FCC
CE
BSMI
VCCI
RCM
UKCA
EAC
CCC
KC

Warranty

3-year hardware warranty, extendable to 5 years with EW201 or Extended Warranty Plus
Notes

Availability varies by region. Before purchasing, please visit the official web pages of EW201/202 and Extended Warranty Plus for a list of eligible regions.
The warranty period starts from the purchase date as stated on your purchase receipt. (Learn more)

Environment

RoHS Compliant

Packaging Content

Main Unit X 1
Accessory Pack X 1
AC Power Adapter X 1
AC Power Cord X 1
RJ-45 LAN Cable X 2
Quick Installation Guide X 1

Optional Accessories
DS923+ specs PDF
Click to access Synology_DS923%2B_Data_Sheet_enu.pdf
Package contents
• 1 x DS923+ main unit
• 1 x Quick Installation Guide
• 1 x Accessory pack
• 1 x AC power adapter
• 1 x AC power cord
• 2 x RJ-45 LAN cables
Synology DS923+ Performance
SMB 10GbE – Sequential Throughput with HDD (64KB)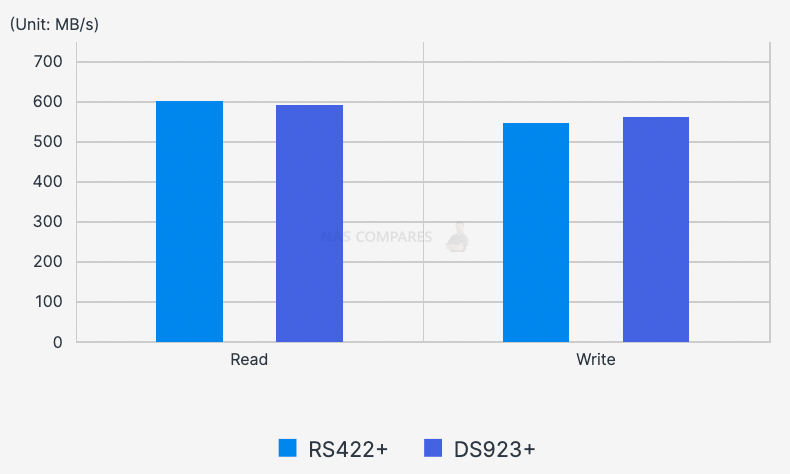 | Model | RS422+ | DS923+ |
| --- | --- | --- |
| Read | 601.99 | 592.65 |
| Write | 546.60 | 562.54 |
SMB 10GbE – Sequential Throughput with Encrypted Shared Folders and HDD (64KB)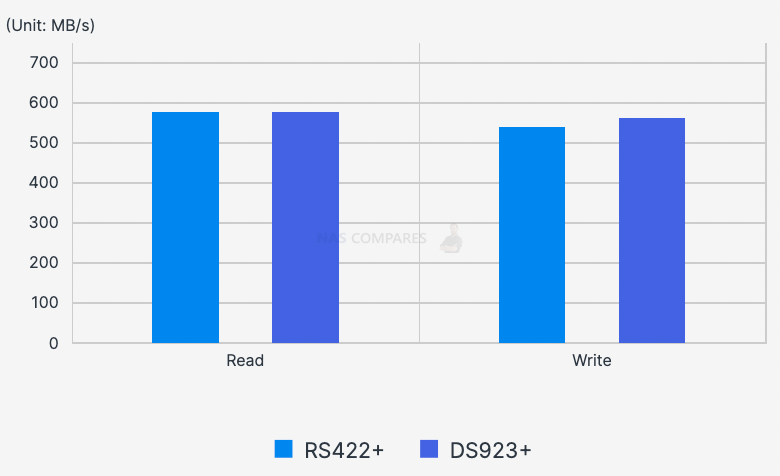 | Model | RS422+ | DS923+ |
| --- | --- | --- |
| Read | 578.15 | 577.57 |
| Write | 538.64 | 561.41 |
SMB 10GbE – Sequential Throughput with M.2 NVMe SSD (64KB)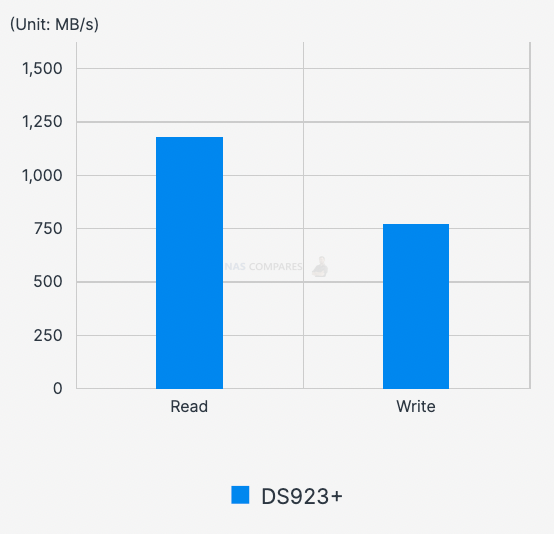 | Model | DS923+ |
| --- | --- |
| Read | 1,179.75 |
| Write | 772.84 |
SMB 1GbE – Sequential Throughput with HDD (64KB)

1GbE Web Server – Nginx PHP Response Performance with HDD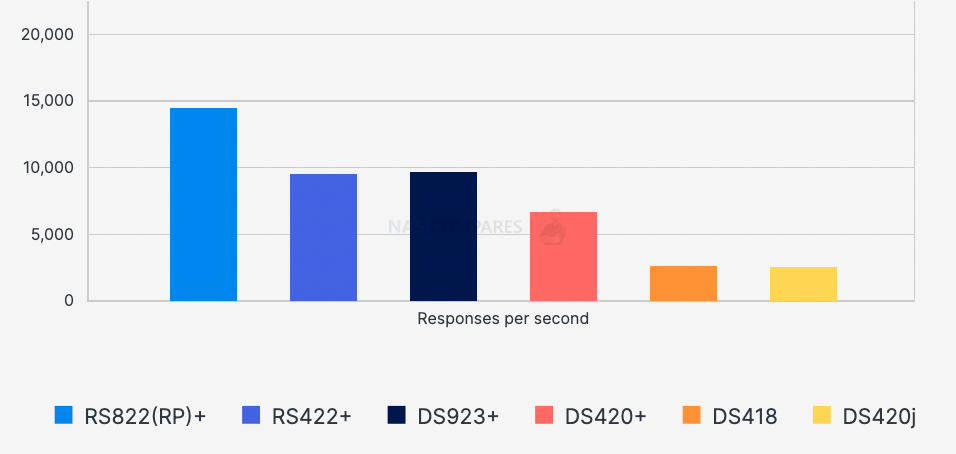 Synology DS923+ HDD limitations



Synology DS923+ NVMe M.2 cache compatibility

Can I use NVME SSD for storage pools instead of cache?
Sounds like Synology now supports NVMe volumes. But only if you use their own NVMe SSDs. This is to be tested soon.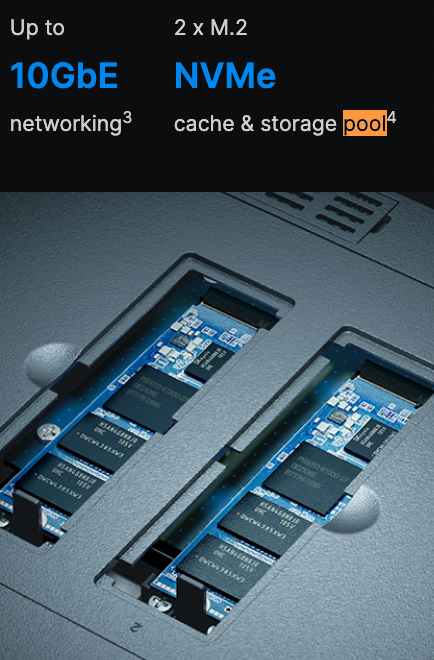 Synology SNV3400 series M.2 NVMe SSD drives can be installed through the built-in M.2 slots to enable SSD caching or create SSD storage pools. Drives are sold separately.
Here is a Synology in-house Nvme volume speed tests
SMB 10GbE – Sequential Throughput with M.2 NVMe SSD (64KB)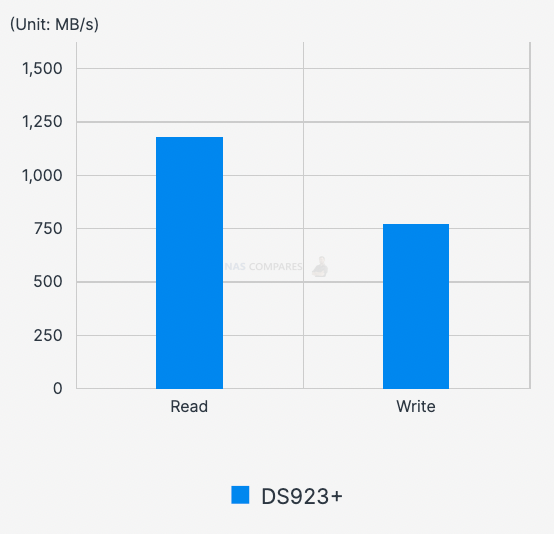 | Model | DS923+ |
| --- | --- |
| Read | 1,179.75 |
| Write | 772.84 |
Synology DS923+ RAM upgrade

Synology DS923+ Hardware Installation Guide
Click to access DS923p_HIG_enu.pdf
Click to access Syno_UsersGuide_NAServer_7.1_enu.pdf
Synology DS923+ Availability
The Synology DS923+ is available starting today through Synology partners and resellers worldwide. For more information on DS923+, please visit https://www.synology.com/en-global/products/DS923+.
Price in USA –  Amazon $599.99 [16th Nov 2022]
Follow the price here
If you like this service, please consider supporting us.
We use affiliate links on the blog allowing NAScompares information and advice service to be free of charge to you.
Anything you purchase on the day you click on our links will generate a small commission which is
used to run the website. Here is a link for
Amazon
and
B&H
.
You can also get me a ☕
Ko-fi
or old school
Paypal
. Thanks!
To find out more about how to support this advice service check
HERE
If you need to fix or configure a NAS, check
Fiver
Have you thought about helping others with your knowledge?
Find Instructions Here
☕ WE LOVE COFFEE ☕

Or support us by using our affiliate links on Amazon UK and Amazon US