M.2 NVMes Use as Storage Pools Coming to Synology NAS and DSM
EXCELLENT news for anyone that has been following the Synology NAS platform and DSM for the last few years, with the apparent reveal that Synology are intending to officially allow the use of M.2 NVMe SSDs as Storage Pools on their newest generation of Diskstation devices. Now, although all of the information on this feature arrives from official Synology sources, it is worth highlighting that the brand has now completely spelt out the details yet! Right now, it would appear that the newest release from Synology, the DS923+ Diskstation NAS (Read my full review on the DS923+ HERE), which arrives with two 2280 M.2 NVMe SSD Bays, has the potential to use these storage bays for both areas of SSD Caching AND Storage Pool use. Now, this is a feature that long-term Synology NAS followers have been requesting right the way back since 2017/2018 with the launch of the DS918+ (their first system to introduce M.2 NVMe SSD Bays). So, before we go into the how's and when's, let's quickly discuss why this is SUCH a big deal.
UPDATE – 17/11/22
Synology has updated its knowledge center pages, regarding m.2 NVMe SSD Bays and using them as Storage Pools. As it stands, ONLY the Synology DS923+ NAS is listed.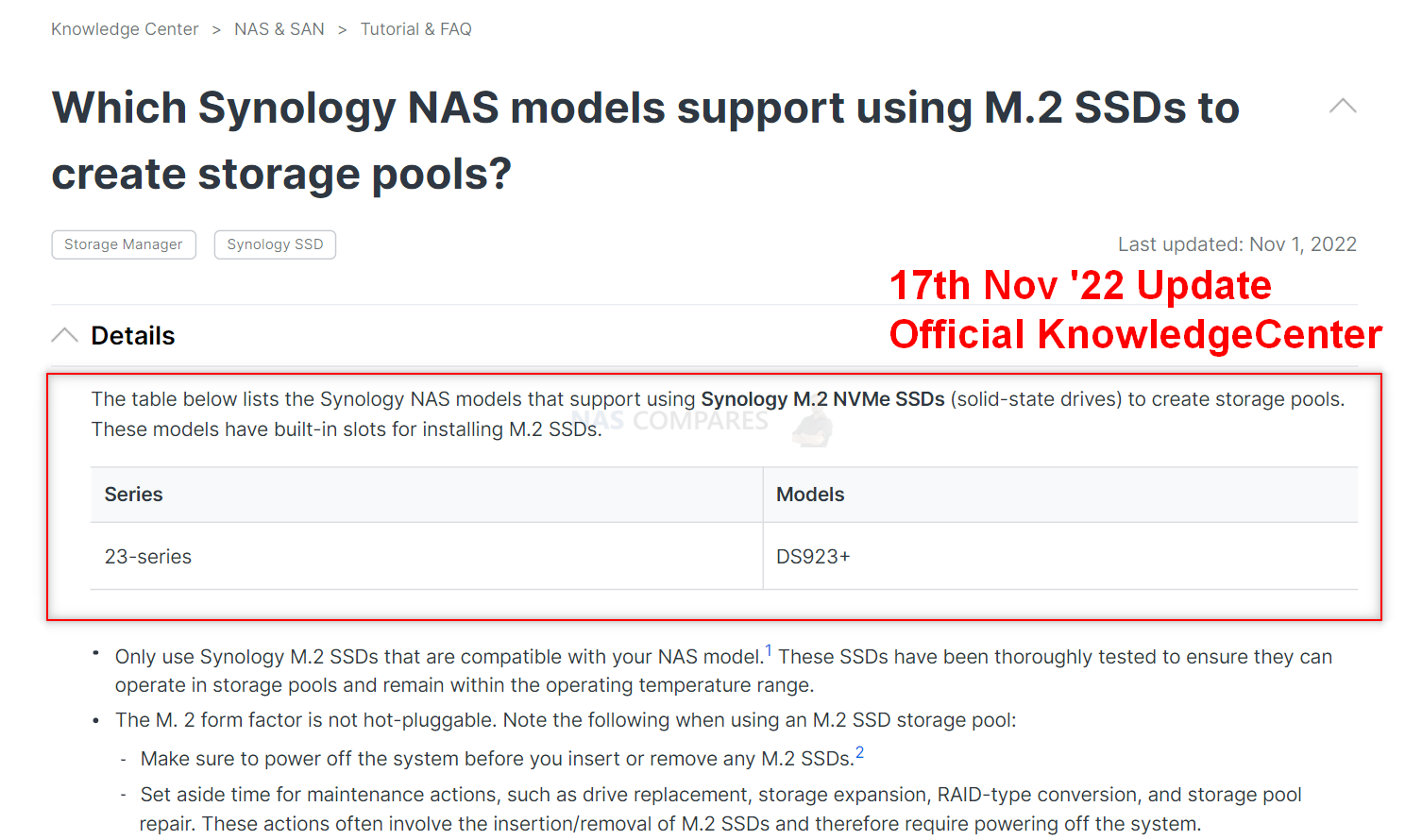 The full details can be found on this page here.
(Back to Original Article)
Why is m.2 NVMe SSDs as Storage in Synology NAS a Big Deal?
As mentioned, Synology has been producing Diskstation and Rackstation systems with M.2 NVMe SSD bays inside (as well as via upgrade cards such as the E10G20-T1 and M2D20) for quite a few years now, but has officially restricted their use for caching only. SSD Caching allowed users to use the benefits of the significantly faster M.2 NVMe SSDs to benefit the slower, but larger and more affordable Hard drives in a larger RAID configuration. This was done via write caching (introducing a writing layer of SSD to speed up data being sent to the larger storage array) and/or read caching (which copied more frequently accessed data, small scale, to the SSDs to speed up it's retrieval as regular requests were made by client(s) systems). As good as all these sounds, there was certainly a % of users that resented spending often 4-5x the cost per TB (compared with HDDs) on M.2 NVMe SSDs, but not be able to use them for much after storage pools for hot data, specific service/app/database storage and/or just generally be able to use this storage space the way they could with HDDs.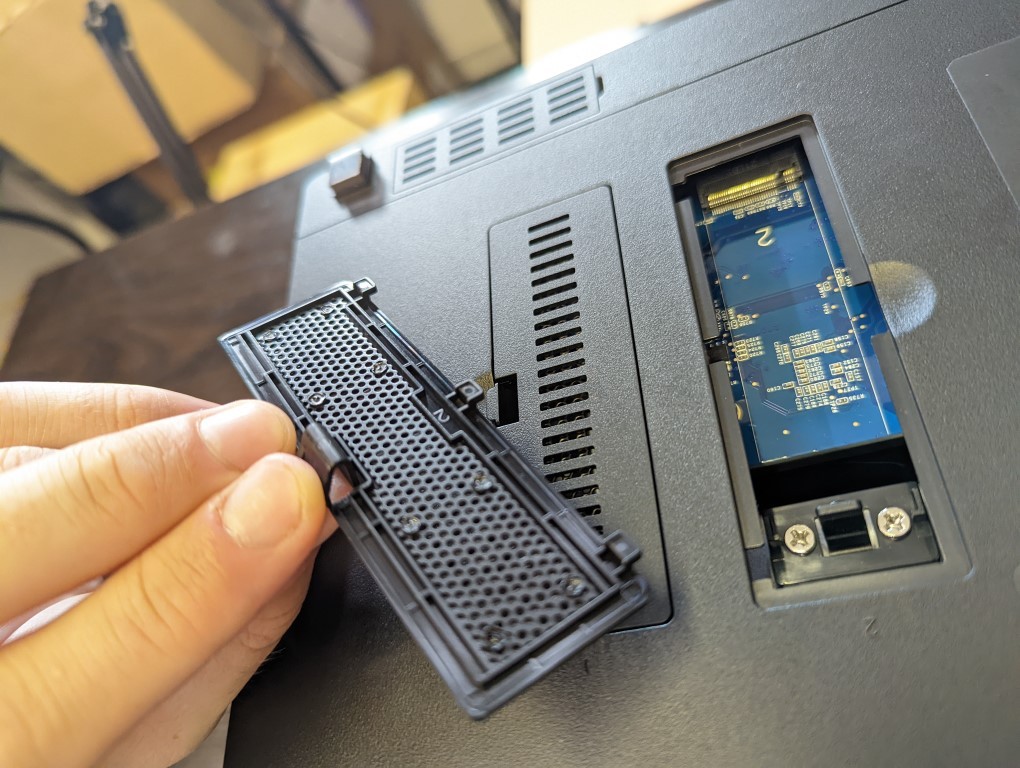 Being able to use these PCIe-based SSDs for storage pools opens the doors to a large number of benefits. First off, with 10GbE and 10GbE-upgrades becoming increasingly available on the Synology NAS hardware in 2022/2023, users can take advantage of the larger bandwidth speeds available in these SSDs externally in a way that they couldn't before (even the most affordable PCIe Gen 3 M.2 NVMes will give you performance in the 1000MB/s). Additionally, users who want to run specific applications and services as fast as possible will be able to store their data on these SSDs, improving performance and lowering latency substantially compared with their storage on slower HDDs (even when in RAID arrays in most cases) thanks to the SIGNIFICANTLY higher IOPS ratings of these drives. It is worth noting that other brands have introduced M.2 NVMe SSD use as storage pools already, so this is not new as a concept. Additionally, many users have been unofficially using the M.2 NVMe SSD Bays for storage till now via the use of github patches and/or specific SSH commands (something that might be a concern if this feature becomes widely available and possibly harming their unofficial NVMe SSD pools). But all this aside, it is just fantastic that this feature is coming to Synology NAS and DSM.
Synology Official State M.2 NVMe SSD Use as Storage Pools, DS923+ NAS
References to M.2 NVMe SSDs being used as Storage Pools have arrived thanks to the release and documentation surrounding the Synology DS923+ NAS today (already noticed by a user on reddit – fair play to them!) and more specifically in three areas. The first is on the official Synology DS923+ NAS product page: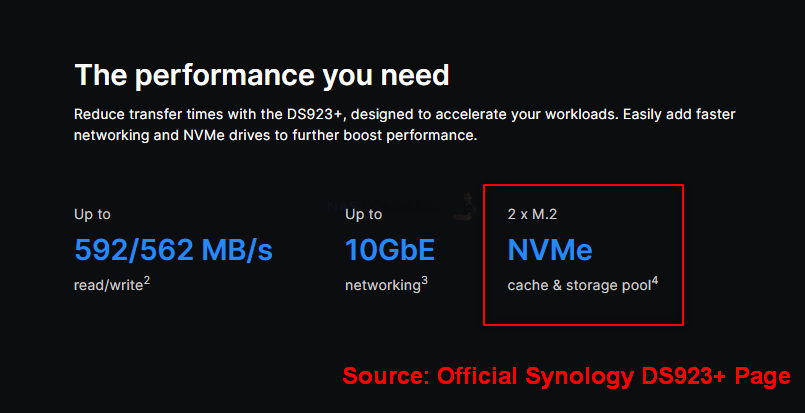 The next reference is on the official Synology Performance charts for the DS923+ NAS, showing that there were tests performed on an SMB 10GbE setup, with two 400GB SNV3400 Synology NVMe SSDs, via a 10GbE network protocol. Performance stats showed that the Rad speed largely saturated the connection at 1,179MB/s, but Write speed was a pinch under, at 772.84MB/s. However, it is worth remembering that the Synology SNV3400 is a drive that prioritizes Read speed and was chiefly designed for read caching. So, a much more Read/Write balanced drive will likely do better. Additionally, even if you pooled the drives into a RAID 0 or 1, the DS923+ NAS only has a single external 10GbE port option (via E10G22-T1-mini Upgrade).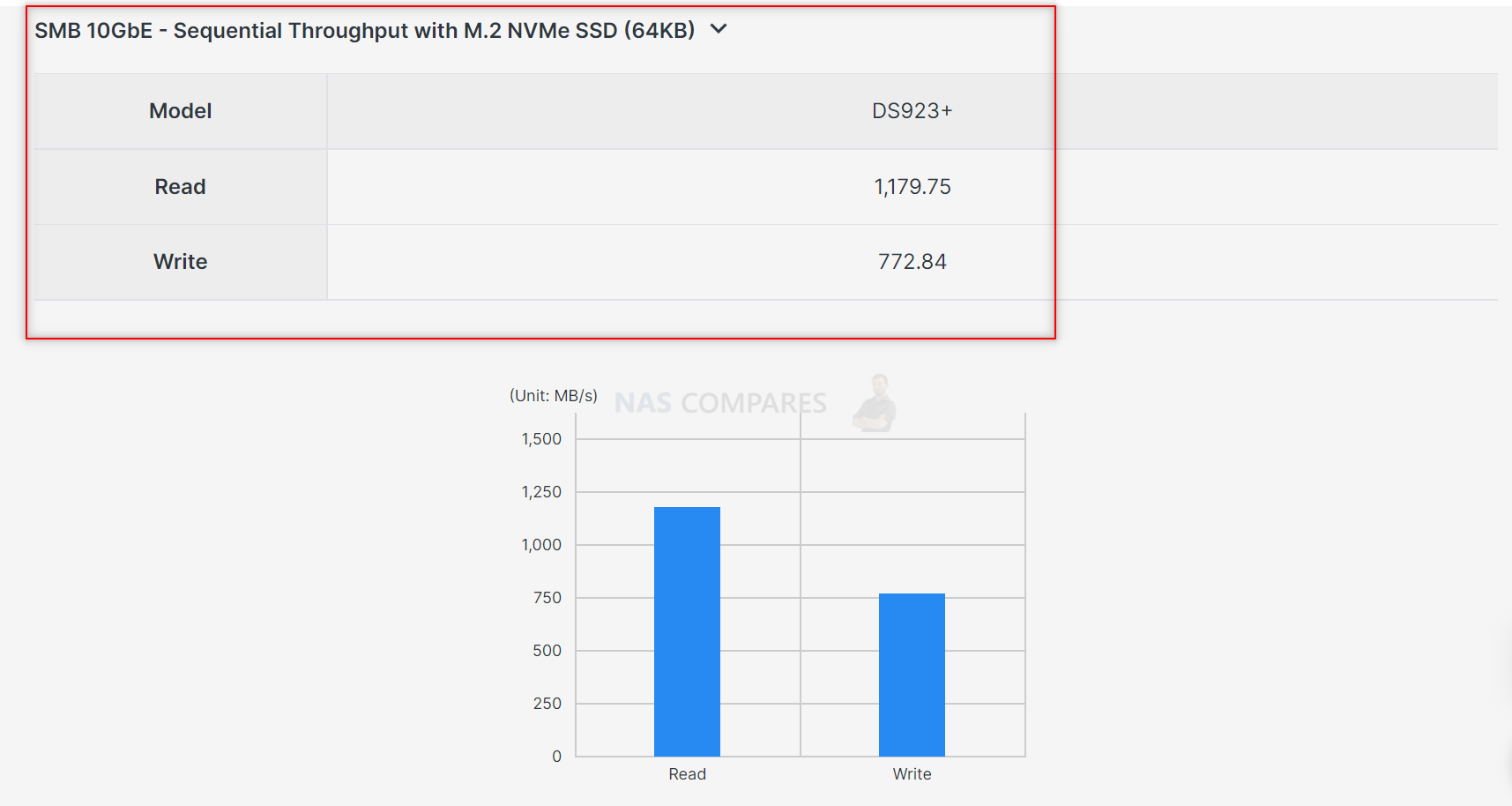 Finally – and this one REALLY surprised me – but the official Synology DS923+ NAS press release states that the DS923+ NAS supports the M.2 NVMe SSDs can be used for fast caching or to create additional all-flash storage pools. So, that pretty much sews the whole thing up! But, I should add that things are almost certainly not as clear-cut as that! Let's discuss which Synology NAS will support this feature and the potential hurdles ahead.
Will M.2 NVMe SSD Storage Pools Be Possible on ALL Synology NAS Drives?
Now the fact that the Synology DS923+ NAS online resources state that the NVMe SSD Bays can be used for M.2 NVMe SSD storage does NOT mean that ALL Synology NAS with these bays will support this feature. In previous years, when I have discussed this feature with Synology team members at events, they have always been pretty clear on this. They did not want to enable this feature on systems that did not provide the hardware and/or bandwidth to support its full use. So, for example, the DS918+ and DS920+ (which both feature M.2 NVMe SSD Bays) are built on PCIe Gen 2 architecture, whilst most M,2 NVMes available right now commercially are either PCIe Gen 3 or Gen 4. Synology HAS released several PCIe3 NAS's in the last 1-2 years with M.2 SSD bays (such as the AMD Emb.Ryzen powered DS1621+, DS1821+, and DS1621+xs+), but for whatever reason, the feature was still not made available (perhaps because the available lanes were spread too thinly and the bays are perhaps PCIe 3 x2 – That's not a blanket statement, just a hypothesis. PCIe Generation increases the bandwidth. To massively oversimplify it a bit, PCIe 2 is 500MB/s and PCIe 3 is 1,000MB/s, and the x2, x4, X8 etc figure is a multiplier. So a PCIe 2×2 = 1,000MB/s, whereas PCIe 3×4 = 4,000MB/s. ALL of these numbers are potential maximum bandwidth (i.e the pipe which the SSD can try to fill) and do not factor in a whole bunch of dual-lane architecture stuff, but the gist is pretty much there. Remember, although I mentioned earlier about external performance (i.e 10GbE networking), the only internal limitations for apps, data and services are the PCIe Lanes afforded to the M.2 bays and the CPU+Memory inside the system. The more bandwidth and horsepower the NAS has, the BETTER the results and then you are talking big performance numbers!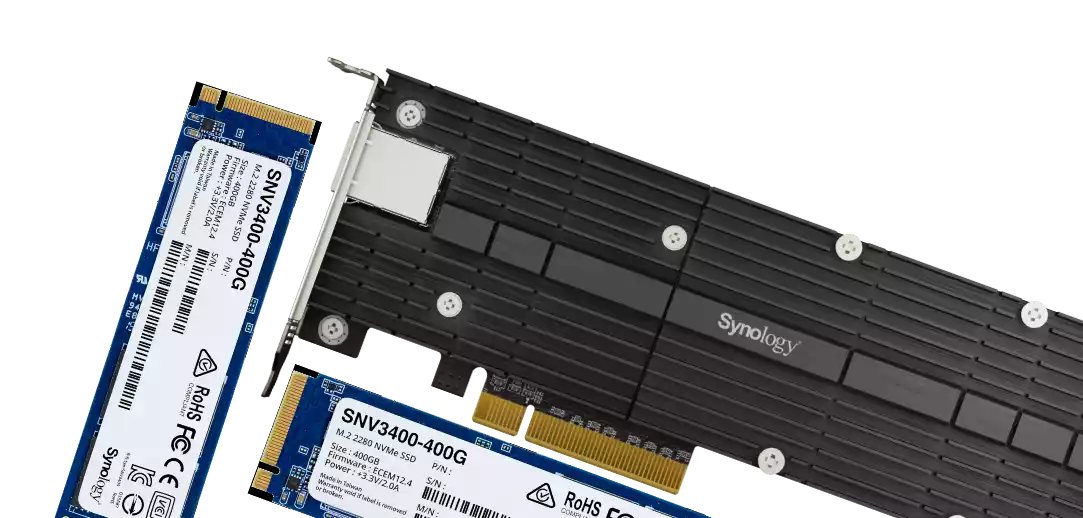 So, if the above holds true and Synology is only providing this feature to NAS systems that have M.2 NVMe SSD bays that are Gen 3, then systems like the DS920+ and DS720+ are not going to support this, or IF they do have it enabled, you might not get the full intended benefits internally (plus they lak any greater than gigabit external connectivity). So, NAS' such as the DS1522+, DS923+, DS723+ NAS will have NVMe SSD Storage Pool use enabled, and NAS' with PCIe Gen 3×8 card upgrade slots (i.e the DS2422+, DS3622xs+, RS822+, etc) will likely have the support too, down the line (though, it is still unconfirmed about whether the E10G20-T1 or M2D20 NVMe SSD cards have any kind of fixed architecture to allow this. In my review of the Synology DS923+, I was unable to test this feature, as it was seemingly unavailable on the firmware update I was running (possibly resolved with a day 1 launch DSM update – however MY other blog review and YouTube content is in production with prevents testing of this feature right now being possible. As soon as those are completed, I will get this tested to see if 1) the feature is indeed available on the DS923+ NAS right now, and 2) if there are any limitations towards using non-Synology branded SSDs in these bays for this feature. At the time of writing, the latest patch/release notes for DSM 7.1 on the DS923+ NAS do not show further information, but expect more noise on this very soon, I am sure! Cheers for reading!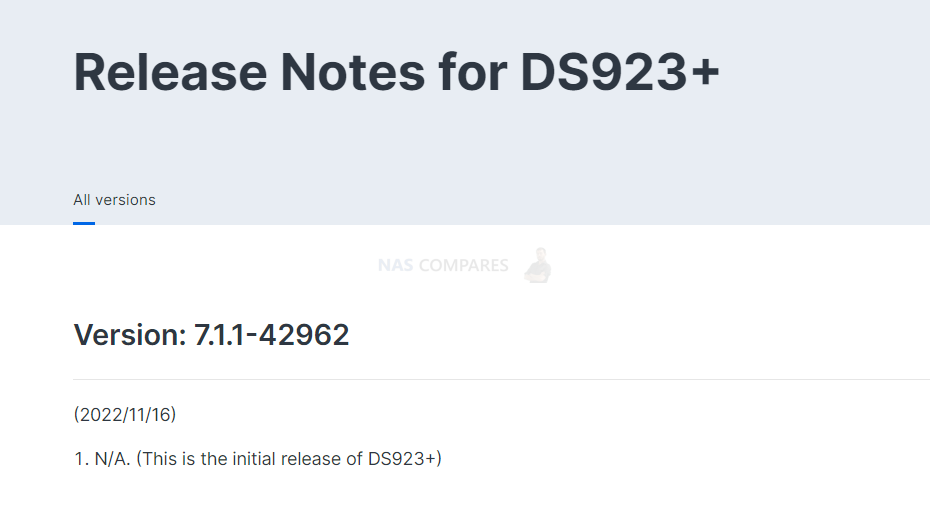 If you are thinking of buying a Synology NAS, this article helped you AND you planned on buying from Amazon anyway, please use the link below. As this won't cost you anything extra and results in me & Eddie at NASCompares receiving an affiliate fee from Amazon, which goes directly back into us doing what we do!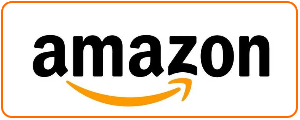 Need More Help Choosing the right NAS?
Choosing the right data storage solution for your needs can be very intimidating and it's never too late to ask for help. With options ranging from NAS to DAS, Thunderbolt to SAS and connecting everything up so you can access all your lovely data at the touch of a button can be a lot simpler than you think. If you want some tips, guidance or help with everything from compatibility to suitability of a solution for you, why not drop me a message below and I will get back to you as soon as possible with what you should go for, its suitability and the best place to get it. This service is designed without profit in mind and in order to help you with your data storage needs, so I will try to answer your questions as soon as possible. We pool the comments on this article and the videos that are featured in it to keep all the relevant comments in one place, so take a look and see if your POV is the same as everyone else's.
📧 LET ME KNOW ABOUT NEW POSTS 🔔
Join 1,468 other subscribers
Get an alert every time something gets added to this specific article!
This description contains links to Amazon. These links will take you to some of the products mentioned in today's content. As an Amazon Associate, I earn from qualifying purchases. Visit the NASCompares Deal Finder to find the best place to buy this device in your region, based on Service, Support and Reputation - Just Search for your NAS Drive in the Box Below
Need Advice on Data Storage from an Expert?
We want to keep the free advice on NASCompares FREE for as long as we can. Since this service started back in Jan '18, We have helped hundreds of users every month solve their storage woes, but we can only continue to do this with your support. So please do choose to buy at Amazon US and Amazon UK on the articles when buying to provide advert revenue support or to donate/support the site below.

Finally, for free advice about your setup, j
ust leave a message in the comments below here at NASCompares.com and we will get back to you.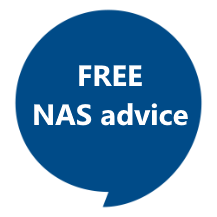 Need Help?
Where possible (and where appropriate) please provide as much information about your requirements, as then I can arrange the best answer and solution to your needs. Do not worry about your e-mail address being required, it will NOT be used in a mailing list and will NOT be used in any way other than to respond to your enquiry.
Support What We Do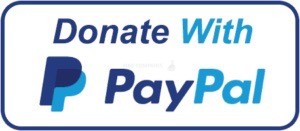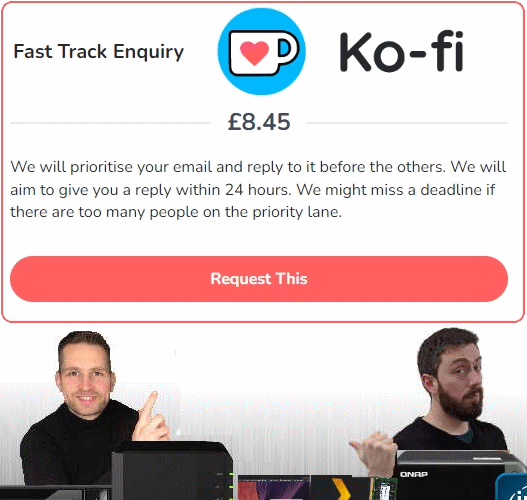 Terms and Conditions
Alternatively, why not ask me on the
ASK NASCompares forum
, by clicking the button below. This is a community hub that serves as a place that I can answer your question, chew the fat, share new release information and even get corrections posted. I will always get around to answering ALL queries, but as a one-man operation, I cannot promise speed! So by sharing your query in the
ASK NASCompares
section below, you can get a better range of solutions and suggestions, alongside my own.
If you like this service, please consider supporting us.
We use affiliate links on the blog allowing NAScompares information and advice service to be free of charge to you.
Anything you purchase on the day you click on our links will generate a small commission which is
used to run the website. Here is a link for
Amazon
and
B&H
.
You can also get me a ☕
Ko-fi
or old school
Paypal
. Thanks!
To find out more about how to support this advice service check
HERE
If you need to fix or configure a NAS, check
Fiver
Have you thought about helping others with your knowledge?
Find Instructions Here
☕ WE LOVE COFFEE ☕

Or support us by using our affiliate links on Amazon UK and Amazon US