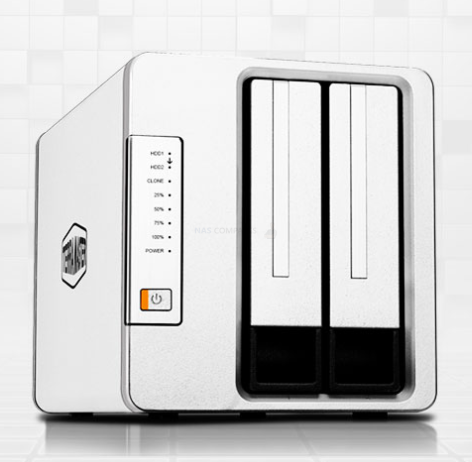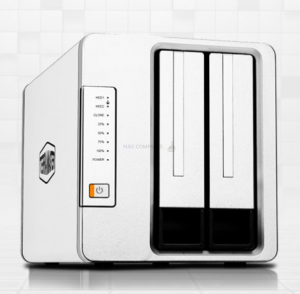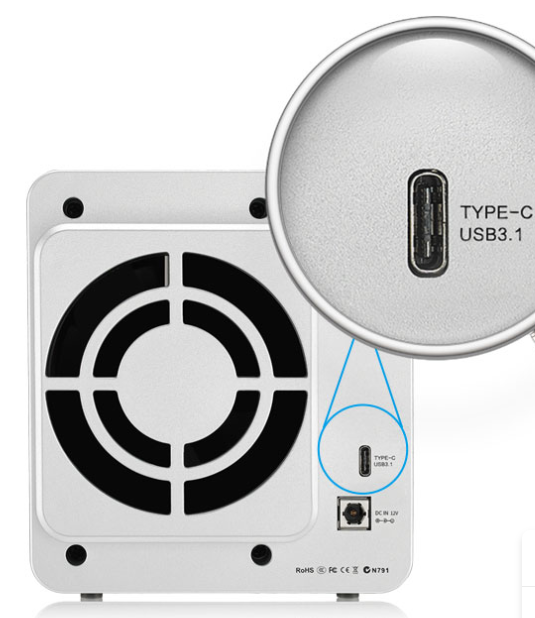 Unique and Innovative
TerraMaster D2-300 is a 2-bay USB hard drive enclosure with high-speed hard drive clone feature and misoperation protection. The tool-less hard drive tray allows you to quickly replace your hard drive while also providing protection for the hard drive. The intelligent temperature-controlled fan ensures that the hard drive is at an ideal working temperature during the cloning task for several hours.
High-speed HDD Enclosure
USB 3.1 (Gen 1) interface can provide you with high-speed data transmission, max speed up to 5Gbps. D2-300 supports 3.5-inch SATA hard drives, 2.5-inch SATA hard drives/SSDs, and supports hot swapping. It is an economical and easy-to-use USB hard drive enclosure that helps you achieve cross-platform data backup.
Transfer at Lighting Speed
The max speed with SSDs: Read 417MB/s, Write: 369MB/s.
The SATA hard drives up to 220MB/s (WD Red HDD 4TB x 1).
Driverless, plug and play
D2-300 adopts USB Type-C interface, no need to install any driver, support MAC, Windows, Linux cross-platform operating system. It is fully compatible with the USB protocol, and can be used with any computer, TV, server, set-top box and other devices.
High Speed Cloning
More than just a hard drive enclosure, D2-300 has a unique hard drive cloning feature. The clone feature can realize offline high-speed cloning of HDD1 to HDD2 without connecting to a computer. The cloning speed of SSD can be as high as 400MB/sec, and the cloning speed of hard drive can be as high as 200MB/sec. Clone hard drives support up to 16TB.
Misoperation Protection
D2-300 has a unique protection against misoperation. In order to prevent the hard drive data loss caused by user misoperation, the clone function can only be activated after two confirmations. When the cloning status is activated, the cloning task is not confirmed within 10 seconds, and the cloning status will be automatically stopped.
Full Monitoring of Progress
D2-300 is equipped with 5 indicators specifically for monitoring the progress of cloning. You can understand the status of the clone and the progress of task execution from the display of the indicator. Progress indicator makes task progress clear at a glance.
No Worry
In order to prevent damage to the device and hard drive caused by using the wrong power supply, the D2-300 uses a power protection design. When the user connects to the wrong power source, the device will enable automatic protection.
Better Protection
Without heat dissipation measures, cloning tasks that last up to several hours may cause the temperature of the hard drive to exceed 55 degrees Celsius. Continued high temperatures will affect the life of the hard drive. D2-300 adopts intelligent temperature control low noise fan, the fan speed is automatically adjusted with the temperature of the hard drive to ensure that your hard drive is at the best working temperature.
If you like this service, please consider supporting us.
We use affiliate links on the blog allowing NAScompares information and advice service to be free of charge to you.
Anything you purchase on the day you click on our links will generate a small commission which is
used to run the website. Here is a link for
Amazon
and
B&H
.
You can also get me a ☕
Ko-fi
or old school
Paypal
. Thanks!
To find out more about how to support this advice service check
HERE
If you need to fix or configure a NAS, check
Fiver
Have you thought about helping others with your knowledge?
Find Instructions Here