Latest Terramaster NAS TOS 5 Software Now Available to Test in Beta
If you are a terramaster user and have been wondering what the brand has had in store for it's software in 2022, it would appear that they have been working busily on a host of improvements, upgrades and new features for the latest version of their NAS System, TOS 5. Now terramaster users are able to try out some of the new features and services that are included that range from a new self-isolation mode, to flexible RAID configurations, AI Photo recognition, Docker, Surveillance support and improved client sync applications. Remember, this is still a Beta and therefore you should not upgrade the firmware on your mission-critical system with this less stable beta! The TOS 5 beta is intended as a means of getting feedback from users on what works, what doesn't;t and ultimately to help ensure the full release of TOS 5 is the best it can possibly be. So if you do want to test out TOS 5, get your backups in order first! Let's discuss what is new and improved in TOS 5!
Note – We originally previewed an earlier build of Terramaster TOS 5 Alpha in the video HERE on the NASCompares YouTube channel. LOADS more features have been added since this original alpha preview and we will soon be deep-diving into this newer Beta release very soon. Below is what Terramaster say is included in the new TOS ver.5 Beta. The original press release can be found here with further details, alongside existing features of TOS that will also remain and/or be improved upon in TOS 5 – HERE.
(from the official Terramaster new pages below)
New Features & Improvements in Existing Services
In TOS 5, not only have the storage structure and data interaction mode been reconstructed but also, compared with the previous generation, it adds more than 50 features and 600 improvements. The new features meet more business requirements, as well as significantly improve response speed, security, and ease of use.
Browser Access to TOS is Now 3x Times Faster
TOS 5 adopts progressive JavaScript language and a lightweight framework with faster loading speed. TOS 5 features bidirectional data binding, easier data manipulation, and automatic synchronous response to data changes in the page; UI, data, and structure separation makes it easier to change data without the need to modify logic codes. Using progressive JavaScript language, TOS 5 has a more lightweight framework. In addition, through two-way binding of data, the view, data and structure are separated. When the page is operated, it automatically responds to changes in data, which makes the system "lighter" and achieve faster loading speed.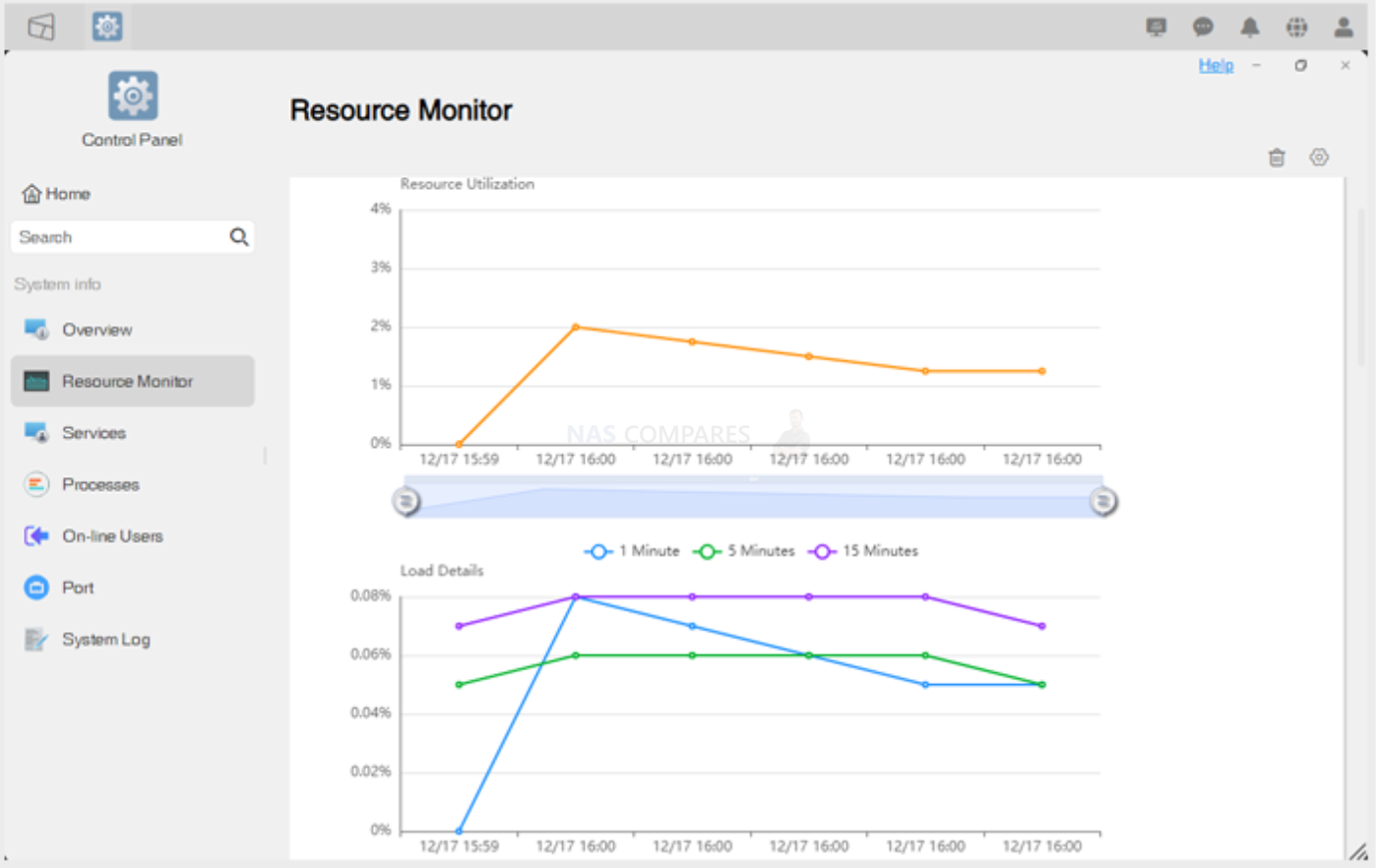 New caching technology avoids network round trips between the server and the database, bypasses the calculation that occupies resources, saves server resources, and improves response time and waiting time, so TOS 5 has the fastest response time in the current TOS family. Compared with the last generation, the TOS 5 response speed has increased by 300%! Use WASM to optimize the calculation method and execute the back-end complex calculations on the front-end, thereby reducing the calculation pressure on the server. In addition, TOS 5 uses the most popular back-end language at the moment, which can support high concurrent requests. Compared with traditional interpreted languages, the compilation speed is faster. Further information on the newest version of TOS and how the GUI has been redesigned can be found HERE.
Improved Resource Monitor in TOS 5
The new iconic resource monitor board allows you to grasp the operating status of your TNAS comprehensively and intuitively in real-time; at-a-glance visibility of system load, CPU and memory usage, network traffic, disk I/O, device temperature, storage, processes, online users, listening ports, and system resource occupancy. Historical records of up to 30 days can be easily traced back.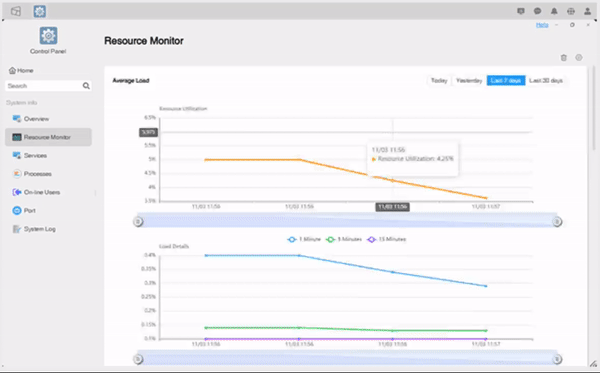 Full One Button System Isolation Mode Available in TOS 5
TerraMaster's unique security isolation mode completely isolates your TNAS device from the external network through network isolation, digital signature, and file format restriction, providing a safer operating environment and effective protection against virus and ransomware attacks.

Support of the WORM File System in TOS5
Data can be written at one time within the customized protection period and cannot be deleted or modified. This effectively protects your data from malicious damage, deletion, or tampering and provides data protection for up to 70 years; essential for the financial, judicial, medical, and scientific research sectors, as well as other business users.
Improved Storage, Backup & Sync Features in Terramaster TOS 5
TOS 5 features optimized storage architecture to reduce the system space occupation. The file deduplication system, file system compression, TRAID elastic array, and other functions also save you up to 40% of storage space
Single Portal Folder Level Backup for Home and SMB Users
Reduce complexity and embrace simplicity. All backup needs can be completed through a single portal, providing one-stop backup solutions including Central Backup, TerraSync, Duple Backup, Snapshot, USB Copy, CloudSync, and other comprehensive backup tools. This meets your clients' disaster recovery and restoration requirements, as well as backup policies and destinations.
Business Focused ProActive Backups for Larger Business
To improve management efficiency, medium and larger-sized businesses need a centralized and active backup solution for multiple users, PCs, and servers. Centralized Backup is a business-oriented backup solution that supports backup and restoration for multiple device types. You can centrally backup data of dozens or even hundreds of PCs, servers, or virtual machines with only one TNAS.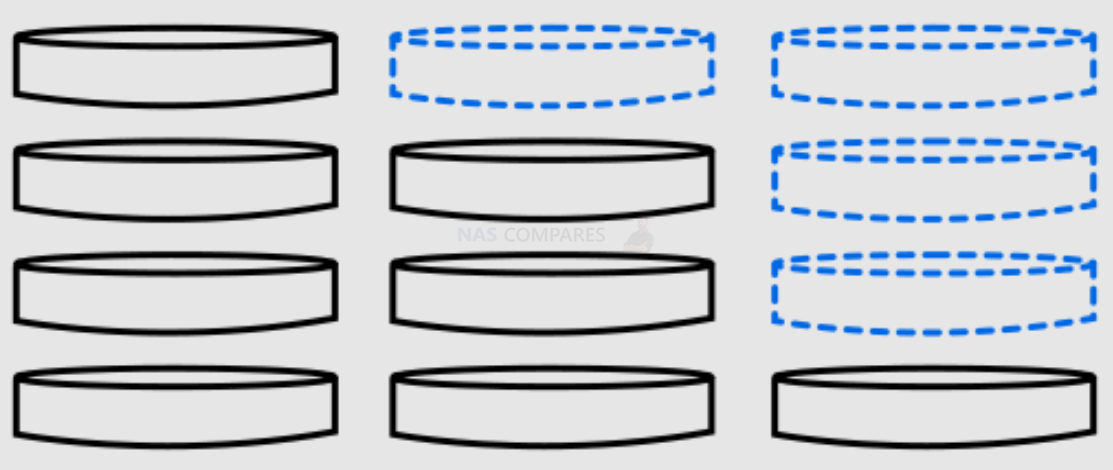 New Flexible RAID Support in TRAID in TOS 5
By optimizing the traditional RAID mode, TerraMaster RAID (TRAID) gives you flexible disk array configuration, flexible online migration, capacity expansion, and redundancy policies. As well as improving disk space utilization, it also provides solutions and security protection for storage space changes caused by new business requirements. Much like Synology Hybrid RAID (SHR) in that you can mix drive capacities for improved storage after the RAID redundancy calculation. I reached out to Terramaster directly on this and they confirm that this function is supported in TOS 5.
Multiple Client Sync with TerraSync in TOS 5
TerraSync, a TerraMaster self-developed synchronization tool, realizes data synchronization between multiple users and multiple devices. It efficiently implements data sharing among branch offices and data synchronization between individuals on multiple devices and platforms, which assists employees in collaborative work and improves work efficiency.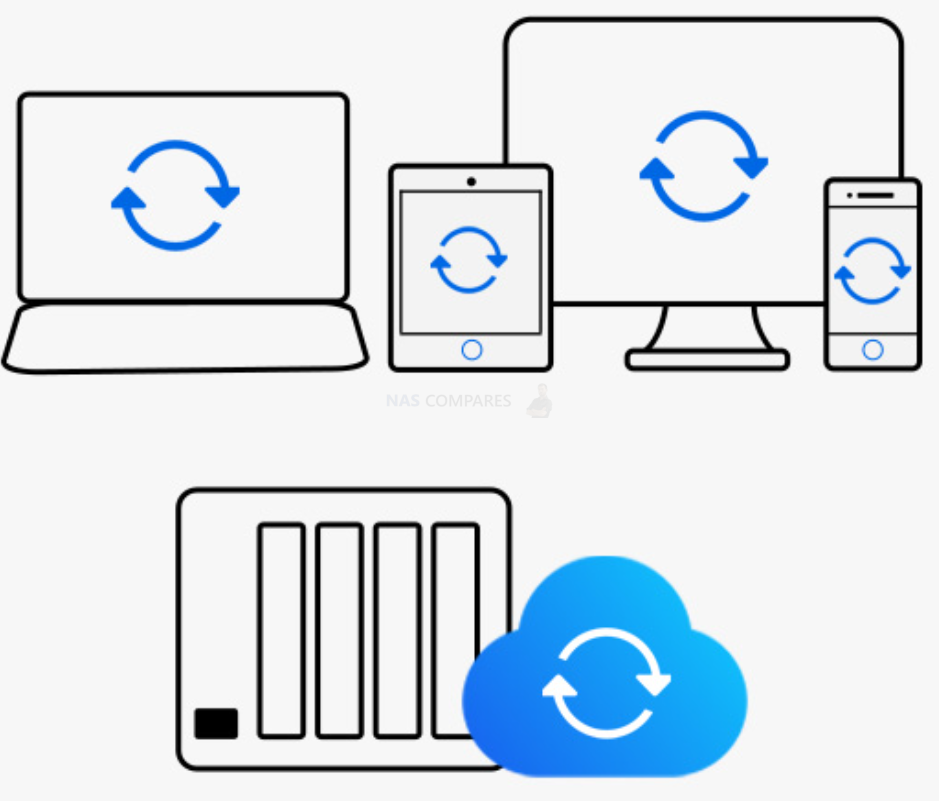 New CloudSync Application for Bare Metal-to-Cloud Live Sync in TOS 5
The new CloudSync app integrates multiple cloud drives and syncs them into one application, including Google Drive, One Drive, Amazon S3, Backblaze, Box, Dropbox, Koofr, OpenDrive, pCloud, Yandex disk, and Aliyun. This allows users to centralize the management of multiple synchronization tasks and add a variety of cloud disk synchronization options including Aliyun and Rackspace. A more flexible, stable, and efficient solution for data synchronization between your TNAS and cloud drives is facilitated by your choice of customized synchronization strategies, such as traffic control, scheduled tasks, and encryption.
CCTV Surveillance in Terramaster TOS 5
TNAS is an ideal video recording storage device. The new Surveillance Manager makes full use of TNAS storage resources to realize camera management, real-time monitoring, video storage, playback, query, event and activity monitoring and recording, providing you with economic and flexible video monitoring management tools to safeguard your personal and property safety.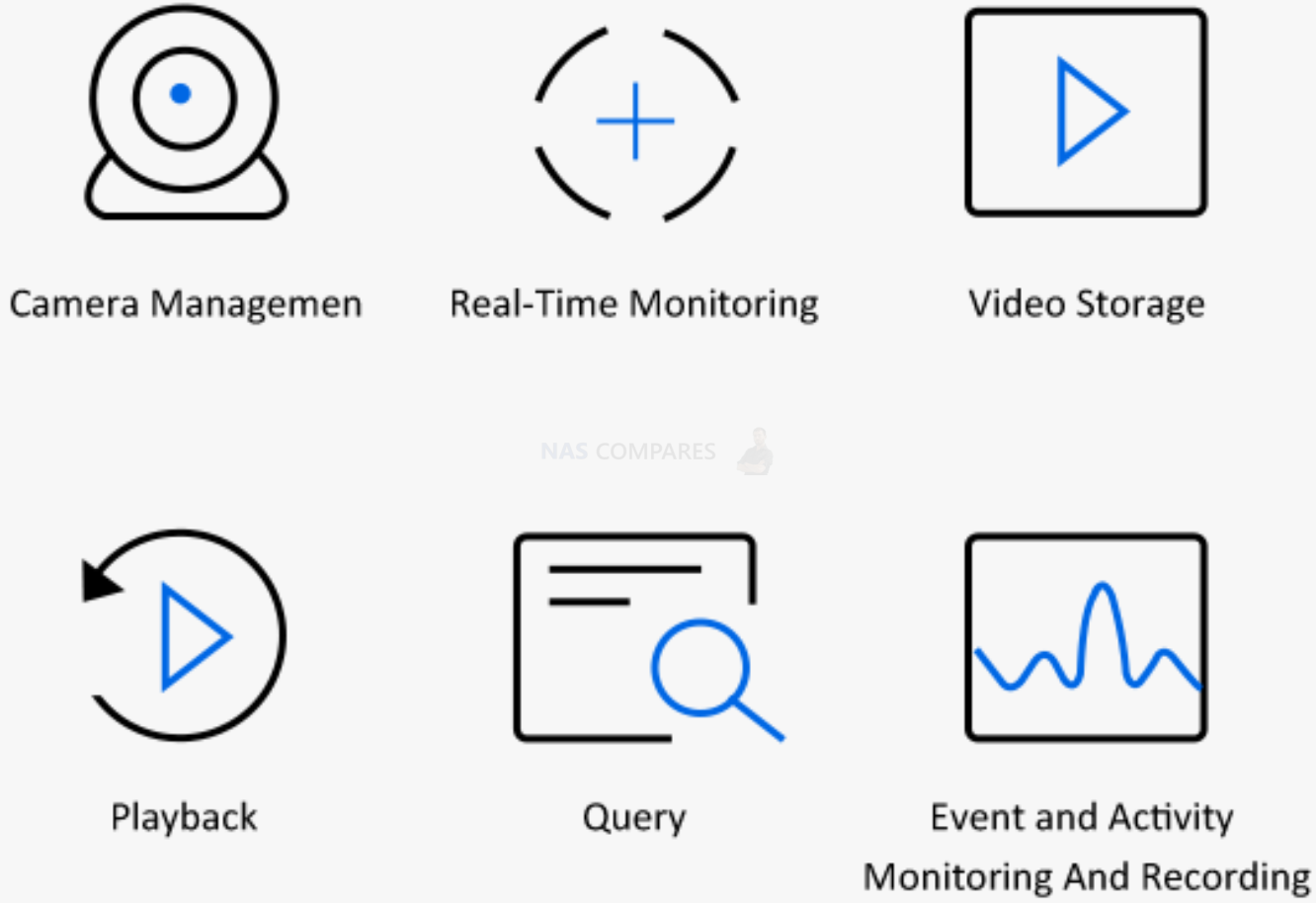 AI Photo Recognition Now Available in TOS 5 with Terra Photo
Terra Photos is TerraMaster's brand-new AI photo management application that provides smart solutions for your photo management and sharing; it uses intelligent AI algorithms to identify and classify faces, pets, locations, and other objects in your photos.
Docker Added to Existing Container Tools in TOS 5
Combined with docker-compose and portainer, the new Docker Manager features an optimized operation interface, with multiple new features which provide visual management that meets all your requirements for container customization and flexible configuration.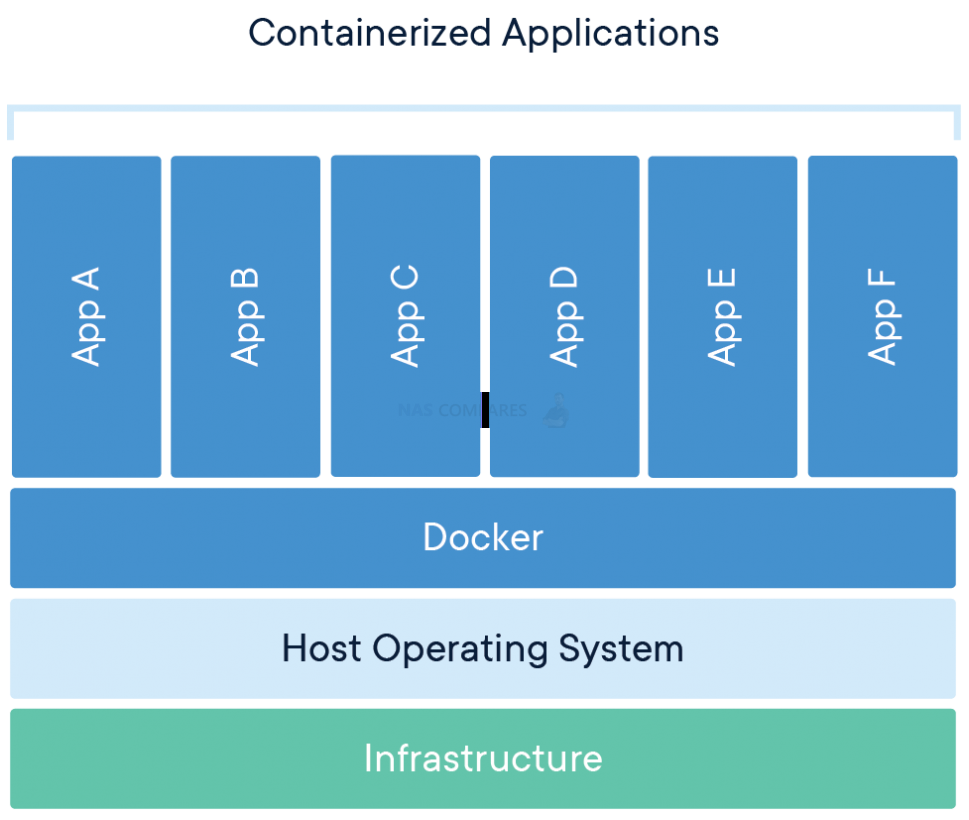 New Update to Terramaster's Mobile App, TNAS Mobile 5
To adapt to TOS 5, TNAS mobile has also ushered in a comprehensive update, TNAS mobile 5. Featuring an optimized user interface and interaction, it has also added mobile phone backup, photo management, personal folders, team folders, data safebox, TerraSync, remote administrator, and other functions, which provide more convenience for remote access, mobile office, and remote management of your TNAS.
How to Access the Terramaster TOS 5 Beta?
Before starting the test, please be sure to read the following precautions carefully.
Precautions:
1. A beta version is an early version of a program that contains most of the main features, but is not yet complete and may have some defects. This version is only released to a select group of people, or to the general public, for testing and feedback;
2. The Beta version is not suitable for use in work or production environments. If your TNAS device is running business or storing important data, please do not participate in this test;
3. The root file system, storage mount path, application storage location, and startup mode of TOS 5 are different from those of other versions. You will not be able to install TOS 5 through an update, but will need to reinstall the system. Reinstalling the system normally will not delete the data on your hard disk, but for safety, please be sure to back up your data in advance;
4. The Beta version released this time is only applicable to TNAS models in X.86 series (220 series, 221 series, 420 series, 421 series, 422 series);
5. Your current TOS version must be 4.2.09 or higher;
6. TOS 5 Beta requires a new version of TNAS PC (Windows OS: V5.0.4 / macOS: V5.0.4) and TNAS Mobile (Android: V5.0.1 / iOS:V5.0.1).
Download link:
TNAS PC for Windows OS:    https://download2.terra-master.com/TerraMaster_TNAS PC_for_win_V5.0.4.zip
TNAS PC for macOS:    https://download2.terra-master.com/TerraMaster_TNAS PC_for_Mac_5.0.4.dmg
TNAS Mobile for Android: It will be published later.
TNAS Mobile for iOS: It will be published later.
How to install TOS 5 Beta?
1. Download the TOS 5 Beta installation package:  https://download2.terra-master.com/TOS_X642.0_5.0.50_Beta_00063_2203071918.ins
2. Log in to your TOS, go to control Panel > General Settings > Update & Recovery > Restore to Factory Defaults, select "Restore to Factory Defaults" and click "Apply" to clear your original settings;
3. Your TNAS will automatically restart and enter the initialization guide page; If the initialization page is not displayed, please search the NAS IP address by TNAS PC, and enter the IP address in the browser's address bar to access;
4. Please select "Manual Installation", upload the downloaded TOS 5 Beta installation package, and wait until the installation is complete;
5. The system will automatically restart when TOS 5 Beta is successfully installed. After the system restarts, set the administrator settings as instructed to complete the system installation;
6. After the system is installed, clear the browser cache. Otherwise, some system pages may not be displayed correctly.
Bug reports
As the Beta version is an early version of the program, there may be some defects, please do not pass the bugs of the Beta version to the public to avoid causing unnecessary trouble to others.
If you'd like report a bug, please send the description, reproduction method and screenshot of the bug to the email address: pm@terra-master.com.
📧 LET ME KNOW ABOUT NEW POSTS 🔔
Join 1,582 other subscribers
Get an alert every time something gets added to this specific article!
This description contains links to Amazon. These links will take you to some of the products mentioned in today's content. As an Amazon Associate, I earn from qualifying purchases. Visit the NASCompares Deal Finder to find the best place to buy this device in your region, based on Service, Support and Reputation - Just Search for your NAS Drive in the Box Below
Need Advice on Data Storage from an Expert?
We want to keep the free advice on NASCompares FREE for as long as we can. Since this service started back in Jan '18, We have helped hundreds of users every month solve their storage woes, but we can only continue to do this with your support. So please do choose to buy at Amazon US and Amazon UK on the articles when buying to provide advert revenue support or to donate/support the site below.

Finally, for free advice about your setup, j
ust leave a message in the comments below here at NASCompares.com and we will get back to you.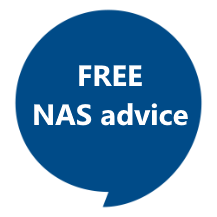 Need Help?
Where possible (and where appropriate) please provide as much information about your requirements, as then I can arrange the best answer and solution to your needs. Do not worry about your e-mail address being required, it will NOT be used in a mailing list and will NOT be used in any way other than to respond to your enquiry.
Support What We Do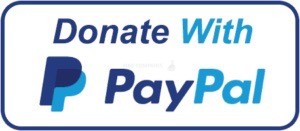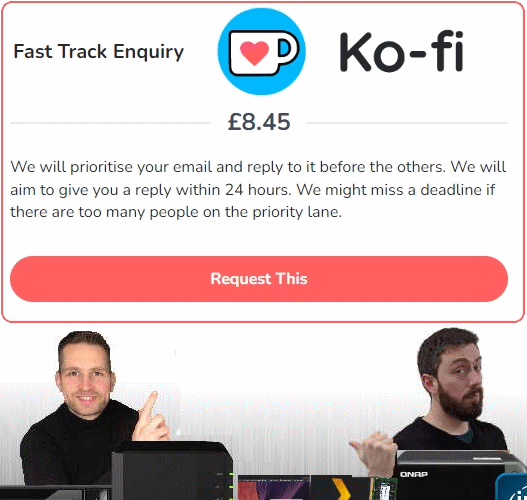 Terms and Conditions
Alternatively, why not ask me on the
ASK NASCompares forum
, by clicking the button below. This is a community hub that serves as a place that I can answer your question, chew the fat, share new release information and even get corrections posted. I will always get around to answering ALL queries, but as a one-man operation, I cannot promise speed! So by sharing your query in the
ASK NASCompares
section below, you can get a better range of solutions and suggestions, alongside my own.
If you like this service, please consider supporting us.
We use affiliate links on the blog allowing NAScompares information and advice service to be free of charge to you.
Anything you purchase on the day you click on our links will generate a small commission which is
used to run the website. Here is a link for
Amazon
and
B&H
.
You can also get me a ☕
Ko-fi
or old school
Paypal
. Thanks!
To find out more about how to support this advice service check
HERE
If you need to fix or configure a NAS, check
Fiver
Have you thought about helping others with your knowledge?
Find Instructions Here
☕ WE LOVE COFFEE ☕

Or support us by using our affiliate links on Amazon UK and Amazon US