The Synology DS123 NAS Rumoured for Q1 / 2023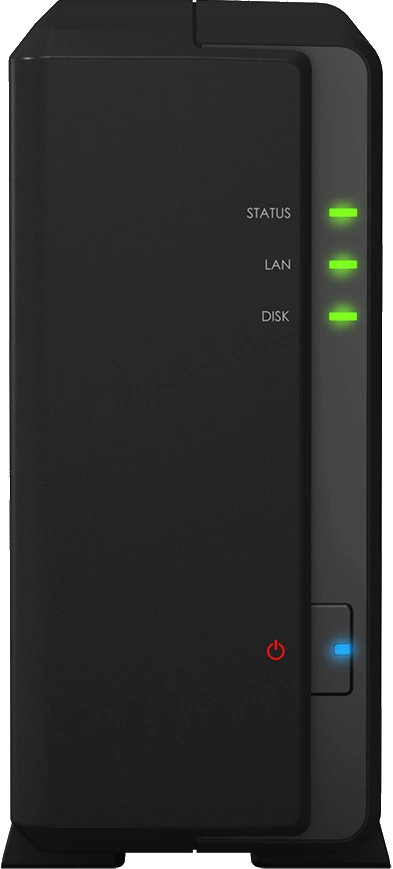 Note – This article was written 05/10/22 (UK) and I will strive to update it as much as I can, so if you want to be the first to know, you can get alerts on this SPECIFIC page by entering your email address at the bottom of the article.
If you have been looking at Synology or a more cost-effective, low-price and highly power-efficient NAS drive in 2022/2023, then there is a very good chance that you have been wondering about the release of the DS123, as the current affordable 'standard series' offering of the DS118 has been available now for well over FOUR AND A HALF YEARS! Well, I am pleased to share that I have been informed that Synology has plans to release the newest entry into their standard class tier with this new 1-Bay NAS in the last quarter of 2022 (or possibly the start of 2023). This little snippet of information (alongside mention of other new desktop NAS', such as the DS223j, DS223+, DS723+ and DS923+), details which units are going to form the bulk of the brand's home-prosumer-SMB diskstation portfolio. The DS2xx and DS4xx series have always been highly desirable as the entry point for most first-time Synology NAS small business users and although is a solution that arrives with hardware that could arguably be called 'economical', it is worth also remembering that it will almost certainly arrive with support of DSM 7 – so you are going to be looking at an affordably jumping off point into a complete hardware+software solution. Although the details we have on the DS123 are incredibly thin on the ground at the time of writing, this information DOES come from a very trustworthy source that I am sorry to say I cannot share. I am sure this will result in many having doubts about the reliability of this information (I would feel the same), but you are just going to have to trust me on this and/or wait out the rest of 2022 as this all plays out. Let's discuss the DS123 a little further.
What Do We Know About the Synology DS123 NAS Drive?
Unfortunately, we still have very few concrete ideas on many of the details of the DS123 NAS. No details on the hardware have been provided, but these will almost certainly follow in the footsteps of previously released Diskstation 1-Bay Devices in this hardware tier, such as the DS116 and DS118. Unfortunately, I cannot disclose the source of this information. This is as much information as I can share right now, other than a rather wide release window (see at the bottom of the article), that is about it. Now, I can already hear the complaints in the comments about this, but you are going to have to trust me on this one, as I trust the source and in 6 months all this will play out. Additionally, I received further information on other planned Synology hardware accessories/add-ons that I need to verify in the meantime before I publish. You can find out much, MUCH more on everything we have learned/predicted on the Synology 2023 range of hardware HERE in this Megathread.
What Do We Expect the Hardware of the Synology DS123 NAS to Be?
As mentioned, the DS123 information I have received also highlights a range of other NAS devices arriving in that same 6 months time frame. The DS2xx/DS4xx NAS has always formed one of the lowest hardware/price points of the RAID-enabled systems in the brand's portfolio (with the lowest available tier being the DS2xxj and DS4xxj systems) and the need for the system to run DSM 7 comfortably (even at this more home-user-focused system) will result in the brand giving this NAS a modest, yet still capable day one hardware. I will say that at the time of writing, I have ZERO idea on the CPU+Memory of the DS123, but with well over a decade of this brand's approach to these systems, we can make some educated guesses based on the brand's hardware choices in previous years AND the state of NAS hardware/components that are favoured by the industry in 2022/2023 already.
The CPU that will be in the Synology DS123 and other Value series devices has been largely confirmed already, thanks to details on the official Synology download pages. Alongside ongoing rumours that the first wave of DSx23 series diskstation NAS will arrive at the start of 2023, a new CPU entry has appeared online with DSM 7.1 support of late 2020 released Realtek RTD1619 ARMv8-A processor. The architecture of which is incredibly likely to be for the DS123, DS223j, DS223 and DS423: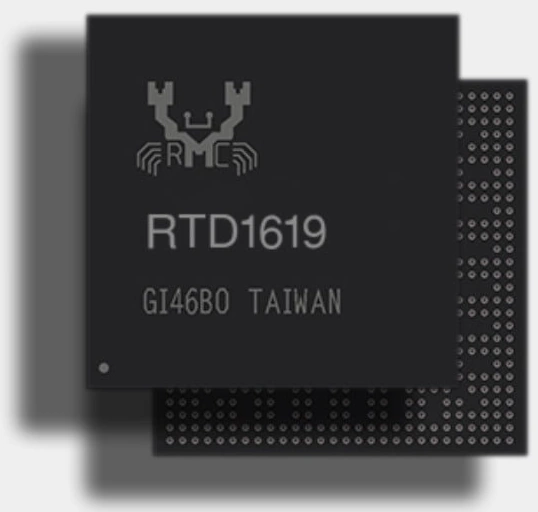 Realtek RTD1619
Cortex-A55 SoC
ARMv8-A
Q4 2020
12 nm / 5W
6 Core @ 1.3 GHz
4GB Max Capacity (likely tiered at each value model)
H.265 4K@60fps, H.264 4K@30fps, 1080p@60fps
Ethernet 10/100/1000 Mbit/s
USB 3.0, USB 2.0
Now, the interesting thing about this CPU is that 6 core architecture and increased 4K support over that of the RTD1296 that came before it (though a marginal drop in clock speed, this is more than made up for in efficiency). The ethernet/network speed still appears to cap at 1GbE, but even though 2.5GbE continues to grow in the market, I think very few people (myself included) would have thought Synology would include a 2.5G network connection in their value tier. Here is how the RTD1619 and RTD1296 CPU Compare:
| | | |
| --- | --- | --- |
| Processor | Realtek RTD1296 | Realtek RTD1619 |
| ISA | ARMv8-A (64-bit) | ARMv8-A (64-bit) |
| Synology NAS ft. CPU | DS220j, DS420j, DS118, DS218, DS418 | DS123, DS223, DS223j, DS423 (TBC) |
| Microarchitecture | Cortex-A53 | Cortex-A55 |
| Family | RTD | RTD |
| Part number(s), S-Spec | RTD1296 | RTD1619 |
| Release date | Q4 2018 | Q4 2020 |
| Lithography | 12 nm | 12 nm |
| Cores | 4 | 6 |
| Threads | 4 | 6 |
| Base frequency | 1.4 GHz | 1.3 GHz |
| High performance cores | 4x ARM Cortex-A53 @ 1.4 GHz | 6x ARM Cortex-A55 @ 1.3 GHz |
| Cache memory | 1 MB | 1 MB |
| Max memory capacity | 2 GB | 4 GB |
| Memory types | LPDDR2/3, DDR3/4 | LPDDR2/3, DDR3/4 |
| TDP | 13 W | 5 W |
| GPU integrated graphics | ARM Mali-T820 MP3 | ARM Mali-G51 MP3 |
| GPU execution units | 3 | 3 |
| GPU shading units | 48 | 48 |
| GPU base clock | 650 MHz | 650 MHz |
| GPU boost clock | 750 MHz | 650 MHz |
| GPU FP32 floating point | 30.6 GFLOPS | 72 GFLOPS |
| Socket | SoC | SoC |
| Max display resolution | 4K@60fps | 4K@60fps |
| Video decoding | H.265 4K@60fps, H.264 4K@30fps, 1080p@60fps | H.265 4K@60fps, H.264 4K@30fps, 1080p@60fps |
| Video encoding | H.264 1080p@60fps | H.264 1080p@60fps |
| Modem | Ethernet 10/100/1000 Mbit/s | Ethernet 10/100/1000 Mbit/s |
| Connectivity | USB 3.0, USB 2.0, HDMI 2.0a | USB 3.0, USB 2.0, HDMI 2.0b |
Additionally, Synology has had a habit in the last few years of using similar/identical CPU choices in both the standard class DSXXX and DSXXXj series and with a J and standard class 2-bay highlighted in the information I was given, I am included to think this will happen again, with differentiations between J and standard coming down to quantities of memory and ports/connections available in the default model. Both of these processors are ARM architecture, i.e. they are very power efficient for 24×7 use. Alongside these, I can imagine that the DS123 will arrive with 1GB of fixed/non-upgradeable memory in line with previous DS2xx releases to ensure that DSM 7 runs as smoothly as it can with its base-level functions (i.e before you install further applications in the app center). The DS118 that was released back in 2017/18 with DSM 6.1 and was able to run, even with its modest Realtek RTD1296 CPU and 1GB of memory, and even ran DSM 7, but I think the DS123 will need AT LEAST 1GB of DDR4 if it plans to run DSM 7 smoothly in years to come.
Aside from that, I do not think we will see much else changed on this. The System will certainly be 1GbE and feature one or more USB 3.2 Gen 1 ports. As well as almost certainly arriving in the familiar Synology black plastic chassis of previous generations. One question people might have is HDD compatibility and I cannot see the brand being heavy-handed on this very affordable end of the portfolio, however, do not rule this out (in even a small way) if Synology reveal a more mid-range/affordable HDD series alongside their enterprise HAT5300s.
When Will We See the Synology DS123 NAS Released?
We understand that the DS123 and other DSx23 Diskstation systems are arriving towards the end of the year and start of 2023 – Almost certainly in smaller release groups and with further details on them being revealed at the Synology 2023 Event (that last bit IS speculative, but almost certainly the case). We will update this page regularly with more information on the DS123 NAS as it arrives, so if you want to be the first to know, you can get alerts on this SPECIFIC page by entering your email address below.
📧 LET ME KNOW ABOUT NEW POSTS 🔔
Join 1,570 other subscribers
Get an alert every time something gets added to this specific article!
This description contains links to Amazon. These links will take you to some of the products mentioned in today's content. As an Amazon Associate, I earn from qualifying purchases. Visit the NASCompares Deal Finder to find the best place to buy this device in your region, based on Service, Support and Reputation - Just Search for your NAS Drive in the Box Below
Need Advice on Data Storage from an Expert?
We want to keep the free advice on NASCompares FREE for as long as we can. Since this service started back in Jan '18, We have helped hundreds of users every month solve their storage woes, but we can only continue to do this with your support. So please do choose to buy at Amazon US and Amazon UK on the articles when buying to provide advert revenue support or to donate/support the site below.

Finally, for free advice about your setup, j
ust leave a message in the comments below here at NASCompares.com and we will get back to you.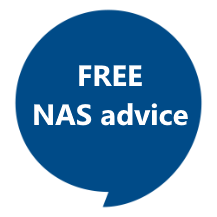 Need Help?
Where possible (and where appropriate) please provide as much information about your requirements, as then I can arrange the best answer and solution to your needs. Do not worry about your e-mail address being required, it will NOT be used in a mailing list and will NOT be used in any way other than to respond to your enquiry.
Support What We Do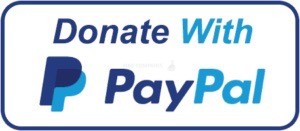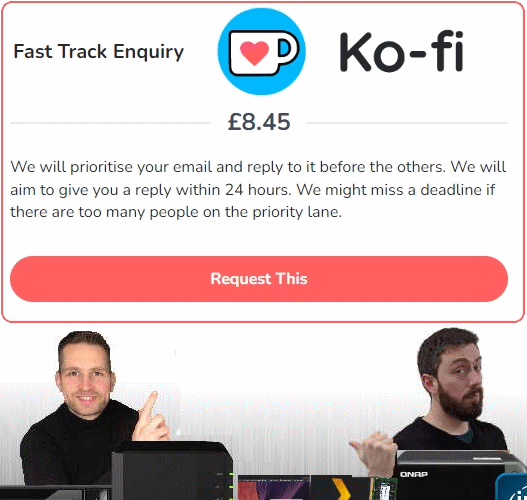 Terms and Conditions
Alternatively, why not ask me on the
ASK NASCompares forum
, by clicking the button below. This is a community hub that serves as a place that I can answer your question, chew the fat, share new release information and even get corrections posted. I will always get around to answering ALL queries, but as a one-man operation, I cannot promise speed! So by sharing your query in the
ASK NASCompares
section below, you can get a better range of solutions and suggestions, alongside my own.