The Synology RS1623xs+ NAS – A New and Long Demanded NAS in the Works!
ANOTHER new Synology uncovered! It really is bloody RAINING Synology NAS lately and the freshly uncovered RS1623xs+ is another business class solution that is the follow-up to an often hugely overlooked great rackmount server! This latest NAS  that will likely be released in 2023 Q1/Q2 is the latest NAS to join the elite XS series of devices. This new Synology RS1623xs+ Rackstation NAS is the refresh of the Xeon-powered RS1619XS+, 1U, 4-Bay rackmount server. Even though the RS1619xs was Synology's first real 4 Bay XS NAS, it managed to cram in almost all the features and functions of the larger XS server devices at that time (m.2 NVMe SSD bays, enterprise CPU, 10GbE scalability, 5yr warranty, etc), whilst still no-doubt being much, much more powerful than the RS818+ and RS818RP+ 4-bay's released that same year. Fast forward to 2022/2023 and this new RS1623xs+ model will likely emulate a number of the core hardware attributes of 2022/2023 generation of XS devices too (such as the DS3622xs+), alongside a more compact architecture. Information is extremely limited on this device right now, but let's discuss what we know and what we can predict for this especially unique Synology product series.

What Do We Know About the Synology RS1623xs+ NAS?
The simple truth is that 'very little' is known about the RS1623xs+ that can be confirmed here. The system definitely exists, in so far as I found out about it, from a Synology source, but details on the specifications are unfortunately not available yet. Synology has really been holding out on Diskstation and Rackstation releases in their portfolio for 2022/2023, and things seem to be shaping up for a flurry of new releases to arrive towards the end of the year. In the last month, we have learned more and more about these releases (the full Synology 2023 Hardware Updates Page can be found here), so it shouldn't be too long before we start to see information drop on this new 4-Bay system. We will update information as it arrives from double-checked sources, as it arrived! However, I think the following can be guessed or predicted, based on the RS1619xs+ and how the rest of Synology's 2022/2023 generation is shaping up:
It will almost certainly feature a Xeon or CPU. There is the potential for an AMD processor (as Synology have been moving some of their ranges around a little away from Intel to AMD on some PLUS series and SA Series devices), but at the time of writing, all XS NAS devices are Intel Xeon based. Given the way that Synology using the same CPU across multiple devices in their portfolio (that share the same user/audience they have in mind), the Xeon D-1531 is a likely CPU to arrive in this system (NOT confirmed!):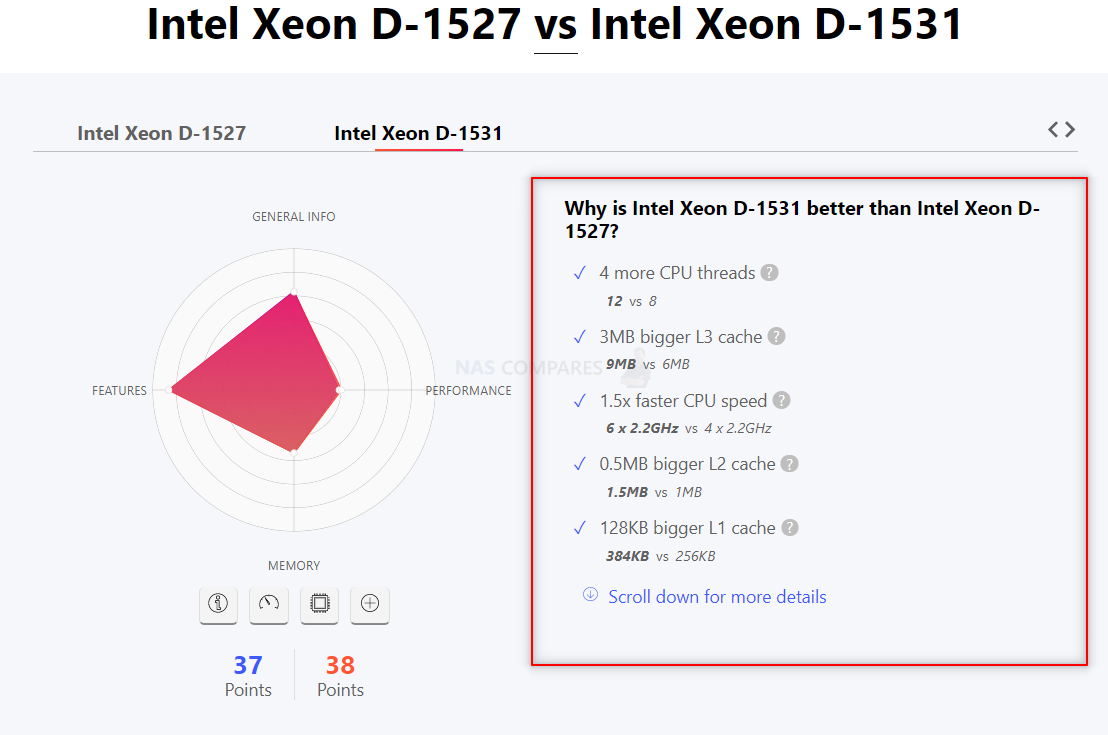 ZERO confirmation of 10GbE, but given that 10GbE has arrived on numerous XS series devices in the last few years (almost ALL in fact), that would be a very good sign that the RS1623xs+ will have at least a single 10GbE port. It is still a 4-Bay NAS, so in it's default build (i.e no expansions) that would mean that saturating 1,000MB/s / 1GB is already going to need high-end drives. So, If there IS going to be 10G it will likely be just 1x port.
NVMe SSD Support for SSD caching is almost certainly going to be available. Although Synology has been a little less keen on including this on their rackstation devices (providing m.2 NVMe slots on most of their desktop/diskstation series), the RS1619xs+ had these slots and this new model will likely be built on the same physical hardware design (i.e controller board and CPU socket)
There will almost certainly be 1 PCIe slot available, which likely means that this device will support the range of 10G and 25G cards from the brand
With this model ID, it 100% means it can be expanded if you connect the Synology RX1223 or RX1223RP to add an additional 12 bays, making a maximum 16x HDD/SSD media
HDD/SSD Compatibility and Support is likely to prioritize Synology HAT5300/HAT5310 Media
The previous model ID was originally RS1619rpxs (denting the dual/Redundant PSU design) but was changed to RS1619xs+ (but still having 2x PSU). So there is a good chance that the RS1623xs+ will be 2xPSU equipped too
Supporting BTRFS/EXT but NOT supporting SHR (Synology Hybrid RAID), instead supporting traditional RAID levels like RAID 0,1,5,6,10,etc
5 Year Warranty

Predictions for the Synology RS1623xs+ NAS Hardware
Now, we CAN make some (moderately!) well-informed estimations and guesses about the hardware that is likely to arrive in the Synology DS1821xs+. Although this would only be the 2nd XS 4-Bay Rackstation NAS from Synology, it is arriving in the prestigious/high-tier 'XS' series, which means that the CPU it is going to arrive with will likely be comparable to the 4-Core Xeon in the DS1621xs+ OR (more likely) to that of the 6-Core CPU of the DS3622xs+. The system will almost certainly arrive with 8-16GB of DDR4 ECC 3200Mhz Memory, at least 1x 10GbE port, two 1GbE ports, a PCIe 3×8 Upgrade slot, 2x M.2 NVMe SSD Bays for caching and expandability with 1x RX1223/RX1223RP expansion chassis. Because Synology always tends to have its portfolio spread out in well-spaced tiers of hardware/size/scalability, it makes sense that this system doesn't tread on the toes of the RS3622xs+ too much, but needs to also be a reasonable jump up from the RS422+ and RS822+ 1U/4-Bay NAS' in terms of architecture to ensure that it makes sense in their line up. Remember, the specs below are predictions that I have made that are based on other Rackstation and Diskstation XS/XS+ series devices released in the last 24 months:
The Intel Xeon D-1531, 6-core 2.2 (base) / 2.7 (turbo) GHz CPU (Possibly the Intel Xeon D-1527, but much less likely)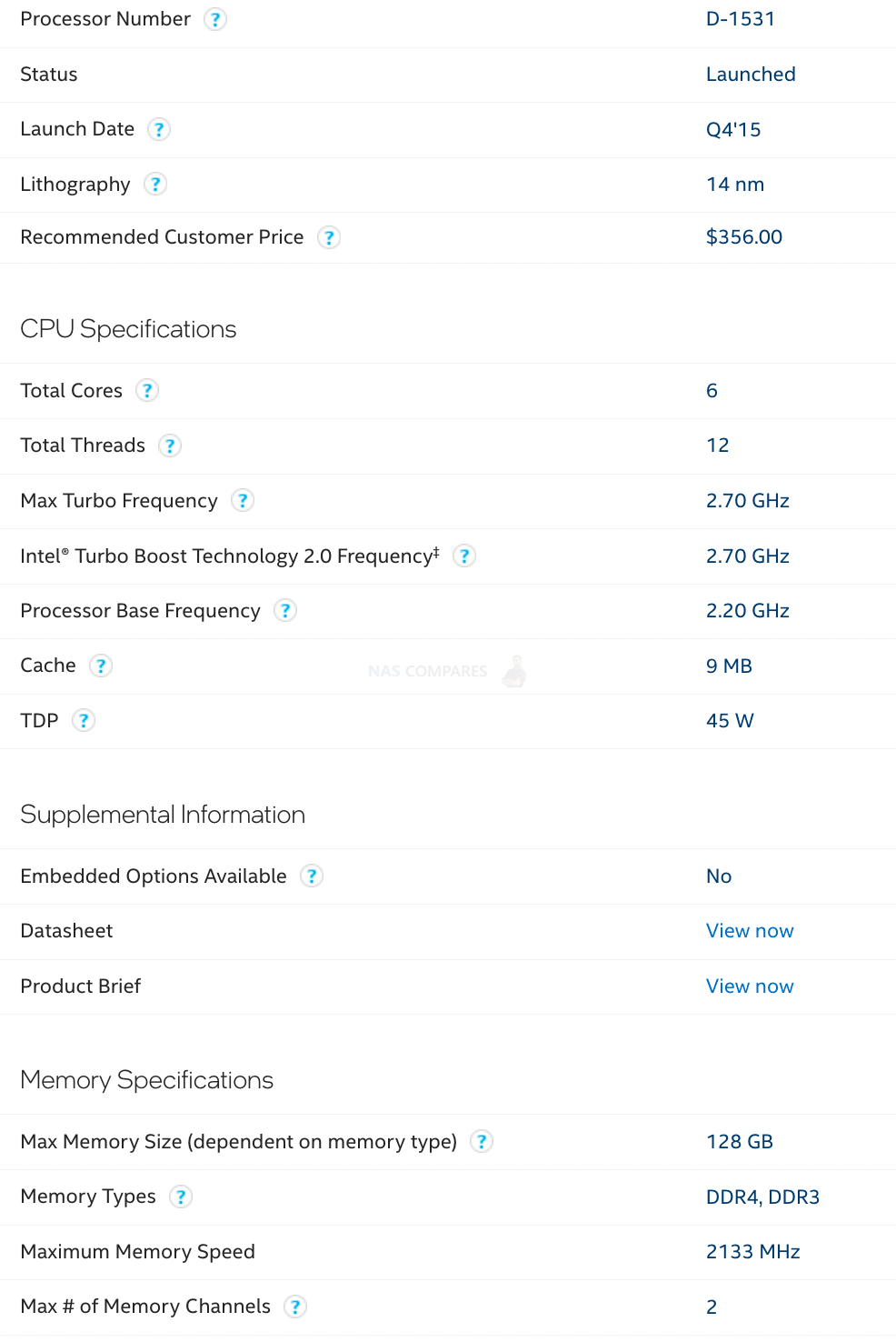 When Do We Think the Synology RS1623xs+ NAS Will Be Released?
Unfortunately, it is simply too early to say when the Synology RS1623xs+ NAS will be released. I have frequently heard that a series of new Diskstation devices will be arriving from Synology in the next few months (predominantly Q4 of 2022 and Q1 of 2023), but aside from that and the fact this model ID of x23 means a release window of 2022/2023, all we have is speculation. I DO think this system will release AFTER the likes of the DS923+, DS223 and the Value series devices, as this scale of device tends to arrive in the Jan/Feb period of the year (see the DS3622xs+ and many other XS or High Capacity devices), but even that is largely just guesswork. I think it will be a while before we see the RS1623xs+ finally land, but when it does, it is really going to make a splash!
Other Possibly CPU that the Synology RS1623XS+ Rackstation NAS?
Although the Intel Xeon D-1531 CPU is the processor that we believe/predict will be used in the Synology RS1623xs+, it is still by no means certain! There is a possibility that Synology will need to opt for another release in the Intel Xeon D portfolio (as processors do get refreshed regularly by them). Alternatively, the Synology RS1623xs+ rackmount might well be another NAS by the brand that will make the switch to AMD architecture, as we have seen processors such as the Ryen embedded V1500B, R1600 and even powerhouse EPCY processors replace existing Intel chips in recent portfolio refreshes by them. If it's an intel but NOT the D-1531 (as found in the DS3622xs+), it could well be one of the D-1527 successors with 4-core or 6-core architecture below: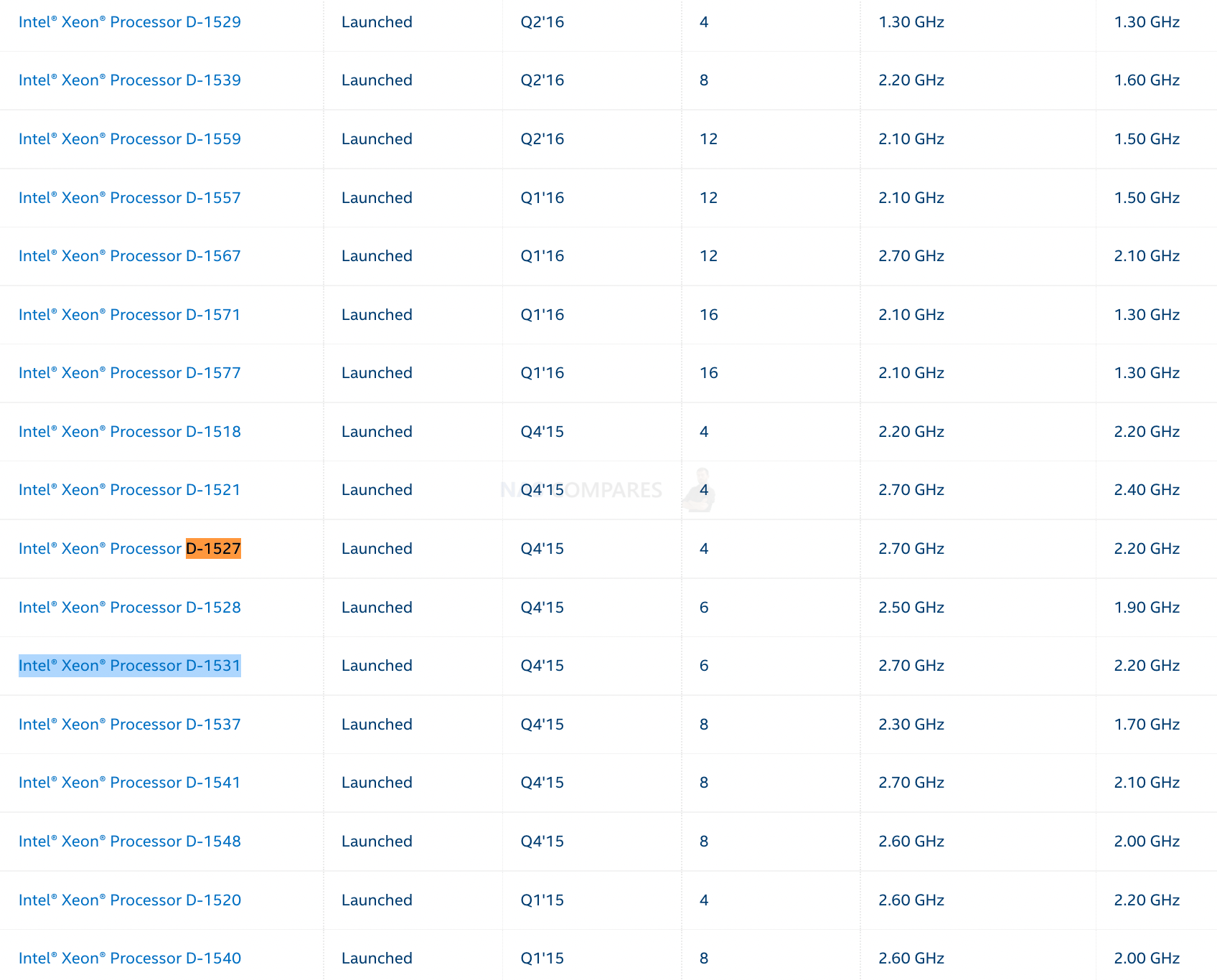 Eddie the Web guy guesses that the specs could be as follows:
| | | |
| --- | --- | --- |
| CPU | CPU Model | Intel Xeon D-1531 |
| | CPU Quantity | 1 |
| | CPU Architecture | 64-bit |
| | CPU Frequency | 6-core 2.2 (base) / 2.7 (turbo) GHz |
| | Hardware Encryption Engine (AES-NI) | |
| Memory | System Memory | 16 GB DDR4 ECC SODIMM |
| | Memory Module Pre-installed | 16 GB (8 GB x 2) |
| | Total Memory Slots | 4 |
| | Maximum Memory Capacity | 48 GB (8 GB x 2 + 16 GB x 2) |
| | | |
| --- | --- | --- |
| PCIe | PCIe Expansion | 1 x Gen3 x8 slot (x8 link) |
📧 LET ME KNOW ABOUT NEW POSTS 🔔
Join 1,468 other subscribers
Get an alert every time something gets added to this specific article!
This description contains links to Amazon. These links will take you to some of the products mentioned in today's content. As an Amazon Associate, I earn from qualifying purchases. Visit the NASCompares Deal Finder to find the best place to buy this device in your region, based on Service, Support and Reputation - Just Search for your NAS Drive in the Box Below
Need Advice on Data Storage from an Expert?
We want to keep the free advice on NASCompares FREE for as long as we can. Since this service started back in Jan '18, We have helped hundreds of users every month solve their storage woes, but we can only continue to do this with your support. So please do choose to buy at Amazon US and Amazon UK on the articles when buying to provide advert revenue support or to donate/support the site below.

Finally, for free advice about your setup, j
ust leave a message in the comments below here at NASCompares.com and we will get back to you.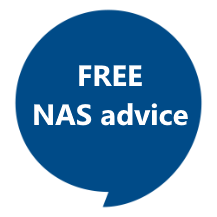 Need Help?
Where possible (and where appropriate) please provide as much information about your requirements, as then I can arrange the best answer and solution to your needs. Do not worry about your e-mail address being required, it will NOT be used in a mailing list and will NOT be used in any way other than to respond to your enquiry.
Support What We Do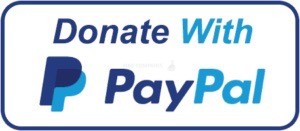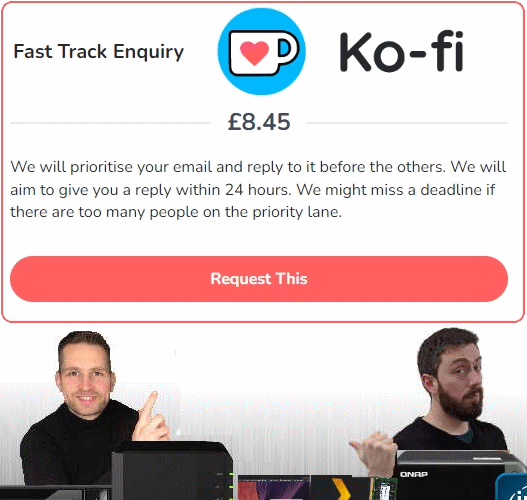 Terms and Conditions
Alternatively, why not ask me on the
ASK NASCompares forum
, by clicking the button below. This is a community hub that serves as a place that I can answer your question, chew the fat, share new release information and even get corrections posted. I will always get around to answering ALL queries, but as a one-man operation, I cannot promise speed! So by sharing your query in the
ASK NASCompares
section below, you can get a better range of solutions and suggestions, alongside my own.