Which Synology NAS Drives will we see in 2023?
Synology has quite an extensive portfolio of hardware and software solutions, build over two decades of research and development in the NAS industry. Now, as these solutions grow in popularity, some ranges in their portfolio are more popular than others (whilst others die off – farewell DS213air wireless NAS – we miss you) and every few years, the brand will refresh these systems with a new version (eg DSx20 > DSx21 > DSx23 , etc). Alongside these refreshes, Synology also introduces new hardware and reveals prototypes in their new/press events and today I want to discuss everything we know about the 'Synology 2023' release period (typically measured as September '22 to August '23). The following list will be periodically updated as new information appears and you can add your email address at the bottom of the page if you want to get immediate alerts when these updates arrive (no need to make any account etc, it's just a notification tool). At the time of writing, so far we know about alot of rumoured desktop hardware for the plus series, some new AMD EPYC powered rackmounts, new larger HDDs in the brand's lineup and rumours that continue to circulate about a new AX router and Cameras.
Synology Enabling M.2 NVMe Storage Pools and Volumes
Update 24/11/22 – Good news for anyone who has been following the recent reveal of Synology enabling M.2 NVMe SSDs as Storage Pools (covered previously here on NASCompares in this article) as it appears that the new feature is active on the Synology DS923+ NAS (released Nov 16th 2022). A recent update in DSM that, at this time, appears to ONLY be available for the DS923+ has allowed the two M.2 2280 NVMe SSD bays that were traditionally ONLY for caching to now be usable for storage pools. Full testing of this (as well as further updates to this article) will arrive very soon here and on youtube, but for now let's discuss the M.2 NVMe Bays that you can use (bandwidth/speed), as well as the process of using the m.2 NVMe SSDs as Pools in the Synology DSM Storage Manager.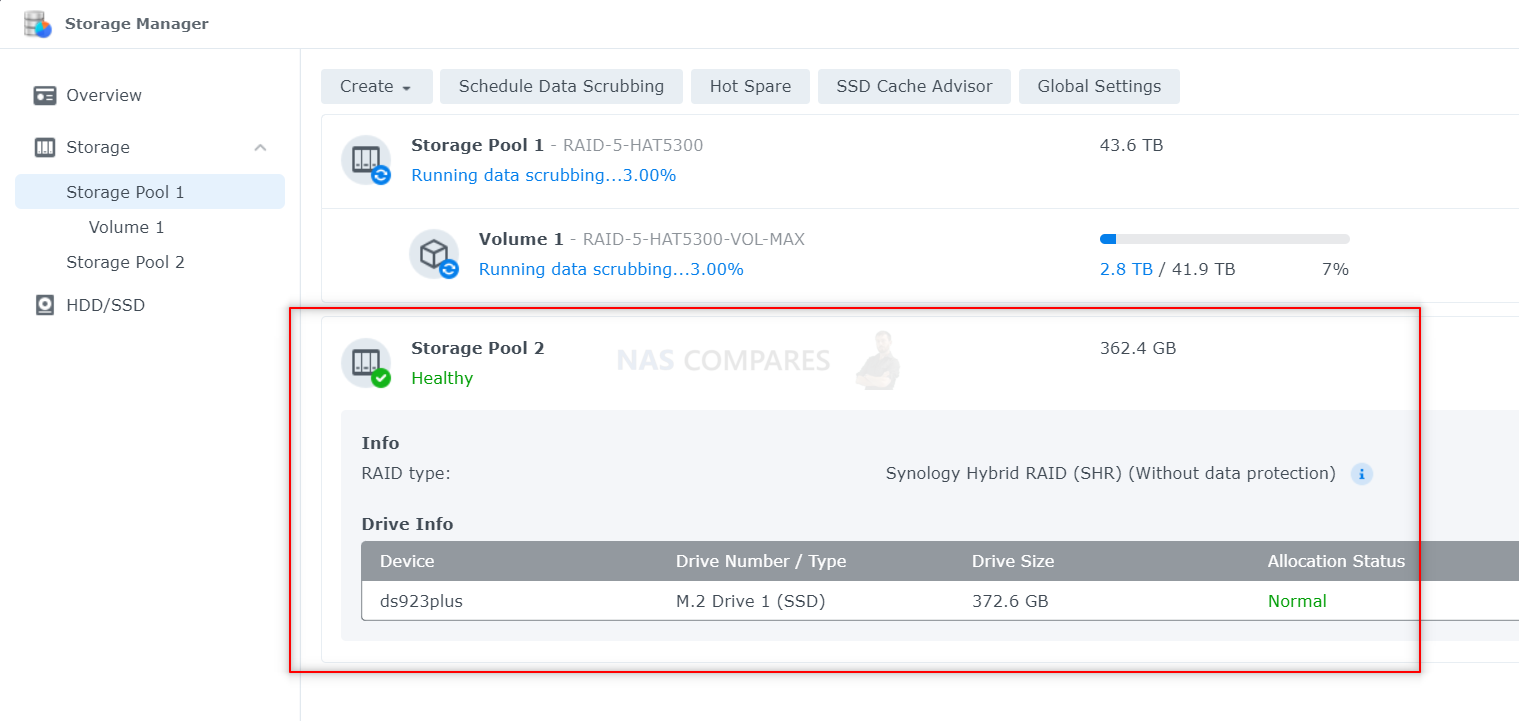 UPDATE 16/11/22 – We just received word that the M.2 NVMe SSD Bays on the DS923+ and several other Synology NAS systems are going to be usable for both Storage Pools and SSD caching. Details are emerging on this, but much more information on this can be found HERE in the full article on this.
Synology DS923+ NAS Review – 16/11/22
The Synology DS923+ NAS is now live and our review is up. You can find it HERE (or below) on NASCompares
Alternatively, you can watch the HUGE YouTube review of the Synology DS923+ NAS HERE
Click Below to open the review in a new tab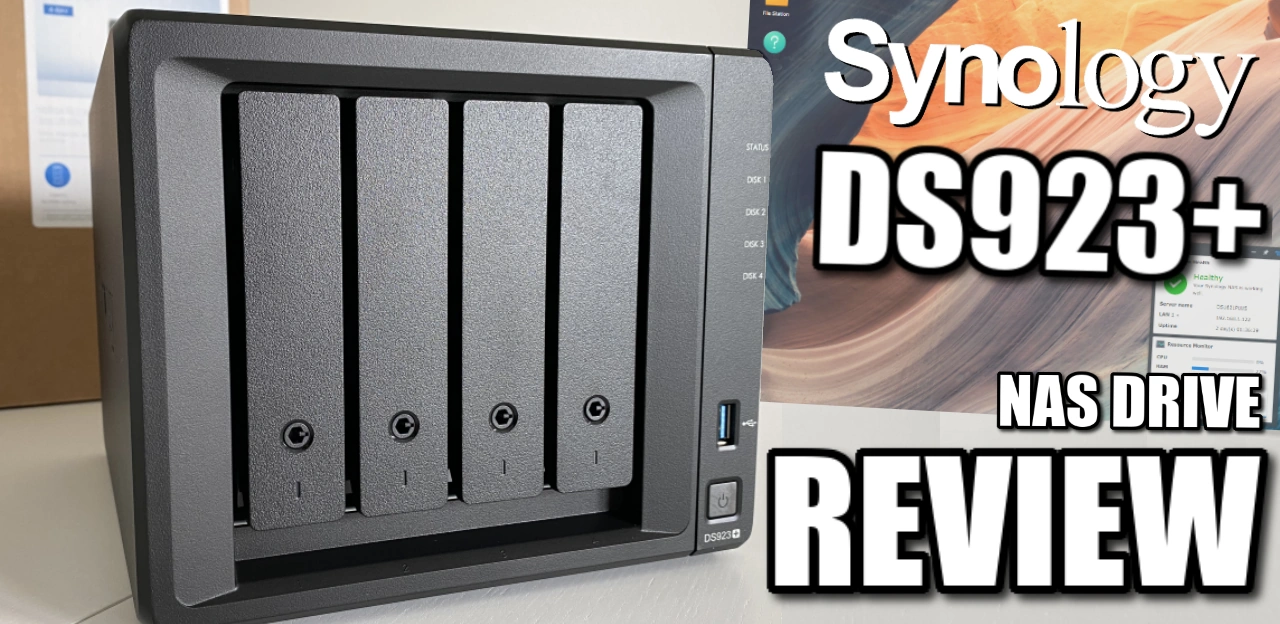 Synology DSM 7.2 Features, discussed with Blackvoid
Now that a little time has gone by since the official announcement of DSM 7.2 developments, I invited Luka, the guy behind Blackvoid, over to discuss what stood out for us in the presentation. Watch the video below:
Synology DS923+ NAS Update 27/10/22 (Updated)
The Synology DS923+ 4-Bay NAS has now been revealed and will be using the AMD Embedded Ryzen R1600 Dual Core CPU, alongside 4GB of DDR4 ECC Memory (32GB Max), 2x 1GbE and features an optional network upgrade adapter slot that will allow a 10GbE upgrade (using the E10G22-T1-MINI for approx £139). You can find out much more on this by visiting this page here – https://nascompares.com/2022/10/27/synology-ds923-nas-finally-revealed
The Synology 2023 Beyond Event – DSM 7.2, Volume Encryption, Improved MacOS Support and more
The Synology 2023 and Beyond video event went live on the 27th October 2022. Here is a guide to everything that was revealed on DSM 7.2, WORM Support, Volume Encryption and much, much more –  https://nascompares.com/news/synology-2023-online-reveal-everything-they-covered/
Update 20th October '22 – Synology has shared details on their 'Synology 2023 and Beyond' online event, taking place on Thursday 27th October at 14:00 GMT+1. You can find out more HERE on their official website. Otherwise, I have added details to my article below and a link to my article featuring timezones, predictions and more.
Update 18th October '22 – Synology has revealed plans to release two branded Surveillance Cameras, the BC500 Bullet style camera and the TC500 Dome Style Camera. More information and link to the article have been added below.
Update 12th October '22 – The model ID 'Synology RS1623xs+' appeared in several locations that were linked to Synology sites. This will be a refresh of the RS1619xs+ 1U Xeon Powered 4-Bay Rackstation that was released at the end of 2018. Information and a link have been added to the article below.
Update 10th October '22 – Further information on the Synology DS723+ NAS has surfaced. It is now CONFIRMED that this NAS will arrive with the AMD Embedded Ryzen R1600 Dual Core CPU (2.6Ghz that can be burst to 3.1Ghz). This CPU is also arriving with DDR4 memory (as expected, likely 2-4GB and ECC). No further confirmed information regarding the network connectivity, however as this NAS is very similar to the DS1522+ NAS and Synology has a habit of running portfolios that share hardware architecture between storage bay tiers, the Synology DS723+ NAS will almost certainly arrive with 1GbE by default and the option to upgrade the system to 10GbE via the E10G22-T1-mini upgrade module. Now, in it's default 2-Bay state, it will be difficult to imagine the DS723+ NAS fully saturating that 1,000MB/s connection, but factoring in high-performance SSDs, those two M.2 NVMe SSD bays AND the inclusion of the 5 bay expansion (DX517), then it might be more possible. The image below is from a Reddit post, where user 'ntrprnr'spotted the slip by Synology in their knowledge Center. Expect this NAS to arrive before the end of the year, likely much sooner!
Found on Reddit by user /ntrprnr  HERE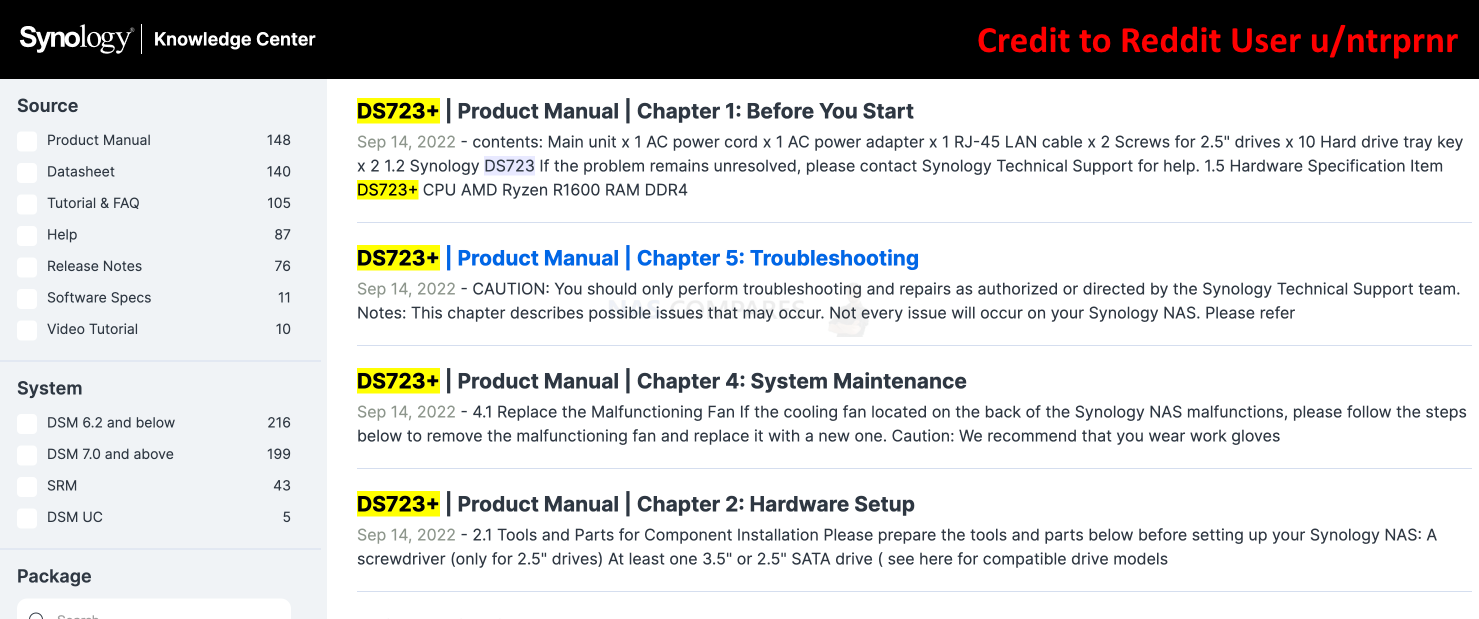 Update 05/10/22 – A small amount of information appeared on a new Synology 1-Bay NAS, the DS123
Update 17/09/22 – Added link to the Updated Synology NAS 2023 Hardware Video on the NASCompares YouTube Channel
Update 14/09/22 – Lots of information and images of a new Synology WiFi 6 and 2.5GbE Router for 2022/2023 (added to article below)
Update 13/09/22 – Information has arrived on a new Synology RS2423+ and RS2423RP+ Rackstation NAS, added to article
Update 12/09/22 – A small amount of detail has emerged on a new Synology 8-Bay 10GbE NAS for the XS series. Added information and Link to the Article Below
Update 10/09/22 – Small Update on the DS923+, DS223 and DS423 indicates Release Relatively Soon
A very, very small update on the Synology DS923+, DS223 and DS423 with information on the three appearings (very briefly) on an official Synology site (the Japan official page, via the Knowledge center) that appeared in Google. Unfortunately, the listed page does not lead to any direct information (possibly as pages/listing or these new NAS are being drafted and lined up for additions to the official Synology NAS support directories – in 'hidden' forms. Even via Google Cache and WayBackMachine, no further information is publically accessible on these pages. However, the found model IS text is still shown on the Google search results (see below) and largely indicates that the new NAS for the Diskstation 2023 will be arriving in Q4 2022.
Note – I have made an absolutely tiny 'update' to this update, as the search results that show these new NAS' has now appeared in more languages/locations on their site: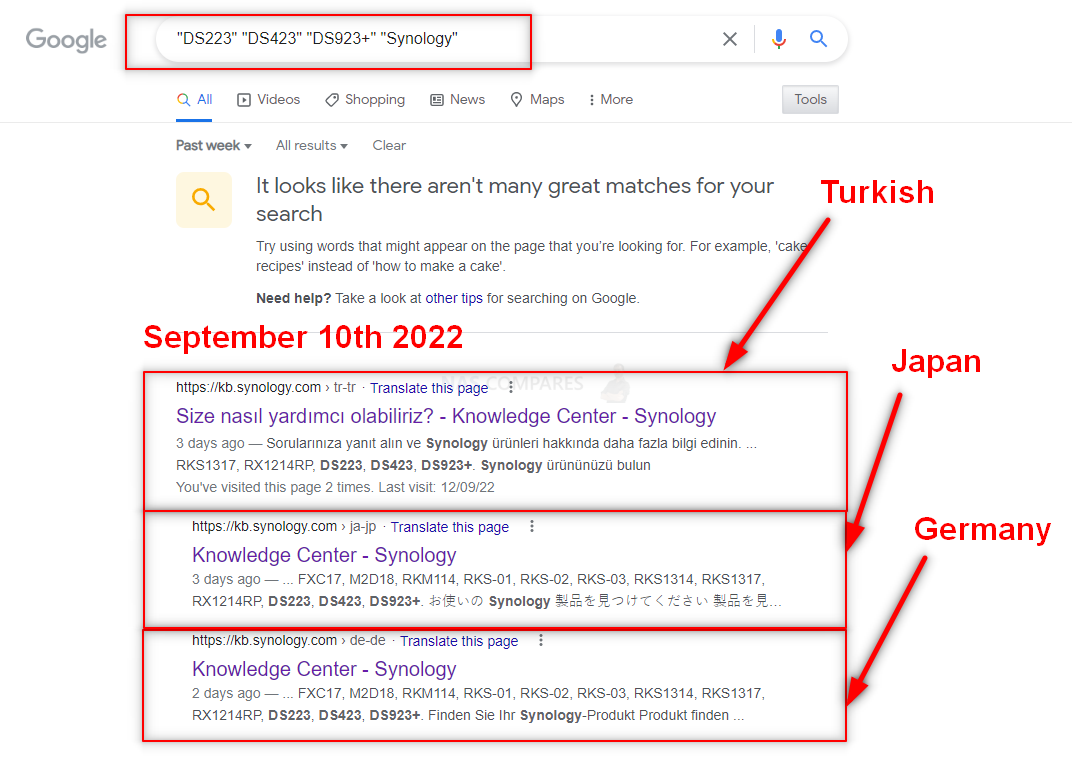 Update 01/09/22 – New CPU Information for the Synology DS223, DS223j and DS423
This a small but very pertinent update to the potential CPU that will be in the Synology Value series. Alongside ongoing rumours that the first wave of DSx23 series diskstation NAS will arrive in October, a new CPU entry has appeared online with DSM 7.1 support of late 2020 released Realtek RTD1619 ARMv8-A processor. The architecture of which is incredibly likely to be for the DS223j, DS223 and DS423: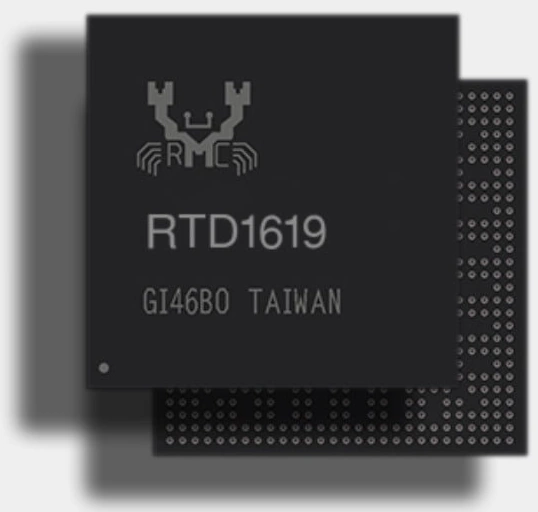 Realtek RTD1619
Cortex-A55 SoC
ARMv8-A
Q4 2020
12 nm / 5W
6 Core @ 1.3 GHz
4GB Max Capacity (likely tiered at each value model)
H.265 4K@60fps, H.264 4K@30fps, 1080p@60fps
Ethernet 10/100/1000 Mbit/s
USB 3.0, USB 2.0
Now, the interesting thing about this CPU is that 6 core architecture and increased 4K support over that of the RTD1296 that came before it (though a marginal drop in clock speed, this is more than made up for in efficiency). The ethernet/network speed still appears to cap at 1GbE, but even though 2.5GbE continues to grow in the market, I think very few people (myself included) would have though Synology would include a 2.5G network connection in their value tier. Here is how the RTD1619 and RTD1296 CPU Compare:
| | | |
| --- | --- | --- |
| Processor | Realtek RTD1296 | Realtek RTD1619 |
| ISA | ARMv8-A (64-bit) | ARMv8-A (64-bit) |
| Synology NAS ft. CPU | DS220j, DS420j, DS118, DS218, DS418 | DS223, DS223j, DS423 (TBC) |
| Microarchitecture | Cortex-A53 | Cortex-A55 |
| Family | RTD | RTD |
| Part number(s), S-Spec | RTD1296 | RTD1619 |
| Release date | Q4 2018 | Q4 2020 |
| Lithography | 12 nm | 12 nm |
| Cores | 4 | 6 |
| Threads | 4 | 6 |
| Base frequency | 1.4 GHz | 1.3 GHz |
| High performance cores | 4x ARM Cortex-A53 @ 1.4 GHz | 6x ARM Cortex-A55 @ 1.3 GHz |
| Cache memory | 1 MB | 1 MB |
| Max memory capacity | 2 GB | 4 GB |
| Memory types | LPDDR2/3, DDR3/4 | LPDDR2/3, DDR3/4 |
| TDP | 13 W | 5 W |
| GPU integrated graphics | ARM Mali-T820 MP3 | ARM Mali-G51 MP3 |
| GPU execution units | 3 | 3 |
| GPU shading units | 48 | 48 |
| GPU base clock | 650 MHz | 650 MHz |
| GPU boost clock | 750 MHz | 650 MHz |
| GPU FP32 floating point | 30.6 GFLOPS | 72 GFLOPS |
| Socket | SoC | SoC |
| Max display resolution | 4K@60fps | 4K@60fps |
| Video decoding | H.265 4K@60fps, H.264 4K@30fps, 1080p@60fps | H.265 4K@60fps, H.264 4K@30fps, 1080p@60fps |
| Video encoding | H.264 1080p@60fps | H.264 1080p@60fps |
| Modem | Ethernet 10/100/1000 Mbit/s | Ethernet 10/100/1000 Mbit/s |
| Connectivity | USB 3.0, USB 2.0, HDMI 2.0a | USB 3.0, USB 2.0, HDMI 2.0b |
Below is the rest of the original article + updates
---
Synology 2023 and Beyond – Online Event on Thursday 2nd December
After a period of relative silence from Synology regarding their plans for their 2023 series of hardware and software, we finally have confirmation that their annual event is taking place! 'Synology 2023 and Beyond' will be a globally streamed event taking place on October 27th 2022 (times listed below, depending on your region) and will cover the brand's plans for the next year+. These events (which in the years since the pandemic first arose have made the switch to digital exclusives) will feature the successes of the 2022 period, followed by the plans by the brand to improve existing features, introduce new ones and pepper the whole thing with their intended hardware products that will roll out in the next 12 months. Many of these we already know and have featured here on NASCompares, but I am sure there will still be some surprises along the way. You can read more about the timezones for this event and my predictions HERE in the full article.
---
Synology Reveals New Surveillance Cameras coming to their Portfolio – The BC500 and TC500
Yes, that is right! Synology has revealed (at their Synology Enterprise Data Management Annual Conference Event in Taiwan) that they plan on releasing a new range of Surveillance PoE cameras to be used in conjunction with their excellent CCTV/NVR software, Surveillance Station. These are the Synology BC500 compact Bullet camera and the Synology TC500 Dome camera. Although not a vast amount of information was revealed on these new cameras, it is worth highlighting that this makes Synology the FIRST commercial NAS brand to release their own range of cameras. To put that into perspective, although IP Cameras (Web cameras, internet cameras, etc) have been supported and compatible with Synology NAS systems for years (thousands of models and brands), this is the first time they have directly produced a camera that they are personally recommending for use with their systems and software. This is something that alot of users have been asking/demanding for quite a long time (for reasons I will get into later in the article), but for now, let's discuss the new BC500 & TC500 Surveillance Cameras, why they are a big deal and everything that Synology has revealed on them so far.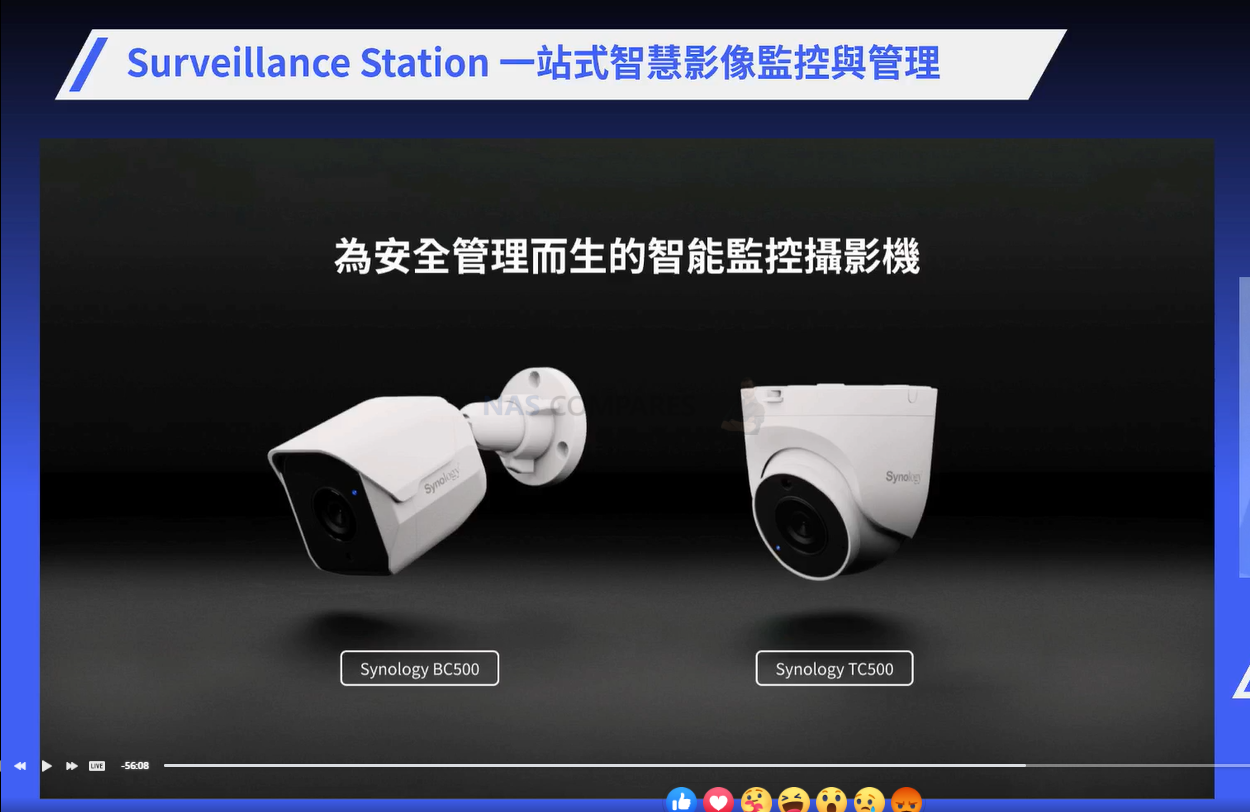 You can read more about the Synology BC500 and TC500 IP Cameras for Surveillance Station HERE in the full article on it and HERE on the YouTube video.
---
The Synology DS723+ NAS Expandable 2-Bay Revealed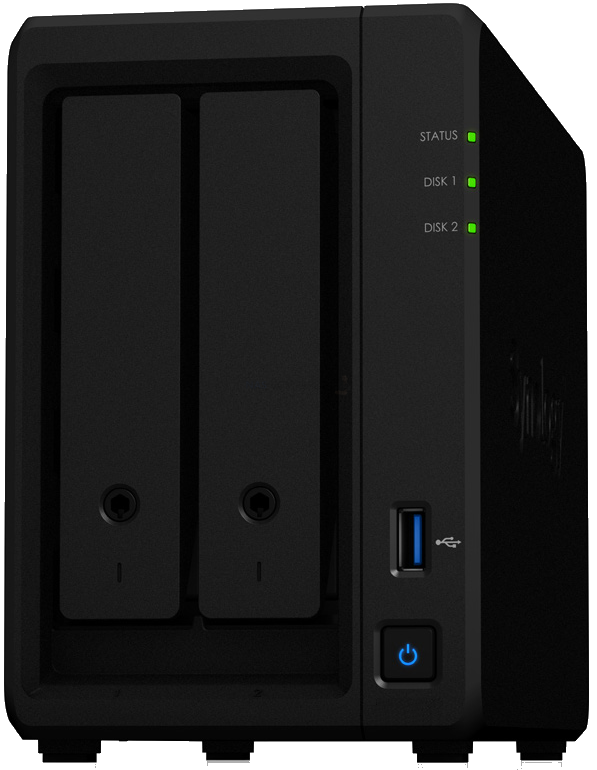 Synology has finally given us a little more information to chew on with regard to their new 'x23+' series, with the recent reveal of the new Synology DS723+ NAS Drive. This new expandable 2-Bay Diskstation is the intended follow-up to the Synology DS720+ NAS (released in June/July 2020 – so a 2.5yr refresh time is pretty standard) and although we do not have full hands-on with the device, the information we have gives us a pretty good indication of what this device is going to be capable of. Although we have unofficially known about this device for a few months (here in our video on early 2023 leaks and predictions) it is thanks to a reddit post by user 'ntrprnr' that confirmation of some of the hardware in this system has been confirmed via a Synology site source (the Synology Knowledge Center). It confirmed that this new 2-Bay will be following in much of the design of the DS720+ (as expected), but is also switching its internal architecture more towards that of the summer 2022 released DS1522+. Let's discuss what we know about the DS723+ NAS and what we are likely to expect from this expandable 2-bay diskstation.
Read the Full NASCompares article on the Synology DS723+ NAS HERE, or you can watch my video discussing it HERE.
---
The Synology RS1623xs+ NAS – A New and Long Demanded NAS in the Works!
ANOTHER new Synology uncovered! It really is bloody RAINING Synology NAS lately and the freshly uncovered RS1623xs+ is another business class solution that is the follow-up to an often hugely overlooked great rackmount server! This latest NAS  that will likely be released in 2023 Q1/Q2 is the latest NAS to join the elite XS series of devices. This new Synology RS1623xs+ Rackstation NAS is the refresh of the Xeon-powered RS1619XS+, 1U, 4-Bay rackmount server. Even though the RS1619xs was Synology's first real 4 Bay XS NAS, it managed to cram in almost all the features and functions of the larger XS server devices at that time (m.2 NVMe SSD bays, enterprise CPU, 10GbE scalability, 5yr warranty, etc), whilst still no-doubt being much, much more powerful than the RS818+ and RS818RP+ 4-bay's released that same year. Fast forward to 2022/2023 and this new RS1623xs+ model will likely emulate a number of the core hardware attributes of 2022/2023 generation of XS devices too (such as the DS3622xs+), alongside a more compact architecture. Information is extremely limited on this device right now, but let's discuss what we know and what we can predict for this especially unique Synology product series.

you can read the rest of the rumour article on the Synology RS1623xs+ 4-Bay Rackstation NAS Here
---
The Synology DS123 NAS Rumoured for Q1 / 2023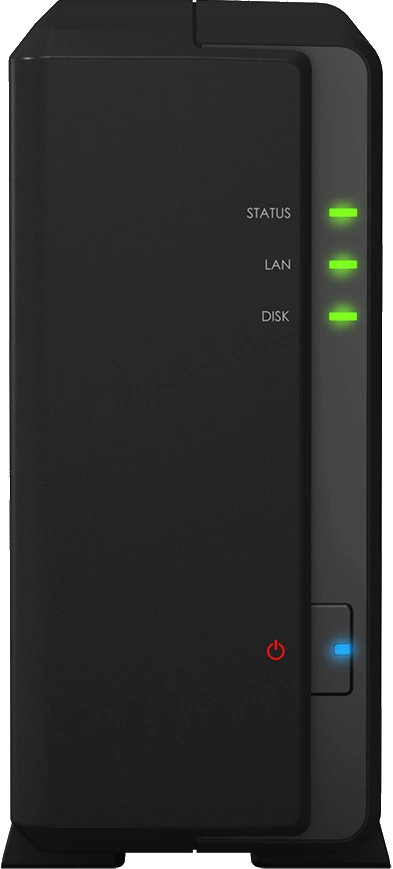 If you have been looking at Synology or a more cost-effective, low-price and highly power-efficient NAS drive in 2022/2023, then there is a very good chance that you have been wondering about the release of the DS123, as the current affordable 'standard series' offering of the DS118 has been available now for well over FOUR AND A HALF YEARS! Well, I am pleased to share that I have been informed that Synology has plans to release the newest entry into their standard class tier with this new 1-Bay NAS in the last quarter of 2022 (or possibly the start of 2023). This little snippet of information (alongside mention of other new desktop NAS', such as the DS223j, DS223+, DS723+ and DS923+), details which units are going to form the bulk of the brand's home-prosumer-SMB diskstation portfolio. The DS2xx and DS4xx series have always been highly desirable as the entry point for most first-time Synology NAS small business users and although is a solution that arrives with hardware that could arguably be called 'economical', it is worth also remembering that it will almost certainly arrive with support of DSM 7 – so you are going to be looking at an affordably jumping off point into a complete hardware+software solution. Although the details we have on the DS123 are incredibly thin on the ground at the time of writing, this information DOES come from a very trustworthy source that I am sorry to say I cannot share. I am sure this will result in many having doubts about the reliability of this information (I would feel the same), but you are just going to have to trust me on this and/or wait out the rest of 2022 as this all plays out. Let's discuss the DS123 a little further.
You can read the rest of the full article on the Synology DS123 1-Bay NAS Here
---
Synology Planning on a New WRX560 WiFi 6 and 2.5GbE Router for 2022/2023
Update (10/10/22 UK) – This Router has been confirmed to carry the Model ID/Name RTX560 and will be releasing towards the end of November 2022
Yes, Synology is working on a new WiFi 6 and 2.5G router – The Synology RT3000ax (also known as the WRX560). Before I go any further though,a little bit of background. I think it would be safe to say that Synology has been quite successful in their range of prosumer routers. When they first introduced the RT1900ac 6 years ago, it was seen as something of an experiment to see if they could bring the same level of software, design and experience that they had learned in network attached storage to one of the most common devices in all our homes and offices worldwide. Fast forward to now and they are on the 3rd Generation (technically, a little bit of overlap) and we have seen both the standard of Synology Router and the functionality of Synology Router Manager (SRM) evolve considerably – with the router arm of their portfolio getting stronger all the time. Which brings us to the newly revealed RT3000ax router, a more compact 802.11ax router that seems destined to serve as the refresh for the MR2200ac or (more likely) the RT2600ac at some point in the future. With a new and intriguing design (definitely looks like what the most recent star wars trilogy did to stormtrooper helmets, but ok) and borrowed elements of the recently released RT6600ax router, the RT3000ax would appear to be designed to be in a tier of their router portfolio serving as the middle-ground (when the OTT RT6600ax seems a bit pie in the sky). Let's discuss this new router, the hardware we know about, the software and whether this device is worth waiting for.
You can read the rest of the full article on the Synology RT3000ax Router HERE or watch the original reveal video on YouTube HERE.
Synology RT3000ax / WRX560 Router

Wireless Standards
2.4GHz: 802.11 b/g/n/ax

5GHz: 802.11 a/n/ac/ax

Frequency/Bandwidth
802.11ax (2.4GHz): Up to 600 Mbps

802.11ax (5GHz): Up to 2400 Mbps

5.9Ghz Support
TBC
WAN
Gigabit WAN x 1

2.5G WAN / LANx 1 (Dual WAN)

LAN
Gigabit LAN x 3 and 2.5G LAN x 1
USB
USB 3.2 Gen 1 (Type-A) x 1
File System
EXT4, EXT3, FAT, NTFS, HFS+ (Ext Drive)
Physical Buttons/Switches
• Power • WPS • Wi-Fi On/Off • Reset
Wireless Modes
Wireless Router

Wireless AP (Access Point)

Antenna
Internal 2T2R Omni-directional high-gain dipole (2.4GHz)

Internal 4T4R Omni-directional high-gain dipole (5GHz)

Size
233 x 194 x 66mm
---
New Synology RS2423+12-Bay Rackstation Coming for 2022/2023
The Synology RSx23 and DSx23 Range are shaping up to be one of the busiest ranges from Synology for quite a few years, with recent information passed to me on a new 12-Bay expandable Rackstation solution, the Synology RS2423+ NAS. This new system information arrives alongside those of quite a large number of new smaller-scale systems that are planned for release towards the end of 2022 and the start of 2023, but this rackmount NAS is a new entry into a popular SMB (Small/Medium Business) tier of the brand's portfolio and is the planned follow up to the RS2421+/RS2421+RP+ that was released in March 2021, with seemingly very similar architecture planned. Very little is known about this device right now and I would certainly peg it for a Q1 2023 (Jan-March) release, as this is typically the window for this kind of solution, but lets discuss the new RS2423+/RS2423RP+ and everything we know, as well as a few predictions.
Click Below to Read the News Article on the Synology RS2423+ Rackstation NAS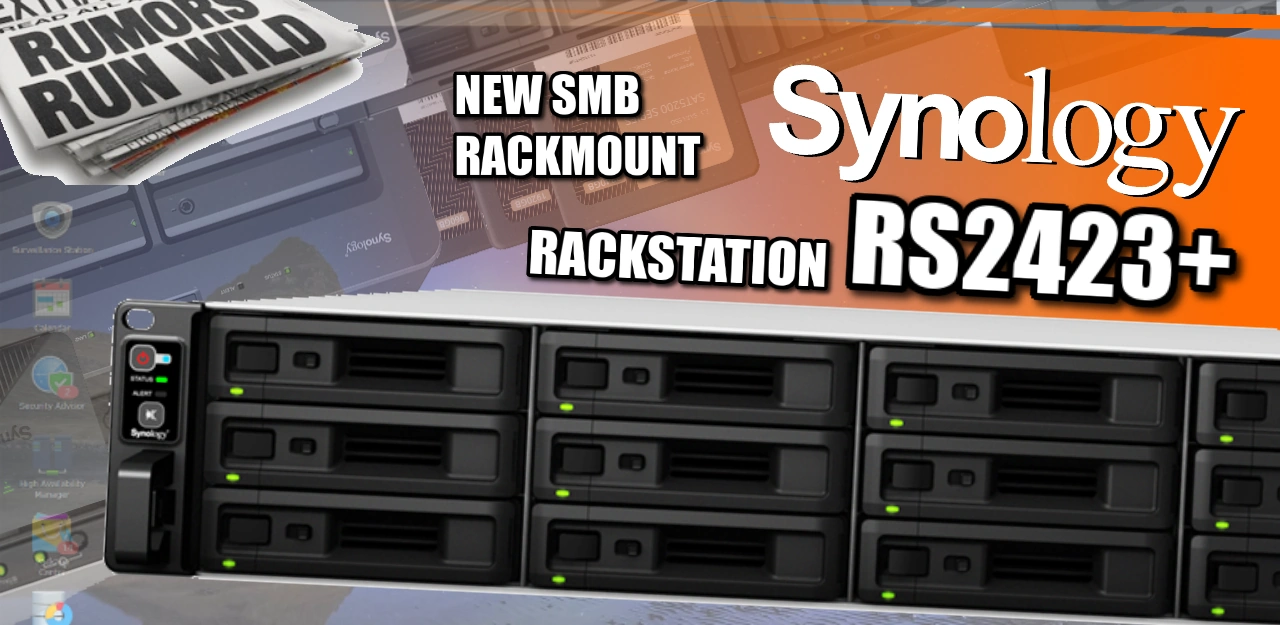 ---
The Synology DS1823xs+ NAS – A New and Long Demanded NAS in the Works!
Every now and then, I hear the odd leak or snippet of product information referenced online about a new NAS product that is coming soon. That shouldn't be a huge surprise, the network-attached storage industry is no different than any other area of the tech industry – it has its fair share of new releases, embargoed items that are up & coming and reimaginings of existing products. However, when I found out that there is a new Synology 8-Bay system in the works that will be in the XS series, I had to really take some time to check the source/legitimacy of the information. You see, the news of a potential Synology DS1823xs+ 8-Bay Diskstation NAS arriving on the scene is genuinely one of the most requested things that followers of the brand have asked for in almost an entire decade. Although information (at the time of writing) is incredibly thin on this device, I can confirm that it IS a real thing and (going by that model ID) something coming relatively soon.

I say 'relatively soon' because in recent weeks I have been hearing quite a few bits of information on the planned DSx23 and RSx23 range of devices from Synology, all slated for a Q4 2022 / Q1 2023 release. So, whether this new 8-Bay system will arrive in Q4 or Q1 is yet to be seen. Let's discuss this new Synology NAS for the 2023 series and what we can expect.
Visit the page HERE to read more about the Synology DS1823xs+ NAS
---
New Synology AMD EPYC SA6400 and SA6200 Rackstation NAS
Synology has really been hitting the business/enterprise button hard in 2022, with several very high-profile top-tier solutions introduced into their portfolio (with rackmount/rackstation solutions seemingly getting the lion's share of attention). Today I want to discuss a couple of new entries into the arguably less familiar 'SA' series, the highly storage scalable range of solutions from the brand that have tended to arrive with excellent internal hardware that is combined with an unparalleled level of storage expandability – with the newly uncovered Synology SA6400 and SA6200 rackmount solutions seemingly pushing things further than ever! Both systems arrive in 12-bay rackmount form, supporting SAS and SATA drive media (with Synology's own HAT5300 and HAS5300 drive media being the recommended drive of course) and full support of DSM 7.1.
| | |
| --- | --- |
| | |
| | | |
| --- | --- | --- |
| Model ID | Synology SA6400 Rackstation | Synology SA6200 Rackstation |
| Number of Bays | 12x 3.5″/2.5″ | 12x 3.5″/2.5″ |
| Storage Interface | SATA / SAS | SATA / SAS |
| Expandable | Yes, 8x RX1223RP 12-Bay | Yes, 8x RX1223RP 12-Bay |
| CPU Model ID | AMD EPYC 7272 | v |
| Core Count | 12x | 8x |
| CPU Threads | 24x | 16x |
| CPU Frequency | 2.9Ghz (3.2Ghz Burst) | 3.1Ghz (3.2Ghz Burst) |
| CPUBenchmark Rating | 26,446 | 17,017 |
| Default Memory | 32GB DDR4 ECC RDIMM | 32GB DDR4 ECC RDIMM |
| Memory Frequency | 3200Mhz | 3200Mhz |
| Number of Memory Slots | x16 | x16 |
| Maximum Supported Memory | 1024GB (64GB x 16) | 1024GB (64GB x 16) |
| 1GbE Ports | TBC | TBC |
| 10GbE Ports | x2 | x2 |
| 25GbE Ports | TBC | TBC |
| USB Ports | TBC | TBC |
| PCIe Slots | TBC (However, this CPU supports upto PCIe4) | TBC (However, this CPU supports upto PCIe4) |
| Expansion Ports | 8x MiniSAS HD | 8x MiniSAS HD |
The SA6400 and SA6200 have yet to be confirmed as to whether they are refreshes of the later 2019 released SA3400 and SA3600 (as they were the original releases in this product family and therefore there is little to no data on the upgrade cycle for this series), however with certain components worldwide being subject to continued shortages, there is every possibility that these new SAS rackmounts are in response to this. Let's discuss the information we have on these new Synology solutions.
Find out more about the new Synology SA6400 and Synology SA6200 Rackstation NAS in the FULL ARTICLE HERE.
---
Synology increase its HDD Range with the 18TB HAT5300-18T and HAS5300-18T Hard Drives
Synology has been providing its own branded range of hard drives and SSDs for a little over 2 and a half years now and it is surprising how 'normal' it seems now. Originally when the SAT5200, SNV3400/SNV3500 and HAT5300 ranges were launched, many (myself included) wondered what the uptake would be when Seagate and WD hold such dominance in this area. Fast forward to MID 2022 and enterprise/high-scale-business NAS user base has started to take them on board (a little because of changes in device compatibility, but also that the HDDs themselves, firmware upgraded Toshiba MG Enterprise drives), with the only major criticisms being that the pricing seems a tad high and the available capacities somewhat limited. Now, that first criticism is tough to counter, given the current hardware shortages globally AND the fact that these enterprise (not Pro) series drives are not in-hosue built, so the Toshiba middle ground is something of a hurdle in the profit margin no doubt). However, Synology HAVE been working on the range of capacities and alongside the original HAT5300-8T, HAT5300-12T and HAT5300-16T capacities, they introduced a modest 4TB in the spring of 2022 and now, an 18TB HAT5300-18T (using the Toshiba MG09 Drive). Now, it is also worth highlighting that Toshiba has been working on making a 20TB (MG10) drive commercially available, so expect this to get Synology HAT5300-20T adaption in the near future too, but below is how the 18TB compares with the rest of the range
Hardware Specifications
HAT5300-4T

HAT5310-8T

HAT5300-12T

HAT5300-16T

HAT5310-18T

General
Capacity
4 TB
8 TB
12 TB
16 TB
18 TB
Form Factor
3.5″
3.5″
3.5″
3.5″
3.5″
Interface
SATA 6 Gb/s
SATA 6 Gb/s
SATA 6 Gb/s
SATA 6 Gb/s
SATA 6 Gb/s
Sector Size
512e
512e
512e
512e
512e
Performance
Rotational Speed
7,200 rpm
7,200 rpm
7,200 rpm
7,200 rpm
7,200 rpm
Interface Speed
6.0 Gb/s, 3.0 Gb/s, 1.5 Gb/s
6.0 Gb/s, 3.0 Gb/s, 1.5 Gb/s
6.0 Gb/s, 3.0 Gb/s, 1.5 Gb/s
6.0 Gb/s, 3.0 Gb/s, 1.5 Gb/s
6.0 Gb/s, 3.0 Gb/s, 1.5 Gb/s
Buffer Size
256 MiB
256 MiB
256 MiB
512 MiB
512 MiB
Maximum Sustained Data Transfer Speed (Typ.)
243 MiB/s
248 MiB/s
242 MiB/s
262 MiB/s
268 MiB/s
Reliability
Mean Time to Failure (MTTF)
2 million hours
2 million hours
2.5 million hours
2.5 million hours
2.5 million hours
Workload Rating
550 TB Transferred per Year
550 TB Transferred per Year
550 TB Transferred per Year
550 TB Transferred per Year
550 TB Transferred per Year
Warranty
5 Years
5 Years
5 Years
5 Years
5 Years
Power Consumption
Supply Voltage
12 V (± 10%) / 5 V (+10/-7%)
12 V (± 10%) / 5 V (+10/-7%)
12 V (± 10%) / 5 V (+10/-7%)
12 V (± 10%) / 5 V (+10/-7%)
12 V (± 10%) / 5 V (+10/-7%)
Active Idle (Typ.)
4.07 W
5.61 W
4.25 W
4.00 W
4.16 W
Random Read / Write (4KB Q1) (Typ.)
7.76 W
9.29 W
7.83 W
7.63 W
8.35 W
We discussed the Synology HAT5300-18T 18TB drive in further detail over on the NASCompares YouTube channel in a 'Data News of the Week' video HERE on YouTube.
---
New Synology DS920+, DS223+ and DS723+ Prosumer/Premium NAS Drives
Update (12/10/22 UK) – The CPU in the DS923+ and DS723+ has been confirmed to be the AMD Embedded Ryzen R1600. A Dual Core 2.6-3.1Ghz Processor that was original debut in the Synology DS1522+.
Update (27/10/22 UK) – The Synology DS923+ 4-Bay NAS has now been revealed and will be using the AMD Embedded Ryzen R1600 Dual Core CPU, alongside 4GB of DDR4 ECC Memory (32GB Max), 2x 1GbE and features an optional network upgrade adapter slot that will allow a 10GbE upgrade (using the E10G22-T1-MINI for approx £139). You can find out much more on this by visiting this page here – https://nascompares.com/2022/10/27/synology-ds923-nas-finally-revealed
Now, we need to discuss the big guns! In summer 2022 I was sent through some rather intriguing information regarding plans for the Synology plus series refresh/follow-up to the 2020 range of Diskstations. Up until this point, Synology had made a point of (mostly) refreshing the Plus series of 2/4-bay systems every 2 years (DSx16+ > DSx18+ > DSx20+) and many (myself included) assumed a DS222+, DS922+, etc was largely inevitable. However, I was sent through some information on specifically planned entries into the plus series with an x23 model ID. These Plus series entries were a DS923+ expandable 4-Bay, DS723+ expandable 2-Bay and a mid-range prosumer DS223+ 2-Bay. Now, at the time of writing, the only information that could be confirmed via the source was that these systems were indeed in the pipeline. Now, with such a small mount of information provided, I strongly recommend treating this one with a grain of salt, as alongside the unusual move for Synology to break it's typical release cycle on the 2/4-Bay plus series (though not unheard of, look at the DS713+ or DS415+), Synology has a history of occasionally holding back a release to a better window of the year (DS620SLIM, DS1620xs and RS1221+ are all NAS drives that first appeared under a different model ID, before being delayed and re named inline with the later release schedule). As more information emerges on the new Synology Diskstation, the page will be updated AND the links below to each NAS' respective rumor mill page will also be updated. Click below to learn more, alongside our predictions (originally published 18th July '22):
Click below to learn more (it will open in a new tab)
---
New Synology DS223 and DS223j Value Series NAS Drives
Update (28/09/22 UK) – The CPU that will be featured in the Synology DS223j, DS123 and DS223 will be the Realtek RTD1619. The articles have been updated. The release date is looking like Q1 (Jan-March) 2023.
Alongside the Plus series Diskstations mentioned above, there was also reference to two cost-effective/value series 2-Bay NAS drives – the Synology DS223j and DS223. These would be follow-ups to the DS220j released in 2020 and the much older DS218 that was released way back in 2017/2018. Although at the time of writing, there is no concrete information on the internal hardware, we can certainly make an educated guess that it will be built on an ARM 64bit architecture, and non-upgradable memory, as these have been a staple of these respective series since…well..ever. Once again, as more information emerges on the new Synology value/budget Diskstations, the page will be updated AND the links below to each NAS' respective rumor mill page will also be updated. Click below to learn more, alongside our predictions (originally published 19th July '22):
Click below to learn more (it will open in a new tab)
---
New Synology RX1223RP 12 Bay Rackmount Expansion Chassis
When the new SA6400 and SA6200 SAS/SATA expandable rackmounts first appeared on my radar, it also became apparent that these systems would also be taking advantage of a new 12-bay expansion chassis, the RX1223RP. Typically expansion enclosures are refreshed in the Synology lineup less frequently than other hardware, as they are much more rudimentary in their architecture (typically every 4-5 years) in order to reflect changes in the available components as years pass (interface hardware or PSU, eg the DX1215II). Judging by available information online, it looks like this new expansion will be largely the same in design as its predecessor, the RX1217​/​RX1217RP and although isn't the most exciting release for the Synology 2023 lineup, it makes sense to release this alongside the SA6400/SA6200, which have the capability to support EIGHT of these 12-Bay expansions each.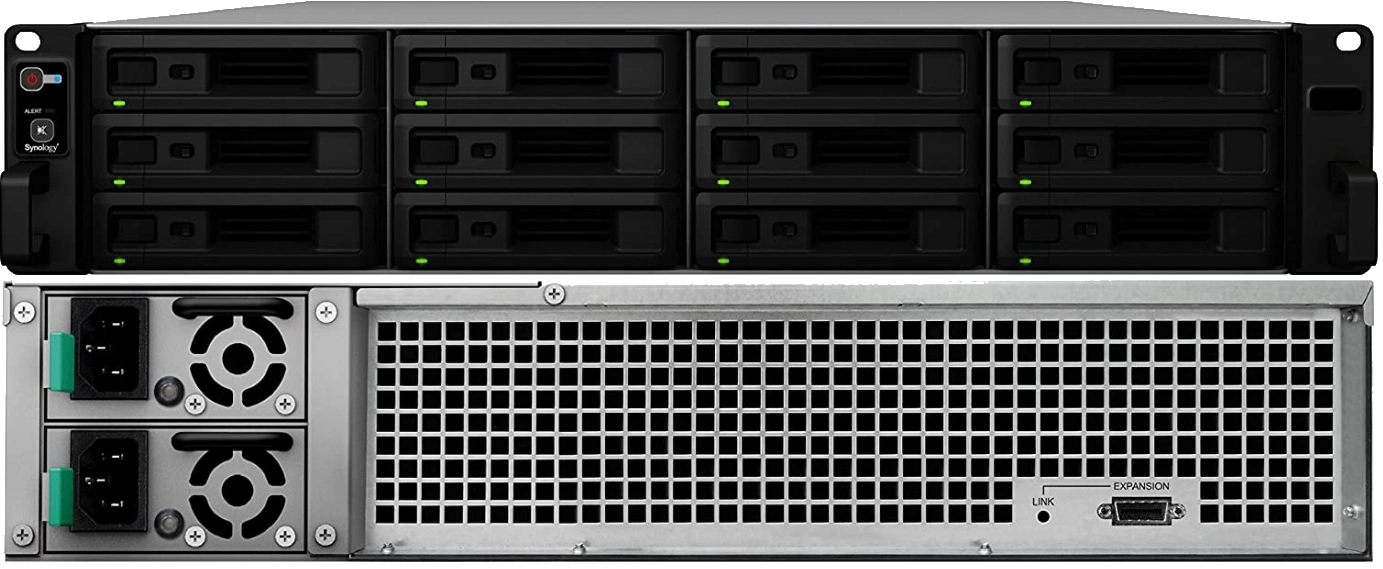 ---
Possible New Synology RT3000ax in the Works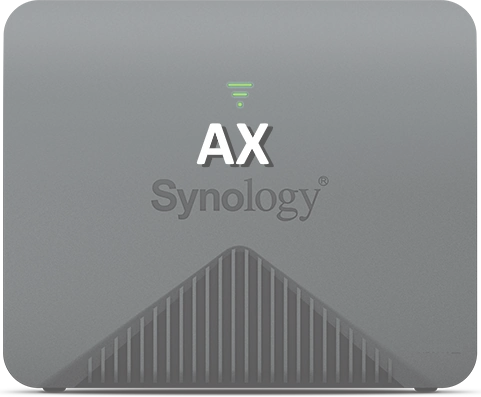 Synology in late spring 2022 released a popular WiFi 6 into their portfolio (the RT6600ax) and it was made clear by the brand that it did not serve to replace the current RT2600ac or MR2200ac that has been around for several years now. However, rumours and trackable IDs are still being thrown around in the background of another router in development over at Synology, with the model identification RT3000ax or MR3000ax. It is still way too early to make any estimation of the hardware on this router, what its intended audience is (affordable alternative to the RT6600ax, WiFi 6e solution or 802.11ax upgrade of the existing mesh router from the brand), but it has been becoming clear that the development cycle for the RT6600ax was remarkably long (much longer than when it was first revealed at the end of 2021 and likely down to negotiations of 5.9Ghz access, as well as choosing the right release time). I am including this regularly appearing rumour here as it still persists and was even being spoken about before the release of the new prosumer model.
---
New Synology Standard/Regular NAS Hard Drives
Another subject that has never seemingly gone away or categorically denied by Synology is the development of non-enterprise-grade HDDs. As mentioned much earlier in this article, Synology has released several different hard drives in the last 2-3 years that are enterprise-geared (550TBW, 7200RPM/512MB Cache, etc) in the HAT5300 and HAS5300 range, but these drives are priced and scaled much more towards the highest tier of their portfolio. With Synology continuing on a path towards providing complete single-party solutions with memory modules, SSDs, PCIe cards and routers (in efforts to create single ecosystems for their users), it makes alot of sense that a mid-range/Pro hard drive would be entered into their line up. Much like the references to a new router or cameras, a standard class NAS HDD from Synology (HAT3300 / HAT3310 ?) is not a concrete piece of information, but half prediction and half based on the moves by the brand when asked on this matter. Additionally, the way that HDD compatibility on their official pages has been approached in recent months on newer releases (DS1522+, RS422+, DS2422+, etc) have drawn attention to drive media classes being selected quite specifically for each system tier. Threads and information on a Synology mid-range and/or home user server tier has never really stopped as a subject and aside from being a logical move by the brand and its portfolio, seems to have enough indications to be something the brand would review and/or develop.
---
Synology Branded Surveillance Cameras for NAS Use

The last rumour that persists in circulating about Synology is regarding surveillance cameras. Synology NAS has included an impressive, enterprise-class CCTV/NVR software known as Surveillance Station (ver.9 currently) for many, many years and alongside using the server storage to achieve footage, you can attach a wide variety of supported network cameras (IP Cameras) and devices that can be monitoring and controlled from the single live feed of SS9. In all that time, Synology has always been somewhat restrained in recommending a camera brand directly for use in conjunction with their surveillance platform. Although the software supports thousands of cameras from a wide variety of brands (as well as ONVIF cameras to a lesser degree), they tend to resist actually highlighting a specific brand as the go-to camera for home and/or business use. The closest to such a camera recommendation would be AXIS (with the brand having plug-on support in the platforms add-on tools area. However, it has been discussed/addressed at tradeshows and at via industry exchanges about a Synology Surveillance camera range. For a long time, it has been discussed (as well as the possibility of a Synology network switch), as unlike conflicts of interest between Synology HDD/SSD media and giants such as Seagate/WD, IP camera brands are not quite as dominant a presence in the world of servers and a NAS brand having a 1st party/NAS-System designed focus would be hugely advantageous. Add to that the fact that a Synology firmware-focused IP Camera would likely be more efficient in Surveillance Station 9, perhaps allowing more system-efficient hardware use for AI-powered processes (Deep Video Analysis and Smart Recognition in general) and also could be linked with the Camera License architecture – the idea certainly has merit for the brand. Very little is known about this, however, it still continues to crop up. Perhaps Synology has/have looked into this and (much like the SG1000 Network Gateway devices with SNM software) it has been shelved/delayed – there is nothing to go on at this time.
---
Synology FS3410 24-Bay Flashstation Xeon Rackmount Server
Synology has really been on a roll recently with revealing their 2022/2023 solutions, with 7-8 different solutions being unveiled and (for the most part) released in the last 3 months or so. The Synology RS3410 NAS that today's article covers is the latest addition to the brand's quiet but steadily growing Flashstation server series. Started more than four years ago, Synology has gradually added several desktop and rackmount solutions to this area of their portfolio and the FS3410 is the SECOND entry into this product family this year (the other being the FS2500 affordable 1U rackmount released much earlier in 2022). Although very similar to the rest of the enterprise solutions from Synology in terms of software (all arriving with DSM 7.1 and supporting the full range of features and services), the flashstation series is specifically aimed at SSD populate, flash storage practical applications and has a few NAND durability considerations thrown in for this more high performing but endurance aware media. This new flashstation server is designed to sit in the middle of the existing pack of FS systems (so, FS2500 > FS3410 > FS3600 > FS6400 Flashstation, scaling upwards) and arrives with support of SATA SSD media in the Synology SAT5200 and SAT5210 media range. Let's discuss the hardware, compatibility, availability and pricing we will expect from the new Synology FS3410 Flash Rackmount server. Here is how the rest of the specifications of the Synology FS3410 pan out. It's quite a solid build, 2U in height, Redundant PSU equipped and full depth.
PROCESSOR

Processor model
Intel Xeon D-1541
Number of CPUs
1
processor architecture
64-bit
processor clock
8-core 2.1 (base frequency) / 2.7 (max overclock) GHz
Hardware Encryption Engine (AES-NI)
YES

MEMORY

system memory
16 GB DDR4 ECC RDIMMs
Pre-installed memory modules
16 GB (16 GB x 1)
Total number of memory slots
4
Maximum memory capacity
128GB (32GB x 4)

STORAGE DEVICE

number of disk slots
twenty four
Compatible Disk Types* (See All Supported Disks)
2.5″ SATA SSD
Disk hot-plug support
YES
Remark

Synology only guarantees the full functionality, reliability, and performance of Synology hard drives listed in the compatibility list . The use of unauthenticated components may limit certain functions and result in data loss and system instability.
Compatible disk type refers to the type of hard disk that is confirmed to be compatible with the product after actual measurement, not the maximum speed limit of the hard disk slot.

EXTERNAL PORT

RJ-45 1GbE port*
4 (Support Link Aggregation / Failover)
RJ-45 10GbE port
2 (Support Link Aggregation / Failover)
management port
1
Maximum number of LAN ports
15
USB 3.2 Gen 1 port*
2

PCIE

PCIe expansion
2 x Gen3 x8 slots (x8 link)
You can learn more about the Synology FS3410 Rackstation Server in our video over on YouTube HERE.
---
---
---
📧 LET ME KNOW ABOUT NEW POSTS 🔔
Join 1,409 other subscribers
Get an alert every time something gets added to this specific article!
This description contains links to Amazon. These links will take you to some of the products mentioned in today's content. As an Amazon Associate, I earn from qualifying purchases. Visit the NASCompares Deal Finder to find the best place to buy this device in your region, based on Service, Support and Reputation - Just Search for your NAS Drive in the Box Below
Need Advice on Data Storage from an Expert?
We want to keep the free advice on NASCompares FREE for as long as we can. Since this service started back in Jan '18, We have helped hundreds of users every month solve their storage woes, but we can only continue to do this with your support. So please do choose to buy at Amazon US and Amazon UK on the articles when buying to provide advert revenue support or to donate/support the site below.

Finally, for free advice about your setup, j
ust leave a message in the comments below here at NASCompares.com and we will get back to you.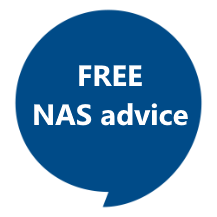 Need Help?
Where possible (and where appropriate) please provide as much information about your requirements, as then I can arrange the best answer and solution to your needs. Do not worry about your e-mail address being required, it will NOT be used in a mailing list and will NOT be used in any way other than to respond to your enquiry.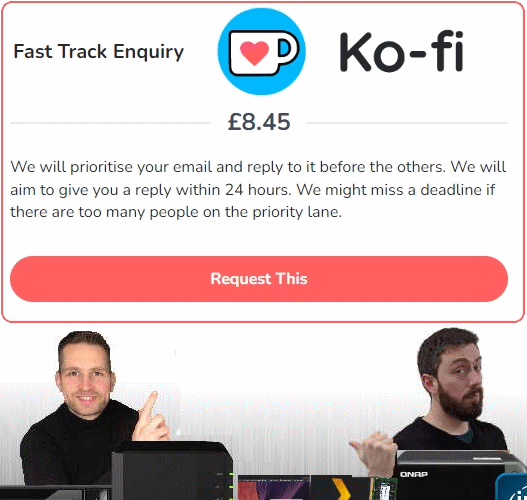 Terms and Conditions
Alternatively, why not ask me on the
ASK NASCompares forum
, by clicking the button below. This is a community hub that serves as a place that I can answer your question, chew the fat, share new release information and even get corrections posted. I will always get around to answering ALL queries, but as a one-man operation, I cannot promise speed! So by sharing your query in the
ASK NASCompares
section below, you can get a better range of solutions and suggestions, alongside my own.
If you like this service, please consider supporting us.
We use affiliate links on the blog allowing NAScompares information and advice service to be free of charge to you.
Anything you purchase on the day you click on our links will generate a small commission which is
used to run the website. Here is a link for
Amazon
and
B&H
.
You can also get me a ☕
Ko-fi
or old school
Paypal
. Thanks!
To find out more about how to support this advice service check
HERE
If you need to fix or configure a NAS, check
Fiver
Have you thought about helping others with your knowledge?
Find Instructions Here
We pool the comments on this article and the videos that are featured in it to keep all the relevant comments in one place, so take a look and see if your POV is the same as everyone else's.
Summary
Reviewer
Review Date
Reviewed Item
Synology 2022 NAS Hardware – Confirmed Releases & Our Predictions
Author Rating