The Synology DS923+ NAS 4-Bay Revealed
Note – Our Synology DS923+ NAS Review is now live and you can find it HERE
Finally, it's confirmed. It has been quite a long wait, hasn't it? Synology has really taken its sweet time in revealing their new prosumer diskstation 4-Bay, the DS923+ NAS and now that we finally know that it is real, there is the question of whether it is a little too late for some. The Synology DS923+ NAS arrives 2.5 years after the release of the DS920+ (not an unreasonable refresh window for a new hardware update when you think about it) and threw many users off by breaking their even DSx16, DSx18, DSx20 release structure. What we have here in the DS923+ is a combination of the familiar and a few new features to this series, that slightly changes the overall product focus of this solution. Arriving in a familiar compact desktop 4-bay chassis, the new DS923+ is a great deal more comparable to the Summer '22 released DS1522+ in its architecture, whilst still providing a solid foundation to enjoy the DSM and it's services.
The Synology DS923+ NAS Hardware Specifications
So, the hardware specifications of the Synology DS923+ NAS are going to split opinion a little. In recent years there have been those that observed that Synology was reshaping it's portfolio and product utility away from multimedia and home user, erring more towards a business customer with larger concerns on file transmission and data integrity. These are by no means negative choices – the growth in private NAS server use in business (either on its own or as a bare metal parallel hybrid-cloud platform in conjunction with their SaaS/PaaS services such as Google Workspace, 365, etc) is undeniable and this combined with the changing buyers market for these kinds of products means that Synology is likely trying to predict several years into the future of their changing audience. Nevertheless, it cannot be avoided that many users who were on the fence about buying the DS920+ NAS due to it's age and or looking to upgrade their even older Diskstation are going to be a little trepidatious about the hardware specifications of the Synology DS923+ NAS. The first big change that is present in this solution is the CPU. Until now, this 4/9-bay expandable product family has been exclusively Intel-based (Pentiums and Celerons) which all benefited from particularly good multimedia and graphical handling. This greatly appeased those that would recommend the DS920+ (and predecessors) for use in Plex Media Server, Synology Video Station, Surveillance Station and Virtual Machine deployment. The new Synology DS923+ NAS on the other hand is another NAS by the brand that has made the switch from Intel over to AMD, with the DS923+ arriving with an AMD Ryzen Embedded Dual Core R1600 CPU. Now, this is not a bad CPU by any stretch. It is the same CPU as the one found in the DS1522+, which in previous tests was able to fully saturate 10GbE in a RAID 5 (drives and test type dependant of course) and also the DS1522+ NAS performed reasonably well in Plex too – Even playing ALOT of 4K Media, as long as it didn't need conversion on H.265/HEVC Media on the server side, so you can see why Synology are choosing this processor. Before we dig deeper though, let's discuss the specifications that we know about the DS1522+ NAS in full:
Picture Used for Guidance – Not Offical!

CPU

CPU Model
AMD Ryzen R1600
CPU Architecture
64-bit
CPU Frequency
2-core/4-Thread 2.6Ghz which can be burst/turbo to 3.1GHz
Hardware Encryption Engine (AES-NI)
Yes

Memory

System Memory
4GB
Memory Module Pre-installed
4GB DDR4 ECC x1
Total Memory Slots
2x SODIMM
Maximum Memory Capacity
32GB

Storage

Drive Bays
4
Maximum Drive Bays with Expansion Unit
9 (DX517 x 1)
M.2 Drive Slots
2 (NVMe)
Compatible Drive Type

3.5″ SATA HDD
2.5″ SATA SSD
M.2 2280 NVMe SSD

Hot Swappable Drive
Yes

Picture Used for Guidance – Not Offical!

External Ports

RJ-45 1GbE LAN Port*
2 (with Link Aggregation / Failover support)
USB 3.2 Gen 1 Port*
2
eSATA Port
1

PCIe

PCIe Expansion
1 x Gen3 x2 network upgrade slot

File System

Internal Drives
External Drives

Btrfs
EXT4
EXT3
FAT
NTFS
HFS+
exFAT

Appearance

Size (Height x Width x Depth)
166 mm x 199 mm x 223 mm
Weight
2.2 kg

Others

System Fan
92 mm x 92 mm x 2 pcs
Fan Speed Mode

Full-Speed Mode
Cool Mode
Quiet Mode

Brightness Adjustable Front LED Indicators
Yes
Power Recovery
Yes
Noise Level*
19.8dB(A)
Scheduled Power On / Off
Yes
Wake on LAN / WAN
Yes
Power Supply Unit / Adapter
100 W
AC Input Power Voltage
100V to 240V AC
Power Frequency
50/60 Hz, Single Phase

Temperature

Operating Temperature
0°C to 40°C (32°F to 104°F)
Storage Temperature
-20°C to 60°C (-5°F to 140°F)
Relative Humidity
5% to 95% RH

Warranty

3-year hardware warranty, extendable to 5 years with EW201 or Extended Warranty Plus

Packaging Content

Main Unit X 1
Accessory Pack X 1
AC Power Adapter X 1
AC Power Cord X 1
RJ-45 LAN Cable X 2
Quick Installation Guide X 1

Optional Accessories

DDR4 ECC SODIMM: D4ES02-8G/D4ES01-16G
Expansion Units: DX517
3.5″ SATA HDD: HAT5300
2.5″ SATA SSD: SAT5210
M.2 2280 NVMe SSD: SNV3410
10GbE Network Upgrade Module: E10G22-T1-Mini
VisualStation: VS360HD
Surveillance Device License Pack
So, the DS923+ NAS is highly comparable to the DS1522+ NAS (arguable more so than the DS920+, which we will touch on later), but we should take a moment and ponder why Synology has made this rather big portfolio change recently towards AMD over Intel? The Synology DS923+ NAS is by no means the first example of this and in fact, you can trace the shift in the brand's CPU choices all the way back to 2020 when they replaced the Intel C3238 in their SMB solutions with the AMD Ryzen Embedded V1500B. Then the DS1522+ followed suit from man Intel J4125 in the DS1520+ into the R1600 in the latest release. Finally, in spring/summer of 2022, we learned that the highly enterprise SAS tier of their portfolio would switch from Intel to AMD and their EPYC processors in the SA6400 and SA6200 Rackstations. So, the Synology DS923+ NAS arriving with the AMD R1600 is not a complete surprise. Still, there are going to be some users who will debate the utility of this CPU at the Home/Prosumer tier vs quad-core Intel integrated graphics CPUs. Perhaps Synology has seen the winds changing in the last few years, as Intel are regularly hit by hardware shortages that continue to undermine their market dominance, giving AMD growing appeal (especially with a better comparative price point on many of their processors vs likewise architecture/powered at Intel). Still, we are still talking about a 2-core (4 thread to be fair, so four virtual CPUs for VMs and also support of ECC memory) CPU that will use more power to perform graphical tasks. I am still a little confused as to why Synology have yet to adopt the embedded graphics (AMD Vega Graphics, an alternative to Intel Integrated) processors in both the R1000 and V1000 CPU families yet. Here are the specifications of the AMD R1600 CPU in the DS923+ NAS: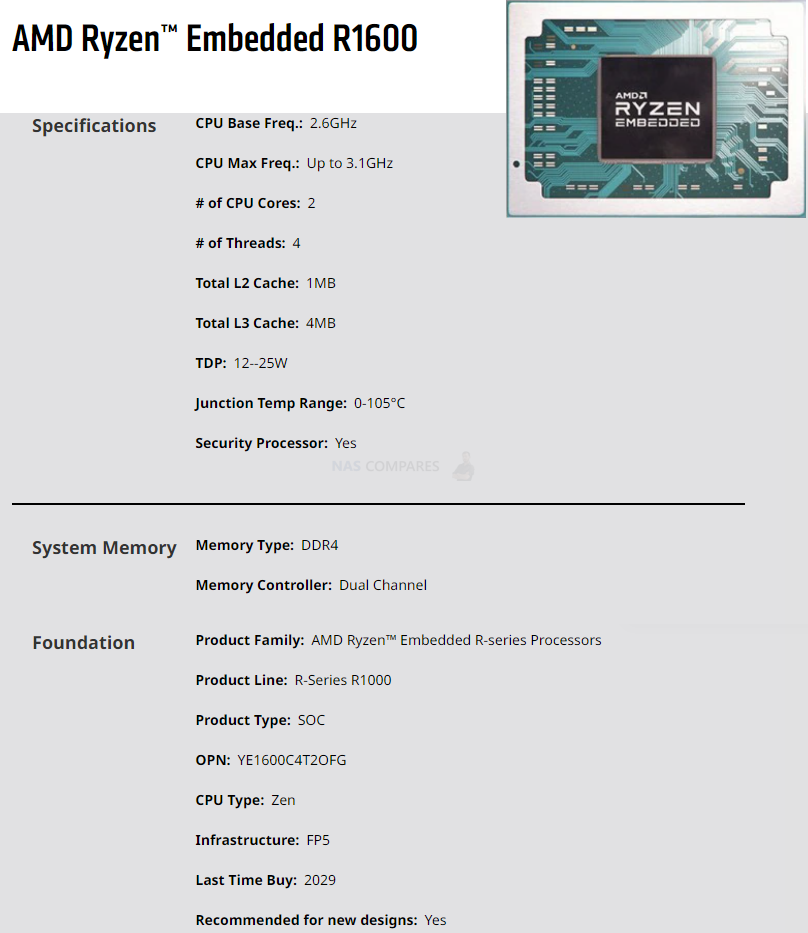 Moving away from the CPU, we CAN talk about one the stand-out features of the Synology DS923+ NAS that has been demanded for quite a long time – 10GbE support. Now, before we get too excited, it's really important to highlight that this is OPTIONAL 10GbE and available via an additional purchase of the E10G22-T1-mini upgrade module. The DS923+ by default arrives with 1GbE network ports, which will definitely disappoint some users who were hoping that 2022/2023 would be when Synology finally adopts 2.5GbE – especially when 2.5GbE is available on the Synology Router, arriving on many ISP routers, value routers, switches and more. Indeed, greater than gigabit internet connectivity is becoming increasingly common (even 'affordable'), so the thought that a NAS has the potential to be capped at 1GbE (109MB/s) when a particularly well-connected internet cloud service could exceed that is pretty disheartening. Still, the option of 10GbE is very welcome indeed, though many will wonder why they didn't just rolling this in and increase the DS923+ NAS price a fraction.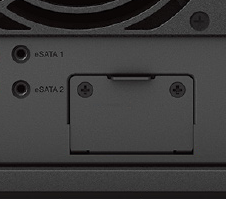 There are many who argue that 2.5GbE is still something of a fad (with 1GbE still massively available in it's decades of use and 10GbE becoming more affordable as a client hardware upgrade with interchangeable hardware and backwards compatibility with legacy devices) but there is also the question of future-proofing to consider. When you buy ANY piece of hardware, you are buying it BOTH to be compatible with current hardware trends AND to remain useful in the future. 2.5GbE has gained traction thanks to $25 adapters over USB supported on Windows/Mac, affordable network cards, growing wireless network adoption of WiFi 6/6e and more hardware peripherals proving 2.5GbE at the same cost as 1GbE in 2022. Plus, a 2.5GbE NAS will still give you 250-279MB/s connected to a 10GbE network if/when you upgrade to Copper/RJ45/10GBASE-T. So, although the inclusion of optional 10GbE on the DS923+ with the E10G22-T1-mini adapter IS a very welcome addition, the lack of 2.5GbE will certainly be noticed!
The 10GbE upgrade for the DS923+ is an incredibly easy process – with the E10G22-T1-mini module being significantly easier than traditional PCIe Card upgrades. Arriving on a PCIe Gen 3×2 board, this singe port accessory slots into the back (power down necessary, as this is a PCIe upgrade) and immediately adds the 1,000MB/s+ bandwidth connection to your DS923+. As this NAS is a 4-Bay system, there is the question of whether there is enough media throughput the saturate the full 10GBASE-T connection. Using a fully SATA SSD populated device will likely full/close-to saturate the 10G connection, as would using the 5-bay DX517 expansion in a combined RAID with the main 4-Bays (the DX517 connects over eSATA which is capped at 6Gb/s – so a combined RAID with the primary storage is the only way you are going to hit 1,000MB/s), but what about if you are only using the main 4x DS923+ bays with 3.5″ hard drives?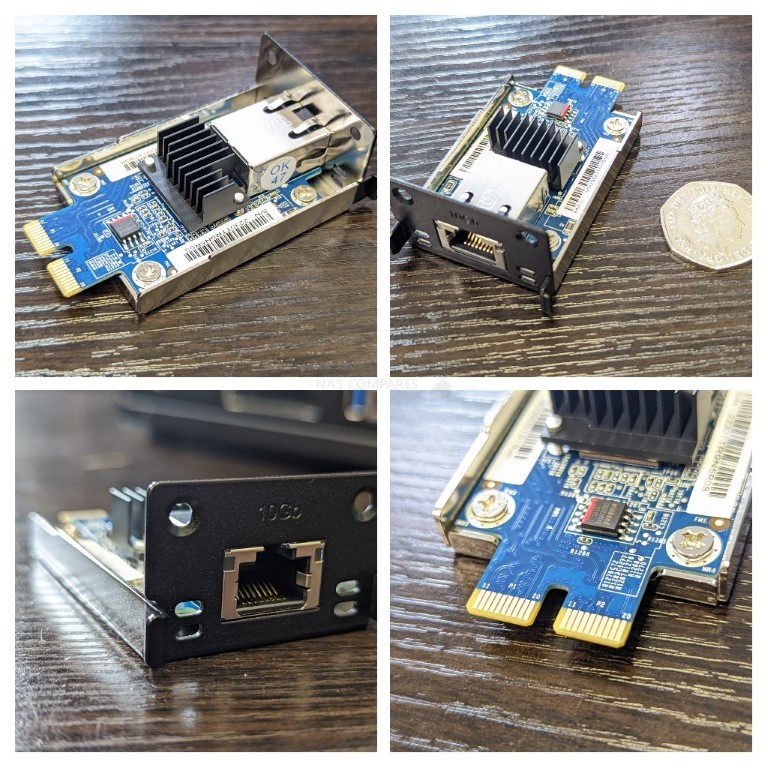 Luckily, I can answer the question of how the DS923+ NAS CPU and 4 hard drives will perform over 10GbE now. Previously here on the NASCompares, I was fortunate enough to run ATTO tests on the DS1522+ (same R1600 CPU, 8GB Memory) with RAID 0 and RAID 5 with four WD Red Pro 22TB Hard Drives. Now, it is worth remembering that these are NOT your common, everyday SATA hard drives and are designed to be rugged, high-performance disks (7200RPM, 512MB Cache, 10x 2.2TB platters, etc). In a RAID 0 and RAID 5 setup and in particular file size tests, full saturation of read transfers of 1.15GB/s was achieved, with write performance peaking at around 800-900MB/s. Now these ARE artificial tests (so, not really representative of ever day use), but never the less very compelling results for 4 drives over 10GbE and DO indicate that the DS923+ hardware is sufficient to saturate the E10G22-T1-mini upgrade. More domestic/smaller scale HDDs such as the WD Red Plus or Seagate Ironwolf drives will likely cap at around 600-700MB/s at most.
Note – You can READ the full article that details all the tests and results of the Synology DS1522+ NAS and WD Red Pro 22TBs over 10GbE HERE. Alternatively, you can watch my YouTube video on these tests (with 5GbE testing too) here on the NASCompares YouTube Channel.
| | |
| --- | --- |
| Synology DS1522+ with 4x 22TB WD Red Pro RAID 5/10GbE Test – 64MB | Synology DS1522+ with 4x 22TB WD Red Pro RAID 0/10GbE Test – 256MB |
| | |
| Synology DS1522+ with 4x 22TB WD Red Pro RAID 5/10GbE Test – 1GB | Synology DS1522+ with 4x 22TB WD Red Pro RAID 0/10GbE Test – 4GB |
| | |
One somewhat unsurprising element is that the Synology DS923+ NAS is another NAS that arrives with m.2 NVMe SSD bays on the base that allow you to install considerably faster SSD drives to boost the performance of particular internal file processes (with variable external bandwidth benefits). These bays cannot be used as traditional storage pools (not a tremendous shock, as Synology have maintained this position since introducing the feature way back in 2017/18 on their systems) are instead available for use in Read and Write caching. The former benefits the user by copying frequently accessed small files to the faster media to decrease access time, improve latency and make accessing the Synology NAS regularly a great deal more fluid and responsive. The latter write caching improves upload/input to the NAS by shifting initial write activity onto the faster storage media and then internally shifting the media to core storage afterwards. Synology has been one of the biggest backers in conventional turnkey NAS solutions of SSD caching since its launch, regularly updating their algorithm and efficiency on this with each update to DSM. It's still a crying shame that these m.2 NVMe SSD bays are not usable for traditional storage pools (though it IS possible via unofficial mods over on github, it is not recommended by the brand and can potentially undermine your support down the line by them).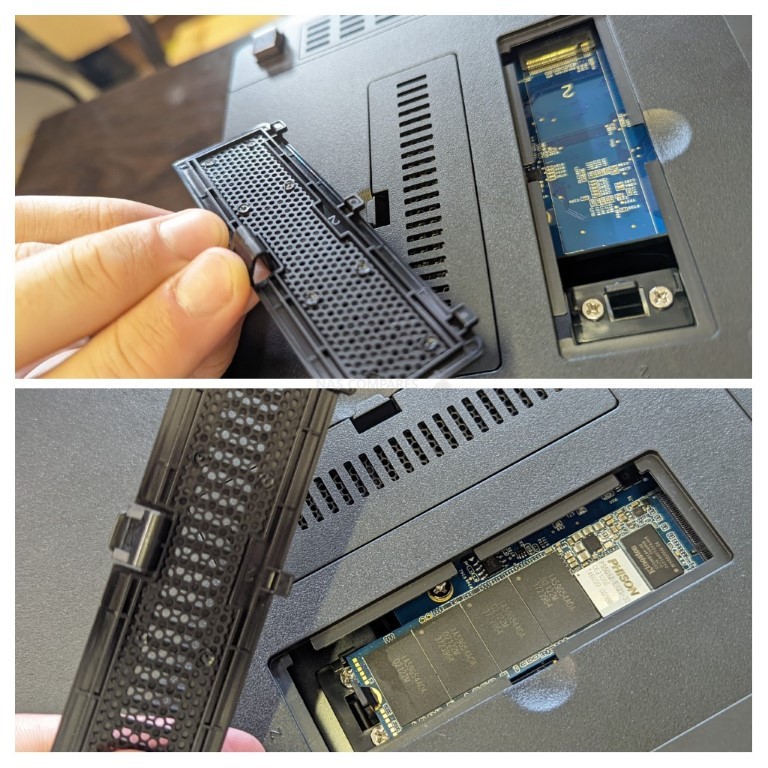 The Synology DS923+ NAS hardware is an interesting mix of the expected and unexpected (both internally and externally) and I think it is safe to say that this will divide opinion at the home and prosumer tiers considerably. At the small/medium business (SMB) tier of course it will be a different story, stepping away from the multimedia and graphical concerns, as the hardware architecture here is very competent and if the DS923+ can largely match the output of the DS1522+ NAS, it will be very popular! Let's discuss the potential software capabilities of the DS923+ NAS in DSM 7.1 onwards.
How do the Synology DS920+ and DS923+ NAS Compare?
If you already know the details of the Synology DS923+ NAS and are wondering how it compares against the DS920+ NAS, I have put together an article detailing how the Synology DS920+ and DS923+ compare in Internal hardware, Storage, External Connectivity, Software and Plex Media Server. You can find it HERE in our NAS Guides Section. This puts together alot of information we know on the DS923+ and leverages what we already know about the DS1522+, and how they compare with the older DS920+ NAS. I strongly recommend reading the whole article, but otherwise, here is a brief overview:
Again, the FULL ARTICLE on the Synology DS923+ vs DS920+ is HERE – https://nascompares.com/guide/synology-ds920-vs-ds923-nas-which-should-you-choose
How do the Synology DS920+ and DS923+ NAS Compare in Internal Hardware?
NAS Model
Synology DS923+ NAS
Synology DS920+ NAS
CPU Model
AMD Ryzen R1600
Intel Celeron J4125
CPU Architecture
64-bit
64-bit
CPU Frequency
2-core 2.6 (base) / 3.1 (turbo) GHz
4-core 2.0 (base) / 2.7 (burst) GHz
Hardware Encryption Engine (AES-NI)
Yes
Yes
Memory
System Memory
4GB DDR4 ECC SODIMM
4GB DDR4 non-ECC
Memory Module Pre-installed
4GB x1 Module
4GB X1 SODIMM Module (soldered)
Total Memory Slots
2
1
Maximum Memory Capacity
32GB (16GB+16GB)
8GB (4GB + 4GB)
Drive Bays
4
4
Maximum Drive Bays with Expansion Unit
9 (DX517 x 1)
9 (DX517 x 1)
M.2 Drive Slots
2 (NVMe)
2 (NVMe)
RJ-45 1GbE LAN Port
2 (with Link Aggregation / Failover support)
2 (with Link Aggregation / Failover support)
USB 3.2 Gen 1 Port*
2
2
eSATA Port
1
1
PCIe Expansion
1 x Gen3 x2 network upgrade slot (Optional 10GbE)
No
System Fan
92 mm x 92 mm x 2 pcs
92 mm x 92 mm x 2 pcs
Power Supply Unit / Adapter
100 W
100 W
The Synology DS923+ NAS Software Specifications
The Synology portfolio has always been about providing software solutions. The hardware is certainly an important detail, but there is no avoiding that the brand has always had a larger focus on the software side of things and in the last year or so we have seen a large number of improvements in both the service platform DSM 7, as well as improvements in their C2 cloud services and dirty party tools. The Synology DS923+ will run DSM 7.1 largely identically to the DS1522+ , but arguable different in a few ways to it's predecessor the DS920+, largely down to the shift from an Intel Celeron architecture with embedded graphics and four cores to the dual-core integrated graphics AMD Ryzen embedded R1600. Below is a breakdown of the services and volume that the Synology DS923+ NAS will support:
Add-on Packages
Antivirus by McAfee (Trial)
Yes
Central Management System
Yes
Synology Chat
Yes
Maximum Users
Yes
Maximum Number of Concurrent Users
100
Document Viewer
Yes
Download Station
Yes
Maximum Concurrent Download Tasks
80
SAN Manager
Yes
Maximum iSCSI Target Number
128
Maximum LUN
256
LUN Clone/Snapshot, Windows ODX
Yes
Notes
Yes
Synology MailPlus / MailPlus Server
Yes
Free Email Accounts
5 (Licenses required for additional accounts)
Maximum Number of Concurrent Users
100
Maximum Server Performance
1,224,000 emails per day, approx. 37GB
Media Server
Yes
DLNA Compliance
Yes
Synology Photos
Yes
Facial Recognition
Yes
Snapshot Replication
Yes
Maximum Snapshots per Shared Folder
1,024
Maximum of System Snapshots
65,536
Surveillance Station
Yes
Maximum IP cam (Licenses required)
40 (including 2 Free License) (see all supported IP cameras)
Total FPS (H.264)
1200 FPS @ 720p (1280×720)
1050 FPS @ 1080p (1920×1080)
600 FPS @ 3M (2048×1536)
360 FPS @ 5M (2591×1944)
200 FPS @ 4K (3840×2160)
Total FPS (H.265)
1200 FPS @ 720p (1280×720)
1200 FPS @ 1080p (1920×1080)
1000 FPS @ 3M (2048×1536)
600 FPS @ 5M (2591×1944)
300 FPS @ 4K (3840×2160)
Synology Drive
Yes
Recommended Number of Concurrent Sync Clients
350 (the number of connections that can be maintained when the recommended number of hosted files was reached)
Recommended Number of Hosted Files
5,000,000 (applies to files indexed or hosted by Synology Drive. For file access through other standard protocols, refer to the File Services section above)
Synology Office
Yes
Maximum Users
1,200
Video Station
Yes
Virtual Machine Manager
Yes
Recommended Virtual Machine Instances
4 (Learn more)
Recommended Virtual DSM Number (Licenses required)
4 (including 1 Free License)
Notes
The specifications vary depending on system configuration and memory size.
VPN Server
Yes
Maximum Connections
40
If you are new to the Synology NAS platform and are wondering what exactly Diskstation Manager (DSM 7) is capable of, you can use my full video review of DSM 7.0 below. Since this review was first published, Synology has rolled out several updates to this platform (now in version DSM 7.1 at time of writing). An updated review that includes several of these features, as well as addressing a few of the details we covered in the DSM7 review will be coming when the DS923+ arrives. Nevertheless, this video covers pretty much everything you need to know about Synology's awesome software that is included with all of their solutions.
Of course (as mentioned at the start) there are a decent % of users who have been waiting on the release/reveal of the Synology DS923+ NAS for use as a Plex Media Server solution. The Synology Diskstation series have been recommended as great solutions for various scale Plex servers, with ARM-powered solution in the value tier for smaller scale/DLNA-based options and the plus series supporting transcoding and low-mid 4K media. However, the R1600 CPU choice in the DS923+ does throw a little bit of doubt on this. This architecture does provide a decent level of hardware power (crossing 3Ghz at burst) and when it comes to native applications for media, such as Synology Video Station (the excellent 1st party alternative to Plex with numerous client apps and arrives subscription free). Indeed, once again we can look at the performance of the similarly hardware equipped DS1522+ with the R1600 CPU and how it performed in Video Station below:
But what about Plex on the Synology DS923+ NAS and AMD R1600? How does it compare against 1080p and 4K performance on the Intel Celeron-powered DS920+ NAS? The answer is 'alright'. In performance testing between the Synology DS920+ and DS1522+ over on the NASCompares YouTube channel, when it came to 1080p media in H.264 (all the way upto 100mps bitrate), the R1600 CPU and the Intel J4125 CPU in the respective NAS played back the files easily. It wasn't until we introduced 4K media and transcoding of various file formats (HEVC, 10bit and standard H.264 resolution changes) that the difference in multimedia proficiency becomes clear. The lack of integrated/embedded graphics on the R1600 means that much, much more CPU power was needed to get these more graphical tasks done and often at peak, was not possible. Whereas the Intel Celeron in the DS920+ means that the transcoding engine was more capable and efficient, allowing for a greater degree of multimedia support and more hardware resources for when you run multiple media tasks. You can watch the full test comparison and analysis of Plex on these NAS drives in the video below:
Overall, the software support in DSM on the DS923+ is going to be very good and the depth of the hardware available means that although it will be less suitable for highly graphical tasks, it DOES have alot more capability in file handling and transmission – which is precisely what Synology want for this device and makes it increasingly appealing to traditional storage users. Equally, the architecture of this CPU inside the DS923+ allows it's resources to be spread a great deal further (threads and simultaneous tasks) towards using the full range of services that DSM includes. The cloud/hybrid services too will greatly benefit form this architecture too and once again mean that this Synology NAS will bring a tremendous sense/feeling of 'local' storage to this network/remote server. Lovely stuff.
The Synology DS923+ NAS – Release Date and Price?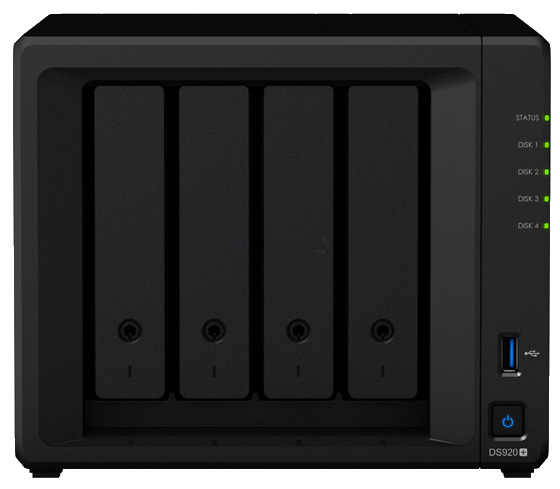 Right now, all indications (price drops, release patterns, brand sources) point to the release of the Synology DS923+ NAS being mid-November 2022. This would place it 2.5yrs since the release of the DS920+ NAS which is quite reasonable. Pricing is going to be a little harder to get a handle on. The Expandable desktop 4-Bay tier of Synology's portfolio (the DS9xx+ device) has tended to land at the £550-600 / $600-649 / €600-649 mark (don't forget the tax!) at launch. However, the DS923+ arrives with a new CPU/memory combo and option of 10GbE, so this could affect the pricing (and that is even without factoring hardware/component availability in 2022/2023 affected by continued shortages). Personally, I think Synology is going to try and maintain this familiar price point, as the tiering in their portfolio on either side of this device in the Value tier (which will also see DSx23 and DSx23j additions in Q1 2023) and bigger Plus series boxes are quite important to their brand. More information will be coming soon on this and other devices in the Synology 2022/2023 hardware range soon, so subscribe to the blog OR visit this page which gets updated regularly with new information on Synology 2023 Hardware. Have a great week!
What do yoU think of the Synology DS923+ NAS? Let us know below in the comments below. We pool the comments on this article and the videos that are featured in it to keep all the relevant comments in one place, so take a look and see if your POV is the same as everyone else's.
Need More Help Choosing the right NAS?
Choosing the right data storage solution for your needs can be very intimidating and it's never too late to ask for help. With options ranging from NAS to DAS, Thunderbolt to SAS and connecting everything up so you can access all your lovely data at the touch of a button can be a lot simpler than you think. If you want some tips, guidance or help with everything from compatibility to suitability of a solution for you, why not drop me a message below and I will get back to you as soon as possible with what you should go for, its suitability and the best place to get it. This service is designed without profit in mind and in order to help you with your data storage needs, so I will try to answer your questions as soon as possible.
📧 LET ME KNOW ABOUT NEW POSTS 🔔
Join 1,409 other subscribers
Get an alert every time something gets added to this specific article!
This description contains links to Amazon. These links will take you to some of the products mentioned in today's content. As an Amazon Associate, I earn from qualifying purchases. Visit the NASCompares Deal Finder to find the best place to buy this device in your region, based on Service, Support and Reputation - Just Search for your NAS Drive in the Box Below
Need Advice on Data Storage from an Expert?
We want to keep the free advice on NASCompares FREE for as long as we can. Since this service started back in Jan '18, We have helped hundreds of users every month solve their storage woes, but we can only continue to do this with your support. So please do choose to buy at Amazon US and Amazon UK on the articles when buying to provide advert revenue support or to donate/support the site below.

Finally, for free advice about your setup, j
ust leave a message in the comments below here at NASCompares.com and we will get back to you.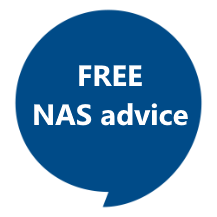 Need Help?
Where possible (and where appropriate) please provide as much information about your requirements, as then I can arrange the best answer and solution to your needs. Do not worry about your e-mail address being required, it will NOT be used in a mailing list and will NOT be used in any way other than to respond to your enquiry.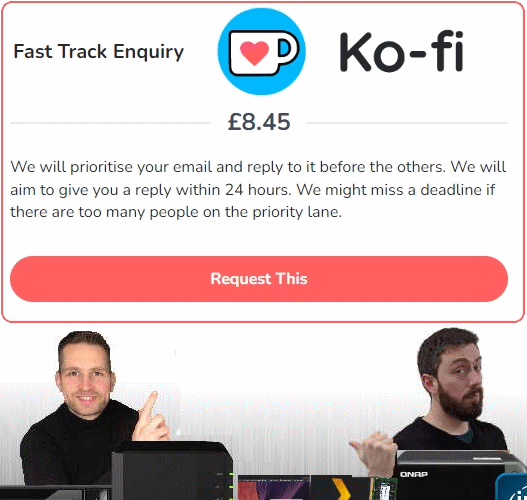 Terms and Conditions
Alternatively, why not ask me on the
ASK NASCompares forum
, by clicking the button below. This is a community hub that serves as a place that I can answer your question, chew the fat, share new release information and even get corrections posted. I will always get around to answering ALL queries, but as a one-man operation, I cannot promise speed! So by sharing your query in the
ASK NASCompares
section below, you can get a better range of solutions and suggestions, alongside my own.