The Synology DS223 NAS Rumoured for Q4 2022 / Q1 2023
Update UK 08/02/23 – The Synology DS223 NAS has now been launched, and you can find my written DS223 review HERE and my YouTube video DS223 review HERE!
Update (11/01/23 UK) – The Synology DS223 NAS is Now released in TW 
Brand New Synology DS223 Value Series NAS Released
Hot on the heels of their recent releases in the Synology Plus range, Synology has now revealed a new Value Series 2-Bay NAS – The Synology DS223 NAS. Powered by a newer generation Realtek ARM v8 processor, this is the first entry into a no doubt soon to expand value range of diskstation devices to replace the (frankly) long overdue refresh of the DS218, DS118, DS418, DS120j and DS220j devices in their portfolio. Arriving with a similar level of hardware across the rest of the device to the 2018-2020 released value/budget devices in most other regards, the most notable change here is the scale up in processor from the RTD1296 to the RTD1619B. Let's discuss the hardware that we know, how that will impact DSM and where it improves upon the older gen.
What Are the Hardware Specifications of the Synology DS223 NAS
So, as mentioned above, the actual hardware across the bulk of the DS223 is largely identical to the DS218 NAS. Synology have pretty much kept everything (the chassis, USB standard, network connection, memory capacity and scalability) identical. That CPU is the only meaninglful change. Then again, they did see huge success with the Realtek product family up to this point and it would make sense for them to continue using this fantastically efficient but capable series. So, let's dig into those specifications a little:
Processor

Processor model
Realtek RTD1619B
Number of CPUs
1
processor architecture
64-bit
processor clock
4-core 1.7 GHz
hardware encryption engine
Yes

Memory

system memory
2 GB DDR4 non-ECC
Remark
Synology reserves the right to replace memory components with the same or higher frequency depending on the supplier's product availability. Its compatibility and stability have undergone the same rigorous testing and inspection, please feel free to use it.

storage device

Number of slots
2
Compatible Disk Type

3.5″ SATA HDD
2.5″ SATA SSD

Disk hot-plug support*
Yes

external port

RJ-45 1GbE LAN port*
1
USB 3.2 Gen 1 port*
3
USB / SD Copy
No
Remark

The maximum MTU value of the 1GbE network port of this product is 1500.
The USB-IF renamed the standard formerly known as USB 3.0 as USB 3.2 Gen 1 in 2019.

file system

internal disk
external disk

Btrfs
EXT4
EXT3
FAT
NTFS
HFS+
exFAT

Exterior

Size (HXWXD)
165mm x 108mm x 232.7mm
weight
1.28 kg

other projects

system fan
92 mm x 92 mm x 1 pcs
fan mode

full speed mode
low temperature mode
silent mode

Front panel LED indicators with adjustable brightness
Yes
Power Auto Reply
Yes
Noise value*
14.6 dB(A)
Timer switch
Yes
wake on lan
Yes
Power Supply / Transformer
60W
AC input voltage
100V to 240V AC
current frequency
50/60 Hz, single frequency
power consumption
17.343 W (access)
4.08 W (disk hibernation)
BTU
59.19 BTU/hr (access)
13.92 BTU/hr (disk hibernation)
Remark

For more information on how to measure the power consumed by a power supply, please refer to this article .
Noise level test environment: The Synology system is fully loaded with Synology SATA SSD hard drives in standby mode, and two GRAS Type 40AE microphones are set up at a distance of 1 meter from the front and back of the device. Background noise value: 16.49-17.51 ​​dB(A); temperature: 24.25-25.75˚C; humidity: 58.2-61.8%.

warranty

2-year hardware warranty, you can purchase Extended Warranty Plus to enjoy up to 4-year product warranty service.

environment

RoHS Compliant

package contents

Host X 1
Accessory bag X 1
Transformer X 1
Power cord X 1
RJ-45 network cable X 1
Quick Installation Guide X 1
So, this CPU. Synology are not the first brand to start utilizing this processor (Terramaster were the first, with their own Value series that was unveiled at the end of 2022). In the coming weeks, we will be investigating further into the capabilities of this CPU, but there is no doubt that Synology will have thoroughly explored the running and efficiency of DSM 7.1 (7.2 Beta arriving soon) on this processor. The system arrives with 2GB of DDR4 Memory (non-ECC) that cannot be upgraded. This is not a huge surprise (this has been the case for this product family, plus the play and Value series running on ARM processors pretty much since day dot!) and we will almost certainly see scaling in memory in the 1-Bay, 4-Bay and J series alternatives to this NAS as they arrive to popular Synology's Value tier for 2023/2024. 2GB is more than enough for DSM 7.1. PLUS series features like the inclusion of M.2 NVMe SSD bays are absent, but that is not something I would have expected on this series anyway. Another question some users might have is regarding hard drive and SSD compatibility. Synology in 2022 made some rather strong moves towards prioritizing their own storage media and upgrades in their Plus and above series', still supporting the use of 3rd party hardware in a bunch of areas (relenting at one point and adding WD Red and Seagate Ironwolf on the compatibility lists, where previously they seemed absent).

I am pleased to confirm that the Synology DS223 NAS will definitely arrive with compatibility and support of the 3rd Party HDD/SSD manufacturers (as well as their own HDDs and SSDs of course). The maximum supported capacity is still at 18TB (again, likely in line with their own HAT5300 capping at 18TB at the time of writing), but at least users of this value tier device will not have to be concerned with opting for media outside of their usual brand of choice. Let's discuss DSM's supported features and services on the Synology DS223 NAS.
What Are the Software Specifications of the Synology DS223 NAS
The Synology DS223 NAS will arrive with the latest version of DSM 7 available, as well as the support of Synology Hybrid RAID too. As this is an ARM v8 processor, there is going to be the odd compromise here o there (although 4K handling is possible, 4K transcoding and general video encoding/conversion to a meaningful degree is going to be something of a pipe dream! Synology has managed to include the bulk of DSM 7's features and serives with the DS223 hardware here, though the depth of support of 3rd party applications and services is still TBC till I have one in the office for review. Things like Virtual Machines are DEFINITELY NOT going to be possible here and the performance/scale of surveillance on this NAS with Synology's Surveillance Station application re ging to be a little lighter than on a PLUS model, but again that is something we would expect for a value series device. Let's go through those services and features of DSM that are supported, as well as the extent to which they run:
DSM Product Specifications

storage space management

Maximum single volume capacity*
108TB
Maximum number of storage spaces
64
SSD TRIM
Yes
Support RAID disk array type

Synology Hybrid RAID
Basic
JBOD
RAID 0
RAID 1

RAID Configuration Migration
Basic to RAID 1
Larger hard drives can be used to expand storage space

Synology Hybrid RAID
RAID 1

Add new hard disk to expand storage space
Synology Hybrid RAID
Remark

The usable capacity of each volume is lower than the size of the maximum volume, and actually depends on the file system and the amount of system metadata stored.
The actual maximum storage pool and storage space size depends on the hard disk capacity used, the number of available disk slots and the RAID type.

file service

file agreement
SMB/AFP/NFS/FTP/WebDAV
Maximum simultaneous SMB/AFP/FTP connections
200
Windows Access Control List (ACL) Integration
Yes
NFS Kerberos authentication
Yes
Remark
The test standard is based on the maximum number of simultaneous connections supported by this model. During testing, 25% of the connections were concurrently transferring files. The transmission process only ensures that the connection is not interrupted, and cannot guarantee the minimum transmission speed.

Accounts and Shared Folders

Maximum number of local user accounts
1,024
Maximum number of local groups
256
Maximum number of shared folders
256
Maximum Shared Folder Sync Tasks
4

Hybrid Share

Maximum number of Hybrid Share folders
5

log center

Number of logs received per second
400

General Specifications

Internet protocol
SMB1 (CIFS), SMB2, SMB3, NFSv3, NFSv4, NFSv4.1, NFS Kerberized sessions, iSCSI, HTTP, HTTPs, FTP, SNMP, LDAP, CalDAV
Supported browsers

Google Chrome
firefox
Microsoft Edge
Safari

supported language
English, Deutsch, Français, Italiano, Español, Dansk, Norsk, Svenska, Nederlands, Русский, Polski, Magyar, Português do Brasil, Português Europeu, Türkçe, Český, ภษษไทย, Traditional Chinese, Simplified
Remark
For details of supported browser versions, please refer to DSM Technical Specifications .

Additional Kits View Full Kit List

Synology Chat

download station

Maximum number of download tasks
80

SAN Manager

Maximum number of iSCSI Targets
10
Maximum number of LUNs
10
LUN Clone/Snapshot, Windows Offload Data Transfer (ODX)

Media Server

DLNA compatible

Synology Photos

face recognition

Snapshot Replication

The maximum number of snapshots supported by a single shared folder
256
Maximum number of system snapshots
4,096

Surveillance Station

The maximum number of cameras supported (camera authorization is required)
20 (including 2 sets of free licenses) (see compatible IP cameras)
Frames per second (FPS) (H.264)
600 FPS @ 720p (1280×720)
460 FPS @ 1080p (1920×1080)
300 FPS @ 3M (2048×1536)
150 FPS @ 5M (2591×1944)
110 FPS @ 4K (3840×2160)
Frames per second (FPS) (H.265)
600 FPS @ 720p (1280×720)
500 FPS @ 1080p (1920×1080)
400 FPS @ 3M (2048×1536)
350 FPS @ 5M (2591×1944)
250 FPS @ 4K (3840×2160)
Remark

Maximum number of IP cameras and FPS figures are the result of a test unit recording continuously with a full hard drive.
Actual system capacity will vary based on system configuration, hard drive performance, number of features enabled, and presence of other workloads.

Synology Drive

Recommended number of clients that can sync simultaneously
200 (the number of devices that can be connected at the same time when the recommended number of stored files is reached)
Recommended number of files to store
500,000 (applicable to files indexed or belonging to Synology Drive , files accessed through other protocols, please refer to the file service in the above field)
Remark

Exceeding the recommended amounts above will not cause the kit to stop functioning, it will just cause longer response times.
The Btrfs file system and unencrypted shared folders were used in the above tests.

Synology Office

Maximum number of users
200
Remark

The test opens multiple files, and each file is edited by 30 users at the same time.
Client performance may affect the maximum number of simultaneous editing users. Client test computer specifications: Intel Core i3-3220 / 8GB memory

Video Station

VPN Server

Maximum number of connections
20
If you are interested in the full range of services and applications (of which the Synology DS223 will likely run around 80% or so of which, just not the higher-end process/graphically demanding ones), you can watch my full Synology DSM 7.1 Review below. It covers pretty much everything and you can use the chapters at the bottom to fast-forward to the appropriate app/service/function that you are most interested in.
Next, let's discuss how much improvement/difference we have in the DS223 against the DS218 NAS that it is seemingly refreshing for 2023.
How Does the Synology DS223 compare with the DS218 NAS?
The Synology DS223 NAS is not going to be an enormous jump in terms of ability over the DS218. Yes, this new CPU will bring improvements in power (aka clock speed) which means more 'umpf' under the bonnet to get things done, but also it will be more efficient, as it will benefit from the further developments by Realtek in getting the most out of these more economical of processors. The RTD1619b and RTD1296 are both quad-core, but the newer gen DS223 CPU is 1.7Gh in clock speed, so that means more resources to get your tasks done and (thanks to that R&D) less being used per task – so win-win. Below is a breakdown of how the DS223 and DS218 compare:
When Will the Synology DS223 NAS Drive Be Released and what is the Price?
Right now, Synology is taking its time on rolling the information out on this device globally, but we will likely see the full release of the Synology DS223 NAS globally before the end of Jan 2023. Regarding pricing, Synology will be keen to maintain the price point of their other value series NAS devices, so expect to see the DS223 arriving at around $270 / £230 / €260 (be sure to factor in your local tax and shipping of course). We can almost certainly expect the arrival of a 4-Bay DS423 and DS223j and/or DS423j NAS too soon.
Check Amazon and other retailers to see if the Synology DS223 NAS is available now using the links to them below (it supports us, costs you nothing extra and me and Eddie who run NASCompares will get a commission that goes directly back into the YouTube channel and blog):

Amazon USA 45 OFF (WAS 295) [LINK HERE]
Amazon USA 10.13 OFF (WAS 414) [LINK HERE]


---
Original Article from July 2022 Can be found Below:
Update (28/09/22 UK) – The CPU that will be featured in the Synology DS223j, DS123 and DS223 will be the Realtek RTD1619. The articles have been updated. The release date is looking like Q1 (Jan-March) 2023.
If you have been looking at Synology or a more cost-effective, low-price and highly power-efficient NAS drive in 2022/2023, then there is a very good chance that you have been wondering about the release of the DS223, as the current affordable 'standard series' offering of the DS218 has been available now for well over FOUR YEARS! Well, I am pleased to share that I have been informed that Synology has plans to release the newest entry into their standard class tier with this new 2-Bay NAS in the last quarter of 2022 (or possibly the start of 2023). This little snippet of information (alongside mention of other new desktop NAS', such as the DS223j, DS223+, DS723+ and DS923+), details which units are going to form the bulk of the brand's home-prosumer-SMB diskstation portfolio. The DS2xx and DS4xx series has always been highly desirable as the entry point for most first-time Synology NAS small business users and although is a solution that arrives with hardware that could arguably be called 'economical', it is worth also remembering that it will almost certainly arrive with support of DSM 7 – so you are going to be looking at an affordably jumping off point into a complete hardware+software solution. Although the details we have on the DS223 are incredibly thin on the ground at the time of writing, this information DOES come from a very trustworthy source that I am sorry to say I cannot share. I am sure this will result in many having doubts about the reliability of this information (I would feel the same), but you are just going to have to trust me on this and/or wait out the rest of 2022 as this all plays out. Let's discuss the DS223 a little further.
Update 12/09/22 – Small Update on the DS223 and DS423 indicates Release Relatively Soon
A very, very small update on the Synology DS223 and DS423 with information on the three appearings (very briefly) on an official Synology site (the Japan official page, via the Knowledge center) that appeared in Google. Unfortunately, the listed page does not lead to any direct information (possibly as pages/listing or these new NAS are being drafted and lined up for additions to the official Synology NAS support directories – in 'hidden' forms. Even via Google Cache and WayBackMachine, no further information is publically accessible on these pages. However, the found model IS text is still shown on the Google search results (see below) and largely indicates that the new NAS for the Diskstation 2023 will be arriving in Q4 2022.
Note – I have made an absolutely tiny 'update' to this update, as the search results that show these new NAS' has now appeared in more languages/locations on their site: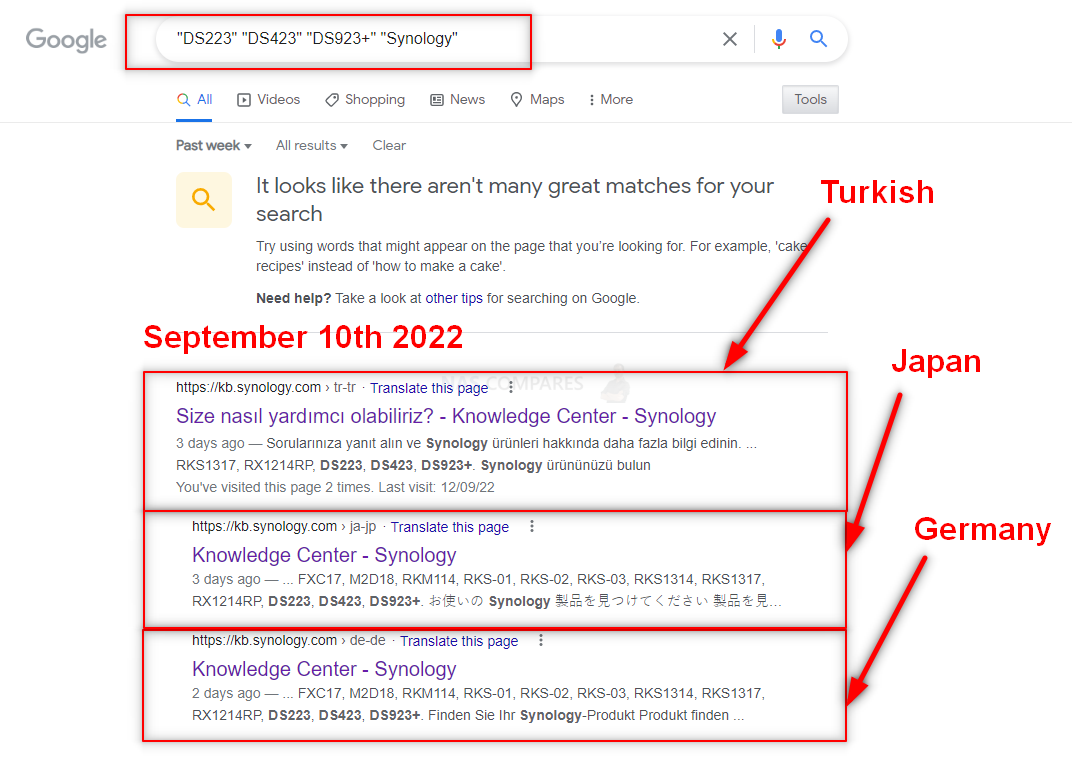 Update 01/09 – New CPU Information for the Synology DS223, DS223j and DS423
This a small but very pertinent update to the potential CPU that will be in the Synology Value series. Alongside ongoing rumours that the first wave of DSx23 series diskstation NAS will arrive in October, a new CPU entry has appeared online with DSM 7.1 support of late 2020 released Realtek RTD1619 ARMv8-A processor. The architecture of which is incredibly likely to be for the DS223j, DS223 and DS423: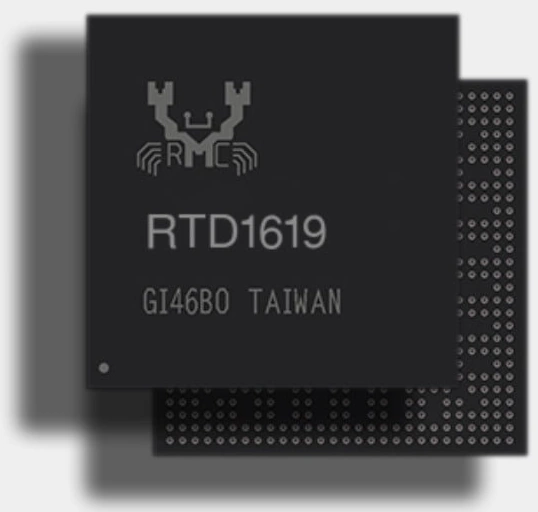 Realtek RTD1619
Cortex-A55 SoC
ARMv8-A
Q4 2020
12 nm / 5W
6 Core @ 1.3 GHz
4GB Max Capacity (likely tiered at each value model)
H.265 4K@60fps, H.264 4K@30fps, 1080p@60fps
Ethernet 10/100/1000 Mbit/s
USB 3.0, USB 2.0
Now, the interesting thing about this CPU is that 6 core architecture and increased 4K support over that of the RTD1296 that came before it (though a marginal drop in clock speed, this is more than made up for in efficiency). The ethernet/network speed still appears to cap at 1GbE, but even though 2.5GbE continues to grow in the market, I think very few people (myself included) would have though Synology would include a 2.5G network connection in their value tier. Here is how the RTD1619 and RTD1296 CPU Compare:
| | | |
| --- | --- | --- |
| Processor | Realtek RTD1296 | Realtek RTD1619 |
| ISA | ARMv8-A (64-bit) | ARMv8-A (64-bit) |
| Synology NAS ft. CPU | DS220j, DS420j, DS118, DS218, DS418 | DS223, DS223j, DS423 (TBC) |
| Microarchitecture | Cortex-A53 | Cortex-A55 |
| Family | RTD | RTD |
| Part number(s), S-Spec | RTD1296 | RTD1619 |
| Release date | Q4 2018 | Q4 2020 |
| Lithography | 12 nm | 12 nm |
| Cores | 4 | 6 |
| Threads | 4 | 6 |
| Base frequency | 1.4 GHz | 1.3 GHz |
| High performance cores | 4x ARM Cortex-A53 @ 1.4 GHz | 6x ARM Cortex-A55 @ 1.3 GHz |
| Cache memory | 1 MB | 1 MB |
| Max memory capacity | 2 GB | 4 GB |
| Memory types | LPDDR2/3, DDR3/4 | LPDDR2/3, DDR3/4 |
| TDP | 13 W | 5 W |
| GPU integrated graphics | ARM Mali-T820 MP3 | ARM Mali-G51 MP3 |
| GPU execution units | 3 | 3 |
| GPU shading units | 48 | 48 |
| GPU base clock | 650 MHz | 650 MHz |
| GPU boost clock | 750 MHz | 650 MHz |
| GPU FP32 floating point | 30.6 GFLOPS | 72 GFLOPS |
| Socket | SoC | SoC |
| Max display resolution | 4K@60fps | 4K@60fps |
| Video decoding | H.265 4K@60fps, H.264 4K@30fps, 1080p@60fps | H.265 4K@60fps, H.264 4K@30fps, 1080p@60fps |
| Video encoding | H.264 1080p@60fps | H.264 1080p@60fps |
| Modem | Ethernet 10/100/1000 Mbit/s | Ethernet 10/100/1000 Mbit/s |
| Connectivity | USB 3.0, USB 2.0, HDMI 2.0a | USB 3.0, USB 2.0, HDMI 2.0b |
Below is the rest of the original article from 18/07/22.
What Do We Know About the Synology DS223 NAS Drive?
Unfortunately, we still have very few concrete ideas on many of the details of the DS223 NAS. Alongside the DS223, I have been informed that the Synology DS923+ Expandable and Fully Featured 4-Bay and FOUR new revisions of the Diskstation 2-Bay are in the works. The 2 Bay systems are the Synology DS723+ Expandable Premium NAS, a DS223+ mid-range fully software featured 2-Bay, a DS223j cost effective series NAS and, finally, the DS223 cost-effective 2-Bay system. No details on the hardware have been provided, but these will almost certainly follow in the footsteps of previously released Diskstation 2/4-Bay Devices in this hardware tier, such as the DS418, DS118 and DS218play. Unfortunately, I cannot disclose the source of this information. This is as much information as I can share right now, other than a rather wide release window (see at the bottom of the article), that is about it. Now, I can already hear the complaints in the comments about this, but you are going to have to trust me on this one, as I trust the source and in 6 months all this will play out. Additionally, I received further information on other planned Synology hardware accessories/add-ons that I need to verify in the meantime before I publish. So, let's discuss what we think the hardware of the DS223 and other Diskstations are likely to be.

What Do We Expect the Hardware of the Synology DS223 NAS to Be?
As mentioned, the DS223 information I have received also highlights a range of other NAS devices arriving in that same 6 months time frame. The DS2xx/DS4xx NAS has always formed one of the lowest hardware/price points of the RAID-enabled systems in the brand's portfolio (with the lowest available tier being the DS2xxj and DS4xxj systems) and the need for the system to run DSM 7 comfortably (even at this more home-user-focused system) will result in the brand giving this NAS a modest, yet still capable day one hardware. I will say that at the time of writing, I have ZERO idea on the CPU+Memory of the DS223, but with well over a decade of this brand's approach to these systems, we can make some educated guesses based on the brand's hardware choices in previous years AND the state of NAS hardware/components that are favoured by the industry in 2022/2023 already. The DS223 will almost certainly not arrive with an x86 processor, instead arriving with an ARM processor (likely ARM v8). So, for the DS223 NAS CPU, I think it will be one of two options (and again, this is an educated guess):
An ARM 4-core/4-thread Cortex-A55 2.0GHz processor, 64bit
AnnapurnaLabs Alpine AL324 / AL314 64-bit ARM Cortex-A57 4-core 1.7GHz processor
Additionally, Synology has had a habit in the last few years of using similar/identical CPU choices in both the standard class DSXXX and DSXXXj series and with a J and standard class 2-bay highlighted in the information I was given, I am included to think this will happen again, with differentiations between J and standard coming down to quantities of memory and ports/connections available in the default model. Both of these processors are ARM architecture, i.e. they are very power efficient for 24×7 use. Alongside these, I can imagine that the DS223 will arrive with 2GB of fixed/non-upgradeable memory in line with previous DS2xx releases to ensure that DSM 7 runs as smoothly as it can with its base-level functions (i.e before you install further applications in the app center). The DS220j that was released back in 2018/19 + DSM 6.1 was able to run, even with its modest Realtek RTD1296 CPU and 2GB of memory, and even ran DSM 7 (with high CPU/Memory utilization admittedly – as shown in the video below), but I think the DS223 will need 1GB of DDR4 if it plans to run DSM 7 smoothly in years to come.
Aside from that, I do not think we will see much else changed on this. The System will certainly be 1GbE and feature one or more USB 3.2 Gen 1 ports. As well as almost certainly arriving in the familiar Synology black plastic chassis of previous generations. One question people might have is HDD compatibility and I cannot see the brand being heavy-handed on this very affordable end of the portfolio, however, do not rule this out (in even a small way) if Synology reveal a more mid-range/affordable HDD series alongside their enterprise HAT5300s.
When Will We See the Synology DS223 NAS Released?
We understand that the DS223 and other DSx23 Diskstation systems are arriving towards the end of the year and start of 2023 – Almost certainly in smaller release groups and with further details on them being revealed at the Synology 2023 Event (that last bit IS speculative, but almost certainly the case). We will update this page regularly with more information on the DS223 NAS as it arrives, so if you want to be the first to know, you can get alerts on this SPECIFIC page by entering your email address below.
📧 LET ME KNOW ABOUT NEW POSTS 🔔
Join 1,582 other subscribers
Get an alert every time something gets added to this specific article!
This description contains links to Amazon. These links will take you to some of the products mentioned in today's content. As an Amazon Associate, I earn from qualifying purchases. Visit the NASCompares Deal Finder to find the best place to buy this device in your region, based on Service, Support and Reputation - Just Search for your NAS Drive in the Box Below
Need Advice on Data Storage from an Expert?
We want to keep the free advice on NASCompares FREE for as long as we can. Since this service started back in Jan '18, We have helped hundreds of users every month solve their storage woes, but we can only continue to do this with your support. So please do choose to buy at Amazon US and Amazon UK on the articles when buying to provide advert revenue support or to donate/support the site below.

Finally, for free advice about your setup, j
ust leave a message in the comments below here at NASCompares.com and we will get back to you.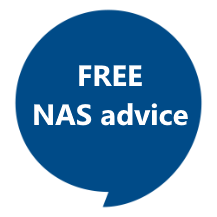 Need Help?
Where possible (and where appropriate) please provide as much information about your requirements, as then I can arrange the best answer and solution to your needs. Do not worry about your e-mail address being required, it will NOT be used in a mailing list and will NOT be used in any way other than to respond to your enquiry.
Support What We Do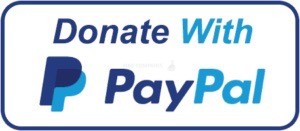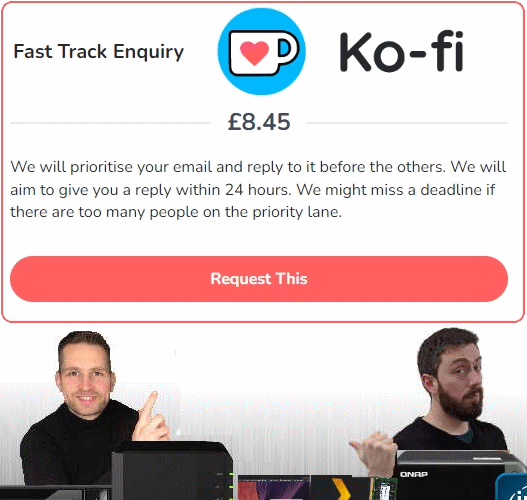 Terms and Conditions
Alternatively, why not ask me on the
ASK NASCompares forum
, by clicking the button below. This is a community hub that serves as a place that I can answer your question, chew the fat, share new release information and even get corrections posted. I will always get around to answering ALL queries, but as a one-man operation, I cannot promise speed! So by sharing your query in the
ASK NASCompares
section below, you can get a better range of solutions and suggestions, alongside my own.