Thunderbolt QNAP or 10Gbe Synology – Choosing the Right NAS for you
The appeal of network attached storage (NAS) cannot be overstated for photo and video editors this year. Content creators, ranging from bedroom business entrepreneurs to high-end studio broadcasters create so many gigabytes and terabytes every day, that it is inevitable that a robust, safe, reliable and accessible array of digital storage is invaluable. Synology and QNAP NAS have fast become to the right answer to these needs, but standard network/internet enabled storage typically hits 1 main stumbling block – speed. The internal speed of your NAS can be accelerated in multiple ways (SSD Cache, improved Memory, better CPUs and tiered storage) but external connections that allow users to DIRECTLY access files and folders on the NAS, whilst still maintaining the ability for hundreds of users to access the NAS at the same time via the network/internet, is one that is not so easy.
Synology DS1817t, QNAP TS-453BT3 Thunderbolt NAS and 10Gbe Explained
80% of NAS can only be accessed via a shared network of 1GBe connectivity or the internet (which is more than enough to distribute completed work, download files, backup regular and share links), but it is that other 20% of NAS that I want to talk about today. These are NAS that use a much faster form of access, allowing editing of 1080p, 4K and RAW media files that are just TOO BIG for 1Gbe to handle. Attempts to do so over 1 Gigabit ethernet result in programs like Final Cut Pro, PhotoShop and Premier crashing/stalling. For this kind of file access on your NAS, you need to consider 10Gbe and Thunderbolt NAS
Why Consider Thunderbolt NAS and 10Gbe NAS
Both Thunderbolt NAS and 10Gbe (10-gigabit ethernet) are the best solutions for those that want to access and edit files on the NAS fluidly, whilst still maintaining a network-wide means of access and distribution. Both can be DIRECTLY connected from a PC or Mac to a NAS and most importantly of all, both 10GBe and Thunderbolt are suitable means to edit dense RAW photos, heavy 4K Media and multiple 1080p files. This is further bolstered by the support of Non-Linear Editing (NLE) with programs like Final Cut Pro and Premier mean that when you are editing a file on the NAS, you are actually using a clone/copied version which means that the original file is not touched/altered in the refinement process of editing your work. It is for reasons of speed and stability that both 10Gbe and Thunderbolt 2 or 3 NAS are considered the best options for NAS editing.

Choosing Between Synology 10Gbe and QNAP Thunderbolt NAS
One early issue that most photo and video editors will face however is that if you are making a choice between Synology and QNAP NAS, you are inevitably choosing between Thunderbolt NAS and 10Gbe NAS. Synology (generally the popular Mac choice) has never made, or plan on ever releasing, a Thunderbolt-enabled NAS. They are sticking firmly with 10Gbe solutions (and 3rd party support for 20Gbe and 40Gbe NIC upgrades) and confidently say that it is good enough for media professionals. QNAP NAS, on the other hand, has released an impressive range of Thunderbolt 3 NAS solutions (as well as 10Gbe solutions too) and these are available from as little as £900 to £3000+. There are workarounds, of course, to use a 10Gbe NAS and connect it via adapters to a Thunderbolt PC/Mac, but if you are looking for a direct, point to point means of connecting to a NAS with 1 cable for editing photo/video media, then it comes down to this choice:
Thunderbolt NAS (QNAP) versus 10Gbe NAS (Synology)
So, which is best for you? Below I want to focus on the following factors. Budget, Ease of Use, Brand Support and Overall Performance.
Synology 10Gbe and QNAP Thunderbolt NAS – Cost and Budget
On the face of it, it looks like a no-brainer that a Synology 10Gbe solution will cost noticeably less than a Thunderbolt NAS solution from QNAP, always arriving a good few hundred pounds less when it's in your basket. Likewise, in every price comparison, I would make, the Synology 10Gbe NAS solution always arrived with more storage bays available. Below is a comparison of the lowest priced QNAP Thunderbolt NAS 4-Bay solution you can buy (a QNAP TS-453BT3) at £900+ ex.VAT and the lowest priced Synology 10Gbe 5-Bay solution at £740 (Synology DS1517+ and the E10G18 10GBe Card). Take a look:
QNAP TS-453BT3

= £900+ ex.VAT

Synology DS1517+ (£610+)

+ Synology E10G18 10Gbe (£130) = £740 ex.VAT

2x TB3
2x HDMI
Remote Control
2 LAN
4 USB 3 (expansion or TB Expansion)
4 BAYS
LCD Screen
PLASTIC CHASSIS
PCIe (10Gbe occupied)
Intel J3455 Quad Core 1.5 – 2.3Ghz
8GB Memory – upto 16GB
2 Year Warranty

4 LAN
2 USB
2 Expansion
5 bays
PCIe (Occupied if wanting 10Gbe)
Intel Atom C2538 Quad-Core 2.4GHz
2GB Memory – upto 16GB
3 Year Warranty (Extendable to 5 Years)
Straight away, it is obvious that the Synology DS1517+ and 10GBe Card included are around £160 lower in price, even without tax. It is also worth mentioning that if you can even spend just £10 more and get an 8-Bay DS1817 that already features two 10Gbe ports. The only reason I chose the DS1517+ is that the CPU in this NAS is better (this will make more sense in the performance comparison later on). Straight away, if your budget is right, the Synology seems like the better choice, as neither of these prices includes Hard Drive/SSD media. I did not factor HDD/SSD media into the prices as 1, users have different capacity needs and 2, both of these NAS can be partially populated or fully populated to maintain your budget.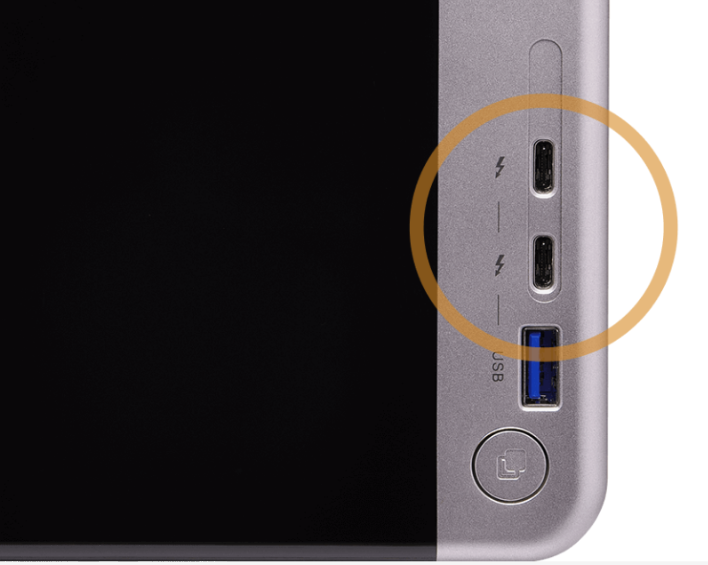 Synology 10Gbe and QNAP Thunderbolt NAS – Price Vs Value
Despite the clearly lower price for the Synology 10Gbe NAS solution, compared with the QNAP Thunderbolt NAS solution, it is DEFINITELY important to remember that it's not what you spend, but what you get for your money! This is where the QNAP TB NAS reclaims ALOT of ground. If you look at the specifications you can see that in almost every single way, the QNAP NAS gives you more hardware for your money. With a better and more efficient CPU, Thunderbolt AND 10GBe connectivity, 2 HDMI ports, a Remote Control and 2 Thunderbolt 3 Ports alongside 2 LAN ports too (all of which can be used at once), the £900+ price tag is there to cover the cost of a huge amount of hardware. In this context, one can argue that for hardware, the Synology 10Gbe solution provides much less value for money. It has an older CPU, less memory, a single 10Gbe port, no HDMI (if that is important to you) and although the additional warranty and extension if going to appeal to many, there is no denying that though it is more expensive, the QNAP TS-453BT3 gives you more for your money.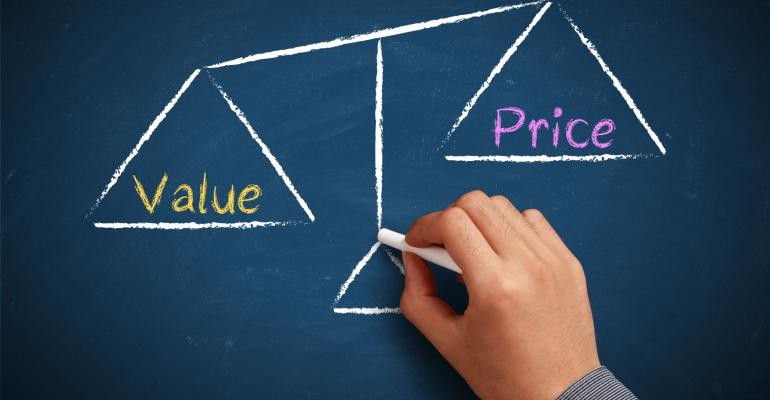 Even if we compare the TOP Priced Synology 10GBe and QNAP Thunderbolt NAS solutions in desktop NAS, the login remains the same.
QNAP TVS-1282T3

= £2400+ ex.VAT

Synology DS3617xs+ (£1900+)

+ Synology E10G18 10Gbe (£130) = £2230 ex.VAT

4x TB3
3X HDMI
4X LAN
2x 10Gbe
Remote Control
5X USB 3 (expansion or TB Expansion)
12 BAYS (8+4) also 2X M.2
4X PCIe SLOTS (10Gbe + TB3 occupy 3x)
Intel i5 or i7 Quad Core 3.4 – 3.6Ghz
16GB Memory – upto 64GB
2 Year Warranty

4 LAN
2 USB
2 Expansion
12 bays
PCIe (Occupied if wanting 10Gbe)
Intel Xeon D-1527 Quad Core 2.2-2.7Ghz
16GB Memory – upto 48GB
5 Year Warranty + Synology Replacement Service
Once again, the Synology DS3617xs and 10GBe Card is the lower price, but the QNAP TVS-1282T3 gives you so, so more for your money (including 2 10GBe ports as well as 4 Thunderbolt 3 ports – all of which can be used by separate machines for editing). So, the results is that if your budget is tight and you are unsure of your investment into a NAS for editing, then the Synology 10GBe NAS is the choice for you. But if you want more for your money, then a QNAP Thunderbolt 3 NAS is better value for hardware overall.
IMPORTANT – Remember that for each editing machine, you will need to spend at least £100+ on 10Gbe host PC/Mac card or a TB3-to-10Gbe adapter for at least £200 in order to connect your host machine to a 10Gbe NAS or TB NAS if you lack the port, to begin with!
Synology 10Gbe and QNAP Thunderbolt NAS – Ease of Use
Moving away from Hardware, let us talk about Synology 10Gbe NAS and QNAP Thunderbolt NAS Software. Both Synology and QNAP have their own operating systems that arrive included with the purchase of a NAS. Both are very, very good and easily the top two NAS user interfaces available right now (with the edge given to Synology having more versatile first-party applications). Outside of the external connectivity and speed of 10Gbe vs Thunderbolt NAS, it is worth checking out my article below about Synology VS QNAP as a brand for more information on QNAP QTS and Synology DSM:
Setup of TB3 NAS and 10Gbe NAS are VERY similar indeed when it comes to editing your work with your own software (Final Cut, Premier, elements, etc). Despite thunderbolt direct-attached storage (DAS, such as Drobo 5D3 and LaCie/G-Tech RAID devices) reporting read and write speeds easily in the thousands of MB per second, in the case of Thunderbolt NAS, things are different and definitely level the playing field between theoretical 40Gbps Thunderbolt 3 and 10Gbe. I will discuss what they mean to performance later, but in terms of ease of use, the result is that using Thunderbolt NAS actually turns out to require more work than 10Gbe to setup. Both use IP protocol and need you to connect with identical ports at either end, then set up the destination storage as a network drive/IP location – 10Gbe has the advantage of being able to include a switch. However, TB3 is more plug and play ultimately, yet still requires the NAS to create a virtual switch internally and then the QFinder NAS client software set up a connection (which you can then save for later). It is hardly brain surgery, but no denying it that it takes a little longer and a pinch more knowledge to set up a Thunderbolt NAS from QNAP than a 10GBe NAS from Synology.


Synology 10Gbe and QNAP Thunderbolt NAS – Brand Support
After all the text above, you will be pleased to hear that this will be a short one! Both brands are top tier and they are easily the two biggest names in NAS drives in 2018, 2019 and most likely 2020. This distinction lies in the brand's commitment to their product (at least in the eyes of the consumer). Most QNAP NAS (thunderbolt or otherwise) arrive with 2 years warranty, whereas Synology NAS arrive with 3 years warranty with any PCIe enabled unit and sometimes 5 years and SRS too. This is further reinforced by the 5 Year warranty of the 10GBe PCIe card from Synology too. I genuinely do not think you should judge a company solely on warranty, but there is no denying that there is a clear disparity in manufacturers warranty between Synology and QNAP NAS. For many, this will be a minor factor in the device they choose for their video and photo editing NAS setup, choosing speed over warranty. Moreover, most editing software supports both 10Gbe and TB3 NAS architecture, as they are similar enough when network drives are created, that you cannot have one without the other. But the warranty difference is certainly food for thought.
Synology 10Gbe and QNAP Thunderbolt NAS – Performance
As mentioned earlier, in theory, Thunderbolt 3 and it's 40Gbs transmission MASSIVELY outweighs the 10Gbe bandwidth of Synology 10G NAS. However, like most technology, theoretical speeds are all too often exactly that – theoretical, and it is worth looking a little deeper. Take the two examples of 10Gbe vs Thunderbolt NAS from earlier. First, we looked at the QNAP TS-453BT3 NAS versus the Synology DS1517+ and E10G18.

In order for Thunderbolt NAS to go faster than 10Gbe in NAS, you need to ensure the CPU inside is good enough to maintain speeds over IP and via the virtual switch. The Celeron In the TS-453BT3 only reaches around 550MB/s speeds over Thunderbolt 3 connectivity, which in real terms is actually equivalent to 10Gbe (even with SSD in a RAID 0) and even on QNAP's own product page, 10Gbe is rated at 580MB/s!!! Yes, the TS-453BT3 has both 10GBe and Thunderbolt 3 ports (each can connect a separate user too) but there is no denying that this is a bitter pill to swallow from a Thunderbolt 3 RAID storage device.

Luckily, this isn't the be all end all though, as QNAP Thunderbolt NAS such as the TVS-1282T3 or TVS-682T that feature an Intel i3, i5 or i7 processor, will give you those speeds of 800MB/s up to and over 1000MB/s in the right RAID+SSD environment  Whereas Synology 10Gbe NAS solutions will give you a consistent gives you between 350 and 600MB/s depending on your RAID. This is still enough for most editing requirements and unless you are really, really pushing the Synology NAS, will be maintained well. Performance is very relative and will also largely depend on the media you choose to install in your NAS server.
Synology 10Gbe and QNAP Thunderbolt NAS – Conclusion
Ultimately the choice between a 10GBe NAS and a Thunderbolt 3 NAS will depend on two factors. The first is your budget and how you choose to spread it. A QNAP Thunderbolt NAS will leverage your spending in favour of hardware Power and less towards overall capacity. Whereas the Synology 10Gbe NAS solution will give you consistent usable speeds and more overall capacity. There are of course workarounds options to add more capacity or power, but ultimately you will almost always end up with more hardware power from QNAP and more capacity and utility from Synology. The second big decider for users considering 10GBe or Thunderbolt NAS is versatility and support. The Synology NAS options have a longer warranty and are more user-friendly, whereas the QNAP options seemingly have a shorter warranty and need a couple of extra steps in setup – but give you more for your trouble! If you are less IT versed than most, or just want to set up and forget the solution, Synology 10Gbe is probably best for you. But if you have a little extra time, want a bespoke solution and best overall speed, then QNAP Thunderbolt NAS will really pay you back.
📧 SUBSCRIBE TO OUR NEWSLETTER 🔔
🔒

Join Inner Circle
Get an alert every time something gets added to this specific article!
This description contains links to Amazon. These links will take you to some of the products mentioned in today's content. As an Amazon Associate, I earn from qualifying purchases. Visit the NASCompares Deal Finder to find the best place to buy this device in your region, based on Service, Support and Reputation - Just Search for your NAS Drive in the Box Below
Need Advice on Data Storage from an Expert?
Finally, for free advice about your setup, j
ust leave a message in the comments below here at NASCompares.com and we will get back to you.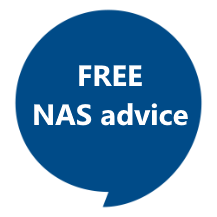 Need Help?
Where possible (and where appropriate) please provide as much information about your requirements, as then I can arrange the best answer and solution to your needs. Do not worry about your e-mail address being required, it will NOT be used in a mailing list and will NOT be used in any way other than to respond to your enquiry.
TRY CHAT
Terms and Conditions
If you like this service, please consider supporting us.
We use affiliate links on the blog allowing NAScompares information and advice service to be free of charge to you.
Anything you purchase on the day you click on our links will generate a small commission which is
used to run the website. Here is a link for
Amazon
and
B&H
.
You can also get me a ☕
Ko-fi
or old school
Paypal
. Thanks!
To find out more about how to support this advice service check
HERE
If you need to fix or configure a NAS, check
Fiver
Have you thought about helping others with your knowledge?
Find Instructions Here

ASK NASCompares forum
, by clicking the button below. This is a community hub that serves as a place that I can answer your question, chew the fat, share new release information and even get corrections posted. I will always get around to answering ALL queries, but as a one-man operation, I cannot promise speed! So by sharing your query in the
ASK NASCompares
section below, you can get a better range of solutions and suggestions, alongside my own.
This description contains links to Amazon. These links will take you to some of the products mentioned in today's video. As an Amazon Associate, I earn from qualifying purchases
Summary
Reviewer
Review Date
Reviewed Item
Synology 10Gbe vs QNAP Thunderbolt NAS
Author Rating