Synology DSM 7 Review – Cloud Storage, Gateways and Sync
Cloud gateways and the combination of internet-based storage services working together with a bare-metal NAS server is not new and in recent years we have seen a big, BIG increase of these services – especially as SaaS and PaaS (Platform as a service) has grown in popularity. The ease of accessing files on your existing cloud service provider (the simplicity etc) cannot be understated and although most of them lack the customization and bespoke security of a NAS drive, they certainly still have a place in home/business. Most NAS brands are coming around to the idea of providing their local/network/individual server systems into a parallel sync set up with Google and Microsoft cloud platforms (see Active Backup Suite earlier) but Synology is one of the ONLY brands in NAS that takes it once step further by supplying their very own cloud service in the form of Synology C2. Synology C2 Backup has been around for a few years now and although it was always an option in DSM 6.2, things are certainly scaled up in DSM 7.0. This is especially apparent in the new HybridShare application that allows you to bolt on the Synology C2 storage to your DSM7 NAS and then access it with the same level of localized/native control as you would your NAS RAID etc. This is done with intelligent caching and synchronization in the background of DSM7 and allows your C2 cloud space to be accessible by multiple users and other NAS drives, providing a secondary access point to the same area of storage.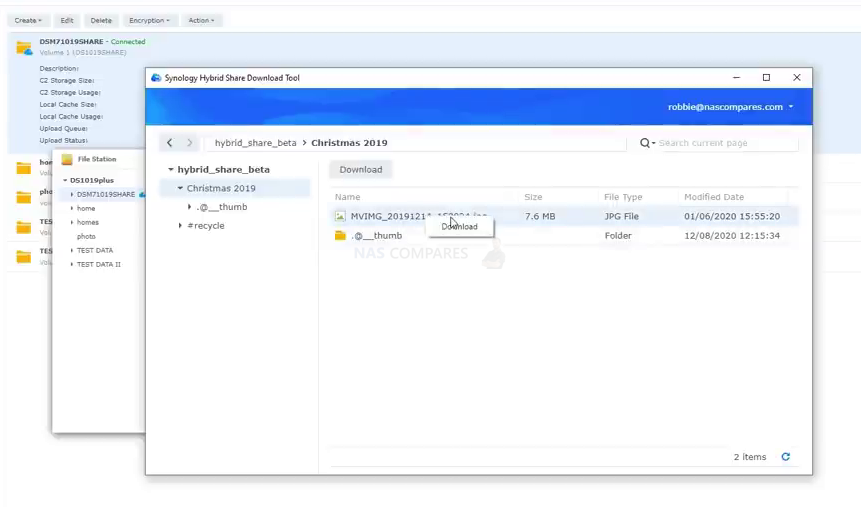 HybridShare is much like connecting Dropbox and/or Google Drive to your Synology NAS storage, however with C2 connected, you have a greater degree of control on versioning from the C2 portal and through your NAS. Likewise, C2 integrates better with your existing DSM 6.2/7.0 applications. However, I am still a little disappointed that HybridShare does not support other cloud services, as although this would limit the range of control options available to your Synology NAS, many business users may have active larger 3rd Party Cloud space subscriptions that they want to use in a more native way to the NAS (as HybridShare allows) and not just via Cloud Sync (which syncs the storage on 3rd party cloud, but limits the integration). This could be marginally mitigated if the Synology C2 platform arrived with X amount of space for Free with DSM 7/Synology NAS (eg 10-50GB for X years at launch to let users test the advantages), but as it stands you need to pay a subscription fee for Synology C2 at even the lowest capacity tier.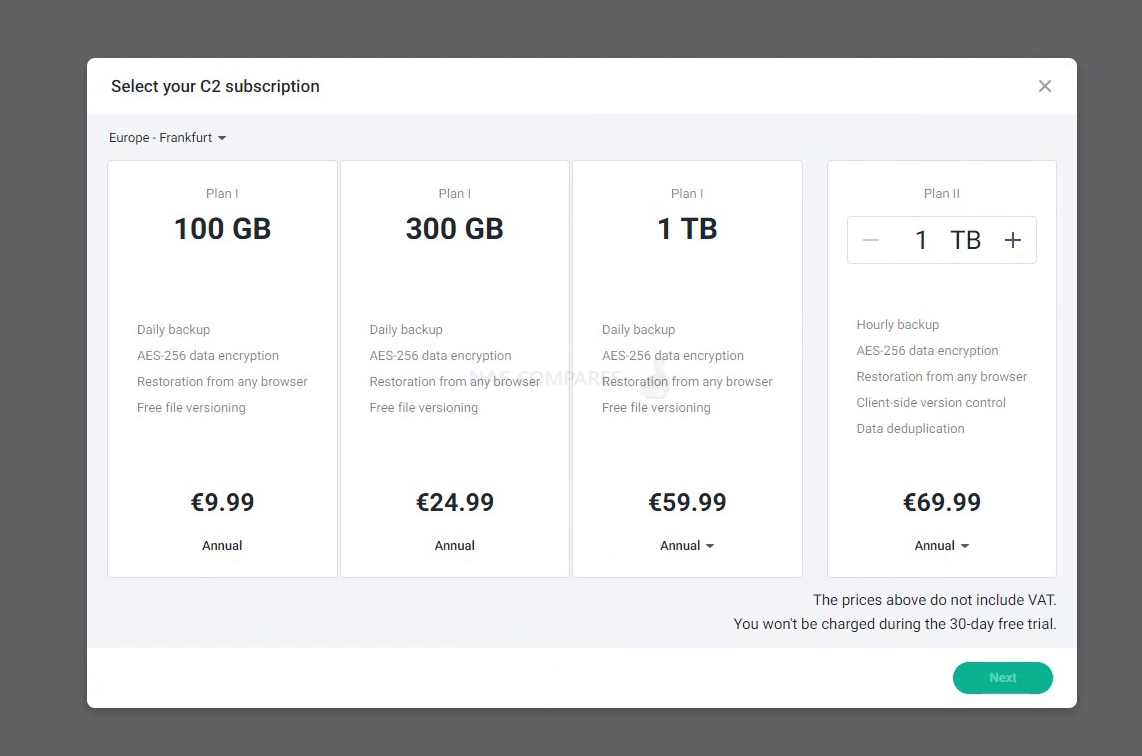 Features such as the versioning on the files that reside in C2 can be managed and restored without the NAS, a feature I genuinely like and will be especially useful when your C2 storage is pooled between multiple devices that are using Backup, Sync or HybridShare setups on multiple bare-metal Synology NAS.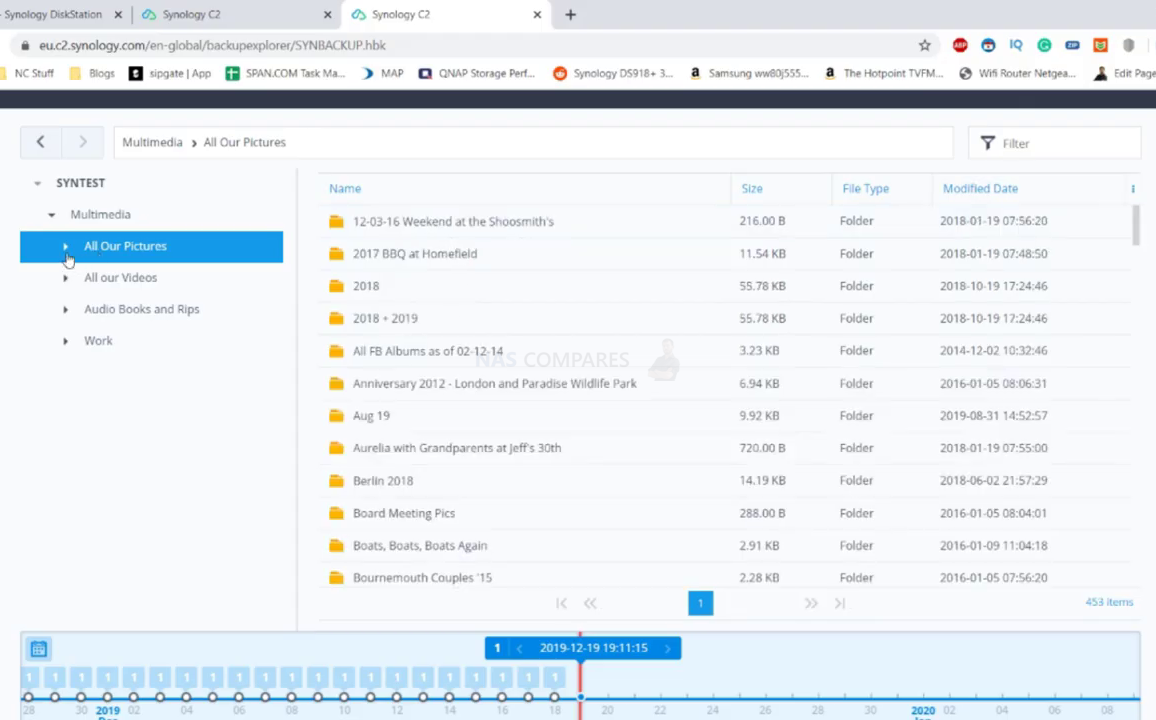 The Synology C2 portal is still a very good cloud service and provides a very good GUI via the web browser, displaying all the real-time storage information, synced devices and access logs. A noticeably jump on information available compared with 3rd party clouds at the Home/SMB level, but still a shame that it does not even have a free tier to slowly ease in users on Day 1, even in DSM 7.0 (which makes the most of C2).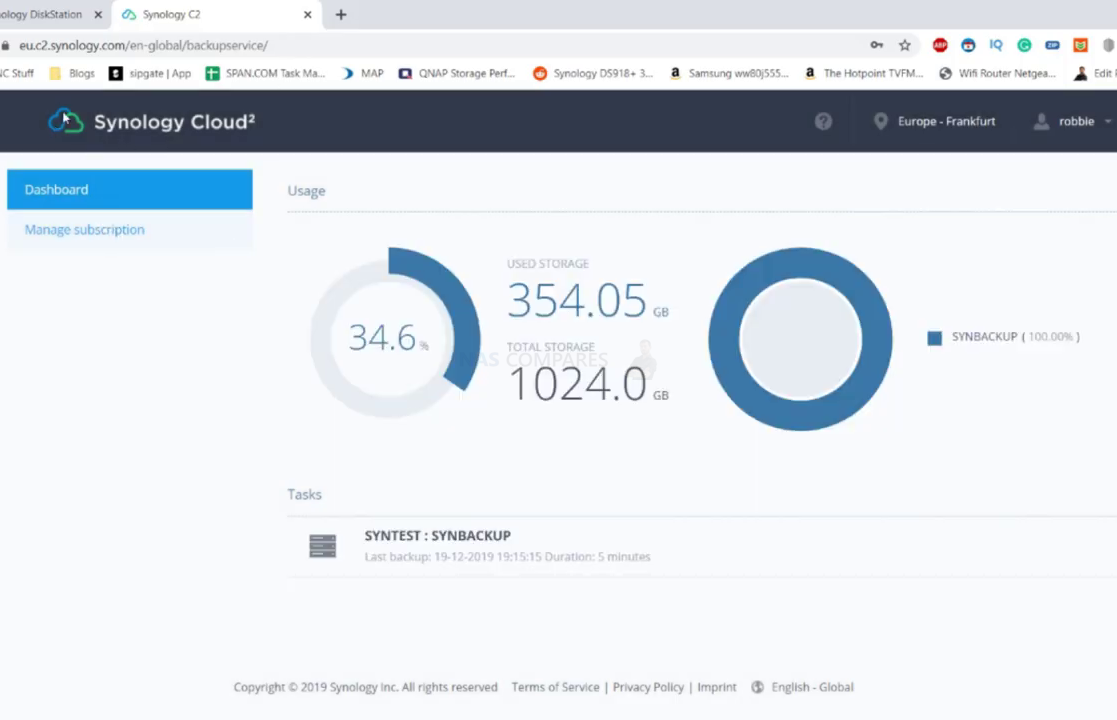 However, if Synology C2 and the improvements in DSM7 with HybridShare do not appeal to you, there is always Cloud Sync, which has carried over from DSM 6.2 and has a much, MUCH larger supported range of cloud services that you can connect with.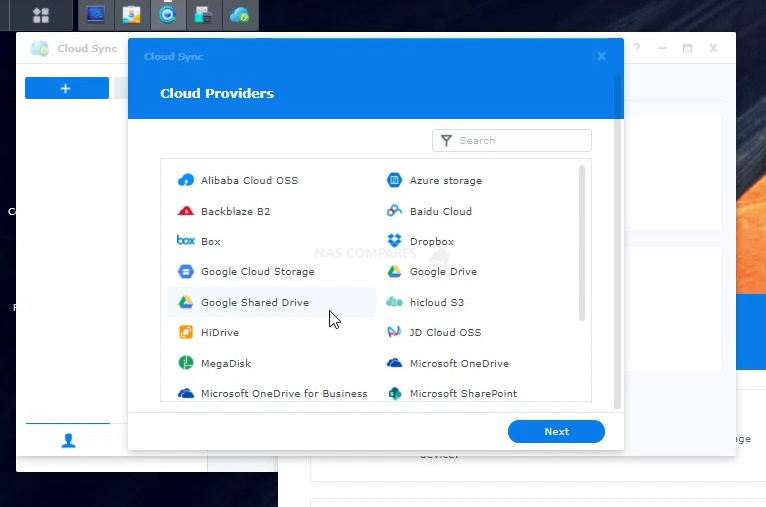 Cloud Sync is still a very versatile tool in DSM 7.0, even if it has had little change other than adding on those new services mentioned from C2/HB, with numerous filter options, version options (less detailed than C2 of course) and no limits on # of jobs/tasks you want to create and schedule with which you want them to run on. I hope that Synology does not choose to clip the wings again on cloud support later in DSM 7 in efforts to move users onto their 1st party ecosystem, but initial support on DSM 7.0 at launch is still good!
Synology DSM 7 Review – Remote System Monitoring and Management
Synology has always featured a bank of tools for remote monitoring their NAS hardware in DSM, with the Central Management tool (CMS) being the best tool for monitoring multiple NAS hardware systems remotely and check their system activity etc. In DSM 7.0, Synology has improved these control and access options to a wider network significantly and added numerous new options. However, the biggest upgrade on this score is Active Insight, a single portal access point to monitor numerous NAS systems all at once, to compare and contrast their behaviour, produce bespoke reports, receive health reports that are tailored to the Synology system history and help pre-empt failure/issues.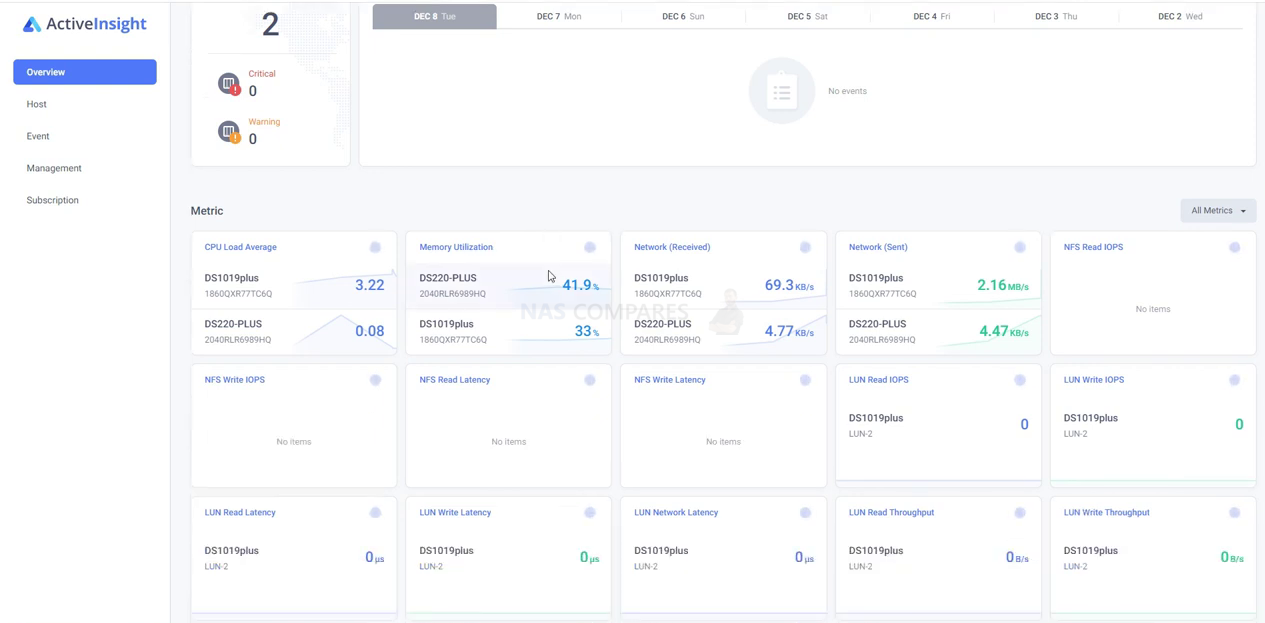 The service which has been running throughout the Synology DSM 7 beta earlier last year and into the RC version earlier in 2021, is now fully available to DSM 7 users. However it is not a free and inclusive service with your Synology NAS and much like Synology C2, does not have a freemium/inclusive X year subscription with DSM 7.0 – which does make it a bit of a leap of faith as a service in terms of business integration. It does allow you, once your subscription is started, to add a huge number of systems and create very, very bespoke alerts and access/usage stat reports that will be massively useful to any business that has a high data turnover at their respective branches but has a central IT/Data management team to oversee the lot.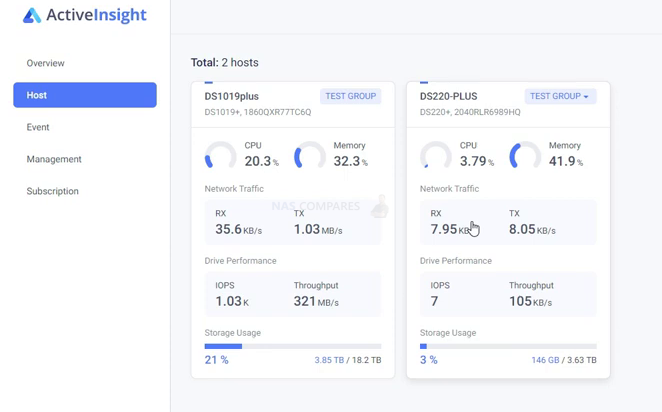 The reports mentioned earlier are highly customizable and along with a lot of customization for the business' own presentation around the reports, they also allow a lot of bespoke alerts to be covered – either as periodic daily/weekly/monthly reports or ad-hoc alerts based on particular system activity, access and/or health.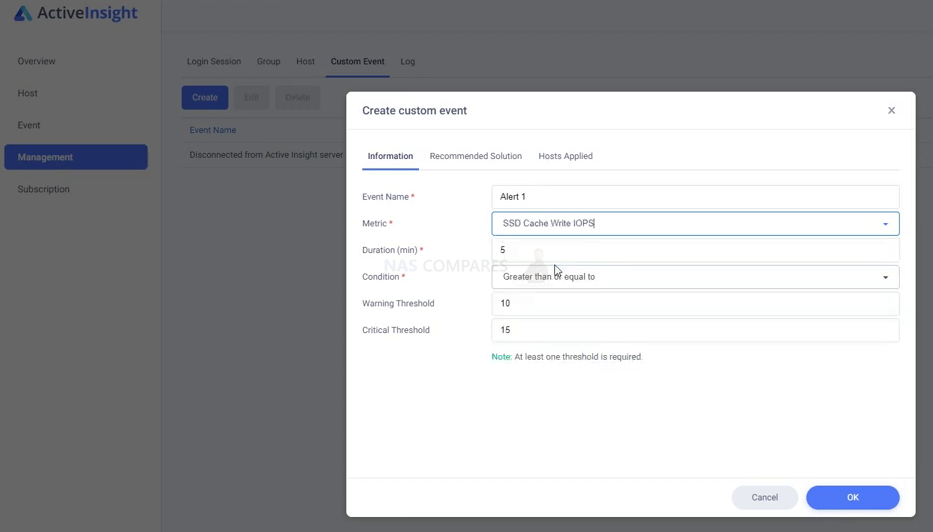 The Active Insight system also allows access via a dedicated mobile application (Android/iOS) which allows you to see practically everything you can see on the browser-based GUI, but also allows all of the security precautions to be in place too – VERY useful for monitoring or implementing changes on the fly in less convenient locations. The view can get a little squished with even a handful of NAS (as you might expect) and even with 4 systems being monitored, the mobile GUI became a tad too limited compared with the Browser access in testing, but still a very useful tool.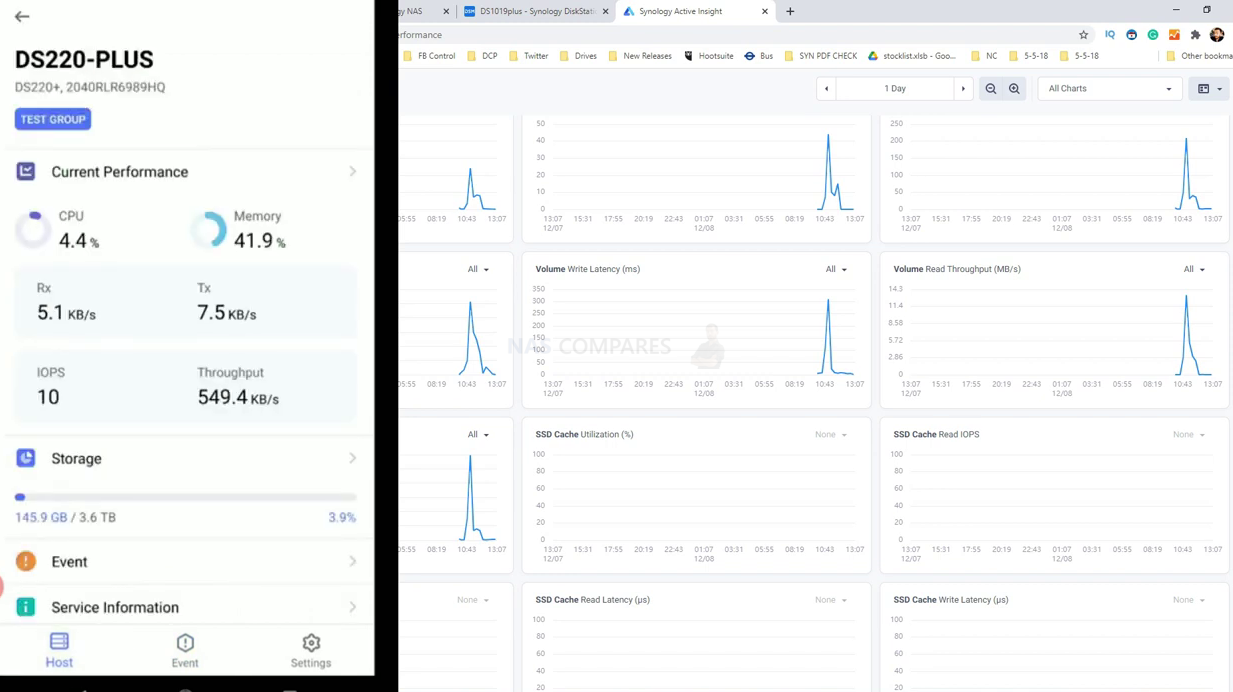 Active insight is a very difficult tool to describe its virtues for without experiencing it or yourself (again, hence why I am surprised by Synology, not including a 1-year subscription or a Free X NAS licence as found in their Surveillance platform with cameras), but the video below of Active Insight testing on desktop and Mobile with DSM 7 from last year will give you a much better idea of what the service can provide business users in 2021/2022.
The Synology CMS application has had a few tweaks and improvements in functionality and design in DSM7 and although it can easily be confused with Active Insight in terms of function, it is very much different in terms of purpose in the end. Active insight is about providing reports and statistical information on one or more Synology NAS Systems and getting them into the hands of those who need them or can action resolutions. Whereas you have to think of Synology CMS as a much more proactive tool for implementing instructions, controlling the NAS server devices, their applications, system updates and actually actioning widespread changes.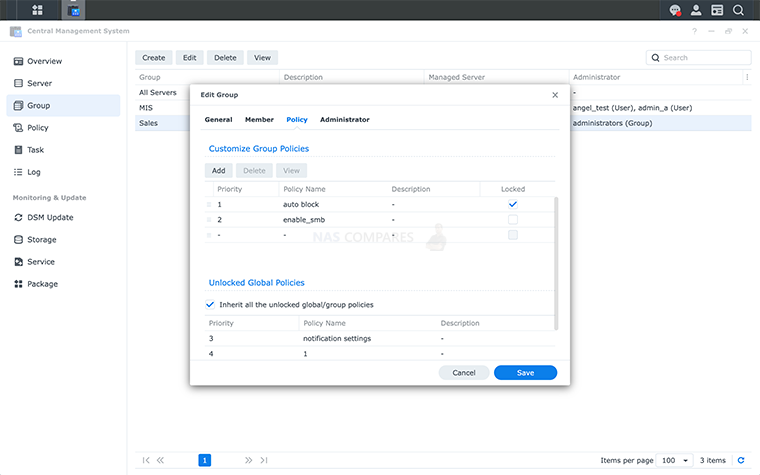 DSM 7.0 brings the same level of control as found in DSM 6.2, but seems to introduce new options, as well as cleaning up the UI a bit. CMS has always been a bit of an intimidating tool, as it allows remote control of updates, changes, reboots and more of numerous devices and right the way down to the app and storage config level too. Although both Active Insight and Synology CMS are powerful business tools, it seems odd that their functionality seems to be separated in this way (though there is some control cross-over), moreover that Active Insight is a paid-for tool and CMS is inclusive within your NAS.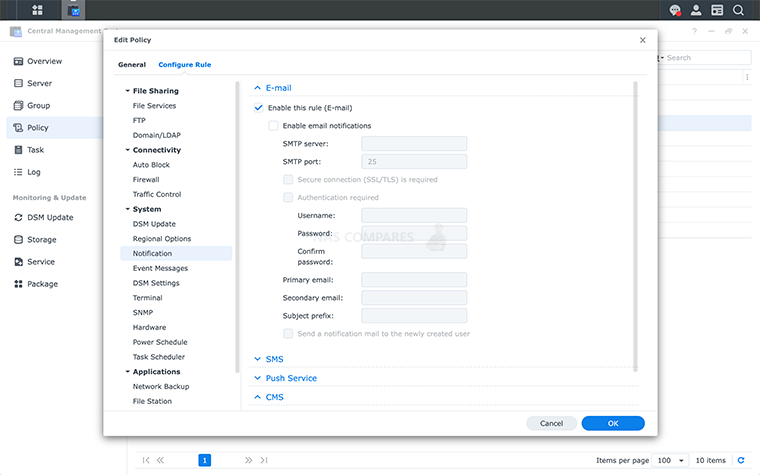 All this said, DSM 7 does a great job of highlighting the viability of a Synology closed software ecosystem, doing a very good job of showing how a multi-site oriented business could be managed by a single user/team, with completely customizable information being available at the frequency that you need. Perhaps it could be said that in DSM 7.0, Synology has shifted focus away from the home and SOHO market and towards bigger targets in SMB, Enterprise and Hyper Scale environments – but this was something we could already see in their latest HDD/SSD releases, so shouldn't come as a massive surprise really. There is no arguing that DSM7 has ramped up its business support, but so far DSM 6.2>DSM 7.0 has been a little less rewarding on home/Prosumer users. Let's talk about the last few business killer apps that Synology includes in Diskstation Manager and how/if DSM7 has changed much.
Articles Get Updated Regularly - Get an alert every time something gets added to this page!
This description contains links to Amazon. These links will take you to some of the products mentioned in today's content. As an Amazon Associate, I earn from qualifying purchases. Visit the NASCompares Deal Finder to find the best place to buy this device in your region, based on Service, Support and Reputation - Just Search for your NAS Drive in the Box Below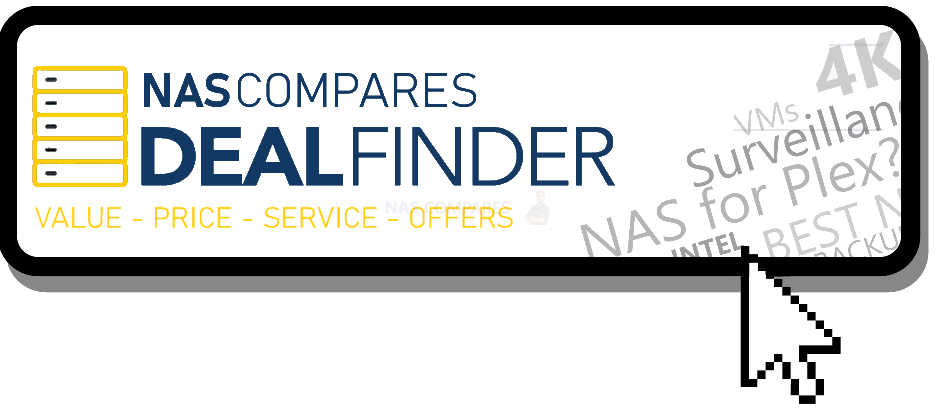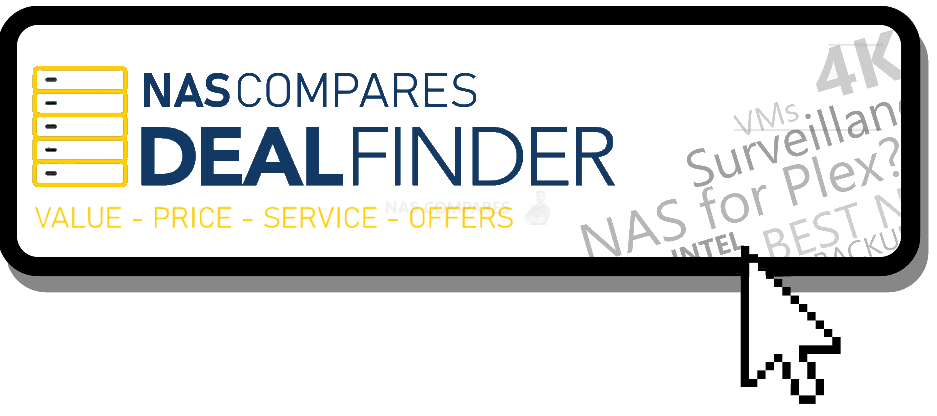 SEARCH IN THE BOX BELOW FOR NAS DEALS
Need Advice on Data Storage from an Expert?
We want to keep the free advice on NASCompares FREE for as long as we can. Since this service started back in Jan '18, We have helped hundreds of users every month solve their storage woes, but we can only continue to do this with your support. So please do choose to buy at Amazon US and Amazon UK on the articles when buying to provide advert revenue support or to donate/support the site below.


Finally, for free advice about your setup, j
ust leave a message in the comments below here at NASCompares.com and we will get back to you.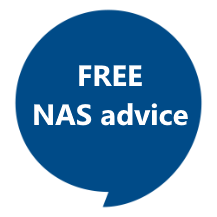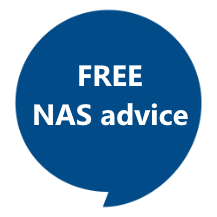 Need Help?
Where possible (and where appropriate) please provide as much information about your requirements, as then I can arrange the best answer and solution to your needs. Do not worry about your e-mail address being required, it will NOT be used in a mailing list and will NOT be used in any way other than to respond to your enquiry.
Terms and Conditions
Alternatively, why not ask me on the
ASK NASCompares forum
, by clicking the button below. This is a community hub that serves as a place that I can answer your question, chew the fat, share new release information and even get corrections posted. I will always get around to answering ALL queries, but as a one-man operation, I cannot promise speed! So by sharing your query in the
ASK NASCompares
section below, you can get a better range of solutions and suggestions, alongside my own.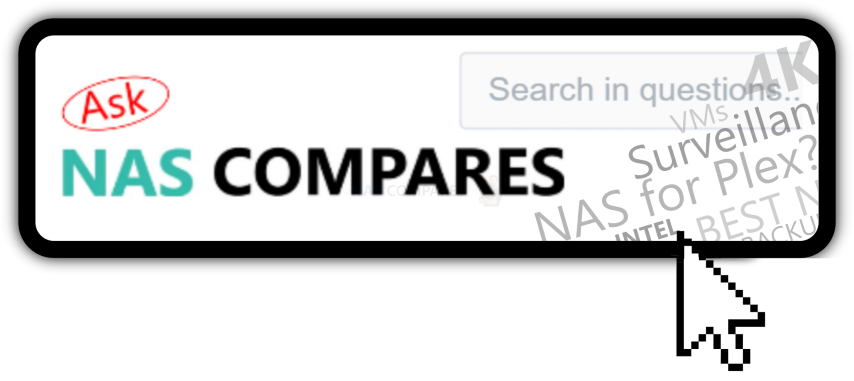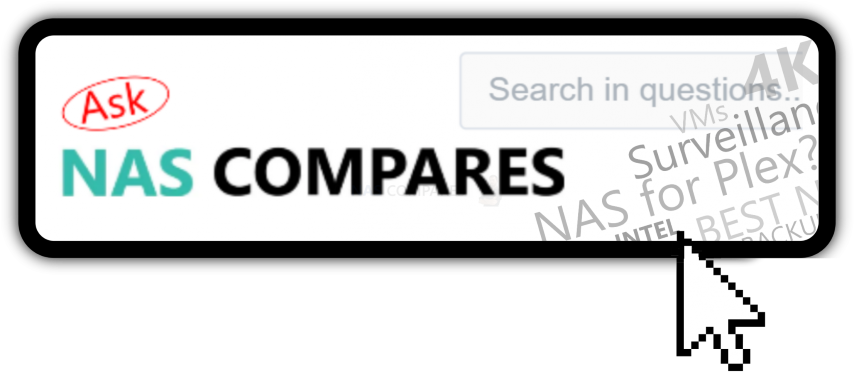 This description contains links to Amazon. These links will take you to some of the products mentioned in today's video. As an Amazon Associate, I earn from qualifying purchases