What is the AfoBot and what can it do?
Home AI isn't a new thing and in fact, the most popular examples such as Amazon Echo and Google home are incredibly popular and can be found in most homes today. However ever since I first found out about the AfoBot AI assistant, my attitude towards it has always been one of comparing a private home device with a public AI – Namely, SECURITY!. One of the most popular factors for those looking to buy a QNAP NAS compared with Google Drive or Amazon S3 cloud storage is the fact that your own NAS is truly private compared to third-party clothes and gives you a far more controlled and ultimately safe storage. The same can be said for if a NAS brand was to design an AI for the home. Of course, it would require an internet connection in order to retrieve certain results that are web-based or impossible to define internally, such as "What is the weather today?". or "when is my next train?", however when it comes to listening to your own music watching your own files and exchanging your data, then an AI that does this without the need of the internet is hugely beneficial.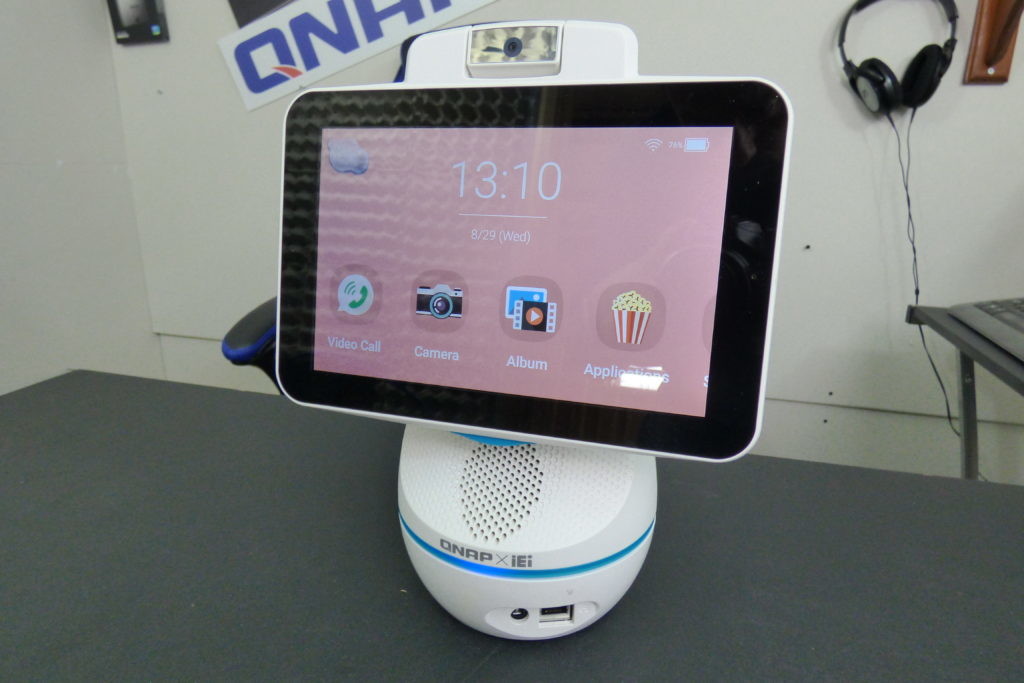 Over the next few weeks I will be putting the AfoBot from QNAP and IEI through its paces and figuring out how well it performs, what it can do and what it can't do to hopefully find out who the target audience for it is. The potential for the AfoBot is enormous and appealing to a new area of Home and business users who have storage, but want to access it in a much smarter way. So let's discuss the hardware.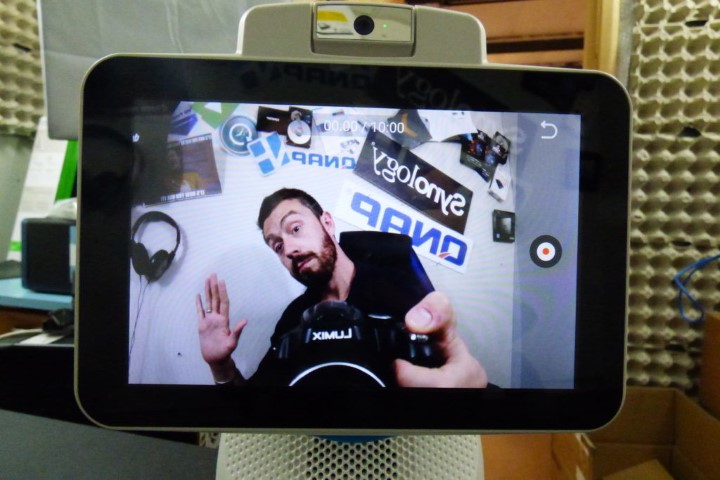 The AfoBot arrives who is a number of features that are superior to that of both the Amazon and Google home AI. The device arrives with a LCD viewscreen that acts as a visual display for media, as well as an input system and user interface. The AfoBot uses Android back-end with the AfoBot UI overlay on top. it supports numerous Android applications, and many can be used and obtained from the Q Market app which is a streamlined version of the Google Play market store. Those that used the QNAP TAS-168 and TAS-268 will be familiar with a QNAP + Android hybrid device. From here you are able to install several QNAP applications for file and media management, as well as the QVR Pro application for surveillance.
Alongside these, you are able to install several third-party applications to integrate the AfoBot into your home or business environment. The remaining applications are of particular interest, as this leads to AfoBot doing something that Amazon Echo and Google home will not, via the AfoBOT you have access to the files on your QNAP NAS, with an app dedicated to music, to photos, to video and to surveillance, it means that you have more tailored access. Whereas Google home and Amazon Echo do not support DLNA (intentionally restricted) and will not let you access files without a third device to help put them or carry the instructions along, or only let you access files on their respective cloud platforms. Although the AfoBot still hasn't developed enough in this software revision to allow users to voice command access to their NAS files, it is clearly the direction it is going in.
QNAP & IEI AfoBot Design and Software
Taking a look at the AfoBot visual interface via the LCD screen, we find that it is not dissimilar to an Android tablet with the ability to scroll options, view files, take pictures, record video and playback media. The screen is a little small to enjoy a feature film, but is great for those wishing to produce media for a presentation in a group or meeting, or those looking for an information point in the home or business.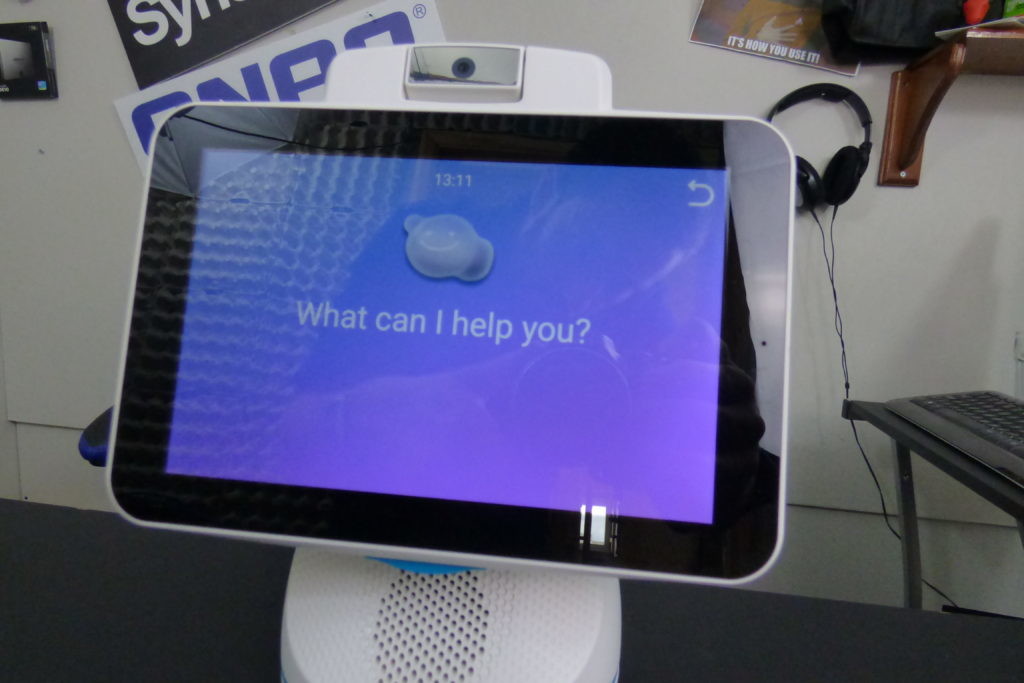 Like most home and office AI devices, AfoBot has voice activation and takes commands on screen or just by you asking it aloud. Merely say its name and ask it a question, as you would any AI device, and it will fulfil your request. At this time, these requests are not as organic as they want them to be and therefore more complex questioning does lead the AfoBot device confused and unable to action your request. However, most of the standard questions about time, location, restaurants and weather were complied with quickly, as well as media and music requests that were directed to the AfoBot. As good as these actions were, there was still room for improvement as a number of media requests to the AfoBot that I made, that went to streaming services such as YouTube, were hampered by on-screen annotations on the media that the AfoBot was unable to skip via voice command. This then forced me to use the touchscreen display, thereby defeating the object of touchless commands on these instances.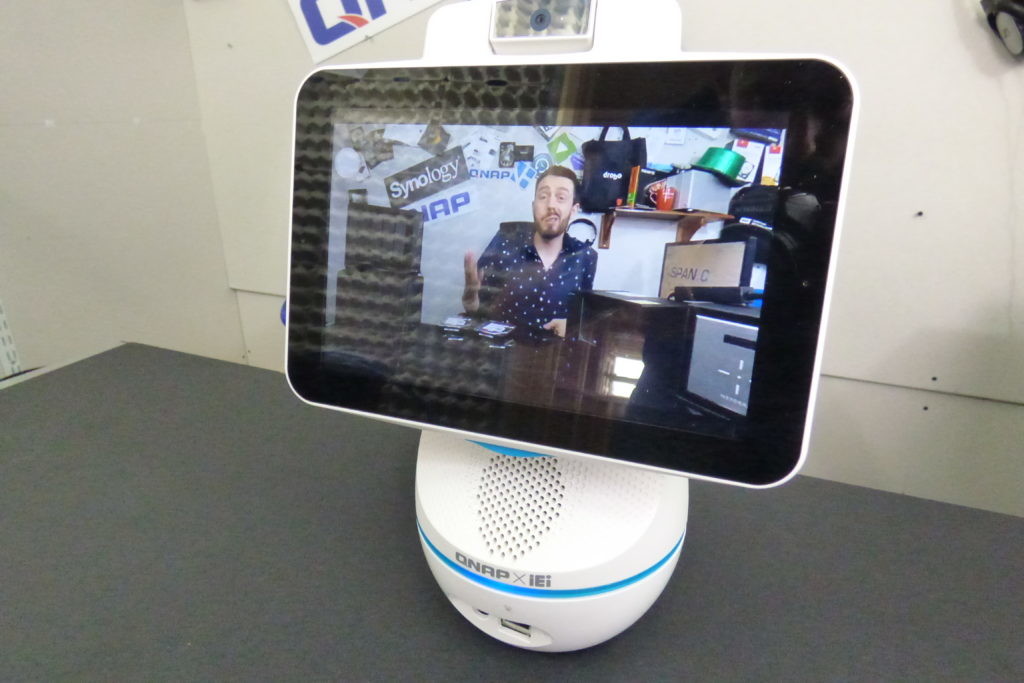 The webcam mounted on the AfoBot AI device is pretty slick and delivers exactly what you need from this kind of device. Not only can it be used to take pictures and record messages, once it was combined with the AfoBot communication tools, I was pretty impressed by the potential of it.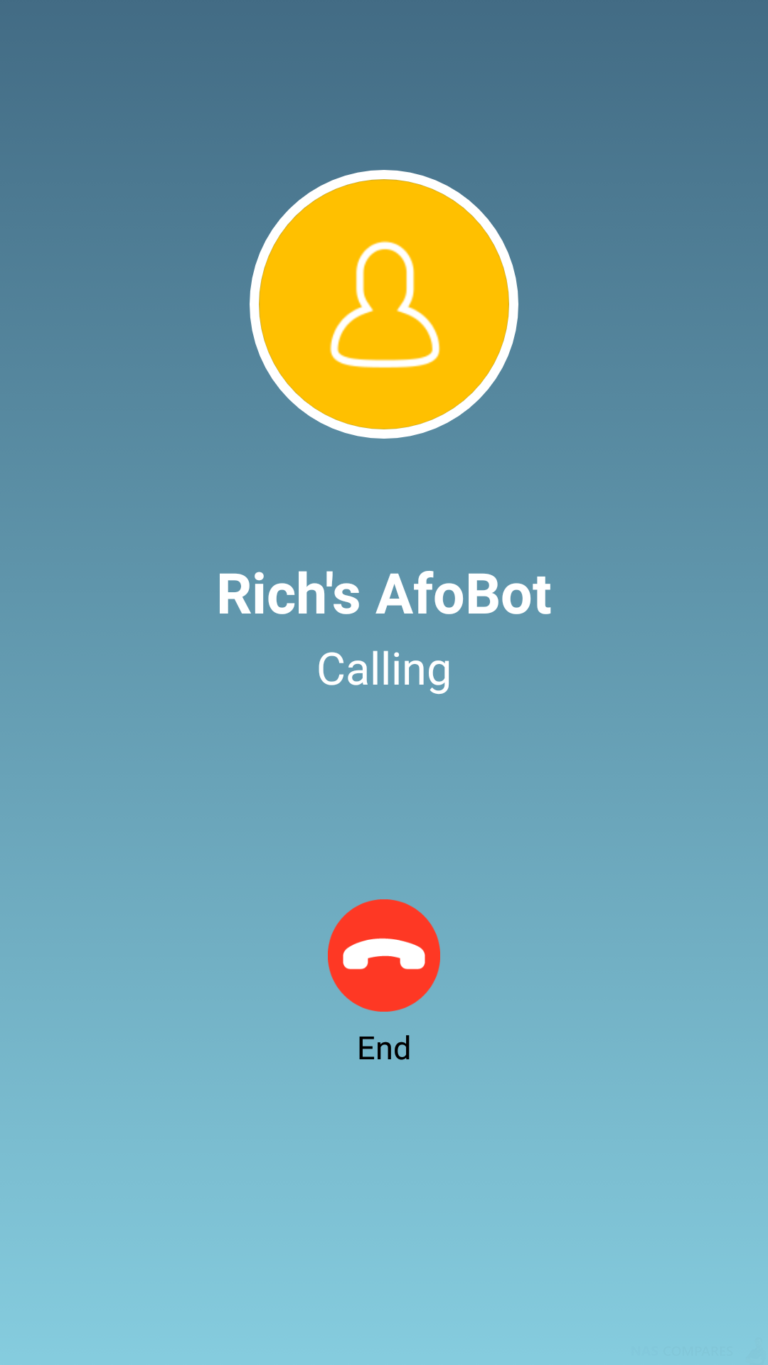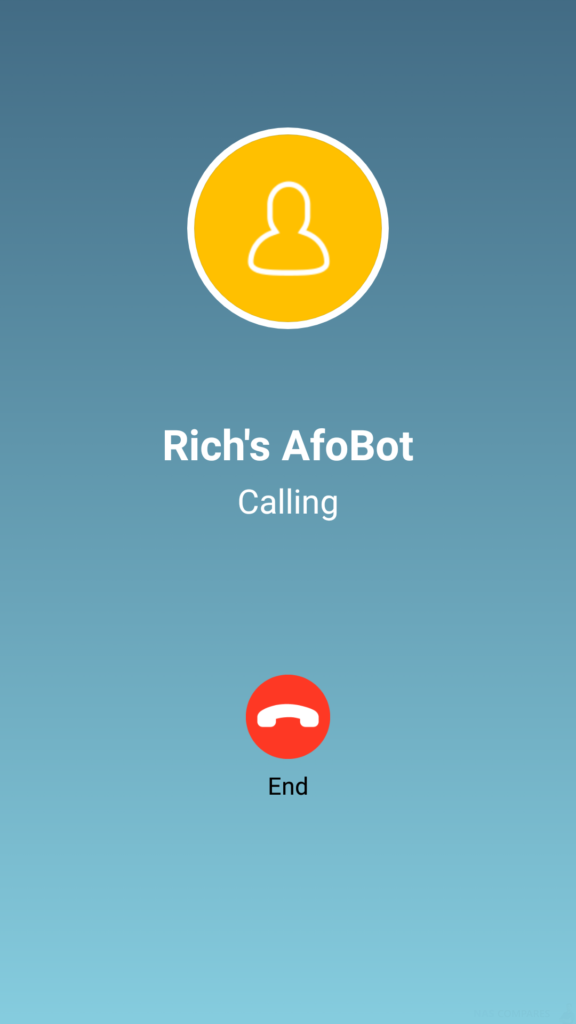 When you set up your AfoBot device, you have your own individual contact number included for free. This 8 digit number is the means for other users to contact you in a near identical means as traditional mobile phones. But this is only the start of it! If you head over to your mobile app store you will find the AfoBot application for your mobile device. Once installed, this also gives you a contact number.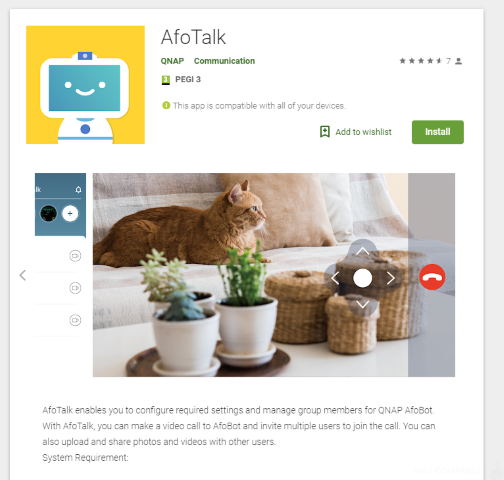 All you need now is an internet connection and you are you able to contact any AfoBot user for verbal or visual communication. Unlike WhatsApp, this is an internet or network based protocol and I have been told that when using the internet-based service, it is free. But what interests me more is the potential for the AfoBot to act as a communication hub for all users in your business. Imagine an AfoBot device in one or two of the meeting room areas of your building, as well as key members of your staff having the AfoBot application on their mobile phones. This means you have a way to create a conference call in seconds and using only your internal network. Combine the potential of this with security entrances on your building and you can see why the scope for use for this is so interesting.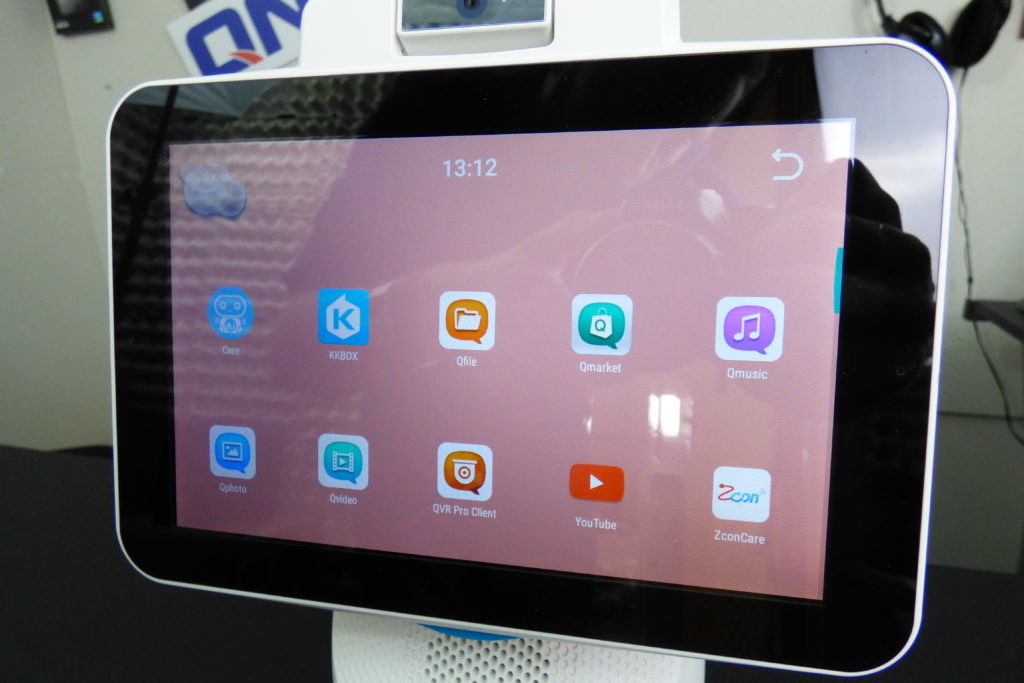 The idea of a genuinely private means of communication between you and your employees, in a much more modern fashion, is something that has never really been offered in such a comprehensive, yet simple way. Add to this the fact that mid-call you can take pictures and record video of communication (for the record or later review) means you have a fantastic means to collaborate and take notes. In the current AfoBot version you are unable to exchange files between users as you would with Skype or WhatsApp, but this feature is soon to be arriving I am told and anticipate a more complete version of this ability will push this feature well into the Enterprise baskets!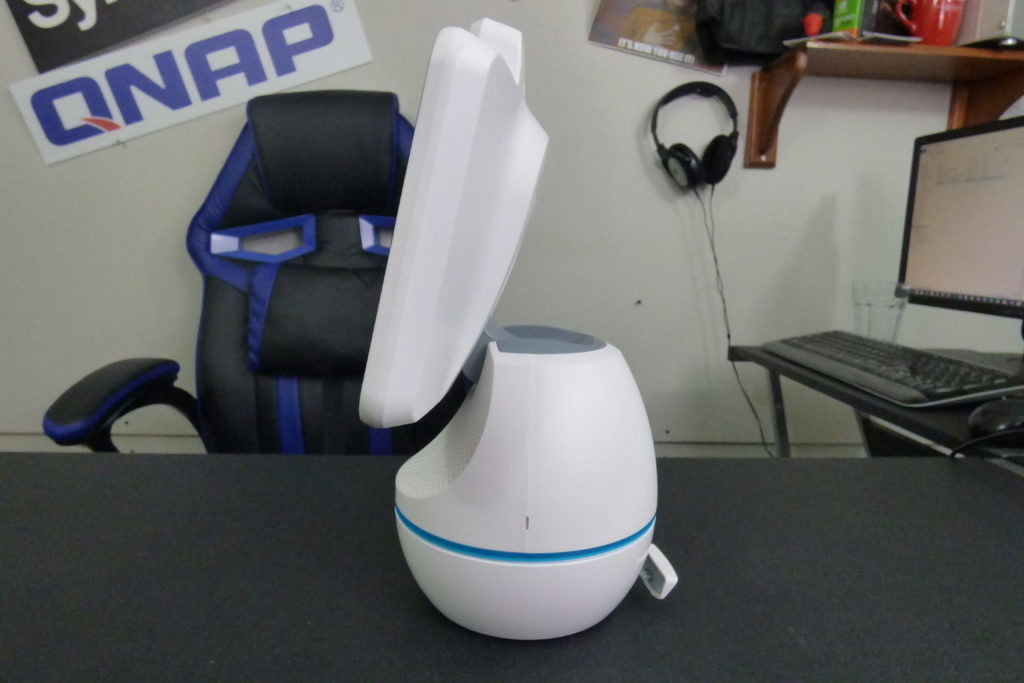 Continuing with the communication applications of the AfoBot, it is worth mentioning that the device arrives on a rotating base, as well as the means to ocilate up and down. This combined with the facial tracking of the AfoBot, means that you do not have to remain stationary when using the AfoBot in communication with other users and will follow your movement accordingly. The audio in and out microphones function well, however in the current AfoBot version when I added the second member to the communication (so 3 users in a conference call) the record video functionality did not function as smoothly as it did before. That said it handled the multiple live video streams VERY well, maintained a goof FPS and I was able to Flick between different users easily without any lag/delay.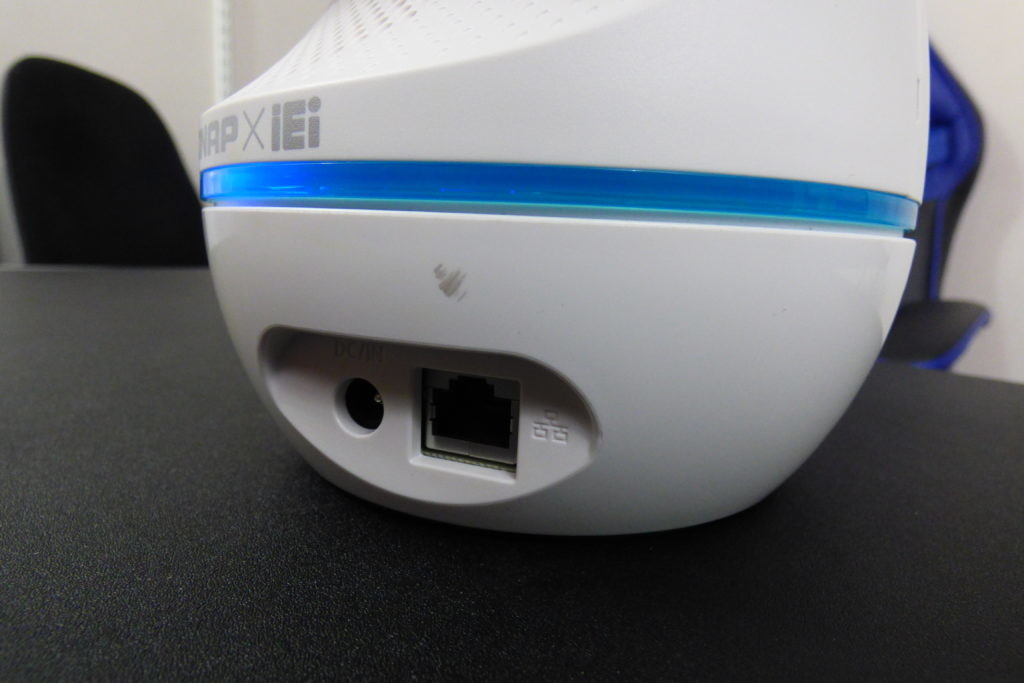 QNAP NAS has made a real name for itself in the field of IoT applications and therefore I am not too surprised that we find that it is branching so much into this area. If the AfoBot device reaches full release in the western market, it will need to arrive with more applications than it currently does. In discussion with QNAP and IEI, I was told that the AfoBot is currently designed for more bespoke business applications and therefore this makes adding applications tricky 2 choose and include. IEI already has an enormous reputation for hardware in the medical sector and unsurprisingly I can see numerous real-world applications for the AfoBot in hospitals and monitoring care. However, I want to see more growth in the communication between devices on the AfoBot device and mobile applications, as it was a genuine pleasure to use the cloud and network-based communication between users for these tests.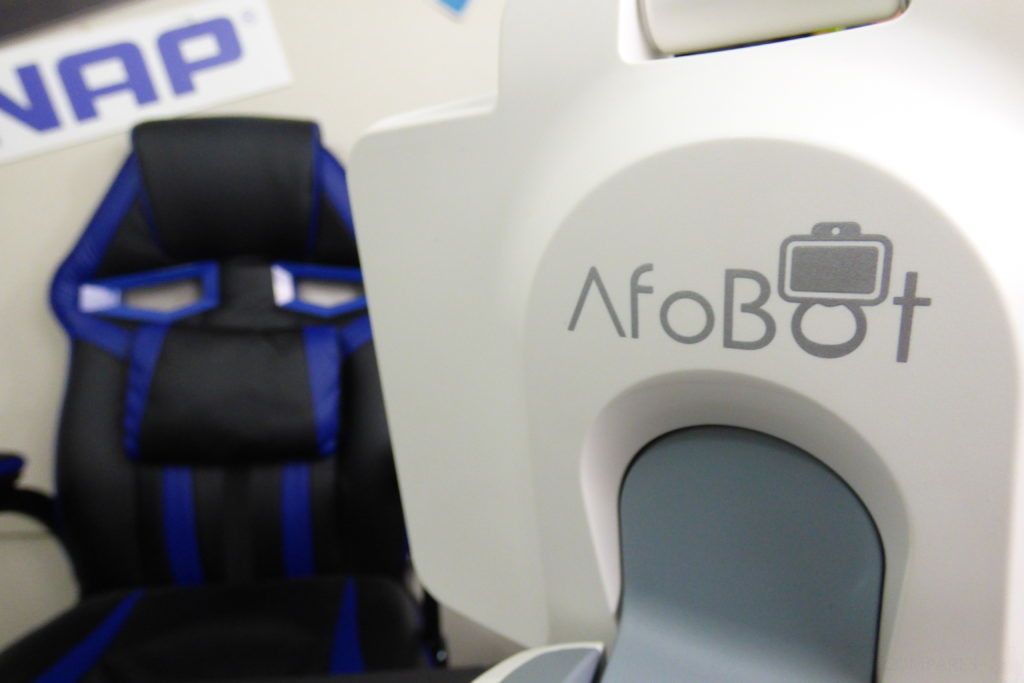 The device in its current stage feels incomplete and therefore makes it tough to fully review this product right now. I am still an advocate for the AfoBot and believe there are many applications for its use. The AfoBot arrived with excellent hardware both internally and externally, as well as a solid base with which to work from. I am looking forward to seeing the next software updates for the AfoBot to learn more about what has been added to it. One interesting direction I would like to see is perhaps the inclusion of the container station application, so users could deploy their own, more bespoke, intelligent operations within the device, or support of applications such as WhatsApp or Skype in order to smooth the transition for many users to add this platform to the existing network environment. There is still yet to be reliable, grounded means to use the popular third-party communication applications for iOS and Android in the home –  the AfoBot presents an answer to this. It still requires users to switch from their existing well-known communication applications to a newer less polished one, which is going to be too much friction for many. So the thought of using Skype or WhatsApp on the AfoBot and migrate/combine this with the AfoBot communication tool would be excellent. Adding container station support so users can be creative (as we saw with the QBoat Sunny) would be an excellent development.
QNAP & IEI AfoBot Hardware
In terms of design, the AfoBot finds a very fine line between modern design and slightly quirky finish.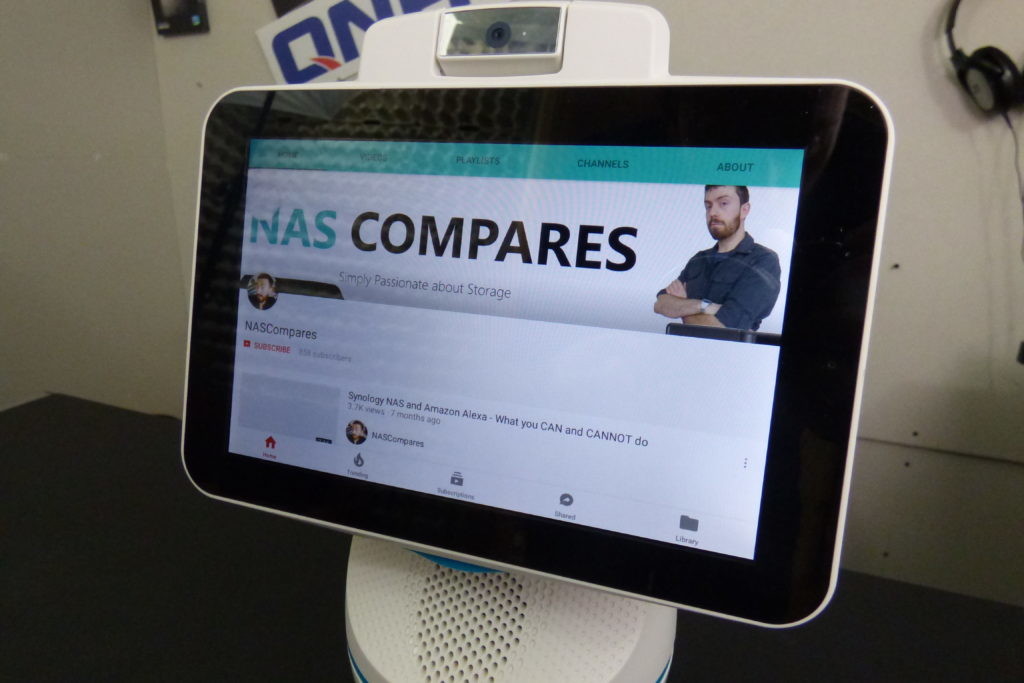 The LCD panel sits on the rotating base solidly and the device supports numerous means of movement for the central stem.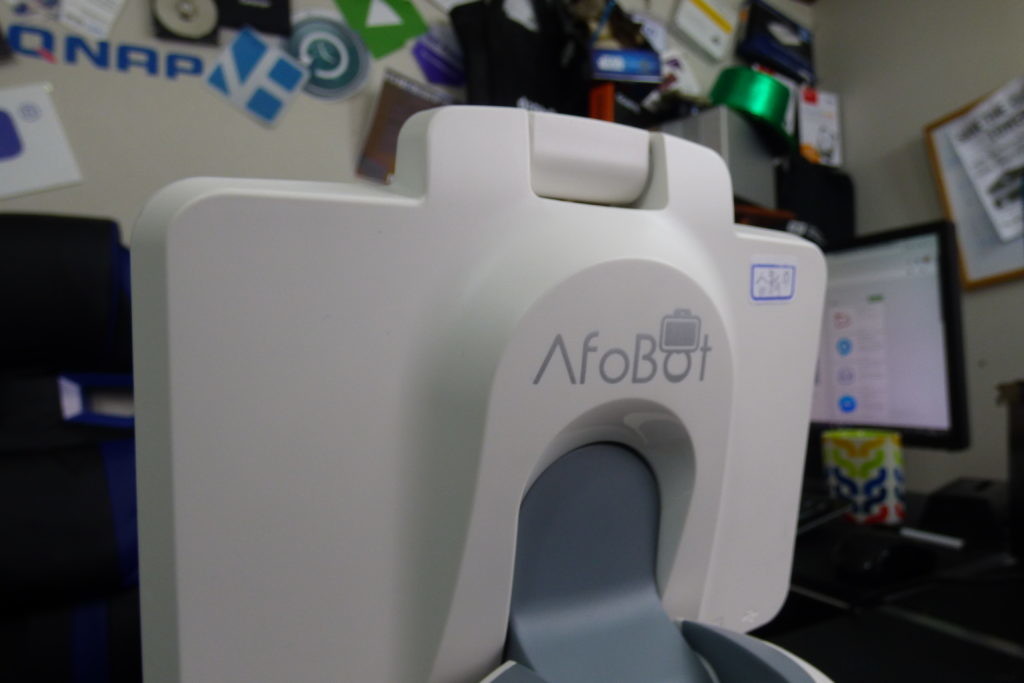 This means full rotation under the tablet, to the tablet's vertical movement itself and the camera.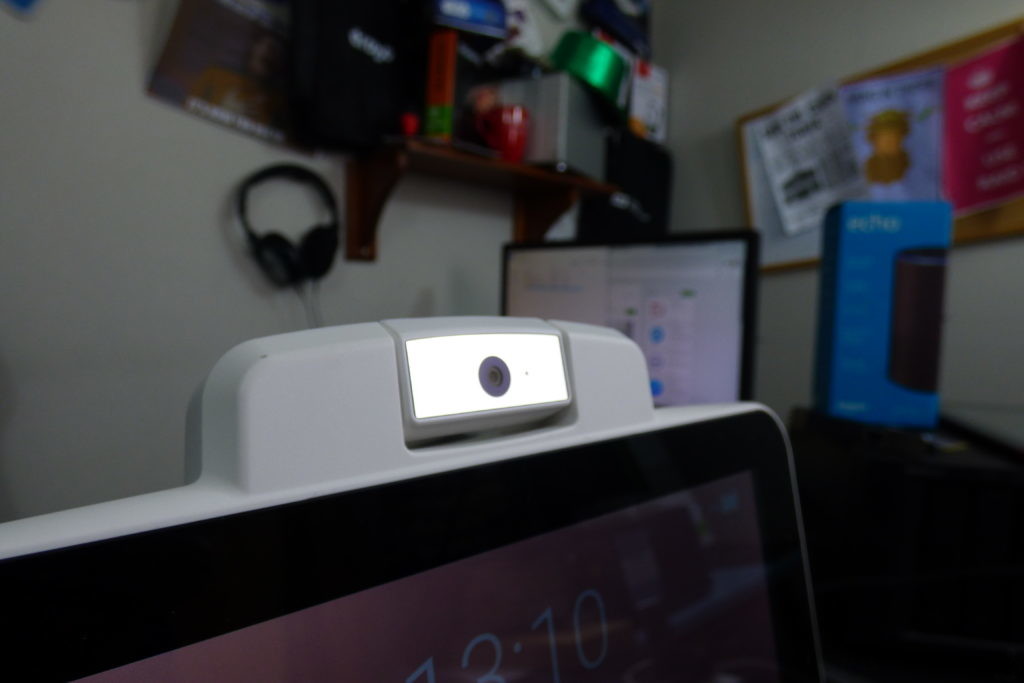 The base of the device has an impressively sized input and output speaker.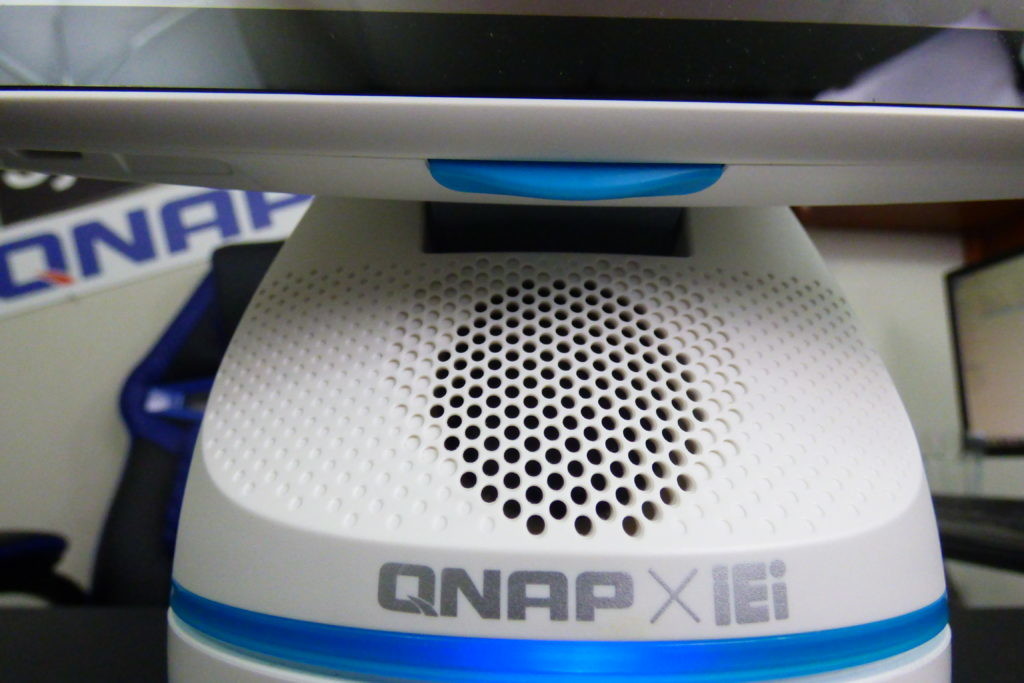 As well as the means to add SD card storage to the rather modest 32GB included.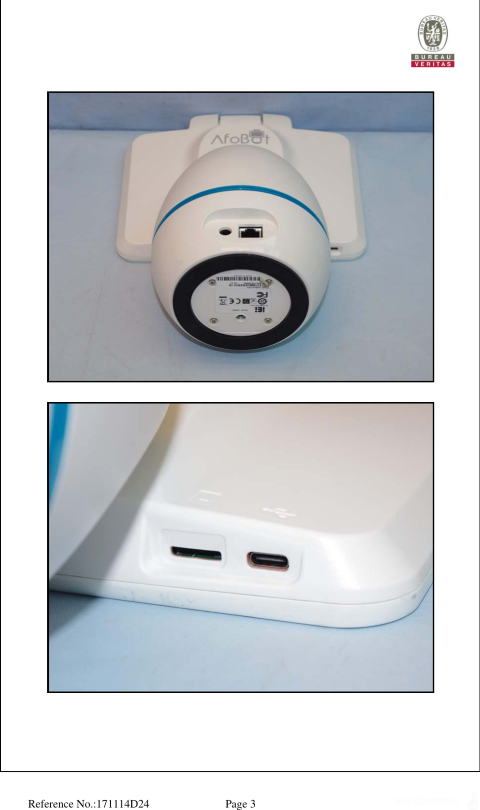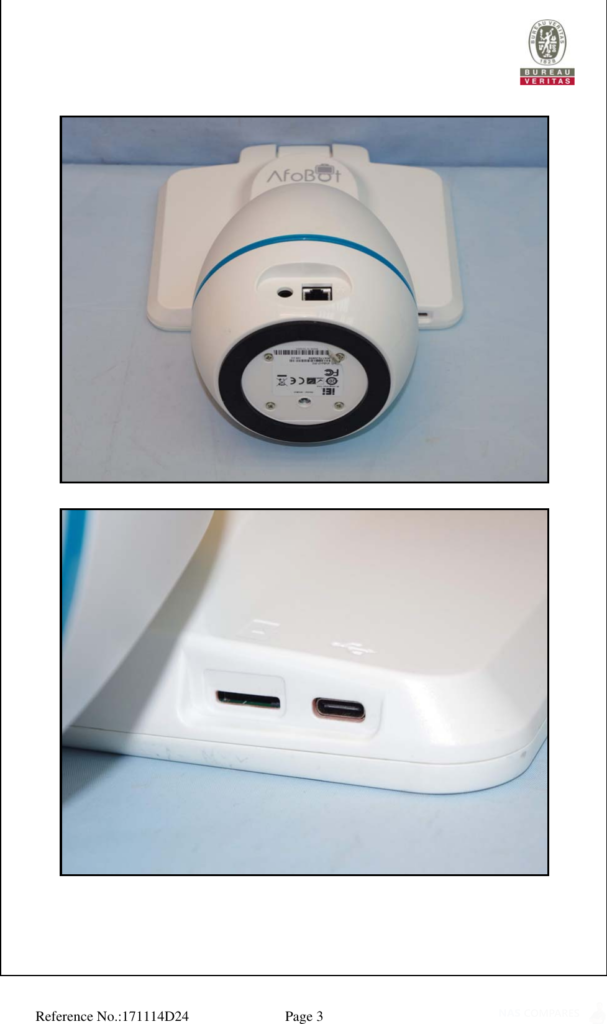 At the rear of the device, we only find a USB port and a LAN Port. It is worth mentioning that the AfoBot supports both Wi-Fi and standard RJ45 LAN protocol, so options for connection are varied and flexible.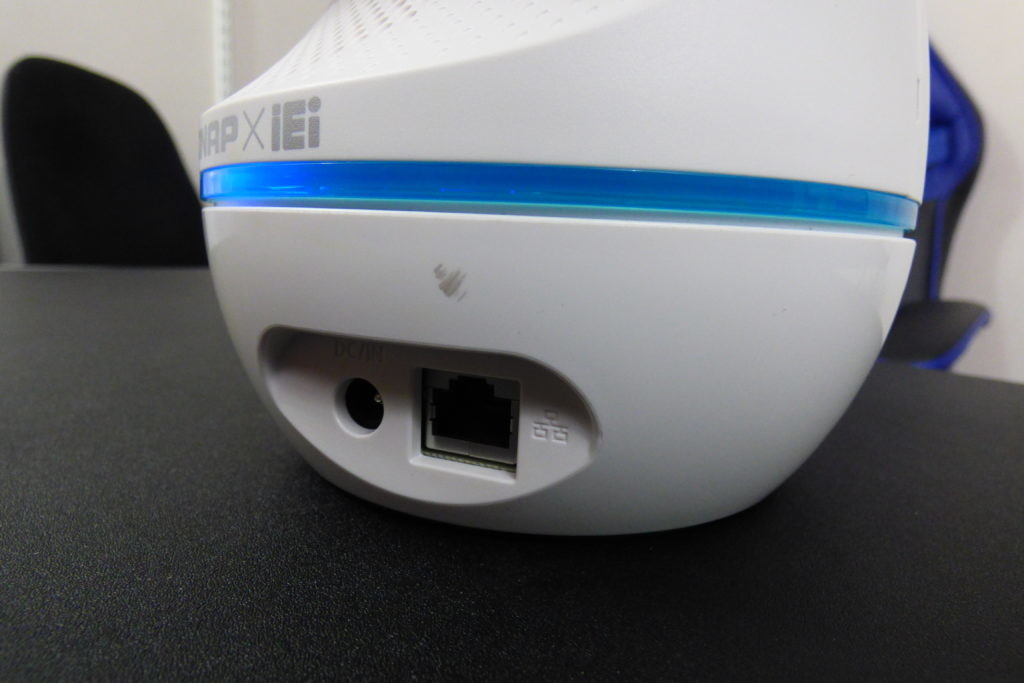 Internal hardware of the AfoBot device is also certainly worthy of comment and opens up a lot of potential for future software support. Arriving with an 8-core Cortex-A53 SoC and 2GB LPDDR3 of memory, though this sounds like an enormous amount of power, it is worth bearing in mind that as this is an ARM-based chip for power efficiency. This hardware is geared more towards simultaneous application use and better multitasking than it is for raw power.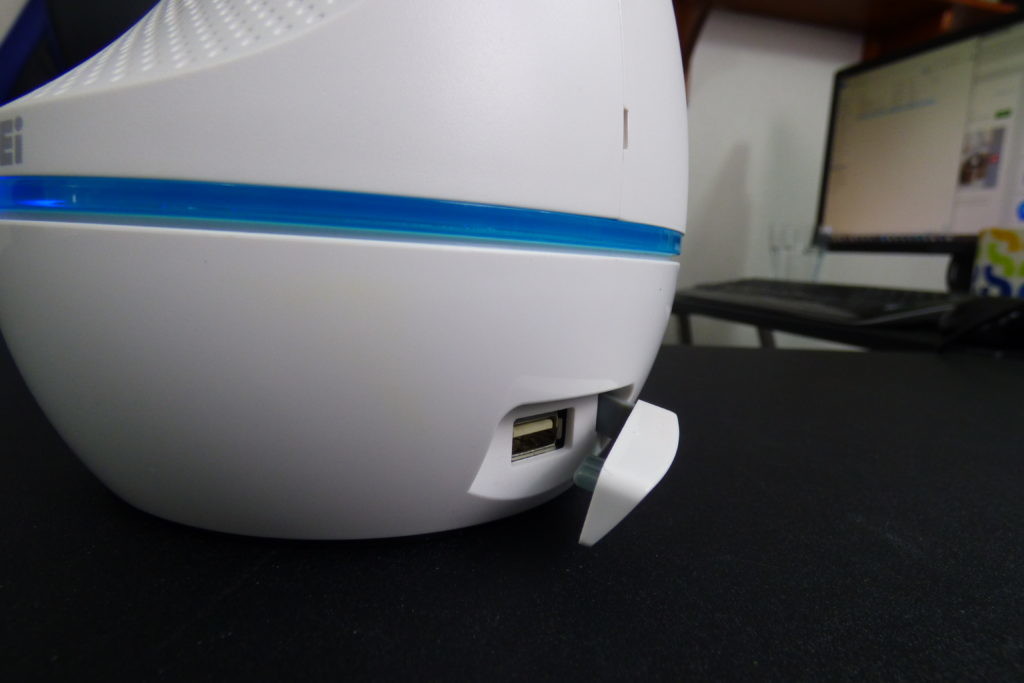 The AfoBot also arrives with an internal battery, so the device can run wirelessly for mobile deployment. However, currently, the battery power only supports between 1-2 hours of use and therefore makes it less suitable in the long term as a perfect use scenario.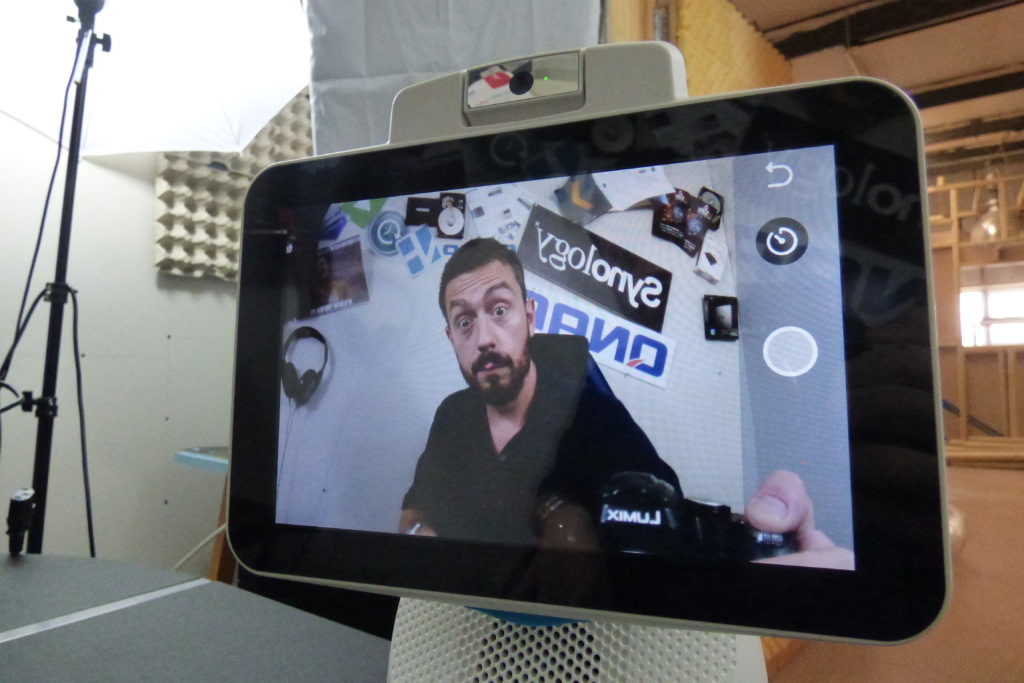 QNAP & IEI AfoBot Conclusion
All in all, I am still VERY excited about what the next version of the AfoBot will bring to home and business users, and sadly that is also my biggest criticism of the current version. The fact is that in its current state, the AfoBot is not a complete device in my eyes and until either it arrives with a price-tag of less than £199, or becomes a much more open source platform that encourages users to use their own applications in container station or via more open android application support, it is hard to see it really taking off here in the UK/Europe. Nevertheless, I REALLY want this product to succeed, as it is a whole untapped area of home/business networks that remains unclaimed!
📧 LET ME KNOW ABOUT NEW POSTS 🔔
Join 1,410 other subscribers
Get an alert every time something gets added to this specific article!
This description contains links to Amazon. These links will take you to some of the products mentioned in today's content. As an Amazon Associate, I earn from qualifying purchases. Visit the NASCompares Deal Finder to find the best place to buy this device in your region, based on Service, Support and Reputation - Just Search for your NAS Drive in the Box Below
Need Advice on Data Storage from an Expert?
We want to keep the free advice on NASCompares FREE for as long as we can. Since this service started back in Jan '18, We have helped hundreds of users every month solve their storage woes, but we can only continue to do this with your support. So please do choose to buy at Amazon US and Amazon UK on the articles when buying to provide advert revenue support or to donate/support the site below.

Finally, for free advice about your setup, j
ust leave a message in the comments below here at NASCompares.com and we will get back to you.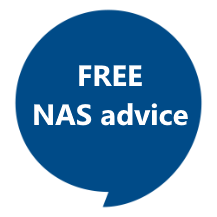 Need Help?
Where possible (and where appropriate) please provide as much information about your requirements, as then I can arrange the best answer and solution to your needs. Do not worry about your e-mail address being required, it will NOT be used in a mailing list and will NOT be used in any way other than to respond to your enquiry.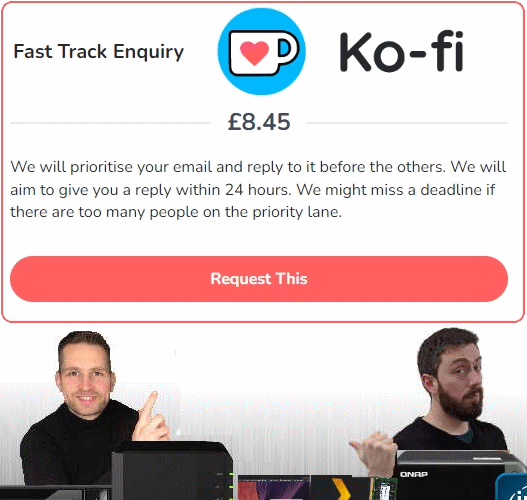 Terms and Conditions
Alternatively, why not ask me on the
ASK NASCompares forum
, by clicking the button below. This is a community hub that serves as a place that I can answer your question, chew the fat, share new release information and even get corrections posted. I will always get around to answering ALL queries, but as a one-man operation, I cannot promise speed! So by sharing your query in the
ASK NASCompares
section below, you can get a better range of solutions and suggestions, alongside my own.
This description contains links to Amazon. These links will take you to some of the products mentioned in today's video. As an Amazon Associate, I earn from qualifying purchases
Summary
Reviewer
Review Date
Reviewed Item
Author Rating