NAS and Video Transcoding – Why Should you care?
There are many reasons to buy a NAS drive in 2019, but for most home users, enjoying their multimedia (especially video collections) is paramount. It is a relatively simple requirement on the face of it, videos on a NAS are just another kind of file and Smart TV's, Amazon Firesticks, Nvidia Shield, Consoles and more are all network/internet enabled – it should be pretty easy and affordable. Nevertheless, with video media becoming increasing complex (in data terms) and resolution growing upto 4K commercially, it is no longer that simple. More and more here on NASCompares and on SPANTv , I talk about NAS Transcoding and the importance of factoring this into your perfect NAS drive for Plex, Emby, Natively and Home Cinema use. However, as much as NAS brands like Synology and QNAP like to talk about transcoding, TV manufacturers and streaming boxes for your media setup avoid it entirely, making efforts to say that they can 'play anything you throw at it' and can 'play files from your NAS drive'. So much so in fact, that on several occasions I have had users comment on previous posts with their thoughts on the subject:
This ridiculous transcoding discussion serves solely to sell the user ever newer, usually only
slightly stronger devices. Because: "The transcoding functions play a subordinate role in everyday
life, since almost every device can directly play back the files stored on the NAS"

Dr K
So, what are the facts? Why do I talk about NAS Transcoding so much? Is it important, or is it just another sales gimmick? Let me explain.
The Importance of Transcoding and NAS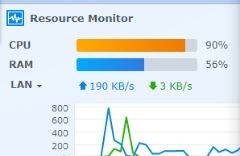 I certainly agree that typically, most home devices can play content, as well as many mobile devices. However, transcoding is more than just about the power of the client device (the device you watch your media on i.e. TV, Console, iPad). I think a file will play perfectly, without transcoding, If the device you are watching your content on is:
On the same network (so, the same internet connection) as the NAS
Supports the file format that the media is in (bitrate, resolution, codec, etc)
Has sufficient hardware to handle the file (bigger and more complex files require more efficient hardware to maintain file handling speeds)
The shared network of the NAS and Client device is not busy with many other users
If these parameters are all confirmed, then you can play it fine. However, here lies the problem. If you have a library of several hundred video files, I am willing to bet you have at least 20-30 kinds of file to play (.avi, .wmv, 1080p, 4K, H.264, etc) as different media vendors will produce content to different standards (there is no universal media standard). So, while some media will play remarkably well, you have no way of knowing the extent of your 'perfect playback' without going through every single file you own. What you need, is to be able to playback any kind of file regardless of its format, getting the NAS drive to convert a file-as-you-need-it so it is in a form that is best fitting to your media set up – THIS IS TRANSCODING. The bigger your video library, the likelier than you will need to consider transcoding.
Why else should a NAS user care about Transcoding?
So far, we have only discussed media playback in the home in a near-perfect scenario. What about accessing your files over the internet or using 3rd party media server software such as Plex Media Server for NAS? Transcoding serves several other purposes:
For those on a limited data connection (mobile phone plans, poor coverage areas outdoors, weak wifi) a streamlined version of a file that is downsized inside the NAS in advance/live, then sent to the client device can be hugely beneficial – imagine steaming a 1080p full movie to a mobile, over 3G areas – the buffering/catch up of playback vs downloaded file would be tight!
Often in plex, if not emby and twonky, some file formats are unsupported (MKV, MOV and MP4a being common villains) cannot be played back and in order to add these files to your media library and stream to the client device (and the media server app) the file needs to be converted to an acceptable file format (MP4, MP3, AVI, etc). You could, of course, use something like 'handbrake' to convert everything in advance – but if your library is 1000's of files, that's alot of work and you might still end up having unsupported file issues in other client devices.
Sheer file weight! This is something that is less of an issue with 1080p, but a pain for those using early 4K content that uses the H.264 versioning. These files are MASSIVE and COMPLEX. They are problematic unless you have a supported TV/Media device, they need transcoding, regardless fo your home network and internet connection, or 3/4G
What is the Best NAS for Transcoding?
As I hope I have explained, transcoding is necessary and (in some cases) unavoidable factor of enjoying media on your Synology or QNAP NAS. Choosing the right NAS for your media server isn't too hard, just remember two very important factors when deciding. They are:
ALWAYS choose a 64bit Intel or AMD based CPU and at least 2GB of Memory. There are NAS that function as so-so media servers with lesser hardware, but they will end up using a HUGE amount of NAS system hardware (85-90%) to transcode and that is hardly ideal.
Hardware Vs Software transcoding. Many NAS devices that feature Intel and AMD CPU have a graphical component built into the processor that will transcode files when needed, this will means overall less CPU power is used during these tasks and more CPU power can be used for other things. However, as Plex, Emby and other NAS Media Server software are 3rd party (so not the same brand as the NAS maker), in many instances, the application cannot access/doesn;t have permission to use the hardware transcoding on the CPU when needed and therefore uses a software alternative (software transcoding). This results in much, MUCH more CPU being used and often results in transcoding using more than 70% of the CPU power – not great. Do check in advance if the NAS will let applications like Plex use the Transcoding engine (such as the DS918+ or WD My Cloud Pro PR4100).
Best NAS with 4K HDMI 2.0 Intel Chips and Transcoding
There are several NAS drives that arrive with HDMI 2.0 and HDMI 2.0a, such as the HS-453DX, TVS-x82 Series and the TVS-x72XT Series – all of which use an Intel Based CPU (ranging from a modest Celeron to a 7th Gen i3/5/7 to a remarkably impressive 8th Gen i3/i5 in 6 Cores..
| | | |
| --- | --- | --- |
| | | |
| QNAP HS-453DX NAS | QNAP TVS-672XT NAS | QNAP TVS-1282-i7-450W |
| 3rd Tier Choice | 2nd Tier Choice | 1st Tier Choice |

Best NAS for Good 1080p Transcoding?
A good entry point into a good NAS Media server with transcoding natively and in Plex etc is one that features an Intel Celeron or Pentium CPU. These have proven time and again to be both reliable and great for home media users. You will be able to transcode 1080p and 4K natively (so without a 3rd party app) and upto 1080p in programs like Plex Media Server and Emby. I recommend the following 3, as they provide a great hardware base, as well as 4 bays of storage – so RAID protection and can be populated gradually according to your budget:
WD My Cloud Pro PR4100
QNAP TS-453Be NAS
Synology DS918+ NAS

Price – £500+

Highlights – Hardware Transcoding, Pentium CPU, Dual PSU

Price – £480+

Highlights – HDMI Output, PCIe slot for 10Gbe, Quiet Running, Multiple streaming Apps

Price – £510

Highlights – 3 Year Warranty, SSD Cache slots for improved performance, Flexible RAID, Discreet Chassis

Best NAS for Reliable 1080p and light 4K Transcoding?
As good as the previous three NAS drives are,  they all are aimed at those looking to save money for a perfect media server – best suited for users looking at HD content only in Plex etc, as well as ony be accessed for transcoding by 1-2 users at once. If you want to introduce optimal 4K playback and transcoding, as well as 1080p to your media server, then you will need to consider more graphically enabled and powerful CPU. This is where you will see the hardware (and sadly the price too) take a big jump. These NAS devices give you a much more solid foundation for your media server, as well as give you a greater degree of storage potential. Additionally, they all give you the ability to connect multiple LAN cables to your router/switch to greater increase your network bandwidth, as well as introduce 10Gbe potential to your network for when 10Gbe optimized content becomes more common (in the next year or two by my reckoning). Take a look:
QNAP TS-677 NAS
Synology DS3018xs+ NAS
QNAP  TVS-673e NAS
Price – £1600+

Highlights – POWERFUL Ryzen CPU, PCIe Upgrade slot, Audio Ports, Upgradable

Price – £1300+

Highlights – 4 LAN ports, PCIe Uprade Slot, 5 Year Warranty and Adv replacement plan (SRS)

Price – £970+

Highlights – Radeon Graphics enabled CPU, GPU Card Support, 2 PCIe slots

Best NAS for FULL 4K and 1080p Transcoding?
If you want to take building the perfect media server NAS with transcoding SERIOUSLY, then you will need to spend at least £1500-2000 on the NAS alone (not including storage media). This may seem steep, but what you are paying for is future proofing. I know that sounds like terrible sales speak, but the hardware in NAS such as these are designed to not only play and transcode EVERYTHING now (in 4K and 1080p), but also play everything 5-10 years from now. In those terms, if you break the cost down over the years, it makes more sense. Do not forget, the whole point of transcoding is to ensure that both content and technology can still communicate at all times. Below are three of the very best NAS you can buy for transcoding media servers in 2019.
QNAP TVS-882BR NAS
Synology DS3617xs+
QNAP TVS-872XT NAS
Price – £2500+

Highlights – Combination of SSD, HDD and m.2 slots for mixed media, BluRay Drive (optional), Remote control, HDMI 2.0 4K HDMI port, i5/i7 CPU, massively upgradable memory, GPU and Ports

Price – £2300+

Highlights – 2017/2018 Best Synology Plex NAS of the year, Xeon CPU, 12 Bays of Storage, PCIe Upgradable, 4 LAN ports, 5 year warranty, Adv Replacement (SRS)

Price – £1900+

Highlights – 2019 Contender for Plex NAS of the Year, 6-Core i5 CPU 8th Gen,  HDMI 2.0a, Thunderbolt Port for Media Editors, 10Gbe Included

Remember, this site is supported by ad revenue. So, if this was helpful to you, why not click one of the buy buttons above and support this site. It costs you nothing and every click helps keep this site up and running, helping users like you that want to ensure they have the best  NAS they can for media and more.
📧 LET ME KNOW ABOUT NEW POSTS 🔔
Join 1,410 other subscribers
Get an alert every time something gets added to this specific article!
This description contains links to Amazon. These links will take you to some of the products mentioned in today's content. As an Amazon Associate, I earn from qualifying purchases. Visit the NASCompares Deal Finder to find the best place to buy this device in your region, based on Service, Support and Reputation - Just Search for your NAS Drive in the Box Below
Need Advice on Data Storage from an Expert?
We want to keep the free advice on NASCompares FREE for as long as we can. Since this service started back in Jan '18, We have helped hundreds of users every month solve their storage woes, but we can only continue to do this with your support. So please do choose to buy at Amazon US and Amazon UK on the articles when buying to provide advert revenue support or to donate/support the site below.

Finally, for free advice about your setup, j
ust leave a message in the comments below here at NASCompares.com and we will get back to you.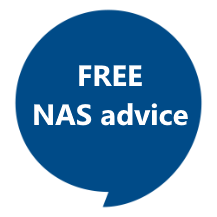 Need Help?
Where possible (and where appropriate) please provide as much information about your requirements, as then I can arrange the best answer and solution to your needs. Do not worry about your e-mail address being required, it will NOT be used in a mailing list and will NOT be used in any way other than to respond to your enquiry.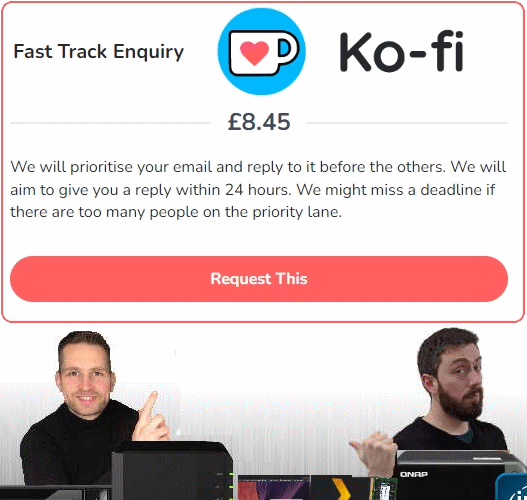 Terms and Conditions
Alternatively, why not ask me on the
ASK NASCompares forum
, by clicking the button below. This is a community hub that serves as a place that I can answer your question, chew the fat, share new release information and even get corrections posted. I will always get around to answering ALL queries, but as a one-man operation, I cannot promise speed! So by sharing your query in the
ASK NASCompares
section below, you can get a better range of solutions and suggestions, alongside my own.
This description contains links to Amazon. These links will take you to some of the products mentioned in today's video. As an Amazon Associate, I earn from qualifying purchases
Summary
Reviewer
Review Date
Reviewed Item
NAS Transcoding - Important
Author Rating