Is the DS916+ the most powerful 4-Bay Synology NAS yet?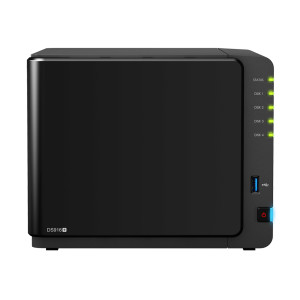 Unless you don't follow NAS like me or you have been living under a rock (and a rock with poor WiFi) then you will know that Synology have been working on their latest big Network Attached Storage server release, the DS916+ NAS server. Now, Synology NAS has a reputation for 3 things
1, User-friendly and intuative design making it the user-friendly choice for those new to NAS or simply something that does the job you need
2, Aimed at home and business users alike with a heavy enphasis on Network Access (as apposed to HDMI, QvPC, etc)
3, Despite the higher price tag, always having lower specs than a like-for-like QNAP NAS
With the release of the new DS916+ NAS, Synology hope to remedy the 3rd point. The Synology DS916+ arrives with their most ambitious and powerful NAS hardware yet seen in their 4-bay ranges. A Pentium Quad core CPU from Intel that can be bursted upto 2.56GHz when needed, 2GB of DDR3 Memory that can be expanded upto 8GB of RAM (virtually unheard of in previously Synology units), AES-NI encryption to keep your data transmissions both fast AND safe, Btrfs internal file system to keep the data integrity nice and high and 4K Transcoding. Yes, this is possible the most ambitious Synology NAS of 2016.
What can the Synology DS916+ NAS Server Do?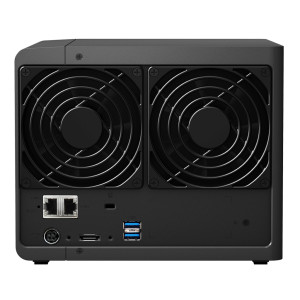 As impressive as the hardware is and as crass as it is to say, but – it's not how big it is, it's what you do with it that counts. Luckily the DS 916+ delivers on that score too. Featuring:
Expandable upto 9 Drives with the DX513 Synology NAS expansion
Unrivaled Surveillance NAS support with camera Licences included
2 RJ45 (LAN) ports on the rear to provide link aggregation (thereby almost doubling upload and download speeds)
USB 3.0 Ports throughout
Power Consumption of just 30W whilst in Access and 13W whilst in Standby / Hibernation
Supporting JBOD, RAID 0, RAID 1, RAID 5, RAID 6 and RAID 10