What is the difference between WD Red and WD Red Pro?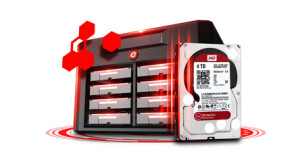 Arguably the most popular NAS Hard drive in the market today, with Seagate and HGST NAS drives fighting for second place, many users new and old to Network Attached Storage are finding themselves in the enviable position of choosing between Western Digital Red NAS drives and the more robust, more expensive and more hard core WD Red Pro NAS drives.
Both Drives have their own uses in difference scale Network Attached Storage environments but which one is right for your NAS solution?
Why would you choose NAS drives over traditional Hard Drives?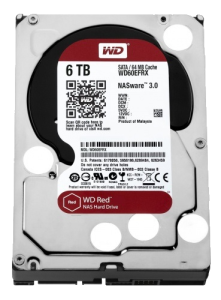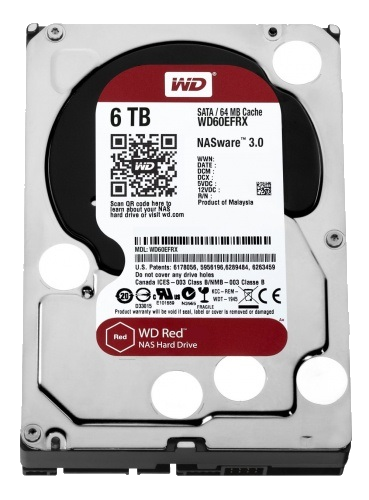 In a Network Attached Storage device, a desktop hard drive is not designed for NAS environments. NAS HDDs house an array of features to preserve your data and maintain optimum performance. Take the following into consideration when choosing a hard drive for your NAS:
Compatibility: Without being tested for compatibility with your NAS system, optimum performance is not guaranteed.

Reliability: The always-on environment of a NAS or RAID is a hot one. And desktop drives aren't typically designed and tested in those conditions. WD Red is.

Error recovery Controls: WD Red NAS hard drives are specifically designed with RAID error recovery control to help reduce failures within the NAS system. Desktop drives are typically not designed for RAID environments where this can be an issue.

Noise and Vibration Protection: Designed to operate solo, desktop drives offer little or no protection from the noise and vibration faced in a multi-drive system. WD Red drives are designed for multi-bay NAS systems.
What is the difference in Build of Red and Red Pro?

 Not just any drive will do. In single-bay to 8-bay NAS systems, WD Red raises the bar. Get as much as 64TB capacity, and with WD's exclusive NASware 3.0, you can optimize every single one of them. Built into every WD Red hard drive, NASware 3.0's advanced technology improves your system's storage performance by increasing compatibility, integration, upgradeability, and reliability. Both Kinds of drive support and incorporate NASWare  3.0 but it is how that software integrates with the hardware of each drive that you see the real key differences.
 

WD Red Pro

WD Red

Ideal number of NAS Bays

Up to 16 bay NAS

1-8 bay NAS

Capacity available

2 TB – 6 TB

750 GB – 8 TB

Cache

Up to 128 MB

16 MB and 64 MB

RPM

7200RPM

Standard

5400-7200RPM

Intellipower

Acoustics (dBA)

Idle

Seek (average)

29

36

25

28

Average power requirements (W)

Read/Write —

Idle –

Standby/Sleep –

9.1

5.8

1.0

5.3

3.4

0.4

Warranty

5-year

3-year
How much are these NAS drives and what is the price difference?
Price Differences between Red and Pro is pretty clear (with Pro obviously being the more expensive of the two). As you go towards the higher capacities you clearly see that the prices become closer. This is largely due to the newer drive sizes being releases alongside one another in the market. All prices displayed do not include VAT.
Is the WD Red Pro a higher Read and Write speed?
Read and Write speeds in Media Use can differ when it comes to using difference NAS devices and indeed based on your own NAS media/file setup. For our testing we used a PC with the following specs:
Test performed using Black Magic Speed Test
AMD  A8-6500 APU 3.60GHZ
8GB RAM
64-bit Windows 8
First, the WD Red Speed Test, at 1GB file sizes:
WD 4TB Red BM 1GB files 2 Mins
And now we can look at the Pro drive here, same 1GB File Size test with Black Magic
WD 4TB Red Pro BM 1GB files 2.5 Mins
Straight away it is clear that the Read and Write is noticeably higher on the Pro. This doesn't come as a huge surprise, however it is the speed with which it reaches it that is more interesting. It reaches that increased R/W with more acceleration (thanks to that higher RPM) and that is clearly going to be of interest of those who like to use their NAS for more daily standard file based tasks.
Both in terms of Read and Write – around 50-60MB/s improved performance when compared to the standard Red drives. A lot of that is down to that increased RPM and the cache as mentioned but also the construction of the drive plays a big part. A minute dip in MB/s compared with the 1GB file test but it is still clear as day light that in terms of Read and Write, the Pro drive is easily the superior. Of course these results are only in this test bed environment and the NAS you install them in as well as the Upload and Download available on your connection all plays it's part
When should I buy a WD Red Pro NAS Drive?
WD Red for Home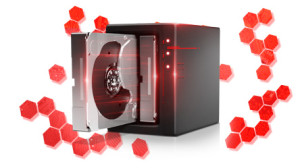 Stream, backup, share and organize your digital content at home with a NAS and WD Red drives designed to effortlessly share content to the devices in your home. Red NASware increases your drives' compatibility with your devices, TV, stereo and more. Live in a connected world. So for those looking for a discreet and small NAS solution for home and media use, the you should stick with the standard WD Red series of Hard Drives. 
WD Red for Small Business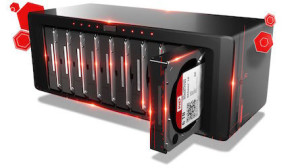 Businesses thrive on productivity and efficiency – two of the guiding principles built into the design of WD Red. It's the hard drive of choice for 1 to 8 bay systems. NASware 3.0 allows for seamless integration with your existing network so WD Red can share and backup files at the speed of your business. And for larger businesses with up to 16 bays, count on WD Red Pro.
WD Red Pro for Big Business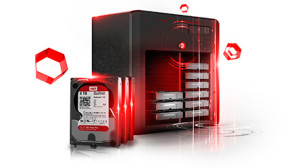 If you're looking for maximum performance in a heavy use NAS, WD Red Pro delivers the same exceptional performance for the business customer. For NAS environments with 8 to 16 bays, WD Red Pro is designed to handle an increase in workload and comes with a 5-year limited warranty.