Which Synology PLAY NAS deserves your data?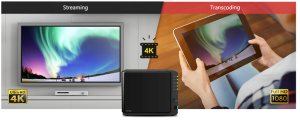 Those who are even slightly versed in the world of NAS will be aware of the Synology PLAY series. Much like the popular HDD manufacturer, WD, Synology has taken the simple approach to marketing their products and classifying them in ranges to help consumers and NAS buyers alike narrow down their search for the perfect NAS. Western Digital has their colours range (with WD Red meaning for NAS, WD Green for energy saving, Purple for Surveillance, etc) and likewise, Synology have their 'SE' serious (budget), their 'J' Series (cost effective), the PLUS series (+ is their top range), 'xs' (their enterprise range) and finally – the one this comparison is going to focus on, the PLAY series for multimedia purposes. That difference between the Synology range and their way of distinguishing between them could arguably be described as part of their NAS success. Each range has its own 2, 4, 5 and even 8 Bay units in some cases, however was the passing of each year units become superseded and that leaves many to wonder whether to buy the older established NAS server or go for the newest build?
PLAY versus PLAY, 2015 NAS versus 2016 NAS?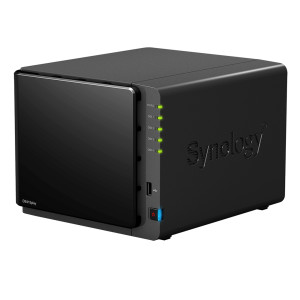 It should be added that the Synology DS416LAY is not the first PLAY series NAS to be released in the Synology 2016 NAS Range. No, at the closing stages of last year we saw the release of the Synology DS216PLAY and I hope I don't offend many by saying that it was a little bit of a disappointment. Remarkably well prices, the disadvantages soon presented themselves compared to the previous iteration, the DS214PLAY. I am pleased to say that the DS416PLAY does not seem to have that problem and most certainly seems to feature excellent promise in terms of multimedia and traditional NAS needs (specs will come soon, I promise…stay with me!). The previous unit, the Synology DS415PLAY was in many ways a well accepted NAS. Somewhat eclipsed by the incredibly popular DS1515+, it never really got it's chance to shine for most NAS users and if often overlooked. But I think that is enough about these guys and their position in the NAS market…let's get down to business.
Comparing the DS415PLAY and DS46PLAY – Pros an Cons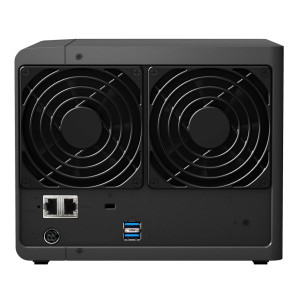 For those that have already seen the specifications of these device, several key differences will immediately become apparent. The CPU is of a noticeable higher frequency on the 416PLAY, and of a 64-Bit architecture too. This will most certainly improve results and playback on transcoding on 3rd party apps like Plex (for a NAS Plex Media Server) and Emby. Also the newer device arrives with the ability to transcode 4K Media natively – something I would not recommend attempting with the older 415PLAY. Aside from that, the internal specs of the device remain the same. Both featuring 1GB of DDR3 memory that cannot be expanded and the same fan and external PSU structure between devices. However we really start to see change and evolution the minute we look at ports. The new DS416PLAY NAS features USB 3.0 throughout, completely eliminating  USB 2.0.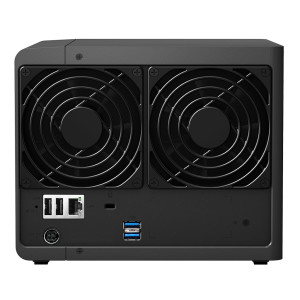 Alongside this we see the surprising inclusion of a 2nd gigabit LAN (RJ45) port – something that you would have rarely found in multimedia NAS servers as it is more a feature found in medium business Synology NAS. However with media files such as .mkv and 4K files being so large, it shouldn't be too surprising that an increased ability to upload and download via Link Aggregation is required.
This isn't the only big difference that stood out to me when comparing the 416PLAY and 415play. No, the other big change is that inclusion of the Btrfs file system!  Now becoming more and more popular in the Synology 2016 range, the linux based file system results in greater data integrity, background and near constant file transfer checks, faster snapshot generation and much, much faster RAID building and recovery. For those looking to buy the DS416PLAY to hold important and/or mission critical data, this file system may be the deciding factor for you.
What is the difference between the DS415PLAY and the DS416PLAY?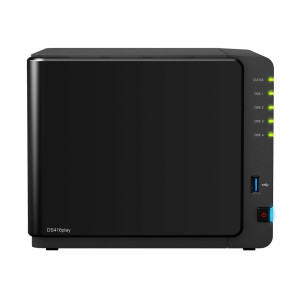 On the face of it, those are the main key differences between these NAS servers. I would have no hesitation in recommending people to buy the Synology DS416PLAY as it provides a solid, grounded and most surprising of all, multi-purpose NAS device that has broken the Synology PLAY mould. Below you can find a more statistical and analytical comparison of speeds and specs. Advantages are in BOLD as as you can see, with the exception of a few points, the DS416PLAY clears the board!
Hardware Specifications
Model Name
The DS416play

The DS415play

Price
£328 without VAT or Media
£306 without VAT or Media
CPU
CPU Model
Intel Celeron N3060
Intel Atom CE5335
CPU Architecture
64-bit
32-bit
CPU Frequency
Dual Core 1.6 burst up to 2.48 GHz
Dual Core 1.6 GHz
Floating Point
YES
YES
Hardware Encryption Engine
Hardware Encryption Engine (AES-NI)
YES
Hardware Transcoding Engine
H.264 (AVC), MPEG-2 and VC-1; maximum resolution: 4K (4096 x 2160); maximum frame rate per second (FPS): 30
H.264 (AVC), MPEG-4 Part 2, MPEG-2, VC-1
Memory
System Memory
1 GB DDR3
1 GB DDR3
Storage
Drive Bay(s)
4
4
Maximum Internal Raw Capacity
32 TB (8 TB HDD x 4) (Capacity may vary by RAID types)
32 TB (8 TB HDD x 4) (Capacity may vary by RAID types)
External Ports
USB 2.0 Port
3
USB 3.0 Port
3
2
RJ-45 1GbE LAN Port
2 (with Link Aggregation / Failover support)
1
File System
Internal Drives
·         Btrfs

·         EXT4

·         EXT4
Noise Level*
19.4 dB(A) 
20.0 dB(A)
Power Consumption*
29 W (Access)
12.5 W (HDD Hibernation)
27.33 W (Access)
16.84 W (HDD Hibernation)
Read and Write

Upload and Download

225MB/s Read

186MB/s Write

112.35MB/s Read

98.58MB/s Write

Environment Temperature
Warranty
2 Years
2 Years
Maximum IP cam (Licenses required)
25 (including 2 Free License) (See All Supported IP Cameras)
15 (including 2 Free License) (See All Supported IP Cameras)
Total FPS (H.264)*
750 FPS @ 720p (1280×720)
300 FPS @ 1080p (1920×1080)
165 FPS @ 3M (2048×1536)
100 FPS @ 5M (2591×1944)
450 FPS @ 720p (1280×720)
150 FPS @ 1080p (1920×1080)
100 FPS @ 3M (2048×1536)
80 FPS @ 5M (2591×1944)
Total FPS (MJPEG)*
300 FPS @ 720p (1280×720)
120 FPS @ 1080p (1920×1080)
91 FPS @ 3M (2048×1536)
60 FPS @ 5M (2591×1944)
210 FPS @ 720p (1280×720)
50 FPS @ 1080p (1920×1080)
40 FPS @ 3M (2048×1536)
30 FPS @ 5M (2591×1944)
Video Station
Video Transcoding
4K Group 1 (See more)
Group 1 – Type 1 (See more)
Maximum Transcoding Channel Number
·         1 channel, 30 FPS @ 4K (4096 x 2160), H.264 (AVC) or 3 channel, 30 FPS @ 1080p (1920×1080), H.264 (AVC)/MPEG-2/VC-1
·         1 channel, 30 FPS @ 1080p(1920×1080), H.264 (AVC)/MPEG-4 Part 2 (XVID, DIVX5)/MPEG-2/VC-1
Environment & Packaging
Model Name
DS416play
DS415play
Environment
RoHS Compliant
RoHS Compliant
Packaging Content
·         Main Unit X 1

·         Welcome Note X 1

·         Accessory Pack X 1

·         AC Power Adapter X 1

·         AC Power Cord X 1

·         RJ-45 LAN Cable X 2

·         Main Unit X 1

·         Welcome Note X 1

·         Accessory Pack X 1

·         AC Power Adapter X 1

·         AC Power Cord X 1

·         RJ-45 LAN Cable X 1