What is the best 4 Bay NAS from QNAP?
There is no escaping it, every day we use, create, need and store data. The growth and evolution of Network Attached Storage has been a fast and more and more people in 2016 are finding the need for a NAS Server in their lives. 4-Bay NAS devices are no longer aimed at just business users and IT professionals. Now everyone and his brother want to get their hands on a NAS solution. However everyone's NAS requirements are different. Some just want a cheap NAS, others are looking to keep all their media in a NAS based Plex Media Server and some have more advanced NAS ideas like running Virtual Machines and hosting hundreds of users from one location. We want to focus on QNAP NAS and the QNAP 4-Bay NAS range available to buy at SPAN.COM.
What is the Best 4 bay Qnap NAS for Performance?

 NAS Performance is possibly (after price) one of the most important things to consider when buying your NAS. Finding the NAS server platform that can perform the tasks you require, whilst not spending too much can be tricky as most NAS units in the QNAP 4-Bay range are all targeted at different audiences. One look at the NAS devices below show that the TVS-463 and the TVS-471 are easily the most powerful. Featuring more advanced CPU and RAM options than the other NAS units, they are also the most expensive NAS devices available. If we move towards the middle of the pack, we see 4-BAY QNAP NAS units like the QNAP TS-453A and the TS-451+ at around half the price of the top NAS of 2016. Both these units feature excellent Quad-Core CPU's at well as arriving with 2-4GB of RAM and the ability to expand that memory to 8GB. Both these units can run several NAS based VMs, as well as functioning very well as NAS HD Plex Media Servers. As you would expect, the cost effective NAS devices to the left are the least powerful and their price and hardware are designed to be reflected in this.
What is Best 4 bay Qnap NAS for Connectivity?

 Network Attached Storage for Windows and Mac systems are more than just Hard Drives you access over the internet. Most QNAP NAS devices arrive with a multitude of ports ranging from USB and eSATA to HDMI and IR remote controls. Of course, the more you spend the more connections your NAS will tend to have, but this is not a strict rule and you will often find that if external means of connection are the most important factor in buying the right NAS for you, then you can save money on a cheaper NAS and still get a high level of NAS connectivity. Of all the NAS units available, the QNAP TS-453A is by far the most connectable. It features 2x HDMI ports, 4 USB 3.0, audio ports, 4 LAN ports, a remote control and even a front mounted LCD panel to give you real-time information. As you move further up the pack you will struggle to see more improvements on connections as the majority of the cost of a NAS goes into the software and that CPU and RAM. That said, if you want a cheap NAS with excellent connections, the the QNAP TS-251+-8G is the one for you. One of the lower cost NAS devices, it includes USB 2.0, USB 3.0, HDMI and a remote.
What is the Best 4 bay Qnap NAS for Expansion and upgrade options?

You have to think of the future. When you buy your NAS, it may look shiny and the storage look spacious. But all too soon, the hardware can struggle, the connections can see slow and the Terabytes only have gigabytes free! If you are serious about future proofing your NAS to ensure you get a network attached storage device with a future, then think about expandability and upgrades. Almost all QNAP 4BAY NAS devices can connect an NAS expansion chassis. You can buy the 5 Bay QNAP expansion UX-500P or the 8-Bay NAS expansion UX-800P. Next you can expand the memory so your NAS an multitask and handle more and bigger tasks. Lastly there is the ability to upgrade the network connection itself itself. Almost all QNAP NAS arrive with 1GBe connections in RJ45 form. However some arrive with or can be expanded with the ability to adopt 10GBe… that is 10Gb per second network connections. Currently this is an option to big businesses or photo and video editors with the budget to upgrade to 10 gigabit Ethernet. However in years to come it will be far more common and hence the ability to upgrade to this connection being so attractive.
In terms of expandability and upgrade options, the clear winner here is the TVS-471 as it can be upgraded to 4 10GBe ports, 16GB of that DDR3 Memory and can connect to multiple expansion units. The QNAP TVS-471 4-bay NAS is truly the unit to buy if you want a NAS that will grow alongside your business
What is the Best 4 bay Qnap NAS for Power Consumption and noise?

Power consumption is becoming a more and more pressing issue now that people are more and more leaving there NAS devices on 24/7 and constantly synchronising an backing up to it. Clearly from these results you can see that the power consumption on the QNAP TVS-463 is by far the highest. If your primary concern in making your NAS purchase is power, then this is where many of the cost effective NAS devices on the left will save you money both today AND tomorrow! However, for the perfect balance of ability VERSUS power consumption, then the QNAP TS-453Mini is the NAS for you.
Likewise you will notice that the noise rises and falls directly with the power consumption due to parts, chips and hardware in general working harder and increasing background noise.  Once again, the perfect balance comes in the form of the micro based SSD NAS based solutions, the QNAP TS-453Mini and TBS-453A.
What is the Best 4 bay Qnap NAS for hardware functionality?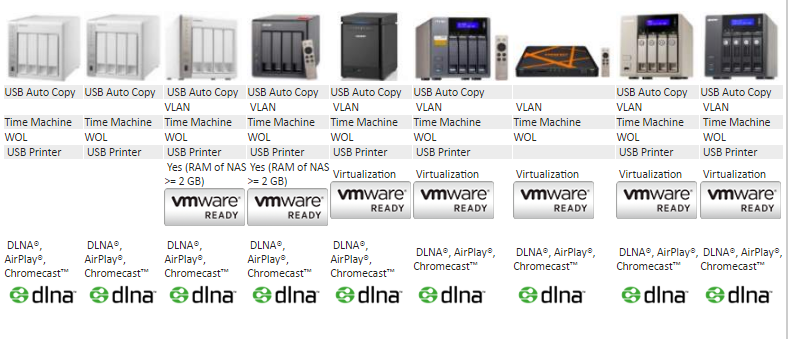 It's not about how big it is, but what you do with it! Never has a truer word been spoken. In the area of what a NAS can do, it is often the case that the more you spend, the more you can do! It's sad but true and if you have big ideas on your NAS, then you are going to have to be prepared to pay for it. As you can see from left to right, the options and abilities of the NAS grow with each unit and moreover, the depth and width of those services grow too. More cameras for your NAS Surveillance station, more Apple Time Machine Images to store, more virtual machines for you to run and the more applications that you can include.
What is the Best 4 bay Qnap NAS for Speed and RAID Building?

Buying a NAS to house all your data for you to securely access is all fair and well, but eventually sooner or later you are going to want to access it! The speed with which you can read, write, upload and download your data is dictated by things like the CPU, the RAM, the number of Gigabit LAN ports available and the of course the drives you choose. But like before, you will often find that the more you spend, the faster your access to and from data will be. However, there are exceptions to the rule. Noticeably the QNAP Dual OS TS-453A. Thanks to that Quad-Core PU, the expandable RAM and those 4 LAN ports, it can achieve almost the highest level of read and write speed compared to the other QNAP 4-Bay NAS and is the 5th Cheapest NAS. Definitely in our Top 5 NAS of 2016.
What is the Best 4 bay Qnap NAS for PLEX and a Plex Media Server?

Practically all 4-Bay NAS from QNAP can be used as a NAS Plex Media Server, and if you intend to stream HD media to other HD Media enabled Network Attached Storage Devices like Smart TVs and PC's throughout the home, then you can afford to be choosy (with any additional spending mainly just increasing thumbnail, image and manipulate speeds. However if you want to access HD media on your NAS Plex PMS, but want to stream it to your NAS devices with lower screen resolutions, less space to store media on the fly or NAS items that cannot play the original file format (eg .MKV or .m4b), then you have to think about Plex Media Server Transcoding on your NAS. As you can see, different NAS servers from QNAP feature different levels of Plex Media Server transcoding and choosing the right one for your media setup is important.
What is the Best 4 bay Qnap NAS for Surveillance over IP Cameras?

Many users are coming around the idea of Home, office and retail NAS based surveillance. There are many advantages to Network Attached Storage Surveillance,NVR or NAS CCTV. As most QNAP devices arrive with HDMI ports and the ability to connect peripheral devices like keyboards and a mouse, they make excellent standalone Surveillance solutions. When making the choice for the right Surveillance solution in a QNAP NAS, always take a moment to check how many licences are included, the maximum number of cameras available and the QVPC sticker – as this will indicate whether you can create a standalone surveillance solution.
What is the Best 4 bay Qnap NAS for Native Transcoding?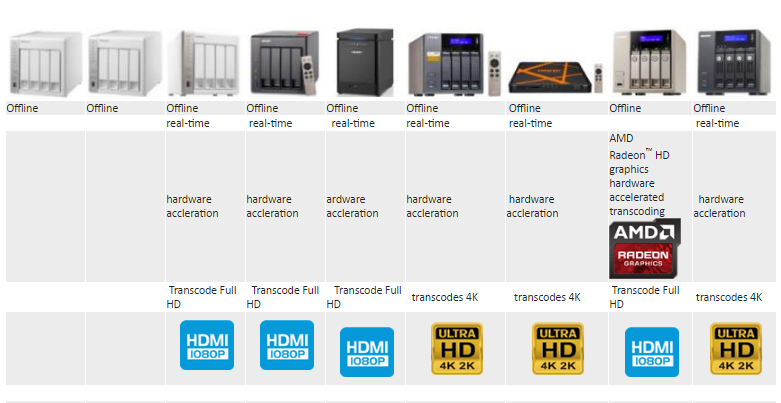 Whilst we are talking about transcoding, it is important not to mix up Plex Media Server transcoding and Native Transcoding on your NAS. Plex is a surprisingly resource consuming software. This is due to all the transcoding being required by media server device (the NAS). However if you are not a fan of Plex or just want to use native transcoding via DLNA, the QNAP Mobile and desktop Apps for Windows, Android, iOs and Mac, then native transcoding is your concern. As you can see from the details below, three of the NAS devices can transcoding all the way upto 1080p and 4K Media and if you are mostly concerned with high density media transcoding, these are the NAS devices for you!