Are the QNAP TS-251A and TS-451A the Direct USB Access NAS you have been waiting for?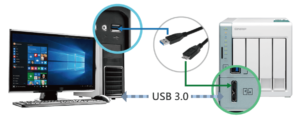 The TS-251A-2G same as the TS-451A-2G is made by Qnap. By choosing Qnap people expect to see advanced configurations opportunities as well as innovative and more diverse business applications. You are able to customize the TS-451A-2G to your needs. This unit also arrives with a One-touch Backup button on the front panel, when it is configured on the TS-251A-2G, it can be used to backup data off of the USB device, or vice versa. Same as the TS-451A-2G this box has the 14nm Intel® Celeron® N3060 dual-core 1.6GHz processor, up to 2.48GHz processor. Just like the TS-451A-2G this box has 2GB RAM.
About Connections, how do they differ?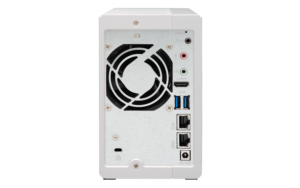 At the back of the box you will find HDMI port which will let you connect it to TV or monitor. In this case you are not limited to network speeds. You might be interested in audio output ports. With TS-251A-2G you can build a personal karaoke system with high-quality audio output. The TS-251A-2G is packed with remote control for you to conveniently control the HD Station via the built-in IR receiver of the TS-251A-2G. There are two LAN ports on this box, making it a good home or small business NAS as you can utilise Link Aggregation and Failover support. Three USB3 ports on this Qnap is offering you up to 5Gb/s transfer speeds of external devices. It is fast enough to get your files through fairly quickly with this speed and make backing up with an external drive or Apple Time Machine a quick and easy process.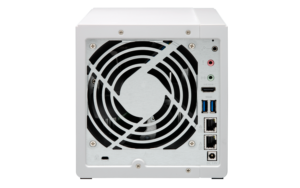 With two bay unit you are having additional advantages. You may choose your box to be set up as JBOD, RAID 0 or RAID 1. RAID 0 would be good for non-critical storage of data when you need it to read and written at high speeds. It could give you good performance. Besides you can still access your documents or media files over your private network or even internet. You may install Plex Media Server on this box. Plex lets you easily create a feature rich and practical home media playback system. Some boxes offer real time transcoding functionality. That let you stream your media hustle free, based on your device speed or screen size. Please contact us to find transcoding compatibility list.
What are the specifications of the TS-251A and TS-451A?
The specifications of both units are as follows
Supports JBOD, RAID 0, RAID 1 and RAID 5 (only on the TS-451A)
14nm Intel® Celeron® N3060 dual-core 1.6GHz processor, up to 2.48GHz (same as DS216+II)
2 or 4GB RAM (maximum of 8GB across two slots)
Kinda the key selling point – USB Direct Access. How to connect is as follow:
• Connect a USB cable to the front of the NAS (slim USB 3.0 type Micro B)
• Connect other end to your PC or Mac via a standard USB Type A port
• Connect and access your device for the first time using QFinder Pro software (free)
• NAS can still be accessed in traditional NAS way whilst USB Direct Attached accessed is used
• Password and User account control can be applied or suspended as required for protection
Lastly, both units support Native 4K and HD Transcoding – though cannot expect the same resolution support in Plex Performance in a NAS based Plex Media Server. Additionally, both units support Dual OS support, as in the X53A range. So you can utilise a QTS and Linux OS.
With regard to Read and Write speeds, through two LAN ports are 194.5MB/s Read and 211.88 MB/s Write across both the QNAP TS-251A-2G and QNAP TS-451A-2G. Also you have a Remote control included for selecting and controlling media applications via that HDMI port. Both units are Windows and Mac compatible, feature VM supported as well as QvPC with the USB and HDMI ports (by connecting a Keyboard, Mouse and HDMI monitor). Likewise, this same connecivity means you can create a standalone Surveillance Network with 2 Camera licences included and the ability to connect upto 32 more.
Price, Warranty and Where to Buy the TS-251A?
This box comes with 2 year warranty for your peace of mind and long term hardware security. The Qnap TS-451A is £91.00 cheaper than the most expensive unit TS-451A-2G.