QNAP NAS just unveiled their Biggest and most Powerful NAS yet in the TS-1685 16 Bay Xeon NAS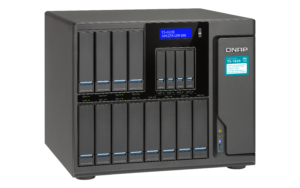 Easily the single unit that caused the biggest reaction for me at CES 2017 was the behemoth NAS from the guys at QNAP – The QNAP TS-1685 16-Bay Xeon D NAS. Now there are a number of reasons why this unit really stands out from the pack for me. First and foremost – IT'S HUGE! Using the same chassis used in the 2016 release, the TS-1635 NAS, this new and more powerful NAS is not on the petite side either. Featuring 12 traditional HDD bays and 4 SSD bays, this device is a real monster to behold. Likewise it's not all about size, it's about what you do with it! In this department, the QNAP TS-1685 does not disappoint either. For a desktop NAS, this QNAP Server has an Intel Xeon D CPU and is available in 4, 6 or an incredible EIGHT CPU cores! Along with this staggering CPU to do the work, the RAM can be upgraded all the way upto 128GB of DDR4 Memory! For those looking for a centralised and powerful NAS Server for VMware or running an enterprise mid to high scale company from, this could well be the unit for you! Details are coming all the time, but in short everything you need to know is below:
What are the specifications fo the QNAP TS-1685 NAS and what can this Power NAS do?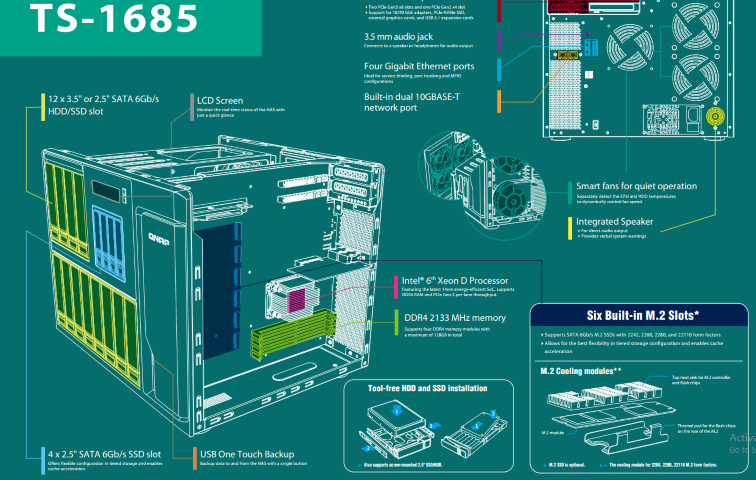 16 Bay Chassis based on the TS-1635 NAS but much, much more powerful

12 HDD Bays and 4x SSD Bays – but you can still isntall SSD in the 12 HDD bays if you wish

Xeon® D CPU D-1521 (4-core, 2.4GHz), D1531 (6-core, 2.2GHz), and D-1548 (8-core, 2.0GHz)for optimising performance and efficiency

Max 128GB DDR4 2133 MHz RAM

Built-in dual 10GBASE-T network ports

Runs QTS 4.3, providing a comprehensive suite of business applications

Qtier™ with SSD Cache accelerates NAS performance 24/7

Snapshot and Snapshot Replica continuously protect your data

Virtualization Station 3.0 and Container Station 1.6 allow virtualization of application servers

Q'center 1.4 centrally manages of all of your NAS device

Qsirch 2.3 simplifies and speeds up file search

QmailAgent 1.0.2 offers simple and secure access to multiple email accounts

6x m.2 SSD slots for unparalleled caching

550W and 250W PSU versions available for higher demand applications and hardware