Daisy-Chaining Thunderbolt 2 and Thunderbolt 3 Devices with your Mac in 2017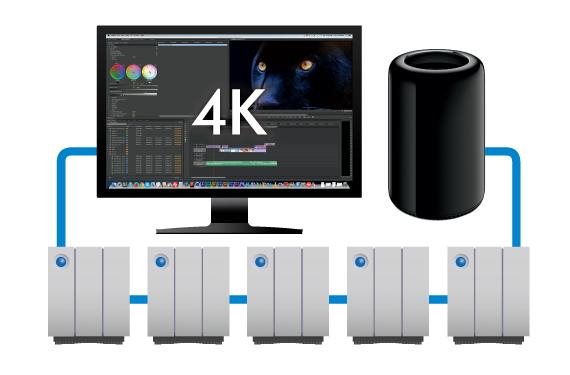 Thunderbolt technology is not a new thing! Heavily utilized by the Mac and Apple community, Thunderbolt 1, 2 and the recently released Thunderbolt 3 for MacBook Pro are fast becoming the connection of choice for the most popular of Photo and Video editing suites and studios. There are a number of reasons for this and it is not only about the blisteringly fast data transmission speed of Thunderbolt1 at 10GB/s, Thunderbolt2 at 20GB/s and the new and exciting Thunderbolt3 at 40GB/s. No, there is a large amount of flexibility and efficiency in devices that use TB as their means to communicate. Larger power being supplied by the Thunderbolt cable means that bigger and more power consuming devices can be used to full capacity without the need of additional mains power, running with power supplied by the host Apple Mac – much like USB but on a much bigger and more powerful scale. Likewise this increased data transmission bandwidth, speed and additional power means that Thunderbolt 1,2 and 3 are fantastic for Daisy-Chaining numerous peripheral devices together one by one and letting the host Apple Mac Tower or MacBook Pro access everything via a single Thunderbolt port. But what is Thunderbolt Mac daisychaining and is it as good as it sounds?
What is Daisy-Chaining and why is it such a big deal for Mac users in 2017?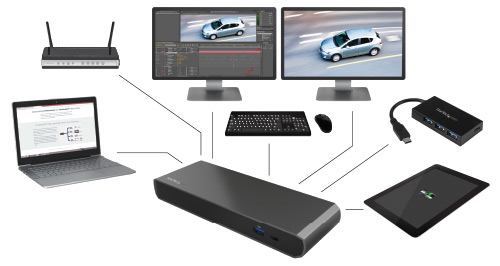 As mentioned above, Daisy Chain is a term used to describe an system setup whereby you have multiple peripheral devices and machines being accessible by a host Apple Mac, all at once, with little or no slowdown and using just one port on the Apple Mac, in this case Thunderbolt 1, Thunderbolt 2 or Thunderbolt 3. This system of connecting devices for Mac users is very popular and looks to become even more popular as Apple Mac machines are becoming more mobile and portable. With each release of the new Mac or Apple for 2017, fewer and fewer ports are being included – currently 2x Thunderbolt3 USB-C ports of the MacBook Pro 2016. With innovations of Thunderbolt Docking stations and 4K and 5K Monitors with USB-C and Thunderbolt connectivity, slowly but surely ports like USB 3.0 and HDMI are being fazed out – much like the Firewire 400, 600 and 800 of old! However if you need to connect to multiple devices that are not network enabled (like a NAS Server) you are going to have to keep changing the connected device as soon as you exceed 2 devices.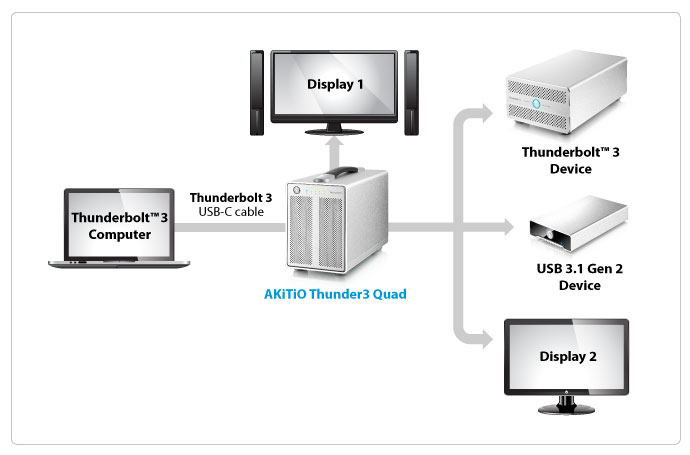 This cannot only time consuming but can be ill advised if you are reading or writing to the device and may well require them to be restarted between use. Daisy-Chaining avoids all of this by each Thunderbolt device connecting to the next one, one by one unit a unit is connected to the Thunderbolt3 2017 Mac. There is more than enough power available and data will travel between devices too and from the Mac with ease. Most modern editors in Photo and Video industries use this setup to have a base of operations available to them on the move or set up at their desk on-site, providing them with the flexibility to take their highly light and portable MacBook Pro 2016 off site when needed. In an age of Kickstarter, Bedroom startups and mobile office environments, this level of Thunderbolt 3 flexibility is invaluable for creators in 2017.
What are the Advantages and Disadvantages of Daisy-Chaining Thunderbolt Devices for Mac Users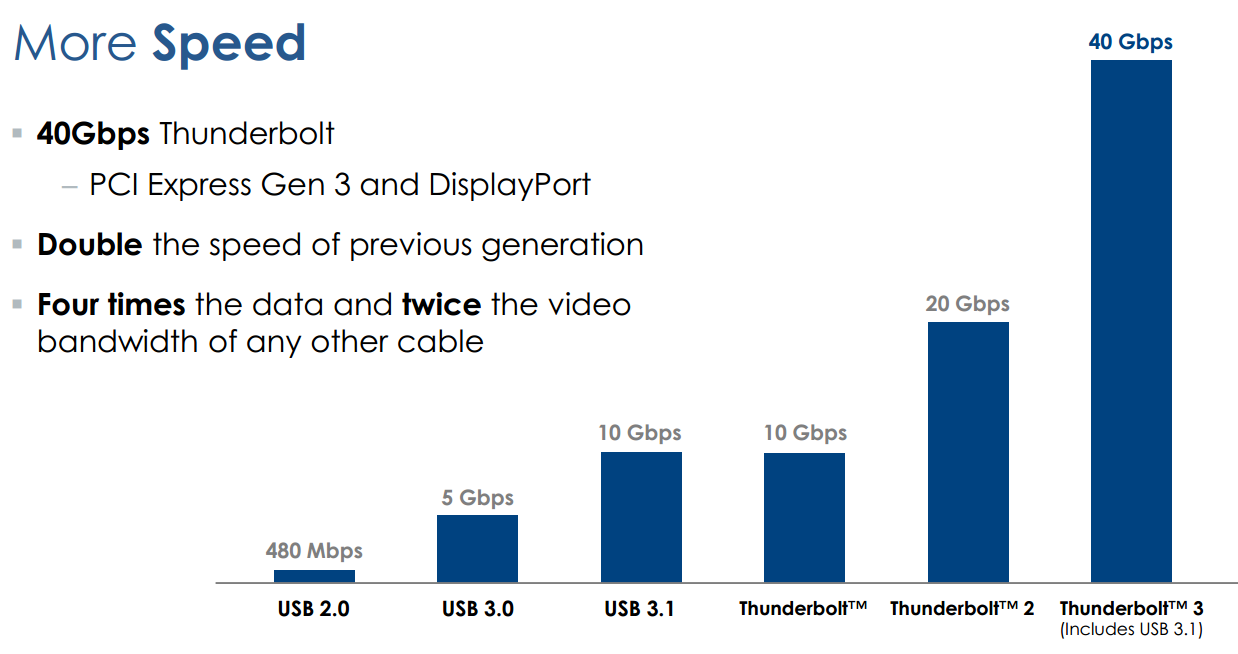 Of course no system is perfect and there are some core strengths and weaknesses of installing a Thunderbolt3 Daisy Chain into your creator environment. Of course it will also depend on the devices you place in your ideal Mac Daisy Chain but generally the advantages of Daisy Chaining with Thunderbolt are:
Advantages of a Thunderbolt Daisy Chain
Disadvantages of a Thunderbolt Daisy Chain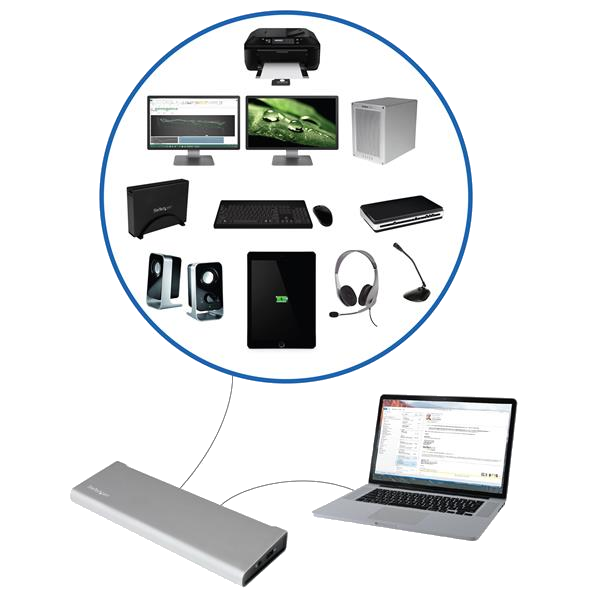 However, as mentioned, the real strength and output that you can achieve from a efficient daisychain of devices to your Apple Mac System in 2017 will largely come down to the devices you select. There are a large number of Thunderbolt peripherals available now ranging from RAID storage via TB3 for Mac, 4K and 5K Resolution monitors over USB-C, Sound and Video capture from popular brands like BlackMagic Design and even Thunderbolt docking stations that give you full backwards compatibility with connections like USB, HDMI, DisplayPort, S/PDIF and Firewire800 to older devices – though of course these devices cannot be accessed in higher speeds than they were originally designed with i.e. USB 3.0 at 5GB/s, fw400 AT 400MB/s etc. The options and choices of how you expand, upgrade and evolve your Apple Mac creators environment are up to you.
What are the Best Thunderbolt 2 and Thunderbolt 3 Mac Devices for 2017
 Below is some of the best and most popular Thunderbolt 2 and Thunderbolt 3 devices across RAID storage, Thunderbolt NAS, Thunderbolt Docking Stations, Displays and adapters. Each device is fully compatible with Mac OSX and in some cases iOS (latest versions). I have also included the best places to buy each item based on price, location and reputation. Take a look below and let's look into how we can upgrade your hobby, project business and enterprise into something you will be proud of making in 2017.
Best Thunderbolt 3 and Thunderbolt 2 RAID Storage for Mac 2017
Probably the most common Thunderbolt 3 and Thunderbolt 3 Accessory choice, Large RAID enabled storage has never been better with the enormous transmission speed available via TB. Below are a number of solutions that vary in cost and speed – though all are compatible with Apple Mac and would all suit a Photo and Video editing suite.
Promise
Pegasus3 Symply Edition R4 TB3
12TB
F40P3R400000001JBOD – RAID 0 – RAID 1 – RAID 5 – RAID 6

(Click below to Buy)

LaCie
6big Thunderbolt3
24TB
STFK24000400
RAID 5 – RAID 6

Areca
Thunderbolt2 RAID Enclosure
ARC-8050T2JBOD – RAID 0 – RAID 1 – RAID 5 – RAID 6 – RAID 10
8-Bay

(Click below to Buy)

AKiTiO
4-Bay Thunderbolt2 Case
Thunder2 Quad TBQ-TIAA-AKTUNon-RAID (Setup on Host Mac)(Click below to Buy)
Thunderbolt 3 and Thunderbolt 2 NAS Servers for Mac
Thunderbolt 2 and 3 enabled Network Attached Storage is a very new kind of technology. NAS Servers have been around a while but it has take QNAP NAS (the only company worldwide currently offering this level of hardware) a number of years to combine the flexibility and distribution of NAS, with the ease of access and on-the-fly editing available with DAS (Direct Attached Storage). Below are the 4 most popular Thunderbolt 2 and Thunderbolt 3 NAS that are available NOW or are available to Pre-Order.
QNAP NAS 10GbE+TB2
TVS-1282T-i7-64G
12-Bay Thunderbolt 2
NAS + DAS with RAID


 

Quad-Core i7, 64GB DDR4 Memory, 10GBe
QNAP NAS 10GbE+TB2
TVS-882ST2-i7-16G
8-Bay SSD Thunderbolt 2
NAS + DAS with RAID


 

Quad-Core i7, 16GB DDR4 Memory, 10GBe
Qnap NAS 10GbE+TB2
TVS-1282T3-i7-64G
12-Bay Thunderbolt 3
NAS + DAS with RAID



Quad-Core i7, 64GB DDR4 Memory, 10GBe

QNAP NAS 10GbE+TB2
TVS-882ST3-i7-16G
8-Bay SSD Thunderbolt 3
NAS + DAS with RAID
4K and 5K Monitors for Thunderbolt 3 and Thunderbolt 2
One of the biggest advantages of a high bandwidth, high powered and insanely fast connection like Thunderbolt 3 and 2 is that HDMI, DisplayPort, USB-C and Thunderbolt monitors are able to provide ULTRA HIGH resolutions like 1080p, 4K and 5K. Even better, you can daisychain multiple monitors (though just 1x in 5K) and suffer barely any loss of speed. Below are the best monitors based on customer reviews.
AOC 24 inch LED Gaming Monitor, 1 ms Response Time, Display Port, HDMI, VGA, 75 Hz, Vesa, Adaptive Sync, Vesa G2460VQ6

(Click below to Buy)

Dell UP2715K 27-Inch Ultra HD 5K LCD Monitor (1000:1, 350 cd/m2, 5120 x 2880, 8ms, Mini DP/DP/USB)

(Click below to Buy)

ViewSonic VX2257-mhd 22 inch Gaming Monitor with FreeSync 1920 x 1080, 1ms, VGA/HDMI/DisplayPort

(Click below to Buy)

LG 27UD68P 27 inch Ultra HD 4K Monitor (1000:1, 300 Nits, 3840 x 2160, 5 ms, HDMI/DisplayPort)

(Click below to Buy)
Thunderbolt 3 and Thunderbolt 2 Docking Stations
As mentioned previously, backwards compatibility is one of the key abilities of Thunderbolt so popular. Use any one of the devices below to turn the single Thunderbolt 3 or Thunderbolt 2 port you have connectivity to everything from HDMI 1.4b, USB, USB-C, USB-A, Firewire 800 and more. Why not have full access to both older and newer technology – at the same time.
StarTech
Thunderbolt2 Docking Station
TB2DOCK4K2DP
2x TB2, 2x DisplayPort, 4x USB3, LAN, eSATA


(Click below to Buy)

Sonnet
Echo 15+ Thunderbolt2 Dock
ECHO-DK-DVD-0TB
with USB3,eSATA,Firewire,LAN,Audio + DVDRW + Bay for 1x 3.5 or 2x 2.5 SSD


(Click below to Buy)

StarTech
USB-C Docking
DKWG30DPHPDU
Wireless (WiGig) or USB-C Dual-Monitor Docking Station for Laptops – Power Delivery

(Click below to Buy)

StarTech
Thunderbolt3 Docking Station
TB3DK2DPPDUE
2x TB3 (USB-C), 1x DisplayPort, 3x USB3, LAN – Windows & Mac


(Click below to Buy)
Thunderbolt 3 and Thunderbolt 2 Adapters with USB-C to Thunderbolt
Whether you have bought the new MacBook Pro 2016 with Thunderbolt3 or you have an older MacBook or iMac with Thunderbolt2, having an adapter to use accessories for the other is a valuable commodity. The 4 devices below will help you make that possible. Always be sure to check you buy a device that works in the correct direction though.
AKiTiO
Thunderbolt Adapter
T3T T3T-TTNA-AKT
Thunderbolt3 to Thunderbolt2 / Thunderbolt1 – Windows & Mac



(Click below to Buy)

StarTech
Thunderbolt 3 Adapter
TBT3TBTADAP
Thunderbolt3 (USB-C) to Thunderbolt (20pin) Adapter



(Click below to Buy)

StarTech
Thunderbolt 3 Adapter
TB32DP2
Thunderbolt3 (USB-C) to Dual DisplayPort Adapter – 4K 60Hz


(Click below to Buy)

StarTech
USB-C Adapter Cable
CDP2DPMM1MB
USB-C to DisplayPort Adapter Cable – 1m (3 ft.) – 4K at 60 Hz



(Click below to Buy)
Thunderbolt 3 enabled Apple Mac Devices

 Of course when it comes to improving and overhauling your workspace and setup, no amount of peripherals and add-ons will ever out perform replacing and upgrading the host machine. Of course this will be the most expensive option but sometimes that is the best option. For those with an older Thunderbolt 1 setup or even a non-Thunderbolt enabled Apple Mac, you have two main choices. Do you buy the older and now lower in price older generation Thunderbolt 2 Macbook Pro and iMac? Or do you skip an entire generation and go straight for Thunderbolt 3 enabled MacBook Pro devices and the soon to be released Thunderbolt 3 2017 iMac? Below you will find the all the MacBooks and iMacs featuring Thunderbolt 1 and 2. Along with each I have included the current price in the UK and US and you will see the older they get, the lower the overall cost (click the links for the recommended store to purchase from). 
The following Mac models are equipped with Thunderbolt 3:
The following Mac models are equipped with Thunderbolt 2:
📧 LET ME KNOW ABOUT NEW POSTS 🔔
Join 1,410 other subscribers
Get an alert every time something gets added to this specific article!
This description contains links to Amazon. These links will take you to some of the products mentioned in today's content. As an Amazon Associate, I earn from qualifying purchases. Visit the NASCompares Deal Finder to find the best place to buy this device in your region, based on Service, Support and Reputation - Just Search for your NAS Drive in the Box Below
Need Advice on Data Storage from an Expert?
We want to keep the free advice on NASCompares FREE for as long as we can. Since this service started back in Jan '18, We have helped hundreds of users every month solve their storage woes, but we can only continue to do this with your support. So please do choose to buy at Amazon US and Amazon UK on the articles when buying to provide advert revenue support or to donate/support the site below.

Finally, for free advice about your setup, j
ust leave a message in the comments below here at NASCompares.com and we will get back to you.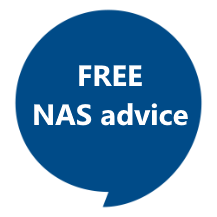 Need Help?
Where possible (and where appropriate) please provide as much information about your requirements, as then I can arrange the best answer and solution to your needs. Do not worry about your e-mail address being required, it will NOT be used in a mailing list and will NOT be used in any way other than to respond to your enquiry.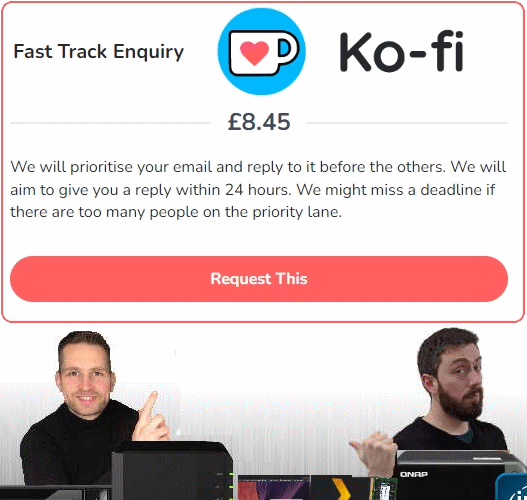 Terms and Conditions
Alternatively, why not ask me on the
ASK NASCompares forum
, by clicking the button below. This is a community hub that serves as a place that I can answer your question, chew the fat, share new release information and even get corrections posted. I will always get around to answering ALL queries, but as a one-man operation, I cannot promise speed! So by sharing your query in the
ASK NASCompares
section below, you can get a better range of solutions and suggestions, alongside my own.