Choosing the right IP Camera for your QNAP OR Synology NAS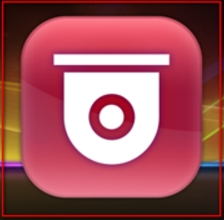 Buying a NAS server to house, share and protect you most important data is fast becoming the system of choice for home and business users alike. The days of a draw filled with 4 or 5 USB keys or indeterminate size and quality are disappearing fast and it is now becoming easy for even the most novice IT user to get to grips with a 2 or 4-Bay NAS or DAS storage enclosure for HDD or SSD. However there are so many reasons to buy your first NAS. A well suited and mid-rage NAS can serve as a Plex Media Server, an iTunes server, an Apple Time Machine image archive, a DLNA certified media center or a Download station for RSS, HTTP, BT and FTP. The list of things you can do with a NAS is surprisingly long and most tasks can be carried out simultaneously with the others. However a more and more common reason many are buying their first NAS in 2017 and 2016 is home/Business security – a NAS Surveillance Solution.
Why would you use a Synology or QNAP NAS as an NVR?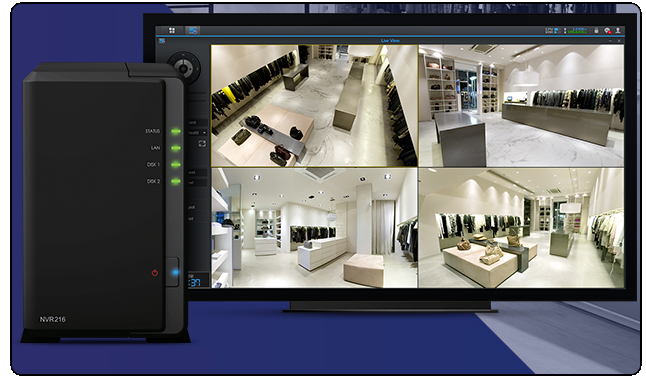 Both the big NAS brands, QNAP and Synology NAS, have been in the business of Network Attach Storage Servers for a great deal of time now and both arrive with completely free Surveillance software included with their respective units. Likewise both brands have specialised HDMI enabled NAS devices that let you connect an HDMI Monitor or HDMI TV and (along with a USB Keyboard and Mouse) to create a completely standalone CCTV Network Recording solution. Of course you do not need a Monitor or Peripherals, both units give you full access and control to all cameras, software and video feeds via your network or other the internet via your Mac, PC or mobile device (with numerous apps available in both Google Play and iTunes). Likewise the control deck and multiple camera feeds that you expect from expensive and often subscription based software platforms like Milestone and NetCam is provided for FREE with the QNAP and Synology Surveillance Station software, as well as being compatible with Thousands of different IP Camera models and in most cases being able to utilise and integrate popular IP Surveillance camera features like:
Motion Sensor Recording

Infrared

Thermal Imaging

Short/Log record

Low Power Modes

Low/High Frame rate recordings

Multiple codec outputs

Zoom

Facial recognition

Colour/Black and White

Nightvision

And more
What are the Disadvantages of using a QNAP NAS or Synology NAS for Surveillance and IP Cameras?
It all sounds too good to be true and with all this good news, it would be remiss of us here at NASCompares.com not to mention a few of the drawbacks to using a NAS for a NVR Surveillance NAS solution.
The lower the power of the NAS, the fewer cameras the unit will support in constant and simultaneous use. I recommend minimum a Dual-Core, Intel CPU with at least 2GB of RAM for the most stable NVR NAS platform, like the Synology DS216+II or the QNAP TS-251+2G.
Almost all Synology and QNAP NAS arrive with just two IP Camera Licences. In brief what that means is the FREE surveillance software with your NAS can only support 2x cameras at the beginning but can support more if you buy Camera licences. When asked about this, both Synology and QNAP that the software is provided free for Home users and those with light/small Surveillance needs. However larger Business and Enterprise customers would utilise the full Surveillance functionality with a larger number of cameras and this requires support in real time and long term functionality from them. So they say that those that want to use it for business/large scale needs should support it through further IP Camera licences. If you want more FREE IP camera licenses than the standard 2x, I would recommend the QNAP TS-253A as it arrives with 4X FREE Camera Licences. Alternatively, you can buy more IP Camera licences from nascompares.com here.
In order to get the most from your Surveillance over NAS with IP Cameras, it is recommended that you get CCTV or NAS tailored HDDs for your QNAP NAS or Synology NAS, which are around 10-20% more expensive than standard Desktop PC Hard Drive Media. This is because they are designed with 24/7 powered usage in mind, as well as the Surveillance Class Drives being designed for Heavier Write than Read (I.e. more time recording footage onto, than you spend accessing it). nascompares.com recommend the Western Digital Red NAS and Purple Surveillance Drives. Alternatively you can get the Seagate Ironwolf or Seagate Skyhawk Drives.
What are the best IP Camera for my Synology NAS or QNAP NAS
When choosing the right IP Cameras for your Synology NVR or QNAP NVR, we can break most of the IP Cams available into two groups. The Full Coverage and fully featured and extensive selections where you have a camera that can give you more than 70-80% of the features listed above (though will be a pinch more expensive) and the Cost Effecive and Budget IP Cameras that work well and can be relied upon for Home and small business Surveillance, but only support around 40-50% of the features mentioned (though are lower in price) as well as having a lower FPS generally. However if you are recording your home whilst you are at work, Frames Per Second won't be a huge concern. Let's take a look below at the IP Cameras that we at NASCompares recommend for your NAS NVR Solution for QNAP and Synology.
Top Service IP Cameras for 2017
As mentioned in the best IP Camera for indoors, the Reolink C2 is a rather more feature ready alternative to the Reolink C1. Using the same external design, the C2 also includes added features like an optical zoom (upto 3x), improved Super HD (so 1440p resolution) recording, audio both ways (so a little like the Argus in that respect) and improved pan and tilt control providing 355 degrees coverage on pan and upto 105 on tilt.

It may cost a little more than the C1 but the price increase is minimal and the features included in this revised version more than make up for you. If you IP camera budget is a little stretched, why not have a mixture of Reolink C1 camera(s) in less priority areas, but a Reolink C2 in one or two areas that matter the most (front door, patio door, roof, etc).This is the cover all bases IP Camera for your Synology NAS setup with Surveillance station. Still geared towards the home, but a lovely camera and highly 

Buy From UK

Buy from US
ReoLink RLC422 4 MegaPixel IP Camera with POE

QUICK AND EASY SETUP : Only Three Steps to Access Your Camera.(A) Install Free Reolink App (IOS/Android) (B) Scan The QR Code (C) Login The Camera. After Simple and DIY Style Setup, You Can Check Home and Business Security Anytime Anywhere
STUNNING VIEW EXPERIENCE: Crystal Clear 4 Mega Pixels 1440P 2560X1440 Video at 30fps, 2.8-12mm Lens , 36°~100° Adjustable View Angle Functioned by Motorized Lens Supporting 4x Optical Zoom with Latest H.264 Technology. 24pcs IR LEDs Night Vision up to 20M
ROBUST HARDWARE: IP66 Aluminum Waterproof Casing , No Worry for Indoor/Outdoor Use.
POE: Power Over Ethernet Makes Easier Wiring and Installation , Advanced PoE Technology Enables You to Use a Single Network Cable for Both Video and Power Transmission. Therefore, a PoE IP Camera Makes the Wiring Simplified and Installation Easier.
Compatible with both Synology and QNAP 01/17

Buy From UK

Buy from US
PHYLINK Bullet HD1080 WiFi Outdoor DVR with SD Card Slot and POE

True Day & Night – The HD 1080P camera features an advanced IR Cut Filter for accurate, vibrant colors and a Night Vision mode to capture clear, illuminated footage up to 30 feet. Expanding your recording coverage without compromising quality.
MicroSD, FTP, Dropbox, NAS, NVR storage – The camera provides a local storage solution, recording video directly onto a microSD card with up to 128GB capacity (sold seperately). Set your camera for continuous recording or recording only when motion events are detected. The saved video can be remotely viewed from any computer or Android or iOS device. Or record and store to NAS & NVR drives, like Synology, ASUSTOR and QNAP. Get, share and view the recorded files via Dropbox cloud storage.
Email, Mobile Notification and remote playback – You can set your camera for instant email alerts and push notifications to your smart device whenever significant motion is detected – and monitor the event in real time while it is automatically recorded to MicroSD card
Compatible with Synology and QNAP – 01/17

Buy From UK

Buy from US
Swinway Home CCTV IP Camera 1080p Support, 10x Optical Zoom and 360 degree coverage

4.5inch PTZ Dome IP cctv camera. Android, iPhone and iPad remote access anywhere anytime. Mobile App is "CloudLens"

The ip camera default IP address :192.168.1.110, when you receive the item, please check whether the camera IP address and gateway is match with your router or not ? if the camera IP address and gateway are not match with your router ,the camera will not connect your network and don't access to webpage.

The PTZ security camera WITHOUT POE and Wireless, so it can not work with Wireless and POE ,But it can work with NVR which support ONVIF.

164ft night vision, the outdoor ip camera IR LEDs is Automatic control through the Automatic sensors, if there are some LEDs don't work, it is a normal situation .

The outdoor security camera support ONVIF 2.0, support P2P, QNAP, Synology ,Blue Iris RTSP FTP

Compatibile with QNAP and Synology 08/16

Buy From UK

Buy from US
Ctronics PoE Security Dome IP Camera for indoors and Outdoors, IR, Motorized Zoom and Vandal Proof

See and Hear: Stream real-time video of your home with Canary's 1080p HD camera, 147 degree wide-angle lens, and automatic night vision

More Than a Camera: Protect your home with Canary's 90+ dB siren, motion-activated recording, and auto-arm/disarm

HomeHealth Technology: Monitor air quality, temperature, and humidity to help understand how your home might affect your health

No Installation/Contracts/Monthly Fees Required: Plug in Canary, connect to the Internet and you're ready to go

Discrete and Protected: Stream securely knowing your data is protected with bank-level encryption

Privacy: No other camera has a privacy mode that completely shuts down the camera and microphone

Compatible with both Synology and QNAP 08/16

Buy From UK

Buy from US
Top Budget IP Cameras for NAS in 2017
ELP Network Ip Camera Poe 720p, Pin Hole Camera, Alarm, Hidden Webcam

PoE,Power over ethernet IP camera, no need additional power adaptor. It is professional and industrial IP camera. Before ordering, it is better for you to have some IT knowledge or you have used other onvif ip camera .

3.7mm pinhole lens, small hidden lens for spy and hidden

mini box for portable installation, convenient installation;supporto NAS,Synology (Model:Generic_ONVIF;Port:8899)and Blue Iris(model:Empire ESC-IPC1;Port:34567)

HD H.264 resolution, 1megapixel, 720P clear image

P2P easy to view through CMS or browse, remote mobile view (XMeye

Compatible with Synology  09/16

Buy From UK

Buy from US
IdeaNext 720P HD WIFI Wireless IP Camera, NightVision, WaterProof, IR Support

EASY SETUP: Plug & Play technology, quick setup via WiFi / 3G / 4G network. Remote view via iPhone / iPad / Android phone / tablet / Apple MAC / Windows PC and web browsers ( IE, Firefox, Safari, Chrome supported ). Keep an eye on your loves and belongs anywhere anytime.
720P PRO HD: 1280*720 seamlessly stream video at 30fps. Superior high quality H.264 video compression format.
MOTION DETECTION: Receive real-time push notifications on your phone and alarm pictures or video to email ( yahoo/ Gmail / Hotmail / GMX ), FTP / Micro SD Card when motion is detected or alarm is triggered. Four Window motion detection and adjustable motion sensitivity enables you to monitor your home in all direction.
WATERPROOF: Waterproof degree up to IP66 and made of extremely durable aluminum. It can keep a durable and stable operation both indoor and outdoor even in the terrible weather
Compatible with Synology  and QNAP 01/17

Buy From UK

Buy from US
HOSAFE X2MB1W 1080P POE IP Camera, Motion Detection, Email Alerts, ONVIF Support

HD 2MP – 1920x1080P Outdoor/Indoor bullet camera with excellent low illumination sensor, 3.6mm lens for 90 degree, 36 leds for 50ft night vision
POE Module Include – Built in POE model, it works with 48V POE switch, disctance from camera to poe switch is up to 300ft (use cat5 ethernet cable or better), there is also a spare power adaptor for users who do not have POE switch, New poe cable with camera has waterproof
Easy Setup – It has free windows computer software VMS, or you can view/manage it in IE, or download app "xmeye" in google play store/appstore, this is cloud ip camera, very easy to setup, once connect to ethernet cable, it can go to internect automatically, no need setup port forwarding in router or apply DNS(default ip address is 192.168.1.10, if the ip address segment is different, need change by search tool (search tool is in the CD)
Onvif Support – It is a strong ONVIF ip camera, working with most third party ONVIF software (blue iris, ispy, synology) and NVR (Hikvision, Dahua, Swann)
Compatible with Synology  and QNAP 01/17

Buy From UK

Buy from US
IdeaNext Wireless/Wired Wifi IP Camera HD 1080P eith IR, NightVision, Motion Detection, Baby Monitor

Remote Viewing:Full HD 1080P(1920*1080) video at 30fps even in darkness, remote pan/tilt control (pan:290°& tilt:120°) and IR LED Night Vision Up to 45 feet enable you to monitor your home everywhere in the world, via 3G/4G/Wi-Fi network.
Motion Detection:Free instant push notifications to your phone or tablet and alarm pictures or video to your email/FTP/ Micro SD with Four Window motion detection.Record and Playback via local micro SD Card, ONVIF NVR, Synology NAS,FTP Upload, and Blue Iris.
Two-way Audio: Stay in Touch with what is going on and talk to your family, baby, pets anytime you want with built-in speaker and mic.
Excellent Compatibility: Support remote access to the camera on iOS and Android mobile devices,Windows PC(7/8/10) and Mac OS,Web Browsers (IE, Firefox, Safari, Chrome supported).
Perfect For: Pet Monitoring, Nanny Cam, Business Monitoring, Security, Vacation Home Monitoring, Senior Monitoring.
Compatible with Synology  and QNAP 12/16

Buy From UK

Buy from US
ReoLink PoE IP Camera, Security Outdoor with Built-in 16GB SD Card, HD 4 MegaPixel, Motion Dectection

4-Megapixel (2560×1440) Security Monitoring System, also Supports 1080P / 720P
Fixed 4.0mm Lens , 80° Viewing Angle, 20-30m Night Vision Range, Aluminum Weatherproof Casing, Built-in 16GB Micro SD Card
Plug & Play IP Camera, Easy Setup with Zero Configurations, POE (Power over Ethernet) to Transmit Power & Video in One Cable, No Need Power Adapter
Motion-Detection Trigger via E-mail Alert and FTP Upload, Remote Access by Smartphone, Windows/Mac PC Anywhere Anytime
ONVIF Support List: Blue Iris, Milestone, iSpy, Digital WatchDog, Video Sighthound, Security Spy(Mac), Synology(NAS), Qnap(NAS)
Compatible with Synology  and QNAP 12/16

Buy From UK

Buy from US
How do I know if a Camera is Compatibile with my NAS Server?
As previously mentioned, there are literally thousands of IP cameras out there and both Synology NAS and QNAP NAS supply compatibility lists for their NAS Server devices showing which IP Cameras work and to what extent. Why not take a moment to look at their respective Compatibility lists below. At this time of publishing the cameras mentioned above are compatibile with both Synology and QNAP NAS but these may change and NASCompares cannot be held accountable for Firmware changes in years to come.
The Synology NAS IP Camera Compatibility List
The QNAP NAS IP Camera Compatibility List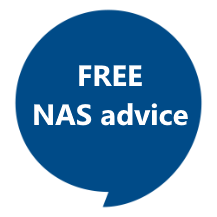 Need Help?
Where possible (and where appropriate) please provide as much information about your requirements, as then I can arrange the best answer and solution to your needs. Do not worry about your e-mail address being required, it will NOT be used in a mailing list and will NOT be used in any way other than to respond to your enquiry.
📧 LET ME KNOW ABOUT NEW POSTS 🔔
Join 1,669 other subscribers
Get an alert every time something gets added to this specific article!
This description contains links to Amazon. These links will take you to some of the products mentioned in today's content. As an Amazon Associate, I earn from qualifying purchases. Visit the NASCompares Deal Finder to find the best place to buy this device in your region, based on Service, Support and Reputation - Just Search for your NAS Drive in the Box Below
Need Advice on Data Storage from an Expert?
We want to keep the free advice on NASCompares FREE for as long as we can. Since this service started back in Jan '18, We have helped hundreds of users every month solve their storage woes, but we can only continue to do this with your support. So please do choose to buy at Amazon US and Amazon UK on the articles when buying to provide advert revenue support or to donate/support the site below.

Finally, for free advice about your setup, j
ust leave a message in the comments below here at NASCompares.com and we will get back to you.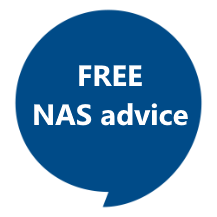 Need Help?
Where possible (and where appropriate) please provide as much information about your requirements, as then I can arrange the best answer and solution to your needs. Do not worry about your e-mail address being required, it will NOT be used in a mailing list and will NOT be used in any way other than to respond to your enquiry.
TRY CHAT
Support What We Do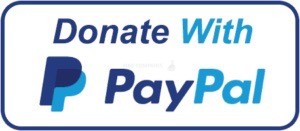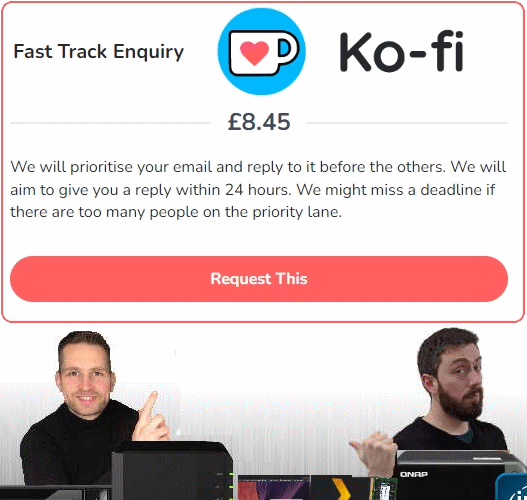 Terms and Conditions
Alternatively, why not ask me on the
ASK NASCompares forum
, by clicking the button below. This is a community hub that serves as a place that I can answer your question, chew the fat, share new release information and even get corrections posted. I will always get around to answering ALL queries, but as a one-man operation, I cannot promise speed! So by sharing your query in the
ASK NASCompares
section below, you can get a better range of solutions and suggestions, alongside my own.