Understanding the difference between WD Blue, Red, Black, Green, Purple and Gold Hard Drives
UPDATED FOR 2023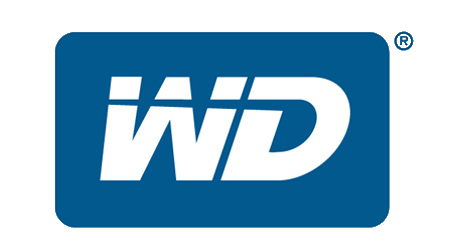 Western Digital have been in the hard drive and SSD market since the 1970s and I think it is safe to say that are one of the biggest and best storage media providers in the world. A lot of this success and market dominance is down to 3 factors.
Pricing their products correctly so as to ensure that a home user can buy hard drive media priced in their budget that performs to that degree, whereas a highend business users has the option to pay more and get more.

En-devouring to make their products are designed with the task in mind, rather than a single HDD or SSD for all purposes. You wouldn't use a hammer to screw an IKEA table together, you wouldn't use a screwdriver to paint a fence. Likewise, WD has Hard Drives that are tailored for intensive cold storage in data centers, as well as HDD that are designed for basic PC use and Desktops – this not only allows for grading pricing for consumers, but also that you are buying a tool that perfectly befits the task at hand.

Ever heard the expression K.I.S.S? Keep It Simple, Stupid! This is possibly the most important factor in WD's structure these last 5 years or more. Rather than bombarding users with ill-formed part numbers and flashy names, WD has just stuck to a simple colour code system of Drives. Once you know what each colour means, then you can pretty much narrow down every WD drive easily.
What are the WD colours and what do they mean?
So, now you know why Western Digital is widely regarded as one of the best HDD manufacturers in the industry, let's delve a little deeper into what each of the colours mean. Currently the WD HDD and SSD range can be broken down into 6 colours, and each corresponding intended storage environment (basically  the machine they will go in!). Below are each of the colours and what they are used for.

The WD Blue Hard Drive for Basic Desktop Use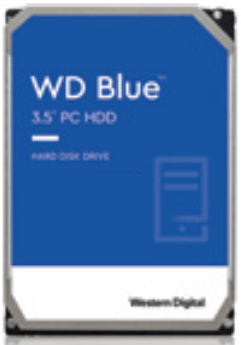 We start with the most cost-effective and budget drive of all, the WD Blue HDD series. These are designed with low-level access and long-term use in mind. Once these would have been recommended for use for your operating system inside a non mission-critical PC (general browsing etc), but now with the inexpensive of SSD in 128-512GB and it becoming ideal for your operating system, start-up and primary apps, the WD Blue hard drive has been demoted to basic storage use. You should not use WD Blue in a RAID and is chiefly designed for everyday storage needs where Read and Write speeds are not paramount.
Interface
Form
Size
RPM
Cache
Warranty
Model
Amazon
SATA
3.5″
8TB
5640 CMR
128MB
2 Years
WD80EAZZ
FIND
6TB
5400 SMR
256MB
WD60EZAZ
FIND
4TB
5400 SMR
256MB
WD40EZAZ
FIND
3TB
5400 SMR
256MB
WD30EZAZ
FIND
2TB
5400 SMR
256MB
WD20EZBX
FIND
2TB
5400
256MB
WD20EZAZ
FIND
1TB
7200
64MB
WD10EZEX
FIND
1TB
5400
64MB
WD10EZRZ
FIND
500GB
7200
32MB
WD5000AZLX
FIND
500GB
5400
64MB
WD5000AZRZ
FIND
Laptop Sized WD Blue
| | | | | | | | |
| --- | --- | --- | --- | --- | --- | --- | --- |
| Interface | Form | Size | RPM | Cache | Warranty | Model | Amazon |
| SATA | 2.5″ | 2TB | 5400 SMR | 128MB | 2 Years | WD20SPZX | FIND |
| | | 1TB | 5400 SMR | 128MB | | WD10SPZX | FIND |
| | | 500GB | 5400 SMR | 64MB | | WD5000LPZX | FIND |
| | | 320GB | 5400 | 64MB | | WD3200LPCX | FIND |
---
The WD Red Hard Drive for NAS and RAID needs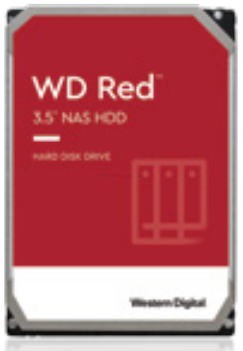 Possibly the most well know WD HDD Color we will talk about today, WD Red is the Drive you need for your NAS Server. If you are looking at buying a brand new Synology NAS for your home or a beefed up QNAP NAS for your business, then it is paramount you get HDD Media that is designed to not only be ready for sporadic and irregular read and write (as your access to the NAS Server will differ constantly) but also Hard Disk media that is designed to be on 24 hours a day, 7 days a week. In this environment, a  WD Blue is just not suited and though will perfect the job, will do so much slower and is susceptible to errors and potential HDD Failure. Moreover, if your network-attached storage data is mission critical, of sentimental value or just plain impossible to replace (thinking of my original recording of 'Bernard and the Genie'), then you will no doubt have more than one HDD in the NAS enclosure, in a RAID volume. Drives in a RAID have to work that little bit harder as data is spread over the drives for redundancy (so the data is duplicated) like butter over toast! WD Red Drives are designed to be used in these RAID environments too, and for greater lengths of time.

Finally, WD Red HDDs have firmware onboard that controls the disks behaviour in a NAS server, catering from everything vibration and temperature sensitivity, all the way through to intelligent spin speed and cache allocation. So, if you are looking to populate a NAS, then definitely go for WD Red. Also, see below for the WD Red Pro series for Enterprise NAS use above 8 HDD Bays.
Standard WD Red NAS HDD
Interface
Form
Size
RPM
Cache
Warranty
Model
Amazon
SATA
3.5″
6TB
5400
256MB
3 Years
WD60EFAX
FIND
4TB
5400
256MB
WD40EFAX
FIND
3TB
5400
256MB
WD30EFAX
FIND
2TB
5400
256MB
WD20EFAX
FIND
WD Red Plus NAS HDD
Interface
Form
Size
RPM
Cache
Warranty
Model
Amazon
SATA
3.5
14TB
7200
512MB
3 Years
WD140EFGX
FIND
12TB
7200
256MB
WD120EFBX
FIND
10TB
7200
256MB
WD101EFBX
FIND
8TB
5640
128MB
WD80EFZZ
FIND
6TB
5640
128MB
WD60EFZX
FIND
4TB
5400
128MB
WD40EFZX
FIND
3TB
5400
128MB
WD30EFZX
FIND
2TB
5400
128MB
WD20EFZX
FIND
1TB
5400
64MB
WD10EFRX
FIND
2.5″
1TB
5400
16MB
WD10JFCX
FIND
WD Red Pro NAS HDD
Interface
Form
Size
RPM
Cache
Warranty
Model
Amazon
SATA
3.5
22TB
7200
512MB
5 Years
WD221KFGX
FIND
20TB
512MB
WD201KFGX
FIND
18TB
512MB
WD181KFGX
FIND
16TB
512MB
WD161KFGX
FIND
14TB
512MB
WD141KFGX
FIND
12TB
256MB
WD121KFBX
FIND
10TB
256MB
WD102KFBX
FIND
8TB
256MB
WD8003FFBX
FIND
6TB
256MB
WD6003FFBX
FIND
4TB
256MB
WD4003FFBX
FIND
2TB
64MB
WD2002FFSX
FIND
---
The WD Green Series of Hard Drives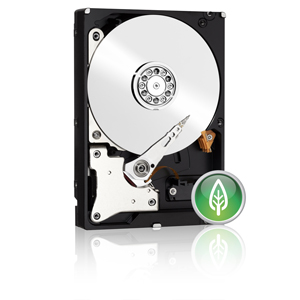 Lower Power Consumption for quieter and Cooler requirements. The WD Green series, once very popular, is largely overlooked these days. This is once again largely due to the manufacturing technique of HDD becoming far more efficient, as well as SSD media becoming lower in price. That said, if you require a single HDD for backup storage, a secondary media source or just to be used occasionally, then the WD Green series may well be for you. They are designed to use less power than other Hard Drives as well as producing less vibration or heat whilst in use, due to their lower activity hard drive build (5400RPM, 32MB, etc). This, of course, does mean they are available in smaller capacities and the read and write is of a lower speed, so these shouldn't be used as a primary OS Boot drive or for a large-scale RAID enclosure (early variants were but since then much more tailored drives have been released). Overall, WD Green HDDs are largely only available in 2nd hand eShops and/or OEM bulk leftovers that are long since outside of the manufacturer's warranty.
The WD Black Series for those that need rugged, enduring, fast long-term data stability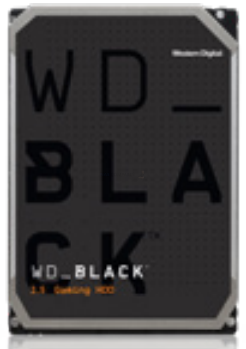 Another Hard Drive type that those with a background in PC building and Photo Editing will be aware of. WD Black HDD are designed for high-performance Hard Disk media use. If you require a large capacity HDD for your files for editing, or in a large-scale Direct Attached Storage (DAS) enclosure, then the WD Black series will more than likely be the drive for you. They are seen as the drive of choice of large-scale media editors due to their balance of large capacity vs access speeds.of course, you will get faster speeds from using an SSD but you shouldn't really RAID SSDs beyond a RAID 0 or RAID 1 and moreover, the price per GB of an SSD is still higher than that of a WD Black Drive. With a dedicated 7200 RPM and 5 Year Warranty, the western digital black drive is the choice for those that was reliability, speed and long-term peace of mind.
Interface
Form
Size
RPM
Cache
Warranty
Model
Amazon
SATA
3.5″
10TB
7200
256MB
5 Years
WD101FZBX
FIND
8TB
128MB
WD8002FZWX
FIND
6TB
128MB
WD6004FZWX
FIND
4TB
128MB
WD4005FZBX
FIND
2TB
64MB
WD2003FZEX
FIND
1TB
64MB
WD1003FZEX
FIND
500GB
64MB
WD5003AZEX
FIND
2.5″
1TB 9.5mm
7200 SMR
32MB
WD10SPSX
FIND
500GB 9.5mm
WD5000LPSX
FIND
500GB 7mm
WD5000LPLX
FIND
320GB 7mm
WD2500LPLX
FIND
---
The WD Purple Series for CCTV, Network and Direct Recording Surveillance needs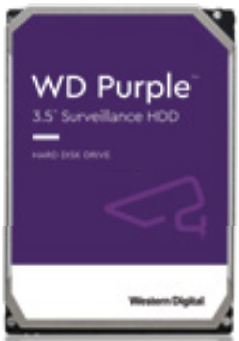 Released only a few years ago, the WD Purple HDD series is designed for Surveillance requirements. You might think that when using multiple IP or Cable Surveillance cameras in the home, office or retail sector, that you should only really think about the quality of the cameras. This is sort of true – the better the camera, the more features and better recording. However, if will all come to nothing if the Hard Drive media you are writing to is unsuitable. Unlike almost all other HDD use across all environments, Hard Disks used in Surveillance are more than 95% used for Writing and 5% for reading – i.e footage is recorded and written to the drives constantly and only accessed rarely by comparison (the reading of the disk). So, if you have x5 or x10 Relatively high recording cameras sending 2 or 5MB of recorded footage constantly, then you will need to ensure that both the recording server can keep up and that the drives are designed to record the incoming data as fast as it arrives! This is where WD Purple shines.
They are designed to keep up with this heavy writing behaviour in a NAS or DAS system, suitable for doing this whilst in a RAID 5 or RAID 6 and are designed to be powered on and in use for weeks and months at a time. So if you need a Drive for recording footage from CCTV IP cameras or Cable-to-Camera cables, or are even just looking for drives for a NAS that you plan to use as for surveillance in the background, then go for the WD Purple series as it will provide the most stable and reliable result possible. Additionally, if you are using a Network video recording device (NVR), that you use the NVR specialised WD Purple NVR HDD. In recent years, the WD Purple Pro drives arrived which are designed for advanced AI-enabled recorders, video analytics servers and deep learning solutions requiring additional capacity,
performance and workload capability.
AI Drive = WD Purple Drives for Smart Video AI and Deep Learning Servers
HD = 720p/1080p Camera Quality Feed
AI = Deep Video Analysis Cameras (Face+Thing Recognition, People Counting, License Plate Recog, etc)
Interface
Size
RPM
Cache
Camera Support
Warranty
Model
Amazon
SATA
8TB
5640
128MB
64 HD/16 AI
3 Years
WD84PURZ
FIND
6TB
5640
256MB
64 HD/NA
3 Years
WD63PURZ
FIND
4TB
5640
256MB
64 HD/NA
3 Years
WD42PURZ
FIND
3TB
5400
64MB
64/NA
3 Years
WD30PURZ
FIND
2TB
5400
256MB
64/NA
3 Years
WD22PURZ
FIND
1TB
5400
64MB
64/NA
3 Years
WD22PURZ
FIND
22TB (AI Drive)
7200
512MB
64 HD/32 AI
5 Years
WD84PURZ
FIND
18TB (AI Drive)
7200
512MB
64 HD/32 AI
5 Years
WD63PURZ
FIND
14TB (AI Drive)
7200
512MB
64 HD/32 AI
5 Years
WD42PURZ
FIND
12TB (AI Drive)
7200
256MB
64 HD/32 AI
5 Years
WD30PURZ
FIND
10TB (AI Drive)
7200
256MB
64 HD/32 AI
5 Years
WD22PURZ
FIND
---
The WD Gold Series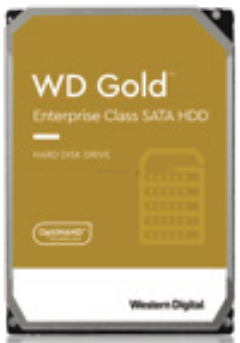 Data Centers, Bulk Cold Storage solutions and High Capacity Workloads
The most recent addition to the WD Colors collection. The WD Gold series is designed for Data Centers (or Data Centres!) or long-term cold storage in smaller RAID arrays. They arrive with a much more rugged, long-term chassis design as they will be HEAVILY used! To back up this level of use, WD provide a 5 Year warranty on these drives. Also, it is well known that Data Centers get through drives much quicker than most HDD Media environments and though the WD Gold Series are more expensive than most hard drives, this cost will pale into comparison to if you filled your data center with WD Blue or WD Green drives and they required replacement more often – as well as the Read and Write operations on the non-gold drives being efficiency and productivity down too. WD Have a long history of Data Center hard drives before they rebranded to the Gold series. Each kind of drive (tailed to different center and use types) was built with longevity in mind, but with names like Xe, Re and Se, they simplified matters and created the Gold Series to make it easier to comprehend.
Interface
Form
Size
RPM
Cache
Warranty
Model
Amazon
SATA
3.5″
22TB
7200
512MB
5 Years
WD221KRYZ
FIND
20TB
512MB
WD202KRYZ
FIND
18TB
512MB
WD181KRYZ
FIND
16TB
512MB
WD161KRYZ
FIND
14TB
256MB
WD141KRYZ
FIND
12TB
256MB
WD121KRYZ
FIND
10TB
256MB
WD102KRYZ
FIND
8TB
256MB
WD8004FRYZ
FIND
6TB
256MB
WD6003FRYZ
FIND
4TB
256MB
WD4003FRYZ
FIND
2TB
128MB
WD2005FBYZ
FIND
1TB
128MB
WD1005FBYZ
FIND
---
Are there any other WD Hard Drive types I should be aware of?
Of course, the HDD and SSD market is so big that even a fantastic system like the WD Colors Guide will not quite cover it all. There are a few other models and terms that you should be aware of. Some are older and have since ceased production, some are more enterprise versions of the drives above and others are just…well…plain weird and don't fit in the spectrum of WD Colours whatsoever. Have a look below a few little nuggets of WD HDD past below:
The WD Re, Se and Xe
SAS and generally all enterprise-level HDD that are designed for the intense operations of data centers till relatively recently arrived in the WD Ae, WD Se and WD Re series (as well as the Xe series too). each were made with slightly different hardware environment in mind. Some with a 10,000RPM speed (but arriving at a much higher Price per GB), some in SAS (the 12GB/s connection) and others in SATA (6GB/s) but the whole range was starting to become rather messy and given that the specs in many cases were comparable to the PRO series, WD decided to phase most of them out in favour of the WD Gold series (available in both SAS and SATA).
The WD Velociraptor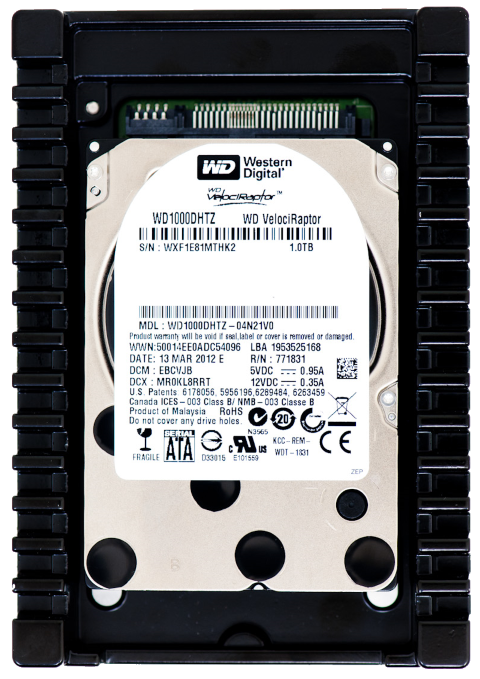 A very qwerky and unique HDD, sadly most units are also no longer available to buy. The Western Digital Velociraptor was one of the fastest commercially available HDD in the world! Only available in smaller capacities of 150GB and 300GB, the drives comprised of a 2.5″ 15mm HDD that was housed in a 3.5″ frame designed as a heatsink. This, coupled with 10,000 RPM and 15,000 RPM, this technology did not arrive cheap. However, since the market increase in demand of SSD and the release of WD Gold, we have seen demand fall greatly – even in spite of a 1TB version being released. Sadly we are looking here at a really technology-changing appliance that has sadly been surpassed.
The WD Black2 and WD SSD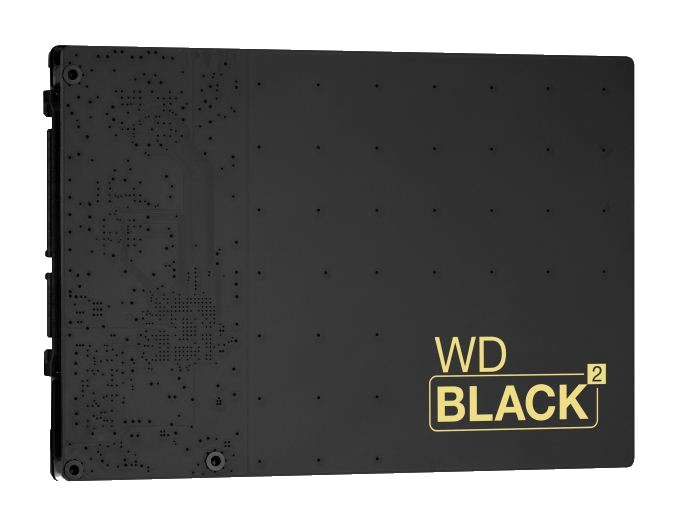 I have bundled these two together as they are both of interest, but for separate yet oddly similar reasons. A couple of years ago WD saw the popularity of Hybrid drive technology (A drive that was HDD in design with platters and moving parts, but with a small portion of SSD NAND chip on board for your BOOT and mission-critical software to run from). However, for most, SSHD drives were let down by the SSD portion, only being about 4GB to 20GB in size – Windows 7 alone couple eat up most of that without trying and currently, a Full Windows 10 install will eat up 30-50 GB when everything is installed. So WD decided to go in all hot and heavy and release a much, MUCH larger portion of SSD on their drive of 120GB! Sadly, this came at a price and a price that, for many, was just too high. This coupled with poor marketing (rare on WDs part) and a lack of education provided to consumers on it's benefits mean that it ended up missing target and eventually being abandoned
📧 LET ME KNOW ABOUT NEW POSTS 🔔
Join 1,570 other subscribers
Get an alert every time something gets added to this specific article!
This description contains links to Amazon. These links will take you to some of the products mentioned in today's content. As an Amazon Associate, I earn from qualifying purchases. Visit the NASCompares Deal Finder to find the best place to buy this device in your region, based on Service, Support and Reputation - Just Search for your NAS Drive in the Box Below
Need Advice on Data Storage from an Expert?
We want to keep the free advice on NASCompares FREE for as long as we can. Since this service started back in Jan '18, We have helped hundreds of users every month solve their storage woes, but we can only continue to do this with your support. So please do choose to buy at Amazon US and Amazon UK on the articles when buying to provide advert revenue support or to donate/support the site below.

Finally, for free advice about your setup, j
ust leave a message in the comments below here at NASCompares.com and we will get back to you.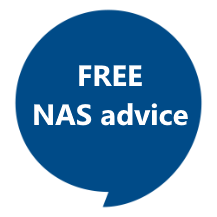 Need Help?
Where possible (and where appropriate) please provide as much information about your requirements, as then I can arrange the best answer and solution to your needs. Do not worry about your e-mail address being required, it will NOT be used in a mailing list and will NOT be used in any way other than to respond to your enquiry.
Support What We Do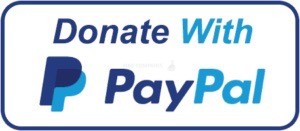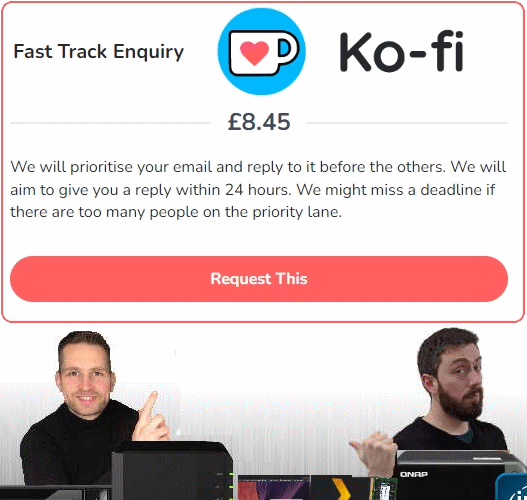 Terms and Conditions
Alternatively, why not ask me on the
ASK NASCompares forum
, by clicking the button below. This is a community hub that serves as a place that I can answer your question, chew the fat, share new release information and even get corrections posted. I will always get around to answering ALL queries, but as a one-man operation, I cannot promise speed! So by sharing your query in the
ASK NASCompares
section below, you can get a better range of solutions and suggestions, alongside my own.