More information becoming available on the Synology DS1817+ and DS1517+ NAS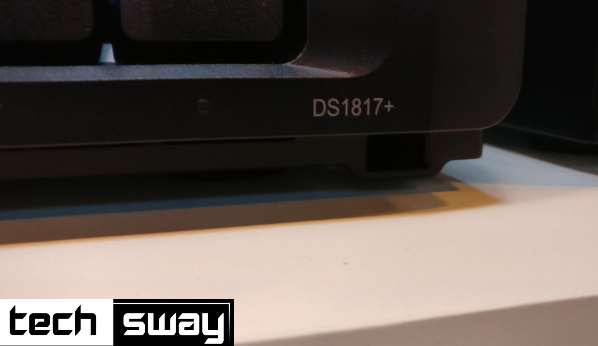 Just when you are getting comfortable and want to watch the Rugby (dear oh dear – Half time and Ireland do seem to be taking us to the cleaners a bit) then a little bit more information is spreading on the New and Exciting Synology 8-Bay and 5-Bay 2017 NAS. Originally covered earlier this week on information from Cachem.fr, a couple more en-genius sources over the internet (Thanks to Jay at Techsway and some fabulous coverage from ITPartners Expo by him) have produced more images and information has been incovered on the DS1817+ and DS1517+. Including such coverted information as the Specs (finally!) and even a few crumbs on other up and coming units like the Flashstation FS2017, 5-Bay expansion DX517 for 2017 and even standard DS1817 and DS1517. Yes, you read that correctly – a non 'plus' series 8-Bay and 5-Bay. Still no confirmation in the wild about a DS217, but with CeBit just over a day away – we could still hear about a Synology 2-Bay NAS for 2017 yet!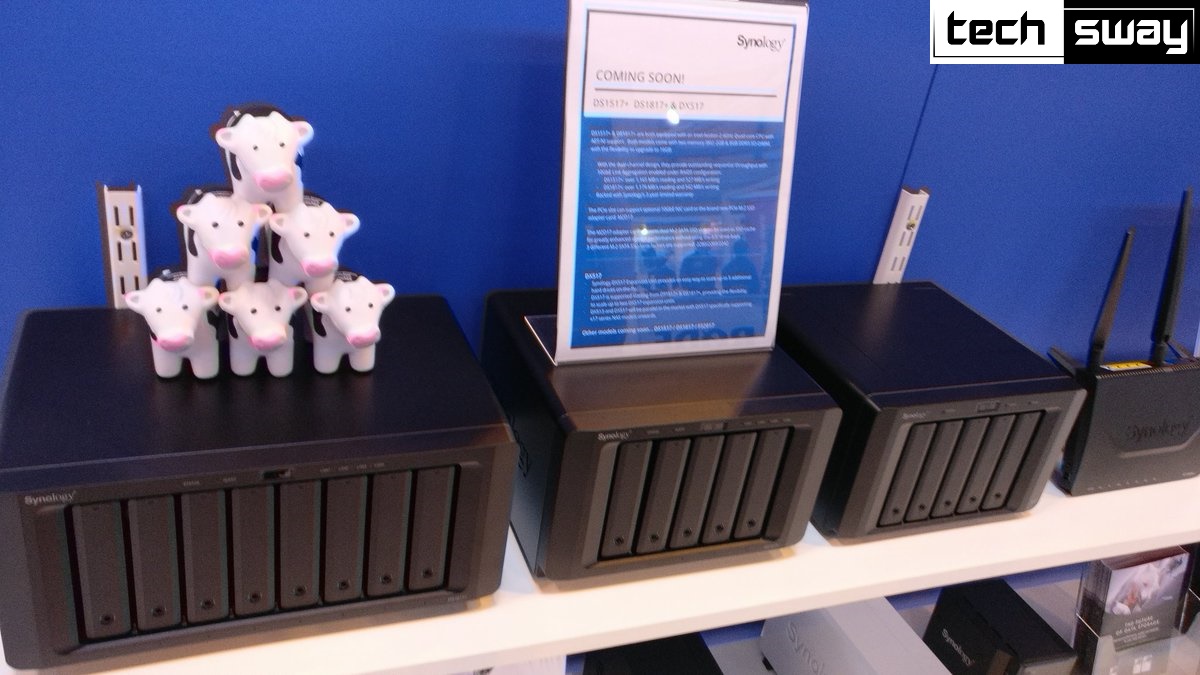 What are the specs and hardware for the Synology DS1817+ and DS1517+ NAS?
Once again, you have Jay at Techsway to thank for the bulk of it, but what is known is as follows:
Both the DS1517+ and DS1817+ arrive with the Quad Core Intel Avoton CPU 2.4 GHz
Alongside this in terms of RAM, both can be purchased with either 2GB or 8GB DDR3 Memory (like the Synology DS916+ NAS) that can be upgraded across 2 slots of 16GB

The Avoton CPU means that AES-NI can be enabled for enhanced encryption safety and efficient encryption speed

10Gbe upgradable via a PCIe expansion port – a welcome addition for you guys that want the throughout for your network that this CPU and SSDs can give

Additionally you can upgrade cache and speed options by installing the brand new PCIe M.2 SSD Card, the M2D17. Providing the ability to install 2x M.2 SSD and use as cache without compromising on of the 5 or 8 HDD Bays. Though this isn't a new feature in NAS (QNAP providing this is several forms for a while), it is a fantastic option for the brand dedicated Synology user

As you would expect, supports JBOD, RAID 0, RAID 1, RAID 5, RAID 6, RAID 10 and the growing in popularity SHR.

Can be expanded by an additional 10 extra HDD/SSD (and still keep you RAID and expand it) by adding two DX517 5-Bay expansion boxes. The DX517 is the follow up to the (now slightly old looking) DX513. Production of the DX513 5-Bay expansion will continue, but all Synology 2017 NAS devices in the + series will need to use the DX517.

In a RAID 5 configuration and utilising the 10Gbe Expansion card, speeds are advertised as follows – For the Synology DS1517+ 5-Bay NAS: 1165MBs Read and 527MB/s Write. For the Synology DS1817+ 8-Bay NAS – 1179MBs Read and 542MB/s Write

3 Year Manufacturer Warranty
What else has Synology NAS got in store for 2017?
Details are very few and far between, but alongside these boxes, we will be seeing the release of 3 more units soon:
The Synology FS2017 NAS
The Flashstation (2.5" SSD) enclosure supporting upto 20x RAID'd days, a truly breath-taking fast NAS system
The Synology DS1517 5-Bay NAS
Standard 5-Bay NAS that like the DS1517+ will support the RAID and expansion options, however will likely arrive with an ARM CPU, such as some of the more power efficient CPU that are featured previously from Annapurna
The Synology DS1817 8-Bay NAS
Identical to the DS1517, however featuring 8-Bays. I wish I could say more than that, but sadly not.
Once again, an extra special mention should go out to the guys at cachem.fr for their coverage of the Synology at ITPartners 2017. We will continue to keep you updated on all the latest NAS releases and will update you all on the details of all things Synology 2017 – Fingers crossed for a DS217 update! Lastly, don't forget to check out the latest releases from us in Network Attached Storage. Subscribe to be updated!
https://www.youtube.com/edit?o=U&video_id=h9F5hwBePBk
UPDATE – Ireland won…damn