Transform your Mac Mini into a Powerhouse 3x PCIe and Thunderbolt 2 storage server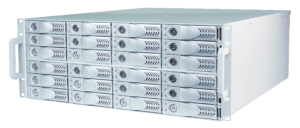 The NetStor 24-Bay Thunderbolt2 NA381TB2, 19″Rack-4U 24Bay for Mac Mini; PCIe slots for RAID Controller £1880 ex.VAT and HDD Media that arrives with 2yr manufacturers Warranty. The 4U 24 bay Thunderbolt™2 Storage and PCIe Expansion. Transforms a Mac mini into enterprise solution with near 100TB storage for data center, extra 3 PCIe slots for PCIe cards expansion, and is designed to fit for high-speed SAN architecture. Any preferred RAID controller card can be selected to go into the NA381TB to make RAID available to storage. The Thunderbolt™2 NA381TB is equipped with two Thunderbolt™2 ports capable of daisy-chain up to 6 Thunderbolt™ devices and display, supporting I/O performance 20Gbps bi-directional.
Features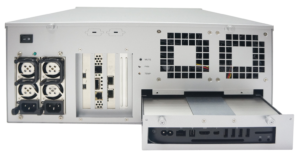 Thunderbolt™2 interface with 20Gbps of throughput in both channels
Solid 4U 24-bay rackmount chassis
Rear swappable integrated plate drawer for Mac mini
Supports twenty four (24) SAS/SATA (6G/3Gbps) HDD Trays
Supports up to 3 PCIe slots for RAID card, Fibre Channel HBA/10G networking card, and any standard PCIe add-on cards with Thunderbotl Aware's Driver.
Individual key lock on each HDD tray for physical security
Server-grade redundant power supply for zero-down-time
Did you enjoy the video? Find it helpful? Want to hear more? Of course you want to…you're only human! Why not subscribe to save you searching next time https://www.youtube.com/user/SPANdotCOM
Are you interested in all things data storage. Perhaps you are a Mac users and want to know if this NAS, DAS, Cable or Drive will work for you? That is where SPAN and Robbie can help. For over 20 years SPAN has been helping companies and individuals worldwide with their digital archive and storage needs. Alongside that Robbie (Robert Andrews if you want to be delightfully formal) has been spending the last few years keeping you up to date on all things data and won't shut up about it!
If you are as interested in data as we are, then you can find us in a number of ways. SPAN can be reached here  However if you want to be kept up to date with new releases, news and keep your finger on the pulse of data storage, follow us below.
Find us on http://ift.tt/2cg8qR4
Follow us on our SPAN Twitter – https://twitter.com/SPANdotCOM
Or follow and speak with Robbie directly on his Twitter – https://twitter.com/RobbieOnTheTube
Still not enough? Then why not visit and subscribe to our blog. Upddated regularly it gives you an far wordier version than SPANTV as well as provide you with hints and tips on how to make the most of your hardware here http://ift.tt/2cznmHz
Don't forget to visit them on Facebook to entry prize draws, giveaways and competitions, as well as hear about the latest news, NAS releases & offers – http://ift.tt/2cg7DzV