Finally this exciting 2-Bay, 4-Bay and 6-Bay is revealed from QNAP
Unless you have only just stumbled across this blog (thank you google) then you will have heard me mention the ellusive and exciting NAS from QNAP in the works, the QNAP TS-x53B series. This new range from QNAP (that details were surprising few and hard to come by) arrived in 3 forms for your individual capacity and RAID requirements. There were as follows:
The QNAP TS-253B-4G

The QNAP TS-253B-8G

2-Bay NAS

The QNAP TS-253B-4G

The QNAP TS-253B-8G

4-Bay NAS

The QNAP TS-653B-4G

The QNAP TS-653B-8G

6-Bay NAS
Although in the last week or so we have been uncovering details little by little, we can now blow out with all the information on this fantastic range from QNAP.
Why has the QNAP TS-x53B range got the potential to be the best NAS buy of 2017?
As already mentioned here at NASCompares, the TS-253B, TS-453B and TS-653B have a little bit of everything. From compact RAID storage for Windows and Mac, to expandability and upgrades so that the lifespan of your device can be extended substantially over time. QNAP already have a history of producing innovative NAS server devices and the TS-X53B series is no exception to the rule.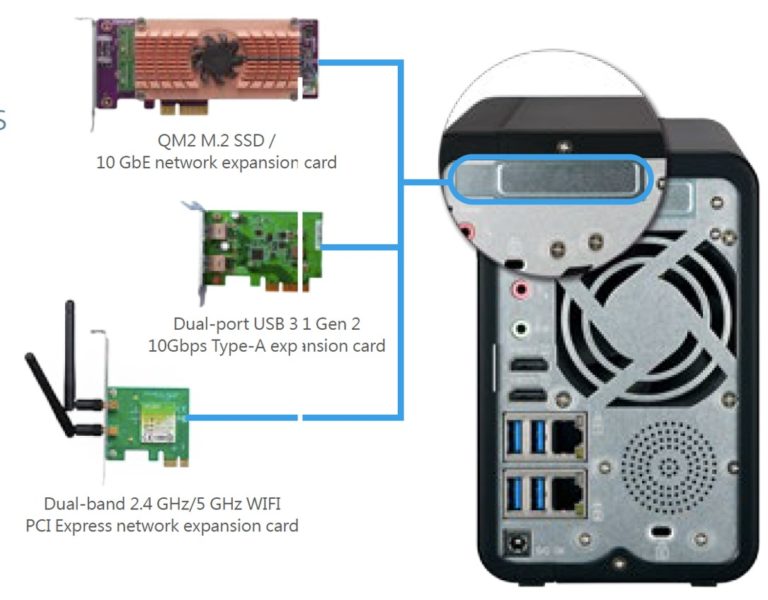 Brand new chassis with removable front panel – not dissimilar to the Synology DS216+II

PCIe slot for adding additional 10GBe ports and other compatible PCIe cards – VERY unique in a 2-Bay NAS server.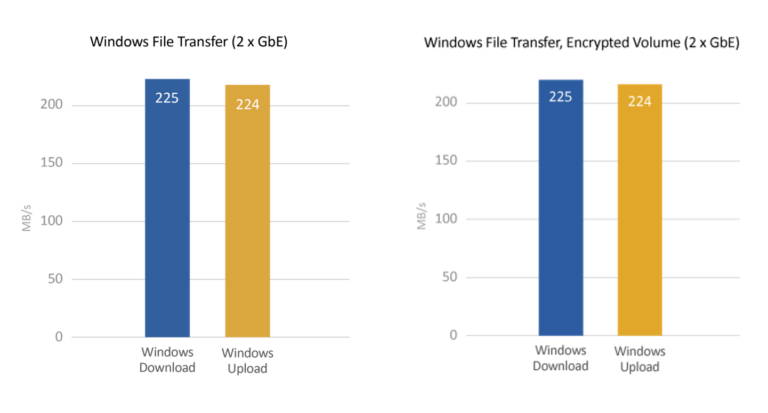 Intel Celeron J3455 Quad-Core CPU processor with 1.5 to 2.3 GHz

4GB and 8GB of DDR3 Memory

RAID 0, RAID 1 (TS-253B), RAID 5, RAID 6 (TS-653B) and RAID 10 (TS-453B)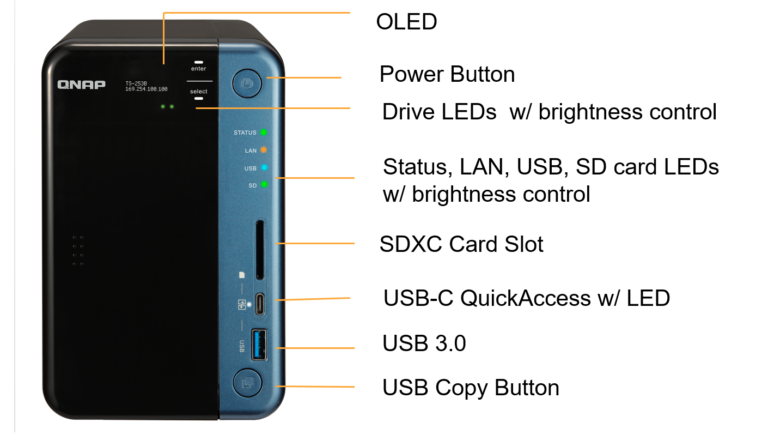 Top mounted power button – small detail but much easier reach

front mounted LCD Panel for real-time information, a rare sight in a 2-Bay NAS

Screwless HDD trays, with Hotswapping as an option

Front mounted SD Card Slot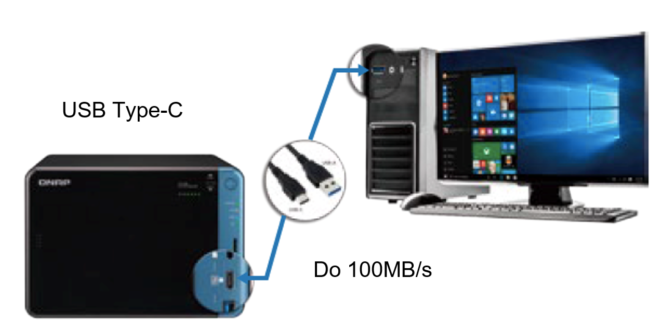 USB-C Connector on the front that is compatible with both Windows and Mac

Direct Attached file access (optional feature for if you want NAS access without using your network and want to use USB 3.0)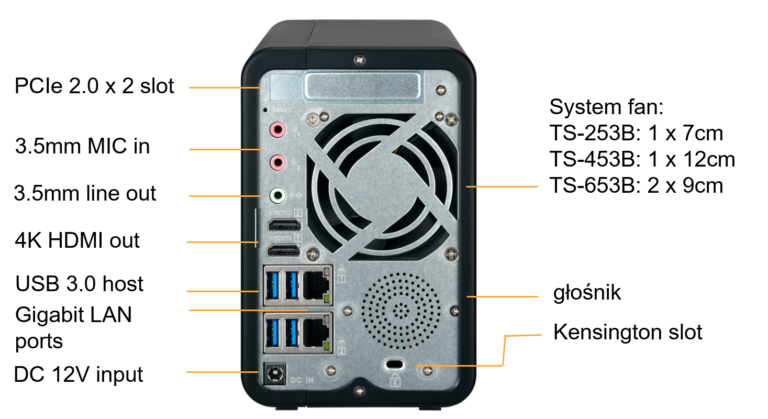 USB-A One touch copy port for backing up to and front external USB Drives

Front displayed LED indicators for System use, health, Drive access, USB connect and SD Card connect

Rear mounted speaker for audio alerts, as well as being able to play audio media DIRECTLY from the NAS (with files being selected by the mobile apps, desktop or mobile remote

2 X HDMI port on the rear (one is HDMI 1.4B and the other HDMI 2.0 for both 4K and 1080p for immediate media file access on a monitor or TV

2x LAN 1GBe for link aggregation and failover support

4 more USB 3.0 ports on the rear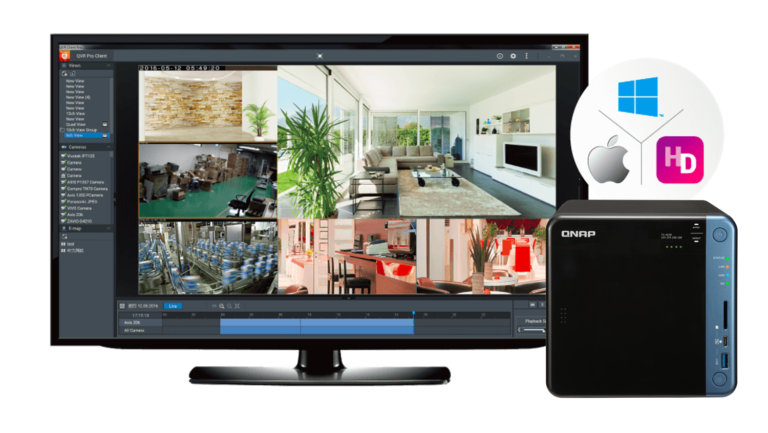 External PSU 

Single rear mounted cooling fan

3x audio ports (in and out)
How does the TS-253B, TS-453B and TS-653B NAS compare with Synology?
Of course, currently we are still waiting to see the 2 and 4-Bay Synology equivalents to compete against. The is mention of the Synology DS1517+ and DS1817+ but these are aimed at a completely different market/Budget and therefore hard to compare. If we look at the currently leading unit in NAS and how they compare with the QNAP below, we can see how the TS-253B NAS compare to buy: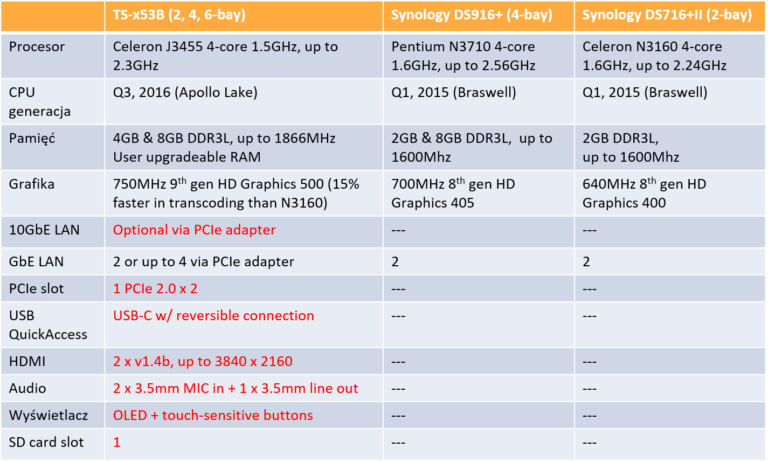 As much as I would love to call the above information just marketing blurb or bias, but in terms of hardware it is hard to see the QNAP vs Synology comparison as but a complete win for QNAP NAS in the TS-253B, TS-453B and TS-653B NAS. Likewise with every passing year, the software and operating system of these NAS brands (Synology DSM and QNAP QTS) compare almost identically. With Synology's software being geared 100% in favour of network use and all the harder options being hidden from view (though available if needed) and the QNAP QTS software presenting the information more readily (though of course it can be hidden as you choose) and having a better balance of network connected software and hardware connected applications (see HD Station – Hybrid Deskstation). So it makes comparing the use of a QNAP NAS and Synology NAS and declaring a winner, as their focus and target demographic differs so much However, in terms of hardware and cost for hardware, the QNAP wins hands down for me.
The QNAP TS-253B 2-Bay NAS Images
The QNAP TS-453B 4-Bay NAS Images
The QNAP TS-653B 6-Bay NAS Images