Exciting New NAS from Synology in the DS3018xs, FS1018, DX517, DS1517 and DS1817
Hot on the heels of the enormous news of the Synology finally releasing their DS1817+ 8-Bay NAS and the DS1517+ 5-Bay NAS, they have unveiled a number of other key up and coming NAS devices for 2017 at CeBit 2017. Details are incredibly thin at this time but below are the highlights so far and we will keep you updated on the sudden explosion of Synology NAS series NAS for 2017/18. An extra special shoutout to guys at iDomix.de for covering this before everyone else and making some excellent points with the guys at Synology at CeBit 2017.
The Synology DS3018xs 6-Bay NAS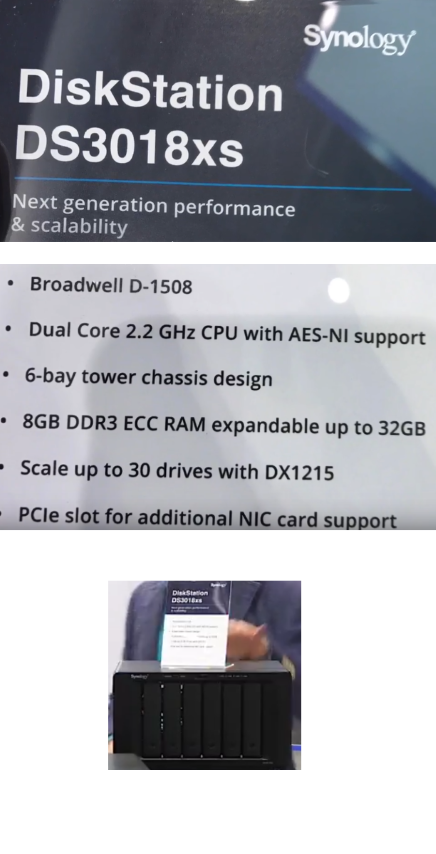 This is a peculiar one and definitely a powerful Synology NAS to keep your eye on. First and foremost it is the first 2018 series NAS, The Synology DS3018xs NAS. Quite a bold statement for Q4 of 2016/17. However the specs are really something to behold and you can expand this device by connecting two of the Synology 12-Bay expansion devices to provide 30 HDD/SSD of RAID storage – so with the 10TB Seagate Ironwolf NAS HDD, you are looking at a potential 300TB of storage readily available (at a price!). With this you also get the Intel Xeon Dual Core D1508 CPU (a Beast) and starting with 8GB of ECC Memory (the best kind) that can be expanded further as needed upto 32GB. Lastly the the unit arrives with 10GBe in case you are worried about the speed of throughput. Definitely one for your high end storage file users to keep an eye on for 2017.
The Synology FS1018 10-Bay NAS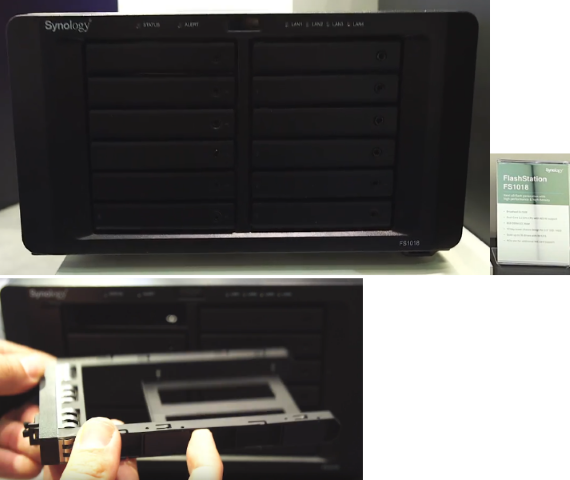 This is a follow up to their flashstation series, the Synology FS1018 FS NAS for 2017. These NAS are designed with intense operations in mind and  2.5″ SSD drive bays and a 10GBe connection. To keep all that lovely data moving, the unit arrives with an Intel Xeon 2.2GHz and 8GB of Memory that can be expanded.
The Synology DS1817 8-Bay NAS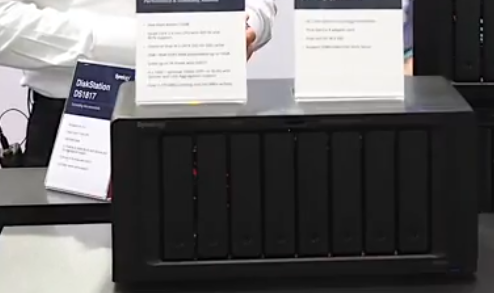 This is the lower tier 8-Bay NAS running parallel to the DS1817+ NAS. It will have a lower grade CPU in the Annapurna 1.7GHz quad-core featured previously  from Synology NAS as well as 2GB of RAM in the 5-Bay model and 4GB of Memory in the 8-Bay DS1817. Though we will have to wait a little longer before the details on this more consumer/prosumer based Synology NAS server become available. However it was highlighted that the DS1817 will arrive with 2x 1GBe ports and 2x 10GBe (RJ45, not SFP+)
The Synology DS1517 5-Bay NAS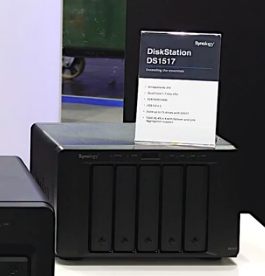 Identical to the unit above apart from it featuring the 5-Bays, though it can be expanded by connecting TWO of the 5-Bay Expansion DX517 boxes (much like the DS1817, DS1817+ and DS1517+). Again, we will update you with more information on these as it appears, but unlike the Synology DS1817, this unit arrives with 4x 1GBe RJ45 and no 10GBe ports at all.
The Synology DX517 5-Bay Expansion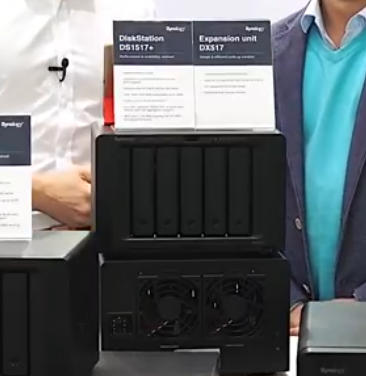 Already mentioned here at NASCompares over the weekend, this is the 5 HDD Expansion chassis from Synology to compliment and expand the up and coming 2017 Synology NAS releases. The Synology DX513 will remain in production to service the existing '13, '14, '15 AND '16 series Synology NAS but you if you are interesting in buying any of the expandable Synology '17 NAS server devices shown at CeBit, then you will need the DX517 Expansion NAS box.
The Synology M.2 SSD PCIe Adapter M2D17
Upgrade cache and speed options by installing the brand new PCIe M.2 SSD Card, the M2D17. Providing the ability to install 2x M.2 SSD and use as cache without compromising on of the 5 or 8 HDD Bays. Though this isn't a new feature in NAS (QNAP providing this is several forms for a while), it is a fantastic option for the brand dedicated Synology user who wants taht extra bit of internal cache to keep things moving!
Once again, an extra special mention should go out to the at iDomix.de for covering this. We will continue to keep you updated on all the latest NAS releases and will update you all on the details of all things Synology 2017.