Is the Synology RS4017xs+ the most POWERFUL NAS they have ever released?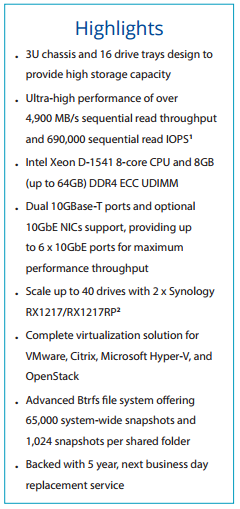 Designed to meet tomorrow's intensive storage requirements, Synology RackStation RS4017xs+ provides reliable, high-performance network attached storage for enterprises seeking rock-solid stability along with business collaboration applications and virtualization acceleration. With up to 40 drive scalability, RS4017xs+ simplifies data management with minimal time investment required for setup and maintenance. Synology RS4017xs+ is backed by Synology's 5-year limited warranty.
The RS4017xs is a Powerful Storage Solution with Ample Upgradability
Equipped with an Intel Xeon D-1541 8-core CPU, 8GB DDR4 ECC UDIMM, and 16 x 3.5″ drive bays in a 3U form factor , Synology RS4017xs+ is the ideal companion for intensive data processing, video post-productions, and virtualization applications that increasingly require more storage space.
Enable 10GBe connectivity with the Synology RS4017xs
RS4017xs+ comes natively with dual 10GBase-T ports and four Gigabit ports, along with two 8-lane PCIe 3.0 slots for additional high performance network interface cards (NICs). When configured with 6 x 10GbE ports with Link Aggregation enabled, RS4017xs+ provides ultra-high sequential throughput at over 4,900 MB/s and 690,000 sequential IOPS.
Massive Memory options in this Rackmount Synology NAS for 2017
System memory and storage capacity of RS4017xs+ can be further extended. Up to 64GB of DDR4 ECC UDIMM can be installed to support multiple virtualization instances, and with two Synology RX1217/RX1217RP2 expansion units connected, a combined total of 40 drive bays can be freely arranged for storage management

Rock-Solid Data Protection with BTRFS, RAID and Sync options
The Snapshot Replication application provides schedulable, near-instantaneous data protection. It replicates 65,000 system-wide backup copies to offsite servers and local volumes, bringing near-instantaneous data protection and ensuring data in shared folder or virtual machines in iSCSI LUNs remain available in the event of disaster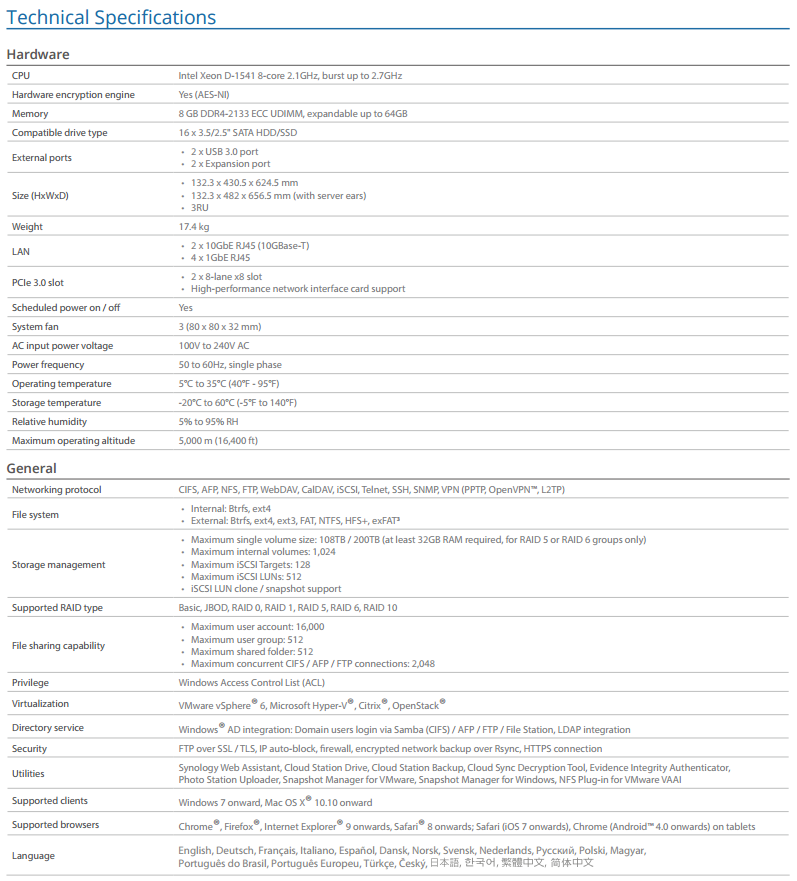 Duplication Avoidance, Efficient storage managing and more in the Synology RS4017xs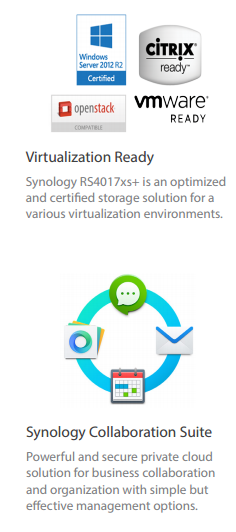 With block-level incremental backup and cross-version deduplication, Synology Hyper Backup provides multi-version backup with optimized storage space utilization and allows multiple backup destinations to local shared folders, external hard drives, network shared folders, rsync server, and public cloud services.
RS4017xs+ and Btrfs meaning Next Generation Storage Efficiency
RS4017xs+ integrates the Btrfs file system, bringing the most advanced storage technologies to meet the management needs of modern large-scale businesses
Sharing on the RS4017xs is easy to use and easy to configure
Flexible Shared Folder / User Quota System provides comprehensive quota control on all user accounts and shared folders.
Snapshots in the background where they belong on the RS4017xs+ NAS
Advanced snapshot technology with customizable backup schedule allows up to 1,024 copies of shared folder backups and 65,000 copies of system-wide snapshots without occupying huge storage capacity and system resources.
Full control and recovery on YOUR terms with this new 2017 Synology NAS
File or folder level data restoration brings huge convenience and saves time for users who wish to restore only a specific file or folder.
BTRFS on the RS4017xs+ is the smart file system that heals without your intervention as required
File self-healing: Btrfs file system is able to auto-detect corrupted files with mirrored metadata, and recover broken data using the supported RAID volumes, which include RAID 1, 5, 6, and 10.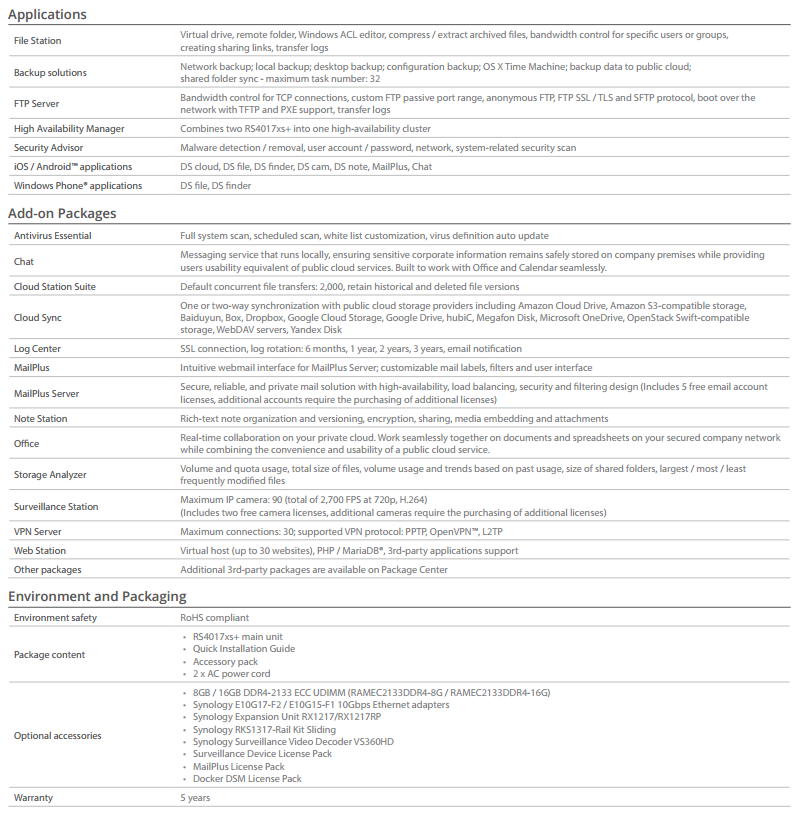 The ULTIMATE Synology VM NAS for big and small business alike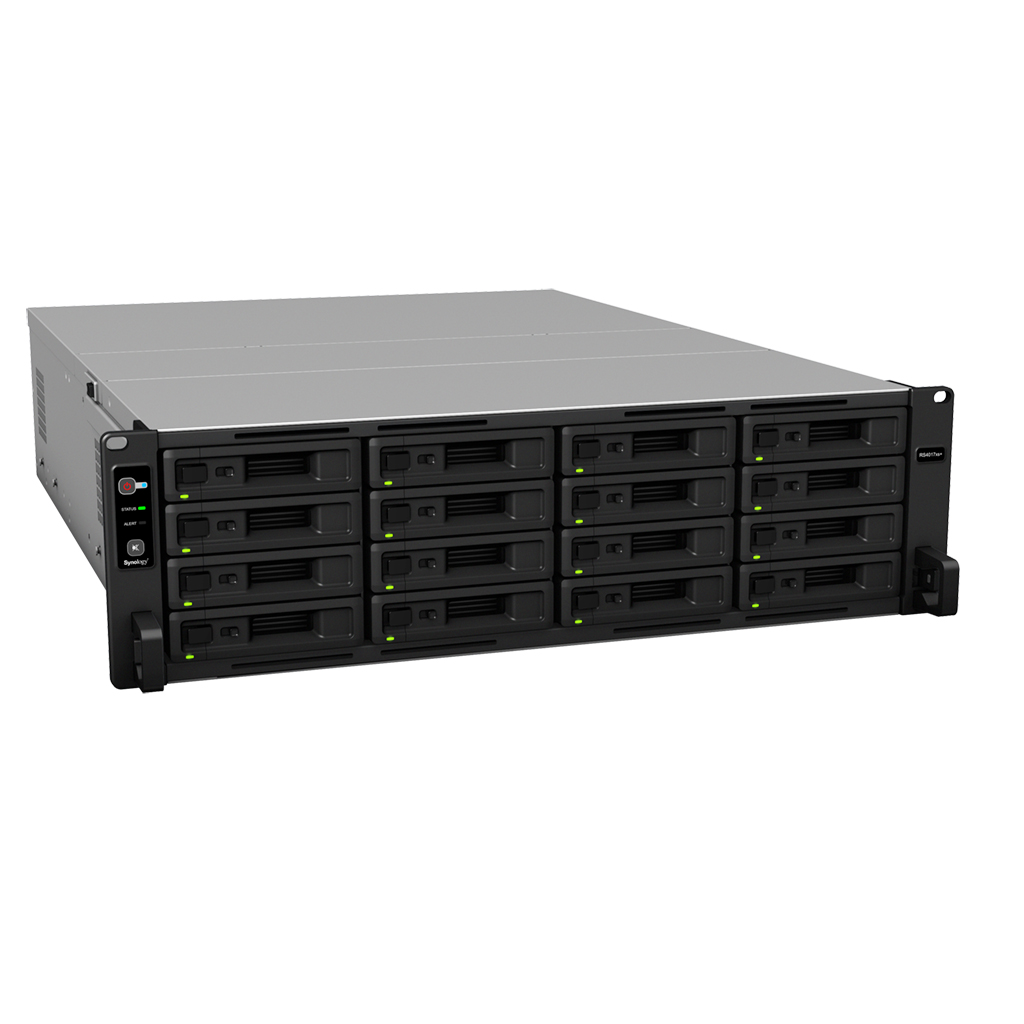 RS4017xs+ provides seamless storage solutions for virtualization environments, including VMware, Citrix, Hyper-V, and OpenStack. With VMware vSphere 6 and VAAI integration certified, RS4017xs+ helps offload specific storage operations and optimizes computation power for unparalleled performance and efficiency in VMware environments. Windows Offloaded Data Transfer (ODX) and Synology Advanced LUN support greatly improves the efficiency on massive data transfer and migration. With OpenStack support, RS4017xs+ can be used as a block-based storage component for servers complying with the Cinder API.
Comprehensive Business Applications available for free and with guides and tutorials at your finger tips
Powered by the innovative Synology DiskStation Manager (DSM), RS4017xs+ comes fully-equipped with applications and features designed specifically for largescale business.
Windows® AD and LDAP support for those wanting to expand their existing network setup
This allows easy integration with existing business directory services without recreating user accounts
Windows ACL support for cross system crontol in Windows and more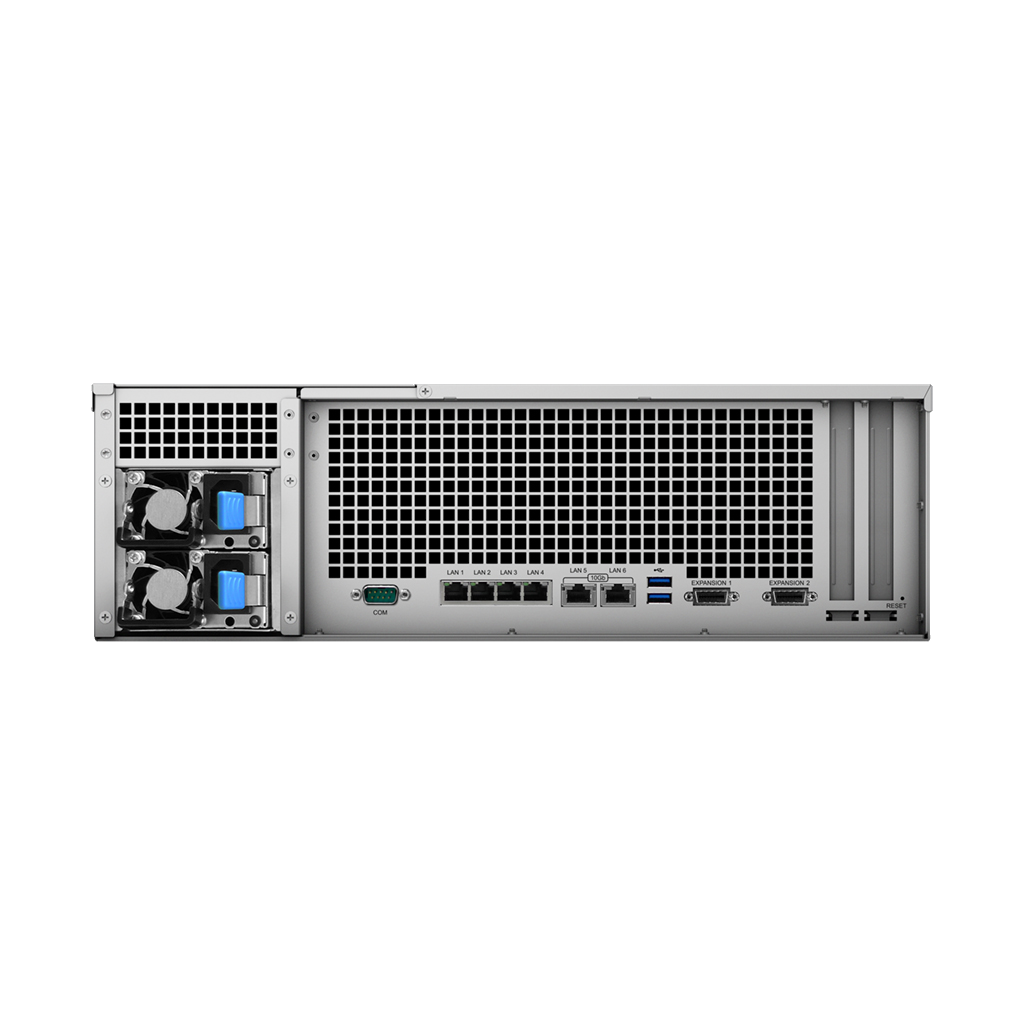 This provides fine-grained access control and efficient privilege settings, allowing RS4017xs+ to fit seamlessly into current infrastructure.
The Synology RS4017xs+ featuring MailPlus Support allowing you to fully intergrate your mail setup
This allows your business to set up a secure, reliable, and private mail server while giving your employees a modern mail client for receiving and sending messages
A Powerful collaboration suite with Synology Office, Calendar and Chat for your NAS Business needs
This provides secure and high performance private communications and content organization that your organization can easily manage and control.
The Synology RS4017xs+ NAS means network reliability, Availability & Disaster Recovery protection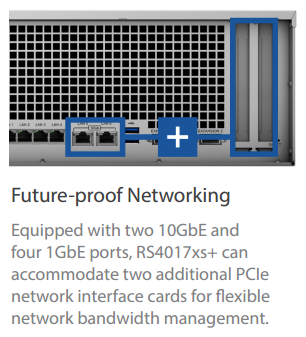 System reliability is of paramount importance to businesses which depend upon their commercial servers every day. RS4017xs+ responds to these concerns with wide-ranging availability and redundancy features.
Synology High Availability to your employee and employer users and uninterupted
This ensures seamless transition between clustered servers in the event of server failure with minimal impact on applications.
RS4017xs+ arrives with Redundant power supplier, system fans and network ports to suit all your business NAS application needs
These provide coverage and protection with failover support ensure maximum continuous service uptime. As well as high reliability system design including fan-less CPU heat-sink and passive cooling technology, preventing single points of failure.
The Synology RS4017xs+ arrives with DDR4 ECC Memory
This reduces power consumption and has error detection and correction capabilities during data transmission with ECC RAM.
Synology
16-Bay RackStation NAS
RS4017xs+

Synology
12-Bay RackStation NAS
RS3617xs+