Should you buy the Popular QNAP TS-453A NAS or the Quiet and Compact TS-453BMini NAS?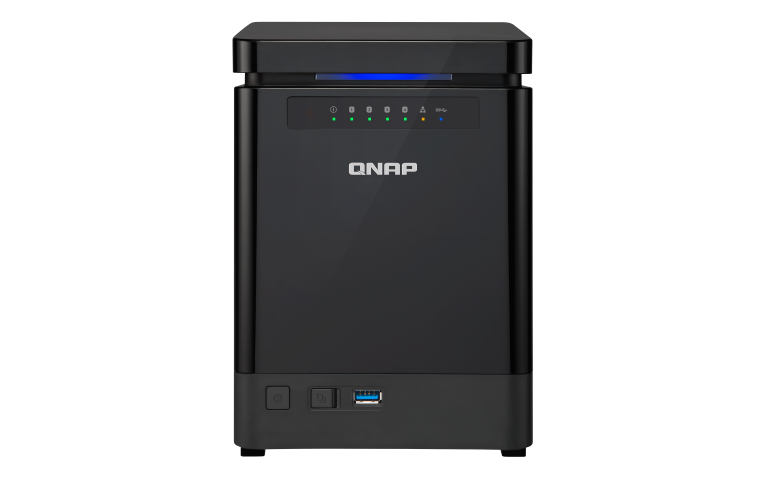 A very quiet and compact NAS Server from QNAP, the QNAP TS-453BMini is the NAS for those who are either working close to the PLEX NAS in a living room or office, or just need a server that lives in a cupboard! It is a shame about the lack of an LCD Panel on the front. The QNAP TS-453Bmini NAS server uses the popular Intel J Series CPU and arrives with either 4 or 8GB or memory. This helps video and photo features in 1080p and 4K be played easily and quickly via the HDMI port or over the network. With 2x LAN and a remote control, the ts453bmini provides both speed and ability for your NAS needs. It does not feature dual HDMI or 4x LAN like the QNAP TS-453A NAS. The QNAP TS-4563BMINI performs very well in everything from VMs, Plex and Apple Time machine backups, all the way through to DLNA media viewing, KODI and an iTunes server. A fantastic NAS device for both home and business Network Attached Storage server tasks. The CPU is a little lower in power than an Intel i3 or i5 – but for that kind of power, you will need to pay almost twice this!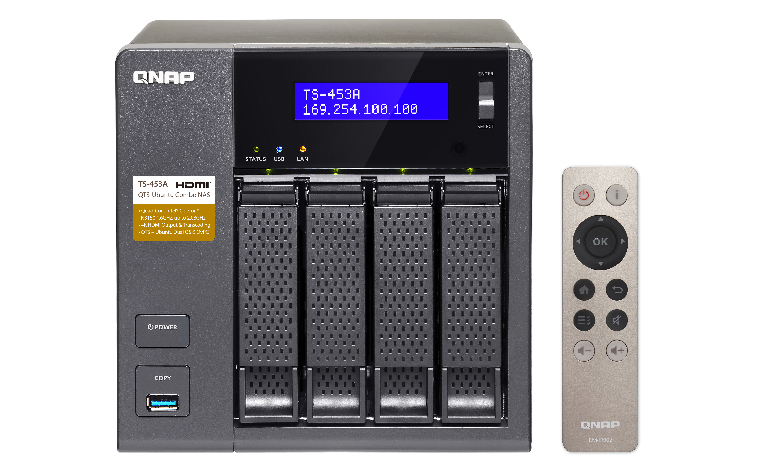 A great 4-Bay NAS that manages to give both windows and Mac users a fantastic, stable and reliable NAS server and much lower in cost than a Synology. I cannot recommend the QNAP TS-453BMini enough! If you need a NAS Server that can be upgraded with 10GBe or Thundebrolt, you should look at the TVS-1282T. However at this price and for a quiet and small NAS in 4-Bay HDD bays, you will find it hard to get a better QNAP NAS.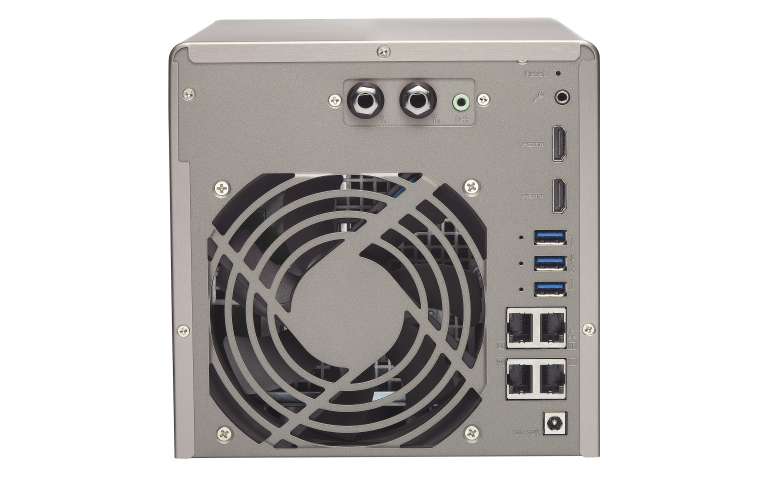 The TS-453Bmini-4G same as the TS-453Bmini-8G is made by Qnap. By choosing Qnap people expect to see advanced configurations opportunities as well as innovative and more diverse business applications. You are able to customize the TS-453Bmini-4G to your needs. The quiet cooling fan has been used in the construction of the TS-453Bmini-4G. This is what you want when box is sitting on your work desk. Same as the TS-453Bmini-8G this box has the Intel Celeron J3455 Quad Core 1.5 GHz (up to 2.3 GHz) processor.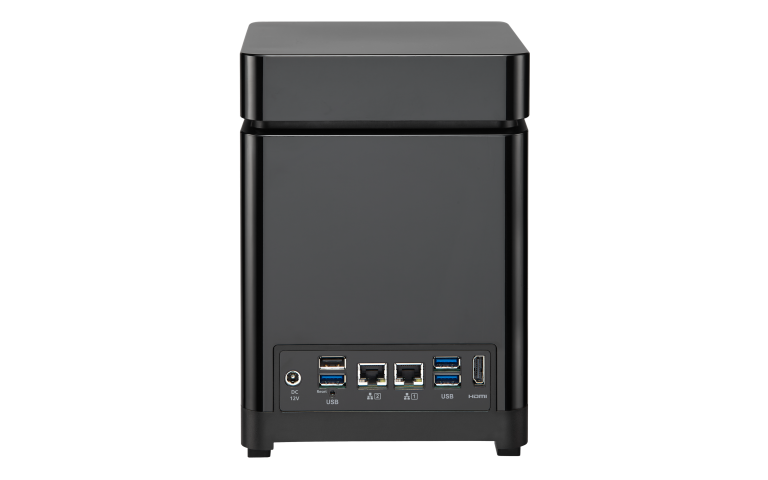 Another key difference between the TS-453Bmini-8G is RAM. TS-453Bmini-4G arrives with 4GB RAM. The TS-453Bmini-4G 4GB RAM compared with TS-453Bmini-8G 8GB is clearly weaker. At the back of the box you will find HDMI port which will let you connect it to TV or monitor. In this case you are not limited to network speeds. You might be interested in audio output ports. With TS-453Bmini-4G you can build a personal karaoke system with high-quality audio output. There are two LAN ports on this box, making it a good home or small business NAS as you can utilise Link Aggregation and Failover support. Three USB3 ports on this Qnap is offering you up to 5Gb/s transfer speeds of external devices. It is fast enough to get your files through fairly quickly with this speed and make backing up with an external drive or Apple Time Machine a quick and easy process.
With 4 bay unit you are having additional advantages. You can choose from number of RAID solutions to set up. There could be RAID that saves your data even if one of the drives fail so you can still recover your data. This would be slightly more safe option to keep your data. Besides you can still access your documents or media files over your private network or even internet.
This box comes with 2 year warranty for your peace of mind and long term hardware security. This Qnap is £125.00 cheaper than the most expensive unit TS-453Bmini-8G.
TS-453A NAS

TS-453Bmini NAS

Price
£340+ ex. VAT
£370+ ex. VAT
CPU
Quad-Core Intel® Celeron® N3150 1.6GHz (Burst up to 2.08GHz)
Quad-core Intel® Celeron® J3455 1.5 GHz (Up to 2.3 GHz)
Memory (RAM)
8GB / 4GB SO-DIMM DDR3L-1600
8GB / 4GB DDR3L
Flash
512MB (DOM)
512MB (DOM)
Number of RAM Slots
2 (Max 8 GB)
2 (Max 8 GB, SO-DIMM)
Max. number of HDDs/SSDs
4x 2.5″ or 3.5″ SATA 6Gb/s, 3Gb/s
4x 2.5″ or 3.5″ SATA 6Gb/s, 3Gb/s
Hot-Swappable HDD Tray
YES
Yes tool-free installation for 3.5″ HDDs
Expansion Enclosure Support
1 (UX-800P, UX-500P)
1 (UX-800P, UX-500P)
LCD Panel
YES
no
Gigabit LAN Ports
4
2
Jumbo Frame (GbE)
USB 2.0
–
1
USB 3.0
4
4
IR Sensor (Infrared Receiver)
Yes (RM-IR002, RM-IR003, & MCE)
Yes (RM-IR002 & MCE)
Free Remote Control
 (RM-IR002)
Yes (RM-IR002)
HDMI
2 (4K)
1 (4K, 30Hz)
LED Indicators
Power/Status, LAN, USB, HDD1-4
Power/Status, LAN, USB, HDD1-4, Skyline LED
LCD Display/ Button
–
Buttons
Power, Reset, USB Auto Copy
Power, Reset, USB Auto Copy
Form Factor
Tower
Tower
Dimensions (HxWxD) mm
177x180x235 mm
6.97×7.09×9.25 inch
210 x 151 x 200 mm 8.27 x 5.95 x 7.87 inch
Weight (Net/ Gross)
3.65 kg (8.04 lbs)/ 4.65 kg (10.24 lbs)
2 kg (4.41 lbs)/ 3.4kg (7.5lbs)
Temperature
0 – 40 °C
0 – 35°C
Humidity
5 – 95% R.H
5 – 95% R.H
Power Supply Specification
External Power Adapter, 96W, 100-240V
External Power Adapter, 90W, 100-240V
Power Consumption: HDD Sleep Mode (W)
18.86
10.95
Power Consumption: Operating Mode, Typical (W)
32.35
24.32
Noise Level dB(A)
19.7
16.9
Seq. Write, 64KB (MB/s)
436 (Link Aggregation)
224
Seq. Read, 64KB (MB/s)
414 (Link Aggregation)
225
Seq. Write with AES 256-bit Volume Encryption (MB/s)
382
130
Seq. Read with AES 256-bit Volume Encryption (MB/s)
412
190
Max Number of Cameras
Default: 4, Max.: 40 (optional license purchase)
Default: 4, Max.: 40 (optional license purchase)
Mobile Surveillance App for iOS & Android
Vmobile
Vmobile
Surveillance Local Display
Max USB Webcam for liveview or snapshot (QUSBCam App)
2 (up to 1280×960, 5FPS)
2 (up to 1280×960, 5FPS)
Antivirus
Yes (Optional McAfee Antivirus available)
Yes (Optional McAfee Antivirus available)
Mail Server
Xmail, Xeams (QPKG)
Xmail, Xeams (QPKG)
VPN Server (PPTP + OpenVPN + L2TP)
Yes (Max clients: 15 + 15 + 15)
Yes (Max clients: 15 + 15 + 15)
3rd Party Cloud Storage
Amazon S3/Glacier, ElephantDrive, Google Drive, Microsoft Azure
Amazon S3/Glacier, ElephantDrive, Google Drive, Microsoft Azure
Mobile Apps for iOS & Android
Qfile, Qmanager, Qphoto, Qmusic, Qnotes, VMobile, Vcam, Qremote
Qfile, Qmanager, Qphoto, Qmusic, Qnotes, VMobile, Vcam, Qremote
Max. Number of Users
4096
4096
Max. Number of User Groups
512
512
Max. Number of Share Folders
512
512
Max. Number of Concurrent Connections
800
800
Language
English, German, French, Italian, Spanish, Polish, Swedish, Danish, Norwegian, Finnish, Russian, Japanese, Korean, Dutch, Czech, Traditional Chinese, Simplified Chinese, Turkish, Hungarian, Romanian, Thai, Portuguese/Brazil, Greek
English, German, French, Italian, Spanish, Polish, Swedish, Danish, Norwegian, Finnish, Russian, Japanese, Korean, Dutch, Czech, Traditional Chinese, Simplified Chinese, Turkish, Hungarian, Romanian, Thai, Portuguese/Brazil, Greek