QNAP have announced the Rackmount Thunderbolt 3 TVS-1582TU NAS for content creators everywhere
We have been awaiting a while for it, but finally QNAP today introduced the new TVS-1582TU Rackmount Thunderbolt NAS  which can be installed in a standard 19-inch rack, and other high-speed interface can be fast transmission and backup video, providing mobile audio and video Storage and editing of the best solution, so that emphasis on high efficiency of the television industry with the highest efficiency to provide high-quality 4K image content.
What is so good about the QNAP TVS-1582TU Thunderbolt3 NAS Rackmount?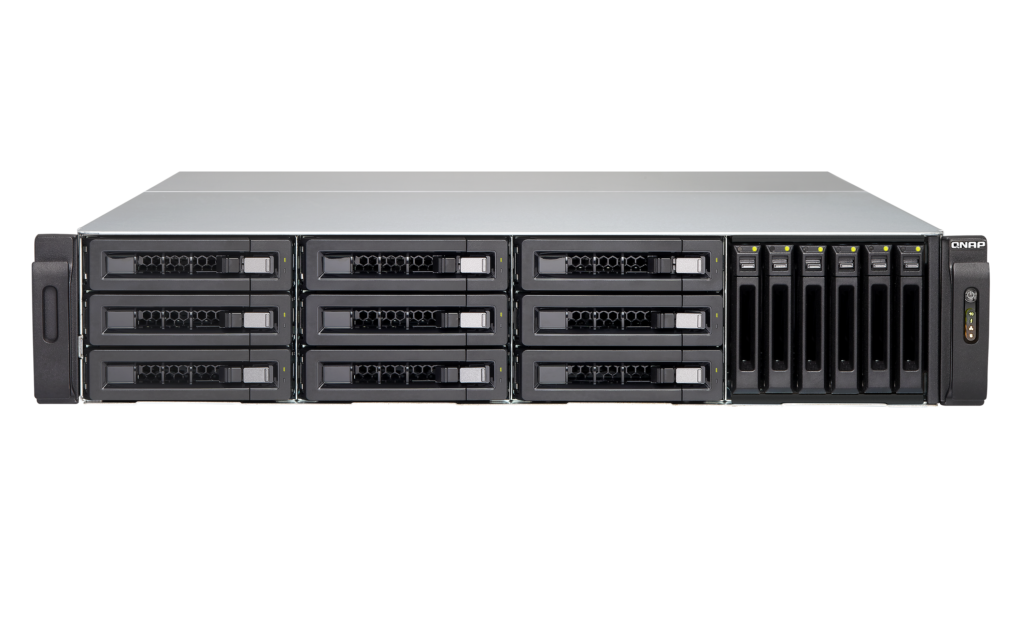 The TVS-1582TU offers a storage solution for the "Thunderbolt ™, NAS, iSCSI SAN" triple-play application with a 4-port Thunderbolt ™ 3, providing lightning transmission speeds for smooth 4K video transmission, playback and online editing, Is a tool for handling 4K image assignments, file storage and quick sharing with Mac® and Windows® users using the Thunderbolt ™ interface; a rack-mountable design that is ideal for video and audio industry SNG broadcasts and mobile audio and video editing environments. The TVS-1582TU uses Intel® multi-core processors with the latest generation of 14-nanometer processes, with significant improvements in computing and bus processing capabilities, and with the concept of "storage tiering", "application partitioning" and "network streaming" Not only is the storage efficiency optimized, the overall operational efficiency of the system is more remarkable.
What are the specs and hardware inside the QNAP TVS-1582TU NAS?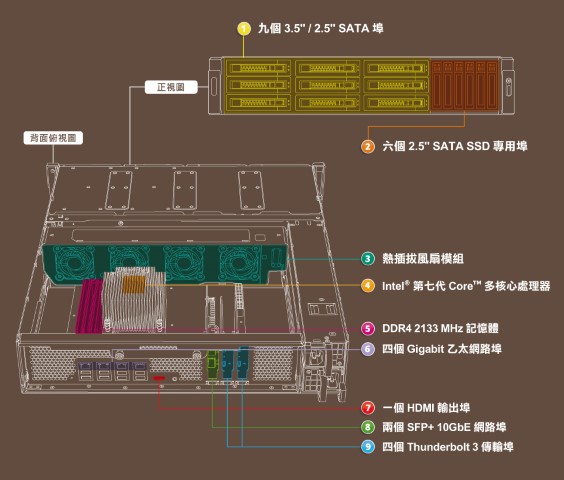 TVS-1582TU equipped with high-performance Intel® seventh-generation processor, Core ™ i5 quad-core processor with 16GB DDR4 memory, and Core ™ i7 quad-core processor with 32GB DDR4 memory two models (memory can be expanded To 64GB), excellent system read performance can be smooth operation requires a lot of system resources applications. TVS-1582TU Thunderbolt ™ 3 NAS not only has Thunderbolt ™ 3 bandwidth doubled to 40 Gbps technology can be high-speed access files, built-in dual 10GbE network port, so TVS-1582TU data can be shared through the 10GbE network, Storage applications are more flexible.
Why is the QNAP TVS-1582TU Rackmount NAS with Thunderbolt 3 possibly the best NAS yet?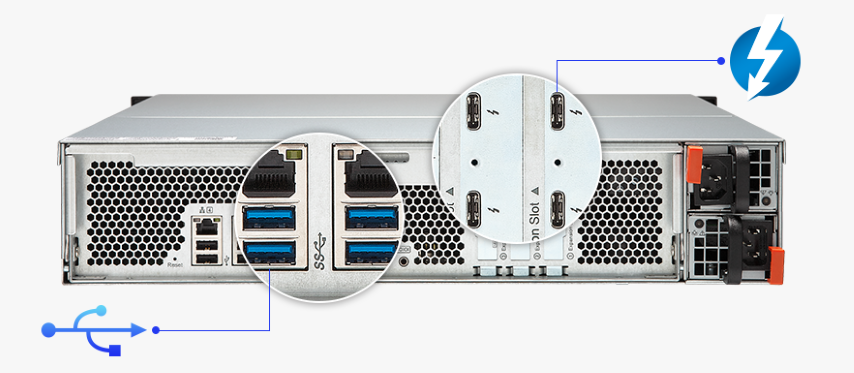 Thunderbolt ™ 3 ports can be connected to a variety of USB Type-C devices, also supports USB 3.1 Gen2 up to 10 Gbps transfer rate, allowing you through the USB interface can quickly complete large-format audio and video media transmission, wider application, more efficient High, and very convenient.
Who needs the QNAP TVS-1582TU Rackmount NAS with Thunderbolt 3?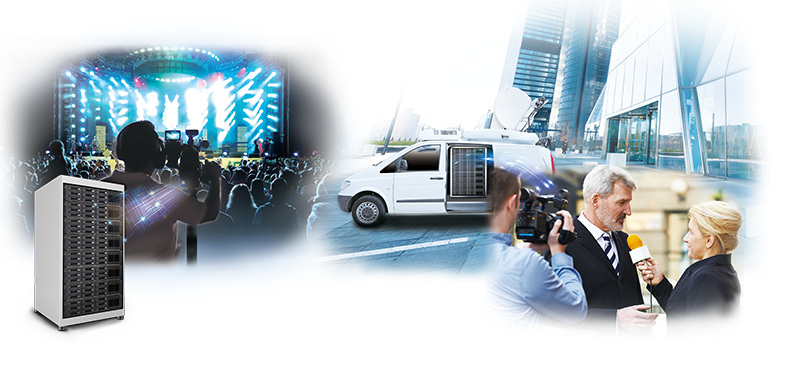 Film shooting, television and other audio and video media industry, often need to shoot location, and shooting video material often need to immediately backup, to avoid damage to the storage media caused the film lost. After all, live "instant" photography can no longer be reproduced, and film re-shooting will also increase the cost and delay the progress of shooting. In addition, outdoor broadcast content, such as: sports events, outdoor large-scale performances, but also need to be able to live video, live editing, and through the microwave immediately to the TV center to send recorded programs, live broadcast. The rack-mounted TVS-1582TU can be securely mounted in a standard 19-inch cabinet, ideal for use in an intervening car or an outdoor video editing environment. With its support for Thunderbolt ™ 3, 10GbE and USB 3.1 high-speed interface, can quickly transfer and backup video, providing mobile audio and video storage and editing the best solution.
Can you use the QNAP TVS-1582TU NAS with Mac and Windows?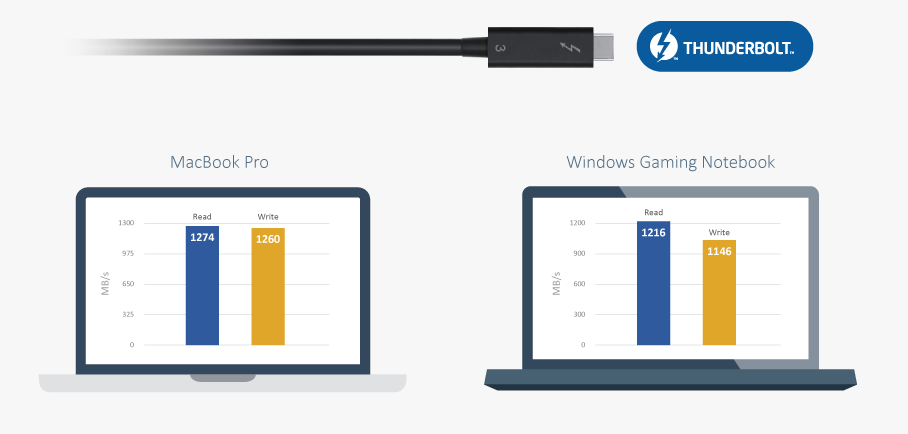 The TVS-1582TU is the best device for MacBook Pro® users with the Thunderbolt ™ 3 interface and is also compatible with the Thunderbolt ™ 2-enabled computer device via the adapter, with a significant increase in bandwidth for video editing and sharing. Big advantage, especially for photographers, filmmakers, image designers and creative workers using 4K and 3D content. The latest version of Final Cut Pro® X 10.3 supports file sharing for SMB agreements, where you can easily store your files in the TVS-1582TU, allowing Windows® users to work with other devices from Thunderbolt ™ 3, 10GbE, or GbE To join the audio and video editing workflow. TVS-1582TU can connect four Thunderbolt ™ devices, while dealing with real-time audio and video editing without affecting the performance of NAS systems; through the HDMI port to connect 4K screen, immediately play 4K image content. Large storage space TVS-1582TU is not only an ideal file storage center, but also provide extraordinary extraordinary performance, improve work efficiency with less.
What kind of storage Media can I use in the QNAP TVS-1582TU TB3 NAS?
The TVS-1582TU is a hybrid storage solution that supports 15 hard drives and can load 3.5-inch hard drives and 2.5-inch hard drives / SSDs at the same time. Enterprises can install the best storage medium on demand to create the most cost-effective storage management system.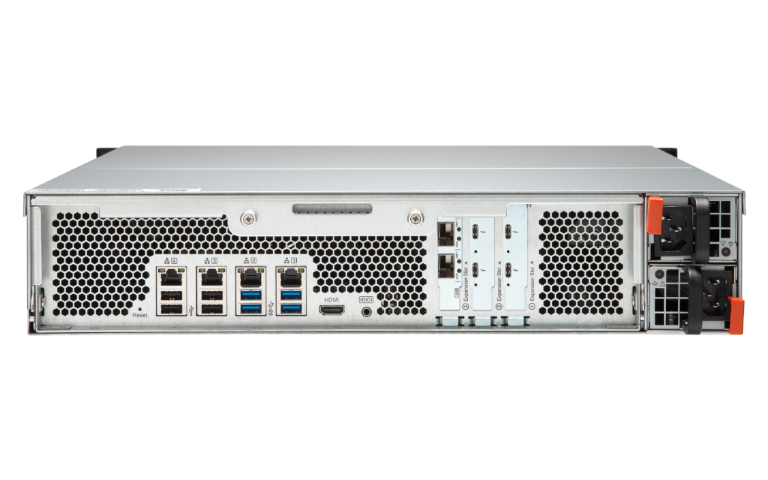 With SATA 6Gb / s, 3 Gb / s hard drives and SSDs, you have the freedom to choose your storage media to build the most cost-effective storage space.
2. 6 2.5 "SATA SSD ports
Can be used as a cache or high-speed storage pool.
3. Hot-swappable fan module
Four 6cm efficient cooling fan, easy to replace quickly.
4. DDR4 2133 MHz memory
Supports four memory slots, up to 64 GB.
Intel® Seventh Generation 14nm Process Processor Supports DDR4 Memory with PCIe Gen.3 High Speed Bus.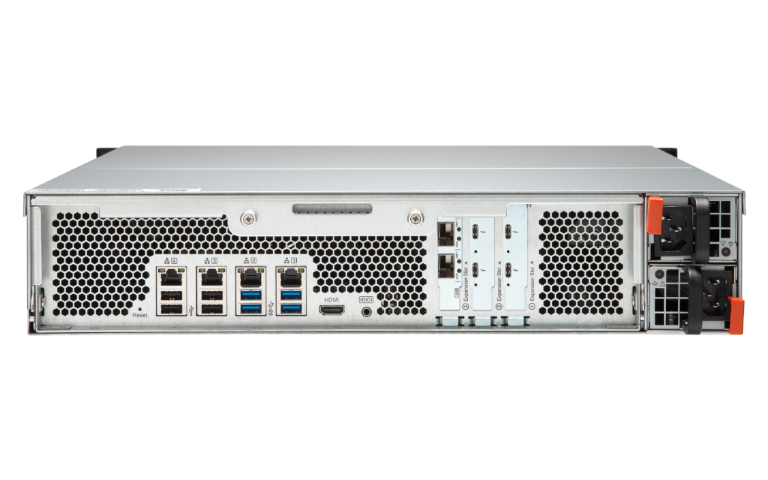 6. 4 1GbE network ports
With Thunderbolt ™ on the NAS and 10GbE network port, so that different applications have a dedicated bandwidth to achieve the purpose of network diversion, to ensure service bandwidth.
7. One HDMI output port
Support 4K Ultra HD ultra-high resolution screen (3840 x 2160 @ 30Hz), capture more details.
8. 2 SFP + 10GbE network ports
Enhance the iSCSI / NFS / CIFS network transmission performance, to meet the virtual application, data backup / recovery, and large file transmission and other high-speed transmission needs.
9. 4 Thunderbolt ™ 3 ports
Thunderbolt ™ 3 bandwidth doubles to 40 Gbps, and can be connected to a variety of USB Type-C devices, also supports USB 3.1 Gen2 up to 10 Gb / s transfer rate.
Use the QNAP TVS-1582TU as a 10GBe over Thunderbolt Connectivity

TVS-1582TU not only provides high-speed Thunderbolt ™ 3 network transmission, but also support Ethernet, two kinds of network transmission can be independent, so that bandwidth is not disturbed and at the same time deal with multiple tasks to ensure that each bandwidth can play To the highest efficiency. TVS-1582TU more innovative assembly Thunderbolt ™ transmission / NAS / iSCSI SAN three models, not only without the traditional DAS can only link a device limitations, but also get rid of the 10GbE high-speed network transmission environment cost barriers.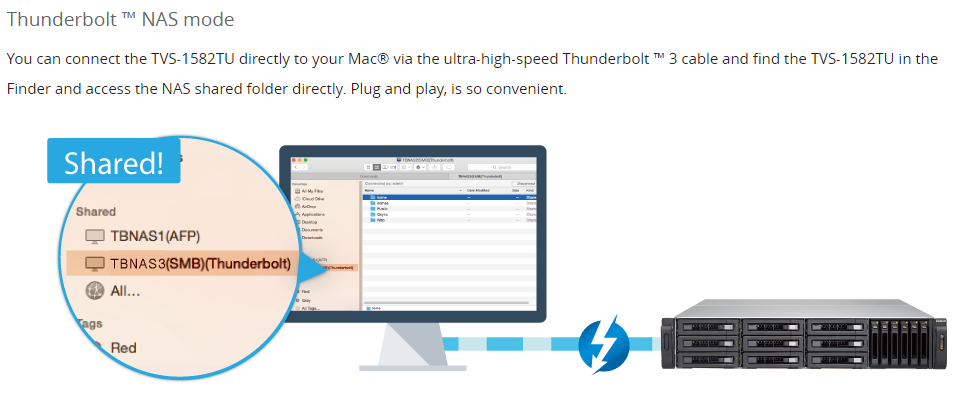 The TVS-1582TU offers four Thunderbolt ™ 3 ports, allowing you to flexibly configure your computer workstations, TVS-1582TU and storage expansion devices for a wide range of applications.
High Application (Mac + JBOD)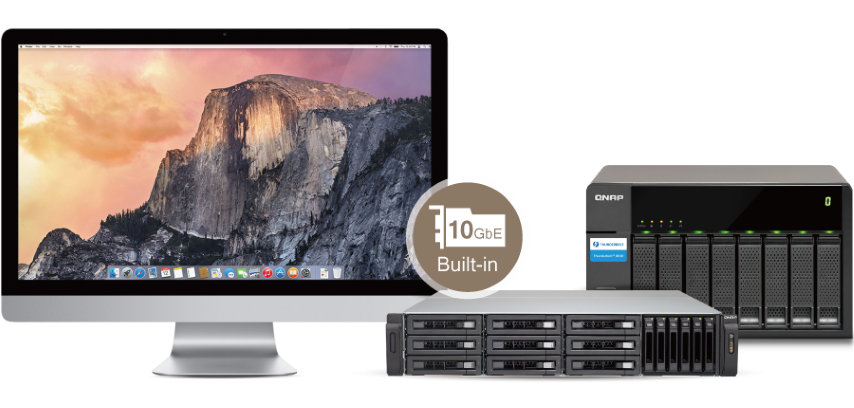 Connect the three Mac workstations to the TVS-1582TU, use the Thunderbolt ™ 3 bandwidth for online audio and video editing; another Thunderbolt ™ 3 port can be used to expand storage space by connecting Daisy-chain to six storage expansion devices (TX-500P / TX -800P), greatly expanding the total storage space. In addition, with the built-in 10GbE card, you can also 10GbE network environment to cross-device file sharing, is the highest C / P value of high-speed storage program!
High Speed Sharing (Mac + Mac)
Want to speed up the video project, you will need two workstations at the same time. At this point, you can connect four workstations to the Thunderbolt ™ 3 port on the TVS-1582TU, with 40Gb / s high-speed transmission, while editing audio and video files.
Flexible Split (Mac + NAS)

Large video production center or creative studio usually requires multiple servers to share different project processes, such as: video, editing, production, post-system, voice, etc., to speed up the work efficiency. At this point, you can have the original TVS-1582TU Daisy-chain way to re-connect an additional six TVS-1582TU, so that each NAS are responsible for storing a specific process of the file; and other Thunderbolt 3 port is directly linked to audio and video Workstations, direct access to large audio and video files, smooth editing. Likewise, each TVS-1582TU here can also share files with multiple devices over Gigabit or 10 Gigabit Ethernet.

TVS-1582TU-i5-16G
TVS-1582TU-i7-32G

processor

TVS-1582TU-i5-16G : Intel® Core ™ i5-7500 3.4 GHz Quad Core
Processor TVS-1582TU-i7-32G : Intel® Core ™ i7-7700 3.6 GHz Quad Core Processor

Memory

Memory slots Total: 4




Memory can be expanded to: 64 GB (16 GB x4)

TVS-1582TU-i5-16G:

System Memory: 16 GB DDR4 RAM preloaded

memory module: 8 GB x2

TVS-1582TU-i7-32G:

System Memory: 32 GB DDR4 RAM Preloaded

Memory Module: 8 GB x4

Flash memory

512MB DOM

Hard drive

6 x 2.5 "SSD




dedicated port 9 x 2.5″ / 3.5 "hard drive or SSD

Support for hard disk type

SATA 6Gbps / 3Gbps hard drive; support hard disk hot swap

Thunderbolt port

4 x Thunderbolt ™ 3 port

USB

4 x USB 2.0 port (back)




4 x USB 3.0 port (back)

Network port

2 x SFP + 10GbE port




4 x GbE port

HDMI output port

1 (HDMI 1.4b x1)

LED indicator

System status, 2.5 "SSD port, 3.5" hard drive port

button

System: power button, system reset button

Alarm

buzzer

Models

2U rack type

Size (H x W x D)

88 x 442.5 x 530.5 mm




3.46 x 17.42 x 20.89 inch

weight

Net weight (NAS machine): 14.18 kg / 31.26 lb




Gross weight (including packaging and accessories): 21.41 kg / 47.20 lb

Noise (dB) *

Sound pressure (LpAm) (by standing position): 53.9 dB




(with 9 Seagate ST2000VN000-1HJ164 hard drive and 6 Seagate ST500LT012 SSD)

temperature

0-40˚C

Relative humidity

5 ~ 95% non-condensing environment, wet bulb temperature: 27˚C.

power supply

Redundant power supply: input 90 ~ 264VAC: 450W x 2

PCIe extended interface

Quantity: 3 (1 * PCIe Gen3 x8 ; 2 * PCIe Gen3 x4)




Note: three PCIe slots are already installed two Thunderbolt ™ 3 card and a 10GbE NIC

fan

4 x 6 cm mute fan
Note: The product package does not contain Thunderbolt cable, users need to purchase. Thunderbolt 3 (USB-C) on the Thunderbolt 2 adapter may be part of the Windows PC compatibility issues, it is recommended that users first confirm or ask the adapter manufacturer. This article is based on translated information from QNAP here
1. Use the Thunderbolt ™ 3 transfer on your Mac, using MacOS Sierra 10.12.3 or later.
2. The 40 Gbps performance marked by Thunderbolt ™ 3 is the maximum theoretical value for developing an official interface, and actual performance may vary by factors such as specifications and equipment.
3. The theoretical transmission bandwidth of Thunderbolt ™ 3 40 Gbps is twice as high as that of Thunderbolt ™ 2, and the actual data transmission performance of TVS-1582TU jumps from 900 MB / s to 1,600 MB / s.