Synology get imaginative with by revealing their Network Gateway device, the Synology SG1000
Synology certainly have not disappointed at Computex this year, as well as their private event in Taipei, they have introduced us to their up and coming 4 Bay DS918+, their flagship 2-Bay DS718+ and their more business aimed DS3018xs and DS1817+. However it is the SG1000 Network gateway device (so not really a switch or router) that has left a number of us interested in some cases and confused in others. This company that has for a long time pioneered ahead of many in the field of NAS home and business storage has now released it's 3rd network handling device. Over the last 2 years we saw the RT1900ac router, the RT2600ac improved router and now this multiple RJ45 based network gateway device for home adn SMB.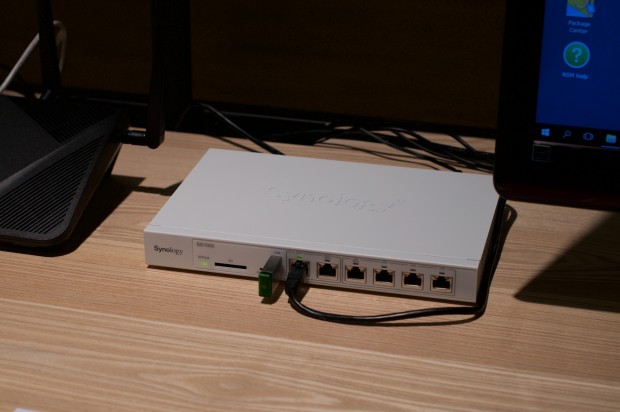 What is the Synology SG1000 and what is the difference between this and a network switch?
A gateway, as the name suggests, is a passage to connect two networks together that may work upon different networking models. They basically works as the messenger agents that take data from one system, interpret it, and transfer it to another system. Gateways are also called protocol converters and can operate at any network layer. Gateways are generally more complex than a switch or router.  A switch is a multi port bridge with a buffer and a design that can boost its efficiency(large number of  ports imply less traffic) and performance. It is data link layer device that can perform error checking before forwarding data, that makes it very efficient as it does not forward packets that have errors and  forward good packets selectively to correct port only.
What are the Specifications of the Synology SG1000 Network device?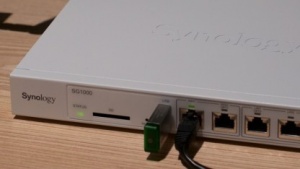 So, we have established what it is and how it is a all in one network gateway solutions for small/medium businesses alike, but jsut how powerful is it? And what services can that power enable:
The SG1000 features a 1.7GHz dual-core processor

This is further bolstered with 2GB DDR3-1600 RAM (that cannot be expanded)

An on-board hardware acceleration engine to enhance Layer 7 firewall performance on your connections

Two RJ-45 network ports that can assigned as either LAN / WAN at your discretion

, as well as 4 dedicated LAN ports

The SG1000 also arrives with dedicated software onboard (constantly updated), the 

Security Gateway Exclusive Operating System Network System Manager (NSM)

Built-in VPN Plus provides a complete VPN solution at your fingertips

Software based Layer 7 QoS Advanced Packet Detection and Blocking Capability to keep your data packings safe

Object management allows IT administrators to easily set up employee and corresponding networking rules with fully adjustable permissions and control as needed

Captive Portal user authentication mechanism  with intelligent monitoring networking situation meaning you can have outside access for maintenance without compromising security

Support virtual area network (VLAN) and flexible network interface management to build complex office network with as few parts as possible, saving both space and money

A full and comprehensive User Interface to access the device and monitor/divert access as needed with full analytical tools for troubleshooting as needed
When with the Synology SG1000 be released and how much will it cost?