What are the Specs of the Synology DS218+ 2-Bay NAS Server?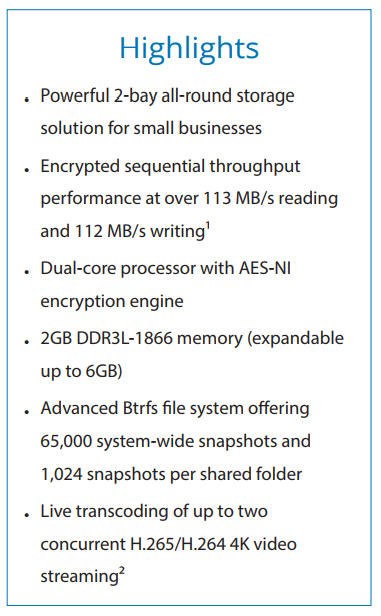 The first question on everyone's lips of course is the Specifications of the Synology DS218+ NAS. Much like the release of the DS216+ back in late 2015, the CPU and Memory, though not too modest, are comparable to the flagship 2-Bay – only in Dual Core. More precisely, the DS218+ arrives with an Intel Celeron J3355 Dual-core CPU (compared with the J3455 Quad-Core in the DS718+) that has a frequency of 2.0GHz processor, that can be burst to 2.5GHz. This CPU arrives with a number of efficient Software performance and efficiency bonus' that we will cover below, but alongside this processor the unit arrives with 2GB of DDR3 Memory that is expandable to 6GB Maximum – though this CPU should cover upto 8GB.
Why is the Synology DS218+ 2-Bay NAS such a big deal?
Synology DiskStation DS218+ features a dual-core processor with AES-NI encryption engine and transcoding engine, providing high-speed file transfers and supporting real-time 4K transcoding. DS218+ is ideal for protecting critical assets and sharing files across different platforms. Synology DS218+ is backed by Synology's 2-year limited warranty.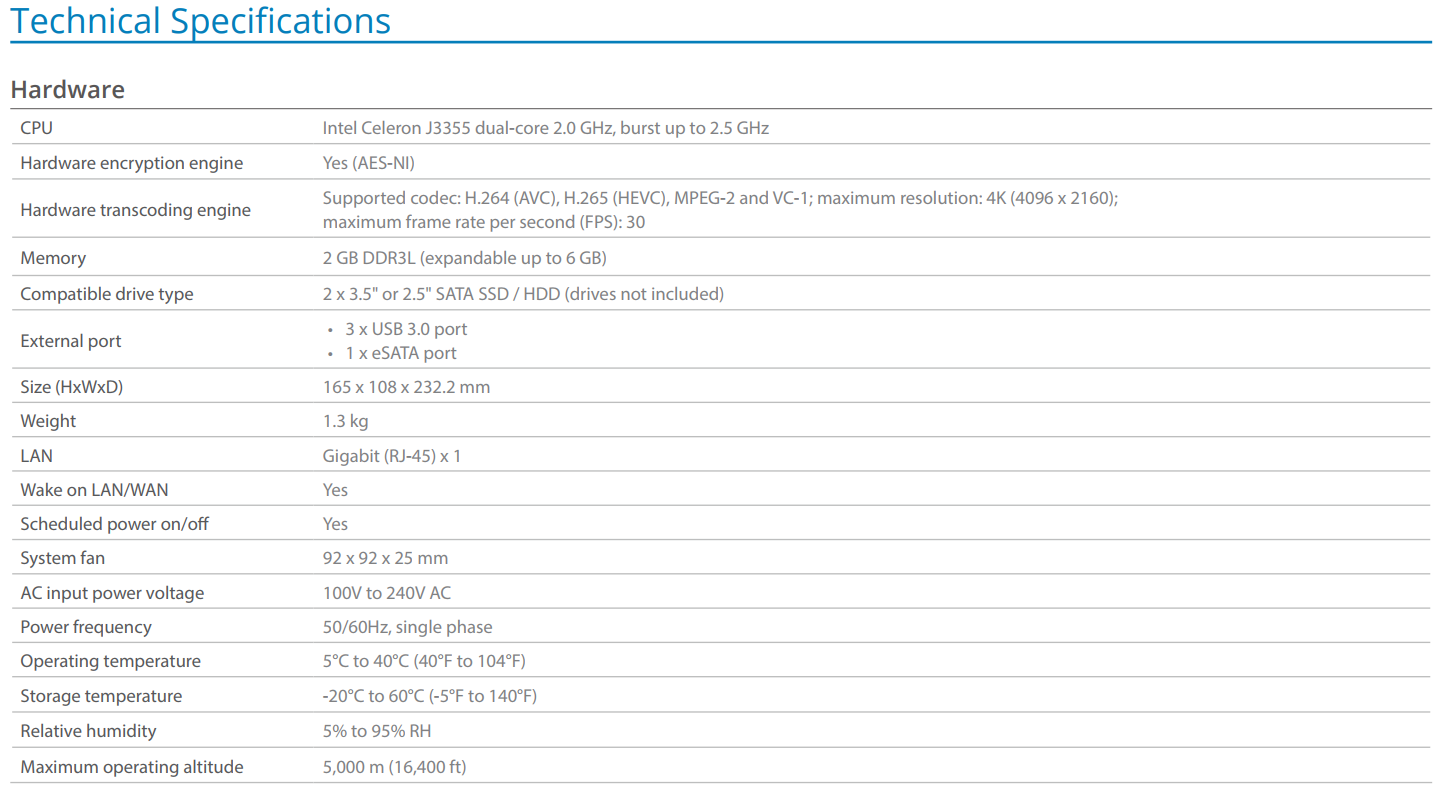 Compact yet Powerful Storage Solution in the DS218+ NAS server
Synology DiskStation DS218+ is designed for home users or small businesses pursuing a compact and reliable shared storage solution, offering the flexibility to expand the 2 GB RAM to up to 6 GB RAM to process intensive workloads. DS218+ features a dual-core 2.0 GHz processor with a burst frequency of 2.5 GHz. With AES-NI, DS218+ delivers encrypted performance of up to 113 MB/s reading and 112 MB/s writing under RAID 1 configuration1 . DS218+ comes with three USB 3.0 ports.
The hot-swappable drive tray design allows easy installation and maintenance on 3.5-inch HDDs without additional tools.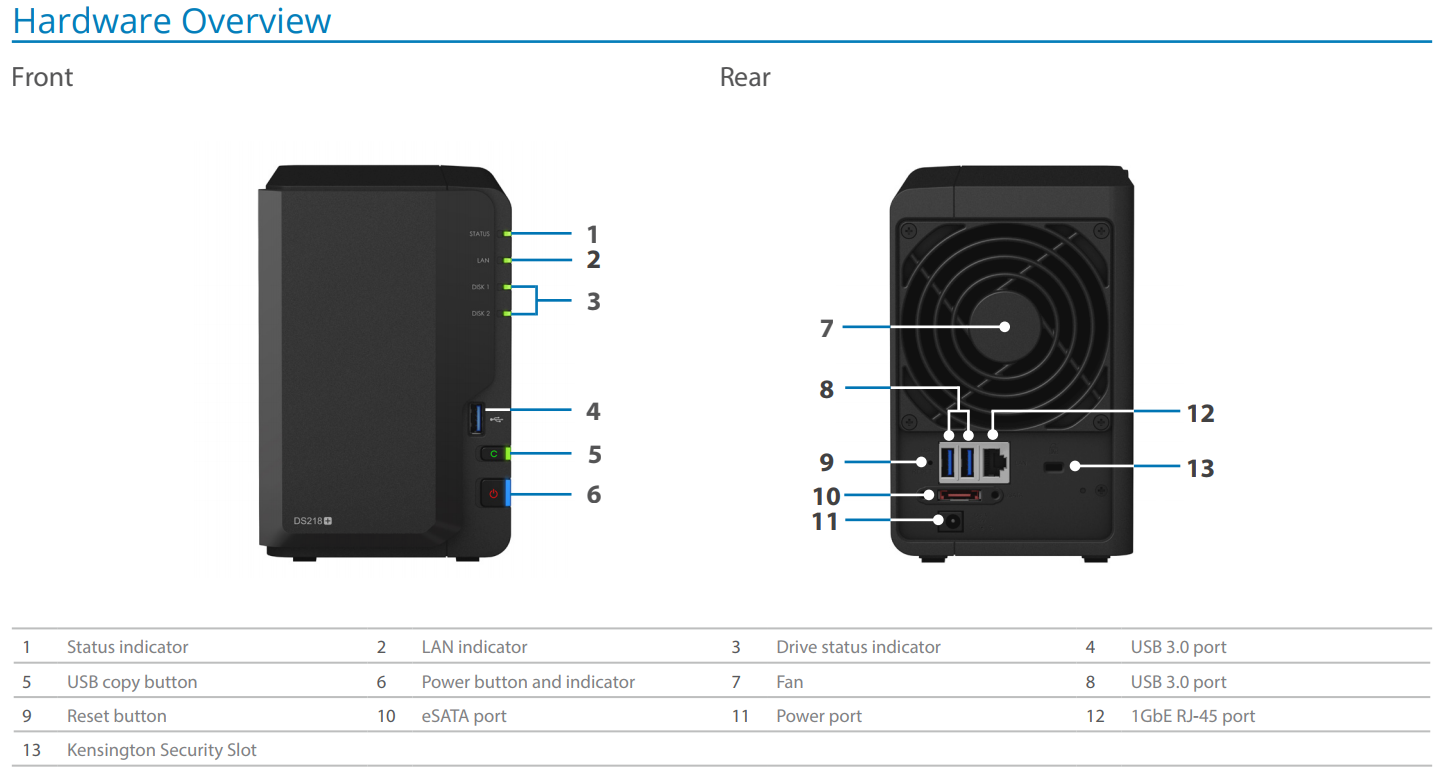 Btrfs: Next Generation Storage availabe with the Synology DS218+ NAS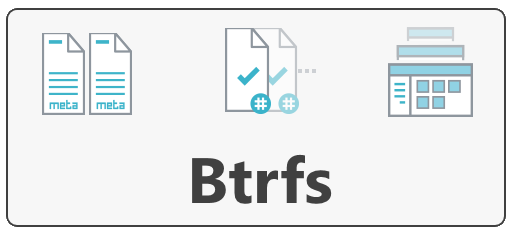 DS218+ integrates Btrfs file system, bringing the most advanced storage technologies to meet the management needs of small businesses. Flexible Shared Folder/User Quota System provides comprehensive quota control on all user accounts and shared folders. Advanced snapshot technology with customizable backup schedule allows up to 1,024 copies of shared folder backups and 65,000 copies of system-wide snapshots, without occupying huge storage capacity and system resources. File or folder level data restoration brings huge convenience and saves time for users who wish to restore only a specific file or folder. Cloud Station with file versioning requires less than half of the storage space when compared with ext4 file systems. Comprehensive Business Applications that are powered by the innovative Synology DiskStation Manager (DSM), DS218+ comes fully-equipped with applications and features that are designed specifically for small or growing businesses.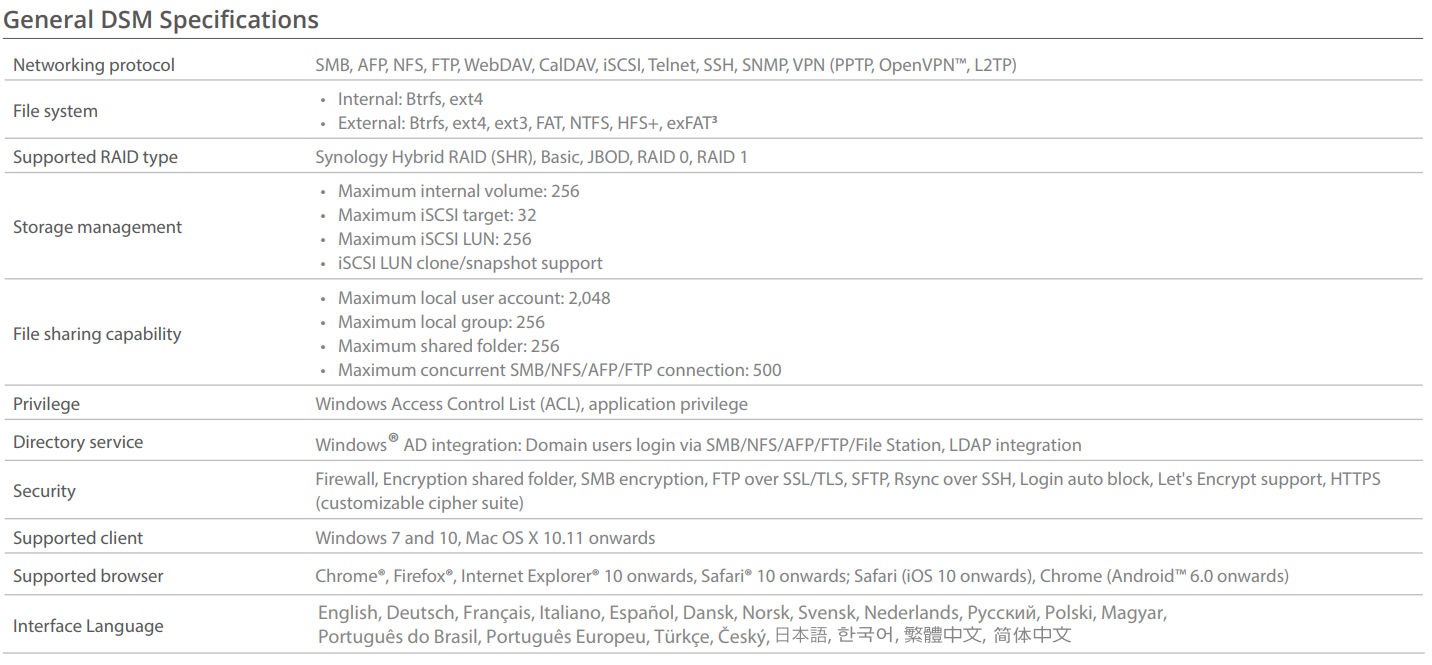 Windows® AD and LDAP support allow easy integration with existing business directory services, without needing to recreate user accounts. Windows ACL support provides fine-grained access control and efficient privilege settings, allowing DS218+ to fit seamlessly into current infrastructure. Internet file access is simplified by the encrypted FTP server and Synology File Station, a web-based file explorer. HTTPS, firewall, and IP auto-block support ensure file sharing over the Internet is protected with a high level of security. Application Privileges controls access to applications and packages based on each individual account, user group, or IP address. MailPlus allows your business to set up a secure, reliable, and private mail server, while giving your employees a modern mail client for receiving and sending messages. The powerful Collaboration Suite integrates Synology Office, Calendar, and Chat, ensuring secure and effective private communications and allowing your organizations to easily manage and control the relevant content.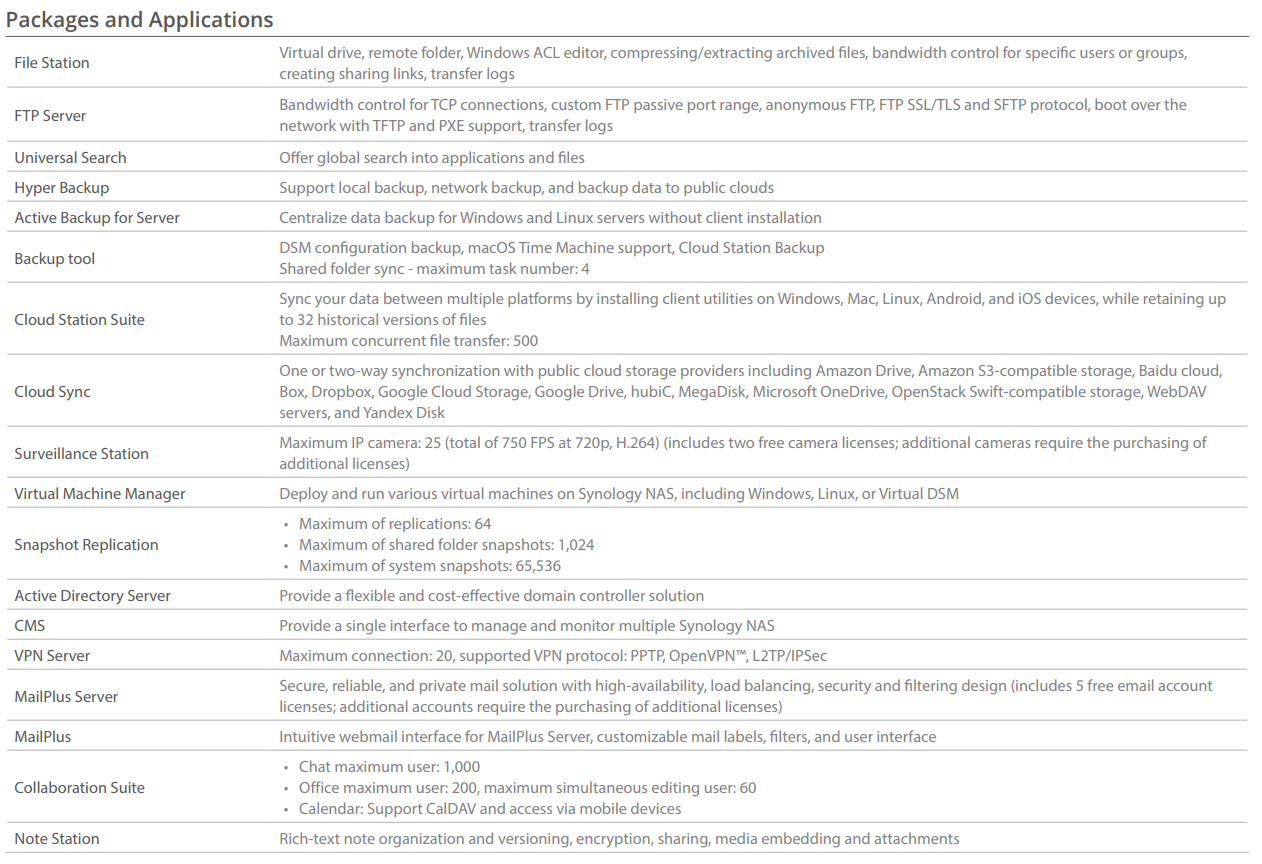 Host your Personal Multimedia Library on the Synology DS218+ NAS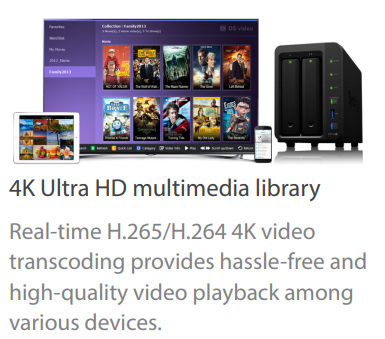 Synology DiskStation DS218+ supports transcoding of up to two concurrent H.264/H.265 4K video streaming2, featuring support for the latest multimedia file. With Video Station, you can easily organize and sort your personal digital video library with comprehensive media information and watch 4K Ultra HD movies and films. Photo Station allows you to effortlessly organize photos into customized categories, smart albums and blog posts, and link them to social networking websites within a few clicks. Audio Station comes with Internet radio and lossless audio format support, and is capable of music playback via DLNA or AirPlay-compliant devices.
24/7 Smart Security Solution options with Network Surveillance on the DS218+
Featuring user-friendly video management tools and an intuitive desktop-like interface, Synology Surveillance Station is a reliable private-security solution that can support multiple IP cameras connected to DS218+. Surveillance Station features optimized live view together with streamlined real-time monitoring. Its powerful analytics, such as motion detection and alert notification, allows you to stay informed of any suspicious activity with triggers sent via SMS, e-mail, and DS cam mobile applications.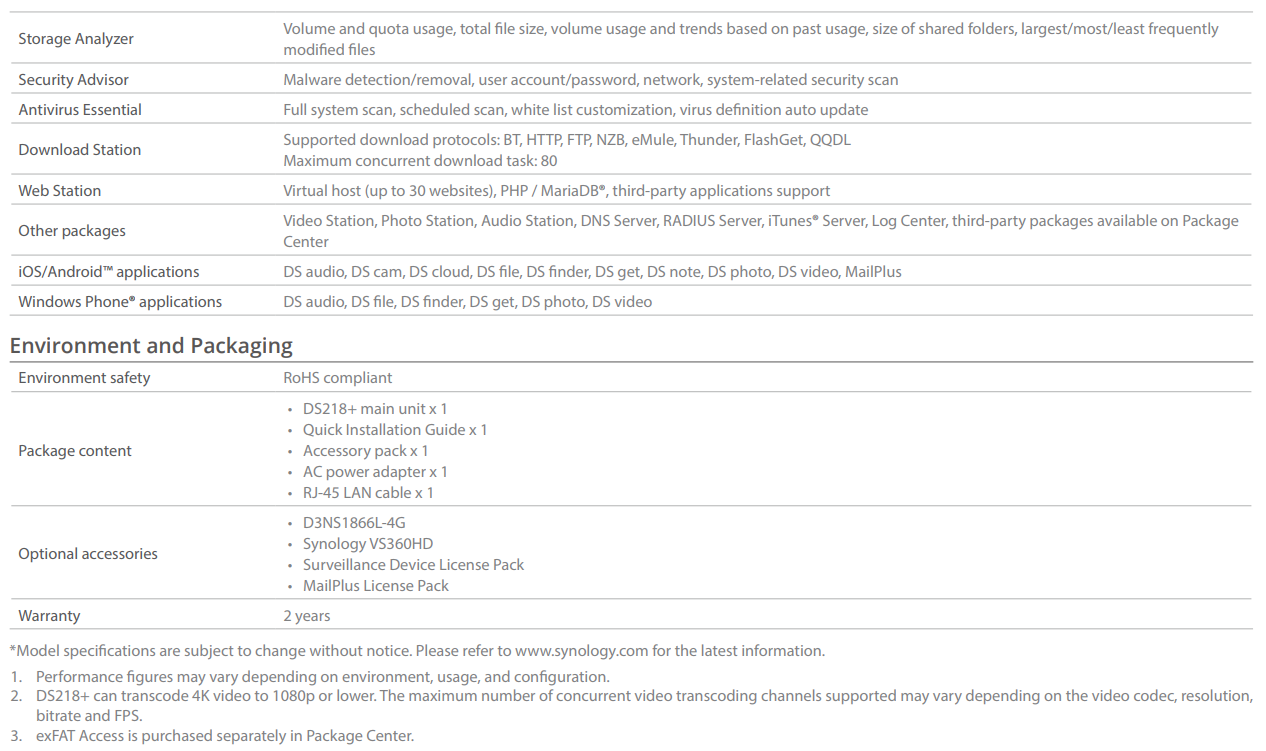 The Synology DS218+ – £280-300 without VAT and HDD media
Expected Release Date – Late September / Early October

New Chassis

2-Bay NAS – Expandable to 2+5 with DX517

Intel Celeron J3355 Dual Core 2.0 GHz (up to 2.5 GHz)

2GB DDR3 Memory, expandable to 6GB

In terms of connectivity, this NAS has 3 USB 3.0 ports (including 1 on the front), 1 Gigabit network ports and 1 eSATA port.

2 Channel 4K Transcoding of H.264 and decoding H.265

BTRFS support and SHR Support