A New Multimedia Synology DS218play Diskstation 2-Bay NAS for 4K, HD and more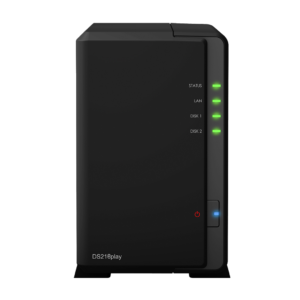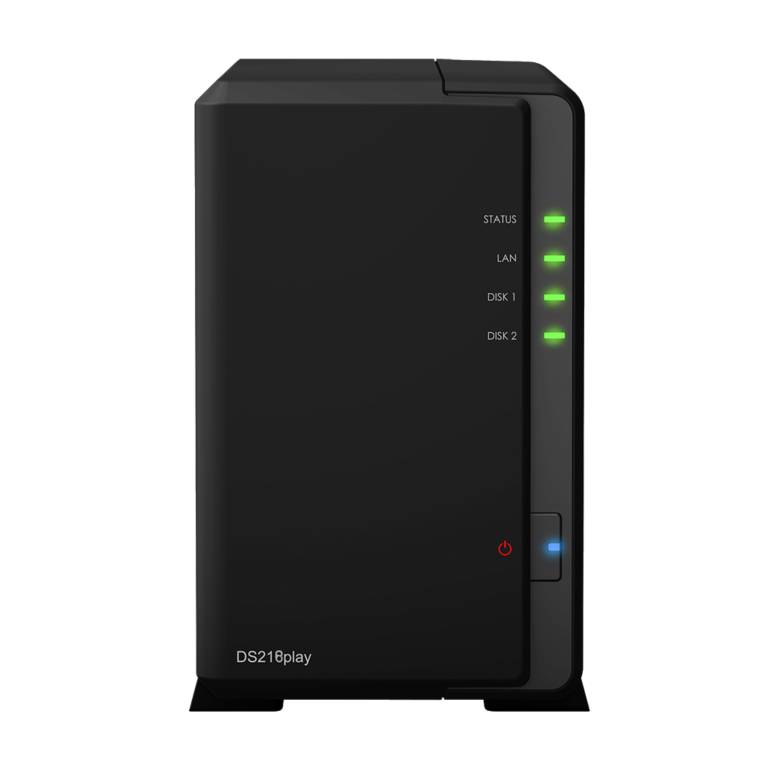 Already featured last month, the Synology PLAY series of network attached storage (NAS) devices gained a new two hard drive bay device to join the lineup. Already available in 4-Bay configuration (DS418play), this new multimedia NAS promises to not only be a much more compact and adaptable home NAS, but also arriving at a price point that won't blow your wallet to pieces. The new DS218play NAS Server is going to arrive in time for Christmas and as NAS devices go, it is certainly a petite little thing. Despite its small stature, it is a surprisingly powerful device, arriving with that popular Quad Core 64bit ARM processor from Realtek that transcodes (a rare thing from an energy-efficient ARM) 4K and HD media. This is further bolstered with 1GB of DDR4 memory and at a unit arriving at a modest £190+ ex.VAT (more than £100 than the DS218+ Flagship NAS and £50 more than the basic DS218j) they have really made strides to sure this as the lowest priced 4K Media 2-Bay in the market now.
Why should you buy the DS218play NAS from Synology in 2017 and 2018?
Back in my coverage of the DS218j, I highlighted the difference between 'cheap' and 'cost-effective' (where cheap means low price and low hardware, where as cost-effective means value for money). Not only is the DS218play NAS very much in the latter, but it manages to give you a host of software options both in multimedia and other popular NAS applications, whilst still maintaining a sub 200 pound price tag. A number of the popular software and application highlights of the DS218play are: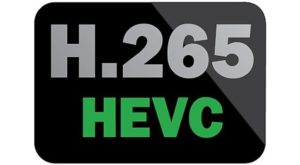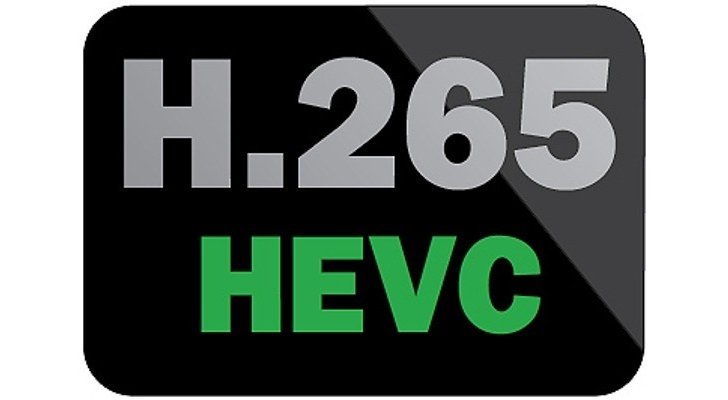 4K Transcoding (on the fly, so LIVE) of 10bit H265 media

Can be used as a Plex Media Server (though transcoding inside Plex is going to be negligible to none)

Can run as a DLNA Media server to connect to ALL your network devices that are DLNA certified (Chromecast, Apple TV, Sonos, Bose, Smart TVs, iOs and OSX devices, Android devices, windows and more)

Supporting upto 25 IP Cameras via the included Surveillance Station application (two licences are provided for free). Then access the recordings or live view over the network or internet via your phone or browser

Backup multiple mobile or desktop devices (Mac, Windows, Android, etc) throughout your household

Collaborate with multiple users through the NAS and it's files. More than just file sharing, Use 'Synology Office' to edit on the fly, use 'Synology Chat' to talk and share tasks between users, 'Synology email' to centralise your mail servers, 'Synology Calendar' to set up schedules and numerous CRM and CMS systems in the App center for free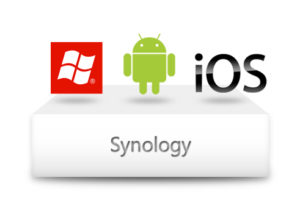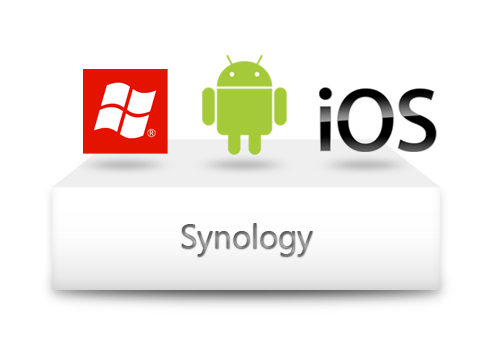 Store and browse all your personal photos, videos and music behind the AES 256bit encryption and scalable security routines that far surpass that of 3rd party cloud providers.

Access the NAS how  you want in the way that you want, but accessing it with multiple desktop and mobile applications across Windows, Mac and Android with DSFile, DSVideo, DSPhoto and many, many more

Setup a centralised and personalised download server within the NAS, supporting FTP, HTTP, NZB and BT operations
Remember, the most important part – almost every one of the tasks above can be conducted at the same time. TRUE multitasking on this tiny device and with a modest price tag.
What are the Specifications and hardware of the Synology DS218play NAS?
We have already touched on the CPU and RAM On this device, but let's take a moment to discuss how that has impacted the overall design. The external chassis is still the same as that of the DS216PLAY and that isn't a bad thing – though the lack of hot swapping of drives due to the non-tray based drive installation is a little bit of a shame. The NAS, once unboxed, is just 16.5cm x 10cm x 22.5cm in size – easy enough to store in a cupboard or out of sight spot. If you are concerned with LAN cables leading along the floor and more, don't forget to consider a good powerline adapter, as then you are almost limitless of where you can put this NAS in your home, store or office.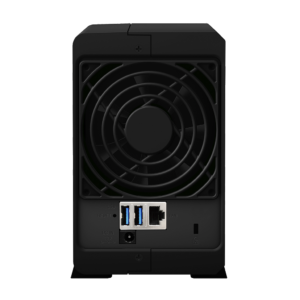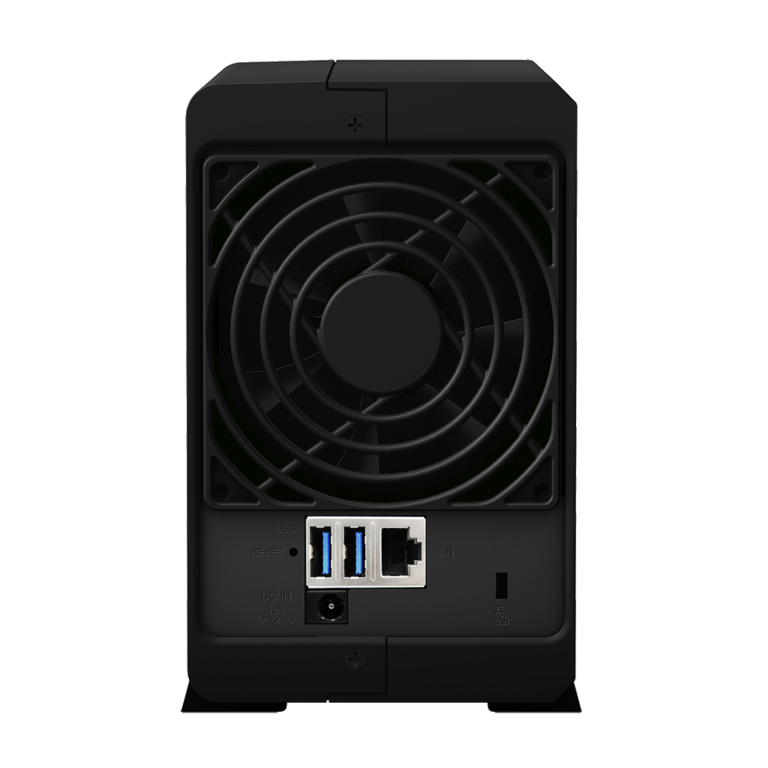 Along with being small enough not to interfere with your existing setup, the device also arrives with a remarkably low power consumption at just over 15W whilst the unit is being accessed and surprisingly small 6W whilst the hard drives are in hibernation. Not only does that mean that the device's footprint on your electricity bill remarkably small when left on 24×7, but also thanks to the chassis design, compact chassis and slimline rear fan, it is one of the quietest 2-Bay NAS synology have available – though always bear in mind that the more enterprise the hard drive you install (anything about 6TB, a PRO series HDD or a HGST Deskstar NAS drive) the more clicks and spin up noises it will make. If you want a really, really quiet NAS, then you need to go for SSD, which sadly will increase your spending 5 fold. Finally, if we look closely at the rear of this device, we will see that it arrives with two USB 3.0 Ports for connecting backup drives (or for making USB Flash and external hard drives network accessible) and a network port too. If you want to consider a wireless option with a dongle, it is possible, but I would not recommend it. Aside from the bottleneck of connectivity that you create for yourself accessing files, these devices are designed for LAN/RJ45 connectivity and should be treated as such.
When is the Synology DS218play going to be released and where can I buy it?
As always, we recommend SPAN.COM, the NAS Experts, for buying your first, second or tenth NAS device and they are already taking orders on the new DS218play. With over 20 years of experience in data storage, build and test services included free, cost effective worldwide shipping, pre and post technical support and a multitude of ways to get in touch with them 24×7, it really is a no brainer. Arriving at around £190 ex.VAT, they hope to see release of this item before the end of the year.
The Synology DS218play 4K Multimedia NAS 2-Bay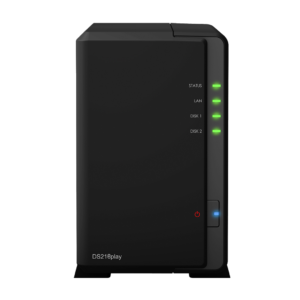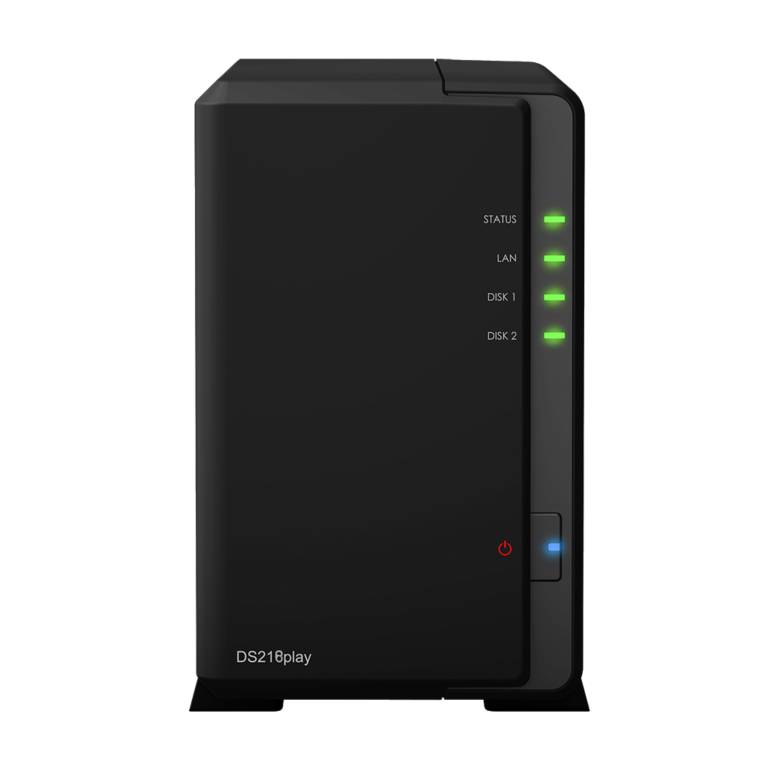 Release Date – October/November 2017 (TBC)

Price – £190+ ex.VAT

Realtek RTD1296 Quad-Core 1.4GHz CPU

1GB of DDR4 Memory

2x USB 3.0

4K and HD Multimedia Playback and Transcoding
Below are the full specifications of the up and coming Synology DS218play. Why not check them out. Always remember though that details can sometimes change jsut before release and always be sure to check specs before buying your NAS:
Synology NAS

The DS218play NAS

£190+ .ex.VAT

CPU Model

Realtek RTD1296

CPU Architecture

64-bit

CPU Frequency

Quad-core 1,4 GHz

Hardware Transcoding

YES

Memory

System Memory

1GB DDR4

Storage

Drive Bay(s)

2

Compatible Drive Type

3.5 "SATA III / SATA II HDD

2.5″ SATA III / SATA II HDD (with optional 2.5″ Disk Holder)

2.5″ SATA III / SATA II SSD (with optional 2.5″ Disk Holder)

Maximum Internal Raw Capacity

24 TB (12 TB HDD x 2) (Capacity may vary by RAID types)

External Ports

USB 3.0 Port

2

File System

Internal Drives

EXT4

Other

RJ-45 1GbE LAN Port

1

Wake on LAN/WAN

YES

System Fan

60 mm x 60 mm x 1 pcs

Fan Speed Mode

Cool Mode

Quiet Mode

Low-power Mode

Wireless Support (dongle)

YES

Power Recovery

YES

Noise Level*

16.4 dB (A)

Scheduled Power On/Off

YES

Power Supply Unit / Adapter

60W

AC Input Power Voltage

100–240 V AC

Power Frequency

50/60 Hz, Single Phase

Consumption

15.08 W (Access)
6.83 W (HDD Hibernation) 

Ambient temperature

Operating Temperature

5°C to 40°C (40°F to 104°F)

Storage Temperature

-20°C to 60°C (-5°F to 140°F)

Relative Humidity

5% to 95% RH

Warranty

2 years

Notes

The performance data is measured with a Western Digital 2x 2TB WD20EFRX hard drive at full load.

Wake on WAN support requires switches and routers.

Storage Management

Maximum Internal Volume Number

2

Maximum iSCSI Target Number

10

Maximum iSCSI LUN

10

Supported RAID Type

JBOD, SHR, RAID 1, RAID 0

File Sharing Capacity

Maximum IP cam (Licenses required)

25 (including 2 Free License)

Maximum Connections

5

Environmental protection and packaging

Environment

RoHS Compliant

Packaging Content

Main Unit X 1

Welcome Note X 1

Accessory Pack X 1

AC Power Adapter X 1

RJ-45 LAN Cable X 1

Optional accessories

Camera License Pack

Disk Holder: Type C