The Best 4-Bay NAS of 2017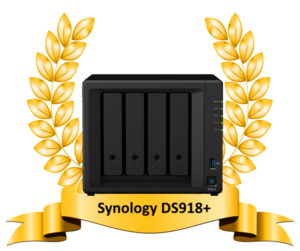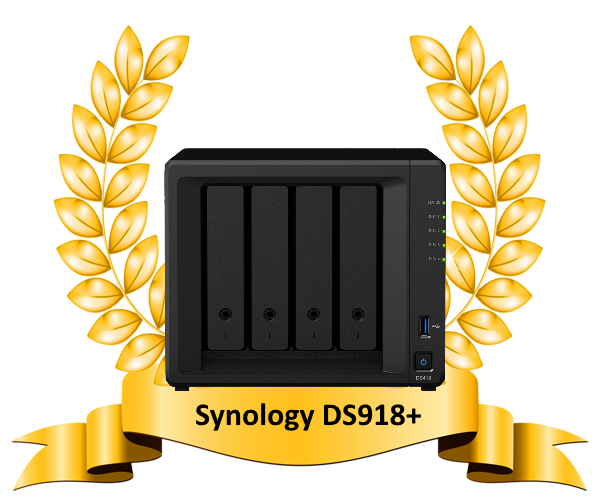 With the growth of popularity in Network Attached storage (NAS) many users who are even the tiniest bit familiar with data storage will want to ensure that their NAS server is providing a good balance of storage space and power. A Good, solid NAS is an investment and most users want it to be serviceable for between 3-5 years at the very least. It is therefore unsurprising that NAS buyers who are thinking long-term will consider a four-bay NAS, that is a device that can hold upto 4 Hard Drives or SSD for storage. A 4-Bay NAS has certain advantages over it's smaller and larger variants. Such as:
Much better RAID options than smaller 2-Bay NAS to ensure data safety with redundancy
Much better hardware options that more compact 2-Bay NAS options
Much larger total capacity options than 2-Bay NAS devices
A much better hardware VS price than larger 6 and 8-Bay NAS devices
Better scalability and pricing than both smaller and larger NAS as you can often increase storage, memory and more gradually over time, thereby spreading hardware costs over the years
Almost always a better Price Per Gigabyte/Terabyte than 2-Bay devices after RAID
As you can see, there is a whole host of reasons why investing in a good 4-Bay NAS can be an excellent choice. But the choice is still pretty big, with hundreds of different 4-Bay NAS released each year by all of the NAS server brands.
What are the best 4-Bay NAS of the year?
What is the best NAS you should buy? Luckily NASCompares is here to help with that. We have literally looked at thousands of NAS devices over the years, have spoken with all the major NAS brands, reviewed and compared hundreds of the latest releases and below you will find the best 4-Bay NAS you can buy right now – each with their specialised selling point and what makes them special. So, without further ado, let's get started.
The Best 4-Bay NAS of the Year for Home and Business – The Synology DS918+
Synology DS918+

Expandable NAS

£450+ ex.VAT

Price – 8/10

Hardware – 8/10

Software – 9/10

 

Synology released the follow up to the popular DS916+ in September 2017 and in terms of hardware, software and price – it is possibly their greatest release ever. It is not just that the Synology DS918+ 4-Bay NAS gives you full access to the entire Synology Software library (such as Synology Office, Synology Chat, Synology Mail, Synology Drive, Synology Moments, Synology Virtual Machine Manager and more) but also extensive access to popular third party apps like Plex Media Server.

But what really makes the DS918+ such a breakthrough for the brand is that this new chassis includes two NVMe SSD Cache slot – something you would expect their rivals at QNAP to do first. These two ports, once you populate with 3000MB/s NVMe drives such as the Samsung 960 series will result in HUGELY improved internal operations. This coupled with memory that can be officially upgraded to 8GB (and 16GB unofficially), a 3 year warranty and expandability with 5 more drives in the Synology DX517 mean that this is genuinely one of the best NAS devices they have ever released. A HIGHLY recommended NAS.

4GB RAM

Intel Celeron J3455 Quad Core

1.5 GHz (up to 2.3 GHz)

3yr Warranty




Score Based on Units sold, Review and User Feedback

EU

UK

US
The Best Value 4-Bay NAS of the year- The QNAP TS-453A
QNAP TS-453A

4K Dual OS NAS

£380+ ex.VAT

Price – 9/10

Hardware – 8/10

Software – 7/10

It may have been released over two years ago now, but the QNAP TS-453A 4-Bay NAS still continues to be a solid benchmark that other NAS devices are compared to. Much like the 2-Bay TS-353A, this device is just built at a fantastic Hardware Vs Price point that makes it almost irresistible to new and old NAS buyers alike. The Quad-Core Intel Chip and 4/8GB of memory mean that straight away, tasks like a transcoding Plex Media Server, 4K playback, Apple Time Machine, Virtual Machines and Surveillance over multiple IP Cameras is immediately available to you.

More than the price, the other attractive part of the TS-453A is that it lives firmly in the middle of Home Vs Business NAS, yet is one of the lowest priced 4-Bay NAS currently available to buy. It even arrives with dual HDMI ports for you can install many apps that will play directly into a TV/Monitor, as well as letting you connect a keyboard and mouse and use as a linux/windows/android PC. At this price point (lower than many fully featured 2-Bay NAS) it is by far the best value 4-Bay NAS yet.

4GB RAM

Intel Celeron Braswell N3150

1.6 GHz Quad Core (up to 2.08GHz)

2yr Warranty

 

Score Based on Units sold, Review and User Feedback

EU

UK

US
The Best 4-Bay NAS of the year for Hardware – The QNAP TS-453B
QNAP TS-453B

DAS + NAS

£600+ ex.VAT

Price – 7/10

Hardware – 9/10

Software – 7/10

By far one of the most fully featured 4-Bay NAS I have ever encountered, the QNAP TS-453B is a device that arrives with unimaginable room for growth, upgrades and add-ons. The price may seem a little steep after the previous two devices, but what you are getting is a 4-Bay NAS that is going to server your needs today, tomorrow and years and years down the line. Featuring a staggering select of ports and connections locally, such as:

LCD Panel, SD Card Slot, Direct Attached Access port (so USB access, not just network/internet), One-Touch USB Copy, screwless HDD trays, PCIe expansion slot (add a PCIe Card), Audio in/out, 2x HDMI ports, 2x LAN, 5x USB 3.0, BUilt in speaker and the new and improved Remote control!

No other NAS features ALL of these hardware features and the software is no slouch either. It provides excellent and intuitive applications and the overall feel of the user-interface is very slick indeed. If you can budget this £600 4-bay, it is certainly worthy of your consideration

8GB RAM

Intel Celeron J3455 Quad Core

1.5 GHz (up to 2.3 GHz)

2yr Warranty

 

Score Based on Units sold, Review and User Feedback

EU

UK

US
The Best 4-Bay of the Year for Virtual Machines, Transcoding and Graphical Rendering – The QNAP TVS-473
QNAP TVS-473

AMD POWER NAS

£790+ ex.VAT

Price – 7/10

Hardware – 10/10

Software – 7/10

A GOLD NAS!

Yes, you read that correctly, QNAP only went and released a NAS in gold – it isn't even the first time they have done this. As stunning as you may find the idea of a gold coloured NAS, it is worth mentioning that the TVS-473 is not just a pretty face. The QNAP x73 series marks an impressive range of devices from the big Q that are designed for all your graphical needs in network attached storage. Arriving with an AMD highly graphical enabled CPU, the TVS-473 is a top scoring NAS for tasks that require any/all forms of rendering and imagery – Virtual Machines. Transcoding, Editing (over 10GBe) and largescale thumbnail generation.

There is more to this device than a nice colour and fancy drawing. It also features PCIe expandability, Optional 10Gbe, the directly attached storage USB port on the front so you can access your files over the network, the internet or simple over USB. Like the B and 82 series, the TVS-473 arrives with the new and improves remote control, 4K support, fantastic Plex Media Server Transcoding, built in speakers and is hugely expandable with the UX-500P and UX-800P. Although it is by far the msot expensive 4-Bay in our best NAS of the year, it firmly earns it's spot!

8GB RAM

AMD R-Series RX-421BD quad-core

2.1 GHz, burst up to 3.4 GHz

2yr Warranty

 

Score Based on Units sold, Review and User Feedback

EU

UK

US
The Best 4-Bay NAS for Plex of the Year – The WD My Cloud Pro PR4100
My Cloud Pro

PR4100 Plex NAS

£460 ex.VAT

Price – 8/10

Hardware – 8/10

Software – 7/10

Looking for the perfect NAS for your Plex Media Server? You should seriously consider the WD PR4100 NAS. Although WD has a fantastic reputation in storage with their WD HDD and SSD range, they have a bit of a lackluster reputation in the NAS SErver market, largely being grouped with more low powered devices. Their NAS software, though a little basic, still performs very well and covers the typical NAS essentials of DLNA Media Playback, non-transcoding Apple Time Machine and Milestone surveillance The WD PR4100 throws all the modesty out of the window and manages to pretty much destroy all the other 4-Bay NAS here in the field of Plex Transcoding!

Unlike most NAS devices, the WD PR4100 features a transcoding engine that can actually be used by the Plex Media Server Application. All of the units mentioned above (DS918+, TS-453B, etc) feature a transcoding engine on their CPU, but as Plex cannot access it, they have to work 3-4x as hard, with their CPUs going well over 60-70% to get the job done. Whereas the PR4100 barely hits 20-25% doing this big task, leaving it plenty of hardware resources to put towards more streams playing back, 4K, Surveillance, backups and more.

4GB RAM

Intel Pentium N3710 1.6 GHz

(Burst speed up to 2.56 GHz)

2yr Warranty

 

Score Based on Units sold, Review and User Feedback

EU

UK

US
Where can I buy the perfect NAS, DAS or SAN?
Choosing the right data storage device can be rather difficult. Having to consider everything from budget, total capacity, reliability and of course, ensuring that you get value for money – all of these factors can result in getting lost in a confusing world of NAS, DAS and SAN. Never fear, why not trust the NAS experts. They will provide technical advice, individually tailored solutions that suit your needs, bad sector checks on all hard drives and SSD, firmware installations and RAID configurations, as well as post sales support for years after and checks on your setup later to ensure that the solution best suited your needs – ALL THIS completely FREE. So, why not get in touch with them and make the process of choosing the right data storage solution for your needs a great deal easier.
📧 SUBSCRIBE TO OUR NEWSLETTER 🔔

🔒

Join Inner Circle
Get an alert every time something gets added to this specific article!
This description contains links to Amazon. These links will take you to some of the products mentioned in today's content. As an Amazon Associate, I earn from qualifying purchases. Visit the NASCompares Deal Finder to find the best place to buy this device in your region, based on Service, Support and Reputation - Just Search for your NAS Drive in the Box Below
Need Advice on Data Storage from an Expert?
Finally, for free advice about your setup, j
ust leave a message in the comments below here at NASCompares.com and we will get back to you.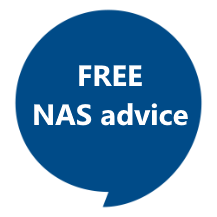 Need Help?
Where possible (and where appropriate) please provide as much information about your requirements, as then I can arrange the best answer and solution to your needs. Do not worry about your e-mail address being required, it will NOT be used in a mailing list and will NOT be used in any way other than to respond to your enquiry.
TRY CHAT
Terms and Conditions
If you like this service, please consider supporting us.
We use affiliate links on the blog allowing NAScompares information and advice service to be free of charge to you.
Anything you purchase on the day you click on our links will generate a small commission which is
used to run the website. Here is a link for
Amazon
and
B&H
.
You can also get me a ☕
Ko-fi
or old school
Paypal
. Thanks!
To find out more about how to support this advice service check
HERE
If you need to fix or configure a NAS, check
Fiver
Have you thought about helping others with your knowledge?
Find Instructions Here

ASK NASCompares forum
, by clicking the button below. This is a community hub that serves as a place that I can answer your question, chew the fat, share new release information and even get corrections posted. I will always get around to answering ALL queries, but as a one-man operation, I cannot promise speed! So by sharing your query in the
ASK NASCompares
section below, you can get a better range of solutions and suggestions, alongside my own.