TOP 3 Rackmount NAS of the Year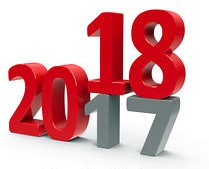 Rackmount NAS devices are by far the most enterprise way in which you can make your data both network and internet
accessible
. It isn't just the cost that most people are put off by when buying a rackmount NAS server, the sheer hardware involved and included with most NAS designed for rack cabinet storage is truly breathtaking. Typical rackmount Solutions start off at thousands of pounds even before you've bought the hard drives to go inside, and the CPU and memory involved will often reach a quite extraordinary power. This is designed to remove the bottleneck from your business and ensure all data transmission is as fast as possible.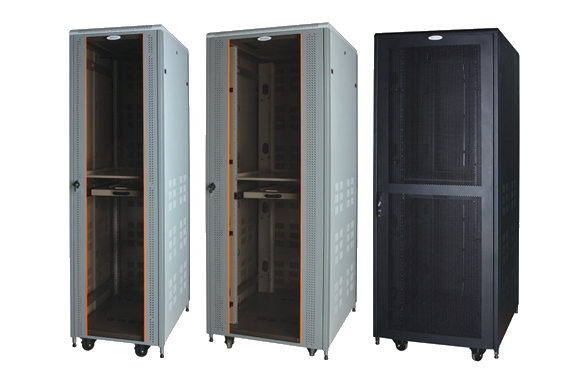 Likewise, as rackmount storage is typically designed for Enterprise and business markets, many arrive with very long warranties of up to five years or more
. However
, there are no two businesses that are identical and as you would expect rackmount devices differ greatly with any one of them arriving in several configurations. The result is that many rack NAS providers produce hundreds of NAS a year but the business user can get confused quickly as to which rackmount NAS is best for them. Below are the top three
rackmount
NAS servers of the year. All three of these devices are good in their own way any and should not be seen as a best, middle, worst list. Each was chosen because it fulfilled a different business need. That being said, any of these three will be a steadfast and reliable solution to your data storage needs and ensure excellent communication of data for both you and your staff in years to come.
The Best Value Rackmount NAS – Synology RS3617xs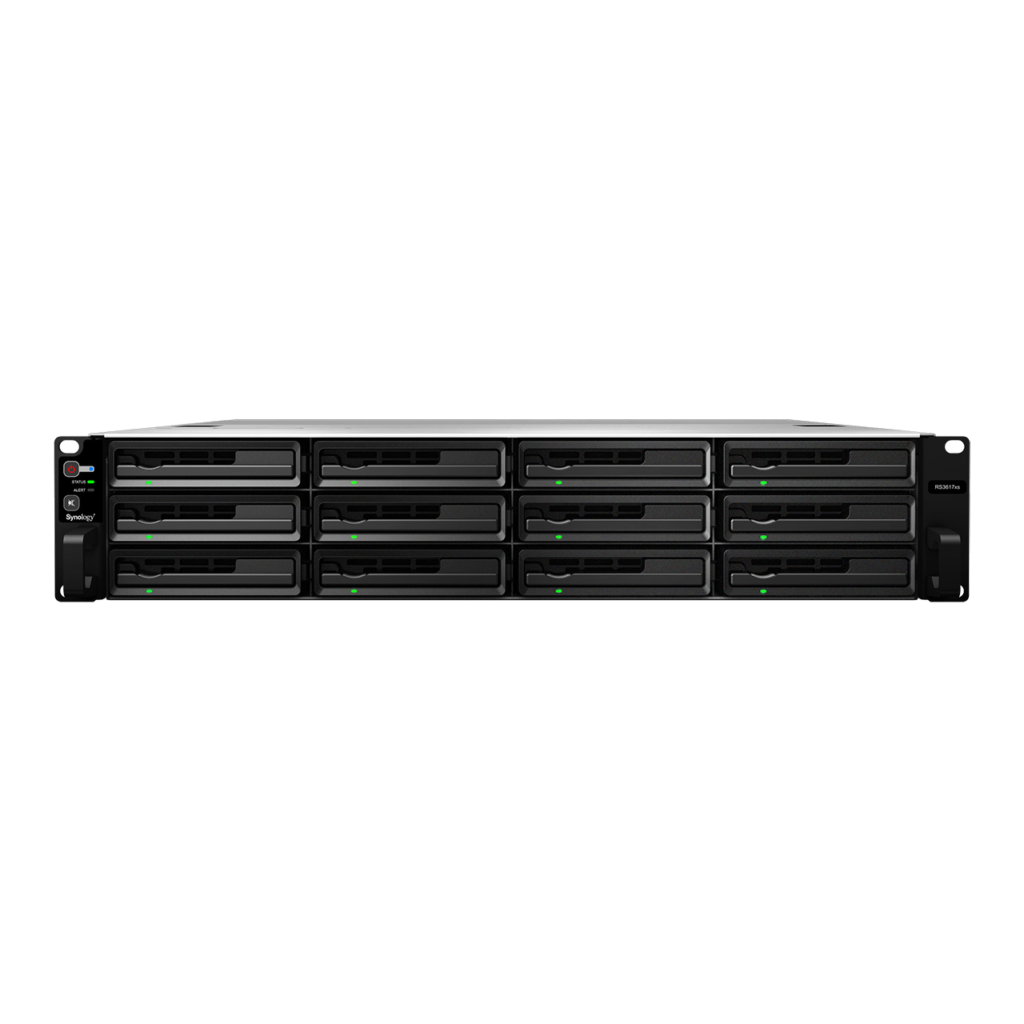 The Synology RS3617xs is by far the best rackmount NAS in terms of value that I've seen in many, many years. This device arrives with a CPU that really blows your socks off, an Intel Quad-Core, this Xeon CPU is 3.3Ghz and arrives with DDR3 memory (ECC). However, most business users don't want to know how powerful the boxes are, they want to know that it will do the job and this £2,000 NAS can pretty much do anything!
– If you want to back up hundreds of PCs every day, this device can do it!
– If you want to run multiple virtual machines all from the same NAS, fluidly and smoothly, this dance can do it.
– If you want to mix your home and business life together, while at the same time keeping them as separate as you need this NAS can do it.
The Synology RS3617xs arrives with a host of ports on the back. with 4x LAN ports, 2 expansion ports to add an additional 24 hard drives (via the DX1215) if needed, as well as a PCIe expansion slot for 10gbe connectivity, dual PSU ports for power supply failure protection and numerous USB ports. Finally, this Synology NAS arrives with 5 years of manufacturer's warranty, as well as the SRS from Synology. The Synology Replacement Service means that if your unit has a hardware problem Synology will replace the next working day an advanced replacement and immediate support, which is a real advantage to Enterprise users that can't be without it data anytime.
Price – 8/10

Hardware – 8/10

Software – 9/10

 

Synology RS3617xs – 12-Bay Rackmount – £2000+

Intel Xeon E3-1230 v2 Quad Core 3.3 GHz

4GB RAM DDR3 ECC – upto 32GB

5yr Warranty

2U

4x LAN

2X Expansion Slots

Com Port

PCie

SRS

(10Gbe and 2x PSU options available)

RS3617xs delivers high performance at over 3,263 MB/s sequential throughput and 333,941 IOPS under a RAID 5 configuration

 

EU

UK

US
The Best Hardware Rackmount NAS – QNAP TS-EC880U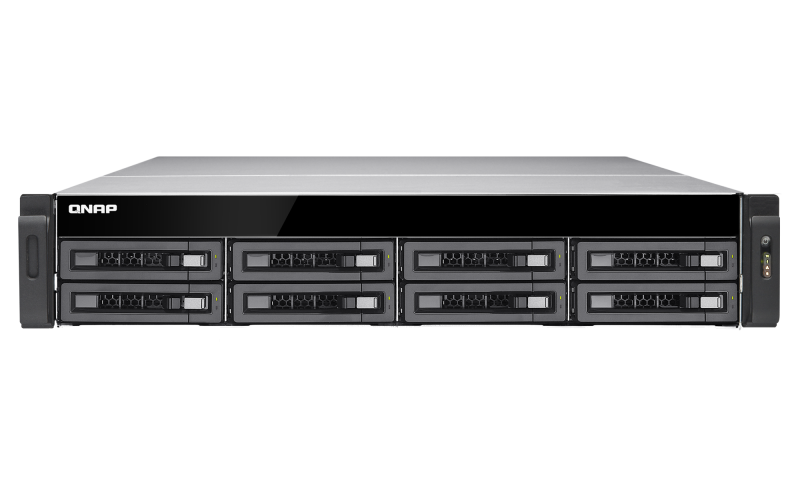 It may seem like an odd choice to pick an older QNAP NAS with so many rackmount NAS is released this year from the guys at QNAP,  but the TS-EC880U R2 8-Bay is easily one of the best rackmount NAS devices I've ever handled. With a price point that may scare some people off, this device arrives with some truly stunning hardware options on board. If you thought the Synology had good hardware, prepare to think again. Featuring an Intel xeon E3 Quad Core CPU with an impressive clock speed that is both consistent and not relying on a boost/overclock, the unit also arrived with 4GB of DDR3 memory that can be expanded all the way up to 32GB. If you are looking for a NAS to host a large number of VMs, this could well be the device for you!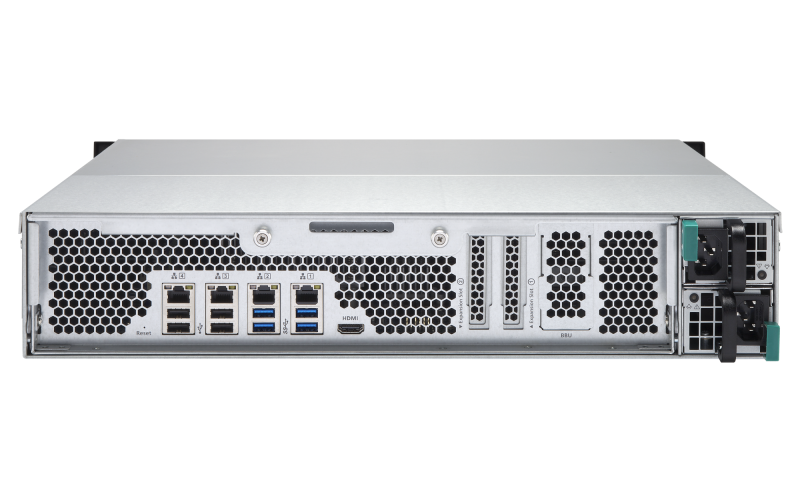 As you would expect from a QNAP NAS (rackmount or desktop) the TS-EC880U R2 arrives with options that you will never find on a Synology NAS. Such as keyboard and mouse support giving you the ability to directly control your data from the device itself, as well as an HDMI port to give you real-time access and point of access control rather than network only visibility. In terms of
connectability
, this is another area that this device really flourishes. It arrives with 4 LAN ports on the rear, an expansion port to add more and more connections and abilities. PLUS it arrives with the 10Gbe connection on the rear and dual PSU options immediately. Options like these you typically find are not included in a Synology NAS and let as paid-for extra accessories. Whereas the QNAP TS-EC880U arrives in multiple versions with these hardware options available in multiple configurations. So you are given a greater choice of what hardware you want to start out with. This may be a little daunting for some, but ask your IT technician and they will confirm what you need and what you don't and could save you a fortune!
The only real let down of this QNAP rackmount NAS is that three-year warranty, it's just a shame that they're not prepared to go to 5 years by default and may put some buyers off.
Price – 9/10

Hardware – 9/10

Software – 8/10

 

QNAP TS-EC880U R2 8-Bay

Intel® Xeon® E3-1246 v3 Quad-core

4GB RAM DDR3 ECC – 4-32GB

3yr Warranty

2U

Keyboard & Mouse

4x LAN

Expansion Slots

10Gbe

2x PSU options available)

2 (Right slot: 1* PCIe Gen3 x8; Left slot: 1* PCIe Gen3 x4)

The PCIe Gen3 x8 slot is occupied by a 10GbE network adapter.

 

EU

UK

US
The Most Future-Proof Rackmount NAS – Synology RS18017xs+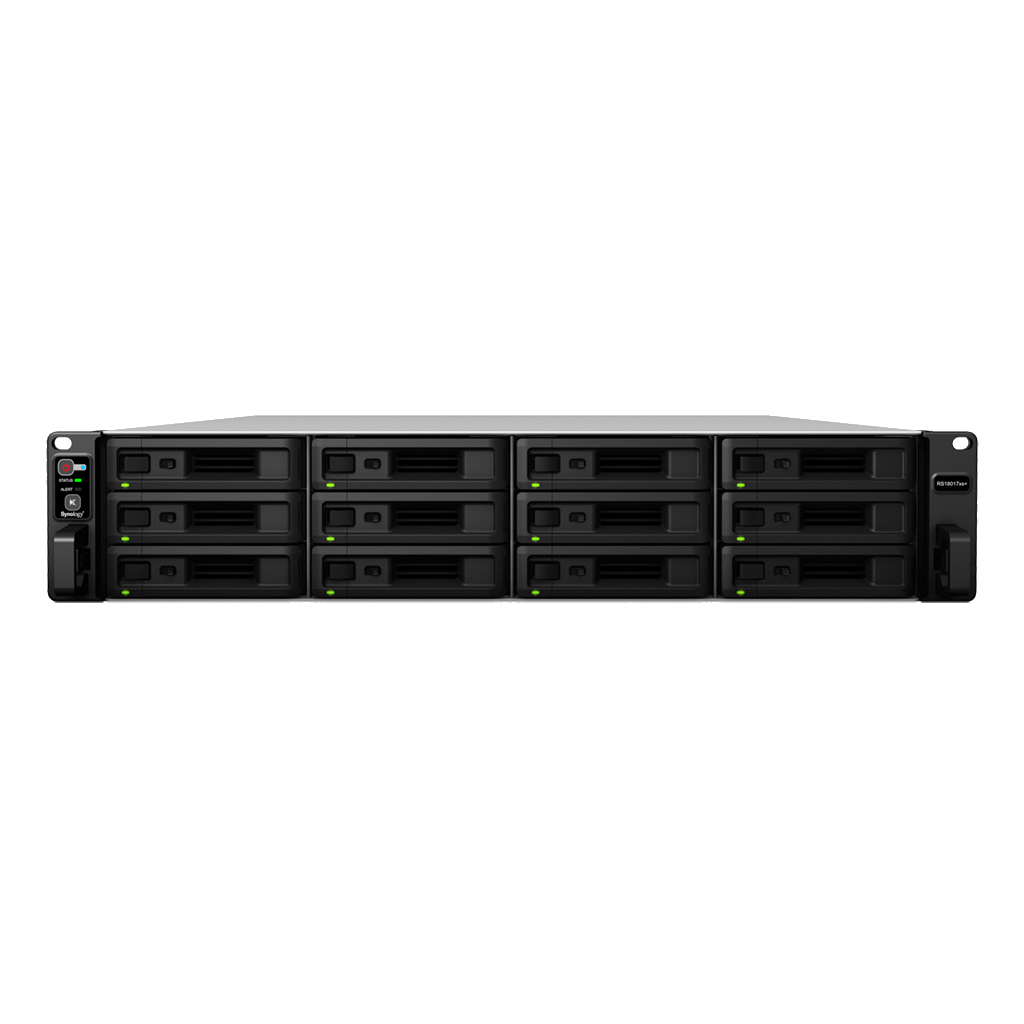 For Synology to feature twice in my rackmount NAS of the year is virtually unheard of. QNAP have largely dominated this
arena
for a long time – both in terms of the hardware and the software. However this year it would appear Synology have upped their game with the release of the RS18017xs+ (what a bloody mouthful that name is!). Synology really altered their release schedule last year releasing almost their entire business class NAS series in the first half of the year, then the home and SMB desktop series in the 2nd half. This MASSIVELY expandable NAS arrived quite a way into 2017 and though it is only aimed at the true enterprise buyer, it is a real crowd pleaser. First and foremost, let address the elephant in the room, that price tag – nearly £4,000 without VAT. Not to mention that this is without the hard drive media. Once you fully populate the device with hard drives and/or SSD, you are looking at between £10-15,000 of spending – To put that into perspective, you could buy the Synology RS3617xs fully populated with 2TB WD Red Drives, 5x and still have change left over!!!!!. So what on earth makes this NAS worth that kind of money?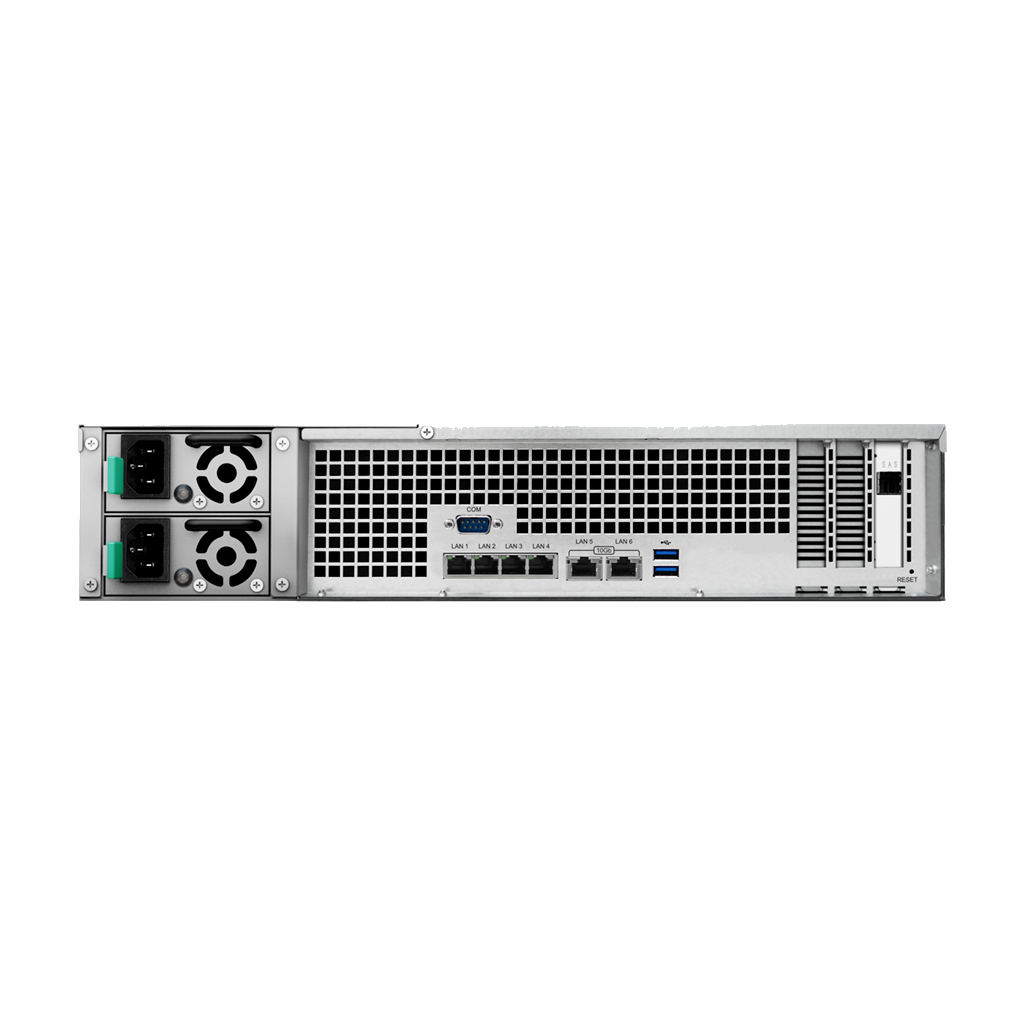 Well it is mainly about future proofing and ultimate expandability. The RS18017xs can be expanded up to a truly astonishing 180 maximum hard drives across this unit and RS1215 expansion boxes –  this is the kind of option that will cost you tens of thousands of pounds, but this will be spread across 5-10 years as your data storage needs grow. It is one of the most powerful in terms of hardware that I have EVER seen. Like this other NAS In our top 3 rackmounts NAS guide, this NAS arrives with an Intel Xeon CPU, but is a 6 core chip at 2.7Ghz per core. Additionally, it arrives with 16GB of DDR4 RAM that can be upgraded to a mind-melting 128GB. Like the previously mentioned Synology rackmount NAS, along with the included 5-year warranty, it also features the Synology Replacement Service (SRS) that is included with XS class Synology NAS.
In terms of accessibility, this device also arrives with 4x RJ45 LAN, 2x 10Gbe ports over RJ45 (10-BASE-T), a PCIe expansion slot for adding more ports and abilities as they become available (m.2 SSD Cache card, 10GBe SFP+ and more) and finally dual high-powered PSU, so you have a redundant power supplying to protect your data in the even of one of the dying on you. Once this device is populated with a mixture of hard drives and SSD (for caching improvements) you will see truly astounding read and write speeds, that massively out-run the other two NAS on this list. Of all three of the rackmount NAS we discuss today, the RS18017XS+ is by far the most capable and most powerful network attached storage device that we've ever seen, it is jsut a shame about the staggering price tag. If you can budget this for your business, it you will not regret it. Also, make sure you have your rack cabinet in another room – as this NAS (and when you add expansion boxes) can REALLY make some fan noise that will drive anyone within 2 metres of it to lose their mind!
Price – 7/10

Hardware – 9/10

Software – 9/10

 

Synology RS18017xs+ – £4000+

Intel Xeon D-1531 Six Core 2.2 (base) / 2.7 (turbo) GHz

16 GB DDR4 ECC RDIMM, up to 128 GB

5yr Warranty

2U

4x LAN

Expansion Slot – Up to 7 Expansion Units can be connected, allowing business to start small and scale big.

Com Port

PCie

SRS

10Gbe RJ45 x2

2x PSU

ultra-high performance at over 568,000 sequential read IOPS and 4,800 MB/s sequential read throughput

 

EU

UK

US
Those are my Top 3 rackmount NAS of 2017/2018. if you are looking for the right rackmount NAS for your needs, visit SPAN below or check out the free advice section and I'll give you some pointers on the device that's right for you and your business. Thanks for reading see you next time.
Where can I buy the perfect NAS, DAS or SAN?
Choosing the right data storage device can be rather difficult. Having to consider everything from budget, total capacity, reliability and of course, ensuring that you get value for money – all of these factors can result in getting lost in a confusing world of NAS, DAS and SAN. Never fear, why not trust the NAS expert. They will provide technical advice, individually tailored solutions that suit your needs, bad sector checks on all hard drives and SSD, firmware installations and RAID configurations, as well as post sales support for years after and checks on your setup later to ensure that the solution best suited your needs – ALL THIS completely FREE. So, why not get in touch with them and make the process of choosing the right data storage solution for your needs a great deal easier.