Is the Synology RS3618xs Rackstation NAS the Best Business NAS yet?
Over the past two years Synology have really changed the way people perceive their network attached storage devices. Even here at NASCompares, we believed that Synology was fast becoming the NAS provider for the home. However with a growing range of Enterprise and office applications, as well as improved hardware, that perception has greatly changed. In the last two years we have seen an impressive array of rackmount storage devices being made available to enterprise, small business and even the home.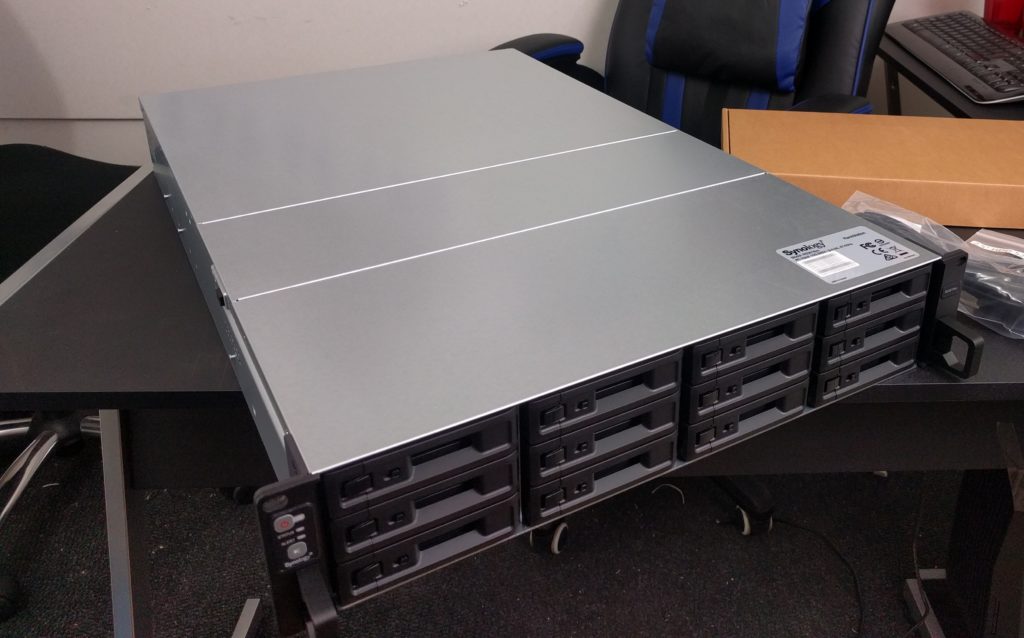 Today we want to talk about the latest large scale Enterprise level storage solution from the guys at Synology. The RS3618xs rackstation NAS is a rackmount solution that manages to combine some fantastic hardware, some brilliant software and some awesome support all rolled into one. However with a price tag of over £2,000 many are wondering is this just a little bit too much. Let's find out.
Synology RS3618xs Rackmount NAS Hardware Exterior
In terms of exterior design, not a great deal has changed between this RS3618xs and the previous unit in this series, RS3617xs. It is a 12 Bay hard drive and SSD storage device that conforms to the usual rackmount dimensions.

Of course, you do not need a rack cabinet to take advantage of this device, though at it's rather great size it would be foolish to lay this on a desk. All of the 12 hot-swappable bays on the front of the device can be locked and feature multiple LEDs and ventilation.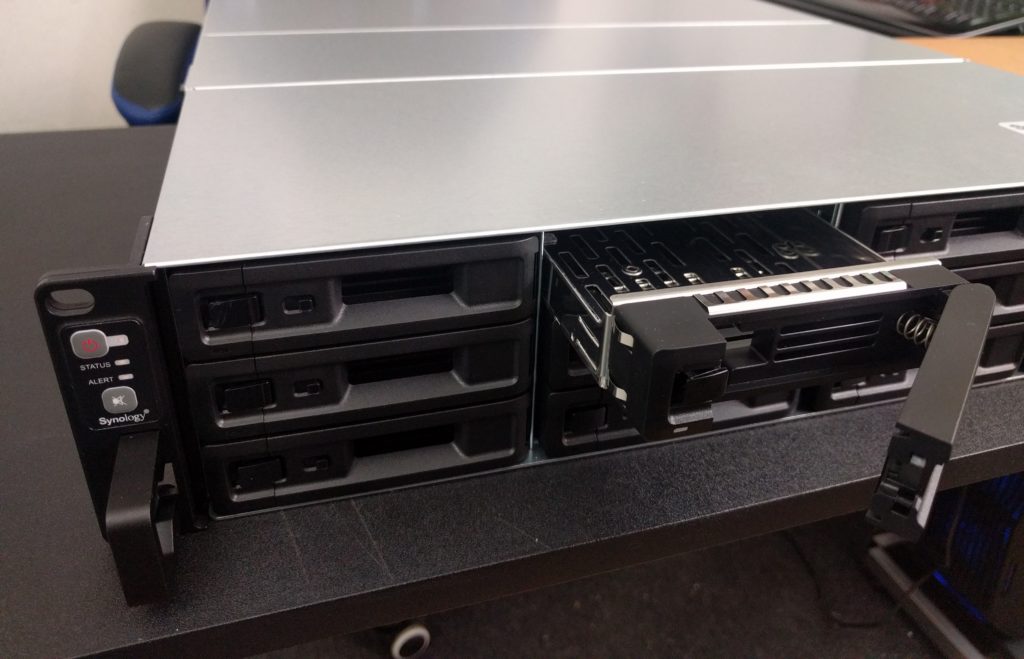 The trays themselves are metallic in design, featuring screw holes, screws for 3.5 inch hard drives and 2.5 inch solid state drives. On either side of the front panel, the device features pullable handles, as well as power buttons, more LEDs and a new button to silence notifications from the device. As far as rackmount devices go with this is fairly standard stuff.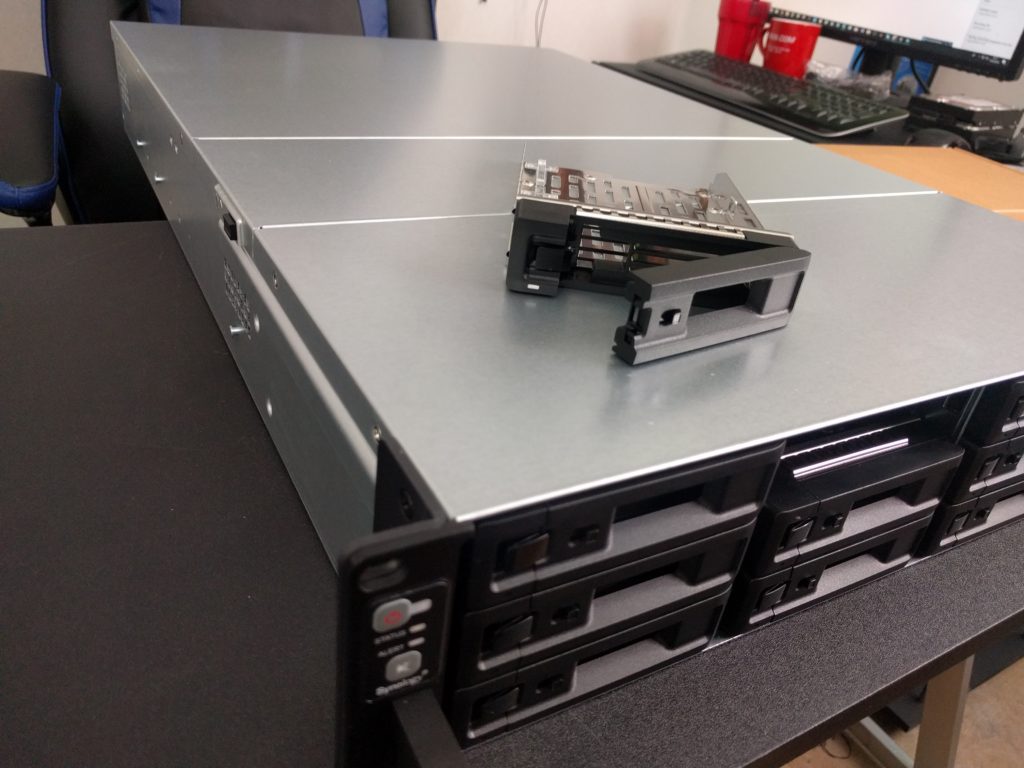 The sides and top and bottom of the device feature little in terms of ventilation or esthetical detail. Once again this is not a huge surprise as a rackstation device is generally devoid of features on its sides.

On the side you will find a switch that enabled you to remove the middle panel for maintenance.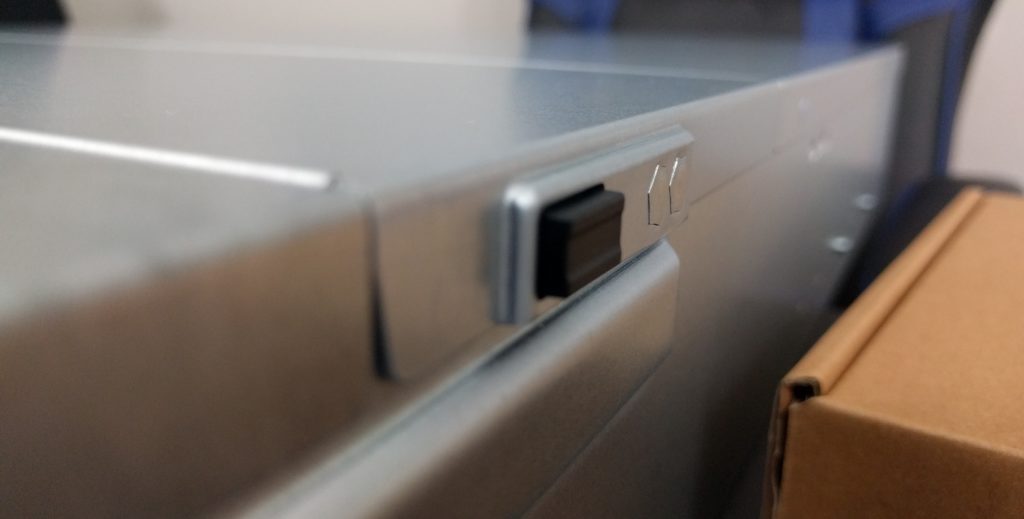 That said this NAS does feature the ability to access and remove the four internal fans, so you can perform maintenance, cleaning and replacement if needed.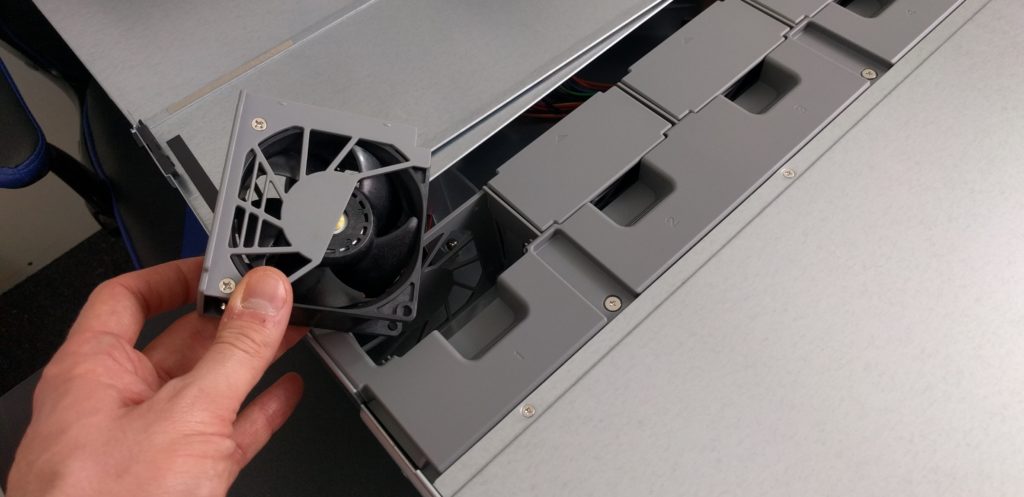 Synology RS3618xs Rackmount NAS Ports
On the rear of the device we see a whole host of available ports.

We find four LAN ports all supporting 1Gbe, which can be link aggregated (LAG / Port trunking) to effectively quadruple uploads and downloads on the device. Additionally we see a com port to integrate this NAS with your current existing hardware, as well as two USB ports for adding additional storage for backing up or making external drives network accessible.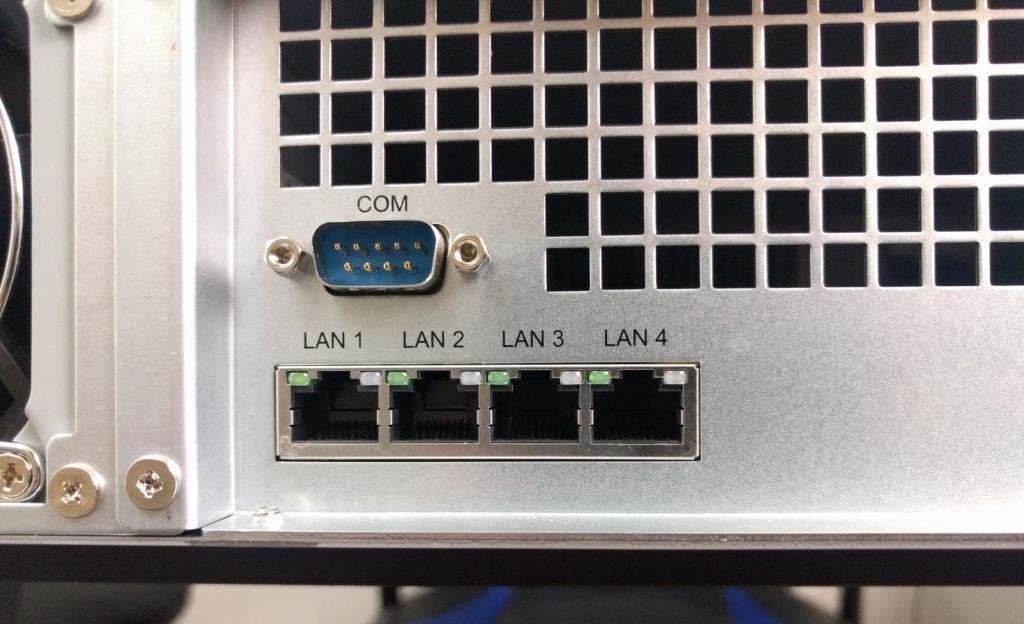 Next to these we find the two expansion ports that let the device expanded storage by a further 24 hard drives, via the DX1215 expansion device. Using these expansions via the proprietary SAS connections shown mean that these three devices can provide a maximum 36 drives of Media available. With RAID configurations that can be spread across all three devices or several smaller RAIDS.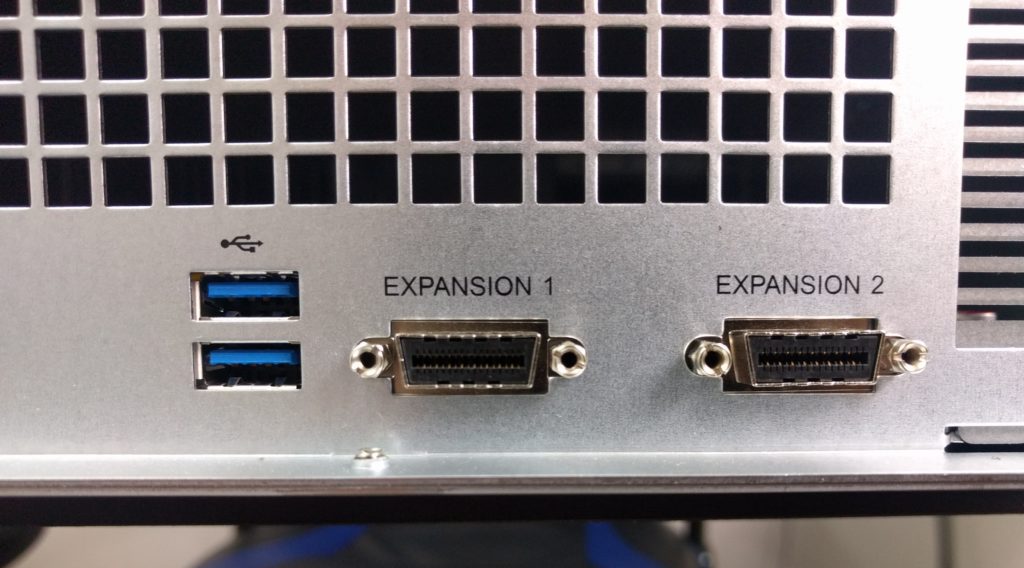 Finally we see the device features dual PCIe slots for adding expansion cards, such as an SSD cache card and of course 10Gb Ethernet ports. Synology could have easily included these connections by default but this would have added some £3-500 to the price tag at least.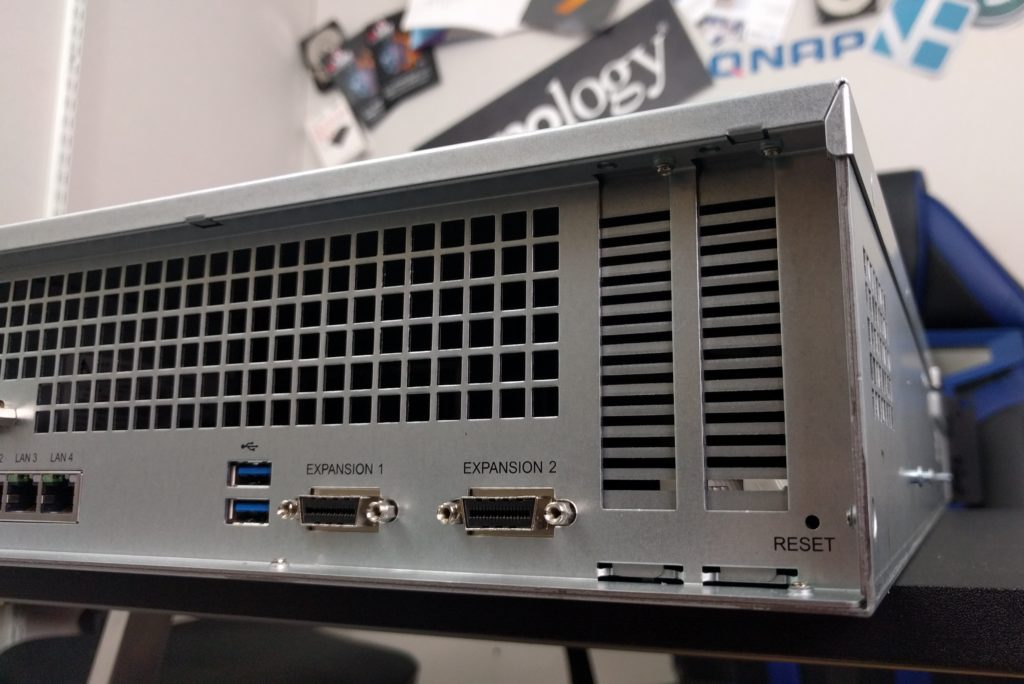 In terms of power and Cooling the device features a large rear mounted PSU as well as further ventilation throughout the entire back panel.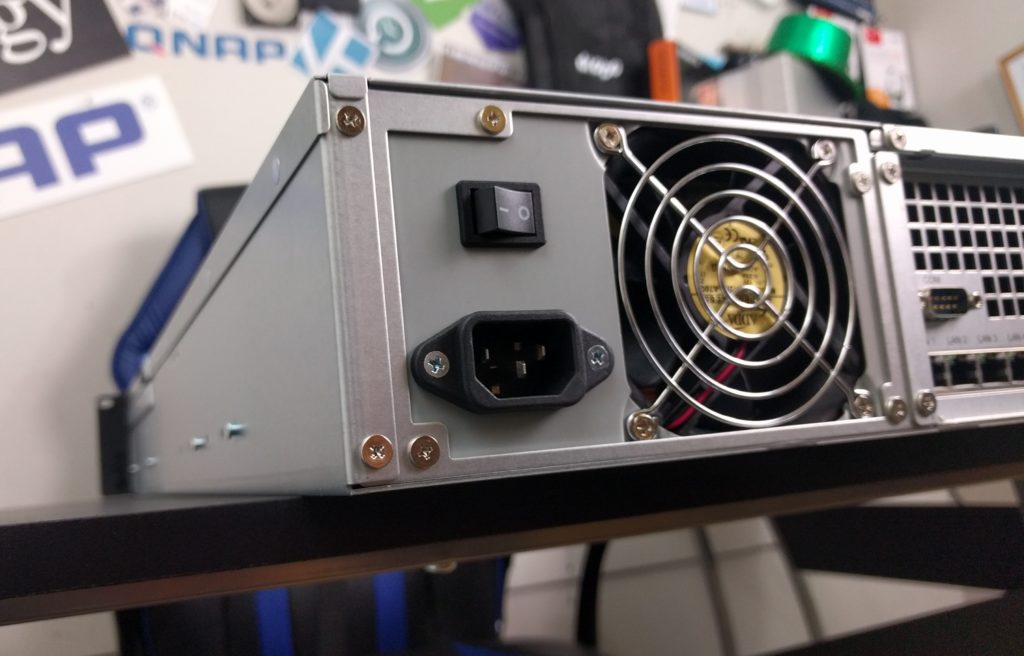 Once again, there are other Synology rackmount devices that feature dual PSUs, aka redundant power supplies, but this would increase the price further and I can understand why Synology made this decision.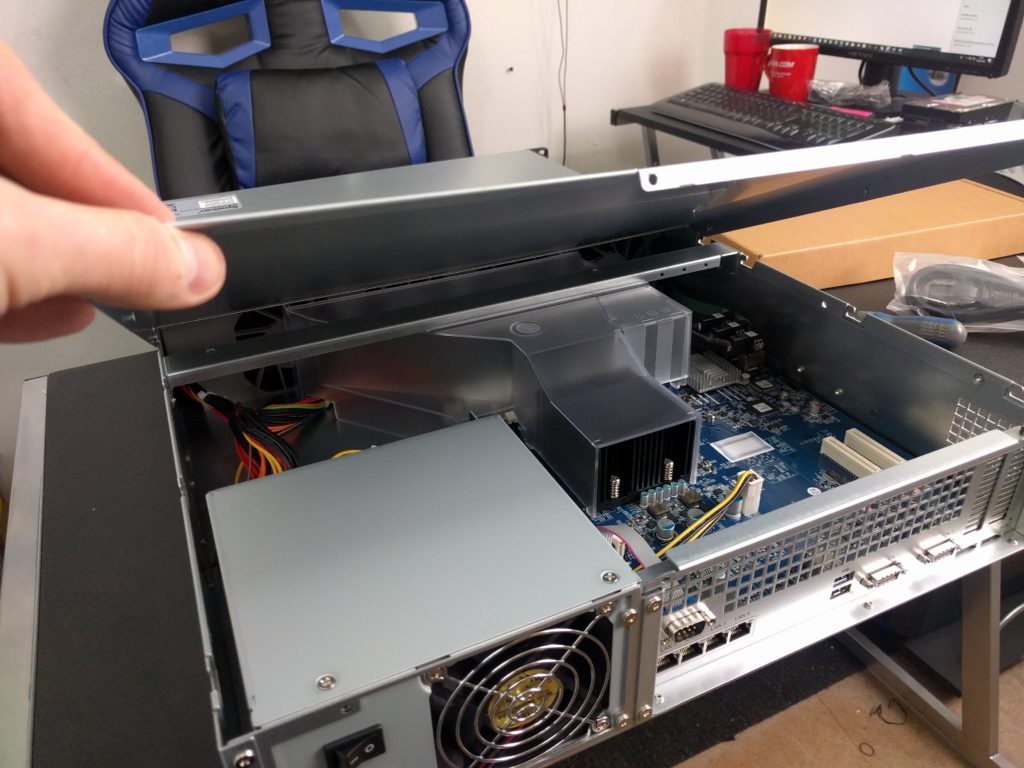 By removing two screws from the rear of the RS3618xs chassis, we are able to remove the top panel of this Synology NAS. Inside we find quite an interesting a ray of hardware.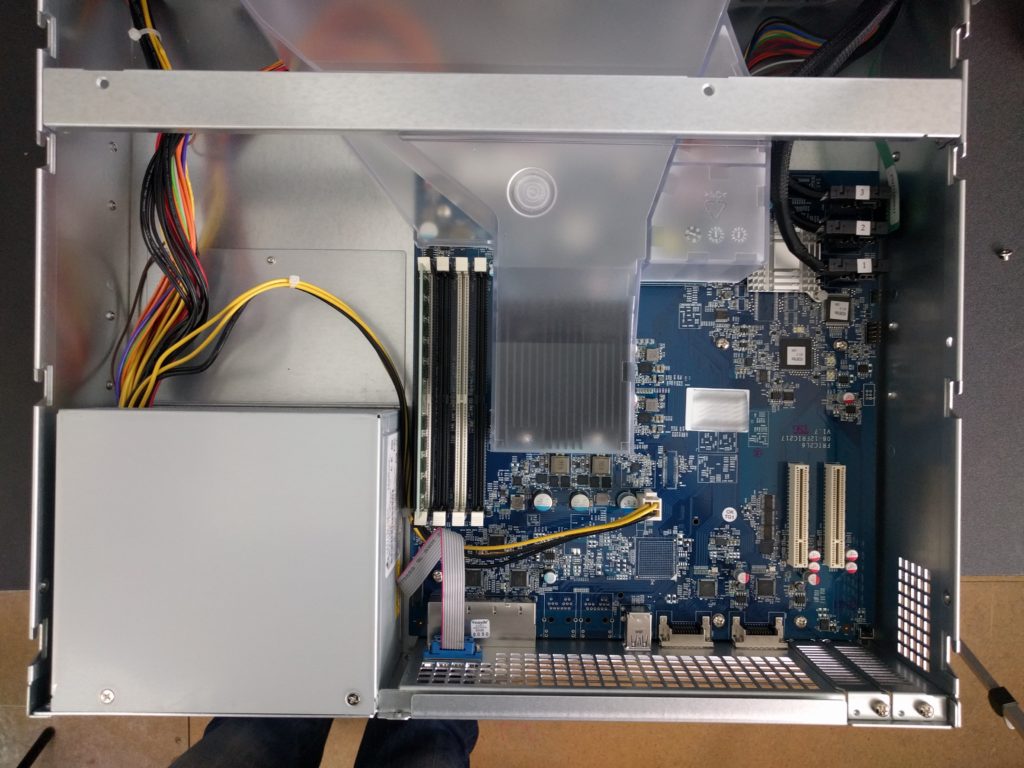 There is a large-scale heatsink and dedicated fan Array for the Intel Xeon D CPU found inside this device.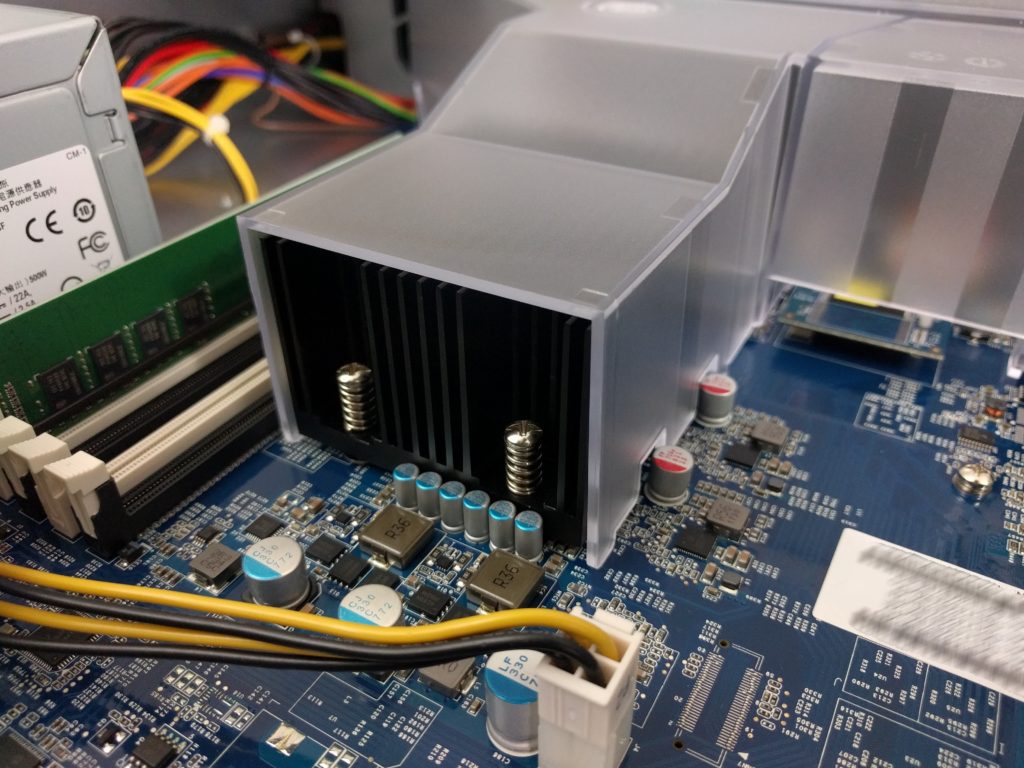 Likewise the device arrives with an impressive 4 DDR4 memory slots and by default the device arrived with 4GB of memory that can be expanded all the way up to 32GB.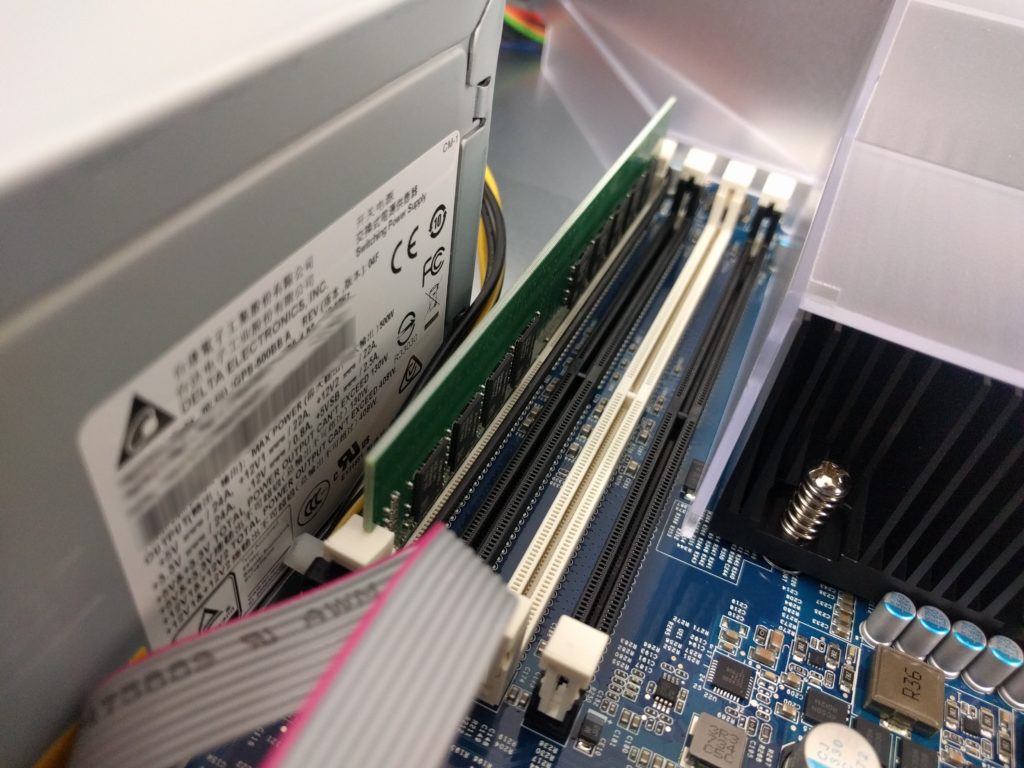 Elsewhere we find the internal SAS connectors that are able to aggregate the hard drive Media, as well as a discreet heatsink covering the RAID on chip (RoC) to take care of your RAID array.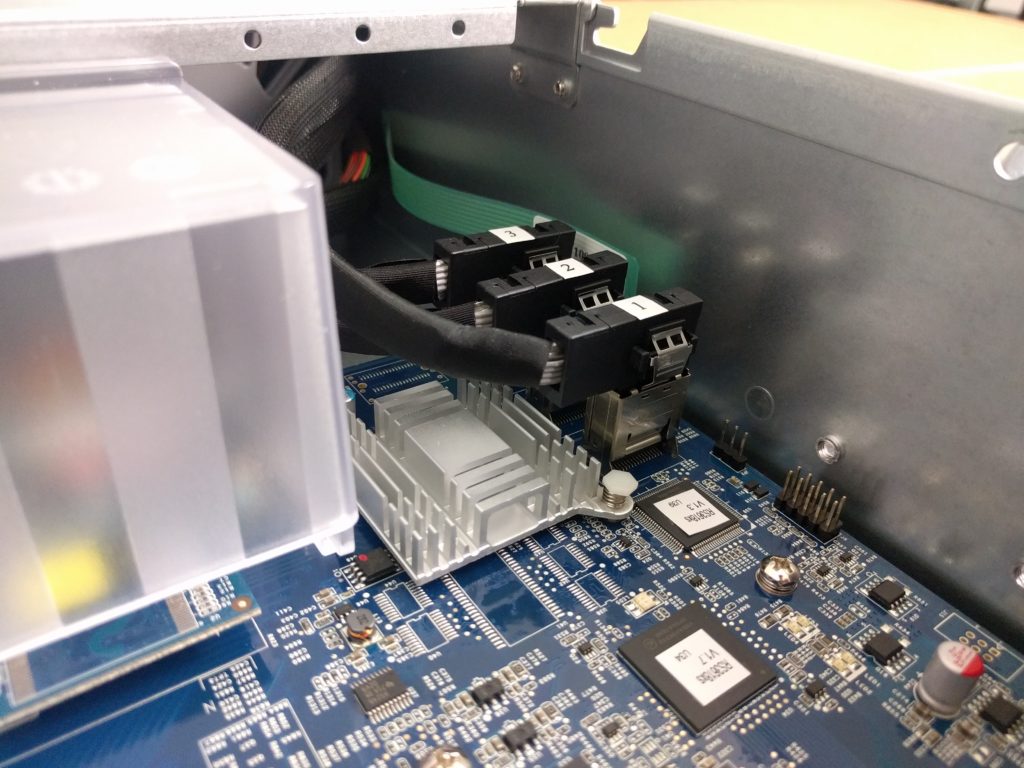 As far as RAID NAS storage devices I have used in the past, this is definitely one of the best laid out and best equipped I have seen for a long time.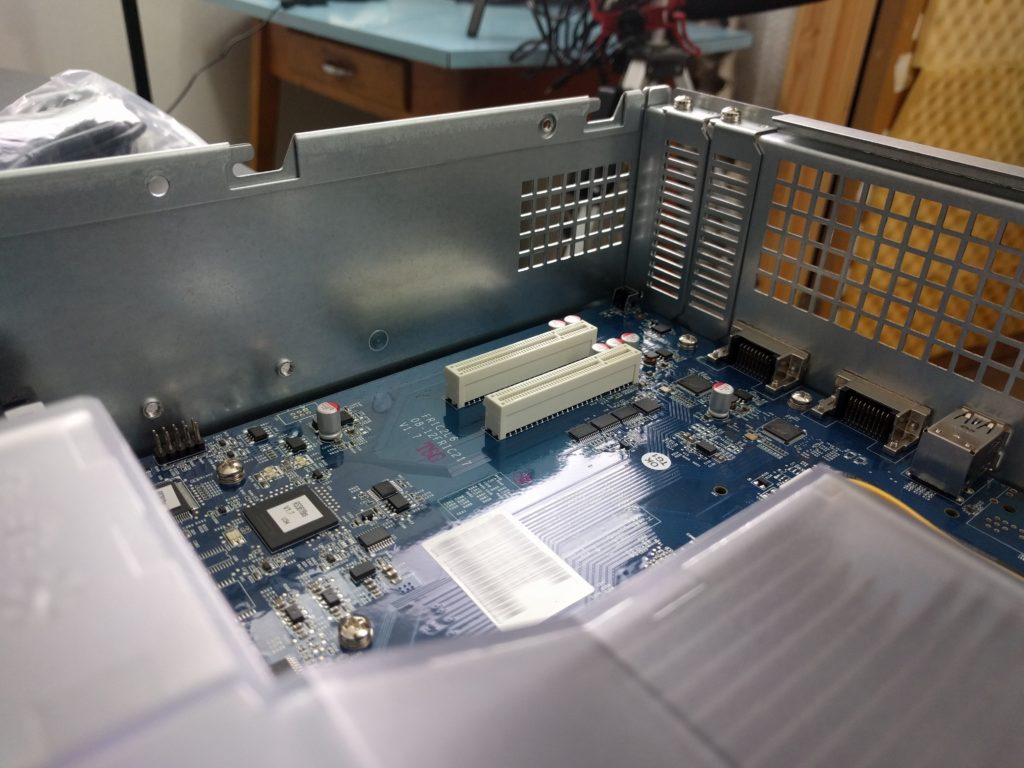 Synology RS3618xs Rackmount NAS Software and Applications
It is In the software that we really see how Synology have changed over the last 18months. Unsurprisingly, this enterprise lead device, featuring that Intel Xeon-D CPU, easily handles multiple virtual machines, ISCSI targets, large scale surveillance and mass file storage in data centers.

It support of the popular 3rd party software (licensed or free, depending on the software) such as VMware, Microsoft Storage Server, Milestone Surveillance and windows server 2012. However it is in the area of first party software that you see the potential to create a completely centralised data storage solution for your business.
Synology has really spent time working on their own CRM and CMS software, applications and utilities to help build a business around. This couple with the ability make your platform as network accessible as you choose, maintaining multiple layers of credentials, permissions, encryption and cloud access controls, you have to admire the attention to detail.
If you are considering the Synology RS3618xs server, them you will be pleased to hear that the Synology Diskstation manager (DSM) features the following 1st party NAS utilities and applications:
Extensive, yet user-friendly manager that gives you file control, folder control and the ability to create, control and share user groups with ease

Storage manager that lets you create multiple data pools and RAID arrays. As well as letting you create SSD cached volumes and manage storage with ease. Likewise this software also lets you backup entire files, folders and volume structure in their entirety or via multiple snapshots.

Virtual Machine manager let's you create and manage multiple Windows, Linux or Android VMs with ease and without a paid third party VM manager

Subscription based cloud backup and disaster recovery platform access, with Synology C2. A free trial is included.

Synology Chat let's all of your connected users be able to communicate, collaborate and share in real-time. With all communication maintained and recorded on the device

Synology Mail gives you theeans to centralised your existing mail, as well as create and host your own complete mail server for your users

Synology Calendar to create a company wide scheduling system that provides permission based access and alerts, as well as cross use with chat and mail clients
Synology Surveillance Station is a complete CCTV control deck, giving you the ability to control, record from and retrieve surveillance footage from multiple IP cameras in your network environment. Alongside this there are enterprise i/o control, simultaneous recording and live feed, a multi tiered and multi-layered alert system covering SMS, Email and links with existing security systems.

Synology Office provides a free and extensive word processing package that rivals that of Microsoft office and Google Docs.
All that software is included free, as well as including more home and SMB software such as Synology Moments to catalogue your photo albums and media archive, Synology Drive as your one-portal all file access point and more.
How to Install Synology DSM 6.2 Beta, What is Synology Moment and Synology Drive?
Synology RS3618xs Rackmount NAS Server Conclusion

The Synology rackstation series is one that many will find it tough to tell one from another. On the face of it, all Synology rackmount NAS (with the exception of the RS217) can provide all of the software functions listed above. However it is the extent to which you wish to use them that really makes all the difference.
This slideshow requires JavaScript.
The Synology RS3618xs gives you maximum access to it all! Maximum users, maximum VMs, maximum cameras, maximum everything. It's still not the most powerful ever Synology rackmount (in case you wondered, RS18018xs) but at just of £2K+ without VAT, it is a real good contender for their best cost v hardware rackmount NAS for 2018. Add to that the fact it arrives with 5 years of manufacturer's warranty as well as the Synology replacement service that will advance replace your unit next day and collect the defunct unit if needed, and you are looking at 2 thousand pounds very well invested!
📧 LET ME KNOW ABOUT NEW POSTS 🔔
Join 1,570 other subscribers
Get an alert every time something gets added to this specific article!
This description contains links to Amazon. These links will take you to some of the products mentioned in today's content. As an Amazon Associate, I earn from qualifying purchases. Visit the NASCompares Deal Finder to find the best place to buy this device in your region, based on Service, Support and Reputation - Just Search for your NAS Drive in the Box Below
Need Advice on Data Storage from an Expert?
We want to keep the free advice on NASCompares FREE for as long as we can. Since this service started back in Jan '18, We have helped hundreds of users every month solve their storage woes, but we can only continue to do this with your support. So please do choose to buy at Amazon US and Amazon UK on the articles when buying to provide advert revenue support or to donate/support the site below.

Finally, for free advice about your setup, j
ust leave a message in the comments below here at NASCompares.com and we will get back to you.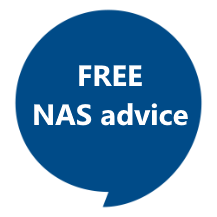 Need Help?
Where possible (and where appropriate) please provide as much information about your requirements, as then I can arrange the best answer and solution to your needs. Do not worry about your e-mail address being required, it will NOT be used in a mailing list and will NOT be used in any way other than to respond to your enquiry.
Support What We Do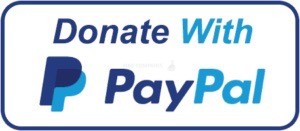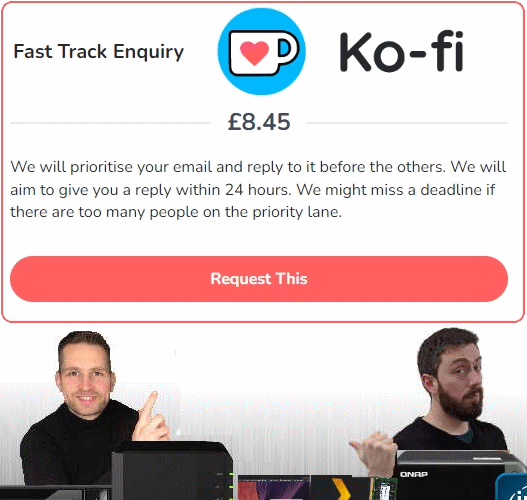 Terms and Conditions
Alternatively, why not ask me on the
ASK NASCompares forum
, by clicking the button below. This is a community hub that serves as a place that I can answer your question, chew the fat, share new release information and even get corrections posted. I will always get around to answering ALL queries, but as a one-man operation, I cannot promise speed! So by sharing your query in the
ASK NASCompares
section below, you can get a better range of solutions and suggestions, alongside my own.
This description contains links to Amazon. These links will take you to some of the products mentioned in today's video. As an Amazon Associate, I earn from qualifying purchases