A Guide to Buying the Right Synology NAS Now
If you are considering buying a new Synology NAS in 2018, chances are that you are looking to buy the newest models. This is completely understandable, a network attached storage device is a solid, long-term investment for you or your business and the last thing you want to do is purchase your new NAS server, only to find out a newer, shinier and more powerful version is right around the corner. Often the main reasons people buy the latest NAS is because:
Latest CPU and firmware revision is used, to ensure high power and efficiency

Future proofing, ensuring that in the event of upgrade/replacement, parts are available

Software support to the highest degree and most recent version

Compatibility with other recent hardware that has been released after the older model

Newer NAS devices are often designed to be more energy efficient, as this is a growing trend and a popular specification to design towards
There are all valid concerns, however, it is worth knowing that contrary to what many think, it is often the case that older Synology NAS are actually better. There are numerous reasons for this:
Several older Synology NAS such as the 2016 released DS916+ use CPU such as Intel Pentiums, that, though less power efficient, are much better suited to traditional applications that people use on custom NAS build

In most cases, the Synology DiskStation Manager (DSM 6.2) is exactly the same on the entire NAS range and updates are very regular

The hardware and software architecture on all Synology NAS runs on a Linux backend and therefore in order for the hardware on one NAS to support particular peripherals or media, it means that it will be supported on all others

The power consumption between even a 2-Bay and 8-Bay NAS is relatively small and unless you are using a NAS flat out (constant read/write actions), the power consumption will lessen greatly in standby mode, regardless of which NAS you use. Likewise, the power consumption between a new 4-Bay and an old 4-Bay is tiny.
ARM vs X86 CPUs – How important is CPU Power and Efficiency when buying your first NAS
Like all areas of technology, NAS brands have to find a line between their new up and coming units and their established older favourites. It is not always that new unit is better than old (oh the Synology DS916+ – how we miss you!) and so we thought we would give you the chance to see the new units that are coming, alongside their closest Synology NAS available right NOW.
Synology Home & Backup NAS Comparison for 2018
There is always popular demand for a 1-Bay NAS and Synology are giving you a new unit to add to their 1 HDD family, with the DS119J. With modest specs and a price tag that promises to be close to that of the DS115j – is this the new purchase for your network this Autumn?
NEW NAS– The Synology DS119J
The new kid on the block. Announced at a private event in Germany, the Synology DS119J is a dual-core ARM-based NAS and just 256MB of memory
Dual Core CPU of 64-bit Architecture

CPU model unconfirmed, but likely a RealTek RTD1293 (TBC) at 1.4Ghz Dual Core

(DS218J features a Marvell Armada 385 88F6820 but that is 32bit)

256MB of Memory – Cannot be Upgraded

Supported latest 12 and 14TB drives (mention of 16TB…hmmm)

1-Bay of HDD or SSD Storage

Almost identical chassis to the DS115J NAS Design
Buy from Amazon in your Region
(Clicking here supports this website)


BUDGET NAS- 

The Synology DS115J
Released back in 2014/15, it is very, very low powered. It features a single core 800Mhz CPU and 256MB of DDR3 memory. It is woefully underpowered but does support the basic needs for media, backups and surveillance of upto 5 cameras. Plus, really, really cheap!
800 MHz Marvell ARMADA 370 88F6707 single-core (ARM)

256 MB DDR3 RAM

mounting for 1x 3.5-inch SATA Revision 3 HDD

1x gigabit ethernet

2x USB 2.0

1x 55 mm cooling fan

36 W external power supply

71 x 161 x 224 mm
Buy from Amazon in your Region
(Clicking here supports this website)


BETTER NAS – 

The Synology DS118 NAS
Currently the most powerful 1-Bay NAS from Synology. It features a quad-core 64-bit ARM CPU, 1GB of DDR4 Memory, 4K transcoding, USB 3.0 throughout and by comparison, the DS115J and DS119J are cars to drive to the shops and back – the DS118 is a Ferrari. Yes it costs a good 60-70% more, but it is jsut better in every single way.
Processor: Realtek RTD1296 quad core 1.4GHz.
Memory: 1 GB DDR4.
Gigabit Ethernet Ports: 1.
Rear panel connectors: 2 x USB 3.0
Cooling : Active, 1 x 60mm fan.
Maximum hard drive size supported: 12TB.
Internal File System support: EXT4.
Dimensions (D x W x H):  224 x 166 x 71mm.
Weight: 0.7kg.
Buy from Amazon in your Region
(Clicking here supports this website)


Synology SMB and Multimedia NAS Comparison for 2018
4-Bay and 5-Bay Synology NAS are easily the most requested NAS from the guys at Synology (with a new 2-Bay coming a very close 2nd) and there is a new kid on the block coming this September/October in the DS1019+ 5-Bay. However it does feature VERY similar specs to the DS918+ and for some of you, there's no need to wait months just to pay extra for 1 more HDD Bay.
NEW NAS– The Synology

DS1019+
When we first heard about the DS1019+, we at NASCompares were pretty surprised. Synology already has a long running series 5-Bay device in the form of the DS1517+ released last year and with this new device arriving with very, VERY similar hardware to that of the DS918+ 4-Bay (same CPU, same Memory, Same Chassis, Same NVMe SSD slots, etc) we struggled to see how it fits in line with the rest of the synology range. After discussion with Synology, it would appear that they intend to re-order their NAS range and give people a better range of solutions that on the one hand are more geared towards home, multimedia and smaller businesses, as well as flesh out their range of mid-range business solutions more geared for VMs, 10GBe upgrades and large-scale file management. The DS1019+ Iis very much part of that first group, whereas the DS1517+ is in very much the latter business category.
Intel J3455 Quad Core CPU

1.6Ghz, burst to 2.3Ghz per core

4GB of memory, up to a maximum of 8GB

Familiar Synology Chassis design

The DS1019+ can be expanded to 10 Drives with the DX517

Supporting the latest hard drives upto 14TB and SATA based 2.5″ SSD

2x NVMe SSD Slots for installing super fast SSD for read and/or write caching
BUDGET NAS- 

The Synology 

DS918+
As mentioned earlier, the DS918+ is very, very similar to the DS1019+ and in fact is only distinguishable by the fact it has 4 HDD/SSD bays, compared with the 5 Bays in the DS1019+. Of course, the DS918+ is slightly lower in price by around 40-50 pounds, consumes a pinch less power, makes the toniest pinch less noise and is the nearest fraction smaller – but for many users these details make all the difference and therefore the DS918+ is the budget alternative to the DS1019+
Intel J3455 Quad Core CPU

1.6Ghz, burst to 2.3Ghz per core

4GB of memory, up to a maximum of 8GB

Familiar Synology Chassis design

The DS918+ can be expanded to 9 Drives with the DX517

Supporting the latest hard drives upto 14TB and SATA based 2.5″ SSD

2x NVMe SSD Slots for installing super fast SSD for read and/or write caching
Buy from Amazon in your Region
(Clicking here supports this website)


BETTER NAS – 

The Synology

DS3018xs
If you looked at the Synology DS1019+ and thought it looked a little underpowered, were worried that 5 Bays were not quite enough for  your RAID 6 config, or are sad at the lack of 10GBe potential, then you will need to spend a good chunk of cash more to get a much better NAS that is still similar in framework – the Synology DS3018xs is very much that great alternative.
Powerful 6-bay NAS optimized for data-intensive applications in small and medium business

Ultra-high performance of over 2,231 MB/s sequential reading and 265,000 sequential IOPS reading

Dual-core Pentium D CPU with AES-NI and 8GB (up to 32GB) DDR4 ECC SO-DIMM RAM

PCIe 3.0 slot for optional 10GbE add-on card or M2D17 adapter card for dual M.2 SSD as cache

Four built-in 1GbE (RJ-45) ports supporting failover and Link Aggregation

Scalable up to 30 drives with two DX1215 expansion units

Advanced Btrfs file system offering 65,000 system-wide snapshots and 1,024 snapshots per shared folder Backed with SRS, Synology's next-business-day replacement service
Buy from Amazon in your Region
(Clicking here supports this website)


Synology Routers and Networking Comparison in 2018
Though Synology has only been in the business of routers for just over two years, they already have some excellent hardware and their SRM software is pretty impressive too. Their latest offering for the end of 2018 is the MR2200ac Mesh Router, which can work standalone, or by hooking into and extending your existing network – pretty cool. Not interested? Then we definitely recommend the RT1900ac for those on a tighter budget, or the RT2600ac for those with a little more to play with and want the POWER!
NEW Router– The Synology 

MR2200ac Mesh Router
Now that Synology has some valuable experience in the production of routers, several units on offer and the newly updated and improved Synology Router Manager (SRM) software up and running, they are now entering the next big popular area of routers – Mesh. In brief, a Mesh router is a smaller router device that connects wirelessly with your existing wireless network (coming from the same brand of router or mesh router) and then passes the signal along, stronger and for greater area coverage. It is a growing trend for businesses that need wifi over a large area (conference centres, hotels, schools, etc) to use a network of well-placed mesh routers over an entire building to give coverage to a much bigger area than a single router could cover. Additionally, it means that you do not lose connectivity or cause device confusion when moving between wireless access points (as you would with a powerline adapter or router set up in slave mode to carry the network a great distance). The Synology MR2200ac mesh router will give you all these advantages PLUS it arrives with the SRM 1software onboard. Lastly, the device can be used as a standalone router – so you can get a Synology mesh router now and add another or another router later on too.
Qualcomm IPQ4019 quad-core CPU

Tri-band Wi-Fi – Single SSID with 802.11 k/v/r

1x USB, 1x WAN and 1x LAN

Arrives with Synology Router Manager 1.2

Dedicated Mobile App

Can be used Standalone or  in conjunction with your own router

Bespoke user, calendar and time management
Buy from Amazon in your Region
(Clicking here supports this website)


BUDGET Router- 

The Synology 

RT1900ac Router
If you are not looking to cover a wider area of your building/home office with your wifi enabled router, but still like the idea of a controlled network where you can assign priority to different users – then perhaps the slightly older RT1900ac router is the one for you. Though it does not have the mesh functionality, it does have the SRM 2.1 software on board and with 3 separate antennae so you can have greater controlled coverage of your wifi and assign device priority, permissions and event scheduled access.
802.11a/b/g/n/ac 1900ac router

Dual-band 3×3 MIMO

Dual-core 1GHz

256MB DDR3 RAM

External antennae x3

4x Gigabit Ethernet

1x USB 3.0, 1x SD card Reader

Dimensions: 206 x 160 x 66mm

SRM 1.2 Software
Buy from Amazon in your Region
(Clicking here supports this website)


BETTER NAS – 

The Synology

RT2600ac Router
Looking for all the features (except mesh) but with even more power under the bonnet? Say hello to the more powerful RT2600ac. With more ports, a better CPU, 4 antennae, better ventilation and even more functionality in SRM 1.2 than either of the previous two routers, this is definitely the most powerful Synology router of them all.
1.7GHz Dual-core processor for fast, uncompromising performance

Powerful 4×4 802.11ac wave 2 radios with MU-MIMO and up to 2.53Gbps breakthrough wireless speeds

Smart Connect for seamless transition between maximum speed or range

Hardware accelerated Layer 7 traffic control and monitoring

Dual WAN capable for load balancing and failover support

Create advanced VPNs with WebVPN, Synology SSL VPN, and SSTP VPN capability

Powerful add-on packages to enhance security, file sharing, and additional functionality

Revolutionary interface, powered by Synology Router Manager (SRM)
Buy from Amazon in your Region
(Clicking here supports this website)


Synology

Business & Big Storage NAS Comparison in 2018
Business and network attached storage – a winning combination, right? However, all too many businesses have difficulty defining the line between maximum storage and maximum internal hardware. The DS2419+ promises to be a NAS that finds the middle ground with it's newer gen Intel C3000 Atom CPU and PCIe slot, plus 12 HDD bays. Not that impressed? Then in that case, maybe try the DS2415+ right now for less!
NEW NAS – The Synology 

DS2419+
When it comes to buying your first NAS, many users will have a clear idea of the priorities they have. Aside from price (which, let's face it is the ultimate decider for many) the biggest deciders are internal hardware and maximum storage. It is the reason that many NAS serves will go to great lengths to highlight the maximum IOPS (individual operations) and expandable storage options. Whereas a number of the NAS mentioned above focus on the power/internal hardware, Synology does have a history of producing 12-Bay NAS that is designed with HUGE storage in mind. Normally to get this level of HDD/SSD bays, you would need to start looking at rackmount. So a compact desktop chassis that can hold well in excess of 150TB, even in a RAID 5 and still be able to add more is very attractive. Hence why there is a big buzz for the affordable, well balanced and huge storage enabled DS2419+. It features a C3000 series Intel Atom, upto 16GB of memory, 4 LAN ports and that popular PCIe slot for adding 10GBe – definitely a good one!
The DS2419+ arrives with the Atom C3538 CPU, 2.1Ghz CPU

The NAS features 4GB of DDR4 memory, up to a maximum of 32GB

Familiar 12-Bay Synology Chassis design

The DS2419+ can be expanded by connecting the DX1217

Supporting the latest hard drives upto 14TB and SATA based 2.5″ SSD

4x LAN ports (RJ45)

2x USB Ports

PCI slot for adding 10GBe, SSD cache cards such as the M2D18 and M2D17 and 40GBe
BUDGET NAS- 

The Synology

DS2415+
If you are more interested in bulk storage, that power and speed, then you will be able to save a few quid and look at the older DS2415+ Diskstaiton NAS. It features exactly the same storage volume options as the new DS2419+, as well as the 4 LAN ports. However, it has an older C2000 CPU and no PCIe slot for adding 10GBe. The result is that if you are looking for a backup storage server NAS that needs great space and expansion options, but you do not intend to push it amazingly hard, then you will be much better off with the older Synology DS2415+
CPU Model: Intel Atom C2538

CPU Frequency: Quad Core 2.4GHz

Memory: 2GB DDR3

Drive Bays: 12

Max Internal Capacity: 96TB

External ports: USB 3.0 x4

Dimensions: 270mm x 300mm x 340mm

Weight: 9.24kg

System Fan: 120mm x 120mm x 2pcs

Warranty: 3 years
Buy from Amazon in your Region
(Clicking here supports this website)


BETTER NAS – 

The Synology

DS3617xs
What if you want POWER and STORAGE – greedy aren't you! The good news is that there IS a desktop NAS that means with your needs, however, it is a good chunk more expensive. The Synology DS3617xs arrives with a quad-core Intel Xeon based CPU that is insanely more powerful than that of the intel atom in the DS2419+ and DS2415+. It also arrives with up to 64GB of DDR4 memory, 4 1Gbe LAN ports and a PCIe slot that lets you add 10Gbe connectivity too. If that was not enough, it even has the option for adding 24 more HDD/SSD drives with adding two of the DX1215 expansion chassis (the other two NAS only let you add an additional 12 drives). Again, this is an expensive NAS, but it is still the perfect option for those looking for both POWER and STORAGE.
2,358 MB/s sequential throughput reading and 406,760 sequential IOPS reading

Intel Xeon D-1527 quad-core CPU and 16 GB (up to 48 GB) DDR4 ECC SODIMM

Scale up to 36 drives with 2 x Synology Expansion Unit DX1215

PCIe 3.0 slot to support optional high-performance network interface card

Advanced Btrfs file system offering 65,000 system-wide snapshots and 1,024 snapshots per shared folder

Complete virtualization solution for VMware®, Citrix®, Microsoft® Hyper-V® and OpenStack®

Backed with SRS, Synology's next business day replacement service
Buy from Amazon in your Region
(Clicking here supports this website)


A quick note: This article contains affiliate links from Amazon and/or other platforms. I don't like ads and I'm sure you don't either. So this is how we pay the bills and ensure a distraction-free experience for you, my dear reader. If you click on one of these links and then purchase something, I will receive affiliate income for referring you. This goes towards the costs of hosting and running this website and does not cost you anything extra. Thanks for your understanding!

Articles Get Updated Regularly - Get an alert every time something gets added to this page!



This description contains links to Amazon. These links will take you to some of the products mentioned in today's content. As an Amazon Associate, I earn from qualifying purchases. Visit the NASCompares Deal Finder to find the best place to buy this device in your region, based on Service, Support and Reputation - Just Search for your NAS Drive in the Box Below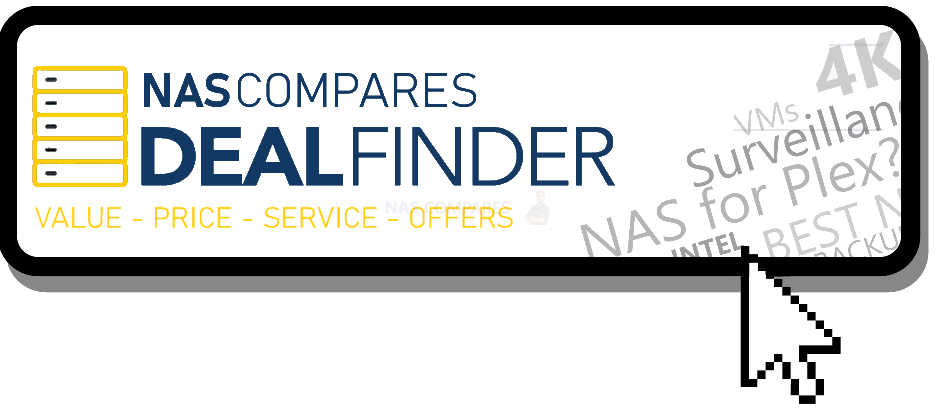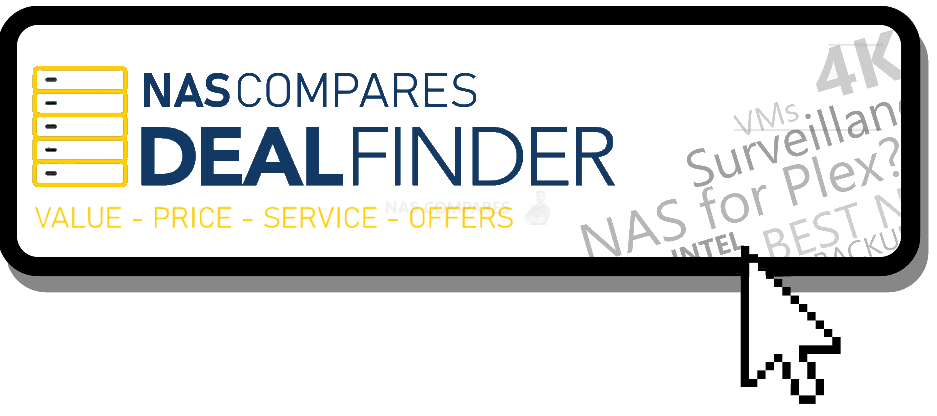 SEARCH IN THE BOX BELOW FOR NAS DEALS
Need Advice on Data Storage from an Expert?
We want to keep the free advice on NASCompares FREE for as long as we can. Since this service started back in Jan '18, We have helped hundreds of users every month solve their storage woes, but we can only continue to do this with your support. So please do choose to buy at Amazon US and Amazon UK on the articles when buying to provide advert revenue support or to donate/support the site below.


Finally, for free advice about your setup, just leave a message in the comments below here at NASCompares.com and we will get back to you.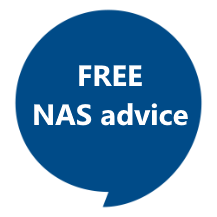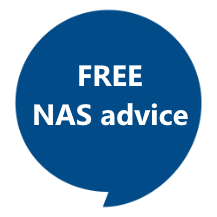 Need Help? Where possible (and where appropriate) please provide as much information about your requirements, as then I can arrange the best answer and solution to your needs. Do not worry about your e-mail address being required, it will NOT be used in a mailing list and will NOT be used in any way other than to respond to your enquiry. Terms and Conditions Alternatively, why not ask me on the ASK NASCompares forum, by clicking the button below. This is a community hub that serves as a place that I can answer your question, chew the fat, share new release information and even get corrections posted. I will always get around to answering ALL queries, but as a one-man operation, I cannot promise speed! So by sharing your query in the ASK NASCompares section below, you can get a better range of solutions and suggestions, alongside my own.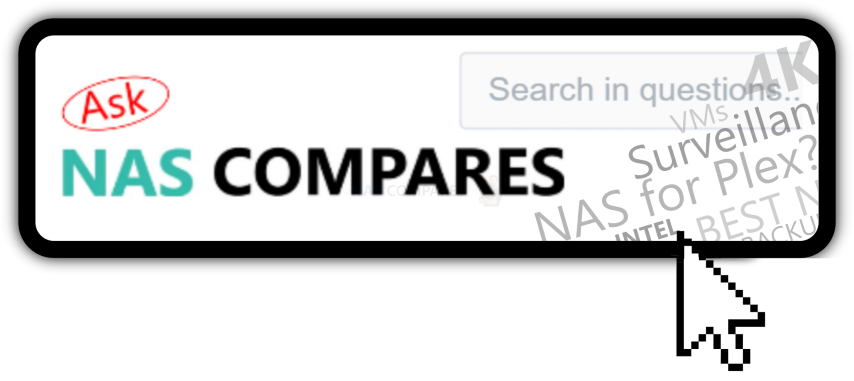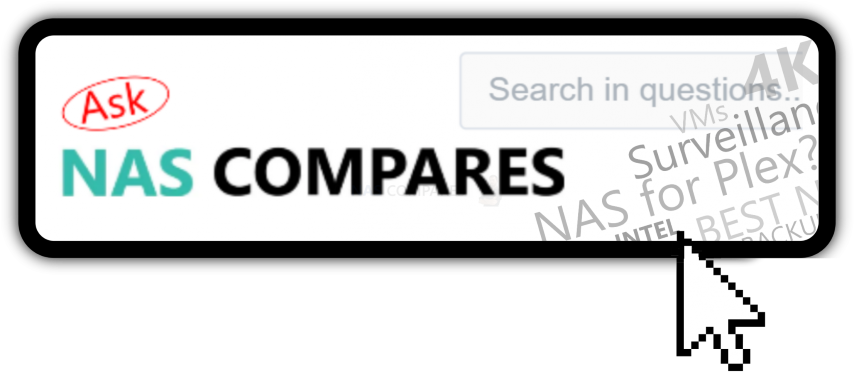 This description contains links to Amazon. These links will take you to some of the products mentioned in today's video. As an Amazon Associate, I earn from qualifying purchases