DS1618+ vs DS918+ NAS – Which Synology Should you buy?


If you are thinking about buying a Synology NAS in 2018 and want to leverage your available storage against a robust RAID solution, then chances are you have heard about the Synology DS918+ 4-Bay NAS and the DS1618+ 6-Bay NAS. Arriving with impressive internal and external hardware, as well as excellent applications (1st and 3rd party) with the DSM software on-board, it is hard to work out the REAL difference between these NAS servers. These two NAS have featured on NASCompares previously but never compared – till now. So let us compare the DS1618+ 6-Bay and DS918+ 4-Bay to work out which is the best NAS for you and your data.
DS1618+ vs DS918+ NAS – What can both Synology NAS do?
Both the Synology DS918+ and DS1618+ NAS are part of the flagship plus series and unsurprising heavily support alot of the key features that they have become famous for: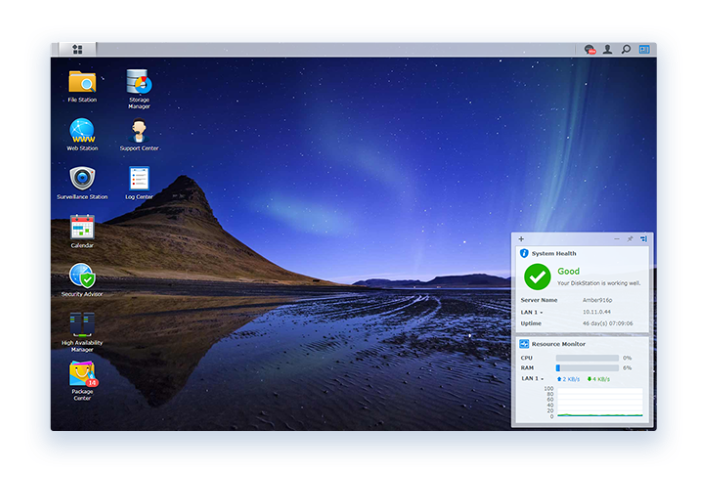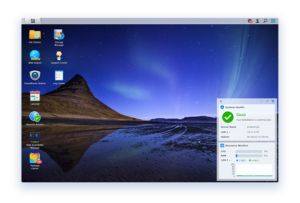 Synology DSM 6.1 and DSM 6.2 included featuring regular updates
BTRFS and EXT 4 as the system file system (your choice)
Support for RAID 0, RAID 1, RAID 5, RAID 6, RAID 10, RAID 50, RAID 60 and the always popular and SHR (Synology Hybrid RAID)
Using Synology Virtual Machine Manager, host a Virtualisation Platform – setup and run multiple VMs, supporting multiple Operating systems and enhanced by the Docker app, Container apps
Personal and business software applications included free like Synology Office (docs, spreadsheets, pdfs, etc), Synology LiveChat, Synology Mail, Photo Station, Video Station, Music Station, Download Station and more
Intuitive and User-friendly apps like Synology Drive for one-point access to ALL file types and Synology Moments for AI supported photo tagging, landscape recognition and improved photo cataloguing
Both units can be used as a fantastic Plex Media Server supporting transcoding upto 1080P (but with 4K support natively)
Serve as a cross-platform service – bridging connections and transfers of files between Mac and Windows systems over the network
Heavily support backups, archiving, remote replication and comprehensive snapshot technology meaning you will have an equal amount of backup options whichever you go for
Migration, connection and interaction with existing cloud services like dropbox, Google Drive, ElephantDrive and Synology C2
Create a comprehensive Surveillance solution, supporting multiple IP cameras and even arriving with some licences included
Unique Server, Office 365 ad microsoft active server management via a single application
Synology DS918+ 4-Bay NAS Advantages and Disadvantages
Released back in September 2017, the Synology DS918+ still continues to be one of the most popular NAS devices for home and small business. Here are the highlights of our review: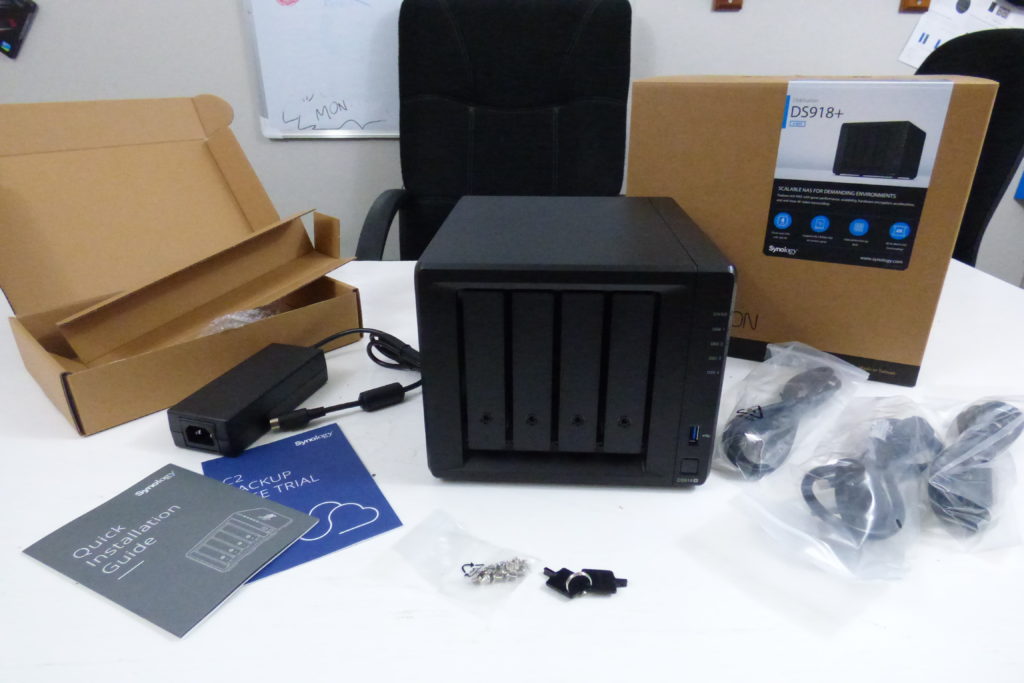 | | |
| --- | --- |
| DESIGN | With a newly created chassis released with improved ventilation, but still managing to keep compact (even introducing new hardware inside) this is by FAR the best Synology design yet. A welcome improvement to the old DS916+ chassis. |
| FEATURES | The Synology DS918+ NAS will do it all. If you need a NAS to watch and transcode 4K, Run several VMs, Apple time machine backups, host a plex media server, run an itunes server, run a business from, run surveillance cameras over the network, provide a CRM and CMS system, as well as host several websites – The DS918+ is the NAS server for you |
| PERFORMANCE | Easily one of the best performing Synology NAS devices available for home and small business users. Also if the default hardware isn't enough, this is the easiest to upgrade, featuring RAM upgrades and NVMe slots |
| VALUE | This could possibly be the best NAS of the year. We still have a couple of months before we can truly decide, but for this price and the HUGE amount of software and hardware option in the price, threshold make it irresistible. |
| | |
| --- | --- |
| DESIGN | The two rear fans, though fully controllable, cannot be completely switched off and this may annoy some people. However any noise they make on their lowest setting is still lower than the HDD you have installed. |
| FEATURES | Although it can do many of these tasks at once, if you need to do ALL of them at once, you will need a solid Intel Xeon at the least. |
| PERFORMANCE | Only fault I can find is that there is no 8GB Default version available to buy, as you found with the DS918+ (8GB). |
| VALUE | It is a shame that there is no 8-Bay option with this hardware – as the DS1817+ is rather disappointing by Comparison |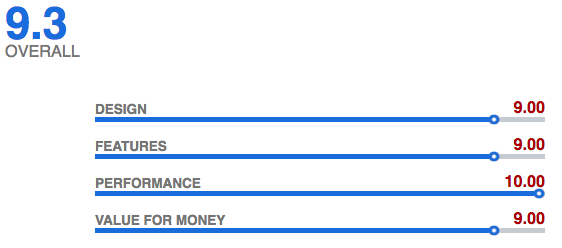 Synology DS1618+ NAS Advantages and Disadvantages
Released in May 2018, this new 6-Bay NAS follows in the foot steps of the DS1517 and DS1817. However, it arrives with an improved CPU, DDR4 Memory and at a price point that is far more accessible. Here were our thoughts on this newer synology NAS: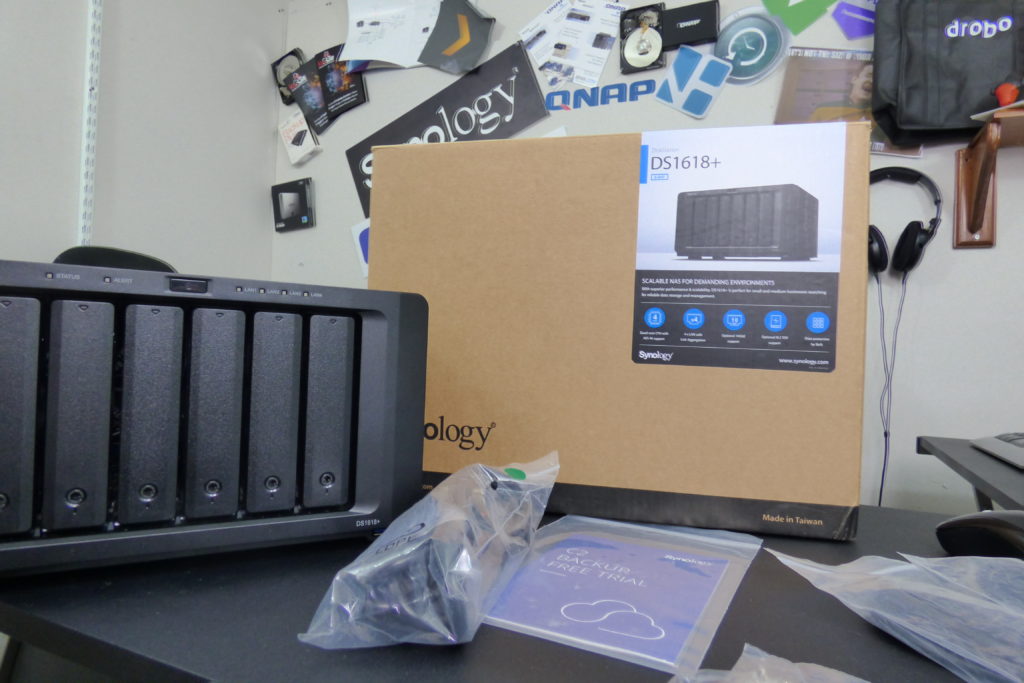 | | |
| --- | --- |
| DESIGN | This is the 2nd ever 6-Bay NAS from the guys at Synology. After the Success of the DS3018xs Pentium based NAS for bigger business, this 6-Bay is designed with Home and SMB in mind. The chassis uses the familiar diskstation casing and click-n-lock trays. The design has always been popular with Mac users and it is pretty sensible that they would stick with this form. It is very compact, metal in construction and all trays can be locked as needed. There is excellent cooling on the rear, ventilation in the Synology logo on the sides and the rear panels and its ports are very discreet. |
| FEATURES | In terms of physical features, the Synology DS1618+ NAS has a lot in common with the DS1817+ and DS1517+. The unit arrives with 4 LAN ports (so link aggregation is supported where needed to effectively quadruple your upload and download speeds to your device), multiple USB for external storage and two expansion ports to add two DX517 NAS expansion devices when needed. Next to these, there is a PCIe slot for adding 10Gbe connectivity, M.2 SSD cache with the m.2 M2D17 and NVMe based M2D18 card and more. At this price point of around £650+, it is a solid hardware purchase. |
| PERFORMANCE | Arriving with the excellent DSM software from Synology, the sheer number of applications available is incredible. Synology has their own Office application, Google Drive-like one stop app to open EVERYTHING in 'Drive', Synology moments and it's artificial intelligence means you have both facial and landscape recognition available. This is bolstered with a solid 1080p plex media server support, virtual machine management and a whole bunch of collaboration applications in Synology Chat, Synology Calendar, Synology photo and video station support. They are incredibly versatile and the entire user interface is genuinely impressive. Finally, there is the Synology Surveillance application that can support 40 cameras with relative ease. |
| VALUE | For £650+ without VAT, this device is easily one of the best value 6 Bay NAS you can buy. Lower in price and comparable to the QNAP 6 Bay TVS-673e, TS-653A or TS-653B. You are getting very sophisticated software options and modern robust hardware. |
| | |
| --- | --- |
| DESIGN | There are several little design features that are missing from other NAS brands like QNAP (HDMI, Audio in/out, quick access and more). This is to be expected, but it is still a bit of a shame to not see a USB Copy Button or LCD for those that want more direct access. |
| FEATURES | The only real faults are more about the Synology NAS range as a whole than any individual unit. Synology has always wanted to keep the focus on network interactions only where possible and therefore connections that involve attaching smart peripherals or those that involve data being exchanged off-network, are largely absent. Additionally, use of an intel Atom-based CPU will no doubt cool a few users off. |
| PERFORMANCE | The Atom-based CPU is a little underwhelming when compared with the Celeron J3455 and Pentium seen in other units and this means, though it can support ALL the synology apps, it supports them to a slightly lesser extent than NAS like the DS918+ and DS916+ NAS. |
| VALUE | Some user still has slight reservations with Intel Atom chips as they are a slightly older version of chip. It is still a fantastic CPU, but as it is not as new as the Celeron chips in the DS918+ and DS718+, and considered a little less efficient. |