Should you Buy a TerraMaster NAS on Black Friday 2018
Terramaster is a NAS brand that has been around now for a number of years and we at NASCompares were one of the first reviewers to really shine the spotlight on this rather budget brand, as well as their rather modestly specification devices. Almost immediately, one of the first factors that draw the device to the attention of the average NAS buyer is the fact they seem to be significantly lower in price than bigger, flashier brands such as Synology or QNAP. With many users looking to save money this Black Friday 2018, as well as many users wondering if TerraMaster is a brand that has much to offer, we have decided to take a moment to look at their NAS range, what they can do and what they cannot. Is TerraMaster worth your time, your money, and most important of all, your data? Let us check out the Terramaster TOS Software and their range of 2, 4 and 5 Bay NAS Hardware.
How easy is it to set up a Terramaster NAS?
Setting up a terramaster NAS is pretty straightforward and although takes a little longer than a QNAP or Synology NAS, is still pretty straightforward for a novice. See my guide below:
What Can Terramaster NAS Software Do?
When buying your first NAS it is easy to spend too much time looking at hardware. Until recently, network attached storage (NAS) was an item that only the more techie and IT knowledgeable would invest in. Now, of course, NAS and Cloud storage is very accessible indeed and used by a large % of web-enabled users in one form or another. However, NAS buyers are still too preoccupied with the hardware on a device and not the software, which is a shame because it is the applications, user interface and stability of the NAS software that will dictate how much you use the device. With Terramaster NAS, every unit arrives with the free operating system, TOS 3.1 (Terramaster Operating System). In the last two years, we have seen this platform grow from a rather basic interface to a now, pretty impressive user interface NAS platform with support for almost all the popular 3rd party software most NAS users want (Plex Media Server, Apple Time Machine, Cloud Migration and more). Using the new TerraMaster F4-220, we will take a closer look at the TOS NAS software and see what it can and cannot do.
FULL Software Review here – https://nascompares.com/terramaster-tos-3-1-nas-software-review/
There is even a neat and fast functioning mobile applications available. It is a little bare once you go through it, but for easy file access that can open files (not just see a file structure), it is pretty handy. Still hard to compete with the 10-20 apps that Synology and QNAP provide though. Sorry for the poor sound quality at the start!
What Can Terramaster NAS Software NOT Do?
Despite the fresh-faced GUI that can be accessed via your web browser, there are considerably fewer applications available when compared with the hundreds on QNAP NAS or the incredible mobile applications Synology have been developing in the last few years. The fact of the matter is that the TerraMaster NAS range only provides glorified file level access on their first party applications. It does this quickly and efficiently (with a nice control deck option), but there is no avoiding the fact that the software that TerraMaster offer is a little basic. You can utilize a number of third-party applications (iTunes Server and Plex), as well as use numerous shared storage/folder options for 3rd party apps to use the NAS storage. But in short, this is not a NAS that provides killer apps!
This slideshow requires JavaScript.
What Can Terramaster NAS Hardware Do?
The thing with NAS technology is that it has come forward so much these last five years and after reviewing big-boy NAS from brands such as Synology and QNAP, they have left little time to focus on some of the smaller up and coming brands that have tried to muscle into the NAS market. However, one brand I've always tried to make room for on my schedule here on NASCompares and the YouTube channel is TerraMaster. in the past I have reviewed their two-bay NAS and they're USB 3. 1 Gen 2 DAS enclosure. One of the main reasons I have given terramaster an unusually large amount of focus, despite their relative obscurity compared with QNAP and Synology, is because for such a small brand they make surprisingly good hardware at a fraction of that of their competitor's price.
Over the last 3 years, I have seen Terramaster grow from a relatively unknown brand to a real competitor in this field, in considerably less time than it took bigger brands to reach the same level. Consequently, I'm interested in seeing how Terramaster  NAS develop in the next 12 to 18 months as their software has now reached a point where it could rival mid-size brands such as D-LInk and WD NAS. Currently, they provide Intel-powered NAS (the J3455 Celeron, as featuring the DS918+ and TS-453B), that support popular features such as Plex Media Server, DLNA playback, Apple time machine network backups and 3rd party cloud connectivity. Alongside this, the chassis arrive in a 50/50 mix of metal and plastic chassis. All units feature a rear-mounted cooling fan, multiple USB ports and in some cases Link Aggregation supporting 2 LAN ports. The trays for Hard drives are a little basic and you will find the chassis design a little dated, but if you are looking for a simple, affordable network drive for use with third-party applications, Terramaster can provide this. There is even now support for Apple time machine, 3rd party cloud support and Docker! As well as supporting hardware in your homes such as Roku and NVidia Shield at 4K.
What Can Terramaster NAS Hardware NOT Do?
Despite great work being done by the Terramaster hardware to support those great 3rd party apps, it is when you want some of the more modern NAS hardware that it looks pretty bad. With NAS becoming very affordable for home users, as well as content creators on a tight budget, it is sad that there are a number of features that terramaster have still yet to incorporate into their range. Even very common ones such as HDMI or Audio out are missing, let along more popular things such as 10Gbe, SD Card readers, Audio In/Out or Keyboard/mouse support. Until they introduce these features, they will always be a litter left behind. A keen example would be Synology Vs QNAP. QNAP invest more in hardware and Synology invest heavily in software – TerraMaster has still yet to pick a side and ends up letting both down for more experienced NAS users.
TerraMaster F4-220 4-Bay NAS Review- Conclusion
Internally, the hardware that the Terramaster released in 2018 arrive with are pretty good for this price tag. This internal hardware certainly enables a number of features that a large number of cost-effective ARM CPU could not. Most important of which is acting as a proficient and encoding enabled Plex media server. The device can support many users at the same time, each with their own login and privileges thanks to this CPU. All the while, setting up, configuring and maintaining a stable RAID across all available hard drives or SSD. However, if your budget is tight, you will be pleased to hear these devices can function with a single HDD/SSD if need be and you can add further storage media as your budget allows (and expanding a RAID).

Overall the terramaster F5-421, F2-221 and F4-220 NAS are definitely worth the price if you only want to use it for Plex or supported 3rd party applications. I have seen numerous NAS brands grow in the last 8 years and the speed with which terramaster is developing, both the hardware and software, massively outpaces the likes of Synology and QNAP, that have taken twice as long to reach the point that terramaster has. If you are looking to buy your first NAS, but want to ensure that you get maximum features at a modest price tag, you genuinely would be hard pushed to beat the Terramaster Intel CPU NAS right now in 2018. That said, there is no denying that some cost-cutting measures have taken place in the chassis and other more fully featured software choices such as btrfs and link aggregation have been omitted with this device. However, you will never find features like those, or software options with this hardware at this price limit and the Terramaster F5-421, F2-221 and F4-220 NAS 2, 4 and 5-Bay serves as a great middle ground for those that want their cake and eat it in their first steps into the world of NAS.
Which TerraMaster NAS are Recommended this Black Friday?
Although there are several TerraMaster NAS with good deals this Black Friday 2018, below are the best 3 TerraMaster NAS right now, the F5-421, F2-221 and F4-220 NAS. Click the button next to each to see a list fo the ebst possible prices available right now whilst the deals last.
Best for PLEX
| | |
| --- | --- |
| | F5-421 5-Bay Quad-Core Intel NAS for Plex, VMs, Backups and Business Applications |
Best for Business
| | |
| --- | --- |
| | F4-220 NAS 4-Bay Dual-Core Intel NAS for 4K DLNA, Apple Time Machine and Docker Applications |
Best for Home
| | |
| --- | --- |
| | F2-221 NAS 2-Bay NAS for 1080p DLNA Streaming Media to your Console & Smart TV, Backups, Cloud Backups and Sharing |
Frequently Asked Questions about TerraMaster NAS?
As the TerraMaster NAS brand is a little new, there will always be questions regarding compatibility and usability of their NAS drive range. Below are some of the most common questions in our TerraMaster FAQ:
Question: 
If I place a 4tb drive with data on it and ntfs format, will this force me to reformat the drive? I don't need RAID, just using as a music server.
Answer: Yes, the hard drive with data on it will be formatted when it's installed any NAS device the first time.
Question: 
Can it be upgraded to 4gb ram when buying?
Answer: 
Yes, the RAM is upgradable. The original RAM is 2GB, and users can add another 2GB RAM stick with the RAM up to 4GB. Here is the link for the compatible 2GB RAM: https://www.amazon.com/dp/B071CV34T3. Please be advised for a TerraMaster NAS device with the original RAM at 2GB, the added RAM can only be 2GB. Please do not try to add a 4GB RAM stick which will be incompatible.
Question: 
Anyone know the underlying linux distribution installed on the F4-220? Also does anyone know how to install curl on the machine?
The version is Linux version 4.0.0 (root@rds-02) (gcc version 4.9.2 (Buildroot 2015.05) ) #207 SMP Tue Jul 19 12:22:50 CST 2016.
A 3rd party App can be installed via the Root account through telnet/SSH. The password of root is the same as your admin account. Meanwhile, The GCC compiler is available in TOS applications.
Question: 
Can i play video on any format from f2 420?
Answer: 
If you visit the F2-420 via the Samba protocal Yes, you can play video on any format. But if play video directly on F2-420 in TOS File Manager, basically no video can played.
Question: 
where can i buy a wifi dongle for F4-220?
Answer: 
Here is a compatible one for your reference:https://www.amazon.com/dp/B01824ITQM
Question: 
Can it handle 4K transcoding?
Answer: 
Yes, but not via PLEX.
Question: 
Maximun size of the disks? 10tb? 14tb?
Answer: 
From the Terramaster site "Storage capacity up to 24TB – F2-220 is compatible with 3.5 inch 12TB SATA hard drive and you can install two hard drives with total storage capacity of up to 24TB"
Question: 
Can Jumbo Frames be enabled at at what size?
Answer: It's self-adaptive from 1,500 – 9,000 bytes.
Articles Get Updated Regularly - Get an alert every time something gets added to this page!
This description contains links to Amazon. These links will take you to some of the products mentioned in today's content. As an Amazon Associate, I earn from qualifying purchases. Visit the NASCompares Deal Finder to find the best place to buy this device in your region, based on Service, Support and Reputation - Just Search for your NAS Drive in the Box Below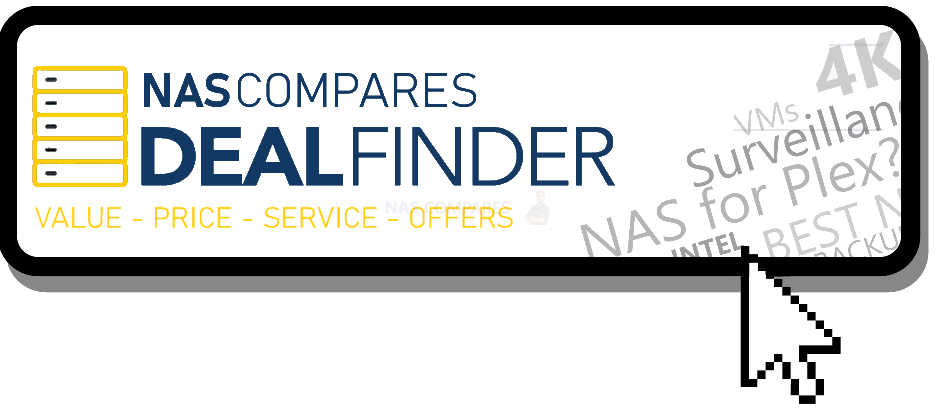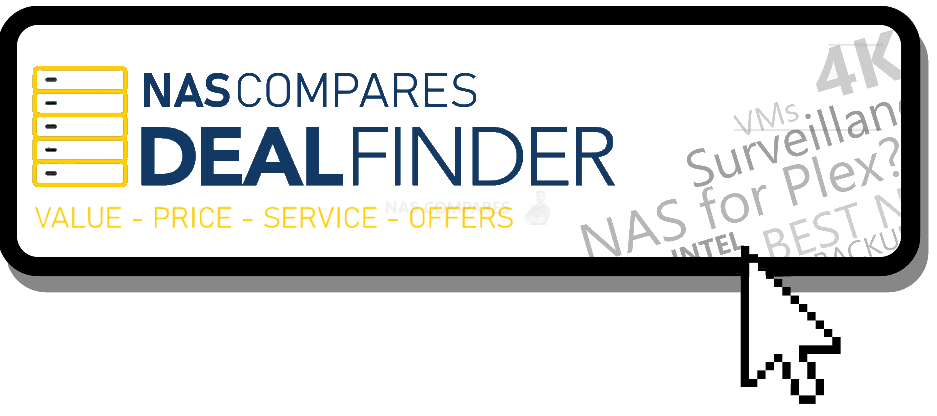 SEARCH IN THE BOX BELOW FOR NAS DEALS
Need Advice on Data Storage from an Expert?
We want to keep the free advice on NASCompares FREE for as long as we can. Since this service started back in Jan '18, We have helped hundreds of users every month solve their storage woes, but we can only continue to do this with your support. So please do choose to buy at Amazon US and Amazon UK on the articles when buying to provide advert revenue support or to donate/support the site below.


Finally, for free advice about your setup, j
ust leave a message in the comments below here at NASCompares.com and we will get back to you.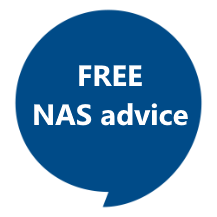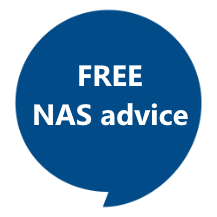 Need Help?
Where possible (and where appropriate) please provide as much information about your requirements, as then I can arrange the best answer and solution to your needs. Do not worry about your e-mail address being required, it will NOT be used in a mailing list and will NOT be used in any way other than to respond to your enquiry.
Terms and Conditions
Alternatively, why not ask me on the
ASK NASCompares forum
, by clicking the button below. This is a community hub that serves as a place that I can answer your question, chew the fat, share new release information and even get corrections posted. I will always get around to answering ALL queries, but as a one-man operation, I cannot promise speed! So by sharing your query in the
ASK NASCompares
section below, you can get a better range of solutions and suggestions, alongside my own.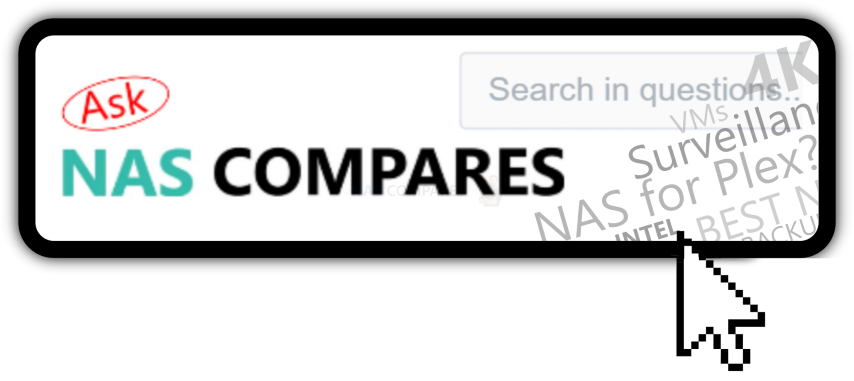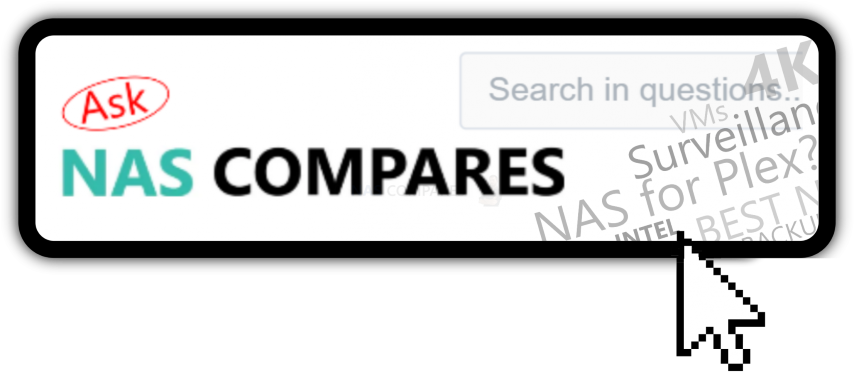 This description contains links to Amazon. These links will take you to some of the products mentioned in today's video. As an Amazon Associate, I earn from qualifying purchases