Brand New AS5202T 2-Bay and AS5304T 4-Bay NAS from Asustor
Great news for those that are looking for their brand new powerful NAS purchase in 2019 – Asustor has been announcing a host of brand new NAS drives to be fully unveiled at Computex 2019. Asustor NAS is a brand that has featured often here on NASCompares and although it is fair to say that they are yet to topple Synology and QNAP for the NAS pole position, they have a long and established history of innovative network attached storage solutions, often beating QNAP (typically the most innovative NAS brand yet) to the punch. The new Asustor AS5202T and AS5304T NAS are the world's first to include 2.5Gbe ports as standard on their chassis and this enabled update 5-gigabit ethernet speeds with the help of link aggregation.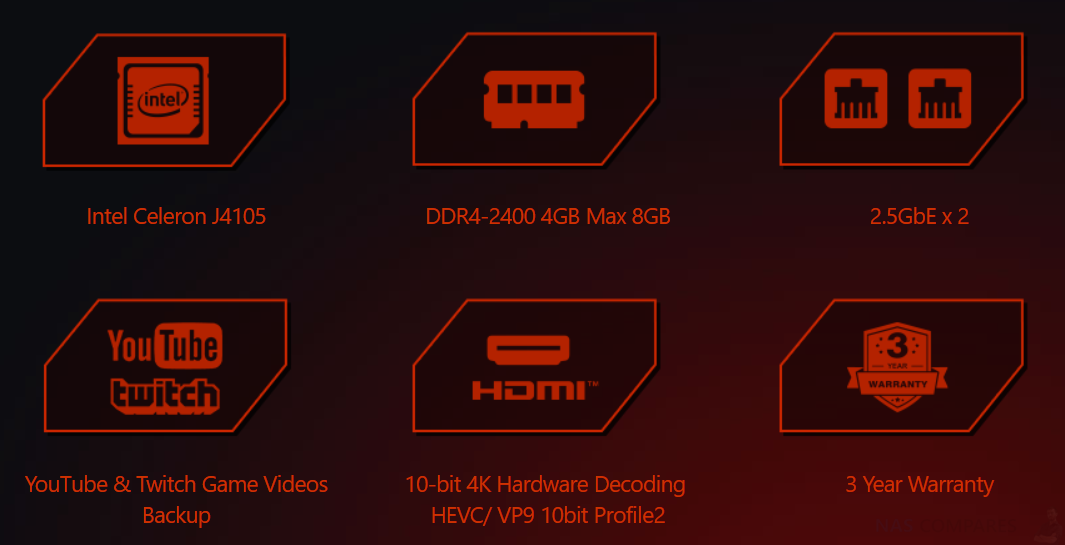 Of course, in order to take advantage of this speed, you will need to have 10Gbe (10GBASE-T) connectivity on your network and/or client machine, but this still allows you to use your standard 1Gbe, as well as allow 1Gbe machines on a 10Gbe network to max out their access speeds to a NAS connected via 10Gbe. That is not all though and the AS5202T 2-Bay and AS5304T 4-Bay NAS from Asustor has a lot to offer you in 2019. Let's find out.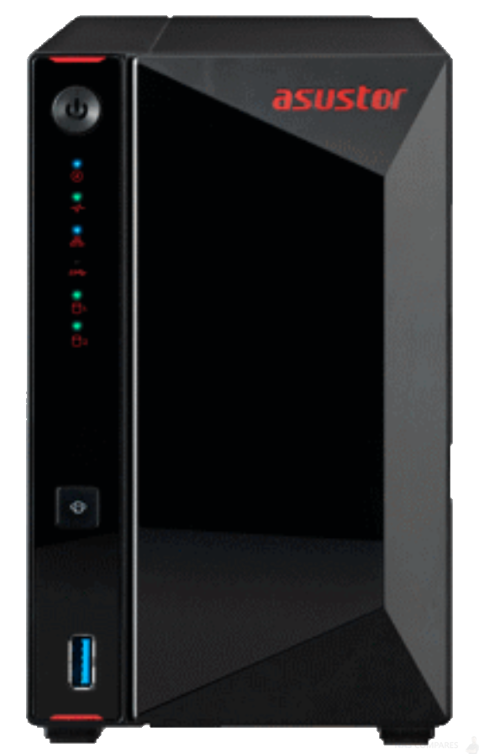 What are the Hardware Specifications of the Asustor AS5202T and AS5304T NAS
Using a modified version of the AS40 10Gbe Chassis that proved very popular last year, the Asustor AS5202T and AS5304T NAS arrived with a very modern, angular, red front chassis panel that is both VERY distinctive and also practical.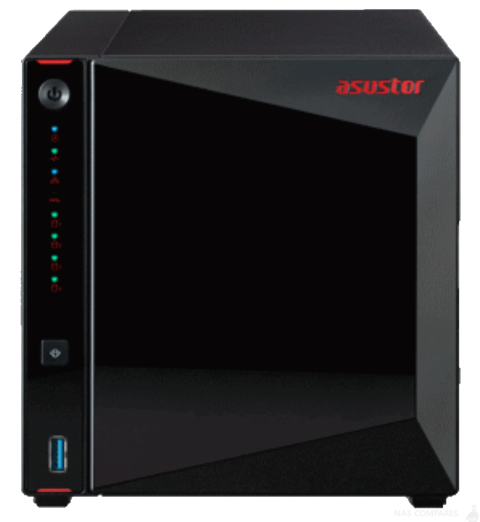 This front panel can be removed to reveal the 2 or 4 bays of storage from the Asustor AS5202T and AS5304T NAS respectively. Each bay supports up to 14/16TB of the very lastest NAS hard drives (such as WD Red, Seagate Ironwolf and Toshiba NAS). Alongside this, the front panel will also feature the familiar LED indicators of hard drive access, network access, power, traffic and more.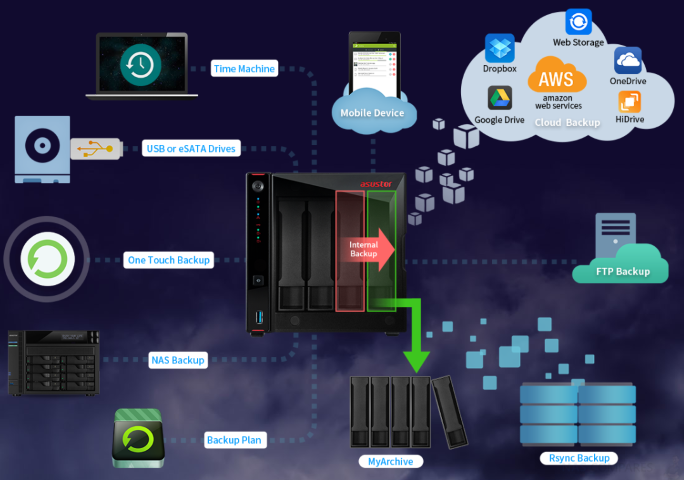 I am also pleased to confirm that the front of the chassis will also feature a USB Copy Button. Those that have followed NASCompares and my YouTube channel, will know that I still think this is a hugely underrated feature.
If we turn the device around, we find those network ports, the thing that really makes the AS5202T and AS5304T stand out as very unique NAS for Asustor. The simple fact is that this is the first time we have seen desktop, commercial and small business enabled NAS to feature this kind of connectivity. For those looking to future proof their setup, this will be of tremendous benefit and allows you to both plan ahead AND use today.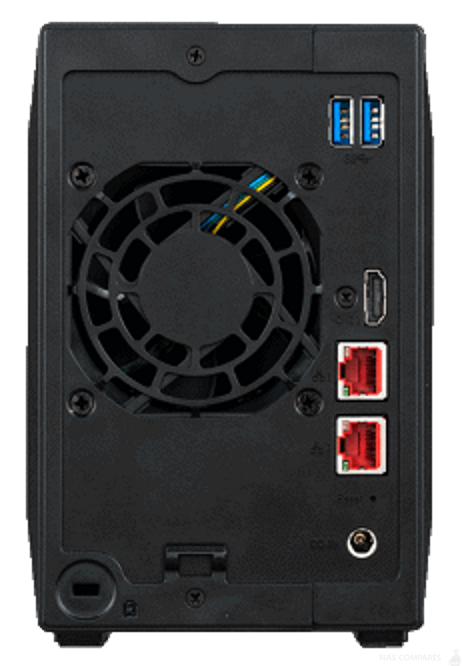 Both the 2-bay AS5202T and 4-Bay AS5304T NAS feature the same ports, as well as the same internal hardware (which we will cover in greater detail later) and,  are only really distinguished by the number of storage bays and how that impacted RAID availability and/or performance for you and your users.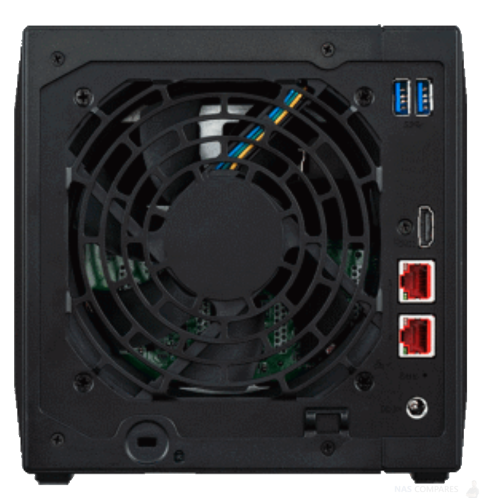 Alongside those incredibly unique RJ45 ports, we find 2 other connections. The duller, but more widely used of the two is (of course) USB 3.0/USB 3.1 Gen 1/USB 3.2 Gen 1 (so confusing these days – make your minds up!) ports. These, like most NAS, can only be used to connect client devices (accessories) such as USB Storage drives, WiFi dongles, KVM devices, UPS chassis and the like.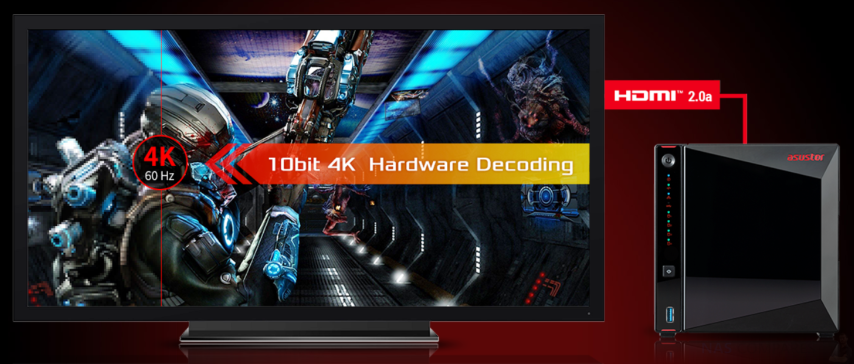 However, it is with the visual interface port that we get interested. The Asustor AS5304T 4-Bay and AS5202T 2-Bay arrive with HDMI 2.0a. This means 4K 60FPS media playback to a full 4K video device locally. The Asustor GUI software (ADM) arrives with support of HDMI output and the ability to install lots of applications in this separate and simultaneous UI – controllable with a USB Controller/mouse/keyboard/network remote and allows you to enjoy your data via the internet, the network AND from the sofa on your big TV!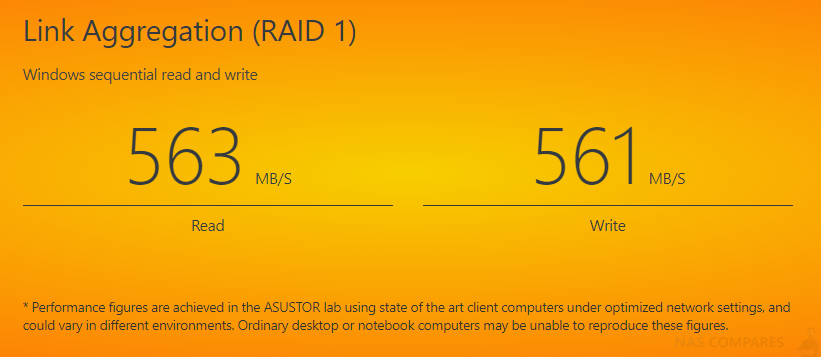 Inside the Asustor AS5202T and AS5304T NAS drives, we find a much more modern and functional specification that the AS40 featured at Computex last year. Switching from the Realtek ARM 64bit in that series, the new Asustor AS53 arrives with an Intel Celeron J4105 and 2-8GB of DDR4 Memory. This CPU is already one of my favourites in modern NAS servers and premiered on the QNAP HS-453DX NAS (another Computex favourite last year). This 4K enabled CPU is a quad-core processor with 1.5Ghz clock speed per core that can be burst all the way up to 2.5Ghz when needed. It features embedded graphics support (traditionally used as a transcoding engine for NAS) and that means that both the native media application from Asustor and Plex Media Server will support transcoding.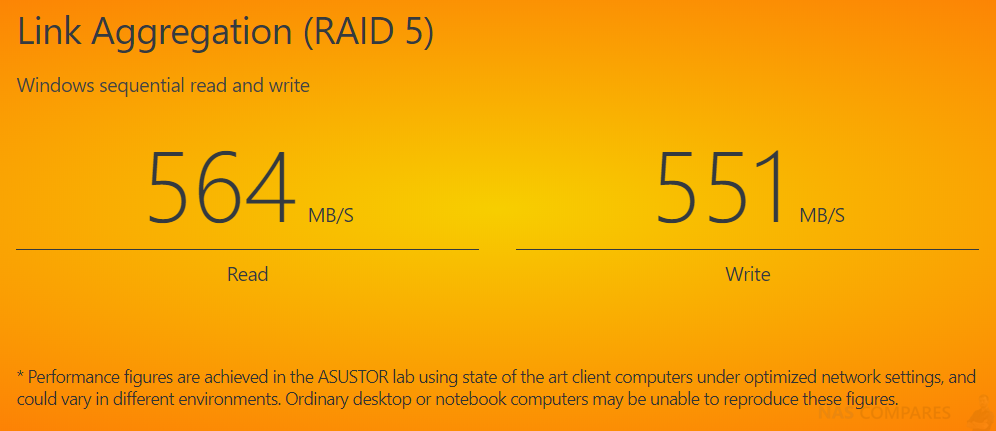 What are the Software Specifications of the Asustor AS5202T and AS5304T NAS
Thanks to the impressive hardware featured on the Asustor AS5202T and AS5304T NAS, I am pleased to confirm that you will be able to take advantage of pretty much the entirety of the 1st and 3rd party applications supported on ADM, the software and GUI of Asustor NAS. This software, that is included with your purchase of any Asustor NAS, supports lots of first-party media handling applications, file management, backup tools, and system tools. Alongside this, ADM 3.3.0/3.4 Beta also will feature improved support of applications and the new file system, BTRFS. Photo Gallery 3 will get a new update, EZ Sync has been improved to support more cloud platforms and sources for local and cloud synchronization. The new choice of file system means those great advantages in file integrity checks, low system impacted background snapshots in the background and auto file healing. For those of a more business/techie frame of mind, there is also the support of the newer docker/container application for running smaller virtual environments, VirtualBox is supported for bigger VMs and the Asustor platform even arrived with improved ClamAV Protection from intrusion, malware, viruses and more.
All in all, this is one of the most impressive Asustor NAS devices we have seen in a long time and with features and functionality that, till now, has always been associated with Synology or QNAP singularly (BTRFS and Synology, HDMI 2.0a + 2.5Gbe options and QNAP) now available from a single and impressive brand in Asustor, we have high expectations for the Asustor AS5202T and AS5304T NAS Drive later in 2019. It is also worth mentioning that the devices both arrive with 3 years of manufacturers warranty, something traditionally considered 'flagship' for Synology and 'rare' in QNAP NAS desktops.



New Asustor AS7108T, AS6508T, AS7110T and AS6510T NAS Announced
When will the Asustor AS5202T and AS5304T NAS be released?
Asustor are a brand that doesn't sit on their new releases for long and we expect the AS5202T 2- HDD and AS5304T 4 HDD NAS to be released this summer, likely before the next gen Synology and QNAP NAS rear worldwide release. With the recent innovations in ADM, the typically competitive pricing and hardware featured in these new releases, I definitely intend to keep an eye on these NAS drives and will update you further on this at Computex 2019 at the end of May.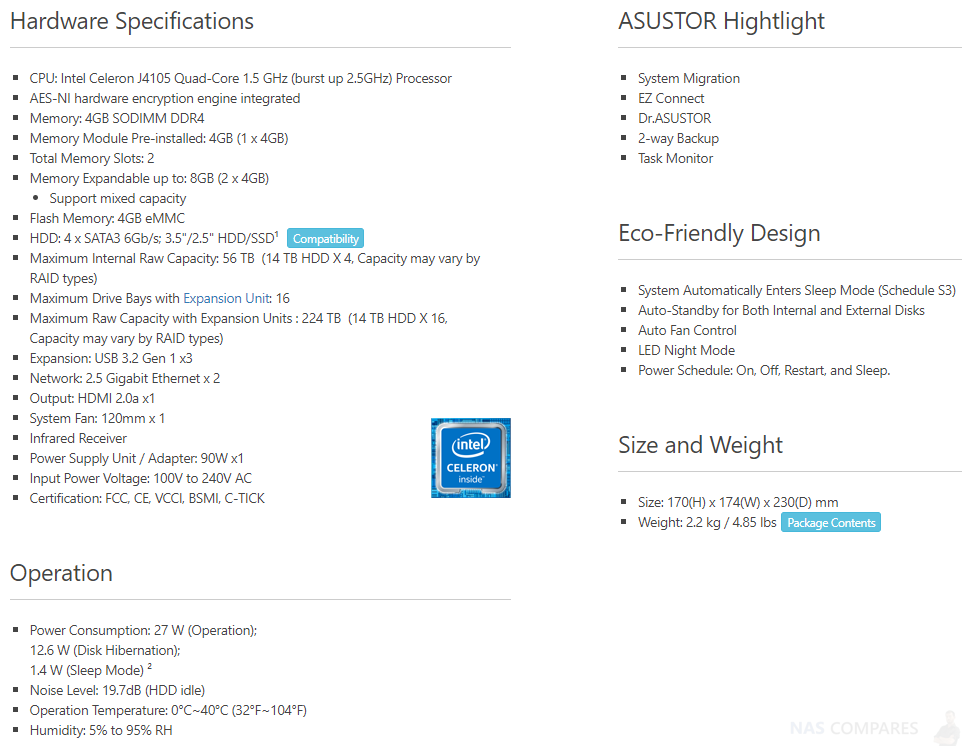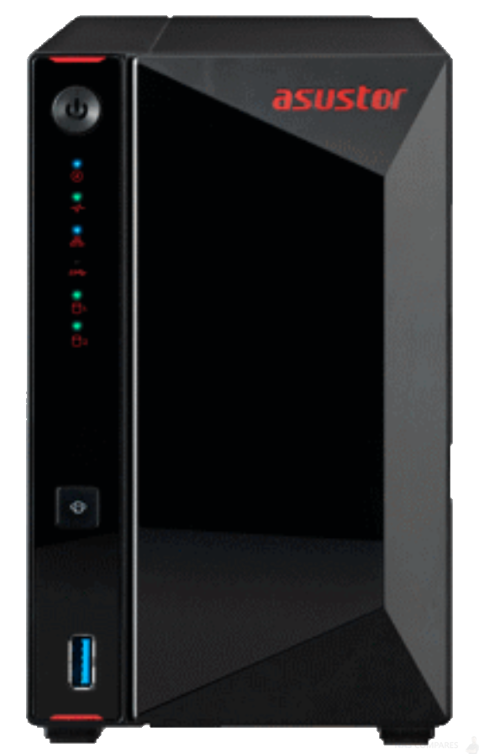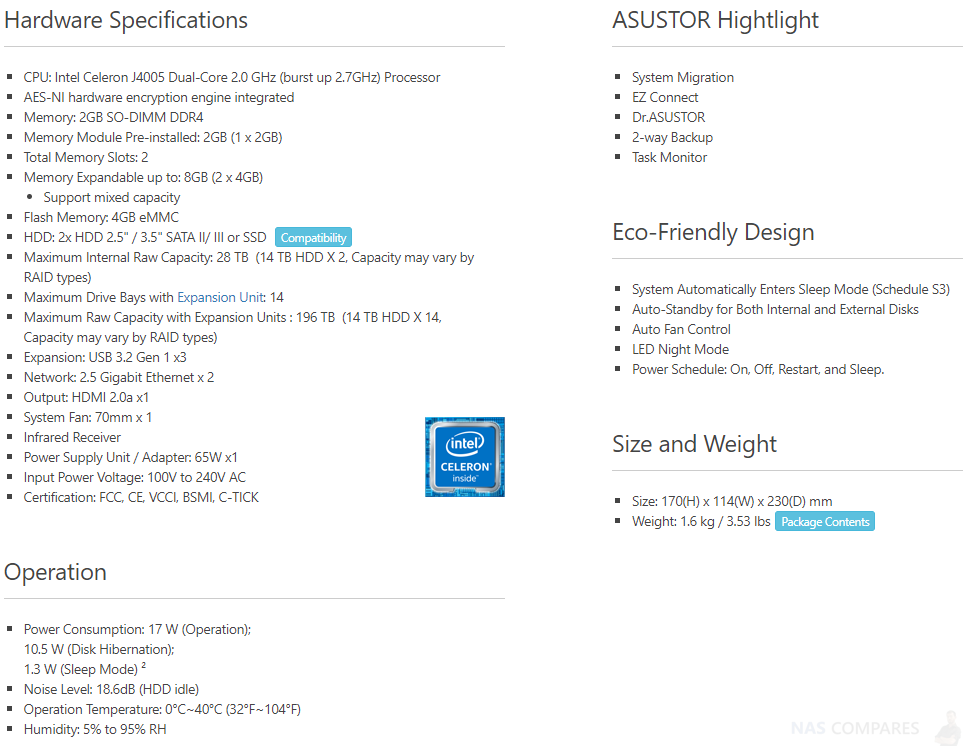 How Much will the Asustor AS5202T and AS5304T NAS Cost?
Pricing of the AS5304T and AS5202T NAS drives from Asustor is still yet to be fully confirmed and although there is they have a few unique advantages bringing these technologies first to the table, I think they will keep things moderately affordable. Expect prices not dissimilar to those of the Asustor AS6202T and AS6404T released a while back, but with a little on top – you can put these increases down to the improved CPU, HDMI 2.0a and those fantastic 2.5Gbe network ports.

📧 LET ME KNOW ABOUT NEW POSTS 🔔
Get an alert every time something gets added to this specific article!
Want to follow specific category?

This description contains links to Amazon. These links will take you to some of the products mentioned in today's content. As an Amazon Associate, I earn from qualifying purchases. Visit the NASCompares Deal Finder to find the best place to buy this device in your region, based on Service, Support and Reputation - Just Search for your NAS Drive in the Box Below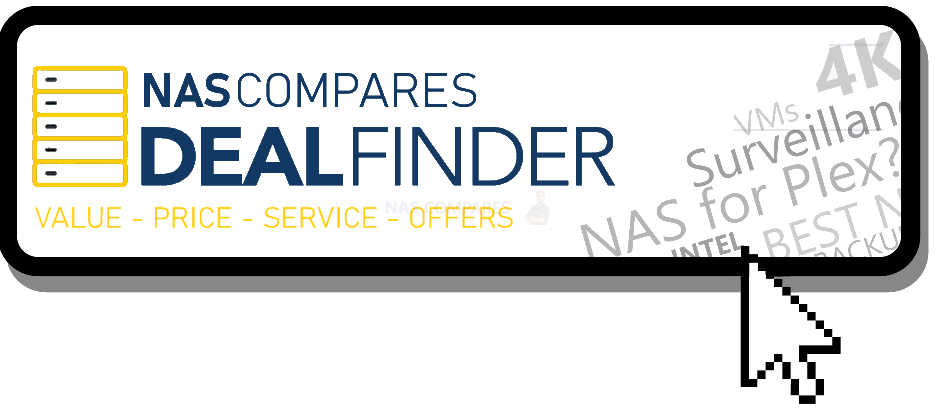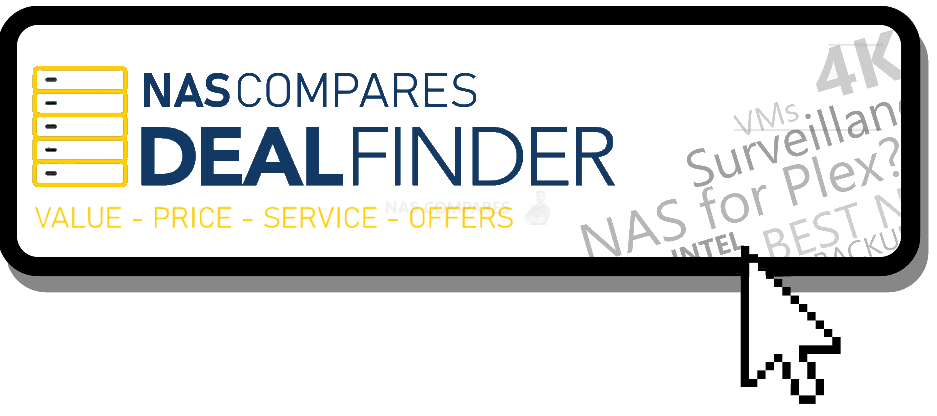 Other products mentioned on this article:
SEARCH IN THE BOX BELOW FOR ANY OTHER NAS
Need Advice on Data Storage from an Expert?
We want to keep the free advice on NASCompares FREE for as long as we can. Since this service started back in Jan '18, We have helped hundreds of users every month solve their storage woes, but we can only continue to do this with your support. So please do choose to buy at Amazon US and Amazon UK on the articles when buying to provide advert revenue support or to donate/support the site below.


Finally, for free advice about your setup, j
ust leave a message in the comments below here at NASCompares.com and we will get back to you.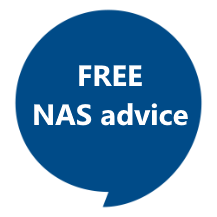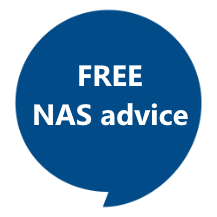 Need Help?
Where possible (and where appropriate) please provide as much information about your requirements, as then I can arrange the best answer and solution to your needs. Do not worry about your e-mail address being required, it will NOT be used in a mailing list and will NOT be used in any way other than to respond to your enquiry.
Terms and Conditions
Alternatively, why not ask me on the
ASK NASCompares forum
, by clicking the button below. This is a community hub that serves as a place that I can answer your question, chew the fat, share new release information and even get corrections posted. I will always get around to answering ALL queries, but as a one-man operation, I cannot promise speed! So by sharing your query in the
ASK NASCompares
section below, you can get a better range of solutions and suggestions, alongside my own.