Brand New Asustor AS7108T, AS6508T, AS7110T and AS6510T NAS
Of all the NAS brands that will be present at Computex 2019 at the end of May, none have been so quick to promote their new range of devices than Asustor. Hot on the heels of the announcement of the new Intel-powered 2 and 4-Bay NAS for 2019, there will also be a new range of 8 and 10 Bay Desktop NAS arriving for small and medium business users. The new Cabinetstor and LockStor series of NAS server devices arrive with some great hardware innovations inside and out and only go further to highlight just how much Asustor has evolved over the last 2 years. The AS56 NAS series (AS6508T 8-Bay and AS6510T 10-Bay) features a robust business ready CPU and fast connectivity chassis, whereas the AS71 series from Asustor s (AS7108T 8-Bay and AS7110T 10-Bay) is geared more towards fast external hardware and much more powerful internal hardware. Though both are tweaked towards different users in their own way, BOTH arrive with some excellent file speed upgrade options right off the bat and both seem like idea business class NAS drives in 2019. Let's take a closer look.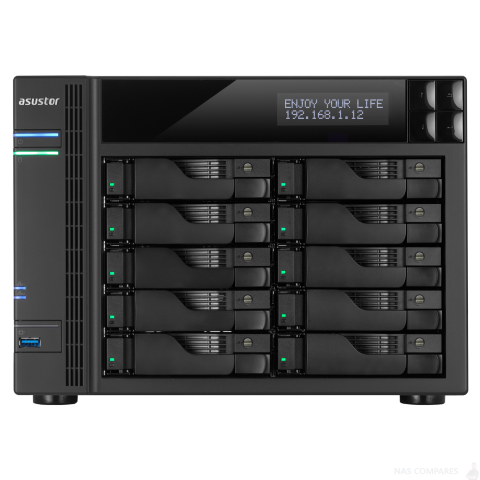 What are the Hardware Specifications of the Asustor AS7108T, AS6508T, AS7110T and AS6510T NAS
Asustor have released 8-Bay and 10-Bay desktop NAS drives previously and in the past, these have been designed to prioritize data transmission and stability, along with largely unparalleled storage potential across many, many bays. The new CabinetStor AS6508T and AS6510T arrive with an Intel Deverton CPU (NAS users will know them as Atom processors) which is a Quad Core 2.1GHz processor that is supported with 4GB DDR4 memory (upgradable to 16GB). These are a well balanced and mid-range CPU+Memory combo and is designed for servers that require 24×7 business use (backs, file hosting and virtual environments).

The Asustor Lockstor AS7108T and AS7110T NAS drives, on the other hand, give you everything the CabinetStor range do, but even MORE so. Arriving with an Intel 8th generation i3-8100 4 Core processor, at 3.6Ghz per core, the Coffee Lake CPU is a beast! This processor is supported with 8GB of DDR4 memory and as well as doing everything that the Deverton CPU can do, it has far more advanced hyperthreading, embedded graphics and power vs efficiency. In real terms, it means it can do ALOT more than the AS6508T and AS6510T, with the added bonus the AS7108T and AS7110T has graphics support and uses less CPU % overall whilst doing it!

Another area of difference between the Asustor AS65 and the AS71 NAS drive range is the choice of ports on the rear. Both devices are among the first desktop business-class storage NAS in the world to arrive with 2.5Gbe AND 10Gbe connectivity, dropping 1Gbe RJ45 completely (makes sense, given both the available ports are copper based and use RJ45 anyway, so they support 1Gbe too). The AS7108T and AS7110T NAS, however, support 3x 2.5Gbe ports and 10GBASE-T, whereas the AS6508T and AS6510T NAS arrive with just 2x of each. This is still ALOT of connectivity and using link aggregation and the right switch (as well as the right connectivity on your client devices) will result in massive external speeds on either one, but it is worth noting that the i3 CPU on the AS7108T and AS7110T Asustor NAS will result in much better internal speeds too – removing ALL traditional bottlenecks.
One thing that both the Asustor AS65 and the AS71 NAS servers feature is 2x internal NVMe SSD slots. Thanks to these slots (that till now, have only been available in less than 5 NAS server devices currently available to buy from Synology and QNAP), you can massively increasing internal processing operation speeds with SSD caching support to your large storage array of hard drives – yet another good example of how the AS65 and AS71 Asustor NAS devices are able to remove hurdles and bottlenecks from your transmission speeds internally, to take full advantage of those 2.5Gbe and 10Gbe ports. It is still yet to be 100% confirmed whether you can use these ports for raw, NVMe 2000MB/s +storage (rather than caching), however by the looks of things, this is an option (something only QNAP currently provide). I still think NVMe SSD is wasted on caching, given the 6Gb/s connection speed in SATA.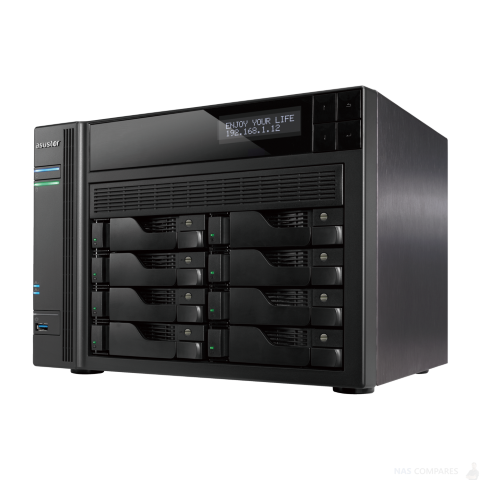 On the subject of storage and speeds, I can also confirm that all of the AS7108T, AS7110T, AS6508T and AS6510T support the very latest 12TB, 14TB and 16TB NAS Hard drives from WD, Seagate and Toshiba, as well as the Seagate Ironwolf Health Management via the Asustor storage manager accessed via the ADM GUI.
https://nascompares.com/2019/05/03/new-asustor-as5202t-and-as5304t-nas-announced/
What are the Software Specifications of the Asustor AS7108T, AS6508T, AS7110T and AS6510T NAS
Thanks to the impressive hardware featured on the AS7108T, AS6508T, AS7110T and AS6510T asustor NAS series, I am pleased to confirm that you will be able to take advantage of pretty much the entirety of the 1st and 3rd party applications supported on ADM, the software and GUI of Asustor NAS. This software, that is included with your purchase of any Asustor NAS, supports lots of first-party media handling applications, file management, backup tools, and system tools.
I should, however, highlight that the AS6508T and AS6510T will likely not be able to support 4K transcoding, both in and out of plex, as the Atom/Deverton series of processors are not typically associated with multimedia as their ideal use – targetted more towards general file handling, speed and stability under heavy use. Though we have already tested the i3 i3-8100 for Plex, VMs and more in other devices and therefore can verify that the Asustor AS7108T and AS7110T will perform very well in more graphical and high-resolution tasks.
Alongside this, ADM 3.3.0/3.4 Beta also will feature improved support of applications and the new file system, BTRFS. Photo Gallery 3 will get a new update, EZ Sync has been improved to support more cloud platforms and sources for local and cloud synchronization. The new choice of file system means those great advantages in file integrity checks, low system impacted background snapshots in the background and auto file healing. For those of a more business/techie frame of mind, there is also support of the newer docker/container application for running smaller virtual environments, VirtualBox is supported for bigger VMs and the asustor platform even arrived with improved ClamAV Protection from intrusion, malware, viruses and more.
In all likelihood, the Asustor AS65 and AS71 NAS drives will be a welcome change to the rather stuffy range of devices out there currently in 2019. Combining many well established popular hardware concepts and with features and functionality that, till now, has always been associated with Synology or QNAP singularly (BTRFS and Synology, 2.5Gbe+10Gbe options and QNAP) now available from a single and impressive brand in Asustor, we have high expectations for the Asustor AS65 and AS71 NAS Drives later in 2019. It is also worth mentioning that the devices both arrive with 3 years of manufacturers warranty, something traditionally considered 'flagship' for Synology and 'rare' in QNAP NAS desktops.
When will the Asustor AS7108T, AS6508T, AS7110T and AS6510T NAS Be Released?
Unlike the other big Asustor release we covered here on NASCompares from Asustor that should arrive in time for summer 2019, there is less information floating around on the release of the Asustor AS7108T, AS6508T, AS7110T and AS6510T NAS. With the recent innovations in ADM, the typically competitive pricing and hardware featured in these new releases, I definitely intend to keep an eye on these NAS drives and will update you further on this at Computex 2019 at the end of May. However, due to the complexity of the hardware on show here, I think this will be released a fraction later in 2019 and will likely be competing with the new range of Synology 2020 Diskstation devices.
https://nascompares.com/2019/05/03/new-asustor-as5202t-and-as5304t-nas-announced/
How Much will the Asustor AS7108T, AS6508T, AS7110T and AS6510T NAS Cost?
More precise pricing of the Asustor AS65 and AS71 NAS drives are still yet to be fully confirmed and although there is they have a few unique advantages bringing these technologies first to the table, I think they will keep that price tag a little vague for a while yet. This is not a marketing strategy, but more about seeing how the device sits in their company product family, production of those rather unique parts and, of course, investment from the company themselves to recoup. What I am trying to say is that I wouldn't be surprised at this stage is Asustor themselves know the price yet. This is not like the AS40 affordable 10Gbe 2/4 Bay solutions from last year, the AS7108T, AS6508T, AS7110T and AS6510T are all very hardware heavy and this has always been a price hurdle that kicks in AFTER production numbers are discussed. Watch this space and click below to stay abreast of all things new in NAS as they come up, as well as for all the news on hardware and software NAS at Computex 2019 at Taipei.

📧 LET ME KNOW ABOUT NEW POSTS 🔔
Join 1,671 other subscribers
Get an alert every time something gets added to this specific article!
This description contains links to Amazon. These links will take you to some of the products mentioned in today's content. As an Amazon Associate, I earn from qualifying purchases. Visit the NASCompares Deal Finder to find the best place to buy this device in your region, based on Service, Support and Reputation - Just Search for your NAS Drive in the Box Below
Need Advice on Data Storage from an Expert?
We want to keep the free advice on NASCompares FREE for as long as we can. Since this service started back in Jan '18, We have helped hundreds of users every month solve their storage woes, but we can only continue to do this with your support. So please do choose to buy at Amazon US and Amazon UK on the articles when buying to provide advert revenue support or to donate/support the site below.

Finally, for free advice about your setup, j
ust leave a message in the comments below here at NASCompares.com and we will get back to you.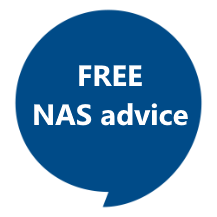 Need Help?
Where possible (and where appropriate) please provide as much information about your requirements, as then I can arrange the best answer and solution to your needs. Do not worry about your e-mail address being required, it will NOT be used in a mailing list and will NOT be used in any way other than to respond to your enquiry.
TRY CHAT
Support What We Do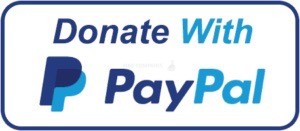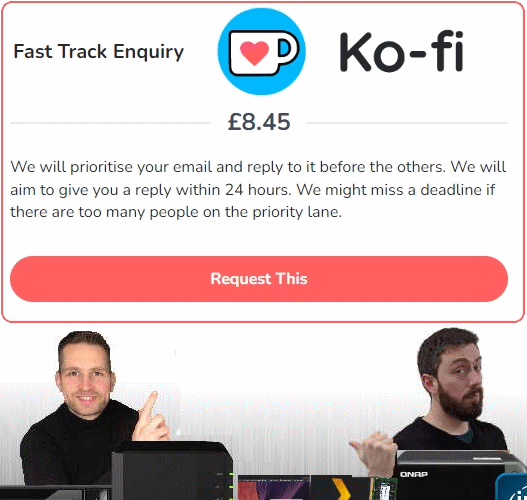 Terms and Conditions
Alternatively, why not ask me on the
ASK NASCompares forum
, by clicking the button below. This is a community hub that serves as a place that I can answer your question, chew the fat, share new release information and even get corrections posted. I will always get around to answering ALL queries, but as a one-man operation, I cannot promise speed! So by sharing your query in the
ASK NASCompares
section below, you can get a better range of solutions and suggestions, alongside my own.
This description contains links to Amazon. These links will take you to some of the products mentioned in today's video. As an Amazon Associate, I earn from qualifying purchases